Free or Cheap Things to do In the Capital Region with Kids This Summer There are tons of this to do in summer for free or cheap to enjoy. Budget Activities with kids can still be a lot of fun. Here's a variety of options including specific places you can head this summer.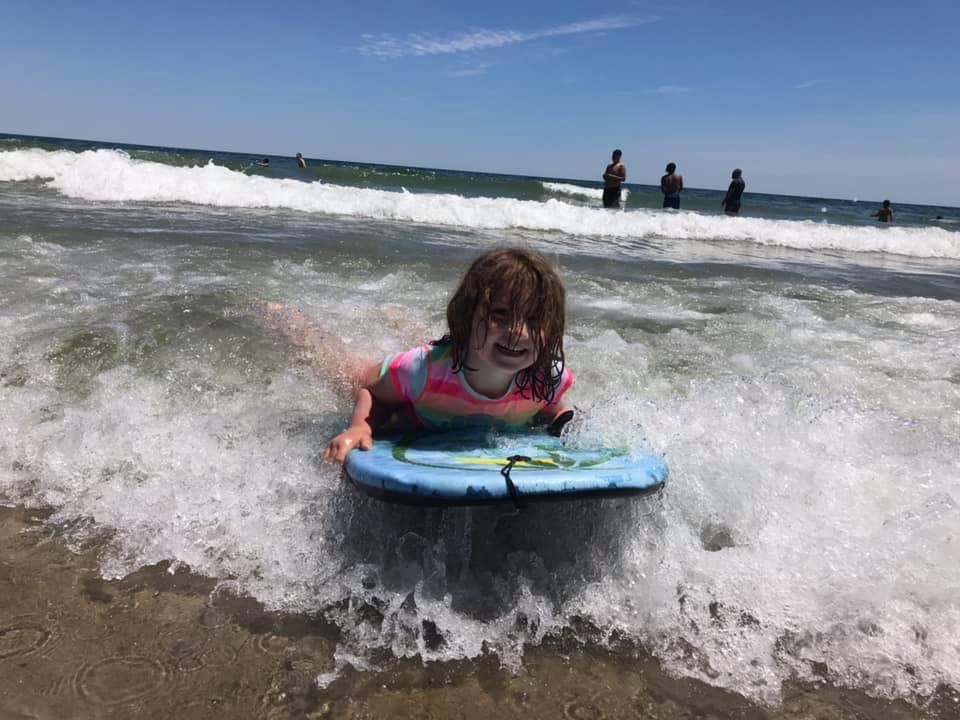 Whether it's the ocean or a lake most kids love splashing in the water and playing in the sand. There are several options for local beaches and it's even possible to do a daytrip to an ocean beach. Some beaches charge a fee for entrance and others charge for parking but usually inexpensive for a full day of fun for the whole family. There's also plenty to do at the beach when it's too cold to swim.
Northeast Beaches
We love the beach and have a couple of trips planned. The great thing about living in the northeast is that beaches are close enough that we can even drive out Saturday morning spend 1 night near and spend a second day at the beach before heading home. There of the best Beaches to visit from the northeast are a short drive to New Jersey, Long Island, Massachusettes and Rhode Island for a quick weekend getaway to the ocean. These include Cape Cod, The Jersey Shore,
Capital Region Lakeside Beaches
There are numerous lakes in the area including Lake George which is a great family destination that offer lake side beaches in the Capital Region. Many New York State Park around the Capital Region offers sandy beaches to swim and play at or even large public swimming pools. The NYS Empire Pass provides access to many state parks some which offer a lakeside beach. Check out your local library as they may even offer a pass you can check out for free (ours does).  This is my favorite thing to do in summer for free (or cheap). Fourth Graders get the National Parks Pass for free with every kid in a park program. In 2022, New York State is accepting the free kids pass for entrance into all New York State Parks with a car admission.
2. Head to an Amusement or Water Park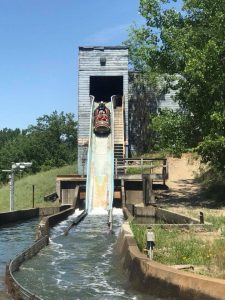 Amusement and water parks can be expensive but there are ways to save. For anyone in NY, NJ, MA, or surrounding areas or if you live near a Six Flags or other amusement/water park, I highly recommend Season Passes. Often you can get them for less than 2 visits and can spend the day.  
Legoland New York is a fun new amusement park great for kids up to around 11 years old though older kids will still enjoy some attractions. Legoland New York has several water rides and will have a splash bucket water play area opening this summer.
While expensive you can often find free kid tickets when you purchase an adult admission ticket in the free lego magazine. If you follow my blog, I shared the First to Play Legoland New York pass sale where annual passes were only $95. though the opening of the park was delayed a year they allowed passholder to use the pass starting in May 2021 when they offered the first visits for those with a first to play pass and have extended the passed through August 2022. If you have the upgraded passes don't forget they include admission to Madame Tussauds, Sealife Aquarium and Legoland Discovery Center which could make for a cheap daytrip to the NYC area.
From the Capital Region there are 2 six flags within 1.5 hours away easy for a day trip. Six Flags Great Escape is a quaint park with a old time feel. Six Flag Massachusettes has several large coasters and one of the best waterparks including 3 different lazy rivers.
Within 3 hours drive there are 3 additional Six Flags parks. Six Flags Darien Lake just past Rochester, NY , Six Flags Great Adventure in Jackson, NJ which is known for some of the best roller coasters including one of the fastest in the world. The water park is seperate and requires an additional fee unless your season pass is purchased through them. Six Flags La Ronde in Montreal is another old time park locatedon an Island, its worth a stop if your in the area and enjoy some poutine at the park.
Every Labor Day weekend Six Flags offers a huge sale. We purchase our season passes for about $52 per person and we have access to any Six Flags passes for the fall and the entire next year. We have access to 2 parks within 1.5 hrs from us and 3 more within 4 hours drive. Our Favorite Six Flags New England has a huge water park that is so much fun. It never seems crowded. Check out why I think six flags season passes are such a great value. Another way to save is to check out Groupon and other discount sites.  
Diggerland USA is a construction themed amusement park in New Jersey. Kids get to ride in and even drive construction vehicles. They have expanded in recent years to include a water park.
Other Waterparks
There's also several stand alone outdoor water parks some of which offer season passes including Enchanted Forest Water Safari and Zoom Flume. Camelback Lodge in the Poconos, PA offers an indoor and outdoor water park included with your stay.
3. Go Camping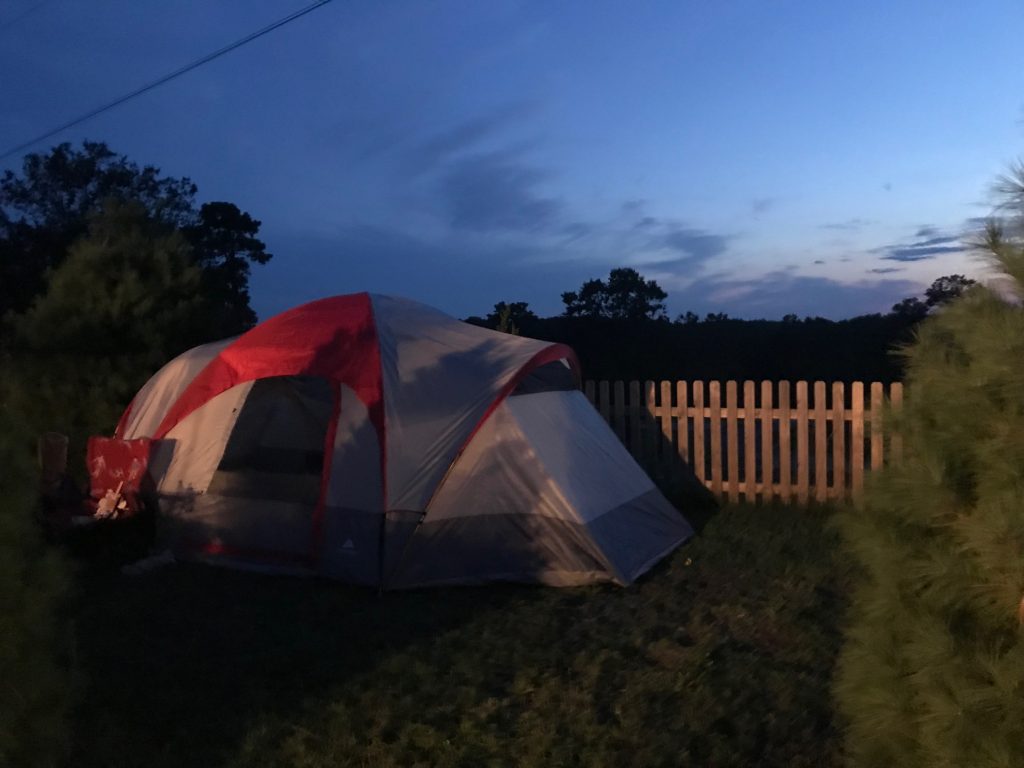 Camping is a wonderful way to travel on the cheap. Once you have invested in the basic equipment you have years of affordable travel. However, you don't have to travel far from home to enjoy camping. You can camp in your backyard for free or head to a nearby lake or campground for a night or 2. State parks offer affordable camping options and  Many of the Capital Region New York State Park offer camping onsite. Another fun activity to camping at home.
Looking for a unique camping experience? Check out Six Flags Great Adventure's Safari Camping Experience. Sleep inside the Safari camp and wake up to the lions roar.
4.  Head to a Concert or Play
Our area offers free live music almost every single day of the week and I am sure yours offers some as well. For the Capital District (Albany, NY) check out the list of free series here.   Don't forget Albany's Washington Park offers Plays in the Park every summer.
5.  Head to a local pool or sprinkler park
We have several local sprinkler parks that are free. Several towns in the area also offer public pools some only for town residents and their guests and others open to the public for a nominal fee. The fee often is less than we would spend on gas traveling to a lake or amusement park for the day.  
You can check out all the capital region spnkler parks including locations and costs here.
6. Hike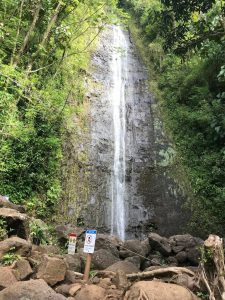 Summer can be incredibly hot but early morning hikes with the shade of the trees and often cooler climates make it a wonderful time to get out and enjoy nature
There are pleny of options for Capital Region Hikes with kids. If you pick one of the Capital Regions many waterfall hikes you may have a place to cool off at. 5 Rivers in Delmar, NY is a great center for families with younger kids not ready to do difficult uphill hikes but ready to go out and explore nature.  Albany Pinebush Preserve is another great option.
7. Go Boating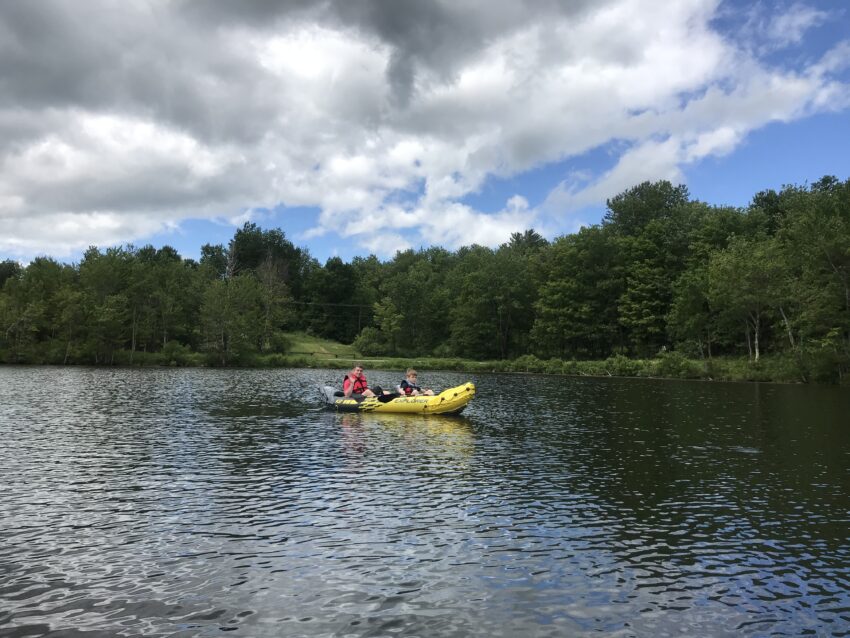 Boating is a common activity living in New York with so many lakes and major rivers. But you do not have to own a boat, you can always rent one especially at larger lakes such as Lake George.
Kayaking or Paddleboarding
A less expensive option is to rent or purchase kayaks or canoes. We love these inflatable kayaks for a free activity all summer long at home and away. We have kayaked on several trips including Cape Cod and in the Florida Keys.
Inflatable Paddleboards are also a great way to get on the water. We even paddleboard with our dog now. We paddle board locally in the Capital Region at several places including Thompsons Lake State Park and Grafton Lakes State Park.
River Tubing
There's also several options to go river tubing. Some families go on their own bringing 2 cars and parking one at their end point before heading to their starting point. This way you can tube down stream. stop at your second car and drive back to grab your original car before heading home. You can go tubing independently on the Battenkill , just over the Vermont boarder about an hour from Albany.
There's many companies that offer tubing excursions that have shuttle rides to take you back as well. Here's a list of the top 10 best river tubing in the capital region according to Yelp.
8. Check out Free Local Events and Programs
Check out programs at your Library. Our library offers a summer reading program but also various programs throughout each week. They also offer Free museum passes which can be checked out for free admission to numerous museums. Some Stores offer free events such as:
Home Depot kids building
Check out your Public Library for Free Museum Passes. There's many that are actually outdoors or the indoors are great for rainy days.
Plays in the Park (or movies) Our local Washington Park offers free plays in the park in July and August.  
9. Summer Evenings
One of the things my children LOVE about summer is being able to stay up later and enjoy the evenings with our neighbors.
Roast marshmallows and make smores
Watch a movie on a projector on the side of your house or head to the drive-ins. Our local Drive-In often does fundraising Specials for $20 a carload.
Catch fireflies
Watch fireworks  
10. Activities at Home or wherever you are.       
Some of the easiest things to do in summer for free are things you probably already have at home.  
Bubbles- We have been to several bubble programs and found that you can make bubbles with so many things. Have an old water table at home? Fill it with bubbles and a few different objects and the kids will have a blast
Side Walk Chalk including those chalk obstacle courses we saw during covid
Play Grounds: head to some of the best playgrounds in the capital region to change things up.
Water balloons  and/or squirt guns
Inflatable waterslide or pool – We purchased a waterslide about 6 years ago and our kids are finally out growing it. It's also a great activity during summer BBQs
Plant a garden and watches it grow  
Many of your favorite Spring Bucket list activities can be done in the summer too.
12. Have A Theme Week
Exploring from Home is a Series that I started when the kids were home and needed something consistent to entertain them. Each week we picked a new destination around the world and created a theme week. They loved it so much that we have continued to do occassional themed weeks.
The series provides ideas for Entertainment including educational resources, books, movies, music, activities and of course Food. Enjoy cooking new foods with the kids which actually encourages them to try new things. It's a lot of fun.
13. Head out on a Day Trip and Explore New York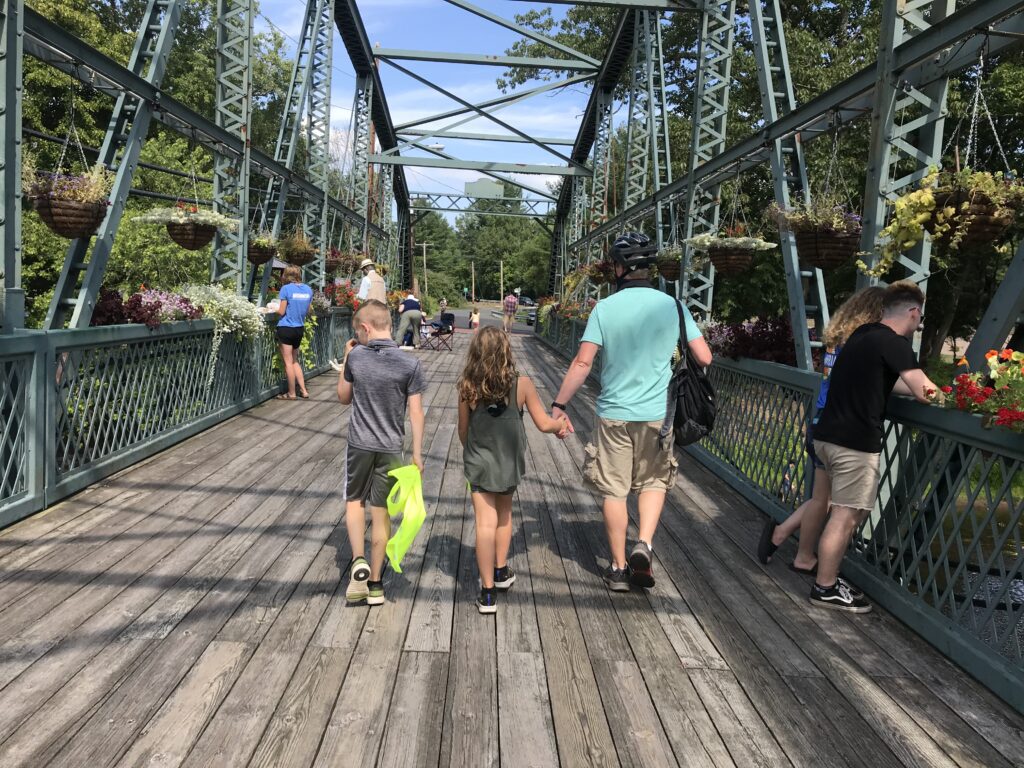 There's so many wonderful day trips from the Capital Region and som much to explore in New York. You can combine several of the above activities to may it a full day adventure. Pack a picnic full of some cold road trips food ideas and head out for some fun with the kids. Visit New York State Parks with one price annual admission with the Empire pass for around $80. In 2022, your every kids in a park free national park pass for 4th graders also gets you into New York State parks that charge admission by the car load.
Some of our Favorite Family Friendly Day Trips include Simsbury, CT, Cooperstown, NY and Columbia County. Lake Placid is another nice day trip. I will be compliling a full list of Capital Region Day trips soon but feel free to explore my blog for more ideas.
14. Make a Weekly Schedule
It's fun to change things up and do different things but if your child does well with routing having a schedule is helpful. It doesn't mean you have to stick to it. It simply means you have something to reference when they are "bored". It's also a good way to build in time for their responsibilities and plan in some break times for mom (ie nap, reading , movie or any other quiet activity time).
Another option is to have blocks of things that need to complete. 1 Art activity, 2. exercise, 3 reading etc. they can choose the order but are encouraged to do them all each day. Each subject has a list of activities they can choose from. This works well for the themd weeks too. We usually have a set time for cooking but anything else can be done whenever.
If all else fails it's time to do chores because when my kids know they have to clean they suddenlyfind something wildly entertaining and just can't break away from it to do their chores. This seems to work for sibling arguments too.
15. Visit a Farm
Capital Region Farms offer a variety of activities. Usually Staring with You Pick Strawberries in June and then offering a variety of other you pick options through out summer and ending with you pick apples and pumpkins in the fall. Many Farms offers fun activities from playgrounds to larger entertainment venues and haymazes in the fall. Some farms offer animal experiences that are wonderful for chidlren an often inexpensive.
Free or Cheap Things to do In the Capital Region with Kids This Summer
Free or Cheap Things to do In the Capital Region with Kids This Summer. There are so many fun things to do in summer for free or cheap whether you are home or away.
Make sure to follow my blog so you don't miss out on future posts and tips.
If you haven't already join AffordableFamilyTravel.com Crew on Facebook.
Check out some of our summer trips from the past couple of years:
Follow Affordable_Family_Travel on Instagram
Make sure to like AffordableFamilyTravel.com on Facebook to get all the latest updates. It's also where I post my Dash Deals that are time-sensitive.