Budget Travel to the Best Northeast Beaches for Families are a wonderful experience. If you are looking for a cheap family vacation here are some great options. Beach trips can be very affordable family vacations. Beach Trips are the perfect North East Family Vacations in summer. If you're looking for the best east coast beach family vacations these should be on your list.
1. Cape Cod, MA: Best Northeast Beaches for Families on a Budget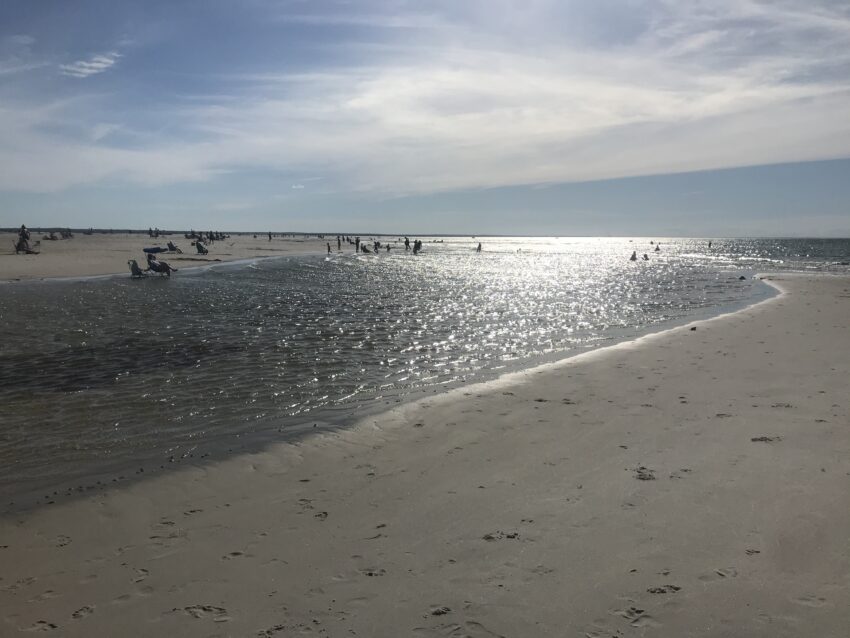 Cape Cod is a wonderful family getaway destination with a variety of activities to enjoy and one of the Best Budget Beach Vacations from the Northeast that we continue to go back to. Ocean and bayside beaches can be completely different experiences and it's worth checking out both. Cape Cod also has a wonderful bike trail and kayaking spots. The inflatable park is fun for kids of almost all ages. There are also opportunities for whale or wildlife watching. Budget Cape Cod family vacation can be a lot of fun even without breaking the bank.
Bayside is fun for exploring creatures such as sea slugs and horseshoe crabs and the ocean size is fun for the waves and softer sand beaches.
Cape Cod Hotels for Budget Travel to the Best Northeast Beaches for Families
Affordable hotels can be found in Cape Cod especially if you look offshore. Since there's so much to do on Cape cod and great places to eat scattered throughout the Cape I find staying on the beach isn't as beneficial as some other beach destinations. If you are looking to stay on points consider booking through a credit card travel portal for the best options.
2.

Jersey Shore

: Point Pleasant Beach
We love the Jersey shore and Point Pleasant is one of our favorite spots. Staying near the inlet means you have easy access to walk down the boardwalk to a lot of fun entertainment including amusement rides but you can relax in a quieter area. It's also easy to access all the wonderful Seafood restaurants including the Seafood markets that also sell hot meals. During the summer they often have live music and fireworks once a week.
Some of the best seafood meals we have enjoyed for an affordable price were in Point Pleasant. I love that we can enjoy a casual restaurant with our kids and still enjoy fantastic fresh seafood meals. This is also the best beach to look for sand crabs.
Staying in Point Pleasant can be affordable by renting a condo by the inlet or booking a mid-week hotel stay.
3. Ocean City, MD / Assateague National Seashore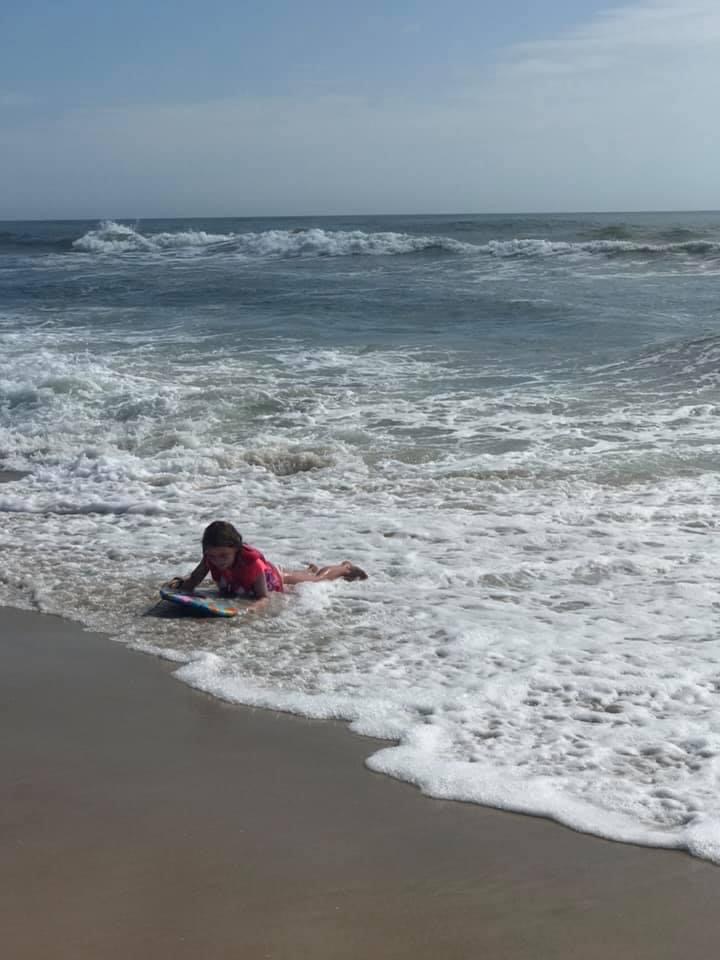 From Dewey Beach to Assateague Island the Deleware/ Maryland Coastal Island offers some really great beaches. Some areas are full of Beach house rentals and others are lined with beachfront hotels. The Ocean City Boardwalk is a lot of fun for families. Whatever you are looking for there's always a great option.
Assateague National Seashore is a great place to visit to see wild horses and enjoy a beach day with admission included with a National Parks pass.
Ocean City is a great place to book a condo or house rental. If you are looking for a hotel stay book far in advance for the best rates out there. If you are looking to stay on points Hyatt Place Ocean City / Oceanfront is 20,000 Hyatt points per night. There are also several other options.
Ocean City, MD
Ocean City offers a fun boardwalk with amusement park rides and some nice restaurants. Our family enjoys staying a little north of the boardwalk in a bit quieter area. We have some really great happy hour specials in the area as well as casual seafood shacks.
Assateague National Seashore
Assateague National Seashore should be on everyone's bucket list. The Wild horses are amazing to see. The Beach is expansive although the water current and waves can be very strong so make sure you abide by the lifeguard flags. There are also some nice walking boardwalk-type trails through sand dunes where you can see some birds and possibly horses too.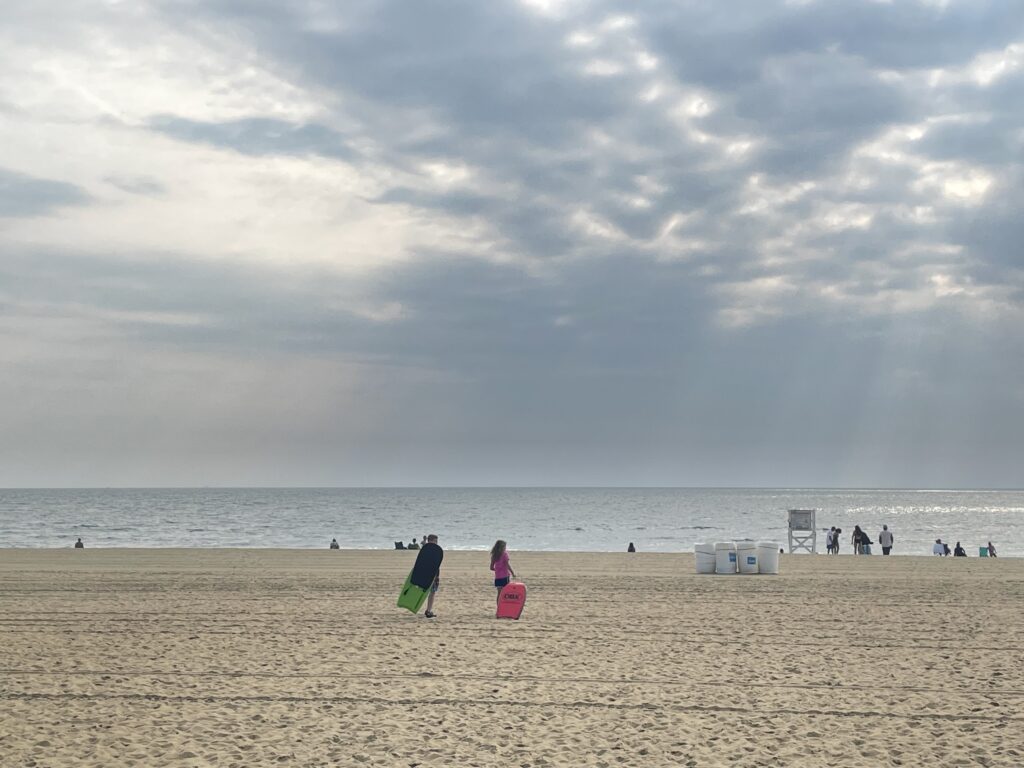 Virginia Beach is a great Family Beach Vacation destination. The Beach offers a boardwalk with lots of things to do from bike rides on the bike path, to playgrounds and a gymnastic/ninja obstacle course right on the beach. Virginia Beach has a sandbar that keeps the water shallow enough for children to be able to touch while in the water. It also has a wide beach with plenty of room to play ball or fly a kite. The beach after is fairly shallow for a distance which is great for kids as they can stand up but still boogie board.
The Hyatt House Virginia Beach Oceanfront is an all-ocean view room hotel in Virginia Beach. With each access to the beach and boardwalk, there are endless entertainment options for families. The hotel rooms have a fridge and microwave to help keep food costs down. Breakfast is also included.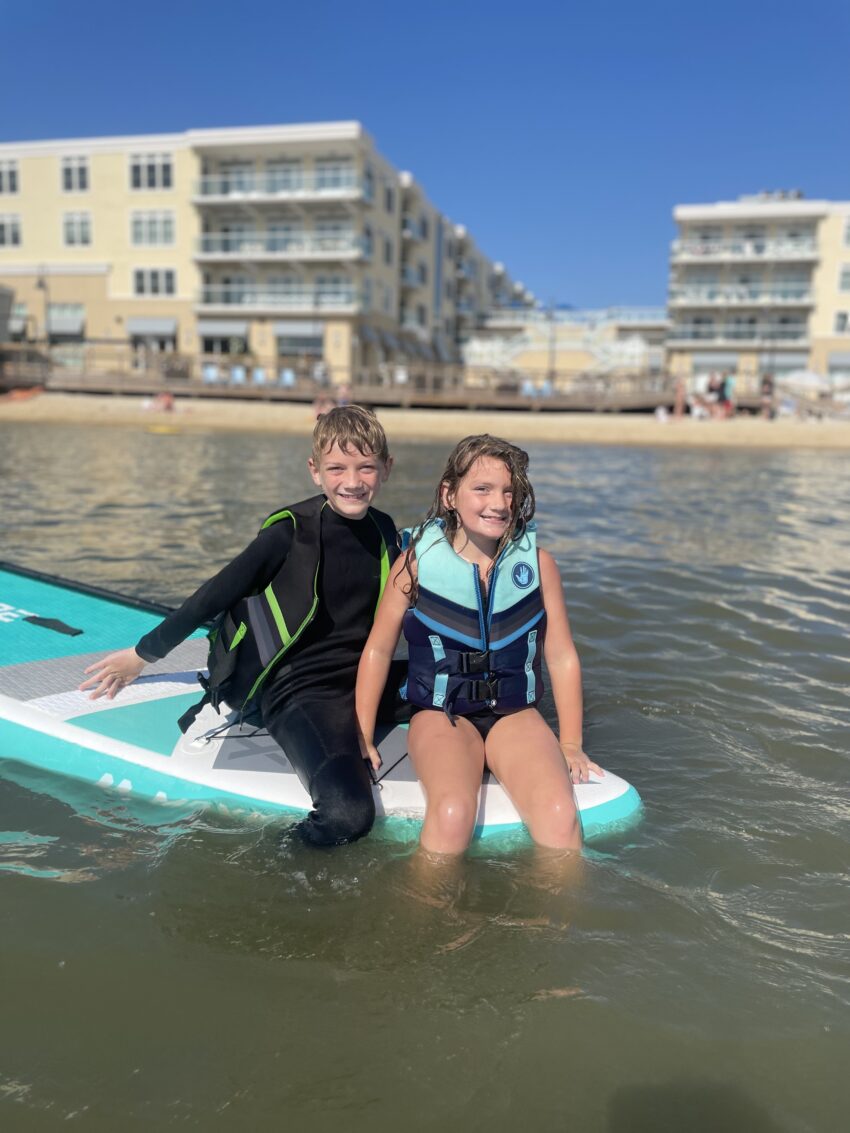 Dewey Beach is a fun family beach destination. The ocean side has nice side waves for boogie boarding, and in many places, only a block away is bayside. the bayside is calm and great for kayaking, paddleboarding, and for younger kids to wade in the water.
Hyatt Place Dewey Beach is located on the Bayside with a small beach that offers lifeguards during peak season. It's the perfect location over Independence day to watch the fireworks. We brought our inflatable kayak and paddleboard and were able to watch them from the water.
Having the best of both worlds is great. Spend the morning at the ocean boogie board and play with the kids. Then head back to the bay in the afternoon where parents can sit and watch the kids play in the shallow water and relax a bit. Still have the energy to enjoy a paddle with them. If you don't bring your own there are rentals right next door.
6. Hampton Beach, NH Best Northeast Beach for Beach Bums
Hampton Beach, NH is a beautiful expansive beach. It however wasn't for us because the whatever even in July is very cold. My daughter was willing to go in and boogie board and my son did for a short time but then was angry he was so cold.
It was nice that the water was a graduate incline so we could stand calf-deep in water where the waves broke and watch her coast into the shore. This way she could still enjoy the experience and we didn't have to go into the freezing water. The beach is beautiful as is the water so if your family is brave enough to dive into the cooler waters or if you are more of a beach bum this is a great destination for you.
If you are looking for affordable accommodations, look a block or 2 back from the beach. Using a credit card travel portal is the best option for staying on points here.
Things To Buy Before your Budget Travel to the Best Northeast Beaches
Budget Travel to the Best Northeast Beaches for Families Summary
Best Northeast Beaches for Families on a Budget can be relaxing, fun, and affordable. There's so much to do for free at the beach and often you can find affordable meal options including cooking at your accommodations. While accommodations can be pricey during the peak summer season there are always options to reduce the cost.
Follow Affordable_Family_Travel on Instagram
Make sure to like AffordableFamilyTravel.com on Facebook to get all the latest updates. It's also where I post my Dash Deals that are time-sensitive.