Budget Travel to Cape Cod with Kids. Believe it or not, we just completed Our cheapest vacation ever and it was to Cape Cod, MA. We spend just under $10 at an ice cream shop and gas money. Basically a FREE weekend Getaway thanks to 2 credit cards.
Budget Travel to Cape Cod with Kids Overview
Thanks to Chase Ultimate Reward points for covering our hotel for 1 night for a little over 8,000 points ($120 value) and American Express Hilton Aspire credit card for covering 2 Dinners out (about $110) with a Restaurant Credit. Our only expense was gas to get there, groceries we brought with us, and just under $10 for ice cream on one of the days when they didn't accept American express. Here are all the details of our fun-filled budget-friendly weekend.
Currently, Chase is offering a $200 sign-on bonus for their Chase Freedom Unlimited credit card with no annual fee (make sure to read the terms and conditions). This would cover almost 2 nights' stay. If you have a Chase credit card that offers Ultimate rewards you can transfer the $200 for 20,0000 UR. With a Chase Sapphire Credit Card, those points are worth $300 in the Chase portal which would cover almost 2 nights in CapeCod in the office season. You can sign up for chase freedom unlimited using my referral here.

Budget CapeCod with Kids Hotel
The Mariner Resort in West Yarmouth is where we booked our accommodations, for 2 nights. We had stayed previously and knew what to expect. We chose the resort because the ground level has sliding door access to the outside so we could bring our bags and children in through the doors and have them not set food inside the hallways or any other communal area inside. Unfortunately, we had some extremely loud guests till 2:30 am and the staff working at the time did nothing, so we checked out a day early. Thankfully the resort was willing to refund our second night. Chase Travel was great about contacting them to request a refund and the points were back in our account.
The Mariner Lodge has remodeled their first level which has queen-sized beds, a Fridge, sinks outside the bathroom, and as I mentioned sliding door access to the outside and parking nearby. We didn't see a bike rack but we locked our bikes to a tree since we didn't have our hitch installs on our car yet to support a 4 person bike rack.
We ended up spending a little over 8,000 Chase UR points on the 1 night which covered the hotel which would have cost $120/nt with tax. 1 Chase credit card sign-on bonus is usually around 50,000 UR pts could cover 6 nights.
If you are looking for a reasonably priced hotel right on the beach check out The Cove.
Budget Cape Cod with Kids Food
We chose to bring breakfast and lunch with us and eat dinner out to save money. The room had a fridge and we could request ice. We had several suggestions on where to eat but in the end location was the biggest factor as we chose to eat near by.
Captain Frosty's
The cost of the meal for 4 was $62.52. Our daughter had a hamburger with fries and our son ordered grilled cheese (no side) and clam chowder. Our son enjoyed the clam chowder and said the grilled cheese was the best. My husband ordered fried clam strips with fries and slaw and I had the day-boat scallops on brown rice. Unfortunately, they didn't have melted butter and the rice was very plain. The scallops had a very good flavor. We ate early so there was only 1 couple eating ice cream when we sat down outside. there were only about 5 tables total and they were a safe distance apart from each other.
They do not accept master cards but when ordering online they use a service that does so American express reimbursed us for the total. We ordered 2 soft-serve cones and a root beer float while we wanted for our meal which was the $10 out of pocket we spent the entire trip.
Seafood Sam's
Our second evening we grabbed Seafood Sam's before heading out. We spent $47.99 on 2 lobster rolls one with co slaw the other with fries and a bowl of clam chowder. Kids ate friend fries and some of the chowder while My husband and I enjoyed the lobster rolls. we had stopped for ice cream prior and were planning to treat the kids to McDonalds on the drive home. The lobster rolls were very and and I really enjoyed the clam chowder especially the celery which really enhanced the flavor. We didn't stay and eat at Seafoood Sam's but the outside tables were spread out enough to social distance. across the street was also the Canal and walking/biking path with benches along the way.
Activities in CapeCod on a Budget
Beaches in CapeCod on a Budget
One of the great things about CapeCod is during the off-season some beaches are free. You need to check which ones before you head over as some are extremely expensive. In early summer bayside beaches are ideal as they tend to be significantly warmer than the ocean side. There's also an opportunity to explore tidal pools.
The beach we first stopped at was Corporation Beach which had $25 parking fee. Since it was already 3:30 pm we opted to grab an early dinner at Captain Frosty's first then head to the beach at 5 pm when it's free to park. Just make sure you are out before the parking lot closes. While there we found a horseshoe crab, a seasnail, and a jellyfish.
On the second day, we went to the beach but it was after kayaking and the beach parking which was currently free was full. We headed to the beach. The beach was very rocky and there wasn't any parking. If you can find parking this beach wouldn't be a bad option as you can walk down to the sandy beach if the rocky beach isn't to your satisfaction.
You can check out the beaches and parking prices in CapeCod here.
Did you know that the CapeCod National Seashore is a National Park? That means you can get free admission with your America the Beautiful National Parks Pass. The national seashore is located in eastern Massachusetts and is accessed via Rt. 6. The park is 20 miles east of Hyannis, MA.
Bike Trails
CapeCod has some Great Bike Trails. Unfortunately for our short trip we only made it to 1. We had such a great experience on the trail we would like to go back for a week's stay in Capecod so we can check out all the trails along with kayaking and of course the beaches and seafood. You can check out all the trails CapeCod has to offer here.
We chose the shining sea bike trail and think we made a great choice. The trail is nicely shaded for a comfortable ride in the summer heat. We rode past a cranberry bog and even saw a small beaver in a swamp area. My son fell off the paved path early on and scrapped his knee. We continued on but when we got to the bog he was asking if we can turn around. It was a good choice because our daughter was really tired by the end. It was about 4 miles round trip which was more than the kids are used to.
There were several stops along the route where you could grab a bite to eat or even an Adult Beverage. You could easily make the trip longer excursion.
Kayaking
The main reason we headed to Capecod was to kayak the marshes. We brought our own inflatable kayaks so there were no rental costs. We kayaked Scorton Creek. It wasn't exactly what I expected but we saw a lot of crabs while kayaking and when we stopped for lunch the kids were using the salami we brought to catch crabs. This ended up being the highlight of the trip for the kids. The overpass where we parked is a popular bridge jumping spot and we saw many groups heading over and jumping.
Hiking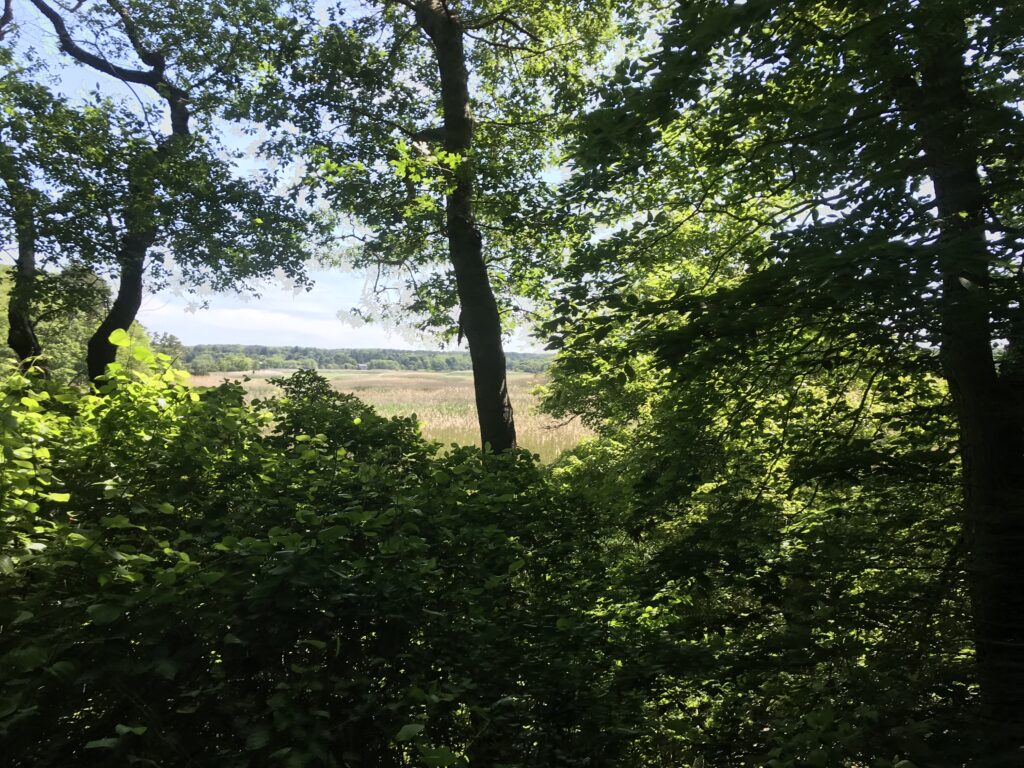 Many of the Bike Trails are available for walking/hiking too. There are also hiking trails. We stopped at one quickly near Scorton's creek when we were trying to find the launch. Check out these 5 CapeCod hikes.
CapeCod on a Budget: Free Activities
In addition to the activities mentioned above, there are many more things you can do for free. Currently, many things are closed due to Covid so check before you plan to visit.
Activities that are worth the price
Go clamming (you will need to pay for a permit and supplies)
Miniature Golf
Check out some Other Great North East Trips
Make sure to like AffordableFamilyTravel.com on Facebook to get all the latest updates. It's also where I post my Dash Deals that are time sensitive.
The information provided in this post or on affordablefamilytravel.com, Affordablefamilytravel.com facebook page or Affordablefamilytravel.com Crew Facebook group and accompanying material is for informational purposes only.  It should not be considered legal or financial advice.  You should consult with an accountant, financial adviser or attorney or other professional to determine what may be best for your individual needs.