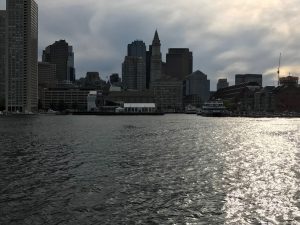 Budget Travel to Boston with Kids. Check out how we did it, including a budget-friendly itinerary and tips to make the most of your visit.
Budget Travel to Boston with Kids: The Break Down
Boston Budget Hotel: 40,000 Hyatt points (20k per night for 2 nights)
Flights to Boston: $0 -We drove but Boston, MA is a SW Airport and a great opportunity to utilize companion pass.
Boston Parking: $98
Boston Entertainment: ASTC Museum Pass $100 (for 1 year), Whale Watch and Aquarium Combo $254 for 4.
Budget Boston with Kids Overview
Boston, Ma is a fun city with lots of options for entertainment and dining and easy to travel though with many areas walkable. We will definitely visit again.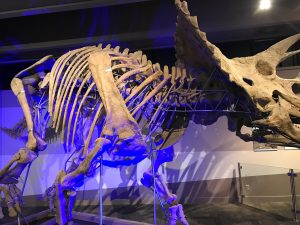 Budget Boston with Kids Tips:
• Don't miss Boston Chowder Co Best Boston chowder You can grab some at their stall inside Faneuil Hall.
• Seating on the Whale Watch tip. Get a seat by a window on the whale watch even if it's the lower level then you can get up to look when they spot whales, but you will have a comfortable space for the long ride out and back.
• If you get seasick consider Rockport. You can take a whale watch out of Rockport, MA which is much closer to where the whales feed so less time speeding through open water. This may be helpful for those who tend to get seasick. Don't forget your meds and some ginger pills to help reduce the likely hood of seasickness as well.
• Faneuil Hall can be extremely crowded and some what over price. I would recommend walking around maybe getting dessert but grab dinner somewhere you can sit and relax away from the crowds.
• Boston, MA has a national park junior rangers program you can do for free. Fun while learning history it's a great program.
Budget Boston Hotel
Boston Hotel on Points: Hyatt Centric Faneuil Hall
Hyatt is one of the best point transfer partners from Chase. For only 20,000 UR points we stayed here on Memorial Day weekend when prices were $450/nt. We never could have afforded to stay in such a centrally located hotel. Since Boston, MA was some what of a sentimental trip, I emailed the hotel ahead of time to give them a heads up. They surprised us with an upgrade to a larger room, snacks and bottled water upon arrive. We were also provided with great service and Welcomed us to Boston, MA.
Comfort
The room was extremely spacious, so much so that I wondered why the beds were only full and not queen. Similarly, the bathroom was a bit small with just a cube of a shower. I had to open the door to shave.  This is more of a business hotel so maybe most don't mind. Parking is expensive in Boston. We paid $100 for 2 nights valet parking. They let us keep the car there till 2pm without additional charge. There are cheaper options available.
Location
The positives was the location. It was steps from Faneuil Hall and walking distance to everything we wanted to see. Boston Commons and the Boston Aquarium and Whale watch were both half a mile away or less. The Science museum and Children's museum were around a mile away. All easy walking with sidewalks.  Rooms were clean and spacious. Service was great. I would recommend this hotel especially if you are able to stay on points.
Boston Budget Hotel with Cash
Boston accommodations can be rather expensive which is why staying on points is a great value. There's more affordable options outside the city and you can always take the subway into and around the city.
Holiday Inn Express Boston can be as low as $100/nt and a good location within the city. I believe parking used to be free but they not charge $20/night for parking. However this is an ideal hotel for those flying in and looking for affordable accommodations within the city.
Boston 3-Day Itinerary: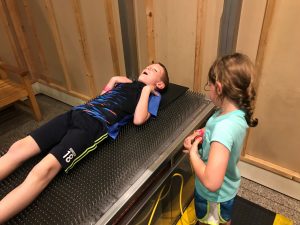 Boston Day 1: Boston Science Museum
We drove the 3 hours drive with very little slow down from traffic and made very good time. The hotel held our luggage and we headed off to the science museum which was about a 20 min walk away. We arrived slightly after opening and spend almost 6.5 hours at the museum. The kids would have stayed longer but we were all exhausted. Lunch at the museum had a decent selection and prices were a little cheaper than we would have expected. 
After heading back to the room, we rested for about an hour and headed to Faneuil Hall for dinner. Admission to the Boston Science Museum was free because we had purchased a membership to our local science museum prior to our trip for $100. They participate in the ASTC Travel Passport Program which provides access to science museums around the world. The admission price of the museum for 2 adults and 2 children was more than our $100 membership fee so we made our money back with just this visit and now have a full year to use the membership for other museums that are included with the pass.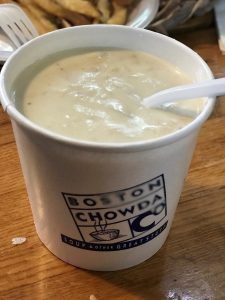 Boston Day 2: Aquarium and Whale Watch
Aquarium
This morning we headed out to the Aquarium and afternoon whale watch. We purchased a combo pass for $254 for the 4 of us. Started the Day off stopping at the whale watch booth to get our tickets for both the whale watch and aquarium. This was great because we skipped the huge line of people waiting to purchase tickets and got right in.
The first-floor area with all the penguins is wonderful and there's a small light on the right hand side about 5:00 if you imagine you walk in at 6:00. The light projects a fish in the water and the penguins swim around to catch it. It was a lot of fun for the kids. We saw the sealion exhibit and then made our way to the top of the aquarium for a presentation they were having.
There is a giant turtle in the tank which the kids were excited to see. We worked our way down and finished with the kid's area touch tank. The aquarium is fun but not as amazing as we had though it would be. Our favorite was the penguins. There's also a tank with an electric eel that has a gauge and it will show when the eel is ramping up to electrocute its prey.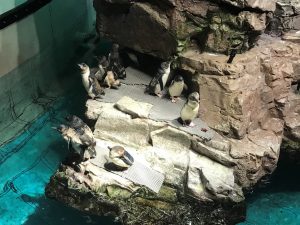 Lunch at Tia's
We left the aquarium to have lunch at Tias. The food was ok nothing spectacular though the clam chowder was good and the kid's meals reasonably priced. Our kids ordered 3 kids meals and ate almost all the food they had definitely worked up an appetite. It was a beautiful day. My husband and I decided to have a bottle of wine.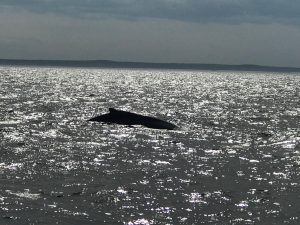 Boston, MA Whale Watch
The boarding of the whale watch had me a little stressed. While the Boat was sold out but in the end, it wasn't as packed as I imagined it was going to be. We got a seat at a window table on the first level which worked out perfectly as it's about an hour out and back. When we got to the area of the whales we could easily go out and see them when we wanted to.
We were starving when we got off the boat and headed to Legal for Dinner. I really wanted a lobster roll which was only on their lunch menu but after seeing one arrive at the table next to us I asked and was able to order one. It was very disappointed as it was way too light on the butter. My husband got the shrimp dish that was wonderful and while the chowder was good, Boston Chowder Co still took the prize for best chowder.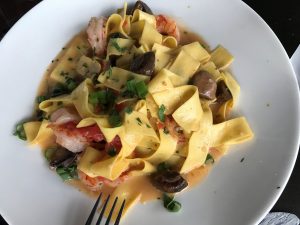 Boston Day 3: Boston Children's Museum
The next morning, we packed up and checked out. Had the front desk hold out luggage and confirmed with parking we could leave our car until 2pm without an additional charge. It would be $30 if we picked up after that.
We took a short 10min walk over to Boston Commons to see the flag display they have there and play on the play ground for a little bit. Pulling the kids away only so we could make the opening of the Boston's Children's museum. The kids really enjoyed the Boston Children's museum, our daughter who was almost 6 at the time more so then our son who was about 7.5yrs old. I imagine 9 years old and up with be less excited and maybe even a little bored.
The Boston's children's museum also participates in the ASTC Travel Passport Program so we entered free of charge.** The Boston Children's Museum is not listed n the ASTC 2023 reciprocity list, continue to check back in upcoming years to see if it returns. I think its a fun museum for toddlers and younger kids 6 and under but otherwise I would skip. We left the museum with time to walk back and get our car before the 2pm cut off for parking. Packed up our luggage and grabbed dinner on the drive home. 
If skipping the Boston Children's Museum check out the Freedom Trail instead.
The food overall was ok. I didn't order anything spectacular while in Boston. I would definitely go back to Boston Chowder co for some chowder and Legal Seafood Shrimp dish was very good (skip the lobster roll). Since we plan on visiting again I will have many more chances to maybe find some hidden gems.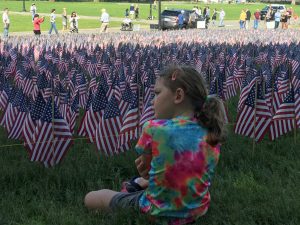 Boston Budget and Free Entertainment
The Freedom Trail is a 2.5 mile route that runs from Bunker Hill to Boston Common. While you can easily walk the route in a days time it will take you several days to visit all the sites. This is a great way to spend several days on a budget in Boston as many of the sites are free. Which ever route you take, I recommend, strolling through the sites on a leisurely walk by and stopping at Faneuil Hall for lunch. If you start at Boston Commons, you can spend your afternoon at the Bunker Hill Museum and Monument.
This is a great way to add on to the above itinerary for a four day Boston Itinerary with Kids.
Bunker Hill Museum and Monument
Bunker Hill was the location of the first major battle of the Revolutionary War, on June 17, 1775, was the and predicted the character and outcome of the rest of the war. Bunker Hill Monument is open 1:00 PM – 4:30 PM. Only 20 people are allowed in the Monument at a time. The last climb is 30 minutes before closing. The Monument may close for climbing due to weather conditions and/or other safety considerations. The Bunker Hill Museum is open 10:00 AM – 4:30 PM.
Bunker Hill Museum provides exhibits and visitor services for people interested in learning about the battle and the monument. All operating hours Admission to Both is Free
USS Constitution Ship
USS Constitution is the oldest commissioned ship in the United States Navy. Naval officers and crew still serve aboard the ship today. The USS Constitution Museum is across the pier from the USS Constitution. Admission to USS Constitution is free but donations are requested. Operating Hours Today's Hours:
USS Constitution Hours: Open 10:00 AM – 6:00 PM. Tours of the ship are available on the half-hour and last for 30 minutes. USS Constitution Museum Hours: Open 10:00 AM – 5:00 PM.
Boston Restaurants and Budget Food
Tia's waterfront $107 including tip, 3 kids meals, 2 cups of chowder, a bottle of wine, and 2 sandwiches. Kids were hungry this day. The food was just ok. Wouldn't recommend it.
Legal seafood $120 includes tip. Lobster roll, Shrimp Pasta Dish, 2 kids meals, 1 cup of chowder. The food was good but skip the lobster roll. Would recommend eating here. Definitely not cheap. To make this a budget meal order a cup of chowder for a light lunch.
Faneuil Hall: Mos Café Boston $10.10 for calamari sandwich and $23.50 for the fish fry. Legal fish bowl $14.93 for Poke Bowl. Also ordered a bowl of soup from Boston Chowder co which was definitely the best we had of the entire trip. I would recommend grabbing some chowder to go but otherwise skip this overcrowded area with limited seating.
There's some really great budget food in Boston. Here's a list of some Boston cheap eats options:
Anna's Taqueria
Tasty Burger
Sapporo Ramen
Why we will be back in Boston
Boston is a short and easy drive for us for even an overnight trip. I absolutely loved the walkable streets and many sites. There's still so much more for us to explore.
Budget Travel to Boston with Kids: Under $1500
Here's how to keep this trip under $1500 for a 5-night stay
• Use Hyatt or Chase Ultimate Rewards points (UR) transferred to Hyatt to book 5 nights at 20,000 points per night for a total of 100,000 points (this can be earned with 2 credit cards)
• Flying? Utilize southwest airline points and companion pass to fly round trip for only $11 per person for fees.
• Invest in a membership with one of your local museums that participate in the ASTC Travel Passport Program (https://www.astc.org/passport/) for $100 it will cover the Boston Science Museum and the Boston Children's Museum and you will have a full year to enjoy many other museums covered by the pass for free.
• The Hyatt Centric has a fridge in the rooms so you can pack breakfast and lunch to keep food costs low. You can easily spend under $100 a day on food over all if you eat casual even without packing food.
If you are looking for tours check out my page viator.com for an easy way to search your options in most cities around the world.
Follow Affordable_Family_Travel on Instagram
Make sure to like AffordableFamilyTravel.com on Facebook to get all the latest updates. It's also where I post my Dash Deals that are time-sensitive.