Boston's Freedom Trail Itinerary with Kids will take you on a path through Boston's and America's History. It's a collection of museums, churches, meeting houses, burying grounds, parks, and even a ship, telling the story of the American Revolution and beyond. the Freedom trail is a wonderful addition to your Boston on a budget with kids itinerary.
You can't take the route either way. If you are early risers you can head to Boston Commons first thing and spend some time around the park including the play ground. If it's a busy time of year and you plan to visit the Constitution Ship and Bunker Hill you will want to head there right before opening.
It will take about 1.5 hours to walk the route with out visiting any inside. I would plan an hour in Boston Common and several hours for Bunker Hill and USS Constitution. You can spend 1 hour to half a day in Faneuil Hall, eating and shopping around the area.
Below is a Google Map of the route with most but not all sites as there are too many to include. the missing sites are near by others so there isn't much of a detour. A narrow, red brick trail connects all of the sites, and each site is marked with a Freedom Trail plaque on the ground.
1. BOSTON COMMON

Boston Common is America's oldest public park and was established in 1634. Head to Boston Frog Pond – for ice skating in winter and in the summer, the pond converts into a free spray park. Near by is the Boston Common Carousel. Also located in the part is the Embrace, a bronze sculpture that honors the life and legacy of Rev. Dr. Martin Luther King Jr. with a representation of a hug between he and his wife Coretta Scott King. Head across Charles Street, to enter Boston Public Garden, a space filled with trees, plants, sculptures, fountains and, swan boat lagoon where you can take a swan boat ride. For Memorial Day there is a display of flags for each Massachusetts soldier lost.
I would plan an hour here unless your planning sometime in the splash park in the summer then you may want to plan more time and definitely will want to start at the other end so you can end your day at the splash ground.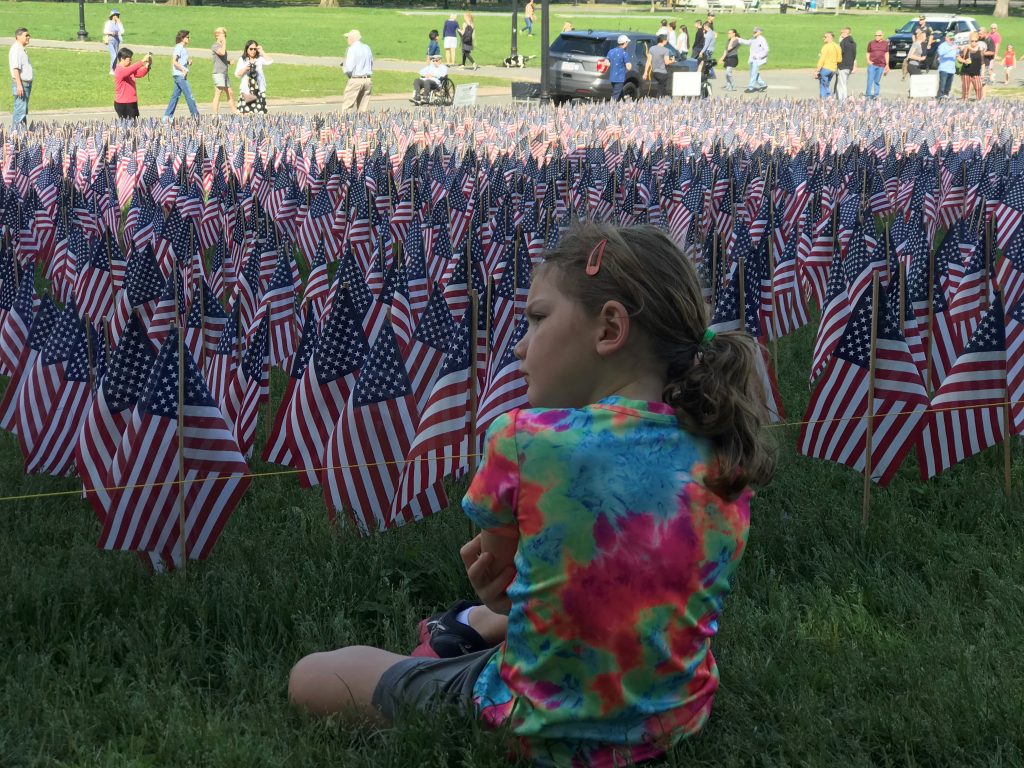 2. MASSACHUSETTS STATE HOUSE
Opened in 1798, the current State House, it sits adjacent to the former site of the historic Hancock mansion. It serves as the seat of Massachusetts government, holding the legislative and executive branches. 
3. PARK STREET CHURCH
The church was once the first landmark travelers saw when approaching Boston. It was founded in 1809, at the corner of Park and Tremont Streets.
4. GRANARY BURYING
Established in 1660, some of America's most notable citizens including Peter Faneuil, Sam Adams, Crispus Attacks, John Hancock, James Otis, Robert Treat Paine, Paul Revere, and members of Ben Franklin's family rest here.
5. KING'S CHAPEL & KING'S CHAPEL BURYING GROUNDS
Boston's first Anglican church, was founded in 1686.
6. BOSTON LATIN SCHOOL SITE/BENJAMIN FRANKLIN STATUE
Boston Latin School, is the oldest public school in America. founded on April 23, 1635, it offered free education to boys , while girls attended private schools at home.  The statue of former student Benjamin Franklin currently marks the location of the original schoolhouse.
7. OLD CORNER BOOKSTORE
The Old Corner Bookstore is downtown Boston's oldest commercial building, established in 1718. It was home to the 19th-century publisher Ticknor and Fields, producer of many titles including Thoreau's Walden, Hawthorne's The Scarlet Letter, Longfellow's Midnight Ride of Paul Revere, and the Atlantic Monthly including Ward Howe's Battle Hymn of the Republic.
8. OLD SOUTH MEETING HOUSE
This is where the Boston Tea Party Began.
9. OLD STATE HOUSE
The Old State House stands as the oldest surviving public building in Boston. Built in 1713, the building served as the center of civic, political, and business life.
10. BOSTON MASSACRE SITE
On March 5, 1770, 5 civilians died when Bostonians and Redcoats clashed, after months of tensions due to occupation and taxation. The clash resulted in the evacuation of troops in Boston.
11. FANEUIL HALL
America's first Town Meeting was held at Faneuil Hall, known as "the home of free speech" and the "Cradle of Liberty". The Hall's vital role in revolutionary politics had not been part of its original plans, but it became home to an intricate collection of events that shaped the nation's history. It's now filled with food stalls where you can sample some of Boston's wonderful culinary delights including some Boston Chowder.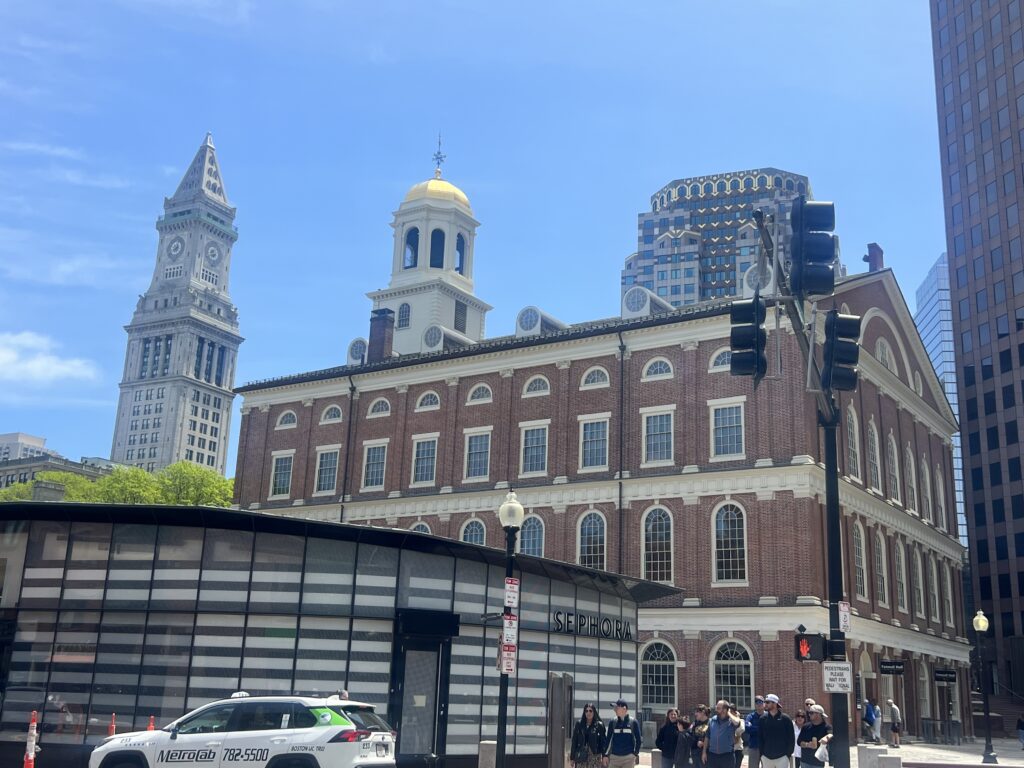 12. PAUL REVERE HOUSE
the Paul Revere House, owned by the legendary patriot from 1770-1800, is the oldest remaining structure in downtown Boston built around 1680.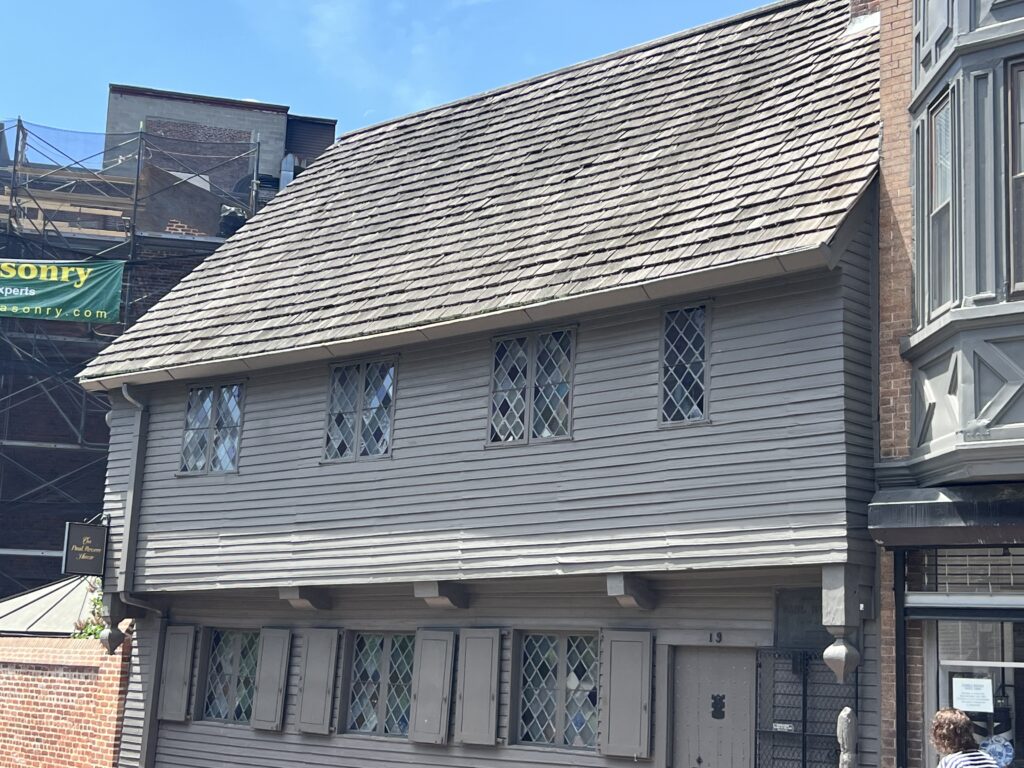 13. OLD NORTH CHURCH
Visit the site that launched the American Revolution! Built in 1723, Boston's oldest church is best known for the midnight ride of Paul Revere and "One if by land, two if by sea."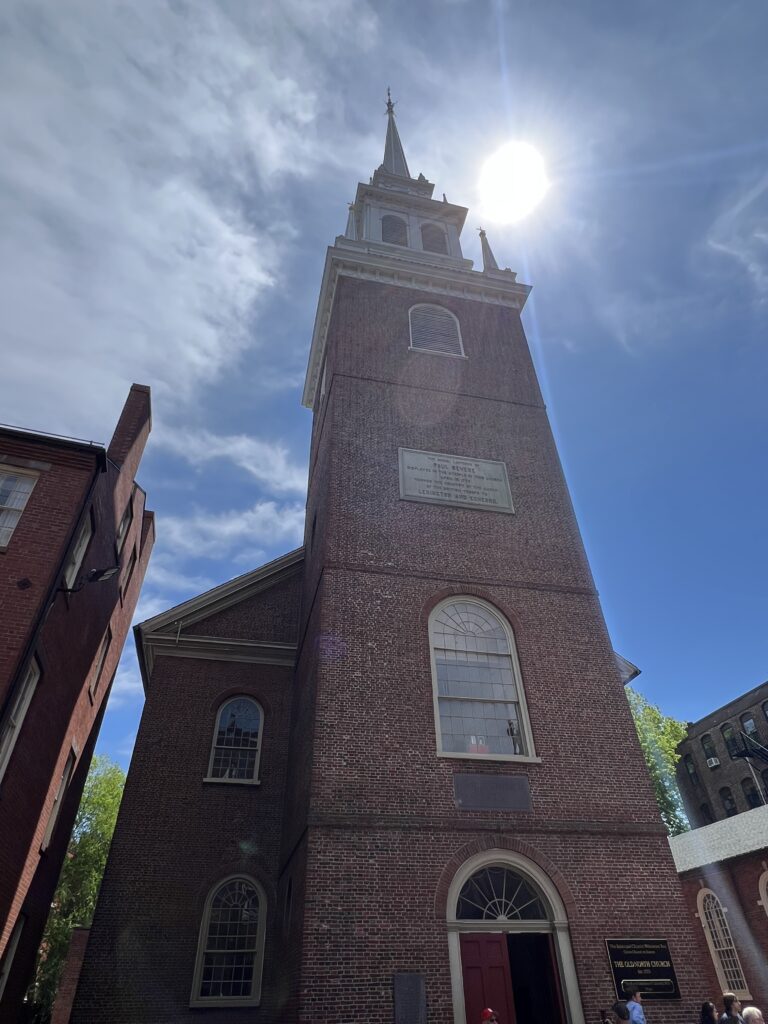 14. COPP'S HILL BURYING GROUND
Copp's Hill Burying Ground, named after shoemaker William Copp, is the final resting place and burying ground of merchants, artisans, and craftspeople who lived in the North End.
USS Constitution is the oldest commissioned warship afloat. Launched in Boston in 1797, it earned her nickname "Old Ironsides" during the War of 1812 when she fought the British frigate HMS Guerriere. Visit when the ship is open so you can climb aboard and tour the ship.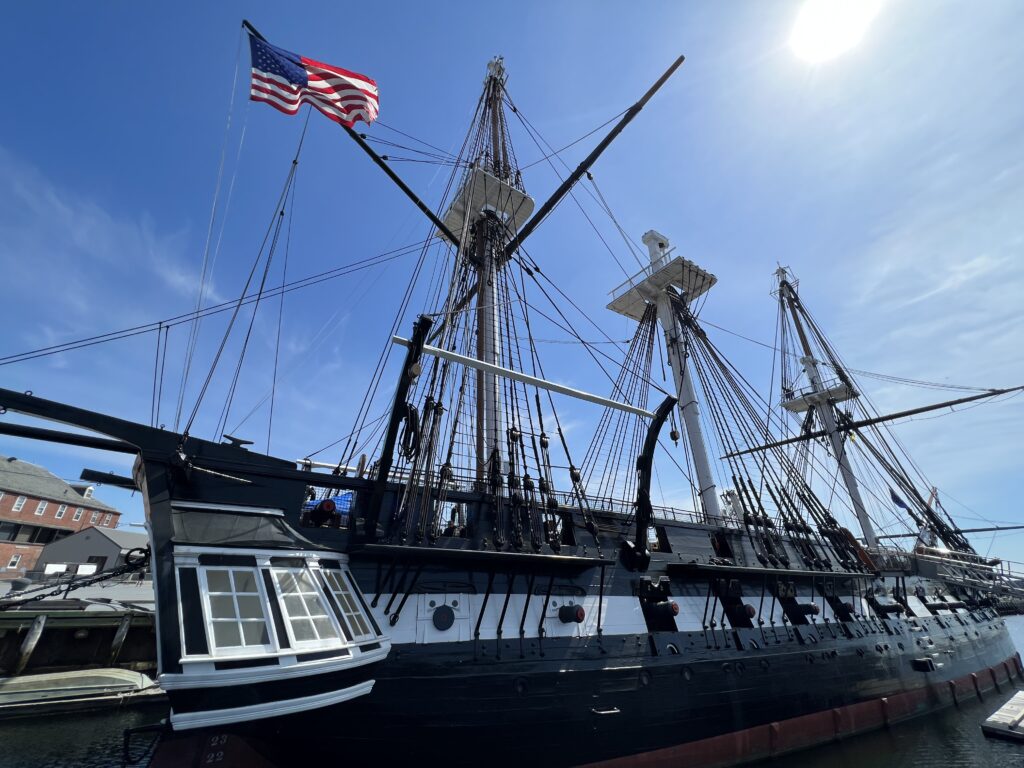 16. BUNKER HILL MONUMENT
The first major battle of the Revolutionary War was the Battle of Bunker Hill on June 17, 1775. It predicted the character and outcome of the rest of the war. You can go up the monument using it's spiral stair case. Only 20 people are allowed in at a time so arrive early.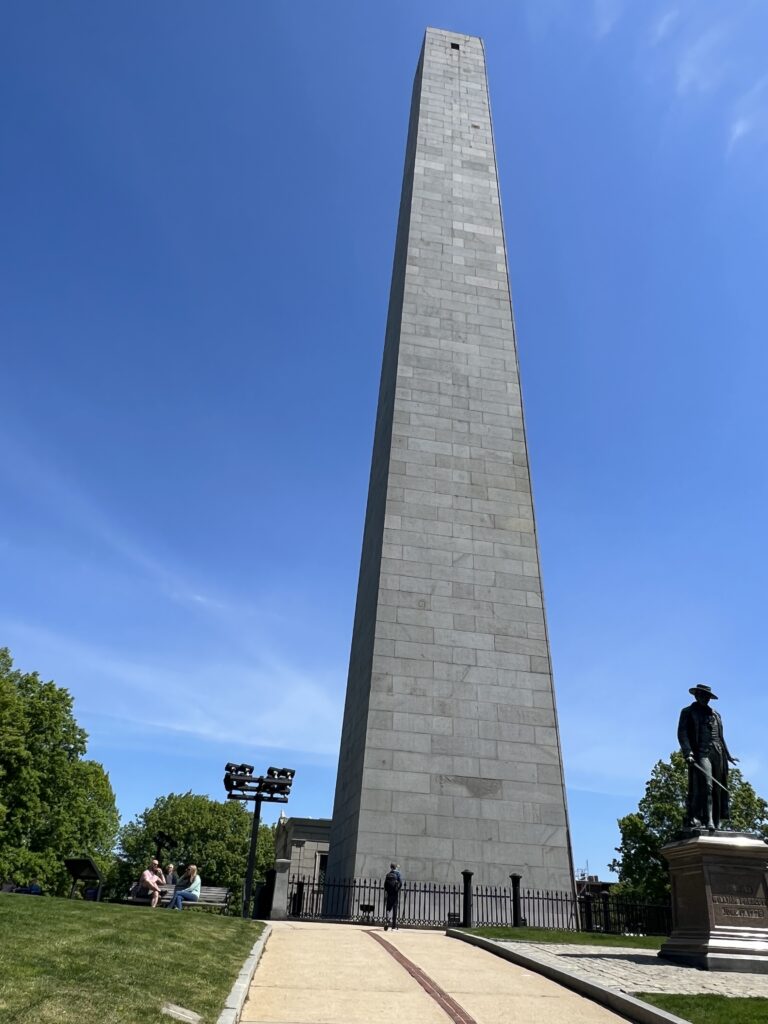 Boston's Freedom Trail Itinerary with Kids Summary
Boston's Freedom Trail Itinerary with Kids will take you on a path through Boston's and America's History. Boston is a wonderful city to explore with kids, head to Boston on a budget with kids itinerary to help plan your next Boston trip.