The Hyatt Place Dewey Beach is the perfect accommodations for families looking for a Northeast beach vacation in Delaware. The location of the Hyatt Place Dewey Beach is perfect for families with kids of all ages. Located on the bayside with a small beach but only a short block away from the oceanside beach so you get the best of both. Learn how to stay here and other family resorts on points. This can be a cheap family vacation by using Hyatt points you can stay for free.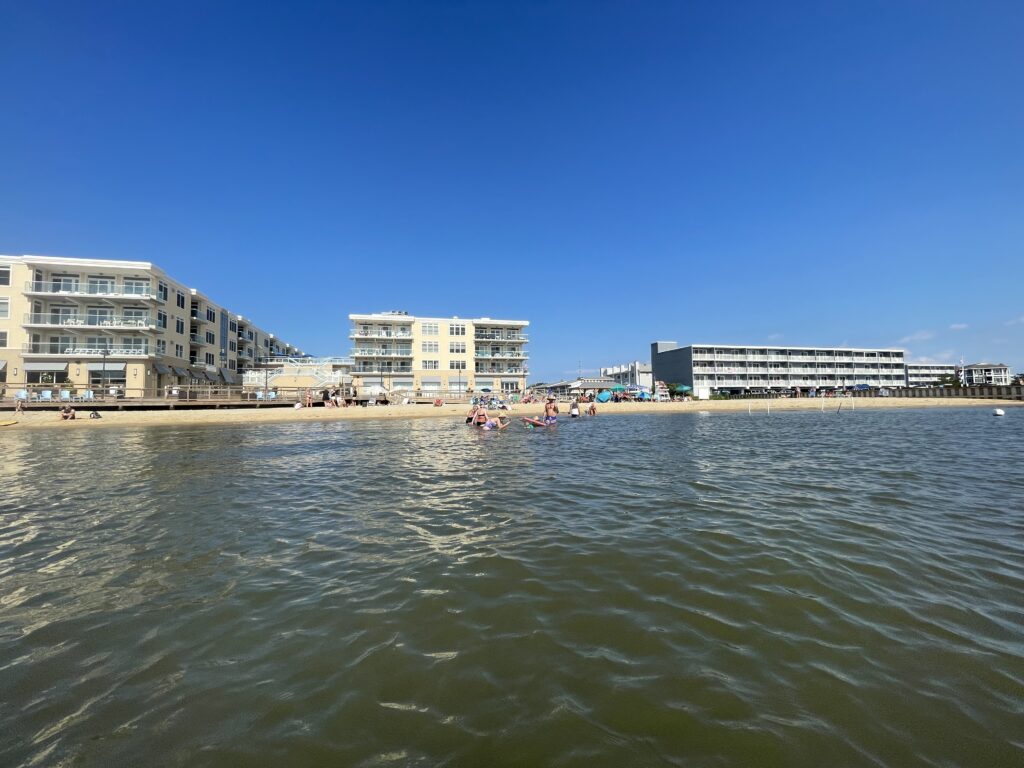 Rooms & Ameneties
The rooms are the standard Hyatt Place rooms with 1 king or 2 full-size beds as well as an L-shaped couch that has a sleeper sofa so rooms can accommodate up to 6 people.
The rooms are very spacious, especially for beach area accommodations. We had enough room to fit our inflatable paddleboard so we didn't have to deflate it until the end of the trip. We were located on the first floor facing the road and did hear some street noise at night. Although, I didn't hear it thanks to my bose earplugs and my husband and kids weren't phased by it.
Mini-Fridge in Room
The room has a fridge so you can store some cold items to save on drinks and even lunches during your stay.
Breakfast Included
Breakfast is included with each night and is the standard Hyatt Place Breakfast although it was one of the better ones we have had during covid. They offered corn beef hash scrambled eggs and bacon. along with muffins, bagels fruit, and yogurt.
Garage Parking Included
Parking is Complementary at the Hyatt Place Hotel. The parking garage is shared with the attached condos so parking is limited to 1 car per hotel room.

Activities
This is the first Hyatt Place we have stayed at that offered an activities schedule. It was definitely a nice add on considering the price you pay (mostly due to its awesome location). The kids were able to pick up smores kits to enjoy at the bayside beach bonfire. There's also a movie night one night a week on the beach.
The Best entertainment is the access to the Ocean and Bayside beaches. There's also a kayak rental right next to the bayside beach or you can bring your own kayaks and paddleboards to use in the calm waters. We loved using our inflatable kayak and inflatable paddleboard on the bay.
For Independence Day, Fireworks are hosted over the bay with views from the Hyatt Place Dewey Beach Bay Front beach area. There are tons of boats that anchor in the bay to party all day but move out right before the fireworks with a few remaining for the show.
The Hyatt Place Hotel has an indoor pool which is great for rainy days or during check-out days if you don't want to get sandy or saltwater. There's also a shower in the pool area if you do want to rinse off from the ocean. There's also an outdoor shower in the parking garage. These small amaneties can make a huge difference in comfort on your drive home.

Bayside Beach
The Bayside beach by the Hyatt Place Dewey beach offers calm warm waters to play in. There's a public access beach on the side of the hotel that offers kayak rentals. We were able to launch ours off the main beach. The Beach also has a lifeguard on duty during mid-day. The water was calm and shallow enough that younger kids could play in the water while parents watched them from the shore. It was a very relaxing place.
It also provides nice views of the fireworks on Independence Day that are shot off over the bay. We were able to paddle out on a SUP and kayak and watch the fireworks from the water. This was a fun and unique experience for us.
Oceanside Beach
What's great about this hotel is you have access to both bayside and ocean-side beaches. Just one short block away is the public beach access with a lifeguard stand. The ocean has waves for boogie boarding and nice sand great for building sandcastles.
Restaurants
There are several restaurants near the hotel. This is especially convenient during busy times when the local trolley is behind schedule and Uber is dropping pick-ups because traffic is so congested.
You can easily walk to the Rusty Rudder next door which offers delicious lobster rolls and live music. The Place was definitely jamming on independence day with their live music and bay view. Across the street is Nalu Dewey Beach as well as a handful of restaurants within a few blocks away.
Stay at the Hyatt Dewey Beach For FREE
Hyatt Dewey Beach is a Category 5 Resort so it costs 20,000 points. While we are used to staying at Hyatt's higher-end hotels and resorts at this rate, The location of this hotel makes it a good value. We definitely aren't used to staying at such large hotels at the beach.
Currently Chase Saphire Prefered is offering a 100,000 point sign-on bonus. Hyatt is a transfer partner and you can transfer those points to your Hyatt account as an a1:1 ratio. This means you can stay 5 nights for free after earning the sign-on bonus and transferring the points to Hyatt.
Hyatt Place Dewey Beach Summary
The Hyatt Place Dewey Beach is the perfect accommodation for families especially large families who need rooms that sleep 6. Easy access to the ocean and bayside beaches provides a variety of entertainment. It's one of the best Hyatt Hotels on the east coast, thanks to its great location. We also love that we can utilize our inflatable Kayak and an inflatable paddleboard for another free entertainment option.
Follow Affordable_Family_Travel on Instagram
Make sure to like AffordableFamilyTravel.com on Facebook to get all the latest updates. It's also where I post my Dash Deals that are time-sensitive.