The Hyatt House Virginia Beach is located oceanfront on Virginia Beach next to 27th Street. It's one of the Best Hyatt Resorts on the East Coast for families because Virginia Beach has so much to offer. There are a lot of free things to do in Virginia Beach for a Budget Family Vacation. There are several restaurants inside but only one is consistently open this year. The other is currently serving pizza. The location is fantastic. All rooms are Oceanfront rooms and include a fridge and microwave. Summer weekends in Virginia Beach can be very expensive. Learn how to stay at this and other Family Resorts on points to make this a cheap family vacaiton by using Hyatt points for a Free stay .
Hyatt House Rooms
The rooms have balconies with 2 chairs and a table with great ocean views which is the best feature of the hotel. The rooms are smaller than a typical Hyatt Place or Hyatt House hotel we have stayed at but have room for everything you need. We had a double bedroom with a small sofa and a small area with a fridge and microwave.
There was ample storage with a dresser with nice big draws and shelves over the desk. I found the shelves particularly useful for storing our food. With the furniture, there was basically enough room to walk through the aisles. We did have space to store our beach cart next to the dresser (blocking adjoining room- which wasn't ours).  Our clothing bag fit on the safe in the closet and there was a shelf above for additional storage.
As Globalists, they were able to honor our request for a late check out until 4 pm which is a HUGE benefit when you are on a beach vacation. We were able to spend our last day at the beach then shower before heading home.
Tips
Bring Bikes or roller blades to enjoy on the boardwalk
27th Street Pizza located at Oceans 27 has giant $5-$6 slices of pizza. 1 slice is a meal
Lifeguards seem to have different start and end times. Near the Hyatt, they seemed to start around 9:30 am and end at 5:30 but further down the street, it seemed the lifeguards were out till 6:30 pm.
Elevators at the Hyatt House get busy in the morning between 8-9:30 am.
If you need dairy-free for your coffee make sure to bring your own.
Hyatt House Virginia Beach Breakfast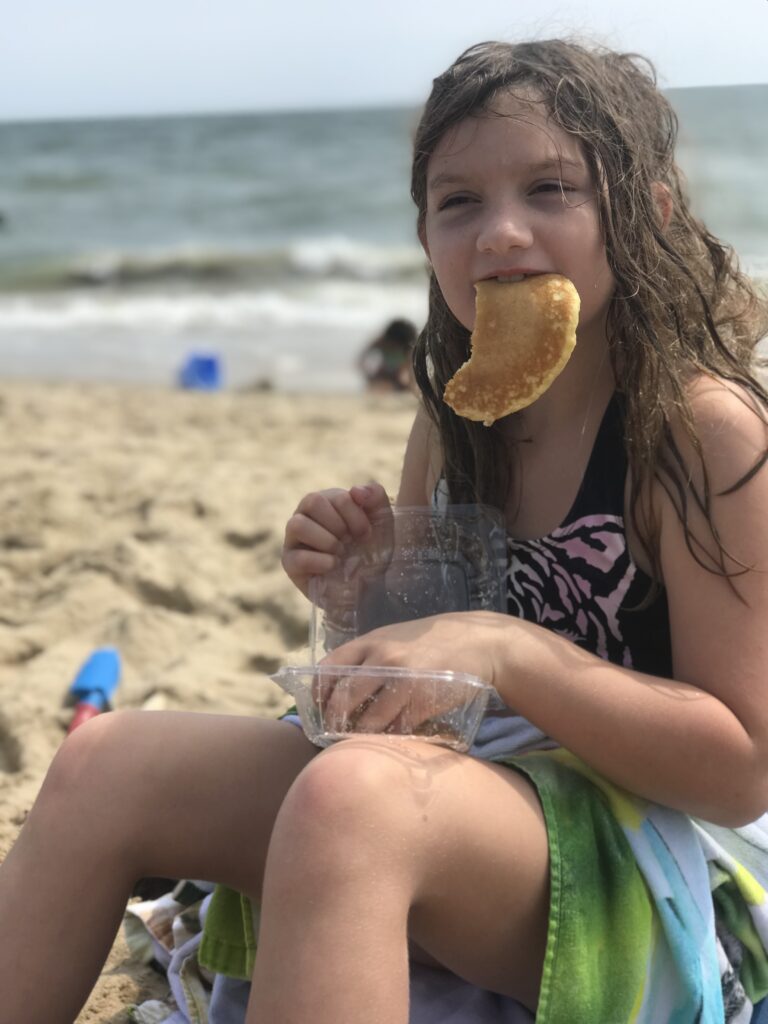 Hot breakfast is currently being served to go style. It's a very limited selection of eggs, potatoes, and one other item such as biscuits and gravy or sausage. The alternative is raisin bran cereal. They do not offer a non-dairy creamer or milk option for coffee and no almond milk like many Hyatt's usually do.
The limited selection was extremely disappointing especially compared to what most Hyatt Hotels offer. There was no fruit, pastries, or other dry goods available. You don't stay here for breakfast but if you do stay here more than a few days you probably will want to either bring alternatives or have a breakfast out just for something different.
Parking at Hyatt House Virginia Beach
Parking is Valet only. It gets very busy in the morning for check out and again midday for those checking in. We waited 15minutes to get our car to pack up and at the time the luggage carts were all used up for those who arrived early and didn't have their room ready so we can take several trips down to bring our luggage down. So, if you can't snag a cart make sure you request your car before taking additional trips. Normally we don't mind valet but here we seemed to need access to our car much more. We brought our own bicycles and there were no bike racks at the hotel.
It seemed like no one left them tied to the rail on the boardwalk overnight, so we didn't' want to risk it either. So we had to call the car in the morning and then in the evening call it again to load the bikes back on. We probably would have utilized the bikes more if we had easier access to them.  there are bike racks on 27th street but again I do not believe they are meant for overnight use.
However, valet parking was comped for Globalists so that was a nice perk.
Where is the Hyatt House Virginia Beach Located?
27th street is located midway on the boardwalk. It's a good location which seemed to be quieter in the north and south parts of the boardwalk. About 1 mile south has several restaurants/bars that offer some good happy hour specials. Head north for the Triton Statue, playgrounds, and the gymnastic/ninja obstacle course.
Virginia beach is beautiful with a sand bar that keeps the water shallow for much of the day which the kids love. It's really a great place for families with an expansive beach area with plenty of space to play ball or fly a kite.
How to Stay in Virginia Beach For FREE
Staying at Hyatt House Virginia Beach on points is a great option for a Cheap Family Vacation. Free nights start at 20,000 Hyatt points for this Category 5 Hyatt Hotel. You can earn Hyatt points with the Hyatt Credit Card or Transfer Chase Ultimate Rewards points to Hyatt to book the room. The Chase Saphire Prefered Credit Card currently has a sign-on bonus of 100,000 points which could be transferred to cover 5 nights here.
There are so many free activities at the beach and boardwalk. The room has a minifridge and microwave so it's easy to make this an almost FREE vacation. Parking can range from $20-$30 a night but having Globalist status will get this fee comped.
Hyatt House Virginia Beach Review
Hyatt House Virginia Beach is in a great location just steps from the ocean. If you are looking for a family-friendly beach vacation this is a great place. It's a great value for points. The rooms are clean and comfortable with great views.
Virginia Beach is a great destination for an east coast family beach trip. The boardwalk provides many cheap or free activities for families and there's endless fun at the beach and ocean.
Follow Affordable_Family_Travel on Instagram
Make sure to like AffordableFamilyTravel.com on Facebook to get all the latest updates. It's also where I post my Dash Deals that are time-sensitive.