There are some great lakeside beaches in the Capital Region near Albany to visit in the hot summer months. Capital Region Beaches provide endless fun in the sand and water. Some offer kayaking and more. If you are looking for a Cheap Family Vacation there's often camping available nearby as well. Even when the temperatures aren't very high there's plenty of things to do at the beach when its too cold to swim.
Day Trips
For a day trip to the ocean from the Capital Region, try to leave early around 6 or 7 am so you arrive around 9 or 10 am. This gives you a fair amount of time to enjoy yourself at the beach. If you stay until 6 pm you still have 8 hours at the beach and will arrive home late in the evening.
If you are looking for an oceanside beach it's possible to visit them for a day trip but I personally love to do a 1-night stay on a Saturday night which gives us almost 2 full days at the beach.
1 Night Weekend Getaway
You can opt for a 1-night stay and head out early. If you would like to head directly to the beach and spend the day there. In the afternoon, head to your hotel to check-in then enjoy a nice seafood meal. The next morning pack up and head to the beach early you can opt to leave by 3 or 4 pm and still make it home in time for everyone to clean up before bedtime. We love 1 Night stays because it's a great value as the cost of the hotel is sort of split over 2 days of fun. Even if paying cash we can usually keep a 1-night weekend getaway for between $300-$500.
What to Pack for a Day at the Beach
Food
If you are heading out to the beach ther may be snack shacks that offer food but if you want to keep the trip cheap and/or healthy consider packing a picnic. There's many cold meals you can prepare for a day at the beach. Don't forget snacks such as fruit, veggies and of course some sweet and salty snacks.
Make sure you pack plenty of water and maybe some ice tea, lemonade or juice.
Beach Items
Don't forget your beach items. Here's a list of some things you might need.
Beach Umbrella or Shade Tent
Beach cart or wagon to push/pull everything to the beach
Sand Toys including buckets, shovels and possibly a net
Beach Chairs or Beach Matt
Sunblock
Metal Detector
Kayak
Paddle Board
Life Jackets
Bookgie/ Body Boards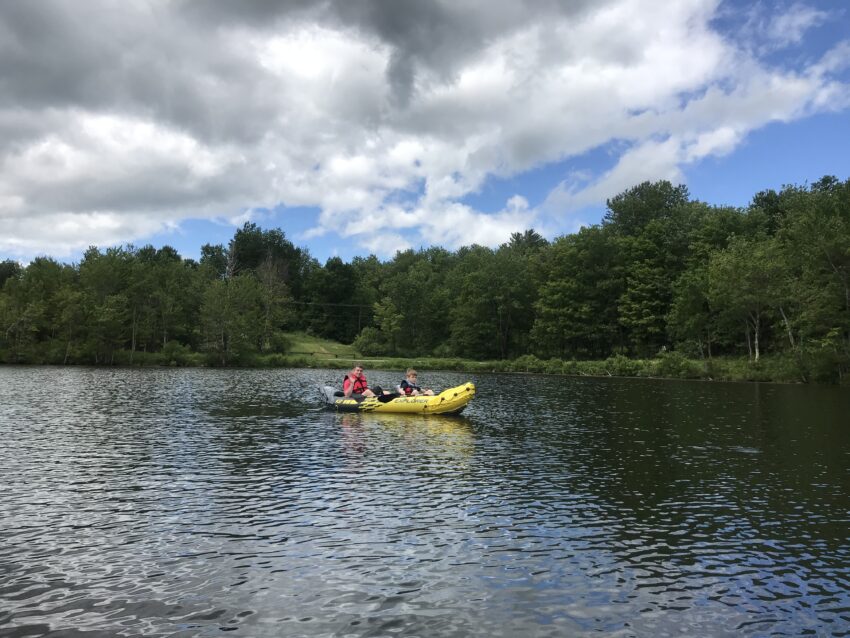 Grafton Lakes State Park is located at 254 Grafton Lakes State Park Way, Grafton, NY. The park is located on a forested mountain that includes 5 ponds as well as hiking, fishing, swimming, and boating. The main pond offers a sand beach for swimming and is located past the Entry Booths. Mill Pond and Second pond are located outside admission booths and have small parking lots. These ponds are great for beginner kayaking and finishing. Empire Pass is accepted.
We really like Mill Pond for Kayaking as it's small but there's also a little picnic site you can paddle to and take a break. Then take a small hike before heading back to the pond for some more paddling.
2. Lake George Beach/ Million Dollar Beach
Million Dollar Beach in Lake George is 51-acre located on the southernmost shore of Lake George. This state-owned public beach offers a bathhouse, lifeguards, and food concessions. Bring a picnic lunch and beach umbrella and make a day of it. Admission to the beach is free. However, there is a fee for parking. Pets are not allowed on the beach.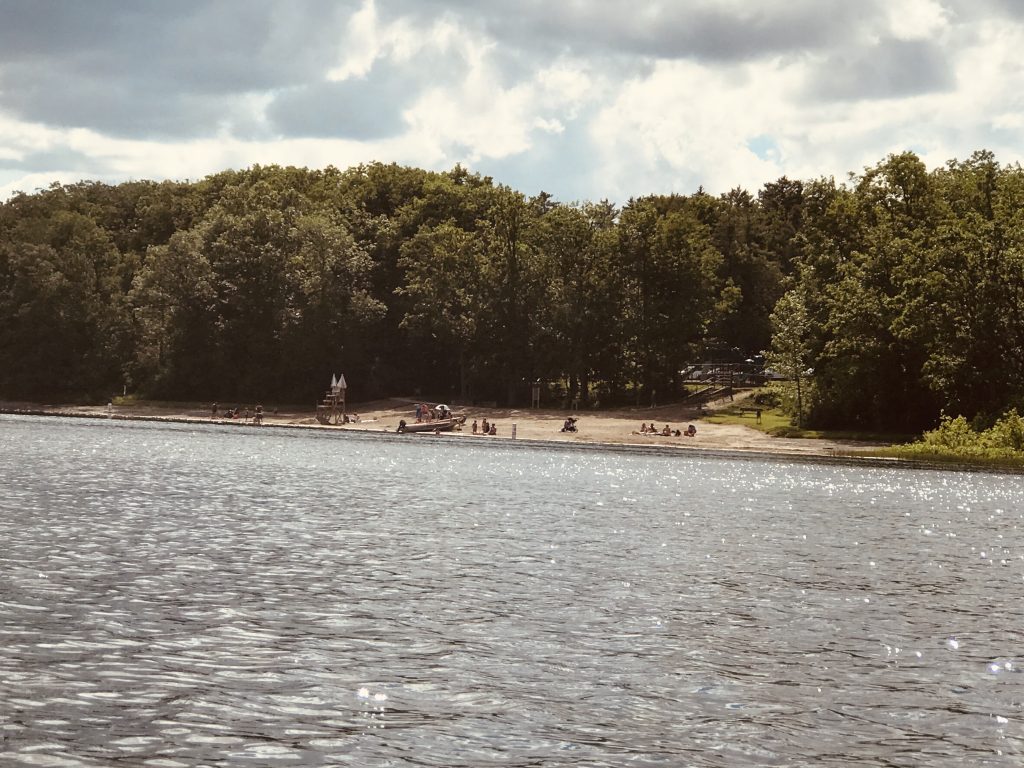 Thompson Lake State Park is located at 68 Thompsons Lake Road in East Berne, NY. It's located near the Helderberg Escarpment and very close to Thatcher State Park, making it the perfect place to Camp for a weekend. There is a kayak launch. You can also launch at the sand beach which is accessible to campers and day-trippers. Thompson's Lake offers so many family fun opportunities. We have kayaked and paddle boarded here with our inflatable kayaks and paddleboard and it's a lot of fun. The beach is a perfect place to take a dip and cool off in the hot summer. Empire Pass is accepted.
Brown's Beach offers a sandy shoreline with a swimming area, a large pavilion that can be reserved, and a shallow launch area. Families can swim or enjoy paddleboarding, kayaking, or Canoeing. Kids under 12 are free and admission is only $3 for 13+.
If your in the area you can also head to Saratoga State Park. There's a stream and a Geiser that's fun to explore. Saratoga State Park is one of many great Capital Region State Parks.
5. Moreau Lake State Park
Moreau Lake State Park is located at 605 Old Saratoga Road
Gansevoort, NY. The park offers a forested campground and, a sand beach that is open to campers and day-trippers.
I grew up taking a day trip to this lake with my family. There are outdoor grills and picnic tables. As well as a playground, and restrooms available. It's a great place to spend the day or to even stay longer while camping. However, over the past couple of years, I have seen several locals posting about rashes caused by high bacteria levels in the water there and for that reason, we haven't visited with our kids. Make sure to check local information on water quality before heading out. Empire pass is accepted.
Closest Ocean Beaches to Albany
1. Connecticut Beaches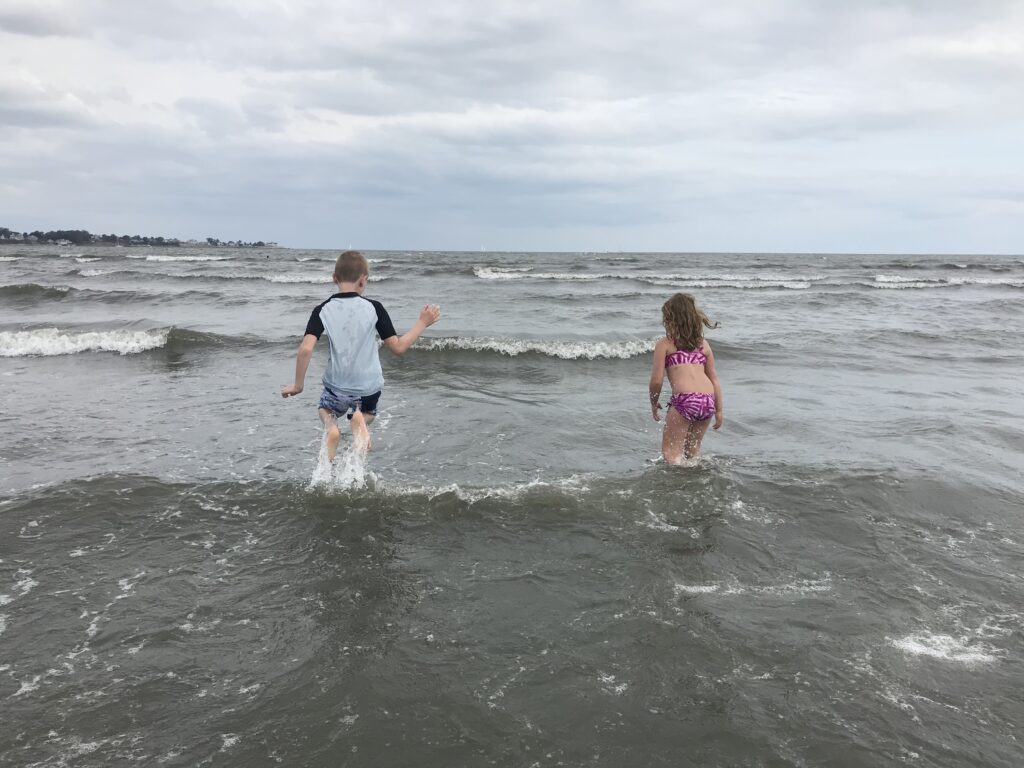 Silver Sands State Park, only 2.5 hours away, is the closest saltwater beach to the Capital Region on. It's located on the Long Island Sounds. The Park has a wonderful boardwalk through marshes to view a variety of birds. It has a snack shop and bathroom facilities. While many kayaks here the current can be very strong. Thi is why it's best for experienced kayakers. Occasionally, the water gets low enough that you can walk across a land bridge to the island. During bird nesting time the island is off-limits.
This beach is great for exploring nature. There are tons of hermit crabs and other sea life. The water is shallow which is great for toddlers but there are still waves for kids to jump in. It's not great for surfing.
Ocean Beach, CT-2hrs 45min
Hammonasset Beach State Park 2.5hrs
Calf Pasture Beach 2.5hrs
Harveys beach 2.5 hrs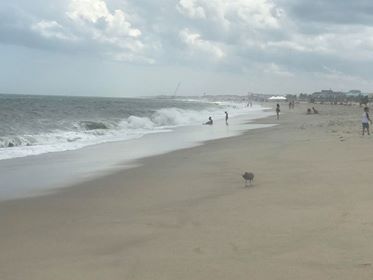 The Jersey Shore is just over 3 hours from the Capital Region. There are many beaches to choose from and each offers a little different atmosphere and entertainment. We love Point Pleasant near Jenkins Inlet because it's mostly rentals and small motels. They offer live music and fireworks during the week in the summer. The Boardwalk with rides is a short walk away but far enough to keep feel less crowded. There are several wonderful affordable seafood restaurants and markets in the area.
3. Rhode Island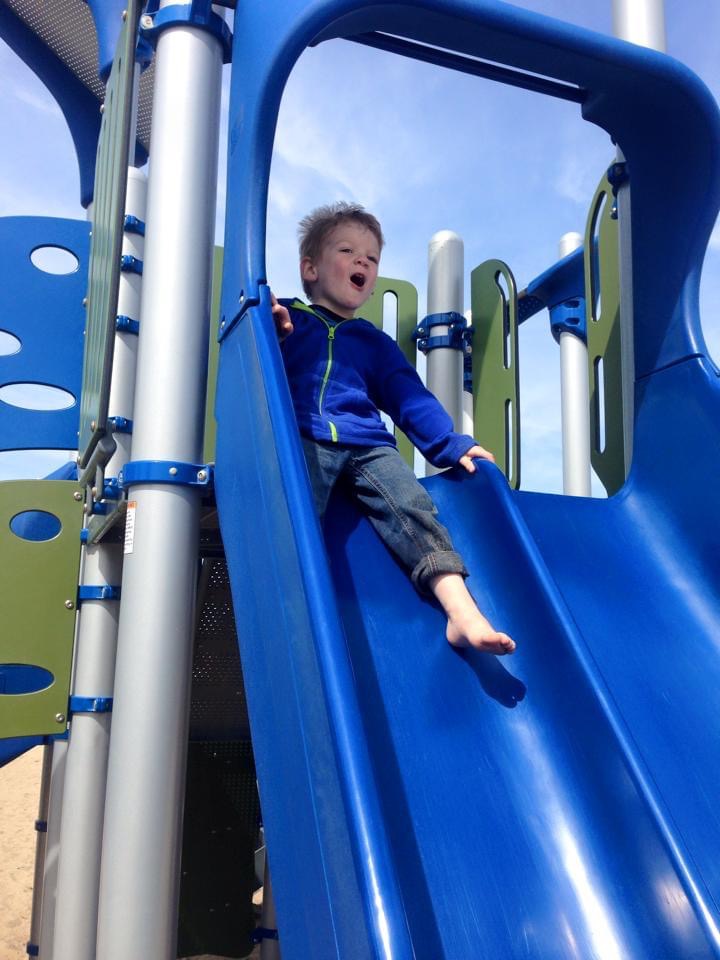 Just over 3 hours away are Rhode Island Beaches. They are beautiful but often an expensive vacation. One option for an affordable vacation to Rhode Island is to stay in Mystic Connecticut. There's a Wonderful aquarium and seaport to visit. Misquamicut State Beach in Westerly, RI is only 20 minutes away. It's a large State Beach with a good-sized parking lot but come early. The facilities include a snack shop and bathrooms as well as a playground.
4. Massachusettes Beaches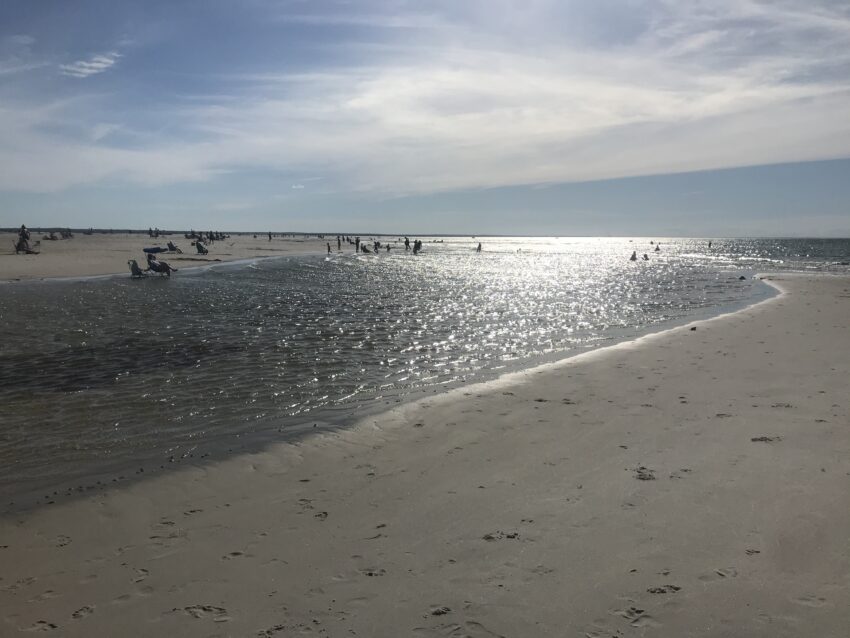 The Best Beaches in Massachusetts are in Cape Cod, approximately 3-3.5 hours away depending on which part of the Cape you visit. Cape Cod offers a variety of family fun activities from whale watching, kayaking, and more. The Cape also offers 2 different types of beaches bayside beaches and ocean side. The bayside beaches are more affected by tides. This provides fun tide pools to explore and also as the tide comes in you can enjoy shallow waters which are fun for playing sports in. The water tends to feel warmer here though it could be because you don't have to be fully submerged to enjoy the area. The Oceanside gives you wonderful waves with expansive soft sand beaches. There are some great seafood shacks and restaurants on Cape Cod to enjoy and don't forget several miniature golf sports complexes and ice cream shops.
Other Massachusettes Beaches
Revere Beach, Revere, Ma 2hr 45minutes
Cape Ann, Ma just over 3hrs
Other Ways to Cool Off in the Capital Region
There's many other ways to cool off in the Capital Region. You can check out a water fall hike some which may have a swimming hole to cool off in. There's also several spash parks around the capital region. There are also several water parks that are great for day trips including Enchanted Forest Water Safari, Zoom Flume and Six Flags Great Escape Splash Water Kingdom and Six Flags New England.
There's also a lot of great kid friendly activities to do in the Capital Region this summer such as kid friendly hikes and visiting local farms.
Capital Region Best Beaches Near Albany Summary
Capital Region Best Beaches Near Albany are a great summer activity. Whether you are looking for a lakeside beach a short drive away or are up for a bigger road trip to an oceanside beach there are great options for both.
Follow Affordable_Family_Travel on Instagram
Make sure to like AffordableFamilyTravel.com on Facebook to get all the latest updates. It's also where I post my Dash Deals that are time-sensitive.