Mill Pond at Grafton Lakes State Park, NY is the smallest of 5 lakes at Grafton Lakes State Park. It is free to park (unlike the main entrance where the long pond is) and has a dirt boat launch ideal for kayaks and canoes. Grafton Lakes State Park is a great place to kayak as there are several ponds to choose from.

Getting There
Use the address Mill Pond Parking, Grafton Lakes State Park, Grafton, NY on google maps. If you pass the Millpond parking lot you will get to the second pond where there's also a free parking lot. It's about 35 minutes from Albany, NY. If you go to the main entrance to head to the beach it will cost you $8 per car entrance fee to Grafton Lakes.
Kayaking
We loved Kayaking Mill Pond. There were several Beaver Dams and a tree near the launch that you can carefully kayak under. The water is calm no motorboats as it's a small dirt launch ideal for kayaks and canoes only. The pond is small but not too small so it's great for beginners.
Across the pond to the right is the larger Beaver damn. To the right of that is a clearing with a picnic table and fire ring. We pulled out the kayaks and took a break. We had already eaten lunch but it is the perfect lunch spot. Our daughter and I explored the trail up to the main clearing and then we headed back. From this point you could take a break from kayaking have lunch and head out hiking for a little bit before paddling back to the launch or back around the pond for a bit.
Grafton Lakes State Park offers several options for kayaking. You can also kayak Long Pond and Second Pond. Access to Long Pond is through the Parks main entrance and requires a parking fee. Second Pond has a free parking lot and is located just past Mill ponds parking lot.
Check out some other Area Kayaking Trips
There's No Camping or Swimming Allowed at Mill Pond. However, there is Swimming at their sand beach on Long Pond with paid parking.
The entrance Fee for Grafton Lakes State Park for the beach on Long Pong is $8 per car.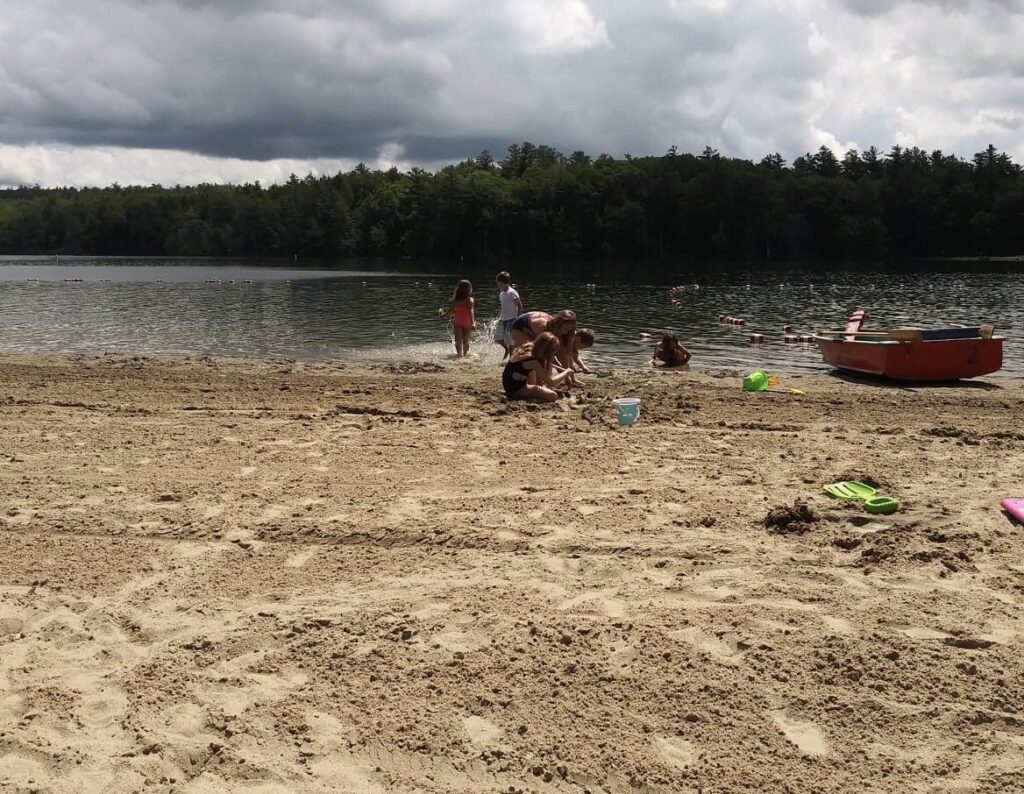 Hiking

The Mill Pond Hiking Trail is a 1.1-mile loop around Mill Pond. There are also other hiking trails around the Park. Spruce Bog Trail is a 4.4-mile loop that also starts in the Mill Pond Parking lot. You can find more information on hiking at Grafton Lakes State Park at the Alltrails website.
Check out these other Great Attractions in the Area
Make sure to like AffordableFamilyTravel.com on Facebook to get all the latest updates. It's also where I post my Dash Deals that are time sensitive.