Budget Travel US Safari Camping at Six Flags Great Adventure, Jackson, New Jersey. It offers a wonderful Budget Safari Camping with Kids right here in the USA.
Wonderful Affordable Experience for all Ages.
Our family had a great time at Six Flags Great Adventures Safari Camping. Here's one more reason we love our six flags season passes.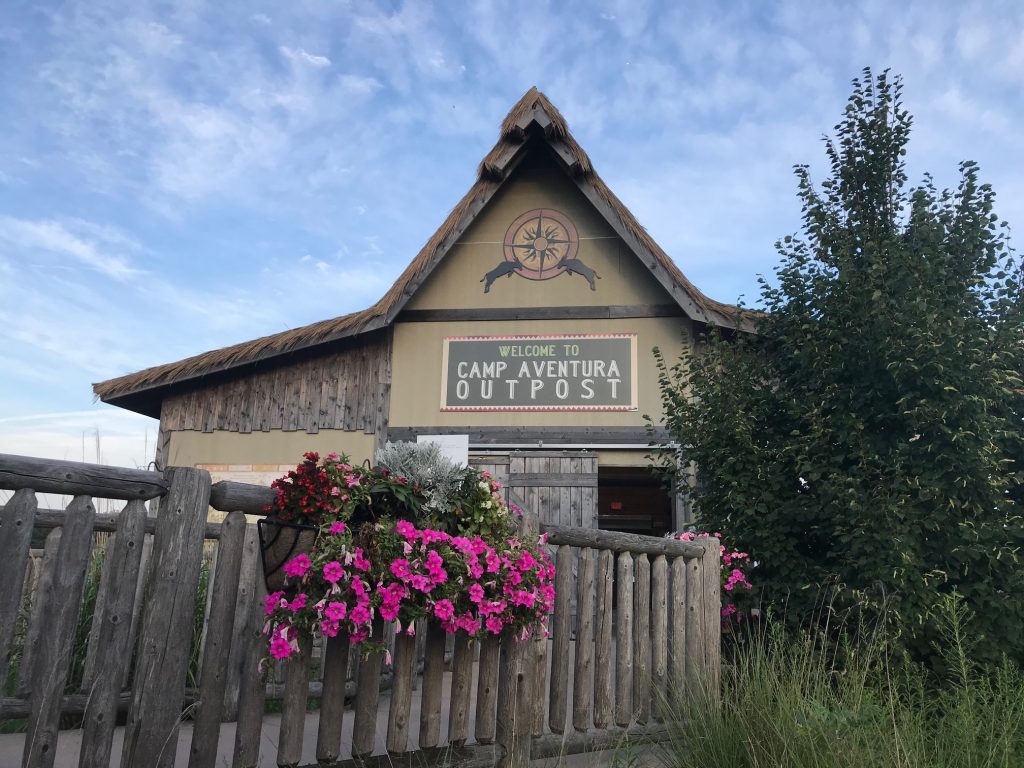 I don't want to oversell this Safari Camping experience and have people be disappointed but it's an exceptional value and a fun educational experience. There was definitely a bit of nostalgia behind the excitement of starting the evening by driving our car through the safari as I did when I was a teenager. Something they haven't allowed in years since they converted the safari to a ride through safari on large safari trucks similar to the ones at Disney's Animal Kingdom
Highlights
Wake up to the sounds and views of animals
Feed a Giraffe
Learn about the Animals
Roast Smores and Watch a movie under the stars.
Morning Safari ride before the park even opens.
Drive your vehicle through the sarafari on your way to and from Camp Adventura
Get close and learn about 3 different animals which may include a skunk, owl and bearded dragon.
Animal arts and crafts and BINGO.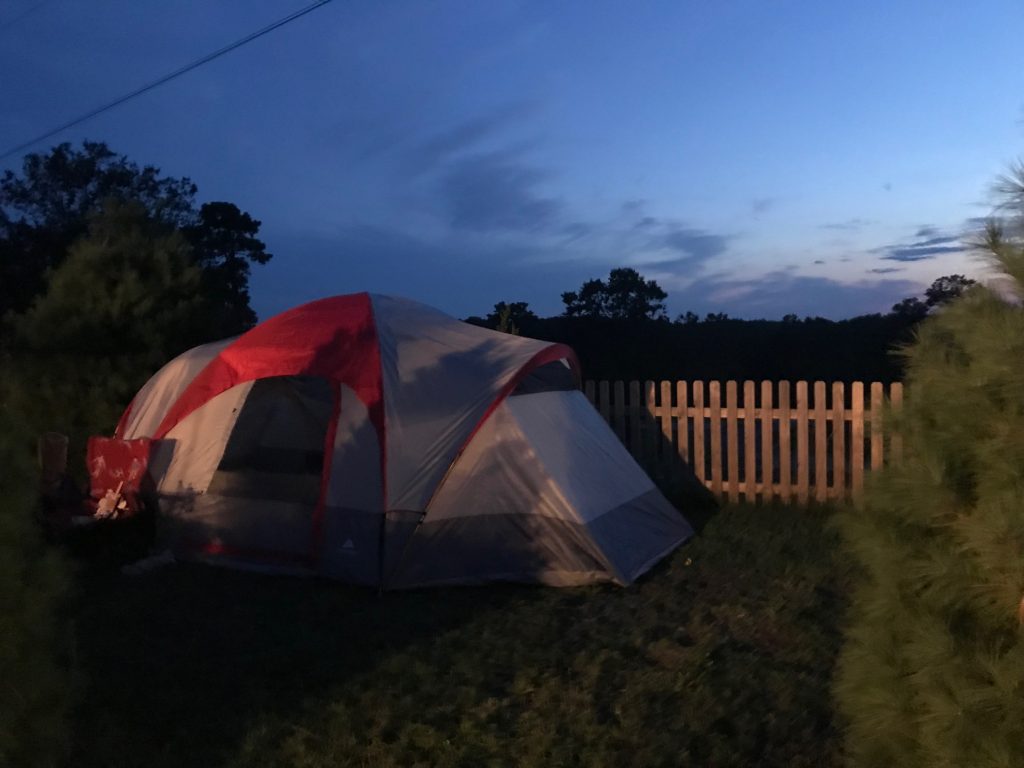 Exceptional Value for Budget Travel US Safari Camping
Update 2023: The Camping Safari is now $199 per person and does not include park tickets or a safari tour. This is of course a significant increase especially when you factor in the cost of park admission. If you are a passholder you of course can visit the park using your pass. However $800 for a family of four for a 1 Night all inclusive Dinner and breakfast is not a terrible deal for a weekend getaway and such a cool experience.
The price of the Safari Package previously was $100 per person or $80 per season pass holder. It includes over night camping (you bring your own tent etc), Dinner, evening snacks, drinks, and breakfast plus the entertainment/activities. We are season pass holders and with taxes and fees paid under $400.
Some of the per person Costs alone would be over $100 and you get so much more.
Tickets to Six Flags Great Adventure $58
Parking at Six Flags ~$5 ($20/4 people)
Dinner, Drink, and dessert at Six Flags Great Adventure ~$20 (Hamburgers, hot dogs, potato salad, toss salad, cookies, and brownies all you can eat)
popcorn $5
smores $5
Giraffe Feed $7
Breakfast ~$8 (bagels, muffins, coffee cake, juice, coffee)
If as a season pass holder because besides the costs listed above (approximately $45 for season pass holders), you get so much more.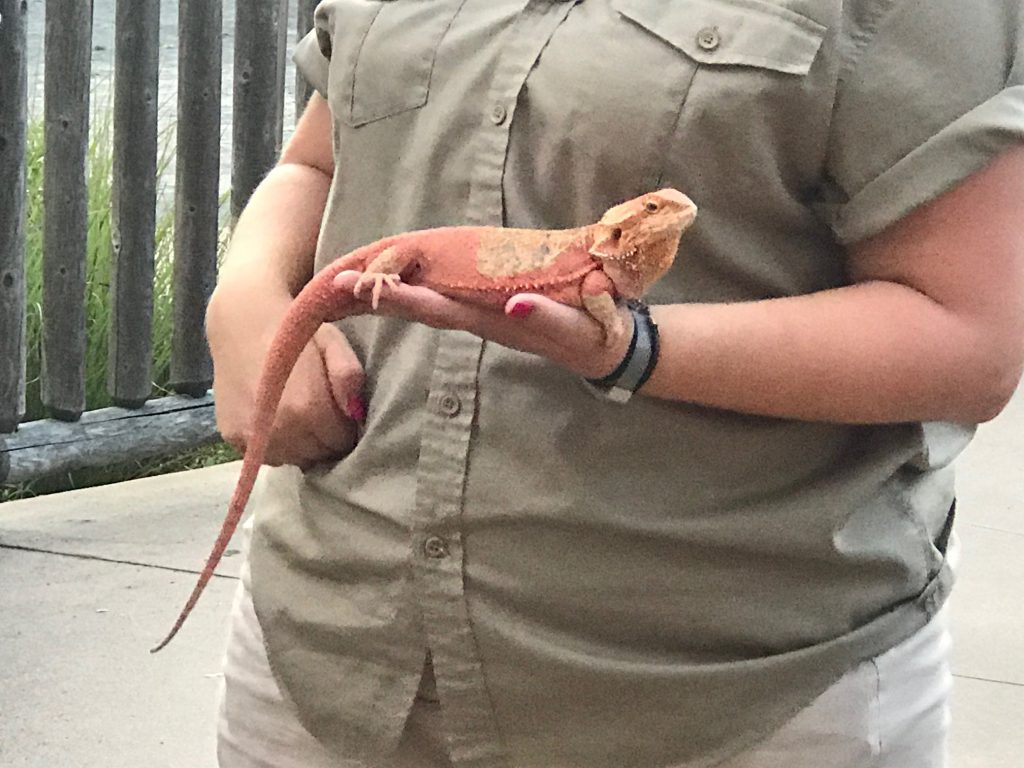 What Else you get :
The chance to sleep in the middle of a Safari and wake up to the sounds of the Lions (not quite roaring).
Camping can run $25-$35 at private campgrounds or more.
Animal presentation with 3 animals
3 crafts and BINGO.
Movie night.
Private safari ride with the overnight group before the park even opens. The ability to drive through part of the safari in your own vehicle, on your way in and out of the event (following safari jeeps).
What's not so Great about Six Flags Safari Camping?
A few things you should be prepared for. Keep in mind the cost of the excursions I think these are either expected for the price or minor.
The tents are very close together. This isn't a campground. They don't have full sites per group. tents are right near each other. Hopefully, everyone is respectful of the close proximity. overall we didn't have any issues.
The food is meh. The dinner of burgers and hot dogs is meh. the burgers don't have real cheese (I think it wouldn't be too much to have sliced cheese even if it's not melted) instead they have cheese sauce you can add to your burger or hot dog. I think chips would be a great addition to balance out the meal. packaged brownies and cookies would cost $3+ at the park so while they are processed they are nice. as is the bottled beverages. breakfast was also very basic but acceptable for the cost of the package. Again I would hate for them to upgrade the meals and have it cost more for families to afford this experience.
The smore sticks are too short. My kids honestly couldn't roast marshmallows i had to and man my fingers were burning. they were wooden shishkabob sticks and way too short. This really needs to be improved but it's really my only complaint.
There are no showers. Again this isn't a campsite. It's a great affordable event and I am so thankful to have air-conditioned bathrooms with running water.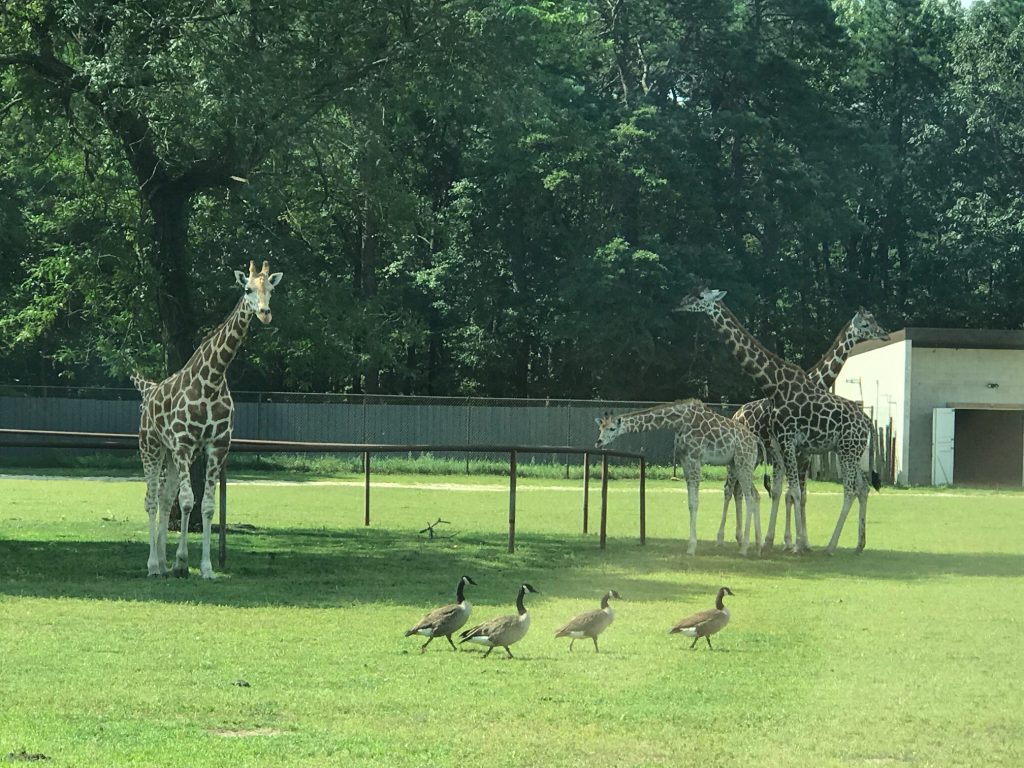 Itinerary for Budget Travel US Safari Camping at Six Flags
The itinerary for Budget Travel US Safari Camping is a fun-filled 2-day experience including your meals.
Day 1 Budget Travel US Safari Camping
5:00 – 5:45 pm Check-in at Guest Drop off
They will escort the first group a little before 5:45 pm. You drive your vehicle and follow in a line through the safari itself. Something that was common years ago but not since they transitioned into the ride through vehicle attraction it today. 
6:00 – 6:30 pm- Your vehicle will be escorted into our Safari near Camp Aventura to park
They escorted us in earliest but did have a second-round that arrived a little while later. I recommend arrive around 5:15 as we did to check-in and be in the first group to arrive so you can pick out your tent spot. In the drop off lot, park in a parking space closest to the entrance as that is how they have t he vehicles pull out.
As you follow the line of vehicles heads over to the old Safari entrance and you actually get to drive through parts of the safari as you drive to Camp Aventura. They will give you all the rules about windows up, drive slow. My tip: have your camera read (all the passengers) and snap away. If you put your phone against the window it makes the photos clear and you cant see any reflections on the glass.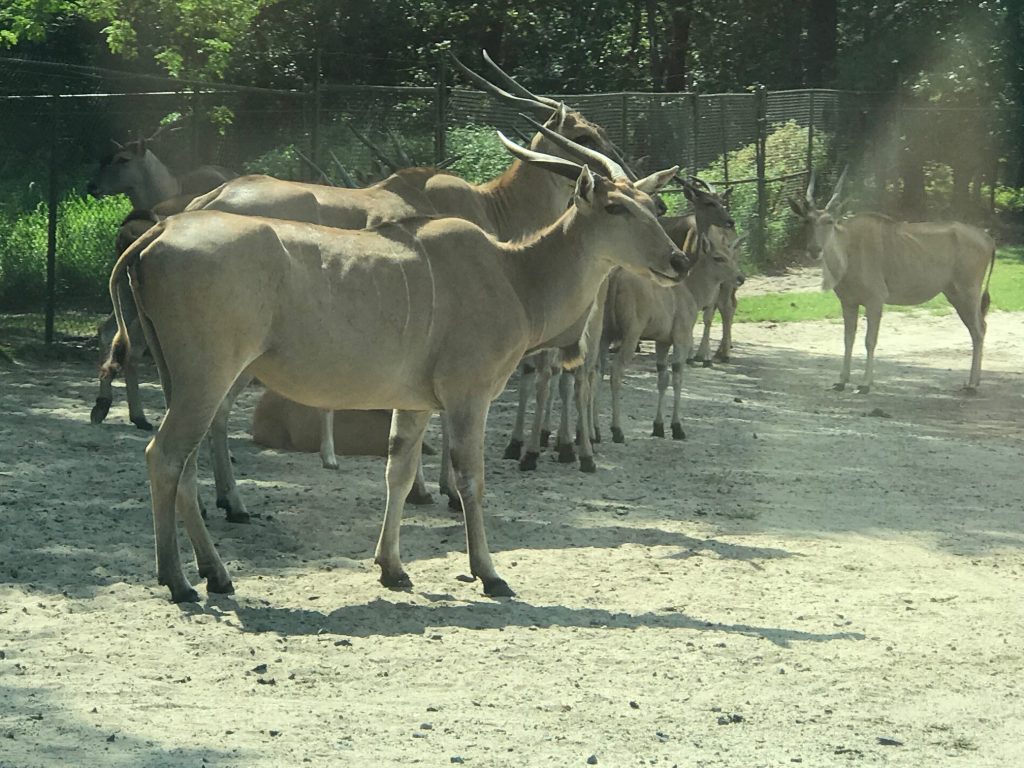 6:30 – 7:30 pm Tent set up, dinner and overnight orientation 
We set up by a tree and view of the pasture if we were standing outside-you could see them between the slats of the fence inside the tent too. People set up behind the pavilions (lodge 1 and 2) and those seemed private and u had easy access to the picnic tables.  Those would be good spots too.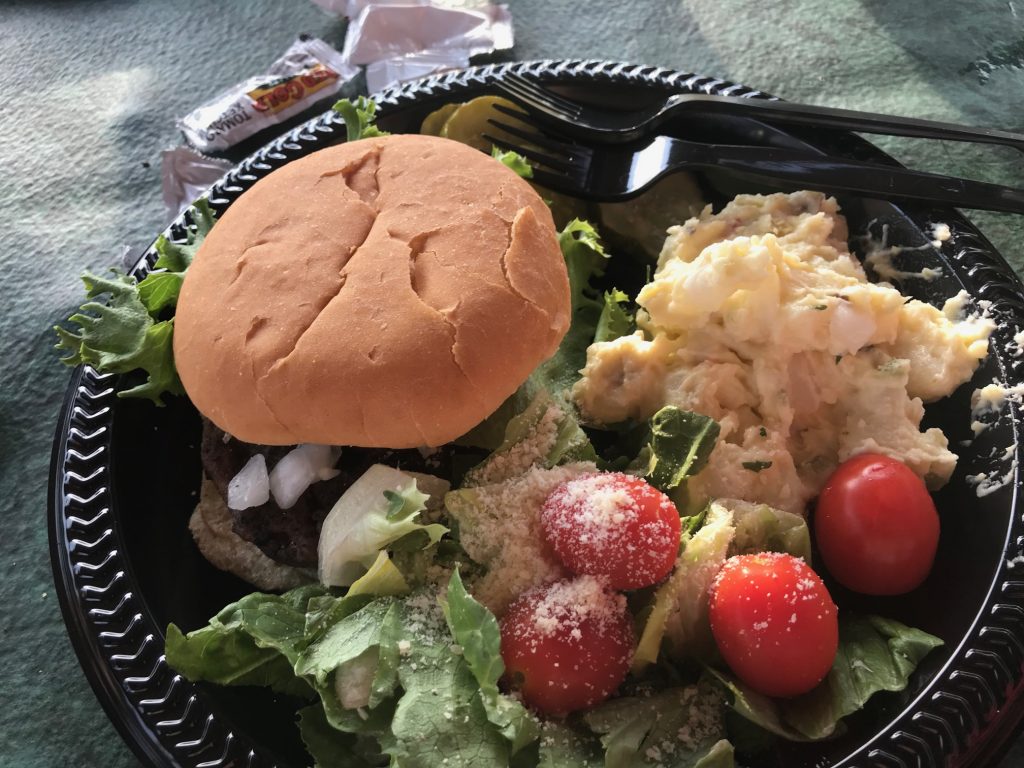 Don't expect much from Dinner.
It's edible and you can eat as much as you would like. Dinner is hamburgers and hot dogs, liquid cheese sauce lettuce tomatoes raw diced onion and pickles. They had potato salad and toss salad with tomatoes Parmesan cheese and dressing. For dessert packaged brownies and chocolate chip cookies. Bottled soda (coca-cola product), water, lemonade and ice tea all covered in ice so nice and cold. Self serve food and drinks.  My husband was bummed they didn't have potato chips and I admit it would have been a nice in expensive option for those who don't want potato salad.
7:30 – 8:00 pm Animal presentations and meet & greets
They split the large group into 3 smaller groups each groups starts at one animal and rotated to the next.  There was a barn owl, we got to watch up close and hear different facts about, then take turns taking photos with it. They also had a skunk we also got to watch up close but no photo. The last creature was a bearded dragon which you were allowed to pet.
8:00 – 9:00 pm Activities/Crafts
After the animal presentation we headed over to the area where crafts were set up. There were 3 options and adults and children could do all. The crafts were: paining rocks as bumble bees or lady bugs. After you can play tic tax toe with the lady bug and bumble bees. Coloring Monkey fans with markers and Making owls with pine cones.
At 8:45 they offered bingo. We used stickers to make our own bingo board. Then you play. Prize was a peacock feather.
Tip: at first they said size and color mattered then they said it didn't. So people who had large and small animals would get 2 when an animal was called. It seemed animals were called more than words and letters rarely. (This could change). If you win ask for small feather.  small peacock feathers have the "eye" the really tall ones do not. 
They do not sell peacock feathers in the shop- so don't offer that as a consolation if your child doesn't win. Thankfully our daughter got over it when she saw a snake (stuffed) in the gift shop she wanted.
9:00 – 10:30 pm Movie, campfire, and s'mores
We brought 2 folding chairs but they have bails of hey you can sit on. They passed out 18" long popcorn bags to everyone. I recommend bringing folding camp chairs with you in case you want to sit outside but by your tent or for the movie. You have access to your car the entire time so you can always leave them in the car until you need them.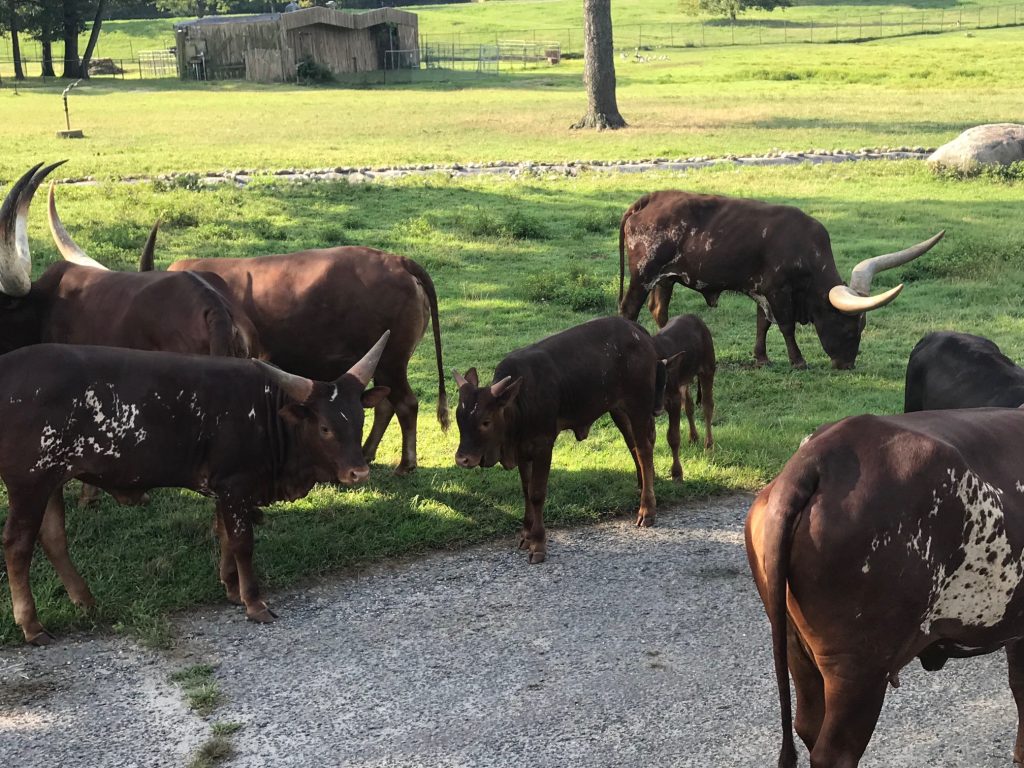 11:00 pm Lights Out
After the movie ended lights out and everyone went to bed. I don't know if the couple next to us were drunk or just loud people but I got to listen to them for 15 minutes giggling about their mattress size. Thankfully it wasn't for very long but I can imagine how difficult it could be if there was a loud group as the tents are all right next to each other.
Day 2 Budget Travel US Safari Camping
6:45 am – Wake up & pack up
I woke up to the sound of the lions although I didn't know that's what it was. I was thinking it was moose or the other large deer like animals in the safari but when I heard it again later that morning I asked and was told its the lions. we were up at 6 am and had plenty of time to slowly pack up and get ready for the day.
There are bathrooms accessible the entire time but no showers. It gets very Dewey in the morning so make sure nothing is touching the walls of the tent and do not leave your shoes outside the tent.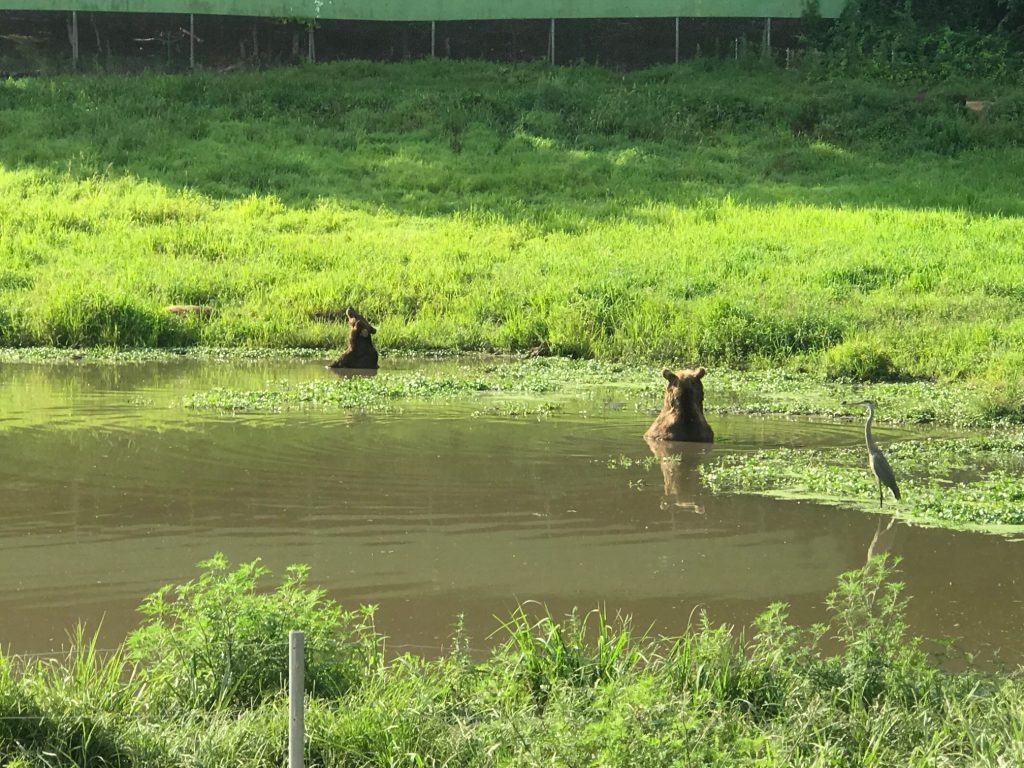 7:15 – 8:00 am Breakfast
Breakfast was again very basic. Plain, poppy seed, onion and cinnamon raisin bagels. cream cheese jelly and butter and a toaster to toast them. Assorted muffins including chocolate, cinnamon apple, and blue berry. They also had a coffee cumb cake. There was coffee, orange and apple juice, regular and chocolate milk and even soda all on ice. While this was a very basic breakfast I would rather have it be basic and keep the costs affordable then to offer more.
8:00 – 8:30 am Giraffe encounter
Once they opened Camp Adventura animal area they announced to head over for the giraffe feeding. We had plenty of time to feed them lots of sweet potatoes (they look like carrot sticks), take photos and also visit and learn about the other animals in the area. Make sure you head to the bathroom before heading on to the safari tour.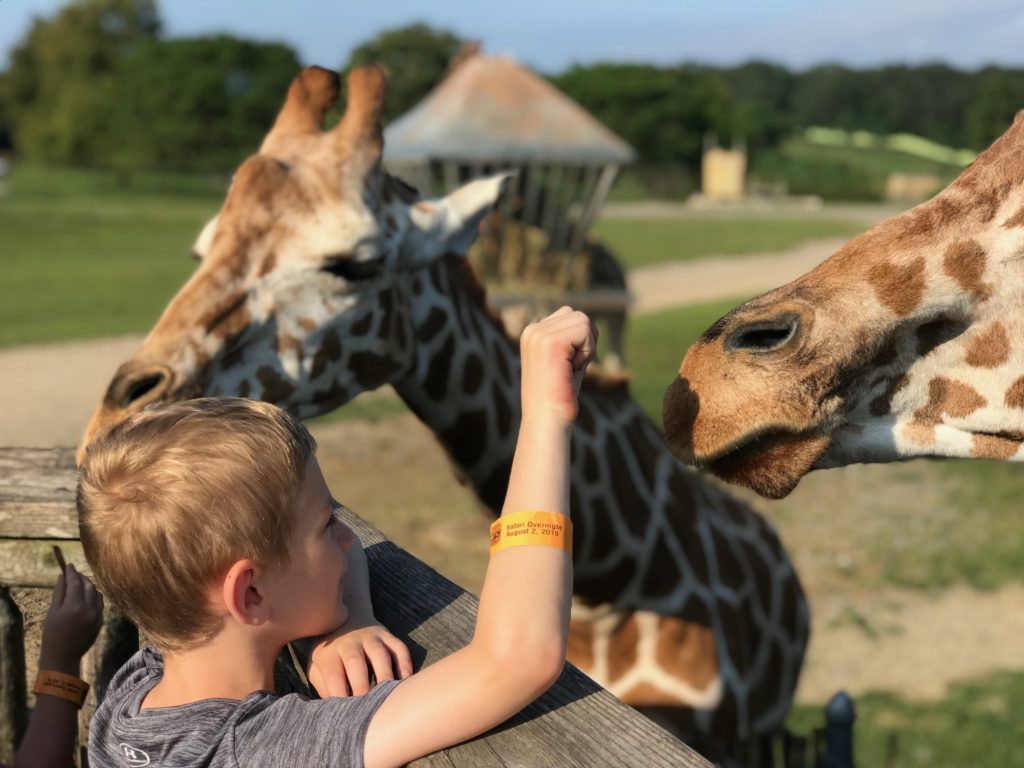 8:30 – 10:00 am Sunrise Safari Tour
There were 2 trucks waiting for our group to head out on our safari. The animals were more active in the morning and we enjoyed watching the bears swim. We also stopped for a while and watched the elephants as they left their barn and headed to their area. They were fed hay and we could watch them covering themselves with dirty.
10:00 – 10:30 am Gift shop is open
When we return from the safari there is time to look around the gift shop which also has reptiles on display.
10:30 – Your vehicle will be escorted back to the main parking lot
One last Harrah! As you leave Camp Aventura you drive through the safari to exit and head to the theme park parking lot. In the morning the animals are active and feeding. The moose decided they wanted to cross the road in the middle of our caravan. Of course, moose always get the right away.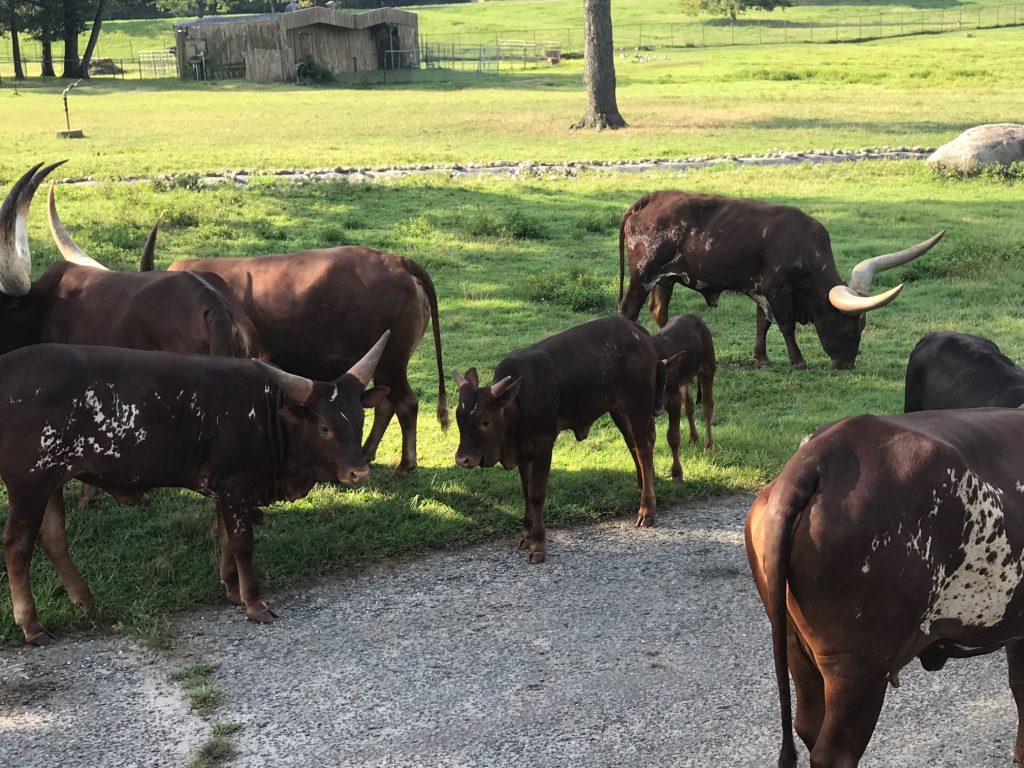 Park Time
For those who are not season pass holders, the package includes 1 Day ticket to the amusement park (water park not included). You can choose to enjoy the park the day you arrive or the following day. Tickets are available at guest services.
What They Recommend You Bring
Completed waivers for everyone in your group
Tent that fits your entire group with stakes.  No tents will be provided.
Sleeping bags
Battery-powered air compressor
Air mattress or foam pad
Pillows
Camera
Clothes for the next day
Pajamas
Sunscreen
Bug Spray
Charged cell phone
Flashlight or other battery operated light
Toiletries
Where I also recommend

folding camp chairs
longer marshmallow sticks.
battery operated lantern (and a flashlight as mentioned above)
tent fan (we lucked out and it cooled off in the evening)
extra blankets (we did use ours over night as the kids have light sleeping bags)
sweatshirts (we wore them while watching the movie)
Here's the link to Six Flags Great Adventure for more information.
Join the AffordableFamilyTravel.com Crew on facebook to share tips and ideas for Affordable Family Travel.