LEGOLAND New York Review and Tips-Planning Guide to help you plan your first and likely many visits to LEGOLAND New York. It's a great day trip from New York City or Upstate New York. After a much anticipated year of delay, LEGOLAND New York is finally ready to open this summer. While no official opening date has been announced, the announcement should come in the next couple of weeks. Until then reservations for a preview event are available on their website.
For now, LEGOLAND is offering a preview event for season pass holders or for a reduced cost. Both require advance reservations. The Preview offers access to 6 of the 7 "lands" at LEGOLAND New York. The first-to-play passes available last year provided us with a special first-to-play preview experience. As season pass holders we will continue to update this post as information becomes available.
Follow Affordablefamilytravel.com on Facebook to get the latest offers and information.
First Impressions (and second) LEGOLAND New York Review
LEGOLAND is a wonderful LEGO experience and LEGOLAND New York really encompasses the LEGO experience with wonderful LEGO displays throughout the park and especially in Miniland. LEGOLAND New York only has 1 roller coaster the Dragon and the Dragon's apprentice for younger kids. Noticeably missing was the Great LEGO Race Virtual Reality rollercoaster the BEST ride at LEGOLAND Florida, but hopefully, it will be added eventually.
If you plan to visit for the preview events be prepared for not everything to be operating and things to break down. Ninjago and the Brick Ride especially broke down several times throughout the 6 hours first-play preview event. Ride repairs took up to 20 minutes with some people stuck on the rides. The miniland seems to be about 50% complete but the interactive buttons were not live. On our second preview visit , about 80% of miniland was complete but only a few interactive features were working.
Despite rides breaking down, the time provided with the capacity of people we had plenty of time to do everything that was open. As a season pass holder, it was worth going and getting a feel for the layout taking our time to enjoy the impressive LEGO displays, and allowing the kids as much time as they wanted to build and play with LEGOs. On our second visit we enjoyed the Dragon coaster a couple times in the early morning as well as the driving academy. The kids enjoyed building and a build clinic. By the time we finished at 1 pm the wait time for almost all the rides was 45minutes! I am not sure if rides were breaking down and combined with the pauses for covid cleanings and reduced ride capacity due to covid restrictions, it backed things up. It's not really what we consider an acceptable experience. Again we were thankful to be season pass holders.
Overall I just can't imagine that the park will be ready by July 1st for full operation. The first preview felt like what one may attend if they worked at the park and were allowed to invite their family to take a dry run. I recommend if you want to visit LEGOLAND New York, consider a season pass so that you can visit for the preview and then return again when it's in full operation.
Season Passes are a Good Value
If you are thinking of getting season passes, the preview will not affect the start date of the season passes, so you will still get a full year from when the park officially opens and you first use your passes. So if you are considering the preview event I recommend purchasing season passes as they will provide a much better value overall than a $50 preview ticket. Right now Gold are being sold for $250 which is pretty steep but it allows you admission to 30 Merlin Entertainment attractions.
We were told on our recent visit that we can use our passes at the attractions now and they don't count against our 12months which starts when we first use our passes when the park officially opens. Also once the park officially opens you have 3 months to use your pass to start the clock. If you do not use the passes in the first 3 months, the clock starts from the grand opening date.
There are several Merlin Entertainment attractions that would make great Day Trips from NYC. These include LEGOLAND New York, LEGOLAND Discovery Center Westchester, Sea Life Aquarium New Jersey located in American Dream, and Madame Tussaud's New York.
Merlin Entertainment Attractions included in the LEGOLAND Gold PASS
LEGOLAND Theme Parks
• LEGOLAND New York Resort
• LEGOLAND California Resort
• LEGOLAND Florida Resort
LEGOLAND Discovery Centers
• LEGOLAND Discovery Center Westchester
• LEGOLAND Discovery Center New Jersey
• LEGOLAND Discovery Center Boston
• LEGOLAND Discovery Center Philadelphia
• LEGOLAND Discovery Center Toronto
• LEGOLAND Discovery Center Columbus
• LEGOLAND Discovery Center Atlanta
• LEGOLAND Discovery Center Chicago
• LEGOLAND Discovery Center Michigan
• LEGOLAND Discovery Center Kansas City
• LEGOLAND Discovery Center Bay Area
• LEGOLAND Discovery Center Dallas/Fort Worth
• LEGOLAND Discovery Center San Antonio
SEA LIFE Aquariums
• SEA LIFE New Jersey
• SEA LIFE Orlando
• SEA LIFE Michigan
• SEA LIFE Charlotte-Concord
• SEA LIFE Kansas City
• SEA LIFE Minnesota
• SEA LIFE Grapevine (Texas)
• SEA LIFE San Antonio
• SEA LIFE Arizona
• SEA LIFE Carlsbad (California)
Madame Tussaud's
• Madame Tussaud's New York
• Madame Tussaud's Washington, DC
• Madame Tussaud's Orlando
• Madame Tussaud's Nashville
• Madame Tussaud's Las Vegas
• Madame Tussaud's Hollywood
• Madame Tussaud's San Francisco
LEGOLAND New York Tips
currently, there are no parking lot indicators so make a mental note or take a photo of the location of your car.
Download the LEGOLAND New York app to have access to the park map, wait times, dining locations, and more. Bring a battery brick for your phone so you assure continued access.
The park is a loop with the LEGO Castle land the furthest point. We went all the way back first and worked our way back and we seemed to avoid a large portion of the crowd. The Dragon is one of the most popular rides as is the Ninjago ride. However, Fire Academy is the slowest turn around so the line for that is often very long. Driving school can also get long lines. So heading to these attractions first will help you cut some wait time.
The Brick Ride wasn't open immediately when we arrived both visits and then continued to break down. We were able to take a ride near the end of our first trip but it was closed at the end of our second visit. That is one of the rides to keep an eye out for an opportunity to ride it.
Ninjago is a popular ride and also broke down several times on our first visit. However, it's designed to move a larger number of people so the lines never seemed to get too long during the first preview event. the second preview even the line was much longer in the afternoon.
The DJ spin ride can go FAST so be prepared.
Food lines get very long at lunchtime. Pack or plan to eat outside of mealtimes. The Cafe in the front is essentially a snack shop with packaged items you can grab if the lines at the other restaurants are too long.
Sign up for the builds as soon as you enter the park because they were all filled up when we tried later in the afternoon.
Be prepared to walk. things are pretty spread out between the lands and it's a rather hilly park. Good shoes are a must.
LEGOLAND New York Hotel
The LEGOLAND New York Hotel is expected to open this summer but an official date has not been announced. We loved LEGOLAND Florida and the LEGOLAND Florida Hotel so much the kids couldn't decide which they enjoyed more. Find out why we love LEGOLAND Florida Hotel so much, so you can plan ahead for when reservations for the LEGOLAND New York Hotel become available.
7 Themed Lands
Brick Street
Bricktopia
LEGO Ninjago World
LEGO Castle
LEGO City
LEGO Pirates- coming soon
MINILAND
Brick Street at LEGOLAND New York
Brick Street is the main street when you enter the park. It hosts the Brick party (Carousel), The Big Shop, Brick Street Cafe and most of the park services.
Brick Street Cafe sells basic packaged snacks, soda and ice cream as well as uncrustables and a few other food items. The Big Shop has a large assortment of LEGO merchandise. The Brick Party carousel is a fun carousel with lego built animals. It also has a spinning cup which is a big hit for kids who may have outgrown carousels.
Brick Street Rides and Attractions:
Bricktopia
Bricktopia includes the Brick Factory Adventure ride. The ride itself was a little disappointing but considering one room was not finished (completely white) hopefully it will be improved before the park opens. The displays in the line while waiting to board the ride may have actually been better than the ride itself and the kids still left the ride feeling it was a good experience overall.
The Build & Test building is a great place to get a break from the heat and rest our adult feet while kids have fun building with LEGOs. They can build race cars then test and race them. They can build on to a bridge and also build whatever they can imagine with large buckets of LEGOS available. Right next door is where the build events take place.
The BBQ joint is located here which seems to be the more expensive restaurant in the park. The DJ Dizzy's Disco Spin could be one of the best teacups my kids and husband have ever road because they spin so far. The Duplo Train is great for younger kids.
Bricktopia Rides and Attractions: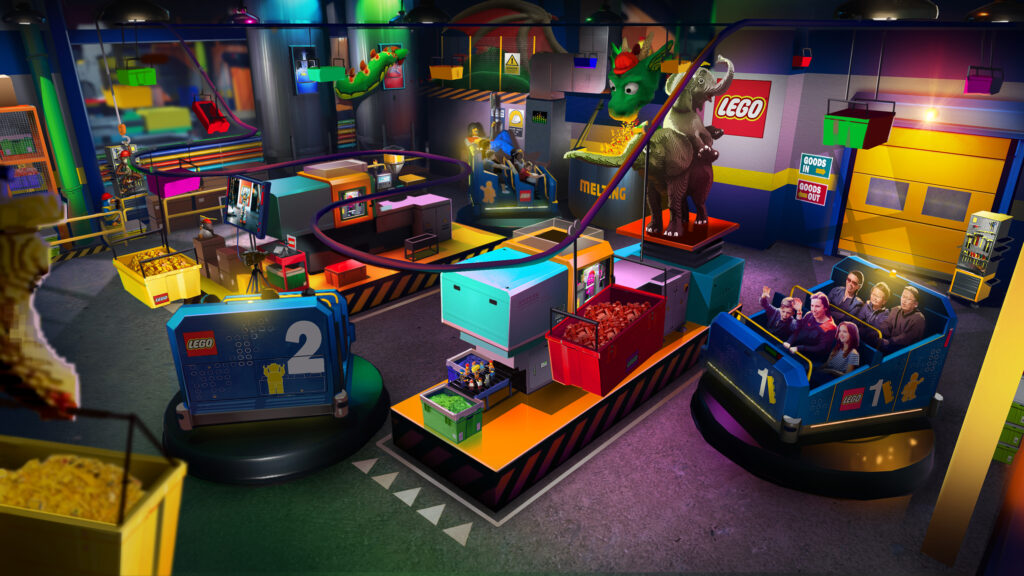 Build & Test
Doctor Dizzy's Disco Spin
Robotics Play Center & Creative Workshop
Duplo Express
Stepping Tones
LEGO Factory Adventure Ride
LEGO Ninjago World
LEGO Ninjago land has some really great play structures for kids to play on while training to be Ninjas. The LEGO Ninjago Ride is one of the top rides in the park. using your ninja moves (with your hands) to shoot and earn points. Jay's Gravity Force Training is a circular ride that has some good pull to it. Unfortunately my kids say the seats are very hard and uncomfortable especially when the force forces them against the seats.
LEGO Ninjago World Rides and Attractions:
Jay's Gravity Force Training
LEGO Ninjago the Ride
Ninjago Training Camp
LEGO Castle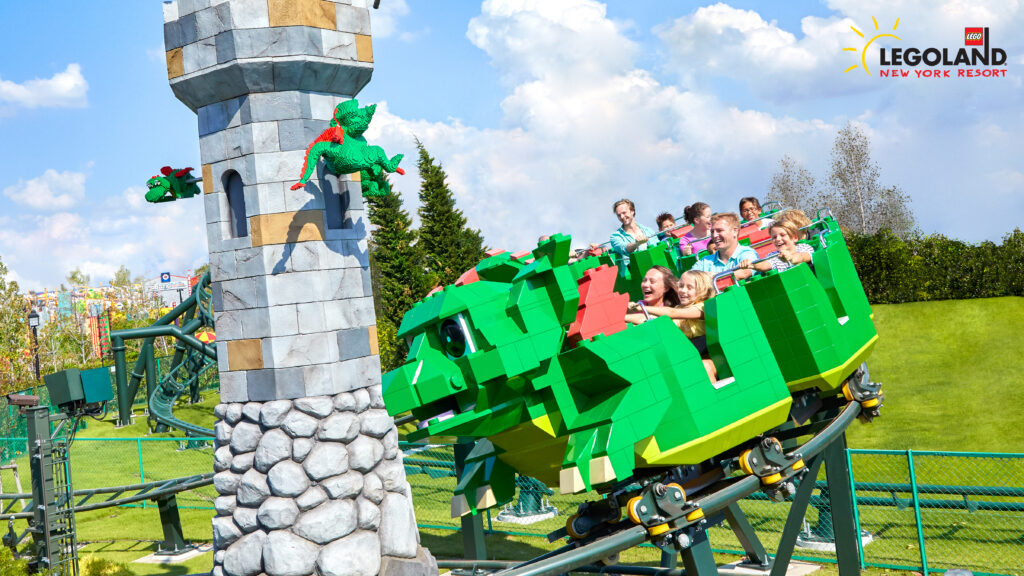 LEGO Castle is in the back of the park and is home to the Dragon, the park's only roller coaster. The Dragon's Apprentice is a miniature version for younger children. The LEGO Friend's Nature Trail takes you from Ninjago land to the LEGO Castle land through a winding paved walkway. There are steps that allow you to cut through quicker. I think it would be nice for some trees to be planted in this area as it would be more fitting for the nature trail theme and provide shade for everyone.
Tower Climb Tournament allows kids to sit on a chair pully system and they pull themselves up the top of the tower. there's a tension rope so that they don't fall too quickly but also helps make it a little easier to pull up. Merlyn's Flying Machines is a flying ride that you peddle to go up higher and is the same attraction that is offered in LEGOLAND Discovery Center in Westchester.
LEGO Castle Rides and Attractions
LEGO Friends Nature Trail
Meryln's Flying Machines
Dragon's Apprentice
Tower Climb Tournament
The Dragon
Builder's Guild
Shows
MINILAND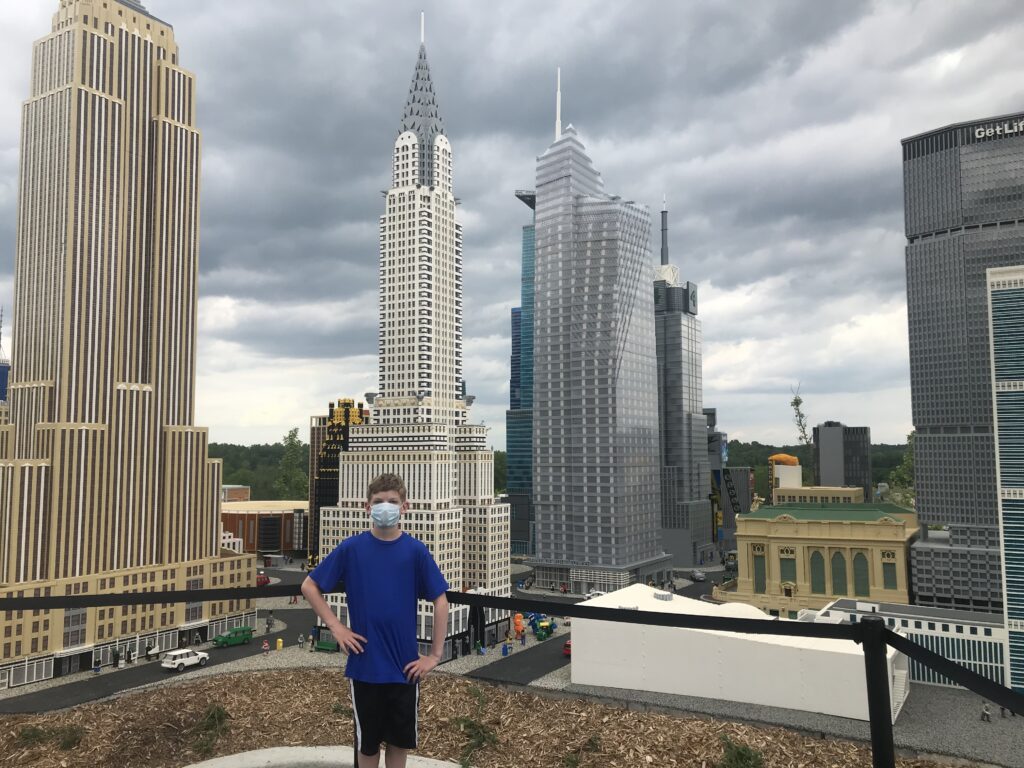 Miniland is a huge LEGO Display that includes some interactive buttons that create noise or movement within the display. We were told you will be able to chat with some past presidents at Mount Rushmore. The area of the miniland include:
West Coast (under construction)
Las Vegas (under construction)
Middle America(under construction)
East Coast
New York City
Midtown
The Bronx
Goshen
LEGO City
LEGO City was not open for the first-to-play event but was open for the preview days which opened by reservation only starting May 29th. We LOVE LEGO city at LEGOLAND Florida. This is one of the highlights of the park. The driving school allows kids to drive through a LEGO City. Take a look at photo package options that often include a driver's license which make great souvenirs for the kids. Fire Academy kids get to put out a fire which the kids love. However, most parents would say it's their least favorite because it's a lot of work on the parents for a short time spraying a fire. During the Preview, the Coast Guard Academy and The Wharf were not open. The Coast Guard Academy allows guests to drive boats through a waterway. The boats are not on tracks and guests get to control the boat as they cruise through the channel. The Wharf looks like a play structure that may or may not be water-based.
LEGO City Rides & Attractions
City Police Building Experience
The Wharf (coming soon)
Coast Guard Academy (coming soon)
Junior Driving School
Fire Academy
Shows
The Palace Cinema is the 4D theater. Shows start at 11am and are shown every hour. Usually there are several different movie shorts that play through out the day and last 20-30 minutes.
LEGO Pirates (Coming SOON)
The LEGO Pirates land in LEGOLAND New York is a new park that is not included in the LEGOLAND Florida Resort. From the sound of it the rides look like a lot of fun. I think this will likely be a very popular area of the park.
LEGO Pirates Rides and Attractions
Anchor's Away
Splash Battle
Shiver Me Bricks
Rogue Riders
LEGOLAND New York Food
Brick Street Cafe
The Brick Street Café is more like a snack shop but they do offer uncrustables and yogurt parfait. I think once the park is up and running it may offer more meal options maybe some premade sandwhiches.
Smokey's Brick B-Que
Location: LEGO Bricktopia
I didn't have a chance to go inside and unfortunately the menu outside didn't have prices on it. However, since the beef brisket is $22 I have a feeling this is likely one of the more expensive places in the park. Now if we could all split a trio as a family it might be a decent value for some food bbq.
Ninja Kitchen
Location: LEGO Ninjago Land
Ninja Kitchen is located at the entrance to Ninjago Land on the left hand side. I don't believe it was open during the preview but the prices seem to be more reasonable than some of the other options.
Showtime Snacks
Location: just after LEGO Ninjago Land
Showtime Snacks is located just past Ninjago land on the left hand side on your way to LEGO Castle land. I believe this is likely the best value in the park because you can get a hotdog for $7 (with out sides). At other locations hot dogs are $11 with fries. But you can order chili cheese fries for $8 and split them among your family. I did not see this booth open during the preview.
Wizard's Frozen Wonders
Location: LEGO Castle Land
Wizard's Frozen Wonders is located in the LEGO Castle land across from Merlin's Ride. This was open during the preview unfortunately I didn't see the serving sizes. This seems like typical theme park prices but I would expect they are on the smaller size as were the ice cream treats we picked up at the front of the park.


Royal Feast
Location: LEGO Castle Land
I was a little disappointed in the over all menu here. When you think of a Royal Feast what do you think of? I was thinking giant turkey drum sticks or 1/2 rotisserie chickens. Needless to say this place was packed during the visit especially since it was one of 2 eateries open. $16 for a park burger seems a bit steep to me even for amusement park food.
Granny's Apples
Granny's Applies are Fried apples slices almost like an apple fritter. They are really good if you like that sort of thing. I enjoyed them in LEGOLAND Florida but the kids were indifferent so we haven't tried them at this park yet.
Brickolini's Pizza & Pasta Buffet at LEGOLAND New York
Brickolini's Pizza and Pasta buffet at LEGOLAND New York is an all-you-can-eat pizza, pasta, and dessert. Soda is included as well.
LEGOLAND New York Review and Tips: Planning Guide Summary
This LEGOLAND New York Review and Tips: Planning Guide has everything you need to plan the best LEGOLAND New York visit. Planning ahead can assure that you can enjoy your favorite rides several times and not miss some of the best experiences at the park.
Make sure you save this article as I will be updating it frequently as new information becomes available.
Follow Affordable_Family_Travel on Instagram
Make sure to like AffordableFamilyTravel.com on Facebook to get all the latest updates. It's also where I post my Dash Deals that are time-sensitive.