Legoland Hotel Florida Review and Tips are comprised of our experience over several trips to LEGOLAND Resort Florida. Legoland Hotels isn't in Orlando but is in Winter Haven, Florida about an hour away. It's also 1 of 3 different Lego Hotels at the Florida Legoland Resort. Although Legoland Pirate Hotel is really attached to the Legoland Hotel Orlando. Legoland Hotel is directly next to the Legoland Orlando Theme Park.
Legoland Resort consists of The Legoland Florida Theme Park and Waterpark, The Legoland Hotel, Pirate Island Hotel which is connected to the Legoland Hotel, and Legoland Beach Retreat which is offsite. It's possible to have a budget family vacation to Legoland Hotel and theme park and still have a great time.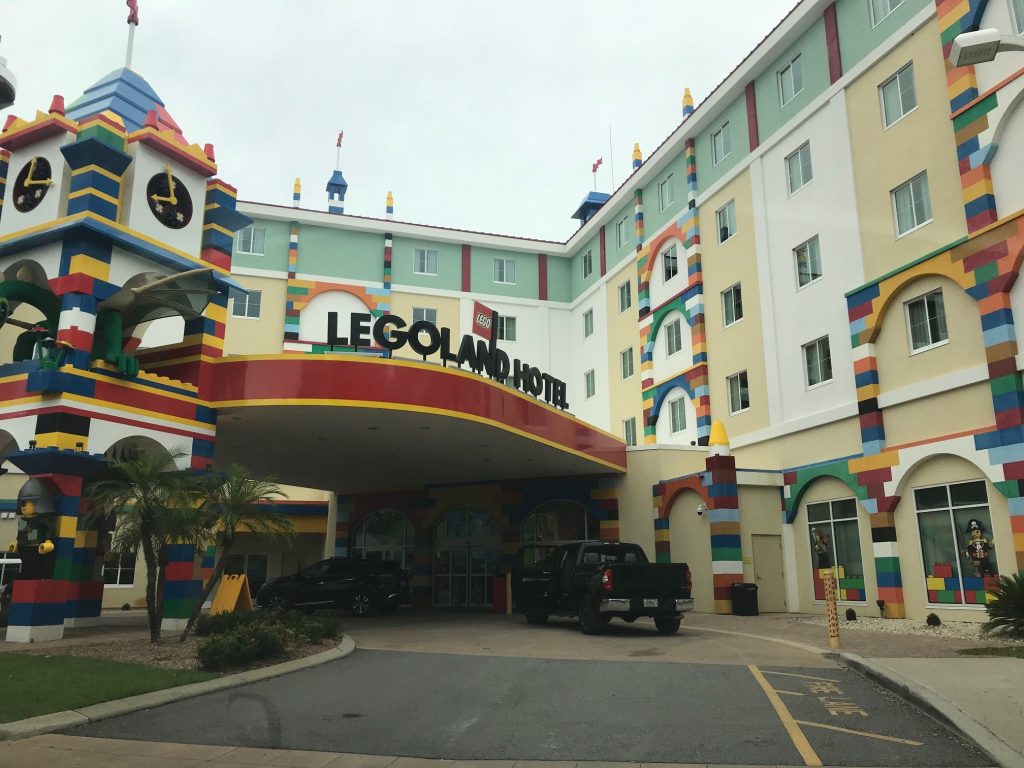 We have stayed at the Legoland hotel twice with kids and on both visits, the kids loved the hotel so much they felt it may be better than the Legoland Park. Regardless both times they left wanting to come back again and yes even after visiting Disney World on the same trip.  You can read all about Legoland Florida Theme Park here.
Arrival at Legoland Florida Hotel
On our second trip, we stayed 2nts 3 days at the resort in an adventure room at the Legoland Hotel which is adjacent to the park. On the previous trips, we stayed in a Pirate room and they are similar in how they are laid out and designed, just different in theme. When we checked in they happened to have a 3 pm build session available so we signed up and headed right to the build while our luggage was being delivered to the room. 
The Value of Legoland Hotel Florida
Legoland Hotel Costs can be high but its overall value is great so it's worth the price. Normally I'm pretty frugal about the cost of hotels. If it's clean and has a comfortable bed I'm happy. Location is important to us. We rarely are willing to pay to stay at moderate to expensive hotels unless there's more such as Lounge access with breakfast and evening reception or great activities. With Legoland Hotel Florida, the resort itself is so entertaining that it's worth it for at least 1-2 nights. 
When considering the cost of a vacation and whether I consider it affordable for our family, I often take into account the amount of entertainment available and access to affordable meal options. Legoland Florida Hotel entertainment is fantastic and enough to keep you busy without even leaving the hotel. It's quite possible to have a Legoland hotel-only trip and have a great time.
A breakfast buffet is included and offers a lot of selection and the dinner buffet is very inexpensive. There's also another dining option and delivery from outside restaurants. Since affordable food is easily available and there's a ton of great entertainment included, Legoland Florida overall is an affordable family vacation.
Legoland Hotel Deals
If you are wondering how much to stay at the Legoland Hotel the rates start at around $350 a night but if you watch for Legoland Hotels deal you may be able to find lower prices. We find that Legoland Vacation deals aren't always as good as purchasing the hotel separately so compare your options.
You can keep an eye out for Legoland Florida Hotel deals. I have seen rates as low as $180/night with a buy 2 nights get the third free that's $360 for 3 nights or an average of $120/night for Legoland Hotel Florida. Also, note sometimes it's cheaper to not book a Legoland Florida Hotel Packages and book the hotel separately. Especially if you have bought 1 adult ticket get 1 child free tickets which are often found on the outside of logo packages. Sign up for the FREE Lego Life Magazine and you can often find the coupon inside.
There are also often coupons for Buy 1 adult ticket get a kids ticket free coupons on packages of legos. This often is a little cheaper than buying a Legoland vacation package. You can check out sales and package prices on Legoland Florida's website. Combing the above hotel deal with buy 1 get 1 free ticket you could enjoy 3 Nights 4 days at Legoland Hotel Florida with 1 day in the Park for only around $600 for a Family of Four. With a Dinner Buffet for 3 nights of breakfast and cheap lunch options including hot dogs in the park, it's easy to keep the trip costs to around $1,000 total for a family of 4 for 4 days.

The Builds at Legoland Hotel Florida
Our first build took about 20 minutes because it was just the 2 kids. Since you are allowed one build per day we were able to do 2 more builds during our trip which took 30-45min depending on how full the class was. 
The builds are led by a Lego Master Builder and each child is given a set of pieces to put together while the Master walks them through the build. There's even a tv at the front that displays what he's doing. 
Each day is a different object. We built a wolf, eagle, and spaceship. You get to take these items home. 
Legoland Florida Hotel Rooms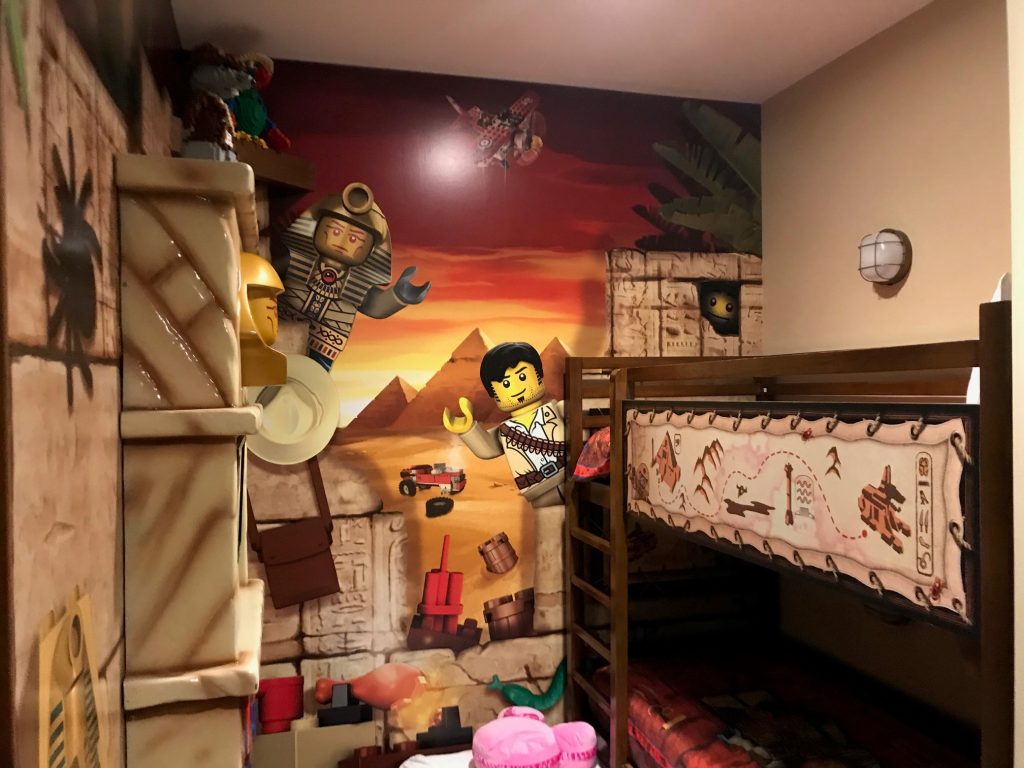 Legoland Florida Hotel Room Themes are the Best
The Legoland Hotel Florida rooms and overall hotel are very well-themed. On this trip, we were in the adventure rooms at Legoland Hotel Florida which was perfect for our adventurous family. On our previous trip, we did the pirate theme and it was the same room layout just a different theme. There are Lego sculptures around the rooms and in the hallways. We very much enjoyed both our themed rooms.
Legoland Florida Hotel Rooms fit Families of 5
There's the main bed area with a queen-size bed. The bed is raised pretty high and was fairly comfortable. There's a bunk area for the kids which includes a third trundle bed and their own tv. There is no door to this area. The trundle bed was the kid's tv snack bed which was nice because my kids always leave crumbs when eating. But it's also great for families of 5.
Fun and Free activities at Legoland Florida Hotel
When you arrive you are given instructions for a treasure hunt which results in opening the safe. In the safe is a Lego kit for each kid,  juice boxes, and a Lego magazine. There were also 2 mini bottles of water by the coffee machine that are complimentary. Only the mini bottles, not the enhanced water which has tags with the price on them. Each day they give you a new set for each kid. We got the same set 2 days in a row and check with the front desk. We were allowed to trade it out for a different one. It sounded like they have 4 sets so If you stay 5 nights you will end up with a duplicate regardless. They also replenish the juice boxes and mini bottles of water.
The Security Cameras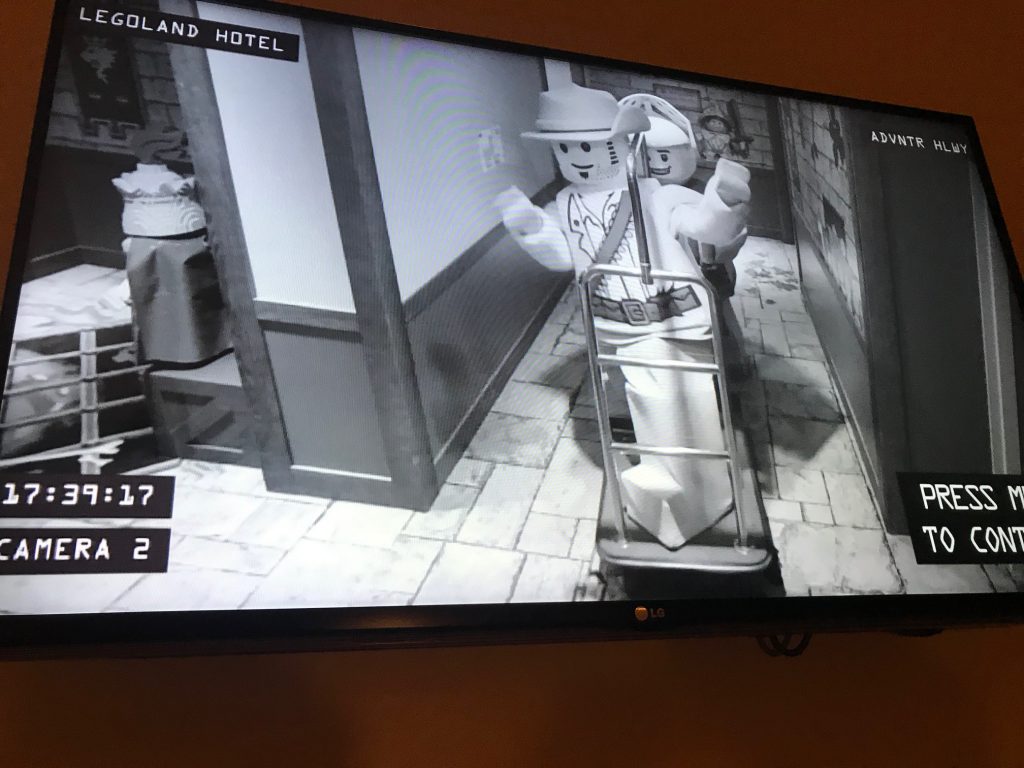 On the Tv they show what looks like security footage of the hotel. It them shows Lego People messing around. Its another cute little touch they add- so as busy as you are turn on the tv at least once to watch it.

The Hotel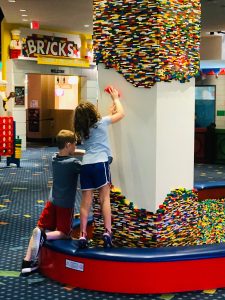 One of the highlights for our kids, at the Legoland Hotel Florida  elevator which is a big Disco Party to your room. It plays music and has a disco ball. All the kids and even many adults can't help but dance. Each floor has a different theme. On the main floor before you enter the elevators, against the wall is a whoopie cushion you can step on. Of course, this is another kid's favorite.
The Giant Play Castle

There is a giant castle/boat combo in the lobby of the hotel which the kids can run around and play and the moat is full of Legos to build. Across from reception, there is another pool of Legos to build with. Kids can spend hours (literally) building with the Legos.
Evening Activities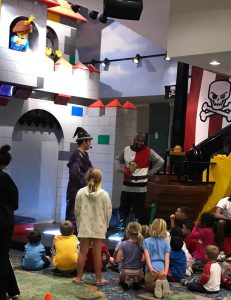 Each night they have activities in front of the castle. They seemed to start at 6 pm and 7 pm and run about 30 minutes and varied day to day but every night ended with a pajama dance party at 8:30 that ran for 45min.
They do a great job getting the kids involved and even the parents at one point (you will do the Macarena or chacha slide and the YMCA or something similar). The kids had so much fun and we were so exhausted that both slept till 8 am. Which was ok since the park doesn't even open till 10 am.
Legoland Florida Pool
The pool is outdoors, right out the back of the hotel. It's heated so even on cool days you can swim. There are of course Legos at the pool that float so you can build rafts and boats and try to see if they float.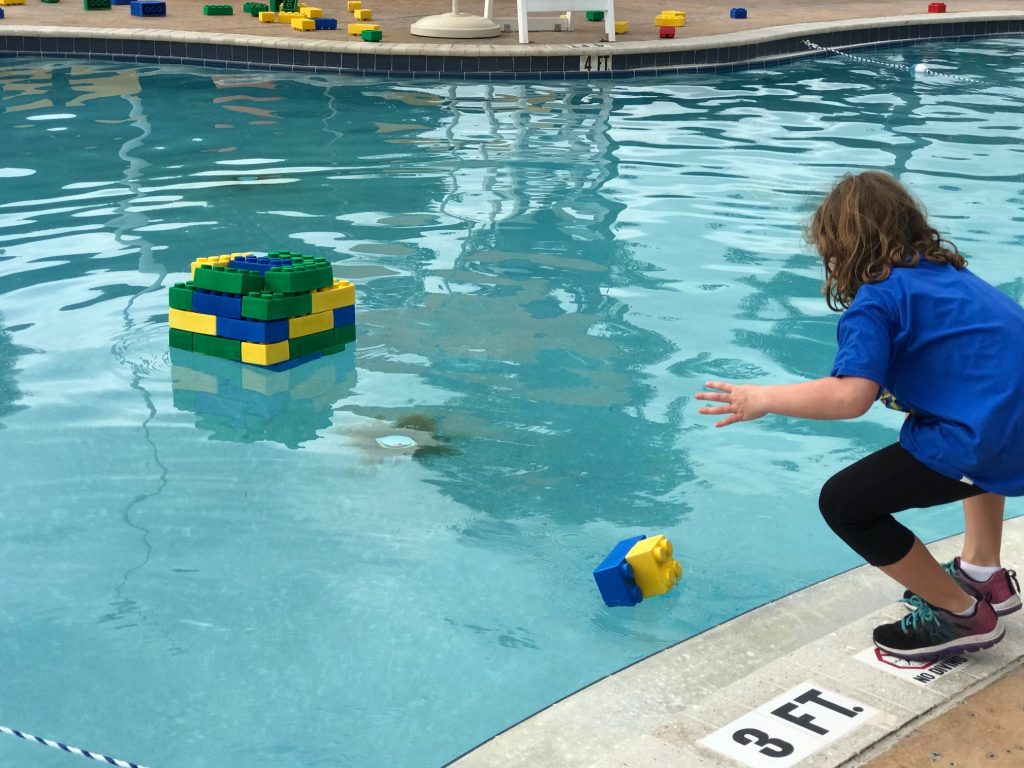 Breakfast at Legoland Hotel Florida
Timing
Breakfast is included with the hotel stay. They have this chart to show how busy to expect it at each time period. Obviously, 9-10 am is the busiest as people try to eat right before they head out to the parks. We try to head over between 8-8:30 so we went in our PJs to avoid the crowd. 
Friday was quiet and Saturday was a bit busier but no line when we arrived at 8:15 am. However, there was one when we left breakfast at 9 am. Of course, Friday night and Saturday were much busier than Thursday night and Friday morning for both hotel and the park. 
Legoland Hotel Review
They had a large selection for breakfast but my favorite was their omelet /fried egg process. When you are seated you are given a sheet and you can order what you want and turn it in so there is no waiting in line at the omelets station. The over easy and over medium eggs were cooked correctly (the second day the over-easy eggs were a little too runny for my liking but not terrible). The omelets were cooked with any runny eggs which is the only way my husband will eat them. The second day I asked for sautéed veggies only no egg-I like to eat them with fried eggs and they did it no questions asked although I would have loved a little more spinach. 
The buffet in the middle has kids' items and had divided trays but the second day they didn't have them out for some reason. They were great for picky kids who hate to have things touched.
Legoland Hotel Buffet items included (items may vary)
French toast,  pancakes, and Legoland brick waffles (these are always a hit)
Tator Tots and home fries
Bacon, sausage, and ham
Grits and cheese grits
Biscuits and gravy 
Plain and strawberry yogurt
Strawberries and blueberries
Cottage cheese and oranges
Grapefruit, apples, and bananas
Muffins, bagels, and donuts
Oatmeal 
Cereal such as fruit loops Cinnamon Toast Crunch and honey nut cheerios
There were peanut butter jelly and Nutella packets
Coffee and tea
Milk and chocolate milk
Juices such as orange guava and apple 
If you all eat well you could easily be full until dinner with all the options they have. 

Dinner at Legoland Hotel Florida
On our first trip, we added the Dinner buffet for $50 for the 4 of us. I wasn't too impressed with it. The option included bbq ribs but all I can remember was I just didn't enjoy it and felt we could spend $50 on a more enjoyable meal pretty easily. So this trip we did just that.
The first night we ordered Applebees to go because our son loves grilled cheese. 2 kids' meals 2 adult entrees (steak fajita and a steak) came to around $60. There's a fridge in the room so our leftovers were stored in there and were eaten the second night while we waited for our new dinner to be delivered. 
On our second night, we ordered from a local pizzeria. The kids split a spaghetti and meatball meal with potato soup as the side. My husband got a chicken parm meal with side salad and rolls (it came with pasta too) and I had a deluxe steak Stromboli with onions peppers and mushrooms. The total came to $37 including the delivery fee. We had leftovers of about half the chicken parm, half the Stromboli, and half the salad and rolls. I knew we should have split a meal but we were so hungry after a full day in the park. You can definitely order an entree for 2, even 2 adults to split.  We packed it in the fridge and ended up taking it to the park for lunch- well my lunch. The kids and my husband had PBJ both days at the parks. 
The Skyline Lounge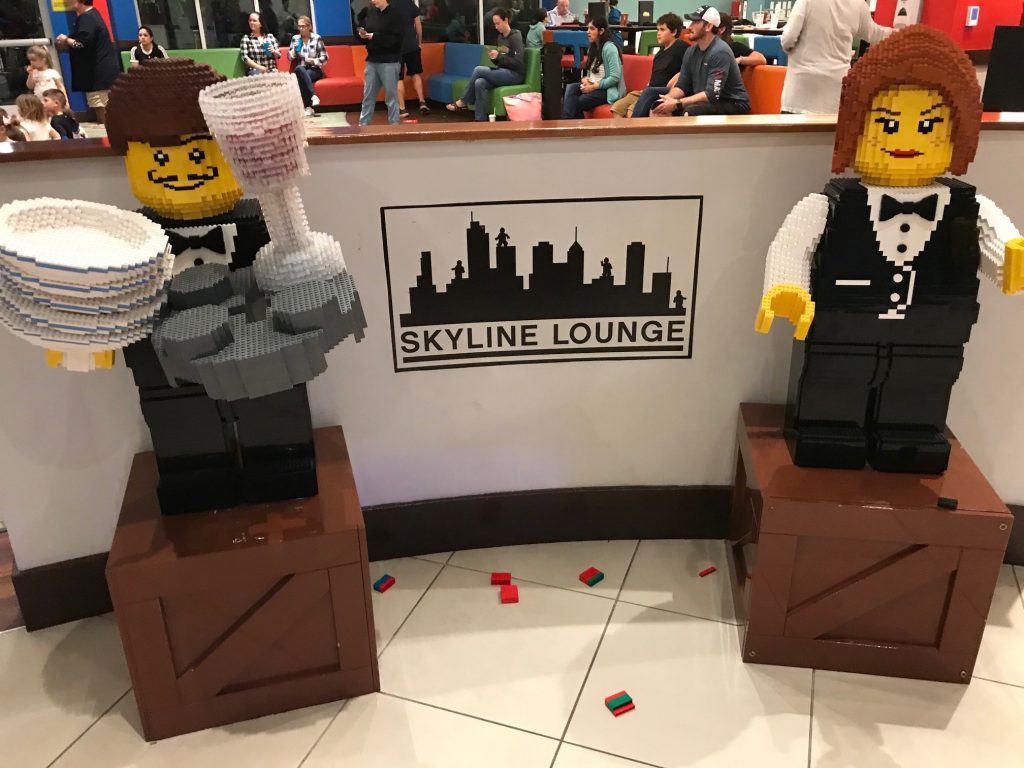 There's another restaurant called Skyline Lounge that is adjacent to the Castle/Boat play structures. This makes it ideal for having a quick bite or some drinks while the kids play. We personally have not eaten or had a drink there. They changed the layout by adding couches facing the play area so the restaurant feels much more separated than it did before.  I personally liked the old layout better which provided more seating for those not eating at the restaurant.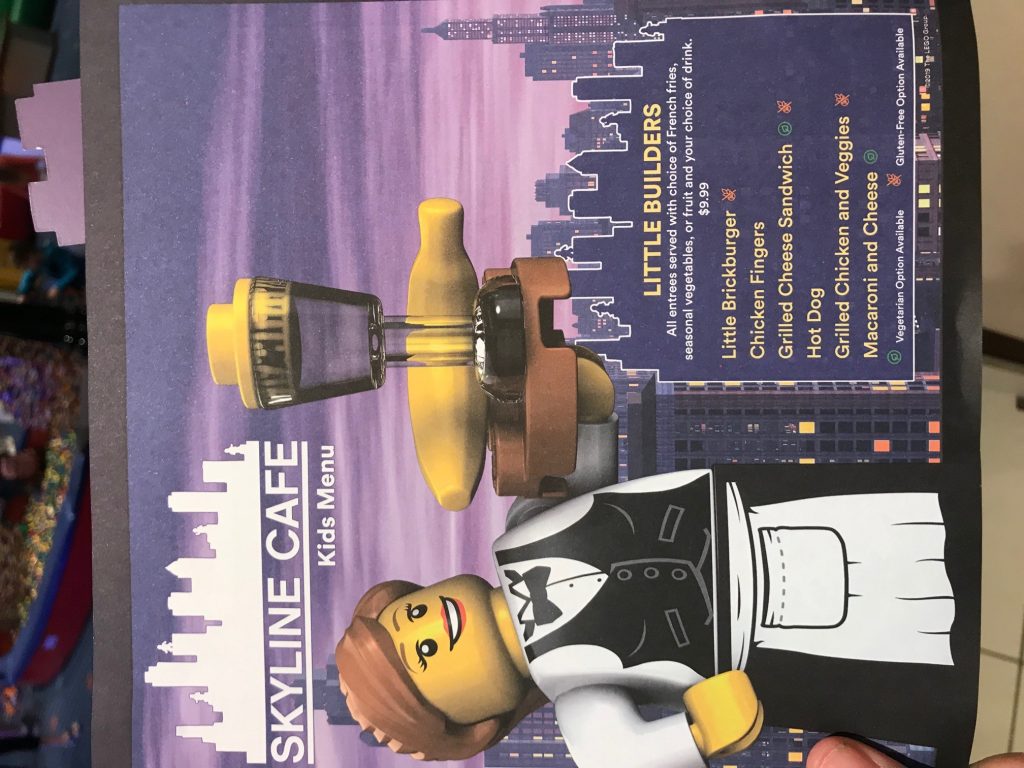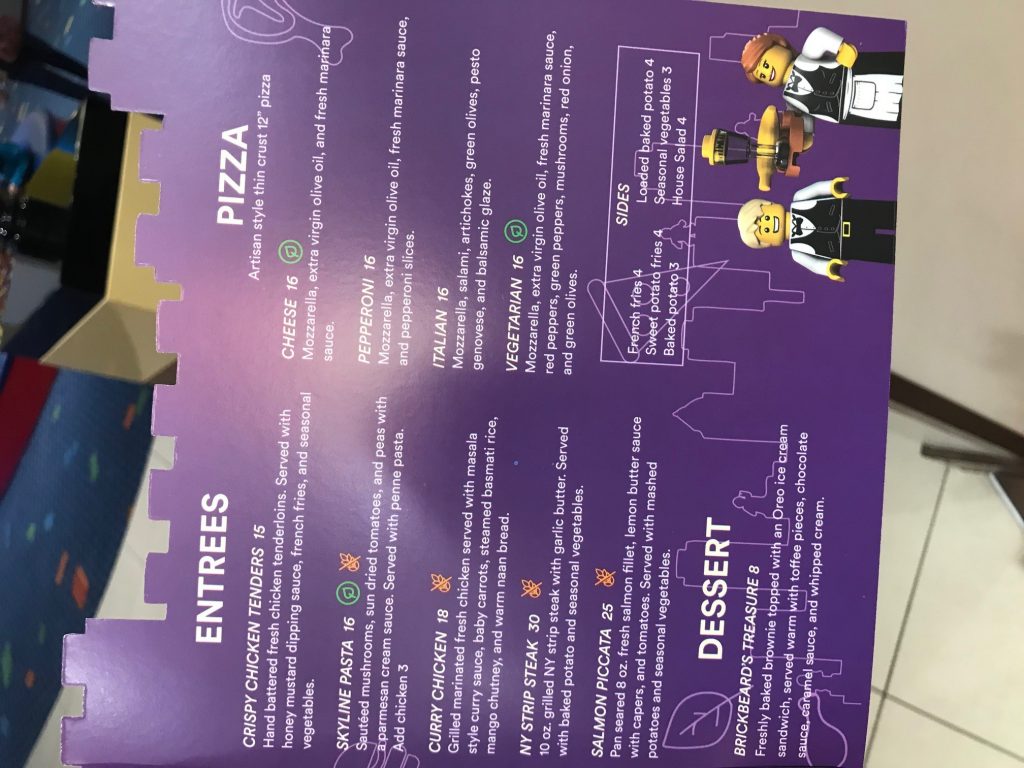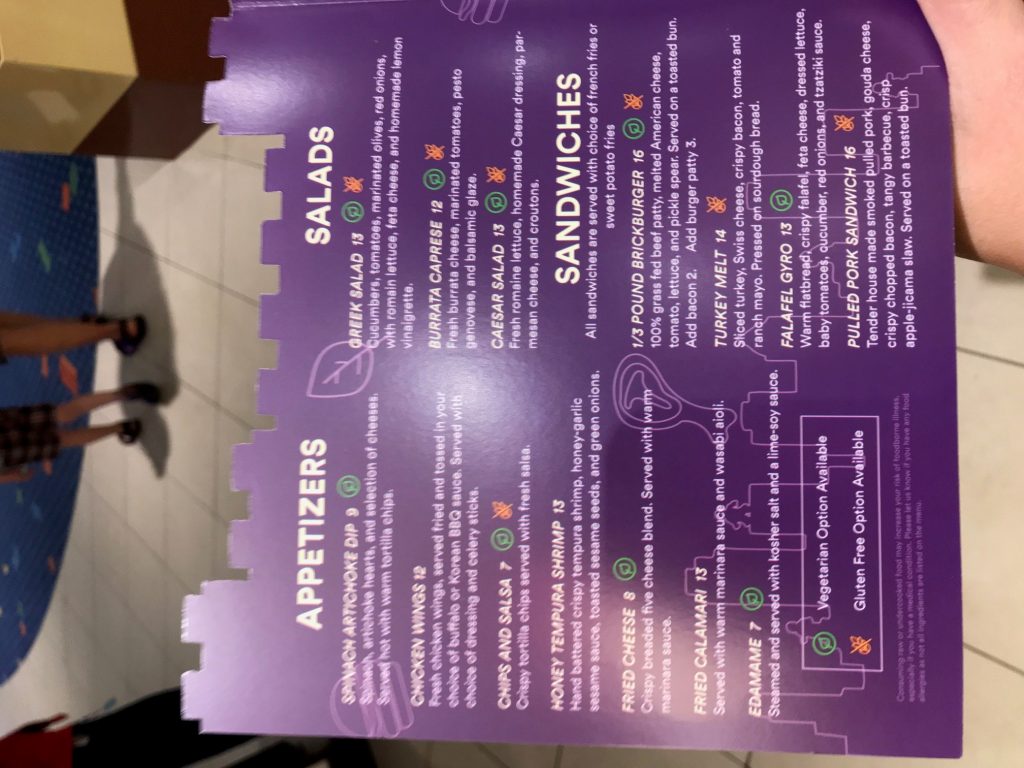 LEGOLAND Hotel Food
Breakfast is included and it's really a large meal. Bring some bread and grab some peanut butter and jelly from breakfast and make sandwiches for lunch to save even more. 
While dinner isn't included the price of the dinner buffet is rather reasonable. There are also tons of affordable options nearby or for delivery including pizza.
We did not experience the Legoland Hotel room service or check to see if it's offered. I did read at some Legoland hotels You can get a pizza to go at Bricks.
Legoland Hotel Activities
Entertainment is great. From 6-9:15 pm each night they entertain the kids and during breaks, your kids can build. This is one of the highlights of the trip for the kids.
Build clinics you basically get a $5 kit at the clinic but also a Master walking them through the steps.
$5 lego kit in your room each day
Hotel theming and small touches. The disco elevator-themed rooms and hallways and the whoopie cushion. They are small things but they really add to the fun and experience big time.
Character meets. At breakfast, we met Chef on the second day, and in the evening one of the girl Legos was out. There was also a couple of "face characters" (ie real people not foam costumes) Lego friends and the gesture.
Legos everywhere. There are so many Legos. Children can build giant creations for endless fun. More Legos than you possibly could have at home. You can bring your creations back to your room. They simply need to be returned before you leave. You can also have it displayed on the check-in desk. 
The pool is heated so even on cool days or at night you can swim comfortably. They have floating Legos kids can build and play within the pool. 
They offer more kids for under $11 and come with enough for the entire family to enjoy. That's not a bad price for the package they give.
It's not a cheap stay but the kids love it so much. The hotel itself is entertaining enough without even visiting the park. So to have breakfast included, easy access to affordable lunch and dinner options nearby, and enough entertainment included keeping the kids entertained without even buying park passes I would say it's a good value overall for at least one or 2 nights to get the experience and decide for yourself if it's worth a return visit. It was for us.

A Few Negatives
I do have a few complaints. They are adding on a huge wing for their new pirate hotel. It seems like this made parking further away (or maybe it always was) parking is a pretty long walk. So much so that my husband opted to pay $25 for our full stay (not per night) for valet. 

The other thing was that our son couldn't buy the creation he built. At the park, they have a pick brick store with a scale and they charge by weight. I think the hotel should have a scale and you can buy your creation by weight. 

What You May Need for Your Legoland Hotel Visit
Legoland Hotel Orlando Florida Overall
Overall the Legoland hotel is a wonderful place for toddlers and school-age kids. I definitely recommend a trip. It has helped reignite the kid's love of Legos again. Now we can't wait till Legoland NY opens up in summer 2021!
For Information on Legoland Themepark Florida, check out my Review.
There are plenty of Affordable Family Vacations to Orlando. Florida also has some wonderful Water Park Hotels for every budget range. Learn how to to enjoy a visit to Discover Cove on a budget.
Follow Affordable_Family_Travel on Instagram
Make sure to like AffordableFamilyTravel.com on Facebook to get all the latest updates. It's also where I post my Dash Deals that are time-sensitive.