Check out Discovery Cove Black Friday special NOW!
Budget swimming with Dolphins at Discovery Cove is a great value. Have you always wanted to do a cheap Dolphin encounter? Hate spending over $100 per person for less than an hour of entertainment? While Discovery Cove will still cost you over $100, you can snag a Discover Cove deal that includes Sea World and Aquatica for up to 14 days. The cost will cover your dolphin encounter. As well as all-inclusive food and drink for that day plus up to 2 weeks of fun at Sea World and Aquatica.
Find out when you can snag the Discovery Cove half-price sale. The Discovery Cove review and tips can help you plan the best visit to this aquatic-themed park. Affordable Family Vacation is possible by utilizing points for free hotel stay and strategies to reduce your food cost you can keep this cheap family vacation under $1500.
Budget Swimming with Dolphins at Discovery Cove Review and Tips
Discovery Cove is a wonderful sea life park. Arriving early (7:30am) allows you to enjoy a full day. It's also a park that you do not need to be constantly going at. The lazy river is a lot of fun. Our kids enjoyed simply splashing in the shallower water and especially swimming next to the otters. The Grand Reef is just absolutely amazing.
The over all day is extremely relaxing unlike most "amusement park" experiences. There's enough to have fun for the full day but not feel rushed. The lines for food and drink are not long you can easily eat and return for more. Beer and wine is included. It's nice to have a drink while sitting in a lounger in the heated pool area.
If you love sea life you will lover this experience. There are a lot of add on options available. For our stay we chose to stick with the standard dolphin encounter and nothing more. I am glad we did because it gave us time to explore the park and everything it has to offer.
Discovery Cove Tips
My kids were used to full wetsuits but in the end our daughter was more comfortable in the shorty. You have to wear a vest, shorty or wetsuit which is provided and included for free. these items have bright color marks that helps staff see you better.
The lazy river is the warmest part of the park.
If you eat an early lunch (say 11/11:30am) you can eat again. Returning at 3/3:30 before lunch closes can allow you to get an early dinner in as well.
Make sure to grab some snacks and bottled beverages when your at the snack bar, and leave them in your bag so you have them available with out having to go back to the snack shot from wherever you are sitting.
You can not bring cameras to the dolphin encounter but if someone is not doing the experience they can take photos from the beach.
water shoes are helpful especially in the shallow water experience which has large flat rocks.
Grab pool noodles from a bin right before the snack bar near the lazy river to use in the lazy river it gets deep and its good to have them just incase.
What is included at Discovery Cove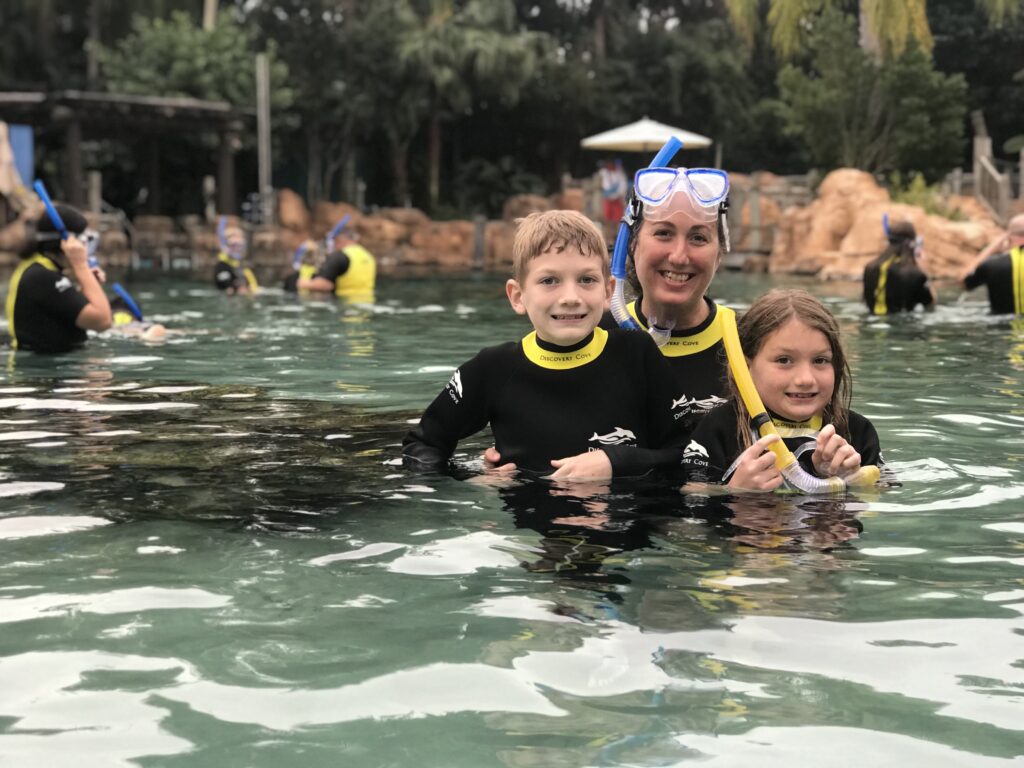 The Grand Reef
The Grand Reef is an amazing snorkeling reef where you can snorkel with all sorts of fish and stingrays. The stingrays will come so close that if you put your hand out flat you can easily tough them. There is not better place to snorkel with so many wonderful fish than the Grand Reef at Discovery Cove. There's also an area in the back where you can snorkel with sharks who are being a glass wall.
Freshwater Oasis with Otters
Past the Aviary near the Wind Away River is a cave that you can snorkel into with a giant class wall into the otters sanctuary. You can watch the otters play and swim even under the water through the glass wall. They are a lot of fun to watch.
Explorer's Aviary
I recommend going early when the Aviary opens. We were lucky to be the first ones in and the birds were incredibly friendly and would land right on our hands to eat the food we were given. however a short 15-20 minutes later the birds seemed to have their fill and weren't quite as interested. Possibly later in the day maybe that changes.
However, if you wait up by the beaches you may be able to watch the flamingos being released as they parade down the beach.
Serenity Bay and Wind away River
This is the warmest part of the park heated to above 80 degrees its warm relaxing and fun. It can get very deep at parts so make sure little ones have a floatation device even with the wetsuits. There's pool noodles just before the closest snack bar you can grab.
There's a shallow water area that has chair backs so you can sit and enjoy a drink while you lounge in the heated water.
Unlimited Food and Beverage at Discovery Cove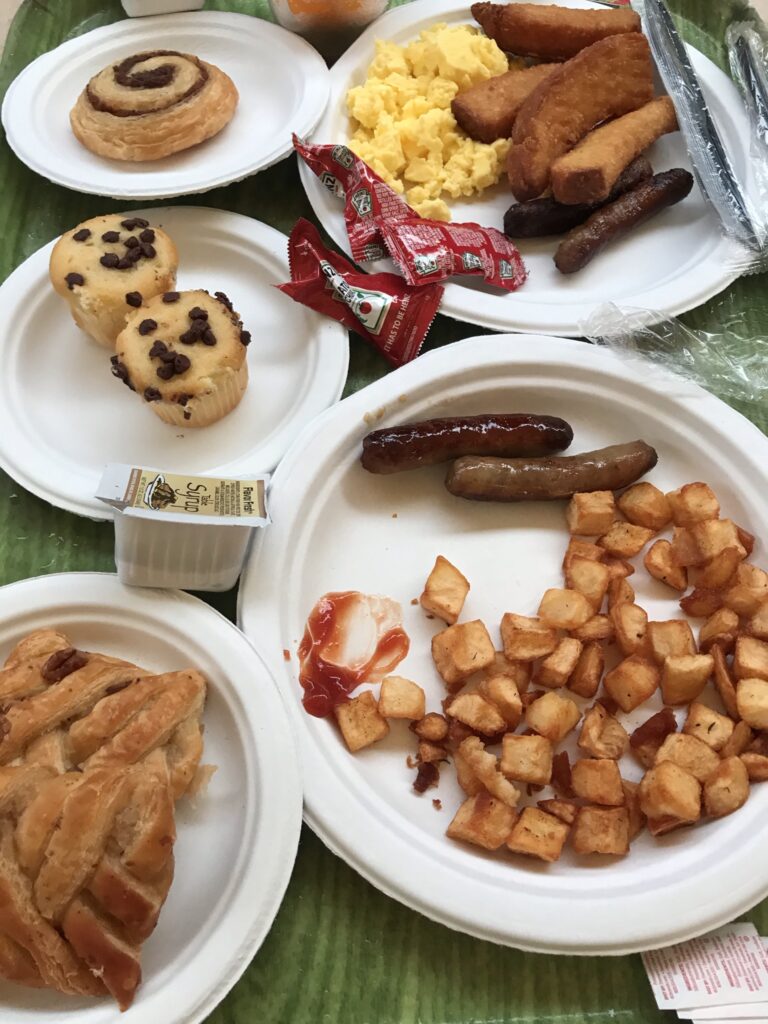 Unlimited food and beverage is included with your Discovery Cove ticket. The food looks better than it is but it's not bad. It's pretty good compared to some theme park food. I enjoyed the Grilled Churrasco Steak  with Roasted Potatoes, Fire Roasted Vegetables, Chimichurri Sauce, although I had it again for dinner and it was a little gamey. My husband and I loved the vegetables maybe because we don't often get many when eating out on vacation. The kids loved the spaghettis and meatballs and ate it twice. The salmon was pretty good but I recommend asking for the mango salsa that's served with the jerk chicken, to enjoy with the salmon. The kids had fun doing a dessert sampling – we just grabbed one of each for everyone to sample.
Even Some Alcohol is Included for Adults
We were satisfied with the house wine and domestic beer that was included with the stay- they had Coors light and Budweiser in aluminum bottles. The one bartender was nice enough to make the wine a double when it was getting close to closing.
Discovery Cove Breakfast Menu and Times.
You will head to breakfast as soon as you arrive. Discovery Cove Breakfast Hours: 7:30 A.M. – 10:30 A.M. Breaks includes items such as Scrambled Eggs , Sausage Links, Hash Brown Potatoes, French Toast Sticks, Buttermilk Biscuits, Seasonal Fresh Fruits Breakfast Pastries, Assorted Yogurts , Assorted Dry Cereals, Traditional Warm Oatmeal , Brown Sugar and Raisins. Breakfast Beverages include Freshly Squeezed Florida Orange Juice, Whole and Chocolate Milk, Brewed Regular and Decaffeinated Coffee, Tea, and Hot Chocolate
Discovery Cove Lunch Menu and Times
Laguna Beach Burger served with French Fries, Caribbean Spiced Salmon with Island Style Rice, Fire Roasted Vegetables, Pico de Gallo, Grilled Churrasco Steak  with Roasted Potatoes, Fire Roasted Vegetables, Chimichurri Sauce, Grilled Jerk Chicken  with Island Style Rice, Fire Roasted Vegetables, Mango Salsa, BBQ Pulled Pork Sandwich
served with French Fries, Pasta Marinara served with Meatballs.
There's also cold wraps and salads such as the Seaside Wrap with Ham, Turkey, Cheese, Lettuce, Tomato, Red Onion, Spinach Tortilla. And Vegetable Wraps with Assorted Vegetables, Red Pepper Hummus, Spinach Tortilla. There's several salads including Grilled Chicken Caesar Salad, Laguna House Salad   with Baby Spinach, Tomato, Red Onion, Black Olives, Feta Cheese, Vinaigrette, a Seafood Pasta Salad with Shrimp and Crab, Spicy Remoulade, Quinoa Salad  with Quinoa, Black Beans, Corn, Shaved Red Onion, Tomato, Cilantro, Fresh Squeezed Lime and Kale and Wild Rice 
With Fat Free Raspberry Vinaigrette. There's also Berry Coleslaw  and Pickle Spears .
Desserts at Discovery Cove
Desserts include Pina Colada Cupcakes, Chocolate Decadent Cake, New York Style Cheesecake with Strawberry Topping, Carrot Cake and Assorted Whole and Mixed Fruit
Discovery Cove Kids Lunch Menu
Kids meals include Hot Dog served with French Fries, Chicken Tenders served with French Fries, Macaroni and Cheese, Pasta Marinara served with Meatballs but you can also order adult entrees if the kids prefer. My kids like plain pasta with butter and they were happy to accommodate them.
Discovery Cove Included Drinks and Snacks
Complementary beverages include Assorted Coca-Cola Products, Bottled Water, Hot Chocolate, Coffee and Tea. There's also house wine and domestic beer included for adults.
Snacks Include Assorted Chips, Fresh Warm Soft Pretzels, Assorted Snow Icee, Sugar-Free Cookies and Whole Fresh Fruit. I recommend grabbing a bottle of water per person and a packaged snack when your at the snack hut to leave in your beach bag so that it at hand any time.
Budget Swimming with Dolphins at Discovery Cove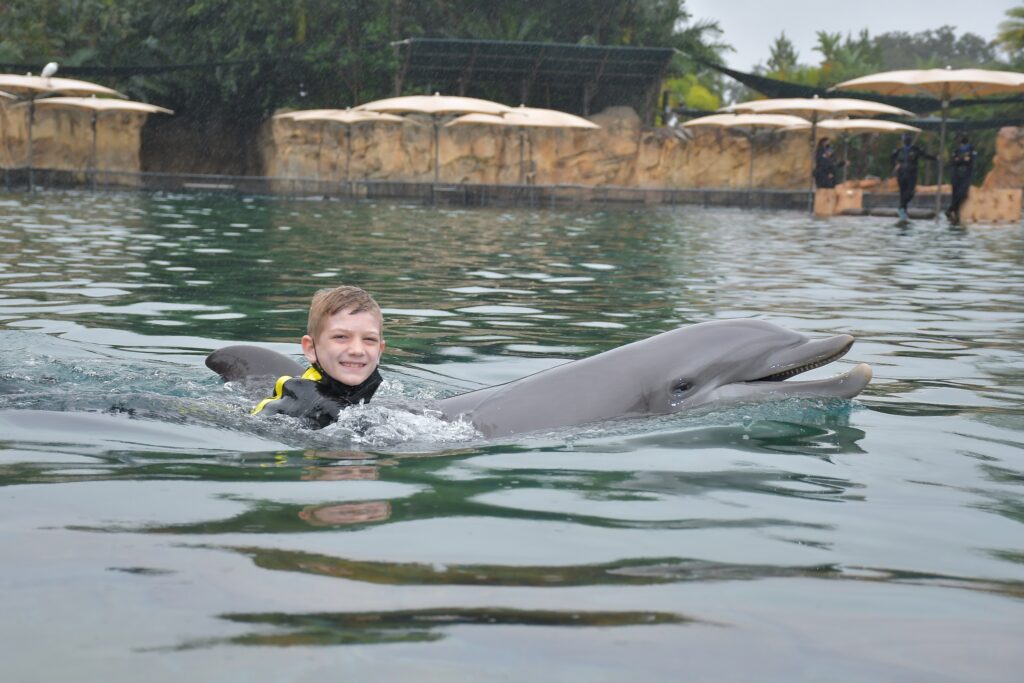 If you book the Dolphin package which was included in the $120 tickets we purchased, you will be given a swim time when you arrive. The earlier you arrive the sooner your scheduled dolphin swim. Our 30 minute shallow water dolphin experience included being pulled by a dolphin. It also included some great interaction, a kiss and a hug.
Discovery Cove Discount Tickets
How to get Half Price Discovery Cove Tickets
The Best time to purchase Discovery Cove Tickets is during their Black Friday Sale. Tickets to Discovery Cove are as much as half price and can be as low as $120/ticket including admission to Sea World and Aquatica for up to 14 days. That means you can have entertainment for your entire family for up to 2 weeks for only $120 per person or under $500 for a family of 4.
You can purchase tickets directly from Discovery Coves website and also find their latest deals there.
Budget Swimming with Dolphins and Orlando Theme Park Experience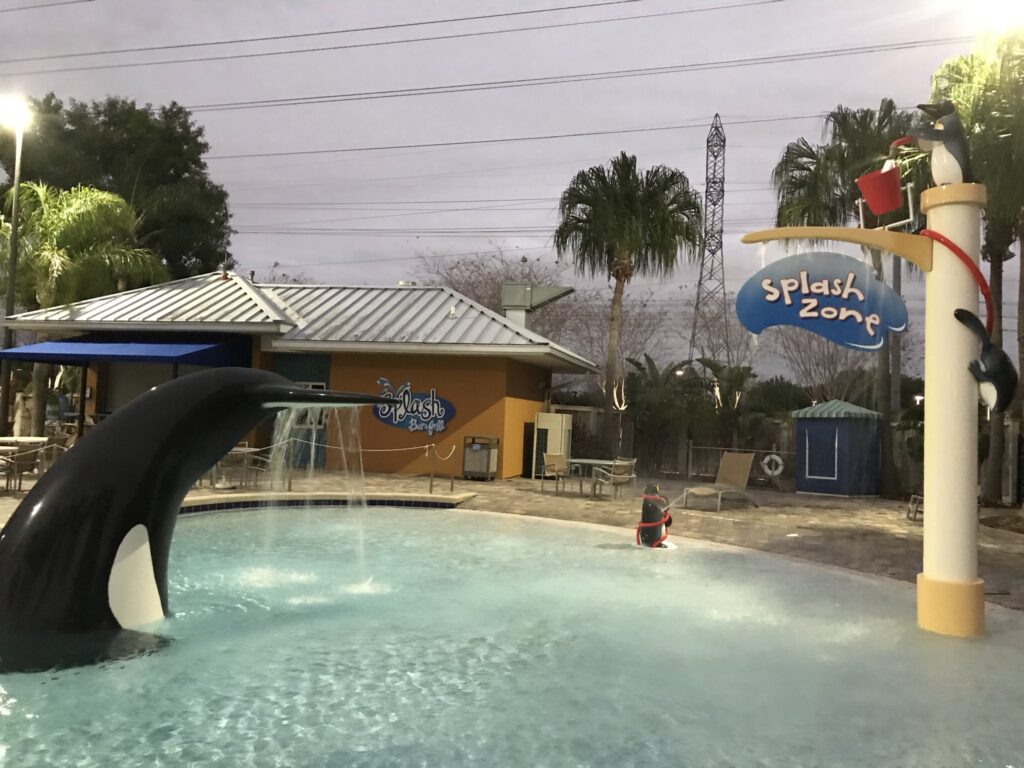 It's easy to spend up to 2 weeks in Orlando utilizing the Discovery Cove deal for a Budget Orlando Theme Park Experience. Renting a house in Orlando can be an affordable option for families.
Springhill Suites Sea World Hotel
The Springhill Suites is an Budget Sea World Hotel Option. Rates state as low as $72/ night so a 10 day stay would only be $720. There's a fridge and microwave in the room which can save you some money. If using Points it would cost you 20,000 Marriot reward points per night or 160,000 Marriot reward points for 10 day because Marriot gives you the 5th night free when staying on points.
The Springhill Suites has a cute Sea World themed pool but if you are looking for more you can check out these great Orlando Water Park hotels. However, keep in mind your tickets may include Aquatica which is a fantastic water park that includes wave pool 2 lazy rivers and more.
Your Day at Discovery Cove includes food and drink and the Springhill Suites also includes a shuttle. Although during Covid they provided free parking at Sea World and Aquatica instead. This saves at least $25 a day but parking at the hotel is $12 a day. The hotel includes breakfast including things such as bagels and toast as well as hot food usually eggs and sausage.
Schedule your days so you have a balanced fun schedule
You can easily spend 2 days at Aquatica but I think the best schedule is to head to Sea World in the morning spend half a day there while the weather is bearable. Leave the park at lunch time and grab fast food for lunch which can easily be half the price of park food and the wait time will be much lower as the lines for food in Sea World are ridiculous. Spend the afternoon at aquatica swimming. Or head back to the hotel to enjoy their pool with a little sea world themed pool. You can easily do this for 4-5 days to see everything at Sea World including all their shows, rides and sea life viewing areas.
Using Marriott Reward points for your hotel stay and the Discovery Cove ticket discount deal, you could easily keep the over all cost of a 10 day trip for a family of 4 to $1500- $2,000. You can also utilize southwest companion pass for almost free flights to Orlando. Since Marriott offers a shuttle to the park you could save on parking and rental car but would likely need to eat your meals at the park or order delivery to your hotel.
Budget Swimming with Dolphins at Discovery Cove Summary
Swimming with Dolphins at Discovery Cove is a great value especially when you snag their half price black Friday sale. We always though it would be a one time experience but after visiting we can't wait to go back. It's the best theme park value you will find in Orlando and probably anywhere in the World.
If you are looking for more rides than sea life, check out why Six Flags Season Passes are the best theme park value.
Follow Affordable_Family_Travel on Instagram
Make sure to like AffordableFamilyTravel.com on Facebook to get all the latest updates. It's also where I post my Dash Deals that are time-sensitive.