Legoland Florida is a great amusement park for younger kids even up to age 11 or 12 years old. Legoland Park Florida is in Orlando it's located in Winter Haven about an hour away. Who wouldn't love a Lego Resort in Florida? We visited Legoland Florida in November and January so the water park was closed for the season and it was only the regular park open. We still love Legoland Florida even without the water park.
Legoland Florida Tips
Use the app to see Wait times and to see what is open immediately. The Dragon had a delayed start one day and Ninjago had a delayed start another day.
The Dragon, Masters of flight, and The Cars, fire truck, and Boats in Lego City seem to have the longest rides as does the Great Lego Race.
The Great Lego Race is a fun ride but it's even better with Virtual Reality (VR) glasses. if they don't offer them check to find out if they will be opening that day or check back on day two if you are returning.
Walking through the Lego displays takes more time than you think because there are interactive buttons.  It's also in the direct sun so while afternoon would be good as ride lines get longer earlier is easier with the sun.
the Photo pass is a good value. You get a $10 off driver's license and you can add on additional days for $10 a day. You can start with the lowest package and upgrade to higher packages during your stay and just pay the difference.
The Lego Movie World
Since our first visit, they have expanded the park to include a Lego Movie area including the Masters of Flight ride. This ride is similar to Soarin but not as good. There's also a spaceship climber and another ride in that area. 
Battle of Bricksbug- You will get wet
Benny's Play Ship
Emmet's super Suite- Character meet
The Lego Movie Masters of Flight
Unikitty's Disco Drop
Lego City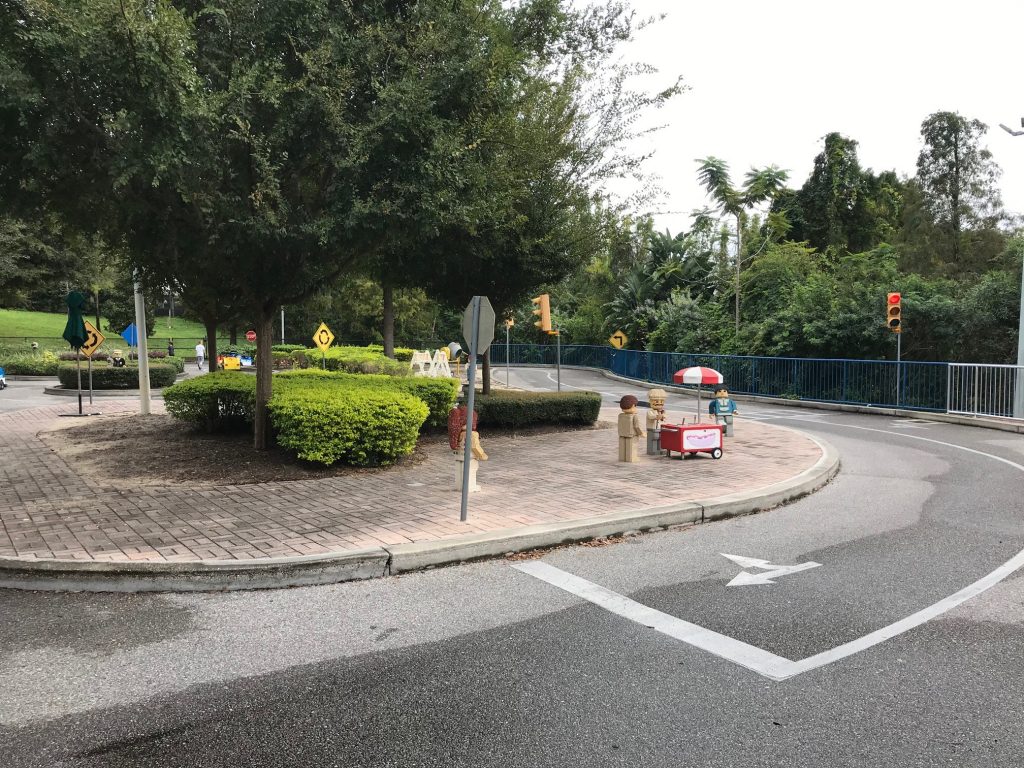 The Lego Citi area is a great area that can get pretty busy. Especially the boat ride, where kids can really stead the boat around. The fire truck attraction is a difficult one. Parents will work hard to pump the truck down the road to the fire then they will pump the water while the kids spray out the fire. Then pump the truck back. 
The kids driving course has 2 levels. 3-5 years old and 6-12(I think). This year was the first time they could do the older kids' course which includes stop signs stop lights and even a circle. When you first enter they take your photo and later will offer a license for purchase is $17.99 for 1 and $10 more for each additional. If you purchase the all-day photo pass they give you $10 off. The licenses come with a lanyard and cardholder so kids can wear them. 
rides:
Boating School
Ford Driving School (Ages 6-13)
ford Jr Driving School (Ages 3-5)
Flying School
NFPA Rescue Academy
Tot Spot
Lego Ninjago World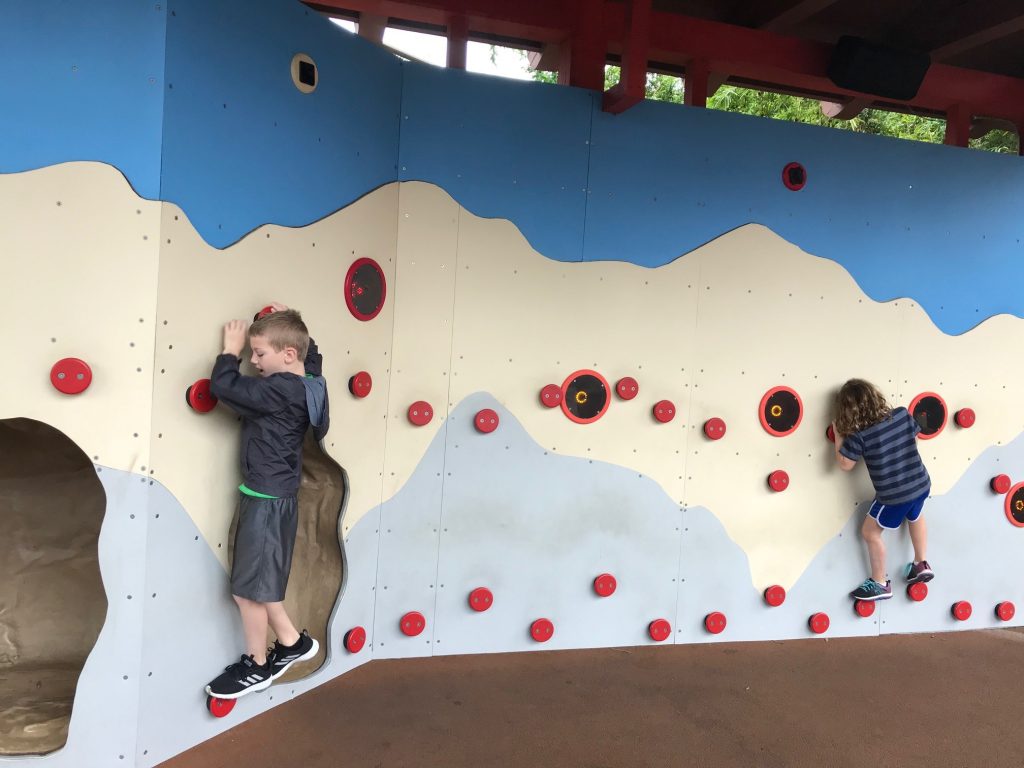 Ninjago is one of the favorite rides at the park. You practice your ninja skills in this shooting-type game. It's really easy for kids to rack up points which makes it a lot of fun. There are also a lot of physical activities around the Ninjago area that are a lot of fun. 
Cole's Rock Climb
Jay's Lightning Drills
Kai's spinners
Lego Ninjago The Ride
Meet Kai and Nya
Zane's Temple Build
Lego Kingdoms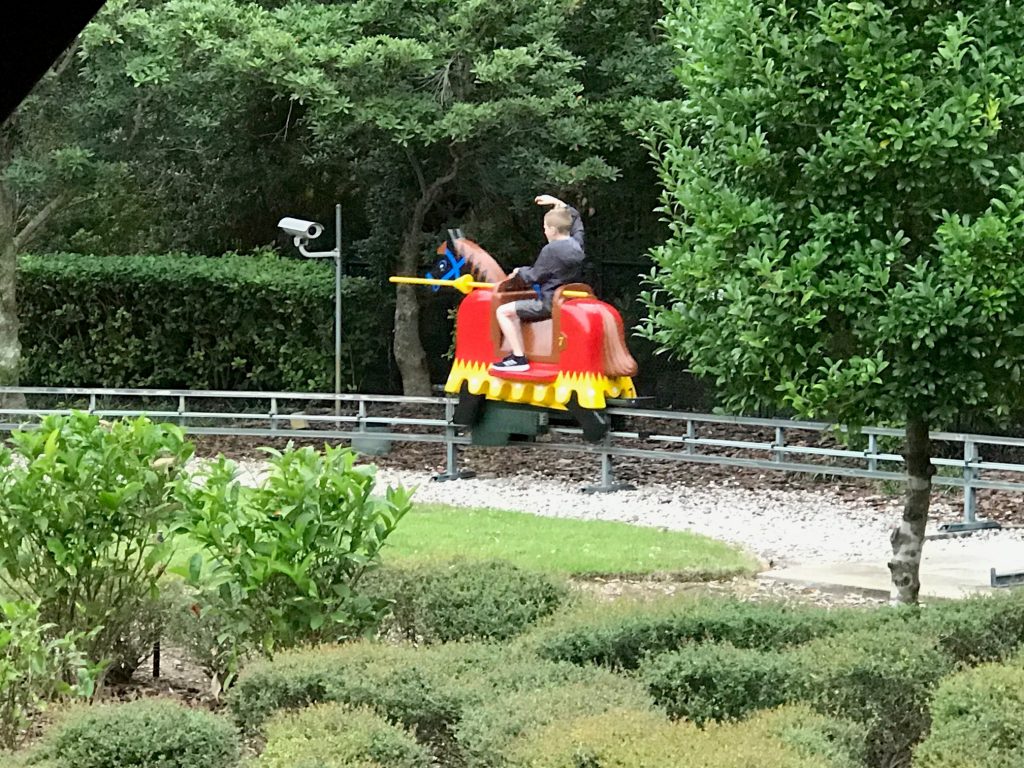 The Dragon ride is slow loading so the line can get long. On our first day, we waited till the end of the day and it broke down and we were unable to ride it. It also was delayed opening both days so try to schedule this early morning but not the first thing.
The dinosaur ride and safari rides are also fun rides. Our absolutely favorite was the race car ride with the virtual reality goggles on. The first day they didn't offer it but the second day they did and we rode it twice. If you are seated in the back of the car it will look like your the back and the same for the front. 
Merlin's Challenge
Royal Joust
The dragon
The Forestmen's Hideout
Heartland City (Lego Friends)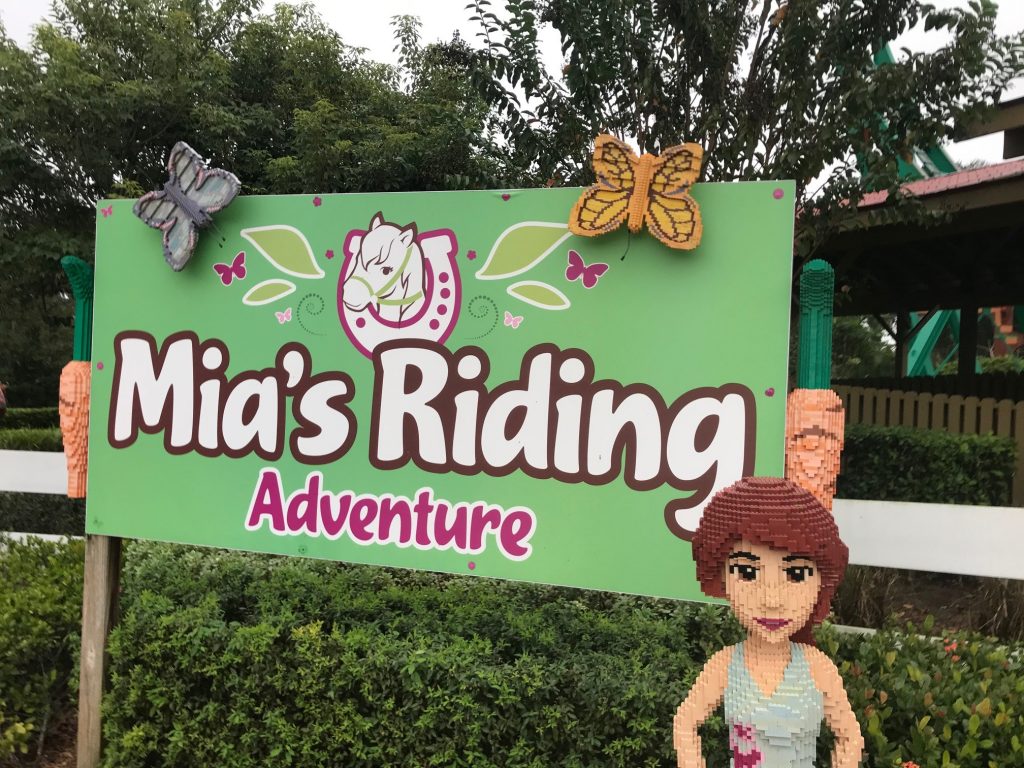 The kids did not like the friends riding with the horses or the flying ride both because they hurt. On the horse ride, the plastic is in front and back of you and there's no padding just used plastic. For the flying ride, the back is hard plastic with no headrest and if you lean forward your head shakes and bangs between the 2 hardness bars which also hurts. The solution for this was I stuck my hand behind our daughter's head she leaned back so her head wouldn't shake and my hand cushioned her head. 
Heartlake Stepping Tones Fountain
Mia's Riding Adventure
Imagination Zone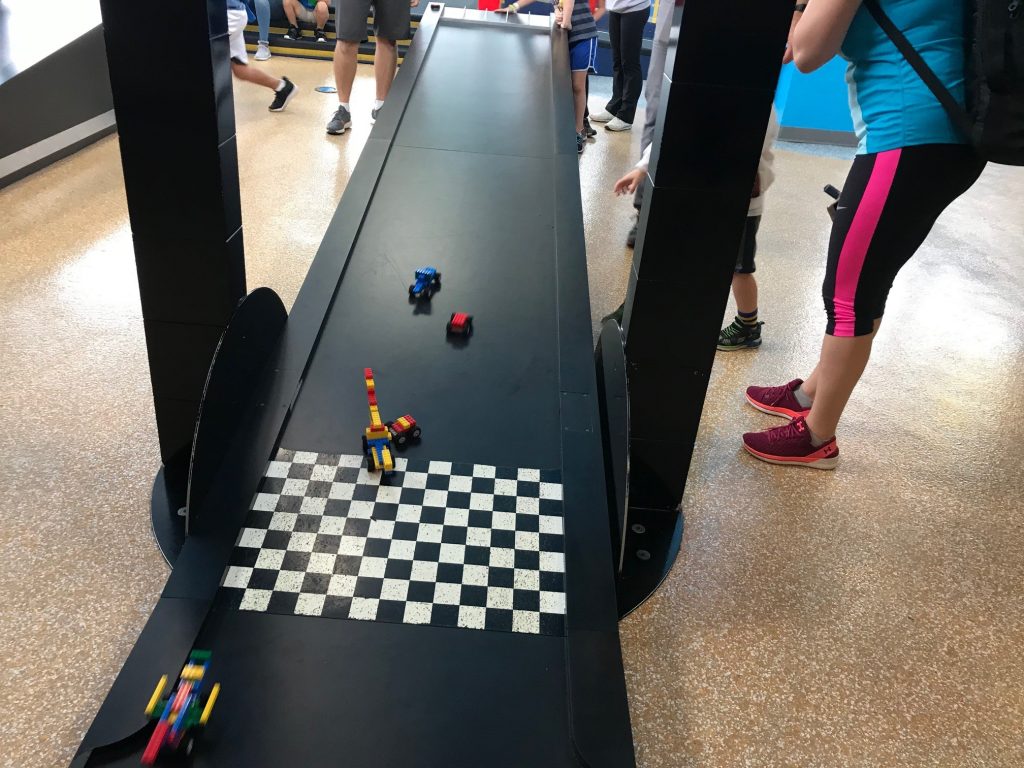 The imagination zone has so much inside you could spend half a day or more there. Our kids liked building flying machines and cars and racing them. They didn't want to do the Mindstorm which requires signing up for a time slot. There's also access to the panini place from inside if you want to grab lunch. 
Building Zone
Creation Zone
Flight zone
Kid Power Towers (ride outside the building)
Lego Mindstorms (sign up)
Warner Bros Games Zone
Water Zone
Wheel Zone
Land of Adventure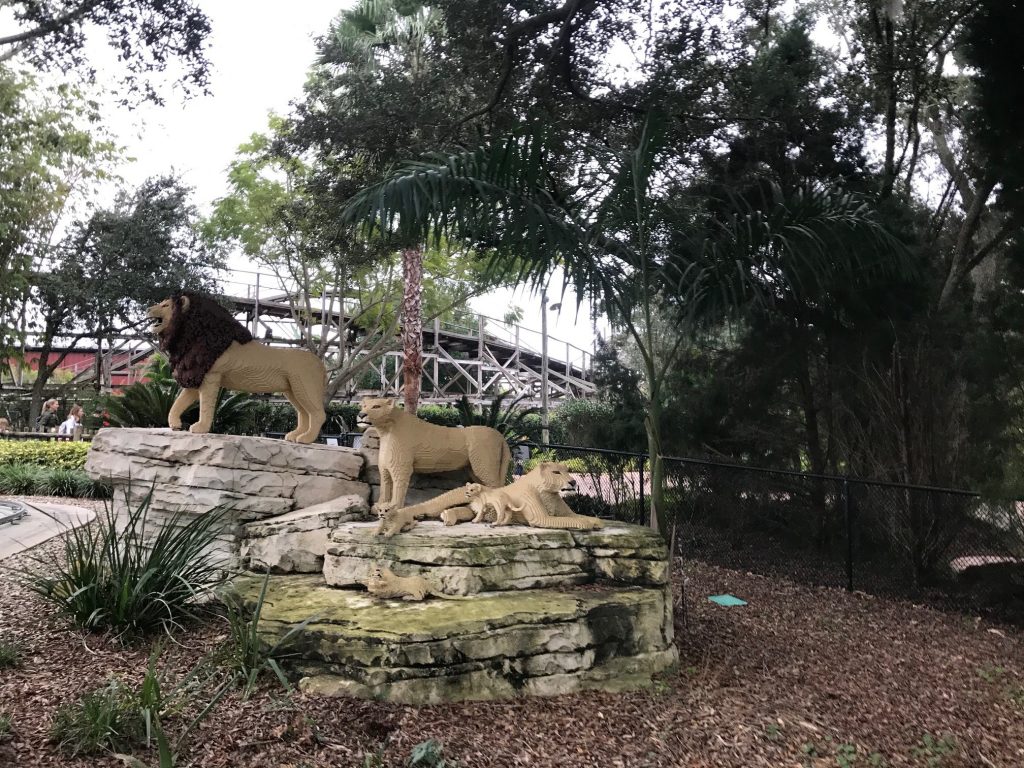 While Land of Adventure doesn't have any of the top 3 rides in the park it has several that are a lot of fun.  Beetle Bounce is surprisingly fun. It's better than the treetop drops we have been on at Six Flags. there's even a seat for an adult to ride. Coastersaurus is a fun wooden roller coaster. Lost Kingdom Adventure is a laser shooting game that doesn't seem to work well and is disappointing for the kids who couldn't score very high.  Pharoah's Revenge is a ball shooting structure (Ballocity fort). Safari Trek is a leisurely car ride through lego animal displays.
Beetle Bounce
Coastersaurus
Lost Kingdom Adventure
Pharaoh's Revenge
Safari Trek
Lego Technic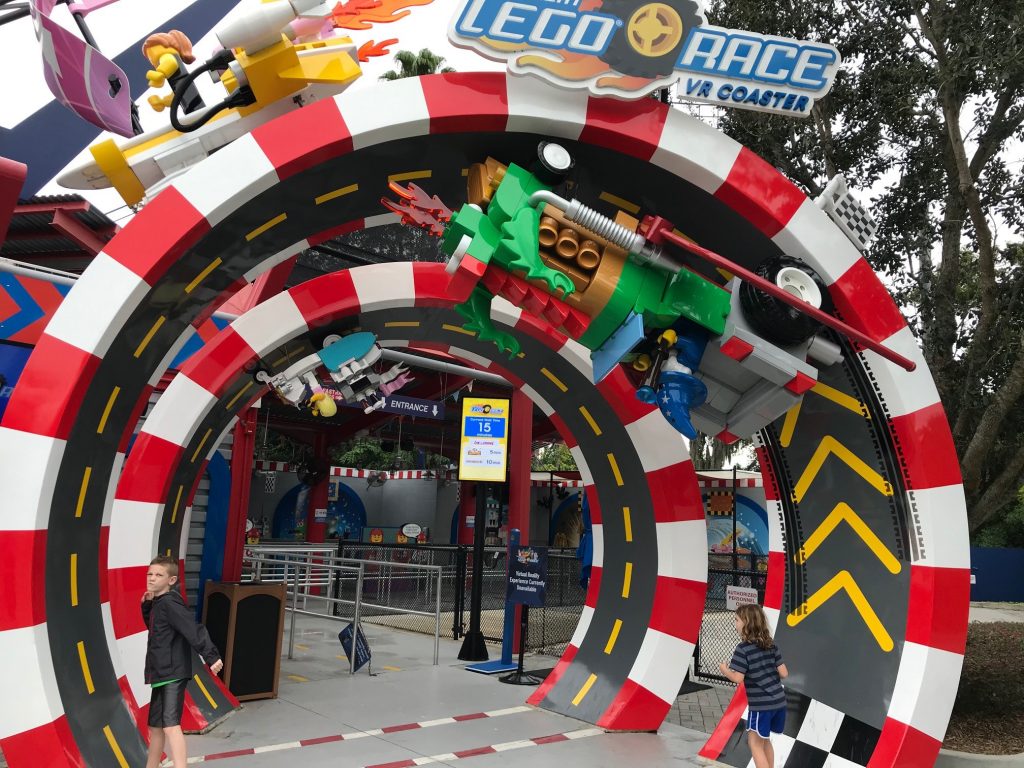 The Great Lego Race with VR is our favorite ride in the park. The first day it wasn't available but the second day when it was we rode it 3 times in a row.  For the Aquazone there are buttons people can push that shoot water cannons. If you keep your vehicle pooled in when going back to that area you should avoid them and stay dry.
Aquazone Wave Racer (you may get wet)
Technic tot Spot
Technicycle
The Great Lego Race (VR option available)
Duplo Valley
Duplo Valley has rides for the youngest members of your group. On our first visit, we rode the rides here and the kids still enjoyed them at age 3.5 and 5 years old but this trip we skipped them.
Duplo Splash & Play
Duplo Tot spot
Florida Prepaid Schoolhouse (inside)
Duplo Tractor
Duplo Train
Fun Town
4D Movies
They offer 3 different 4D movies at several different times throughout the day. The movies are about 20 minutes. Check the schedule as characters often meet before and after some showtimes.
The Grand Carousel
Double Decker Carousel where you can ride lego horses.
Pirates' Cove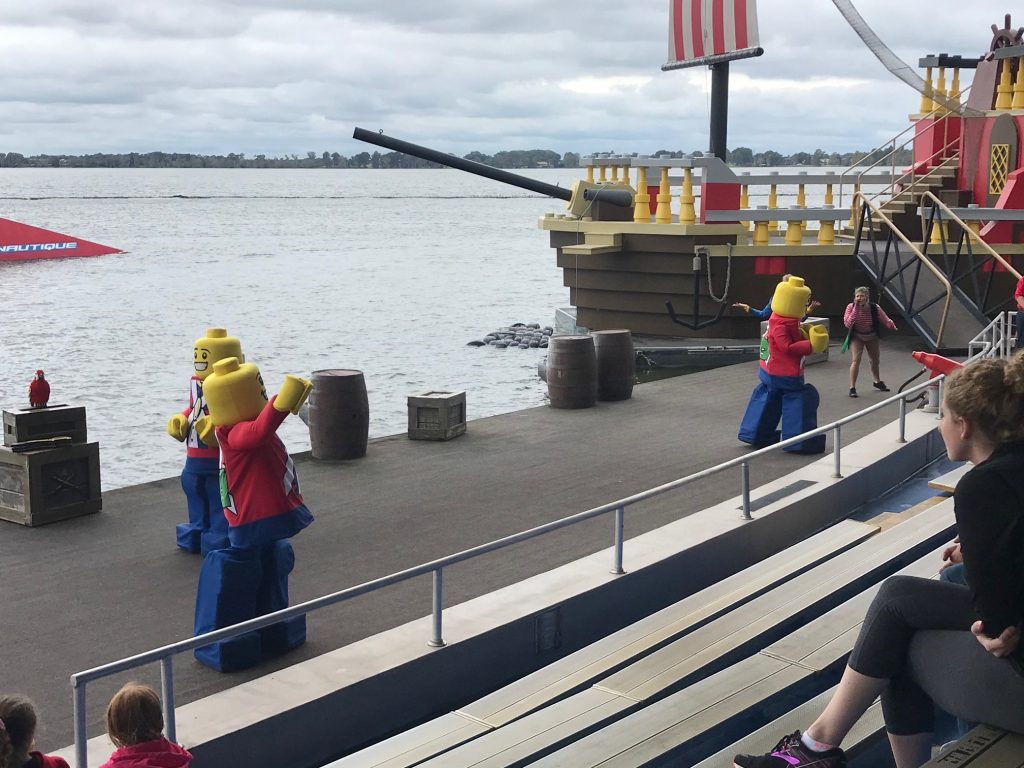 The Pirates' Cove Live Water Ski Show is somewhat unique so it's worth seeing even if it's a bit cheesy. The kids enjoyed it until the Lego pirate fell off his jet ski and while he was able to get back on with help they canceled the remainder of the show. There's a wet zone and If you arrive very early your kid may be lucky enough to sit at one of the water guns. Be prepared they will get soaked as the characters hold targets up to the squirt guns and it bounces back on those who are shooting. 
Miniland USA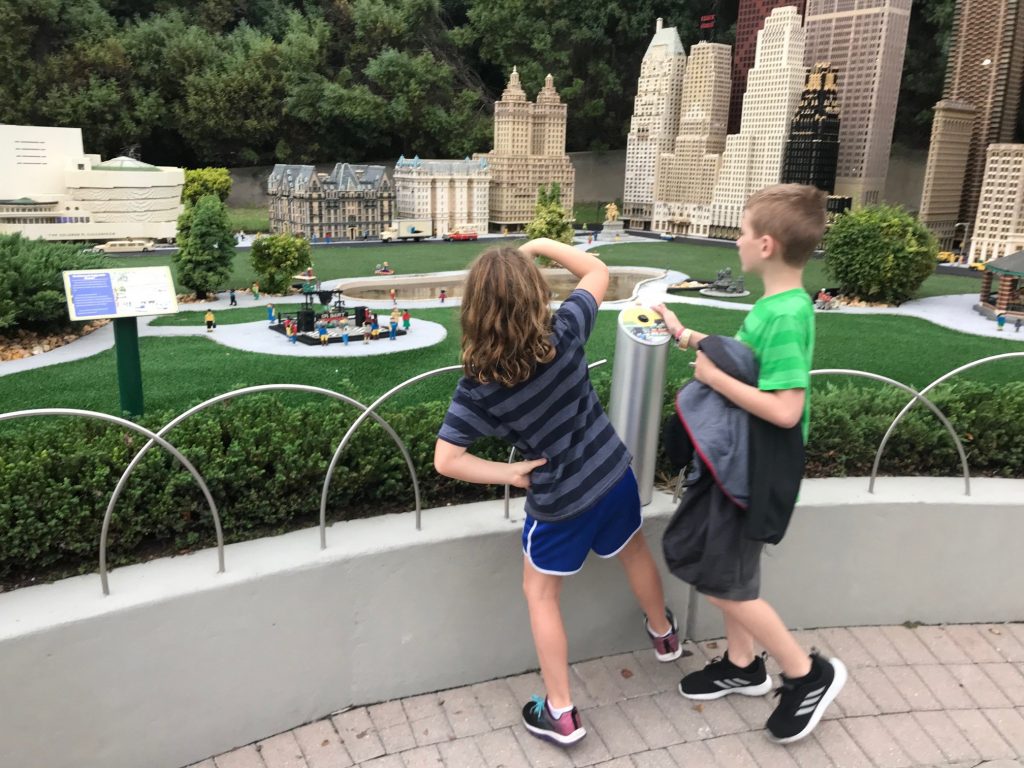 Miniland ISA is the heart of the park. It has large lego city displays. You could easily spend 1-2 hours engaged in the displays.
California
Dayton International Speedy
Florida
Kennedy Space Center
Las Vegas
Lego Star Wars
New York City
Pirate Shores
Washington DC
Shopping and Lego Trading
There are several large Lego Shops in the park in addition to the smaller shops at the exits to many attractions. The prices are for the most part MSR prices. I looked on amazon and could find most for less so we convinced the kids we would order online and they would arrive the day after we returned. Here's where to shop Lego's on Amazon.
Photo Pass
Getting the Photo pass is a personal choice. Compared to what we pay at Disney it's a fraction of the cost but we definitely didn't get as many photos over all.  The Cost of the pass is $45 for the first day and only $10 more for each additional day. 
We upgraded to the $50 package which includes a photo book with 2 photos (we can then complete the book by printing our own photos at home with the digitals we receive).  So we spend $60 for 2 days plus 1 photo book. We also saved $10 off a driver's License (one not each). So it was like paying $50 since we had planned to get the driver's license. Or you could view it as $68 for 2 Day pass with a photo book and 1 driver's license or $72 for 2 Day pass with a photo book and 2 driver's licenses. As mentioned above the licenses are printed on thick plastic cards and kids are given a lanyard to hold the license and wear around their neck
Value of the photo package
As I mentioned we didn't get a ton of photos but having the ride photos and the book to store it with along with the driver's license discount made it a good value for us. They will allow you to upgrade to a higher package at any point during your stay (but you need to get a pass before your photos expire) and just pay the difference. We ended up adding a picture printed on legos for just $20.
Lego Figure Swap
Disney has trading pins, Legoland has Minifigures. You can ask Staff who have figured son their displays to swap characters you take one of theirs you give one of yours. Make sure they are real Lego brand figures.
We stayed at Legoland hotel Florida during our visit. It's so much fun and there's so much to do there it's a good value when you consider all the activities included. There's also Legoland Beach Retreat and the New Pirate Hotel opening in 2020, which is actually a new wing of the Legoland Hotel adjacent to the park.
Legoland Florida Review
We love Legoland Florida. It has reignited their love for legos and building. It's at a good size where you can enjoy your time and not feel rushed. I would absolutely recommend a trip to Legoland. We are excited for LEGOLAND NY open in 2021! I will be one of the first to play and will have a review and tips before the public.
Follow Affordable_Family_Travel on Instagram
Make sure to like AffordableFamilyTravel.com on Facebook to get all the latest updates. It's also where I post my Dash Deals that are time-sensitive.