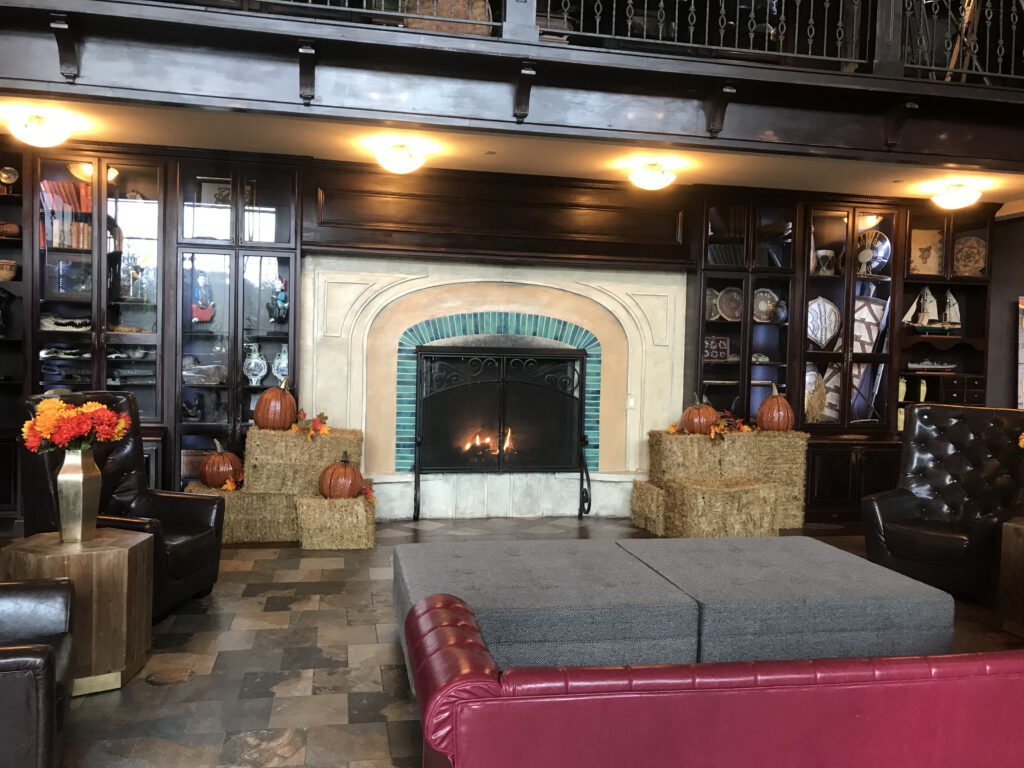 Camelback Lodge Address: 193 Resort Drive Tannersville, PA 18372
Camelback Resort, including Camelback Lodge & Indoor Waterpark-Aquatopia, lies within the scenic Pocono Mountains. It's the Poconos best indoor water park resort and the best indoor water park close to NYC. IT's a perfect indoor waterpark resort for a northeast family vacation. Camelback Lodge is a great getaway for families looking for an adventure or simply a break from their everyday routine. Camelback Lodge & Indoor Waterpark is a treat for the whole family and the best Poconos Resort for families.
Come enjoy an exhilarating water slide or float along the lazy river. Camelback Lodge and Indoor Waterpark, has everything you need for a fantastic family get away without having to leave the resort. It is one of the Best Winter Getaways in the Northeast for families.
Camelback Resort including Camelback Lodge & Indoor Water Park Located
The Camelback Resort is located only 1.5hrs from New York City, 2hrs from Philadelphia, and 3hrs from Albany, NY. This Poconos Mountain Resort provides gorgeous scenery and many hiking trails. The Resort offers so many entertainment and dining options that you won't want to leave the resort.
Camelback Lodge
The lodge is an eight-story modern-designed mountain hotel with 453 guest suites and features the Aquatopia Indoor Waterpark. The Camelback Lodge also offers Arcadia Adventures, multiple dining venues, Serenity Spa, a state-of-the-art fitness center, and 20,000 square feet of flexible conference, meeting, and special event space.
The Camelback Lodge has onsite parking and offers complimentary Wi-Fi. For specific questions contact Camelback Lodge Phone Number (570) 629-1665.
Tips for the Best Camelback Lodge & Indoor Waterpark Getaway
Arrive early. The Waterpark at Camelback opens at 10 am. While your room may not be available until 4 pm, you can enjoy Aquatopia all day on your check-in and check-out days.
Bring Robes. I'm sure we caught some stares but we always bring robes with us to indoor water parks. While Aquatopia is much closer to rooms than many indoor waterparks, it's nice to be warm as you head back to your room. They also offer changing rooms in the waterpark if you prefer that.
Bring snacks for the room. There are a microwave and a fridge in the room. The waterpark burns a lot of calories so the kids will want some hearty snacks. You probably will too.
During COVID the coffee machines have been removed from the rooms. Plan to purchase from the lobby (the coffee is really good). Another option is to bring a coffee mug and instant coffee for your room.
Take a break for some other adventures. Taking a break from the waterpark allows you to rest so you do not burn yourself out. We like to spend 2-3 hours in the Waterpark then take a break. Camelback Resort offers so many other activities to choose from. You can also enjoy a snack in your room and recharge. We enjoyed the Mountain Coaster during our break.
The most popular activities include the Flow rider and the water slides. So when you first arrive each day head to those first. Also notice slide popularity varies throughout the day so head to the slide with the shortest slide first.
The waves go past the second row of chairs by the wave pool so if you want to keep your stuff dry do not put it on the ground near the first 2 rows of chairs.
If there is a restaurant you would like to eat at it's recommended you call to make a reservation in advance.
Camelback Lodge's Aquatopia Indoor Waterpark
Aquatopia is an amazing indoor water park that transports you on an around the world adventure. It's the best Poconos Indoor Waterpark. It has North America's largest Texlon transparent roof which allows for some nice sunbathing. The 13 exciting and innovative water slides include tube slides, body slides, mat, bowl, and aqua launch slides as well as kiddie slides for the youngest thrill-seekers, and more. The variety of slides offer a large 4 person raft slide, double tube slides, single tube slide, and matt racer slides.
Poolside amenities include Flyboys adults-only swim-up bar with craft cocktails, Colonial Commons for bites to grab, and a poolside retail shop for Aquatopia souvenir seekers.
The water park offers a FlowRider surf simulator and a wave pool to transport you to the ocean. The lost river is more of an adventure river that is sure to be a family favorite. They also single and double tubes and some enjoy just wading through it.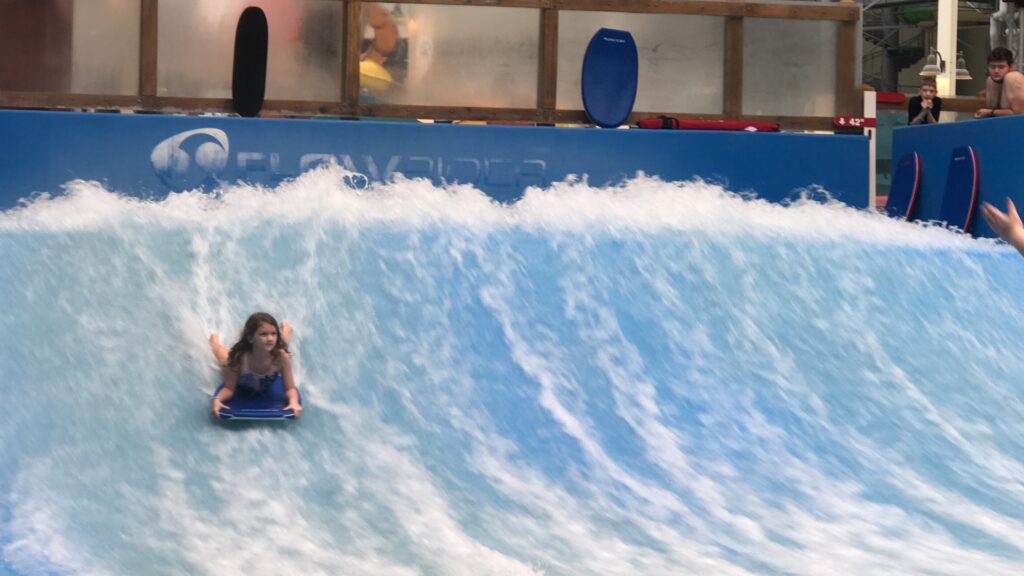 Kartrite's Quest is not your typical bucket splash tower. There are water guns and other sprayers. Kartrite's Quest also has ropes you can pull to drop buckets of water on unsuspecting people. There are several waterslides attached including one that shoots kids into a large bowl as they spin around it to a stop. There's also an artic area perfect for toddlers to splash around in.
*The Swim-up bar is currently closed. There is also an indoor/outdoor hot tub that is currently under construction that looks awesome.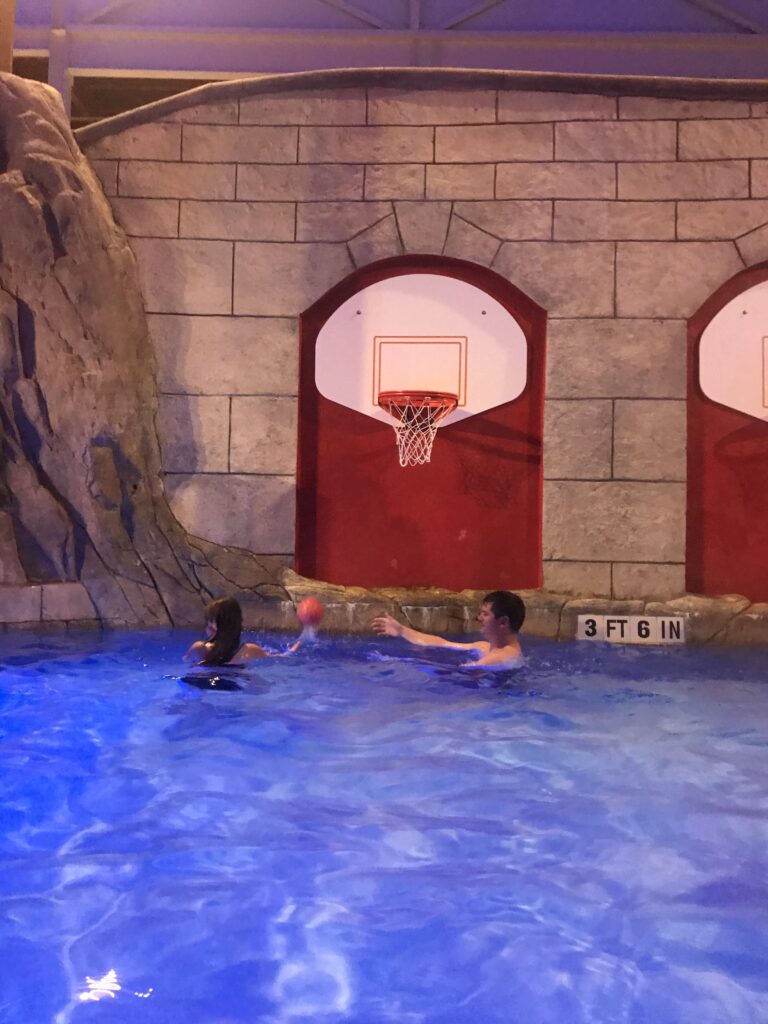 The pool also has basketball hoops that vary in height and different size/weight basketballs to accommodate users who like a challenge. There were two areas in the water park, where kids can swim as if it were a pool, the wave pool during the calm periods, of calm, or the area next to the obstacle course and basketball hoops.
Indoor cabana rentals offer deluxe features and a place to relax or even watch TV when you need a break. They also offer Birthday Party Packages that include a cabana.
Camelback Lodge & Indoor Waterpark Rooms
The resort is expansive with 453 guest suites and 13 multi-bedroom suite configurations with the largest suite accommodating 14 guests. Many of the suites and room styles include fireplaces, balconies, spacious lofts, and full kitchens with the conveniences of home.
Room Options
The Suites options include:

a Double Queen Suite, the standard room style with two queen beds and one queen sleeper sofa sleeping up to six guests;
the King or Queen Bunk Suite, with two bunk beds, one king or queen bed, and one queen sofa sleeper which sleeps up to eight guests and is ideal for families with kids. The bunk beds are in a different area with a separate TV. Handicap options are available

The One-Bedroom Suite sleeps up to six, and the One-Bedroom Family Suite sleeps up to eight. Both offer a master bedroom with a king bed and a private bathroom. The main living area includes one queen sleeper sofa, one queen murphy bed or two queen beds, and an additional bathroom.
The Two-Bedroom Suites, Lofts, and Condo have eight configurations. Which includes a master bedroom with a king or queen bed and private bathroom, plus an additional bedroom with two queen beds and a queen sofa sleeper and bathroom. The Lofts and Condo options include additional amenities such as bunk beds, a fireplace, a deck, and a full kitchen. The two-bedroom options sleep six to 13 depending on the layout.
The Three-Bedroom Condos and Lofts have three layouts and can sleep eight to 14 guests. These condos include a master bedroom with a king bed and private bathroom, a second bedroom with two queen beds and a third bedroom with a king or two queen beds, a second bathroom, and a queen sleeper sofa. The main living area has a third bathroom, a queen sleeper sofa, and a full-sized kitchen with seating for up to six.
Room Amenities              
Large flat-screen TV
High-speed internet access
Snack-sized refrigerator, microwave, and coffee maker*
Iron and ironing board
Table and chairs (there's also a coffee table with the couch so everyone can eat at a table)
In-room safe
Handicap accessible rooms available
*Due to COVID Policies Coffeemakers are currently not available inside rooms
Camelback Lodge & Indoor Waterpark Dining and Restaurant Options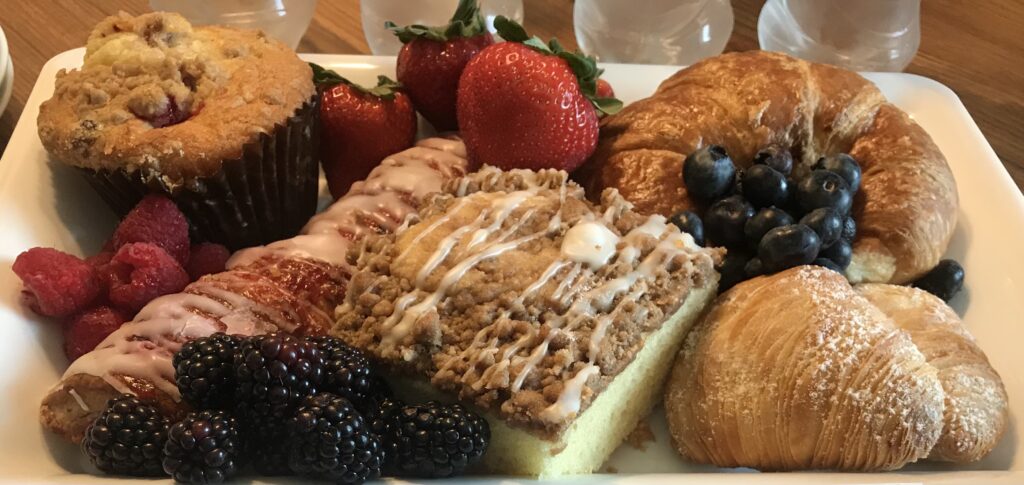 Camelback Lodge has dining offers for every taste and style. Some of these options are seasonal. Menus and information for each restaurant are available on the camelback lodge website. The Resort serves Pepsi products.
Hemispheres
This restaurant is located off the main lobby with beautiful mountain views. It's a family-friendly restaurant popular for breakfast and open for dinner as well.
Trails End Pub & Grille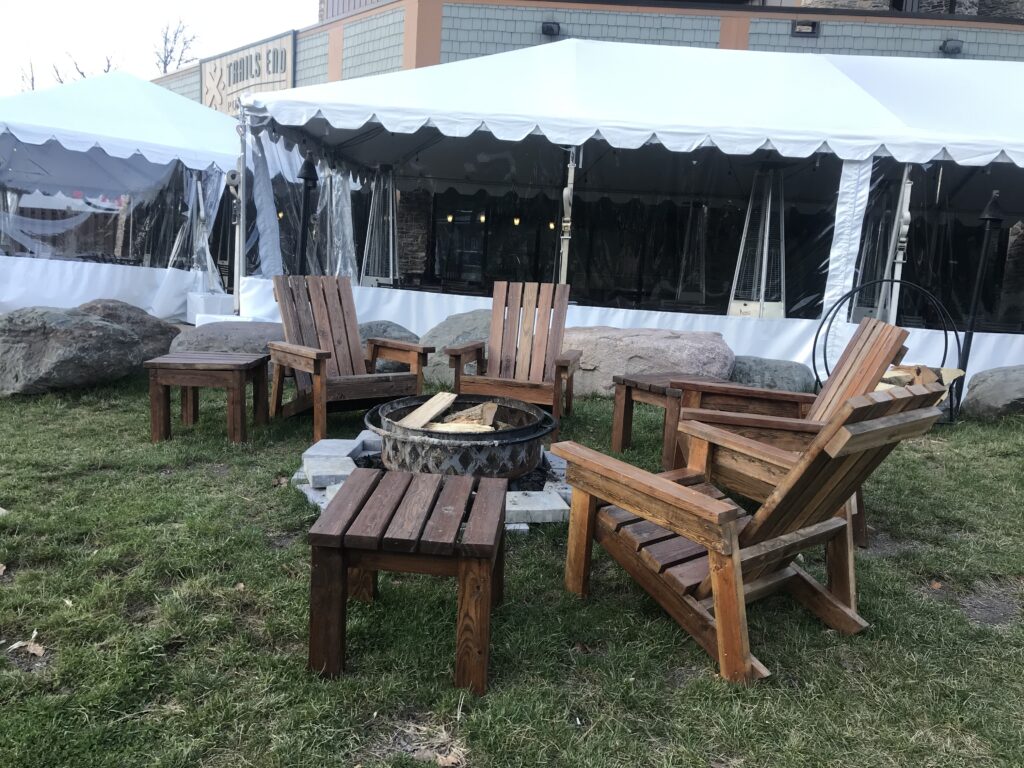 This is probably one of the most popular restaurants. An American brewpub that includes a ski-in/ski-out feature during the winter season complete with firepits on the patio. There is an extensive selection of craft and local beers to go along with their Gastropub Menu. You can even order s'mores kits for the campfires.
Neptunes
Located to the left of the main entrance to the resort, off the main lobby. This restaurant is open for lunch and dinner with a view of Aquatopia and next to Arcadia Adventures. This restaurant has an appealing kids menu. As well as sandwiches and small plates such as street tacos, roasted vegetable sandwiches, avocado toast, and Neptune's Signature Burger. There's also a full bar open into the late evening.
Graffiti Pizza
*Graffiti Pizza is currently closed. You can have pizza delivered right to your room. This is incredibly convenient after a fun-filled day at the resort.
Graffiti Pizza offers much more than a pizza. They offer hot and cold sandwiches, salads and delicious appetizers to be enjoyed with draft beer and other beverages. It's located next to the arcade just outside Aquatopia Indoor Waterpark.
World Bazaar Coffee Shoppe
Just off the main lobby, serving Ellis Coffee Company, baked goods as well as salads and sandwiches during lunchtime. It's a great place to grab breakfast to go if you are heading to the waterpark and want something quick.
This is a great dessert place to treat the kids or help with a little energy boost midday. Located off the arcade with easy access from the water park. They offer gelato, Turkey Hill ice cream, chocolates, hard candy, and gummies.
Camelback Lodge & Indoor Waterpark Shops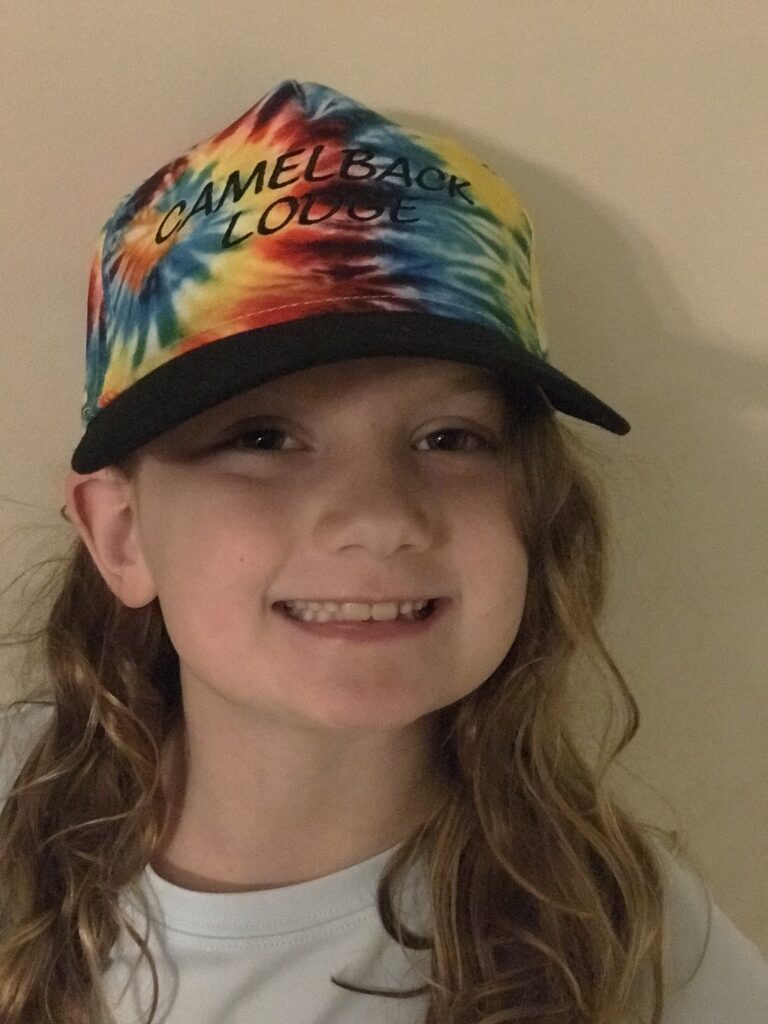 World Bazaar is a one-stop souvenir shop as well as grab and go food. They really have everything you may need to help you remember your awesome family vacation or gifts for others. They also have grab and go food.
 Relic Retail offers everything you need for Aquatopia including items such as goggles you may have forgotten to pack.
Serenity Spa at Camelback Lodge & Indoor Waterpark
The perfect vacation is when you can get away for a little pampering. Serenity Spa features nine treatment rooms and offers massages, skin care, face and body treatments, waxing, nail care, spa packages, and kids services.
Arcadia Adventures
Other indoor fun can be found at and includes a rock-climbing wall, ropes course, laser tag, and VR experiences. Indoor thrills take place on the upper level when visitors take the 7D Dark Ride, a multi-sensory immersive experience; challenge the K2 Climb and The Ascent, a Himalayan expedition-themed overhead ropes course for adults and kids and rock climbing wall; have fun on Krazy Karts, a bumper car course; go into the Games of Stones Escape Room and try to solve the puzzle/riddles within an hour; play Lasertron Laser Tag, and tackle the 4D Chaos Jump VR Experience where there are 18 different worlds and 500 different adventures. On the lower level, experiences include Arcadia Mega Arcade with over 100 state-of-the-art games and Polka Dot Pots for pottery painting.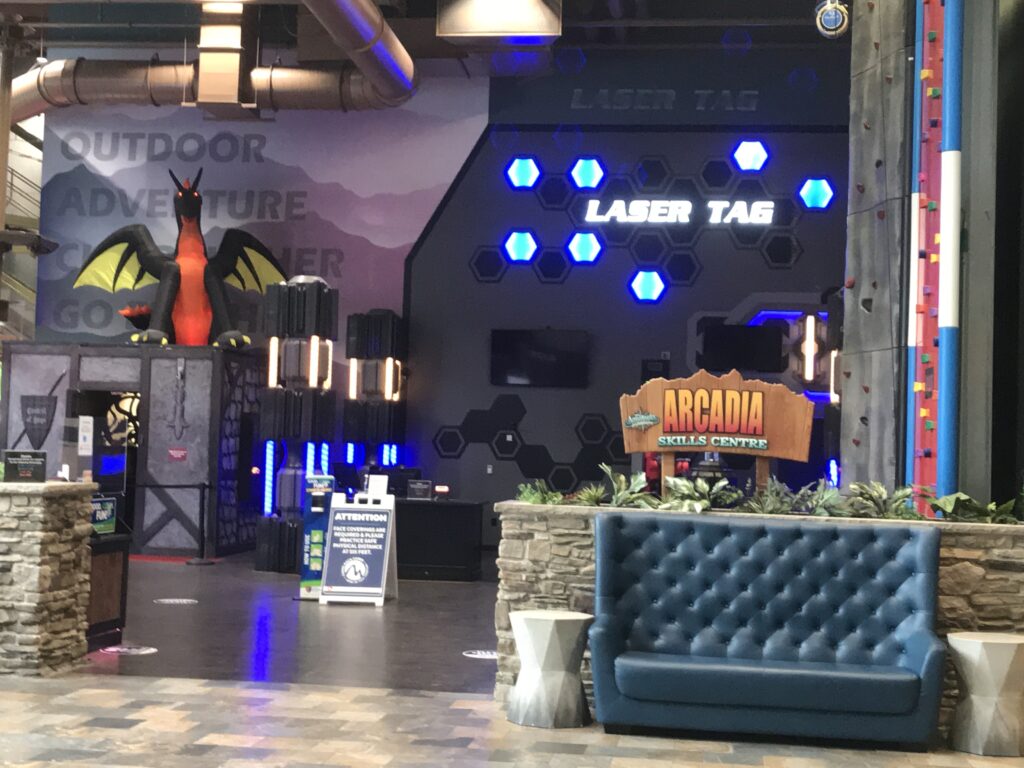 Camelback Resort
Camelback Lodge & Indoor waterpark is located within the Camelback Resort. This 560-acre resort is a year-round recreational destination. It's ideal for adventure-packed multi-generational family trips. In addition to Camelback Lodge & Aquatopia Indoor Waterpark, the resort includes Camelback Mountain for unsurpassed skiing, snowboarding, and snowtubing; Camelback Mountain Adventures for ziplining, a treetop obstacle course, and alpine mountain coaster; Camelbeach Mountain Waterpark, Pennsylvania's biggest outdoor waterpark (Seasonal).
Camelback Mountain & Snowtubing Park
Camelback Mountain is a winter haven for adventure seekers. Snowmaking takes place on 160 acres with 1,200 plus snowmaking guns at work, in addition to the annual snowfall is 54.6 inches the mountain receives. The mountain offers outdoor adventurers 39 trails, 16 lifts, and the country's largest snow tubing park complete with galactic after-dark light experience with music and disco lighting, 42 lightning-fast lanes, and two magic carpet lifts. 
Camelback Mountain Adventures & Camelbeach Waterpark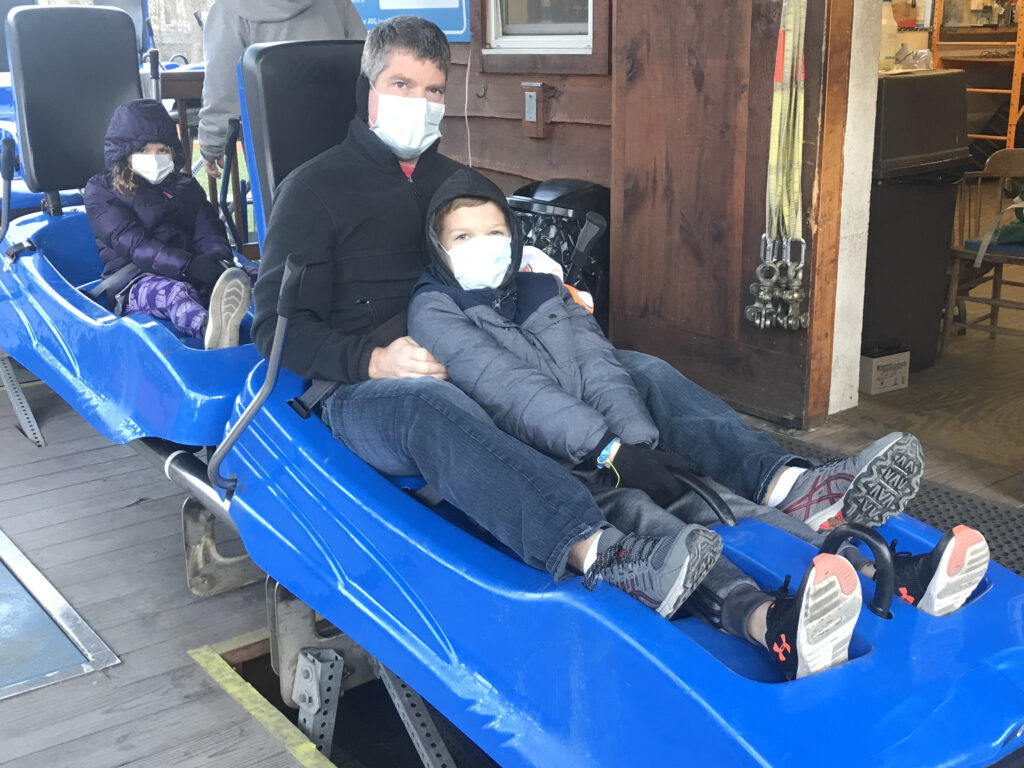 Camelback Resort's summer thrills include ziplining and waterplay at Camelback Mountain Adventures and Camelbeach Waterpark.  These outdoor activities are a fun way to enjoy time with your family.
Camelback Mountain Adventures features Pennsylvania's only mountain coaster with a 4,500-foot steel track and its longest twin 4,000-foot zip-flyers. There are two 1,000-foot zip lines, the largest treetop adventure course in Pennsylvania with over 100 aerial obstacles over five courses (closed in the winter). 
The resort's Camelbeach Waterpark is Pennsylvania's biggest outdoor waterpark featuring 37 rides, slides, and attractions – the most in the tri-state area. The waterpark is highlighted by a wave pool, FlowRider, Vortex, Spin Cycle, and dozens of family body and tube slides.
Camelback Lodge & Indoor Waterpark Review
A Much Needed Family Vacation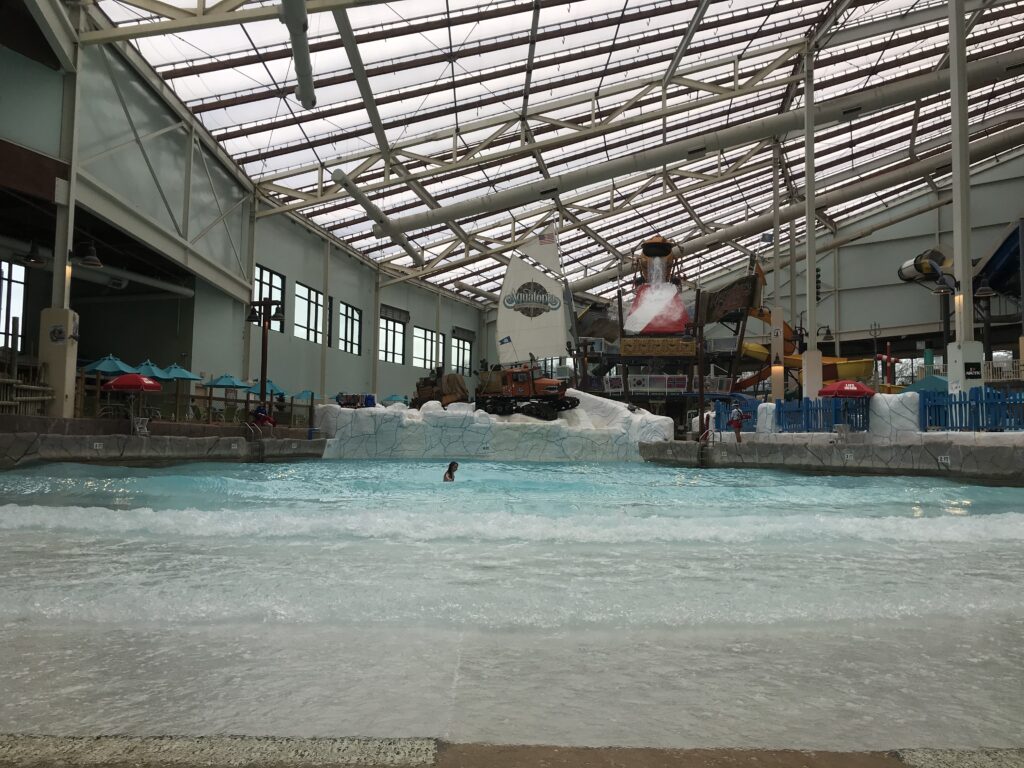 Our Trip to Camelback Lodge & Indoor Waterpark-Aquatopia was at a time when we truly needed a vacation. Our trip to The Bahamas for Thanksgiving was canceled and with our State Covid restrictions and the kids in school we knew we may not get away all winter. Camelback Lodge was exactly the adventure and vacation we needed.
For a weekend, we set aside our fears and were carefree (for the most part). The children laughed and screamed joyfully throughout the day. I may have as well; The water coaster is the best. It felt like a real vacation because it was. Our kids asked if we could make this an annual trip, to which we agreed. Our daughter said, "Your lucky I didn't say once a month". I heard Thank you for taking us here, numerous times throughout our stay and when we returned home.
We love to travel as a family because it gives us time to focus on each other without the responsibilities of everyday life. To create memories together even sometimes unexpected ones. That's exactly what Camelback Lodge provided us with. We laughed so much my cheeks kind of hurt. As does my body from how active we were- you get a free workout as a bonus.
Aquatopia Indoor Waterpark Review
Obstacle Course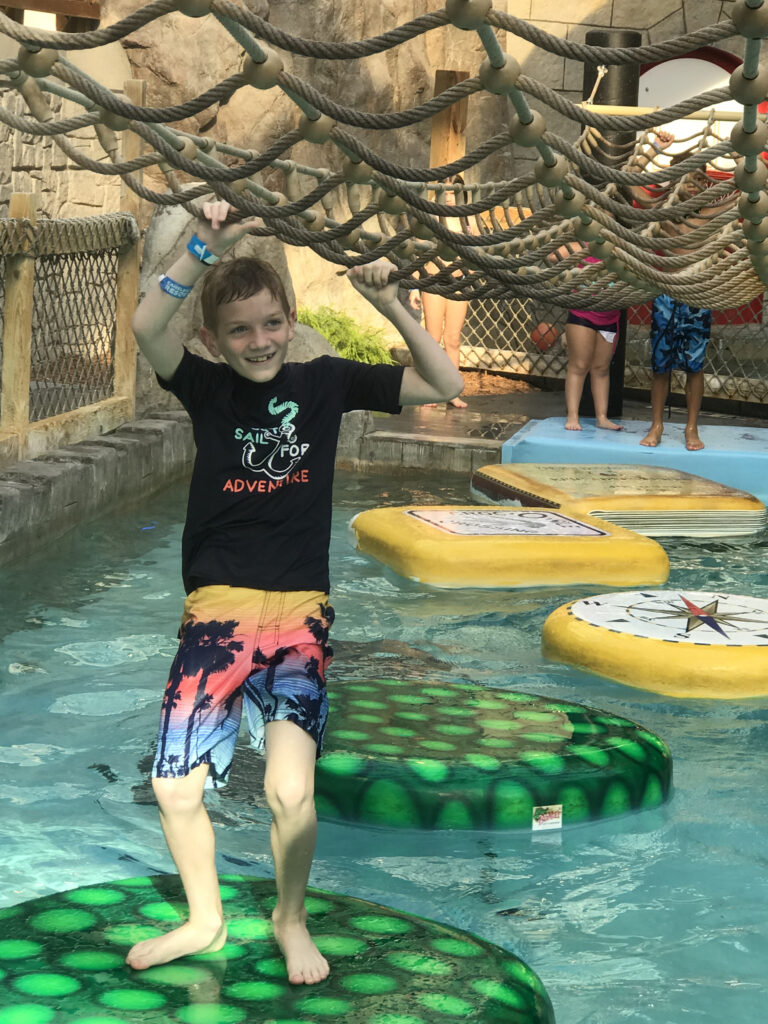 The rope across floating platforms is my kid's favorite activity. To their surprise, I decided to try it out. I could hear them cheering as I tried unsuccessfully to get through it. It did give other parents the courage to try it out themselves and one mom made it. It took me 3 tries but I figure out using the rope for part of it to help me successfully get across. The kids even got their dad to try it. We timed the kids and 8 seconds was both of their best times. My son enjoyed trying the course in many different ways including with his eyes closed.
Waterslides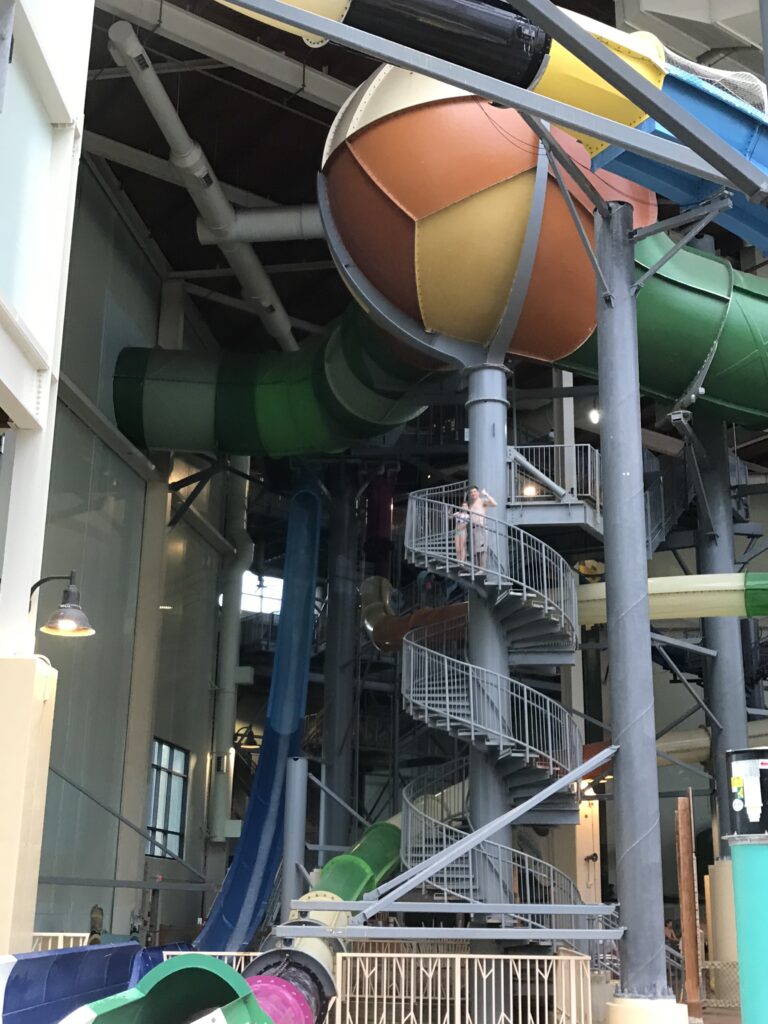 The waterslides are better than I have experienced at other indoor water parks. My favorite was the water coaster and the Venus Slyetrap which is a family tube slide. Unfortunately, we only have mental pictures of the joy on everyone's face on these slides. They also have 2 slides where the floor drops out from under you. One of them has a very shore free fall and then twists around. My daughter, my 7-year-old did that one, while her father did the one with the long very straight drop. I thought it was really cool that they have such a thrilling slide available for kids 48″ or taller.
Splash Tower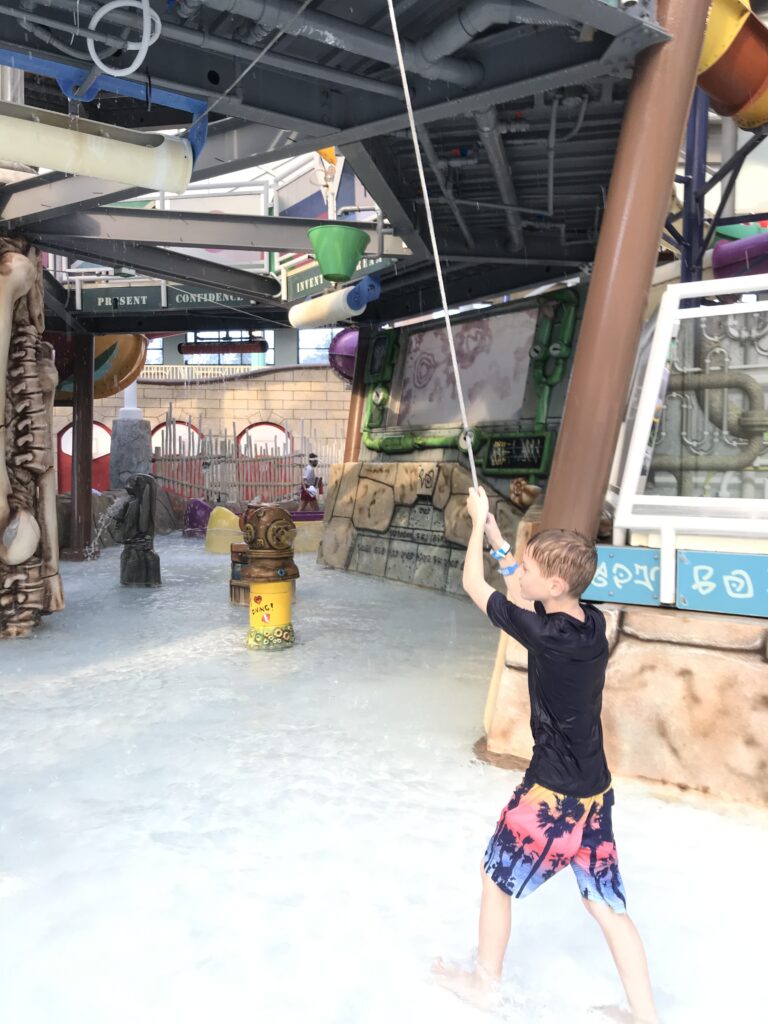 Our son loved the Splash Tower. It's unlike any we have ever experienced. There are a lot of buttons to push and ropes to pull that spray and dump water on unsuspecting people. He loved to "get his dad". I can still hear our son's high pitched laugh as a bucket of water dumped over his dad.
Lazy River , Wave Pool and Flow Rider
The kids spent hours in the wave pool and lazy river. I truly felt like we were chilling at a beach resort. They even have beach chairs that the waves come up to so you can dip your toes in. There are different style chairs the short beach chairs and lounge chairs around the wave pool so you can pick what is the most comfortable for you.
The kids tried the flow rider surf simulator. They launch everyone from the top of it. My kids were used to launching from the bottom which is easier for them. Launching from the top proved more challenging for them so they didn't enjoy it quite as much. However, it was a very popular attraction for many visitors.
Camelback Indoor Waterpark Review Overall
The water temperature was comfortable but seemed to feel a bit cooler in the evening when the sun went down. Three of the areas where the water felt more heated were the water tower, the obstacle course, and basketball area, and the wave pool.
There was always an abundance of fresh towels and the changing rooms were spacious and clean so it was easy to change there on our check-out day. The bathrooms also had showers and were clean. There were 2 bathroom locations which made it easier to access whether you were in the front or back of the water park.
Camelback Lodge & Indoor Waterpark during COVID
We felt incredibly safe at the Resort. Mask policies were in place throughout the resort except for while using the water park. Staff in the water park were all wearing masks. There were no crowds and it was very easy for the social distance while enjoying the water park. There was plenty of space in the wave pool to keep distant. The lines were often non-existent but you could distance when there was a line. There were so many chairs and tables you could easily find a secluded space or socially distanced space to set up your stuff for the day. Masks were required and enforced when ordering and picking up food in the water park as well.
There were signs on the floor including the stairs informing people to keep 6-foot distance. As well as signs spacing chairs and tables at the pool. Staff was walking by with spray bottles to wipe down areas. They even included a sanitation care package in our room including a mask, hand sanitizer, and wipes. When we arrived at our room there was a Sticker on the door letting us know it had been sanitized and no one had entered since.
Camelback Lodge Review
The Camelback Lodge is beautiful. The entrance is spacious and has this cozy fireplace lounge area which makes you feel at home, only a bit nicer. They had live music Saturday night and a balloon artist the next morning.
Camelback Lodge Room Review
The rooms are special. We were in a King bed bunk room suite. The kids had their own bunk room with 2 sets of bunk beds so they could both pick a top or bottom bunks. This is also great for larger families. We love having a king bed and a separate bunk room, which we rarely get when traveling.
It was great having a fridge and microwave in the room. I brought easy mac and chef boy r d microwave bowls as well as other more typical snacks. The kids enjoy a hot snack around 2 pm on our first day. After spending several hours in the water park, they worked up an appetite.
Our room also had a really nice view of the mountain and I imagine the fall and wintertime the view would be spectacular. The design of the hotel makes it so you can easily take a centralized elevator down to the lower level. A short walk through an arcade takes you to the water park. It was the shortest most convenient walk from rooms to an indoor water park we have experienced.
There was plenty of electric receptacles to plug our digital devices into to recharge which made my husband very happy. The sink was separate from the bathroom and was convenient.  The bathroom was small but the shower had a curved curtain rod which makes showers more comfortable. We didn't use the safe but there was one available if you need it. There was plenty of storage space in the room for luggage and even a shelf over the microwave to store your snacks.
One thing we noticed was that the preprogrammed phone button in the room all seemed to call the front desk. However, The front desk was able to quickly route the calls for food or excursions.
Great service and conveniences made our stay even better
The wrist bands you are given at check-in are your access to your room and can also add charging privileges. This is a luxury we love when traveling as it makes it so easy to move around the resort without worrying about your wallet or key card.
Giftshop eatery had two cash registers and we credit card only, no cash transactions. This allowed them to quickly address lines when people were ordering and other customers wanted to just buy a gift shop item.  when we needed change we were able to get it from the front desk. Their gift items were unique and some food items I noticed seemed locally sourced.
The excursion desk person, Maria, was friendly and informative.  She knew the layout of the resort so it allowed us to quickly get to our roller-coaster ride without going out the front door.  She gave us a great tip on what door to exit and reenter the Lodge through for the quickest walk to the adventure park. It is a great tip when the weather is cold or inclement.
Also prices of experiences seem to vary. We noticed the price for the mountain coaster seemed cheaper on the white board, which was also the price we paid, than what was posted on the website so we saved a bit off the price we expected to pay.
Camelback Lodge Food Review
We ordered Graffiti Pizza and wings to our room after staying in the water park till 7 pm. The food arrived quickly and was exactly what we wanted that evening. The total bill was around $39 including taxes and gratuity. Not bad for Room Service.
On the first day, we enjoyed a selection of pastries that were fantastic. We couldn't decide which was the best but I will tell you to get the sfogliattelle which are phenomenal and my husband would say the coffeecake. The kids would say the raspberry Danish which they shared.
The food in the waterpark was what you would expect. I definitely recommend sitting down for a meal at one of their many restaurants if you have a chance.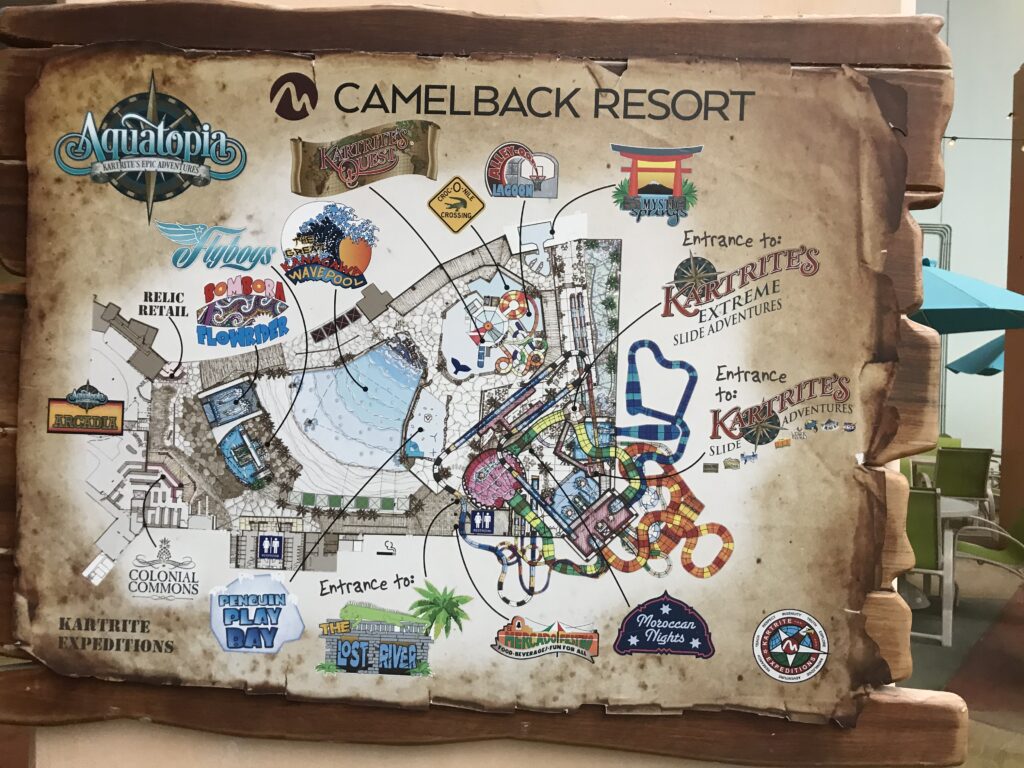 Affordable Family Travel to Camelback Lodge & Indoor Waterpark
Affordable Family Travel is all about VALUE. When comparing prices it's important to look at everything that's included. What makes Camelback Lodge & Indoor Waterpark affordable it's possible to spend very little more than the cost of your room which includes access to Aquatopia indoor water park. The refrigerator and microwave in the room offer the option to bring your own food to cover meals during your stay. There are also some affordable dining options onsite.
Compared to an All-Inclusive Camelback Lodge is affordable because their rates are often $200-$300 a night less than an all-inclusive resort. You can easily enjoy your meals at the resort and spend less than this. Al le Carte entertainment and dining options mean you can choose how much more or little you want to spend.
You can enjoy the Camelback Lodge and Indoor Waterpark all day on the check-in and check-out day. This means you get 2 full days for the price of your 1-night stay. This adds significant value to your stay. Compared to a Normal waterpark admission where a Family of four you can easily spend $50 per person for a water park alone, for 2 days it would be $400 total.
How to Find a Deal on Camelback Lodge and Indoor Waterpark
Follow Camelback Lodge on social media for all their current offers.
The lowest prices for Camelback Lodge will be during weekdays that are not holidays or typical school breaks. They may also offer last-minute specials or discounts through online travel agencies. For example, someone we met during our stay was able to book an on-line rate of $220/night for a Friday night. Even if you arrive later Friday night, the park is open into the evening and you have access to the water park the entire next day as well. We usually make 3 trips to the indoor waterpark during our stay for 2-3 hours each. With a Friday night stay, you can easily fit an evening 3-hour visit and then spend 4-6 hours the next day in the water park with a break.
Why Camelback Resort is Better Than the Others
Kalahari Resort , Great Wolfs Lodge, Kartrite Resort, Great Escape Lodge are all Water Parks within a 3 hour drive from New York City. What makes Camelback better than the others is that it offers so much more. Camelback Resort offers a whole entertainment section of the resort as well as mountain adventure ziplining and coaster. In the summer they also have a giant outdoor water park, in the winter its a ski in/out lodge as well as offering snow tubing. Camelback Resort has elevators that go directly down to the water park from some of their rooms unlike many water parks that make you walk down long hallways to get there.
Camelback Lodge Overall Summary
The staff was always friendly and helpful. The reception desk staff especially made an impression as they seemed to share the excitement we had as we started our adventure. The Indoor water park is wonderful and the perfect family adventure. The resort offers an array of entertainment options sure to place everyone in your family.
We look forward to a return stay so that we can enjoy more of what Camelback Lodge & Indoor Waterpark as well as Camelback Resort as a whole has to offer. We loved the mountain coaster and even saw deer while we were heading up the mountain. The kids want to do the zip lining next trip and we want to check out some of the other indoor activities. We are also hoping to book a return trip this winter to check out skiing and the snow tubing park which opens the day after Thanksgiving.
The Camelback Resort was such a wonderful escape from our regular routine. The perfect family vacation without having to travel far.
Thank you to Camelback Lodge for providing a media rate for our stay. As with all our reviews the thoughts and options shared in this post reflect our own experience.
Follow Affordable_Family_Travel on Instagram
Make sure to like AffordableFamilyTravel.com on Facebook to get all the latest updates. It's also where I post my Dash Deals that are time-sensitive.