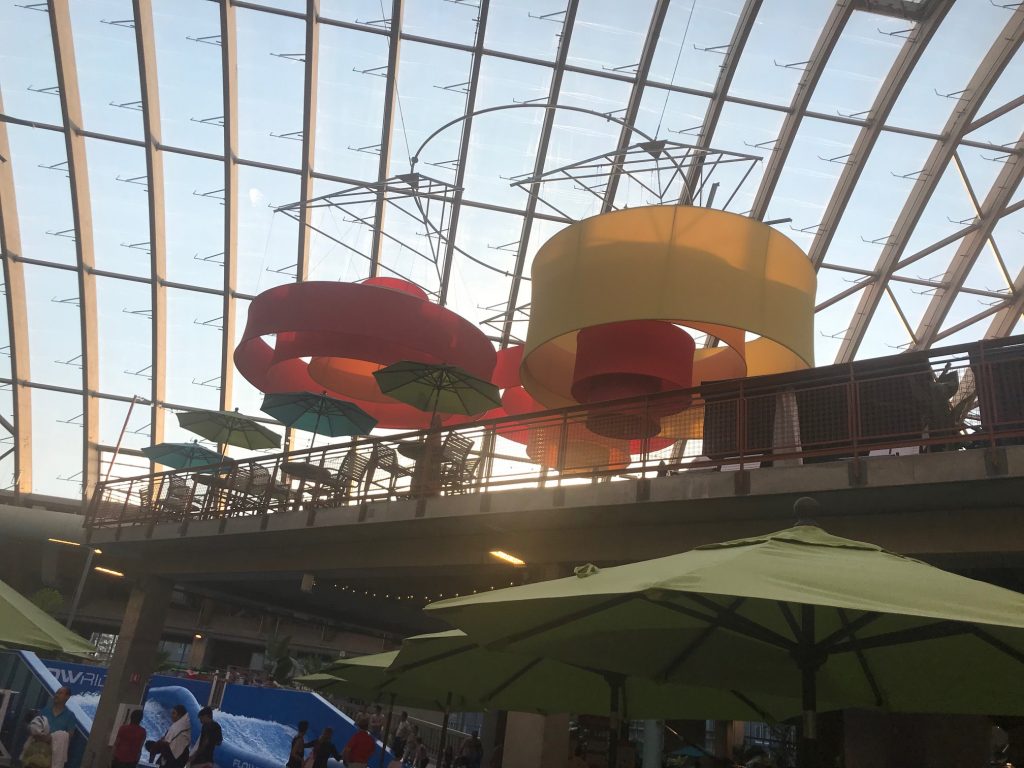 Overview of Kartrite Indoor Waterpark and Resort
Kartrite Indoor Waterpark and Resort located in Monticello, NY is a new Indoor waterpark in Monticello, NY it's about halfway between New York City and Albany, NY making it an easy Drive for most of New York State and the Tri-State Area. While It's a little smaller than some of the other chain indoor waterparks, it's a perfect getaway for families especially those under 10 years old.
What we loved about Kartrite is that it wasn't super crowded in the water park even though it was winter break and part of this reason is because the resort offers so much more than just the water park. It even included some complementary activities. The customer service at Kartrite was wonderful. Staff were very friendly and willing to help out. Life guards seemed to rotate stations to keep them more focused and when not at a station we would see them walking through and pick up. Staff all worked very hard.
Compared to other area indoor water parks the price was extremely reasonable and seemed to include much more other activities around the resort than making it a very excellent affordable indoor water park.
Tips to Make the Most of Your Stay at Kartrite Indoor Waterpark and Resort
Make sure you know your kids height and what the height min are so that your experience is what you expect.
Utilize the fridge and microwave in the room to save. Bring snacks or food for your room.
Keep your eyes peeled for special offers. They offer them frequently. If you join their facebook page they even post last minute specials.
Feel like a kid again. Hop on the flow rider, try the rope walk, and race your kids down the waterslide.
Check out the activities schedule so you can plan in some other activities.
Enjoy the fire pit and roast smores (bring your own to save)
Bring bathrobes to wear to and from the waterpark as the rooms are a distance away.
Kartrite Indoor Waterpark
The water park had enough to keep our kids entertained for about 3 hours. Then we were all ready for a break. We returned for about 2 more hours that evening and another 3 hours the next day. The water is all heated and warm enough to be comfortable. The air is also warm although we did notice a drop in air temperature in the evening. The waterpark must use a saline cleansing system vs chlorine as it definitely made the air and our skin feel much better.
Rope Cross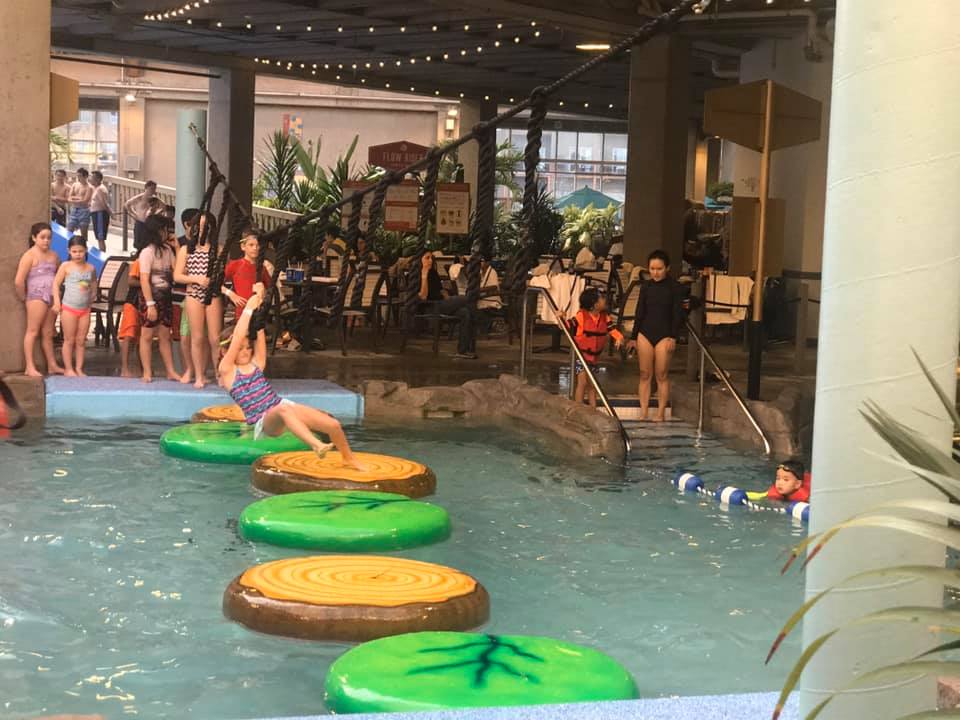 The rope cross was our kids favorite thing. They would go through it over and over. So we started to make it harder. Cross only standing on one foot. spin around and finally go through it all backwards. Even my husband and I took a try. I actually took 2 because the first time I fell off and realized I needed to book much quicker to get through the course.
Splash Bucket Tower
The Waterpark has one of the bucket towers that dumps a large bucket along with a couple slides. While my kids usually love these they spent the least amount of time here. There's also a toddler area with some sprinklers and slides. Seems like a fun place for little ones to play safely.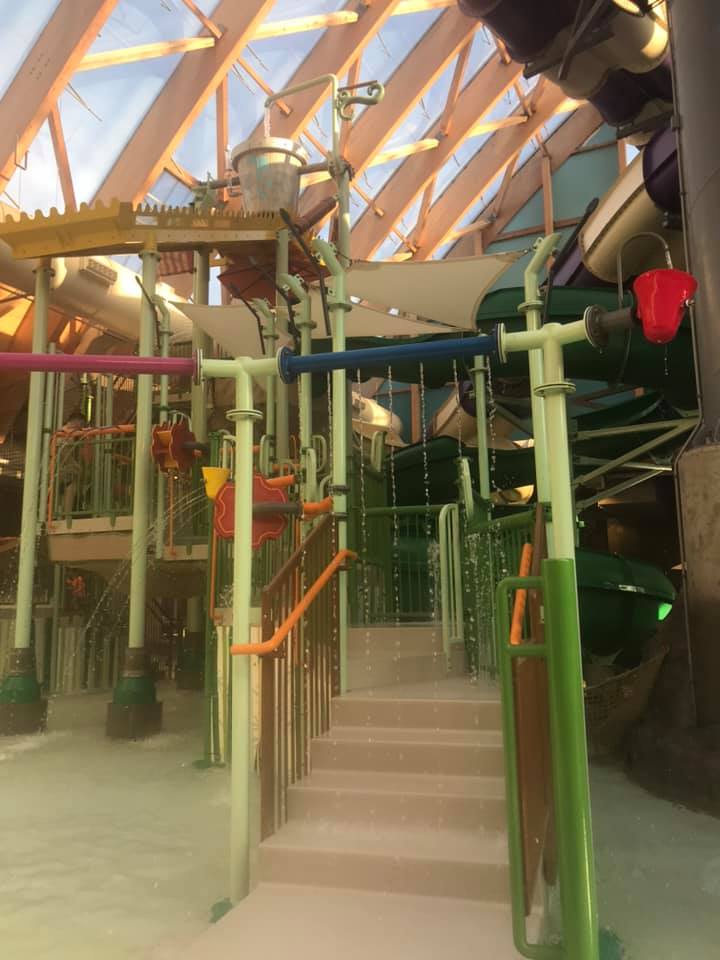 Waterslides
The water park has a family raft ride that shoots you out of a funnel. Its really fun and was more thrilling than I expected. There's 2 racing slides, where your lay on your belly headfirst on mats and race. I personally didn't like this one because you had to make sure you kept your head low which required you to look right into the mat so you can't really see where your going. The kids however really enjoyed it because they love to race. There were also 2 other water slides. the left one is the better one as you spin around a funnel a little bit. We liked it better during the day because's its dark at night and you can't really see the size of the room or where you are going. The other slide has open rooms but you don'y seem to spin around them you just go straight down.
Height Minimums
Our daughters is 49″ so we measured her at the bottom of the slides which had a 48″ min height requirement (check out min height requirements for the park here) and she was too short. I knew she was 49″ as we had been to several amusement parks so we headed up to see what would happen. The measuring sticks at the top were more accurate and she was definitely tall enough to ride the slides. Don't be alarmed if your child measures slightly below the min height on the measurement stick at the bottom of the slides.
Lazy River
This is our kids favorite thing to do. they race around on tubes or out of them. There's waterfalls and various sprays to avoid- or enjoy getting hit with.
Flowrider
They also have a flow rider. It was our kids first experience on one. Our daughters went twice but the second time she got slammed against the wall hard and didn't want to do it again. Our son also did it twice. The first time he didn't love it but the second time he did really well and really enjoyed it. The length of the line varied so we kept an eye out for when it got short.
Outdoor Heated Pool
The kids loved the outdoor heated pool. You could access the pool from inside the waterpark through doors inside the pool. The pool was heated so it felt like a giant hot tub outside.
Kartrite Indoor Waterpark and Resort Activities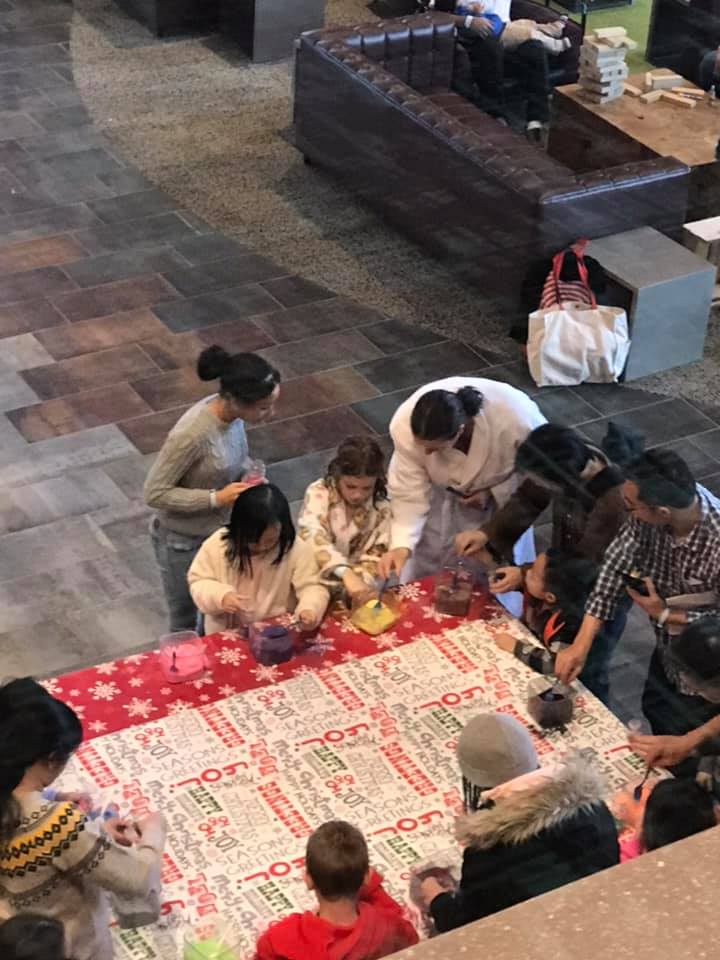 We were really impressed with the activity options at the resort that were actually complementary. While we were there, Santa visited and Mrs Clause did a story time. They had sand art and a craft each day and one evening they had an indoor snow ball fight. The resort also had a movie playing in the lobby in the evening. They had fire pits where you could roast marshmallows for smores. The price was $8 and came with 4 small marshmallows enough for 2 people. You can also bring your own to save a little.
There was also a high ropes course and an arcade that of course cost money. Since we were only there 2 days one night we avoided the additional cost activities. You can check out the current list of activities at Kartrite here.
Kartrite Resort Rooms
We booked a Family King Bunk Room. The room was very spacious and had a separate (doorless) room with 2 bunk beds which would accommodate up to 4. The sofa in the room was also a sleeper sofa so it could accommodate 2 more if needed.
The room has a minifridge and microwave which is a great way to save some money on meals and or snacks.
Kartrite Resort Restaurants
There's several restaurants available at Kartrite. The buffet looked good but since our kids eat very little at one time we didn't feel it was a good value for us. The Sports Bar didn't really have anything the kids would love and we found the Waterpark food options to be reasonable in price. You can check out the Restaurants at Katrite and their menu's here. The resort also offers refillable soda mugs.
Some Budget Friendly Food Options
Our family had peanut butter and jelly sandwiches on the ride down so that when we arrived at noon we could head right to the park. However, an hour in and our son was hungry. $3.50 for a slice a pizza (very reasonable) and he was on the move again. an hour or 2 later our daughter wanted a slice so both kids had a slice and we got an order of fries to share. After a few bites our daughter decided she didn't like their pizza.
After a few hours in the water park we headed to the lobby for sand art and then back to the room for a break. Our son had a cup of easy mac and our daughter had microwave rice because she doesn't like easy mac. Have I mentioned she's become extremely picky? I was trying to eat some what healthy so I had a chopped salad I had brought and our daughter has some of it too.
Dinner at Katrite
For dinner we ordered 1 order of chicken tenders for $9.50 which was a large portion of 6-8 pieces for the kids to share. My husband got a burger for around $9 which he really enjoyed. I ordered nachos for $4. this was a great value because you can have whatever toppings you want in little cups. Nacho cheese sauce, guacamole, salsa, shredded cheese, tomatoes, pickles (not for nachos but the kids love pickles). Our daughter asked if they had black olives and one of the workers went in the back and came back with a cup of olives- the customer service at the resort was wonderful. Our daughter decided she liked the nachos so she ate some of mine. We had the nachos again the next day before we headed out along with more pizza.
The hot dogs were another great value but our daughter knows she's extremely picky with hot dogs so she rarely eats them out. The resort offers dip n dots that come in pouches. They were $5.50 per pouch.
You can also drive offsite for other restaurants and food options.
Why you should visit Katrite Resort and Waterpark
Kartrite Resort and Indoor Waterpark is great for a short getaway, especially when it's too cold to be swimming outside. In New York that is most months. It's an great Affordable Family Travel destination because you can easily spend 2-3 days there and be entertained by the included activities. There's affordable food options near by and you can easily keep your costs below $200 per day or $400 for 2 day 1 night stay.
Follow Affordable_Family_Travel on Instagram
Make sure to like AffordableFamilyTravel.com on Facebook to get all the latest updates. It's also where I post my Dash Deals that are time-sensitive.