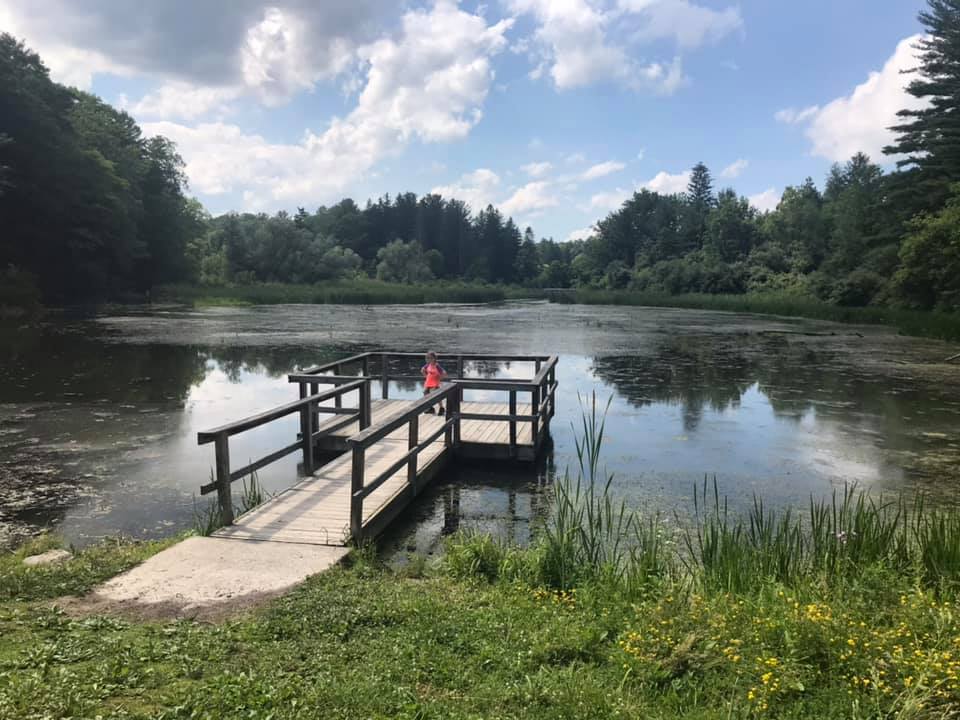 Five Rivers Environmental Education Center is located at 56 Game Farm Road, Delmar, NY. It is a DEC run site that offers Environmental Education and hiking trails with over 450 acres of land to explore. Parking and admission are free. Its a great place for hiking with kids.
The Programs at the Five Rivers Environmental Education Center
The programs offered at Five Rivers are currently on hold due to COVID but they are wonderful programs. We participated in a turtle program. We earned facts about local species of turtles touch a turtle shell and got to meet a local turtle. After the program, we went on a lead hike with kids to view turtles in the wild.
Inside the Environmental Education center, there are displays that teach about the local environment and wildlife. As well as some tanks displaying local wildlife and even an owl. While the indoor facility is small its a great starting point before exploring the outdoor hiking trails.
Hiking at Five Rivers Environmental Education Center
You can read about all the hiking trails on the five rivers site here. In general, the trails are easy well-groomed trails great for every age making it perfect for hiking with kids. This is a great place for beginning Hikers as its extremely easy even for toddlers. Just make sure to note the distance of each trail.
We have explored several trails at Five Rivers but their favorite is Beaver Tree Trail. This is because the trail offers a large bridge to walk across and it's a great place to spot turtles.
Check out these other Great trails for Hiking with Kids
Follow Affordable_Family_Travel on Instagram
Make sure to like AffordableFamilyTravel.com on Facebook to get all the latest updates. It's also where I post my Dash Deals that are time-sensitive.