Budget Travel to Lake Placid with Kids can be a fun-filled cheap family vacation. It's possible to do so many free and cheap Lake Placid activities with kids and to enjoy the Adirondacks on a budget. Lake Placid is one of the best places to visit on a northeast family vacation. One way to save is by staying at these family resorts on points.
Find cheap Lake Placid food options and ways to cut your vacation food budget in Lake Placid. You can also find budget-friendly Lake Placid Hotels including hotels on points. Lake Placid is located in Upstate New York and is an easy drive from most of the North East or from one of the Upstate Airports such as Syracuse, Rochester, or Albany.
Bring your outdoor equipment with you to enjoy free activities in the Lake Placid area
Enjoy the Playground and other free activities offered in town
If visiting in the winter make sure to bring an extra set of snow suites and gloves.
Consider brining some food such as breakfast and/or snacks to cut down the cost of food while your away.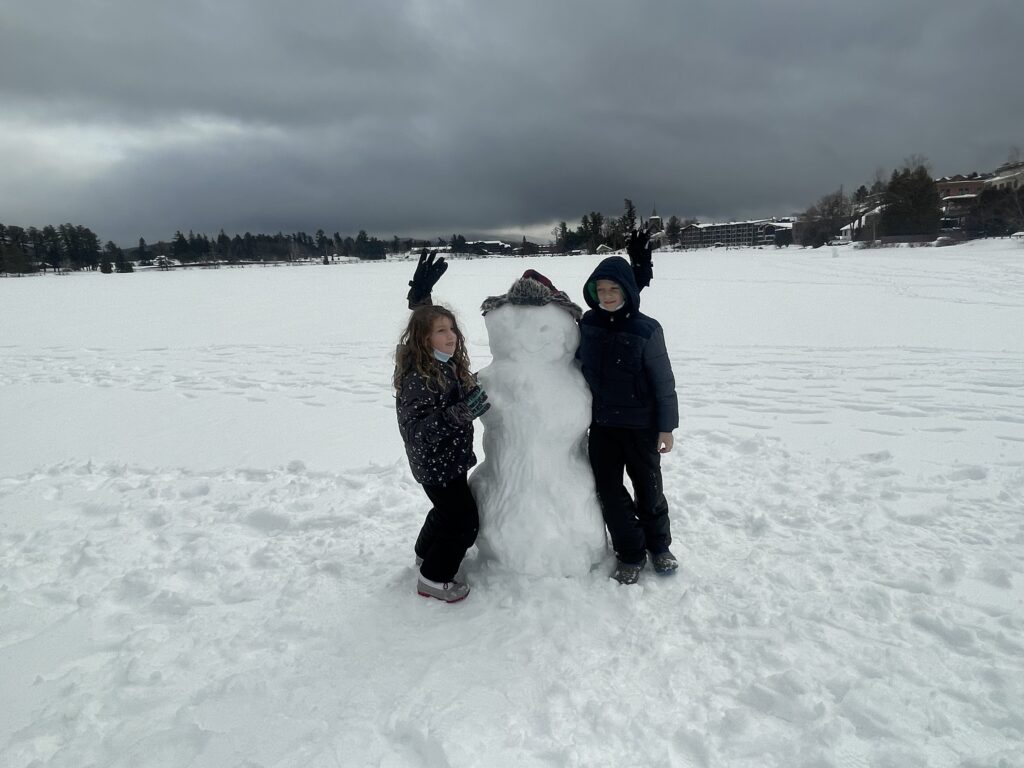 Budget Lake Placid Hotels
Off season you can find accommodations for under $150/night especially week days. Even one of the best Lake Placid Family Resorts- Golden Arrow fits this budget during offseason week days.
Lake Placid Hotels on Points
Free hotel nights can make it easy for a budget stay anywhere. Lake Placid has 2 great options for point hotels. The Hampton Inn with Hilton points and the Mirror Lake Inn with Hyatt Points. You can also utilize Marriott points for the Crown Plaza.
Hampton Inn Lake Placid on Points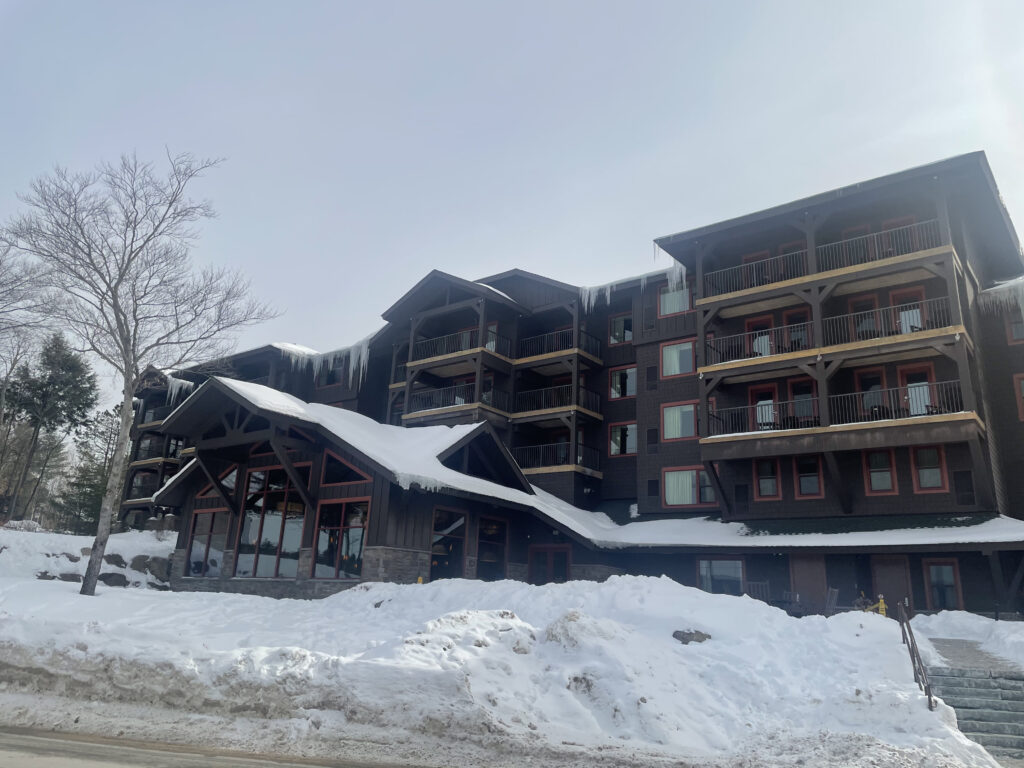 Hampton Inn Lake Placid is situated across the street from Mirror Lake Close to the public park and beach. In the winter time it's an easy walk to one of the Ice hockey and skating rink that the town clears on the frozen lake. They offer outdoor fire pit and tables as well as an indoor pool. Breakfast is included with your stay.
Free Nights start around 25,000 points per night but are higher during peak times. We booked Presidents weekend for 42,000 points per night. With Hilton the 5th night is free with points stays so you can stay 5 nights for as low as 100,000 points.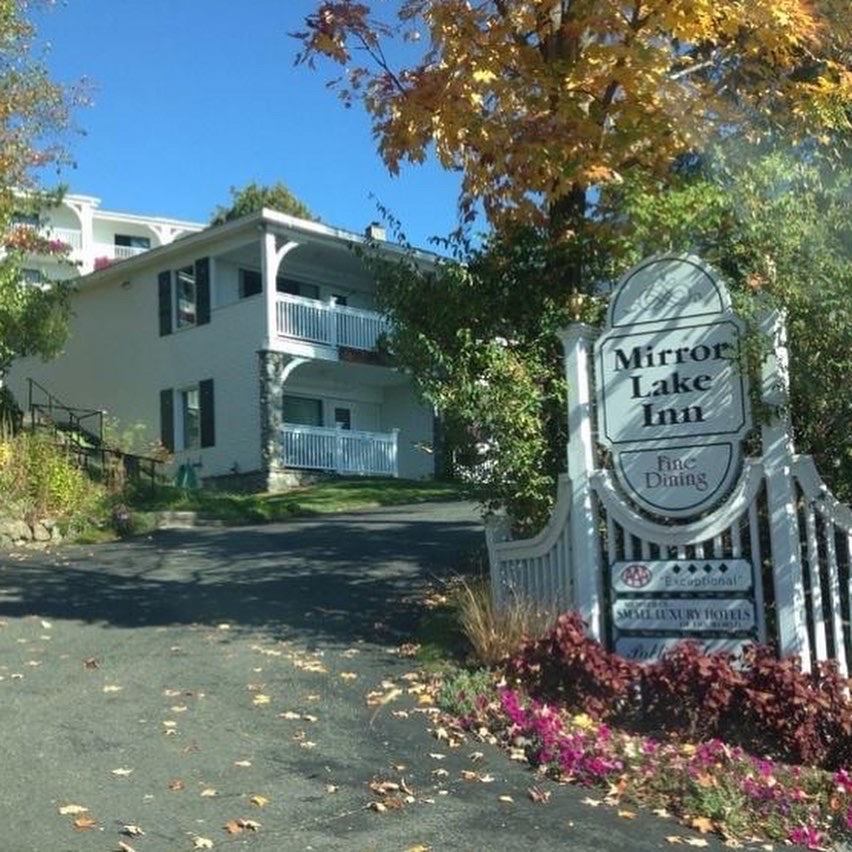 Mirror Lake Inn Resort & Spa is a charming Lake Placid accommodations. The common spaces include some nice nooks where you can escape for some quiet area or enjoy a spot near their large indoor fire place. The indoor pool is sure to be a hit with kids. Mirror Lake Inn can be book for 25,000 Hyatt points per night.
Budget Lake Placid Activities with Kids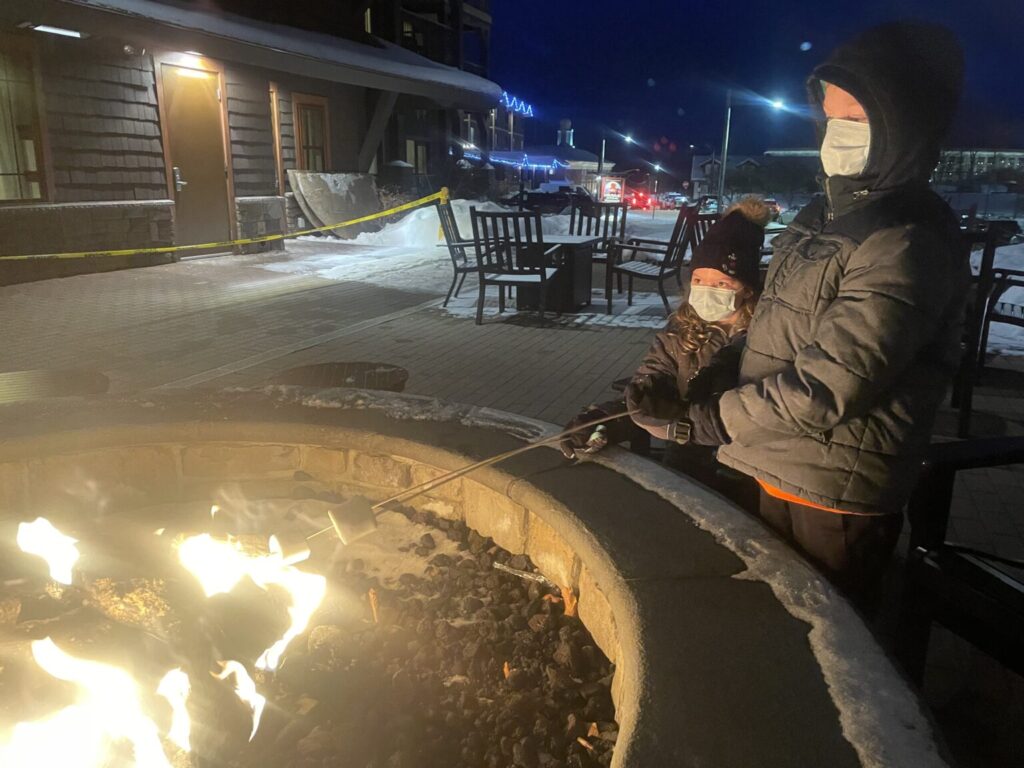 With the right equipment you can enjoy a long weekend or even a week in Lake Placid full of free activities.
Adirondack Wild Life Rescue
The Adirondack Wildlife Rescue is a wonderful place to visit with kids any time of year. There's a Wolves talk that provides a lot of information about wolves and you can also visit a variety of animals including foxes, bears and more. Entrance frees are by donation only so families can pay as much as they can afford to.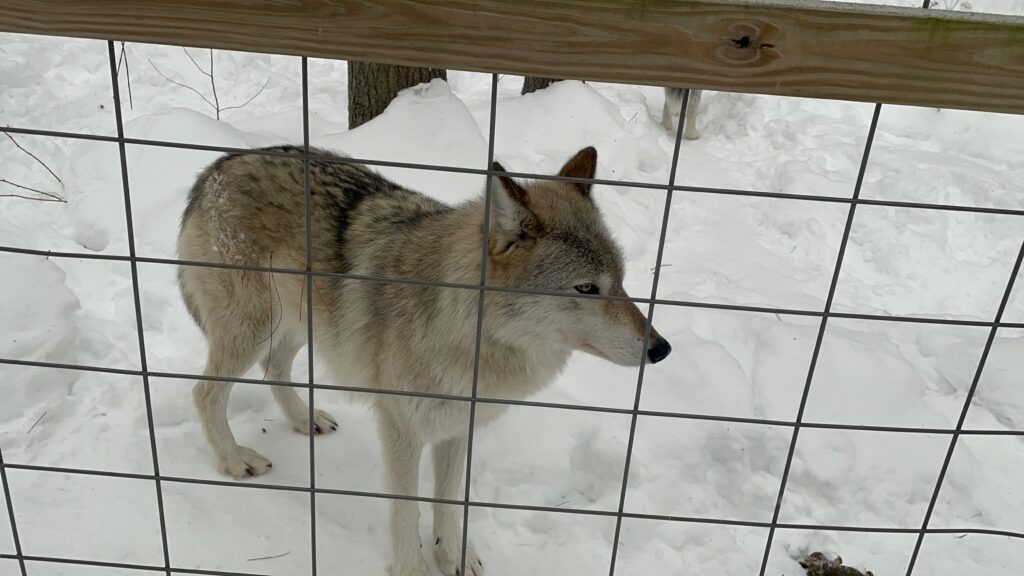 The Wild Center
The Wild Center is a fun place to visit. Admission costs $20 for adults and $12 for kids, 4 and under free. The Wile Center has some reptiles and otters to watch in their indoor museum as well as the wild walk a raised platform walking structure that is fun for kids to explore. You can easily spend a good part of the day here.
Lake Placid Winter Activities with Kids
In the Winter Mirror Lake in Lake Placid becomes a winter wonderland. Grab your winter gear and head to the Lake where you can enjoy ice skating, ice hockey, snow shoeing and cross country skiing for free. If you are looking to rent equipment there's rentals available in town for additional costs. Have fun building a snowman, having a snow ball fight or just enjoying the beautiful mountain scenery. We picked up this cheap hockey set and while it came with a ball instead of a puck the kids had a blast playing hockey for the first time and was worth the $20 to try out. You can also grab this set of hockey pucks if you prefer that over a ball.
You can also visit the Saranac Lake Ice Castle and festival activities. The toboggan chute is a fun budget friendly activity price ranges from $10-$15 per person but you can ride the chute unlimited times through out the day.
Lake Placid Summer, Fall and Spring Activities with Kids
During spring through fall bring your hiking gear, kayaks and paddle boards and enjoy the Adirondacks from Lake Placid. The public beach and playground are great for families. While the 46 high peaks may not be the most kid friendly hikes there's plenty of local options including the 2.7 mile paved walk around Mirror Lake.

Budget Lake Placid Food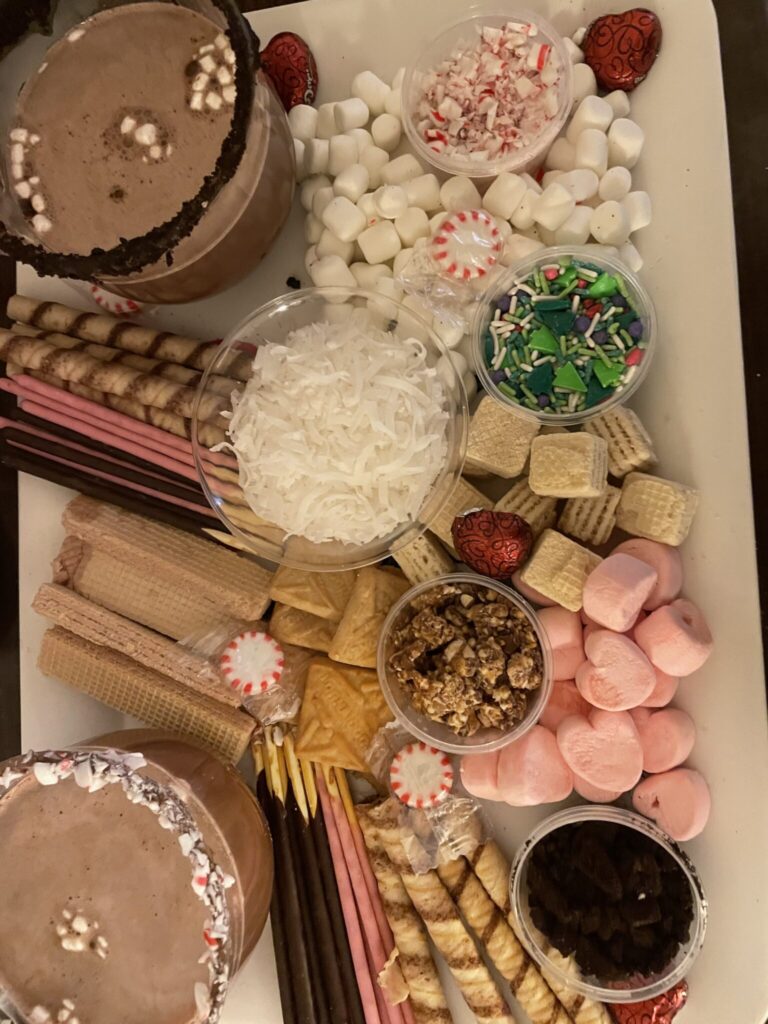 If you book the Hampton Inn Lake Placid, the hotel includes complementary breakfast. The rooms also have microwaves so you can bring food with you to save on breakfast, lunch and/or dinner. Surprise the kids with these simple cheap treats that kids will flip over. Since the Hampton Inn also has fire pits, bring smores kits for another fun treat.
There's typical food you can find just about any where on a budget. There's also typical strategies we utilize anywhere to cut food costs on vacation.
Utilize free breakfast or bring your own breakfast can be an easy way to cut costs. Hampton Inn Lake Placid includes a free hot breakfast with basic omelets, sausage, potatoes, muffins and more.
Utilize in room refrigerator to store breakfast and/or lunch supplies. Lunch meat, jelly for PBJ. Chopped salads are an easy healthy lunch.
Utilize in room microwave. Microwaves come in handy for heating leftovers, or even entire meals. We often bring easy mac, spaghetti os, microwave rice and Idahoan potatoes (only hot water required). We also used the microwave for heating hot cocoa and chocolate fondue.
Budget and Kid friendly Meal options such as Italian, Pizza, Tacos and burgers.
Lake Placid Meals Under $20 for a Family of Four
Stewart's Shops is a north country staple. It's a Gas station and convenience store that is known for their ice cream, root beer. It's also home to my guilty pleasure- the chili dog. Often on sale 2 for $2.50 these hot dogs sit out on a roaster usually starting at noon and come with included condiments such as chili sauce, raw onions and mustard. There's also cold sandwiches available. At this price you'll have enough to treat the family to small ice cream comes which are very large. On special holiday's they often offer them for 50 cents.
There's a McDonald's located in town, and while it's the last place I would choose to eat, it's our daughters favorite. It's easy enough to grab the kids a meal for half the price of a kids meal at many of the local restaurants which easily saves us $10 and they enjoy their meal more.
Price Chopper Grocery Store is a great option for an affordable hot meal. I haven't shopped the one in Lake Placid but use my local Price chopper market often for Fish fry. They will steam or fry any seafood at no additional cost. So you can get fried or steamed fish, shrimp, calamari even lobster for their listed cost per pound. They also offer fried onion rings and French fries at the seafood counter for $3-$5 for a small we can usually split an order of each as a family. 1.5lbs of Cod plus fried and onion rings for a family of 4 for under $20. They also sell rotisserie chicken and sides often for under $20 or pair with microwave sides such as easy mac ,rice or Idahoan potatoes.
Lake Placid Restaurants Under $50 for a family of 4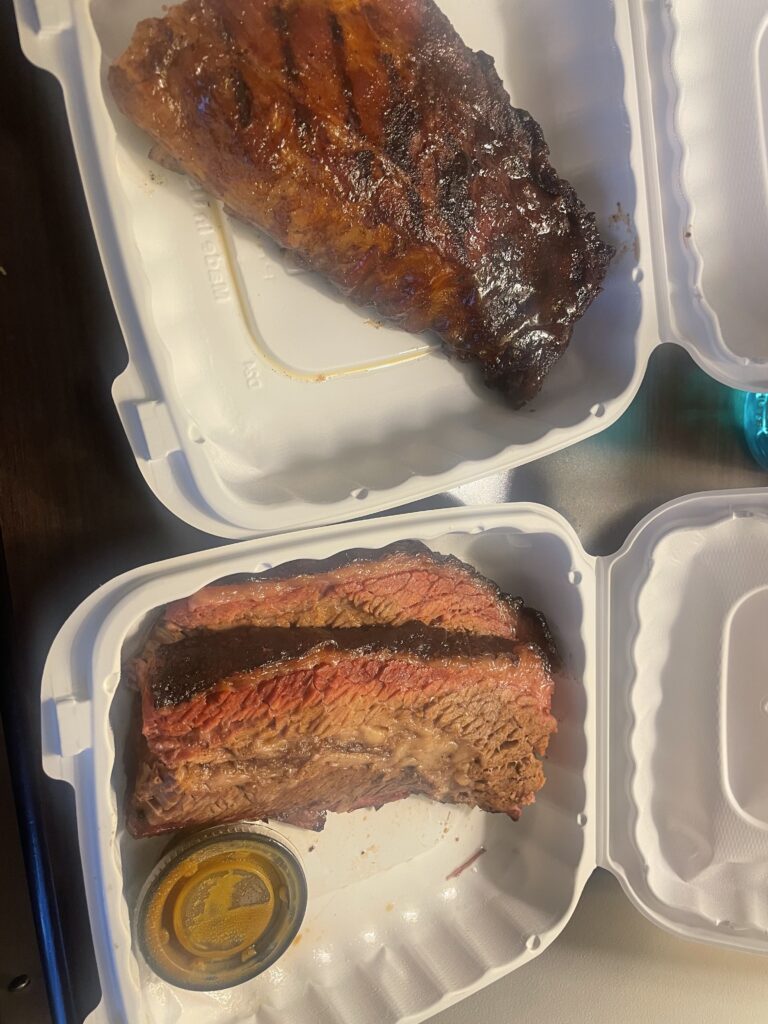 Smoked Signals BBQ is a popular Lake Placid Restaurant. I personally felt it was a bit over rated but the increased prices due to Covid may have had an impact on my over all feeling. The ampler wasn't available and we spent about $60 for a half rack of ribs (large 8 ribs), the beef brisket and 3 sides. the cost was about 30% more than what we were planning to spend on the sampler. Hopefully the sampler will be back on the menu soon and you can enjoy it. The sampler costs about $44 (ribs, brisket, pulled pork 2 sides such as mac  n cheese and greens, plus 2 biscuits) which is plenty for a family of 4. We also have easy mac on hand because our children are picky about mac n cheese which means there's more of the good stuff for us.
Main Street Pizza offers a 16″ pizza for $15. there's also other affordable entrée options. We are often able to split 2 pasta dishes between 4 of us.
Big Mountain Deli/Creperie Sandwiches and Crepes range from $8-$12 and they even have a grilled cheese for only $5 it's easy to stay under $50 and enjoy a nice meal here.
Wyatts Tacos is another affordable option in town. It's also a fun place to have a tasting if your family is up for it. They have meat or bean tacos for $3.50 or 2/$6, Shrimp tacos for $4 or 2/$7, brisket tacos 3/$9.50. Order a few of each and have fun sampling the different kinds.
Budget Travel to Lake Placid with Kids Summary
Budget Travel to Lake Placid with Kids It's easy to have fun on a budget in Lake Placid with kids. Get outside and enjoy everything Lake Placid has to offer on an affordable family vacation. From Hiking to the public beach or Ice Skating in the winter there's so much for families to do on a budget.
Follow Affordable_Family_Travel on Instagram
Make sure to like AffordableFamilyTravel.com on Facebook to get all the latest updates. It's also where I post my Dash Deals that are time-sensitive.