Things to do with Kids in Lake Placid. This Guide to Lake Placid with kids can help you plan a fun and relaxing visit. Lake Placid, New York is a great place to visit with or with out kids and is an all seasons destination. It's a great place to stay when visiting the Adirondacks in New York State and if your looking to hike the high peaks.
We have made several visits to Lake Placid with Kids. The highlights for us would be the village setting with an opportunity to keep toddlers entertained with the easy paved walk around the lake and the lake side playground. As well as the family friendly restaurants offering a variety of delicious food.

Where to Stay in Lake Placid With Kids
There are a lot of Great Lake Placid Hotels. Here's our top picks for staying in Lake Placid with Kids. These hotels provide particular benefits that are helpful for families. Whether its a Lake Placid hotel with indoor pool or other fun activities these hotels are perfect for families.
Mirror Lake Inn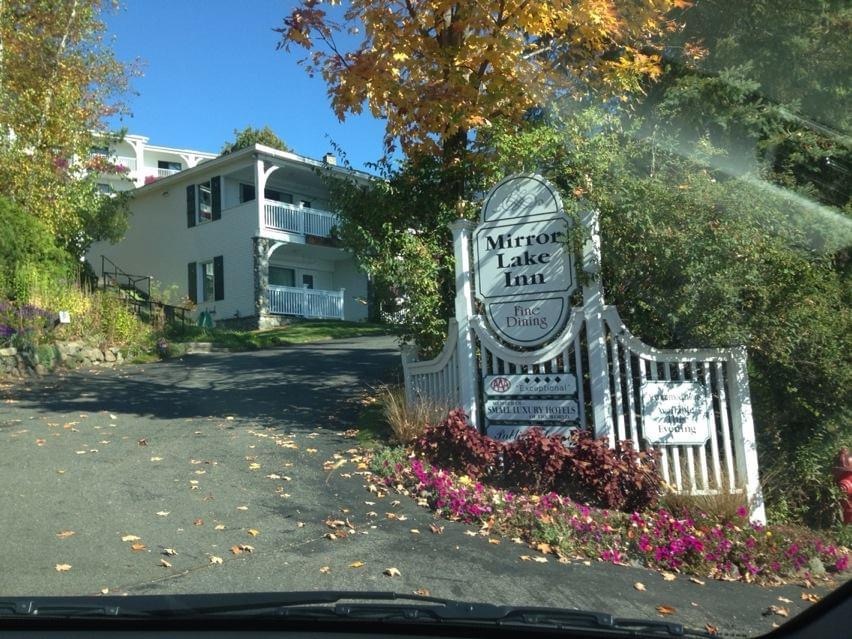 Our first stay in Lake Placid was at the Mirror Lake Inn. It's a gorgeous inn with wonderful nooks to sit and relax in. It has a very romantic feel and is great for a couples get away. However it's good for families too. The rooms are spacious and actually fit 2 cribs which they provided (our kids were 4 months and almost 2 years old). We had a nice balcony with lake view as well as lots of treats giving it a woodsy feel. They offered warm throws you could use while sitting out on the balcony which were perfect while we drank champagne after the kids went to bed.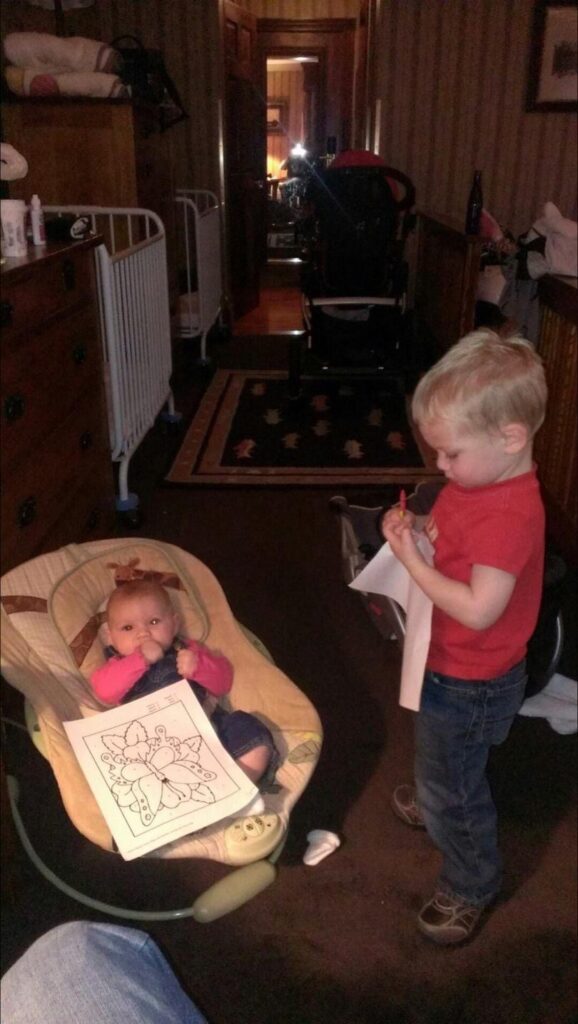 The resort has a wonderful spa which allowed me to enjoy some much needed pampering. I enjoyed a Body treatment, facial and deluxe pedicure during my stay and would definitely recommend all of their services. While I was relaxing at the Spa, My husband took the kids for a swim in their indoor pool. We also enjoyed their onsite restaurants which you can read about below.
Make This an Affordable Family Vacation at Mirror Lake Inn
Hyatt has partnered with Mirror Lake Inn as one of Hyatt's Luxury Resorts and can now be booked for 25,000 Hyatt points per night.
Hampton Inn Lake Placid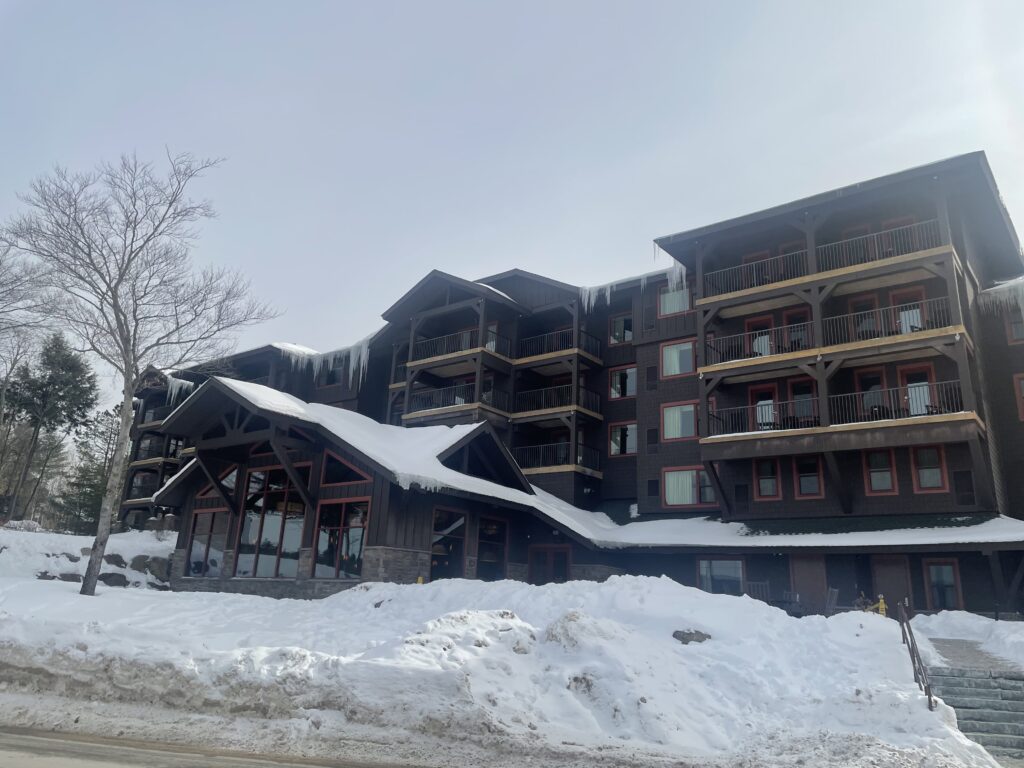 The Hampton Inn and Suites Lake Placid is located across the lake from the main street in town but still a short walk and very close to the Lake Placid Pub and Brewery as well as the beach and play ground. Comfortable spacious rooms and breakfast included. They have lake view rooms and a indoor pool.
Make This an Affordable Family Vacation at The Hampton Inn
Hampton Inn is one of the few chain hotels in the area, easy to book on points and with Hilton you get 5th night free when booking on points. Rates start at 25,000 points per night so 100,000 Hilton Points will get you 5 nights free. Book a room with a fridge and microwave and you can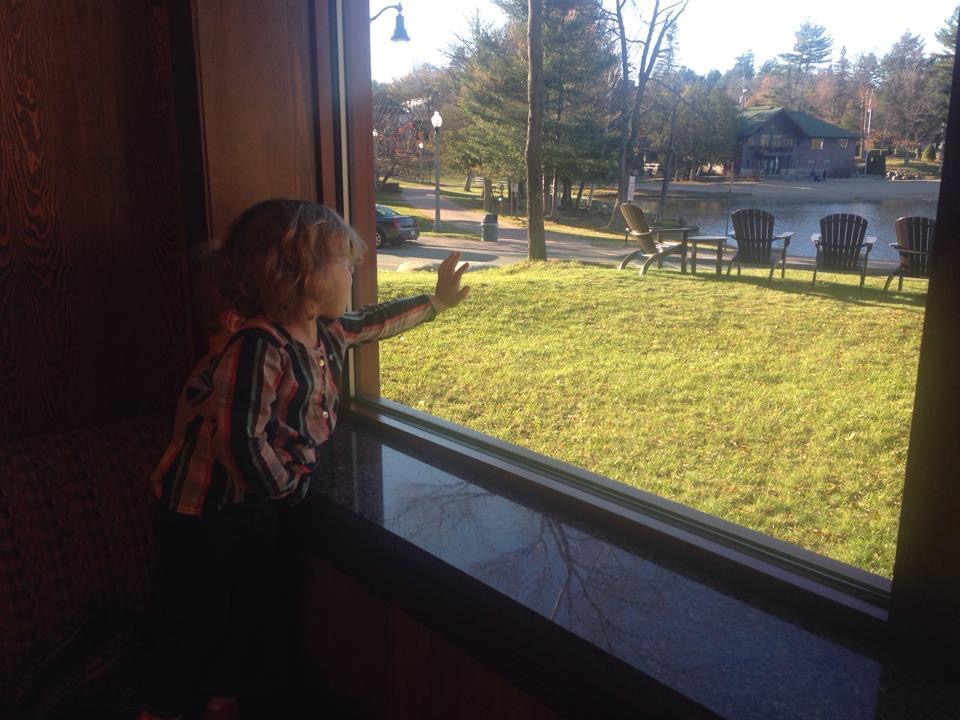 Golden Arrow Lakeside Resort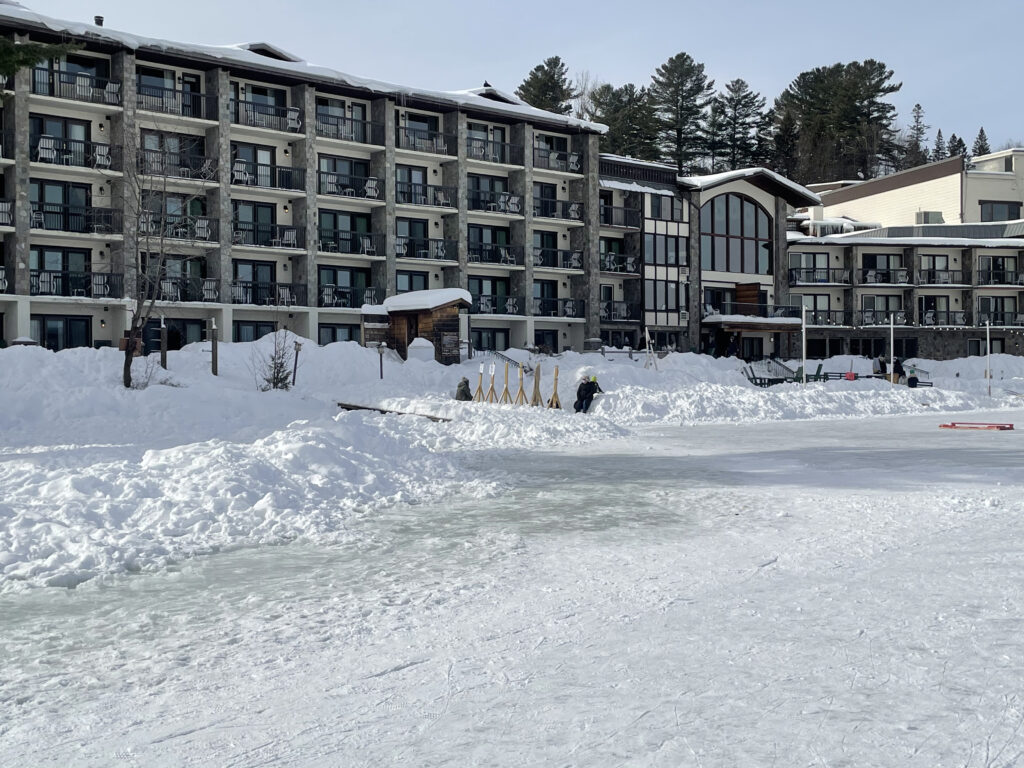 Golden Arrow Lakeside Resort is located on the main strip of Lake Placid and right on the Lake. It's the best location in town and offers many amenities to give you a true resort experience. We have not stayed at this resort yet but It's on our list to check out next time we are in Lake Placid.
Where to Eat in Lake Placid With Kids
Black Bear Restaurant
The black bear in is a small restaurant that offers lake views from several tables. We arrived early since the kids were young and eat early anyway and all the lake view tables were available so we requested on. The food is delicious. Its a great place for a nice meal with a nice view.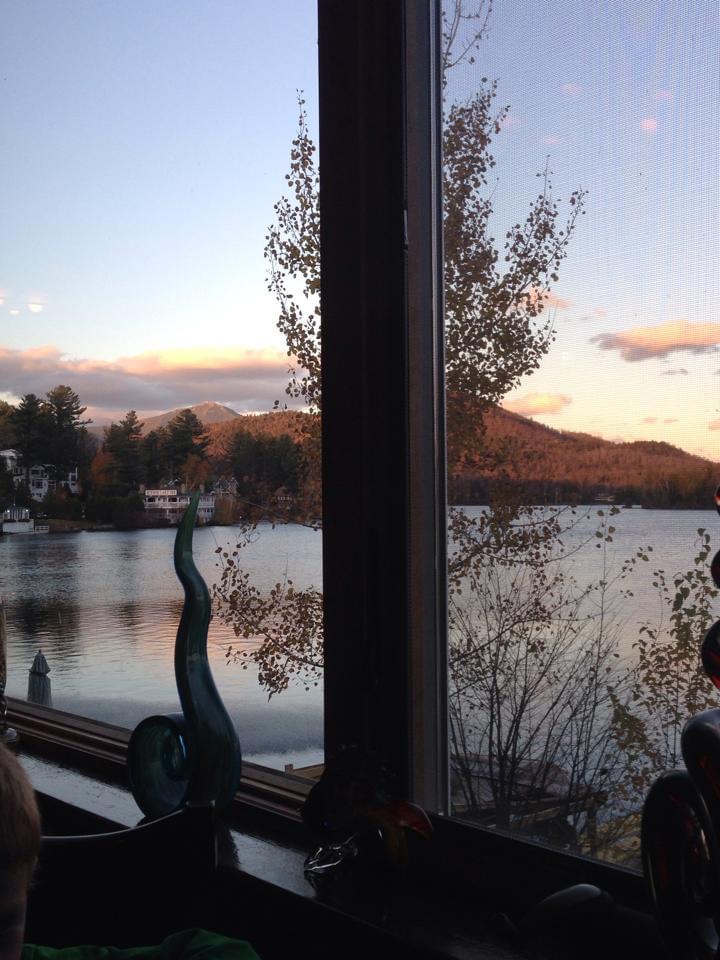 Lake Placid Pub and Brewery
We really enjoyed the lake placid pub and brewery even with kids. This pub has a second floor where we were seated away from the bar. They have a kids menu and high chairs. The Lake Placid Pub and Brewery is definitely a kid friendly pub. They had an activity pad as well for them to play with.
Mirror Lake Inn – the View and the Cottage
Mirror Lake Inn has 2 restaurants. When we first visited there were 3 which included a pub style restaurant that had a great mussel dish. The View is fine dining. The food was delicious and service great. They have special dining period for families with kids so make sure you check the times. The Cottage also has nice views of the lake and is situated across the street from the Inn on the lake. Its much more casual but the entrees are just as delicious.


Upstairs Grill Steak and Seafood
While a little pricey the food at this restaurant is fantastic. The filet was tender with a nice char on the outside, the seafood was fresh and large.
Things to do with Kids in Lake Placid: Activities
Lake Placid is a great year round destination for families.
Lake Placid Summer Activities with Kids
In the summer there's lake activities such as non-motorized boats and the beach for swimming and playing in the sand. There's a small play ground right by the beach as well. Bring your own kayak or paddle board and enjoy the lake for free.
Lake Placid is the jumping off point for the High Peaks with numerous other hiking oppotuntunies available for every age and experience. There's a nice paved walk way around Mirror lake which is great for families with strollers or toddlers who want to walk on their own. There's also the Olympic sites.
Lake Placid Winter Activities with Kids
In the winter time you can ice skate on the lake or go on a dog sled ride ($20 per person). There's also a seasonal toboggan chute that ranges $10-$15 per person and you can ride it all day. There's a giant toboggan chute on to the lake as well. The largest mountain coaster just opened up.
You can head to Whiteface Mountain for scenic gondola rides or skiing in the winter.

Adirondack Wildlife Refuge
The Adirondack Wildlife Refuge in Wilmington, NY is a short drive form Lake Placid. Admission is by donation which assures every family can afford to go. The Wolf Tallis very informative and the presenter is very passionate about the animals and you can see the bond they have. The wolves are definitely the highlight but there's also bears, coyotes, fox and more. Open year round I would recommend visiting both seasons.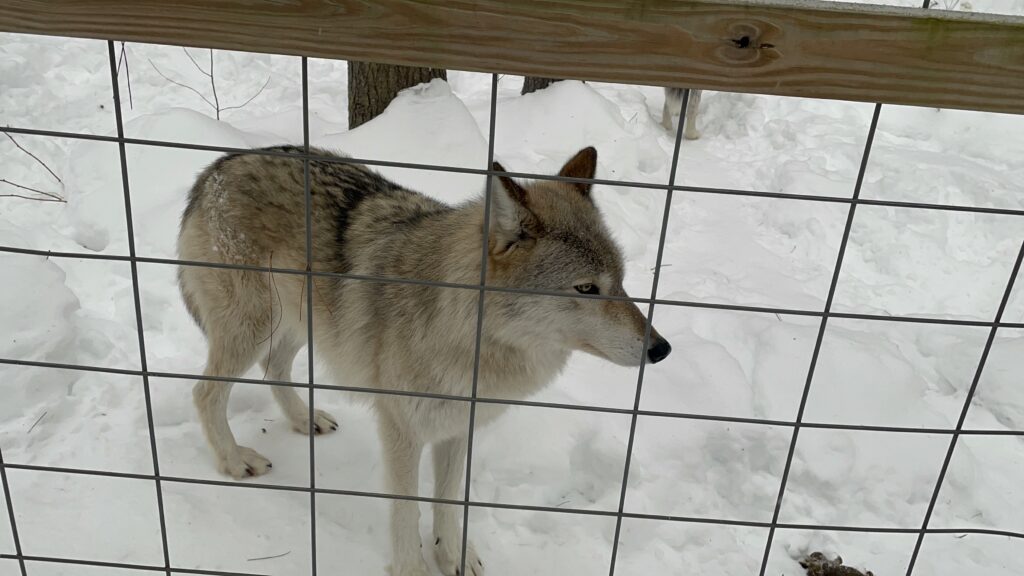 Wild Center
The Wild Center in Tupper Lake is a nice day trips from Lake Placid. The Wild Center has a great out door raised platform called Wild Walk. Its a lot of fun for the kids. However, what surprised us the most was how great their indoor nature center is. The kids love seeing the otters and the glacier changing landscape. As well as the little reptiles they have on display.
Overview of Things to do with Kids in Lake Placid
Lake Placid is a great year round destination for families. Whether you want to relax, shop, or hike there's a variety of activities available for every preference.
Follow Affordable_Family_Travel on Instagram
Make sure to like AffordableFamilyTravel.com on Facebook to get all the latest updates. It's also where I post my Dash Deals that are time-sensitive.