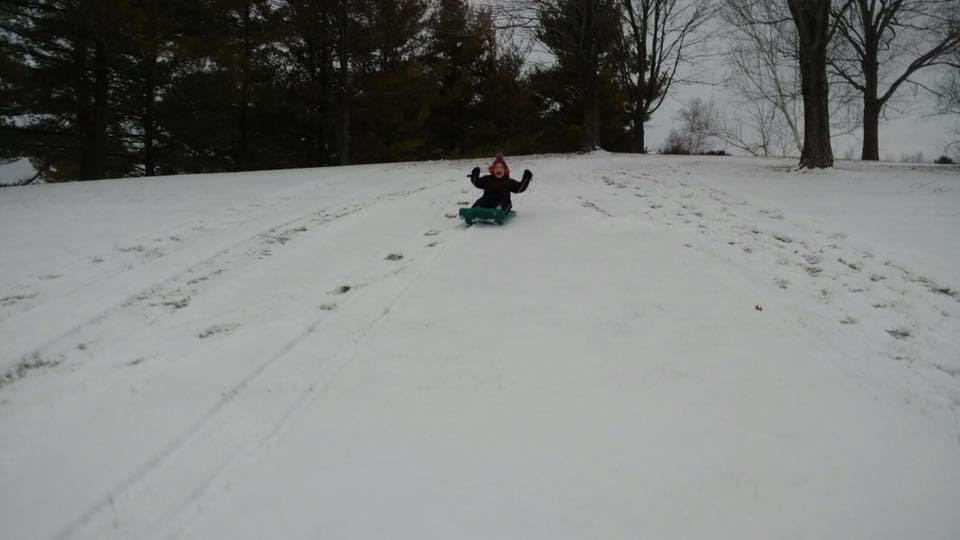 Here are some of the best cheap outdoor winter activities for kids. We survived all summer through various levels of lockdown and closures. It's pretty easy to enjoy the outdoors and stay active in the summer. As the temperatures drop here in the northeast and other parts of the country, we can easily fall back to spending most of our time indoors. This list of activities can help keep you outside and having fun all winter long.
I also put together some great products that can help you save on these winter activities. Once you purchase the equipment for some of these Winter Activities you can enjoy them all winter long at home or away for free. They also make great Christmas or winter birthday gifts.
I will be posting Travel and Outdoor Fun Related Shopping Deals, so make sure you follow me AffordableFamilyTravel.com on Facebook and Affordable_Family_Travel on Instagram
1. Ice Skating – Free Winter Activities for Kids
Ice Skating is one of the many great winter activities. Many local parks offer free ice skating rinks so if you own your own skates this becomes a free activity you can enjoy all summer long. Even at ice rinks that charge a fee, you will still save on the cost of rentals. You can also make a small ice rink at home by using a very large wooden sandbox or making your own frame and slowly spraying layers of water on the area as each layer freezes add more until you have your desired thickness. This also makes for a fun Hockey Rink for practicing goals.
Here's Items you may need to purchase:
Ice Skates
Helmets- ski helmets also work for ice skating. It's best to try them on in-person to see what fits the best. my kids, husband and I all have different brand helmets based on what fit the shape of our heads best.
2. Snow Shoeing – Free Winter Activities For Kids
Snowshoes are a great way to continue exploring outside. Many hiking trails turn into snowshoe trails and even cross-country skiing trails so once you make the initial purchase you can enjoy snowshoeing all winter long for free. Some of the best times to spot animals is in the winter when all the leaves are off the tree and you can quietly walk through the woods.
Here's Items you may need to purchase:
3. Down Hill Skiing and Snowboarding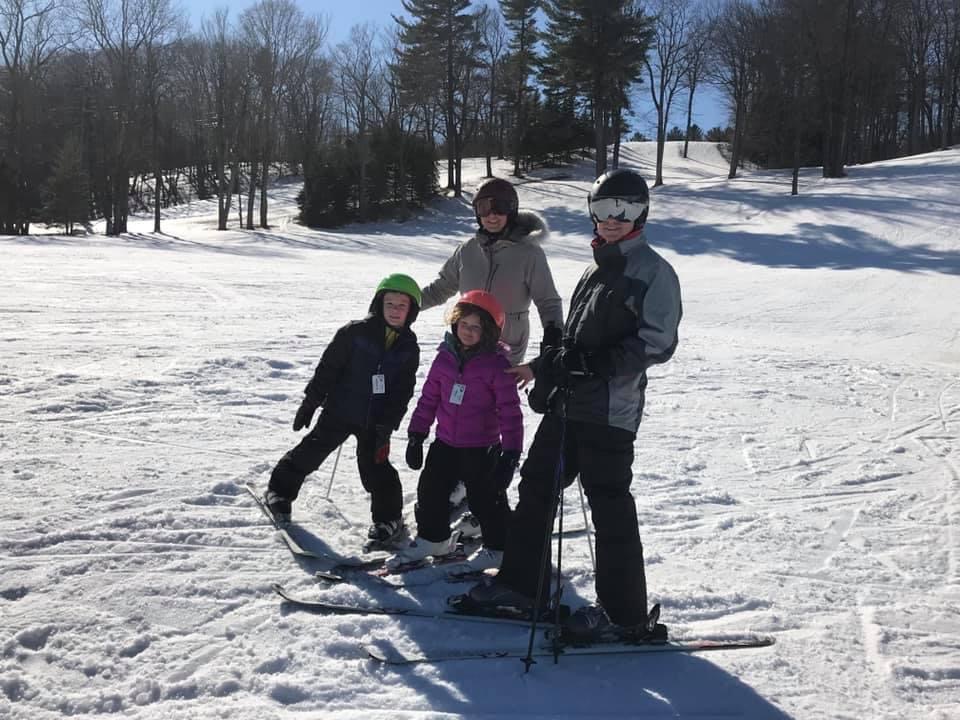 Skiing/snowboarding is a great winter activity. There is nothing like being in the mountains covered in beautiful white snow and a calming silence. Down Skies and snowboards for kids are one item I recommend renting because they grow so fast and even in a given season they can become too tight for kids. Our rental company will allow us to switch out sizes if we need to during the season. But for adults, it's worth the investment.
In addition to down hill skiing, or snowboarding on mountains, you can also pick up snowboard type toys to enjoy in hills in your area or local parks.
Here's Items you may need to purchase:
4. Cross Country Skiing- Free Winter Activities
Cross country skiing is a wonderful winter activity. Some hiking trails are converted to cross country trails so it's something you can do for free all winter long if you have cross country skis.
5. Sledding or Snow Tubing – Free Winter Activities
Every person has a type of sled they prefer for sledding. Whether you have an infant you want to pull around in your front yard or a teenager who wants to find the steepest hills, there's tons of options for sleds. We personally prefer the inflatable tubes. If you want an easier way up the hills head to a local ski mountain that offers snow tubing.
Winter Items you may need to purchase:
6. Fat Biking
We have really enjoyed bike rides in various areas this summer. Bike rides do not have to end just because there's snow on the ground. Fat Bikes, with wider tires, makes it easier to ride on groomed trails. If you own a Fat Bike you probably are all set to hit local bike trails if the town grooms them. You can also look for places that rent Fat Bikes to see if they provide the services in the winter too. If they do it's likely near a groomed bike trail.
7. Ice Fishing
Ice fishing is a hobby we haven't tried yet. I believe the kids will have a chance to try it with their cub scout groups this year and we are very excited to try it. It' seems like one of those activities you want to try with someone else.
8. Snow Art Kits
This seems more of a new creation since I was a kid. While we may have used food dye, they now have snow art kits which allow you to paint snow in fun different colors and patterns.
Winter Items you may want to purchase:
9. Other Free Winter Activities with Snow Toys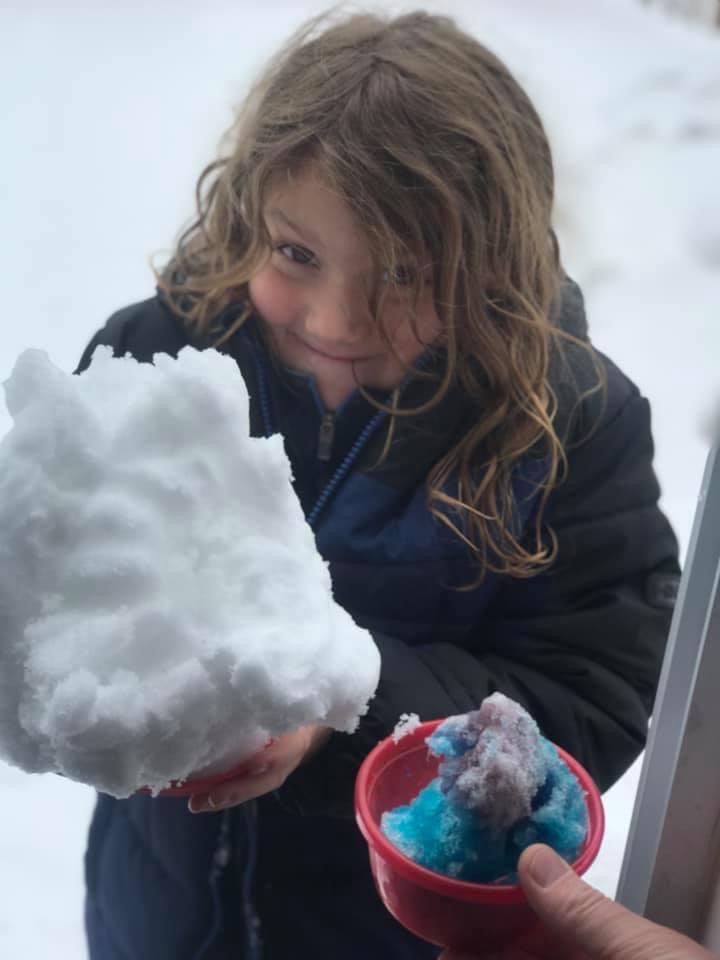 Snow ball fights, snowman building and Snow Fort Building are all great activities to enjoy in the snow. Whether your home or away Children will love these activities. Build a Snow fort first and you can have a hide away during a snow ball fight.
Bring some snow inside and make snowcones or snow cream. Make sure you grab fresh snow that's clean of course.
Winter Items you may need to purchase:
10. Everyday Sports You Can Still Do
A lot of sports you consider to be season sports. However, many sports can be done all year long. Just remember to dress appropriate for the weather.
Tennis (if the nets are kept up in your park)
Soccer (if the ground is clear of snow)
Baseball/Softball especially pitch and catch – if hands are too cold try wearing the little gloves underneath the baseball mitt.
Hockey
Gymnastics
11. Enjoy a Maple Experience
Head to a maple farm and experience how maple is produced and enjoy some tasty treats. Several states offer maple experiences and it's a great way to get outdoor, learn something new and be rewarded with delicious treats.
12. Check Out Winter Festivals and Special Events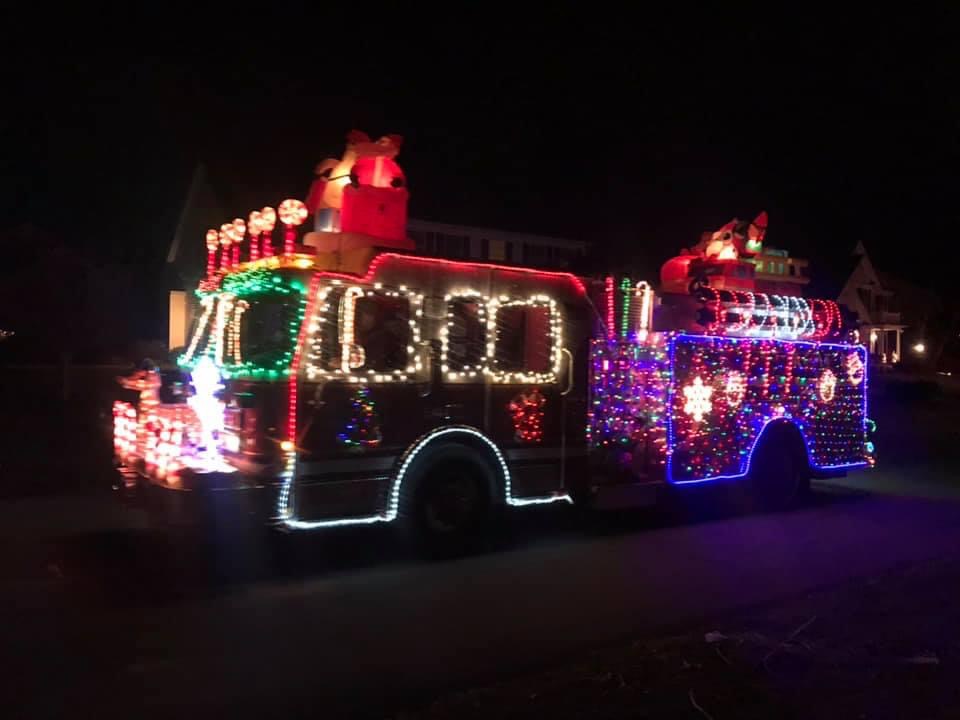 With Covid you never know what will be available especially in the North East but there could still be Winter Events. Check local sites in the area you live or are visiting. Chowder fests, Holiday Tree Lighting, Victorian Strolls, Winter-fest and more.
Here's Some Winter Festivals in the North East
13. Head To the Best Family Resorts For Fall / Winter

Head to Resort or Resort Town know for it's Winter Activities. My Favorite Family Resort is Rocking Horse Ranch. It's great in winter time. They offer Skiing including rentals, Horse back riding, snow tubing, Animals, a Play Ground, Shooting Range with BB Guns and Archery and so much more.
Lake Placid is An Awesome place to visit in Winter. You Can Check out Olympic sites, Enjoy a dog Sled Ride, Skate on the Lake and So much more. Hyatt Chesapeake is a good budget friendly resort with an indoor pool in in door pool tables. Depending on what's available when you visit they also have a very nice bike trail, mini-golf, tennis courses and disc golf.
Stay Tuned for a full article on the Best Fall/Winter Family Resorts
Check Out These Great Ideas for Family Activities
Follow Affordable_Family_Travel on Instagram
Make sure to like AffordableFamilyTravel.com on Facebook to get all the latest updates. It's also where I post my Dash Deals that are time-sensitive.