Simple Budget Travel Treats Kids will Flip Over will save you money on your next trip. Vacations are often a time when families splurge on food and entertainment to make the experience extra special. Adding some surprises or extra special things to a vacation doesn't have to cost a lot on your affordable family vacation. Here's some ideas of cheap and easy extra's to make you cheap family vacation a little more special.
1. Hot Cocoa Bar is a Simple Budget Travel Treats Kids will Flip Over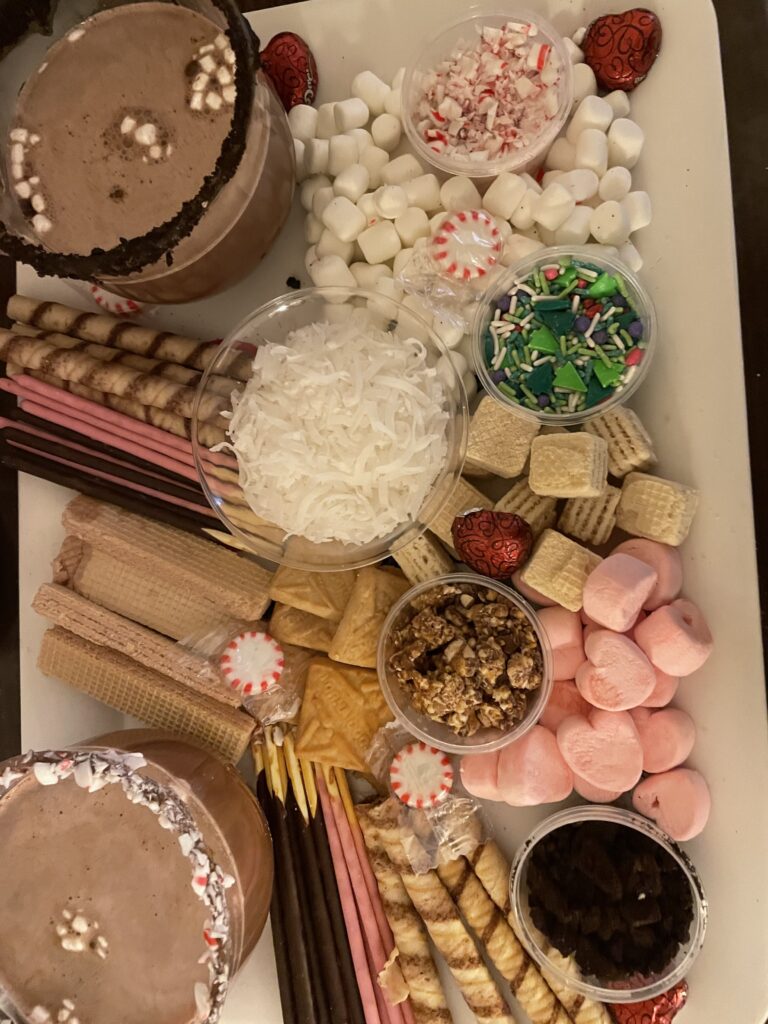 We planned a few surprises for the kids on a recent trip and this turned out to be their favorite one. This simple cheap vacation treat kids will love. It's pretty simple and all you really need is a coffee making to make hot water.
Hot cocoa packets
Mugs (Dollar Tree has clear class ones)
Nutella-used to coat the rim
mini marshmallows or special shaped/themed marshmallows
Toppings that can be used on the rim, inside the cocoa or on top of the whip cream

Crushed Oreo cookies (remove while filling or buy just the crumbs)
crushed peppermint candies or candy canes (found at Dollar Tree)
crushed snickers or other candy (found at Dollar Tree- or use your Halloween stash) – freeze first then crush and keep cold so it doesn't clump
Sprinkles- any color or theme
coconut flakes

Items to dip in the cocoa

Pirouline (found at Dollar Tree)
Pockey Sticks
Vanilla/Strawberry Sugar Wafers (found at Dollar Tree)
Your favorite cookies (chocolate chip, sugar or, short read)

Optional: Whip cream- pick up at the local store
We picked up these little container which worked great for storing the small toppings. Make sure you have 1. a Tray to display it on 2. hot cocoa mugs 3. containers to store leftovers.
How to set up the Cocobar for Simple Budget Travel Treats Kids Will Flip Over
Then it's simple 1. set up the items on the tray 2. cover the rip of each mug with Nutella and then the kids favorite topping. My kids chose Oreo or peppermint. 3. Fill mugs with hot cocoa and allow the kids to make their own a. First, pick a flavor for inside if they want b. Next marshmallows and whip cream if you have it. c. Then top with whatever toppings d. And add any dippers in or on the side.
2. Kids Themed Lunch Board is a Great Kid-Friendly Vacation Meal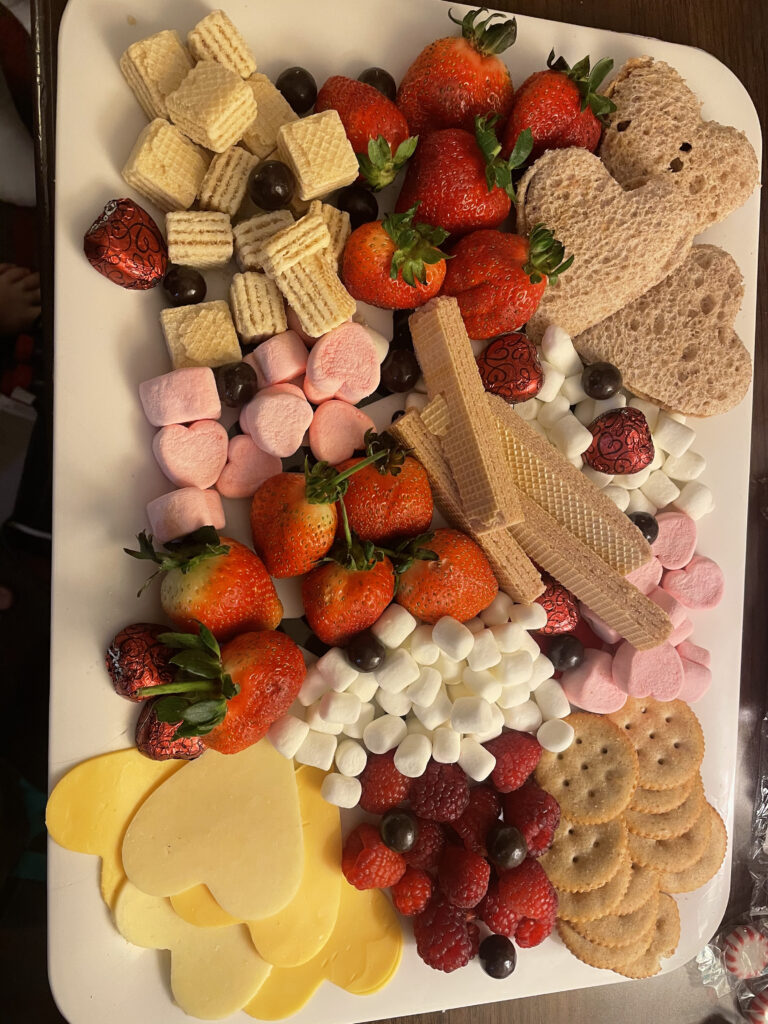 When you make food look fun kids love it. My kids love to pick at food so they loved their lunch and not only ate well but also tried a few different things.
Decide on a theme. Depending on where you travel you may want to make it a beach theme, Disney theme or even a holiday theme.
Next get cookie cutter shaped as the theme. Use it to cut shapes in their favorite cheese slices and sandwiches. We chose PBJ and American cause they were easy. Don't forget to add Crackers.
Add something Healthy like Fruits and Veggies. Because we were doing a Valentine's theme we chose strawberries and raspberries. If you are doing a summer themed you could do yellow and orange colors such as carrots, colored peppers, oranges, mango and bananas.
Then add some treats and snacks. Mini white marshmallows are a nice neutral color to fit into any theme, the kids always love them and we had them on hand for the cocoa bar too. We also found lucky charms marshmallows and used the heart marshmallows for our board, you could use the yellow stars in a summer theme ( and the green for St Patrick's day. Gold Fish Crackers would be great for a summer theme.
3.Taste Testing can be a Fun Kid Friendly Vacation Meal
Taste Testing can be a fun kid friendly vacation meal. It's also a great way to get kids to try new things. The idea for this came from our daughter who loves ramen and wanted it while traveling during Covid. She doesn't like the microwave cups and ramen isn't the easiest thing to order to go and honestly there's other food I would rather be eating out on vacation.
So we told her when we got home we would buy a bunch of different microwaveable options and do a taste test to see what is the best one. And hopefully find a portable ramen option for future options. Who knew there were so many options. We forgot about the option until we were planning a quick getaway and asking the kids what kind of food they wanted while we were away and my daughter mentioned ramen again. This one's pretty much a one time thing but we enjoyed sampling and trying a large variety of microwave ramen.
For an upcoming trip I purchased 4 different cream pies. We couldn't possible bring all 4 on the trip so I sliced them up while frozen swapped the slices so each pie has 2 of each flavor and now I have 4 variety pies we can take with us over the Thanksgiving and Christmas Holidays.
We also picked up a variety of sparkling juices to celebrate. We have Sparkling Strawberry daiquiri, Sparking Red Grape juice, sparkling pink variety grape juice and sparkling lemonade. We will probably save this for new years eve. We didn't get sparkling cider because for some reason our kids really haven't liked it in the past but it's another option if your doing a sparkling juice tasting.
Sampling Local Food can be a Simple Cheap Vacation Treat Kids will Love
While traveling we have sampled 4-5 different Chowders in Boston and determined which was our favorite. In Virginia we ordered a BBQ sampler with pulled pork, smoked chicken, ribs, beef brisket, sausage, Burnt ends, and pork belly. We had a great time sampling the different meats with 5 or 6 different BBQ sauces. The leftovers were also great toppings on easy mac as late night snack or lunch the next day. It can be as simple as ordering a variety of tacos or various sliders at a local pub. Or Tapas or appetizers to sample. Just make sure to have everyone taste the variety of items and discuss which is your favorite.
4. Chocolate and Cheese Fondue on the Go can be Easy with Microwave Fondue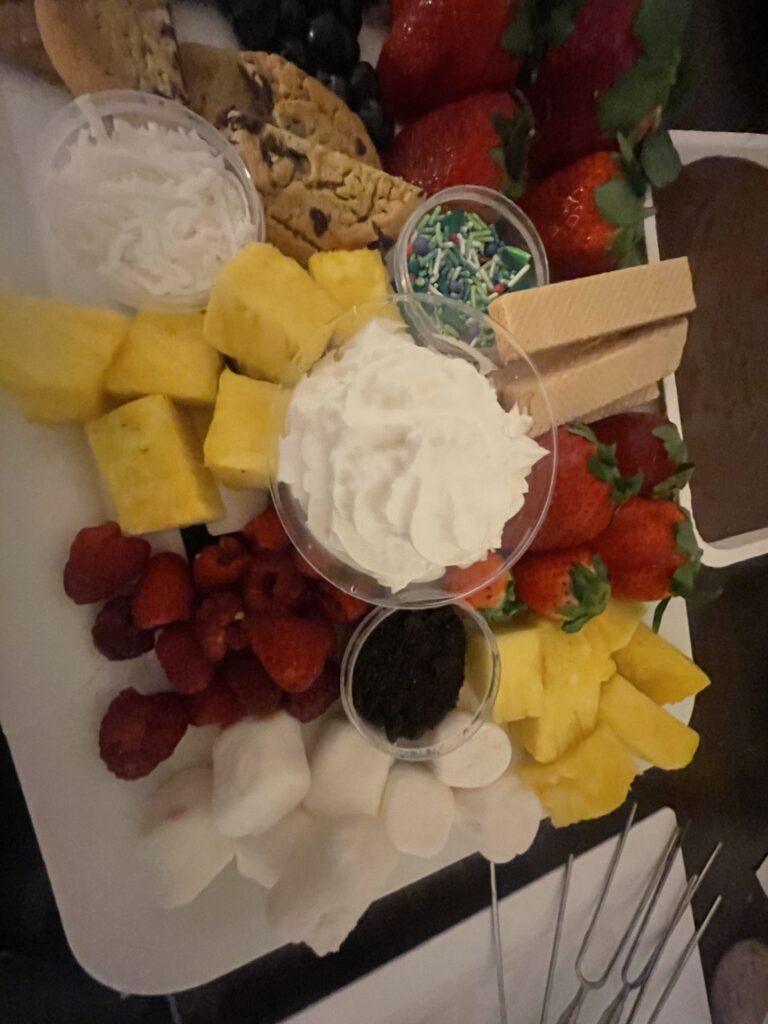 Chocolate Fondue on the Go
We recently found a box of microwave chocolate fondue and gave it a try. It was only around $3.50 in our local grocery store but if you c an't fiIt worked out really well. Make sure to have a platter for the dipping options and plates to let the items cool/dry after dipping. You can often find precut fruit at local grocery stores, or pick whole fruit you can dip like berries, or pack a knife and cut the fruit yourself. It worked out that we had leftovers from our cocoa bar we added as well as some treats we happened to pack with us. here's some ideas
fresh fruit: whole fruit such as strawberries and raspberries or precut is easiest
pretzels
cookies
rice crispy treats
marshmallows
Additions to your chocolate fondue to roll in after the items are dipped in the chocolate (many of these can also be on a cocoa bar)
crushed nuts
shredded coconut
crushed Oreo cookies
sprinkles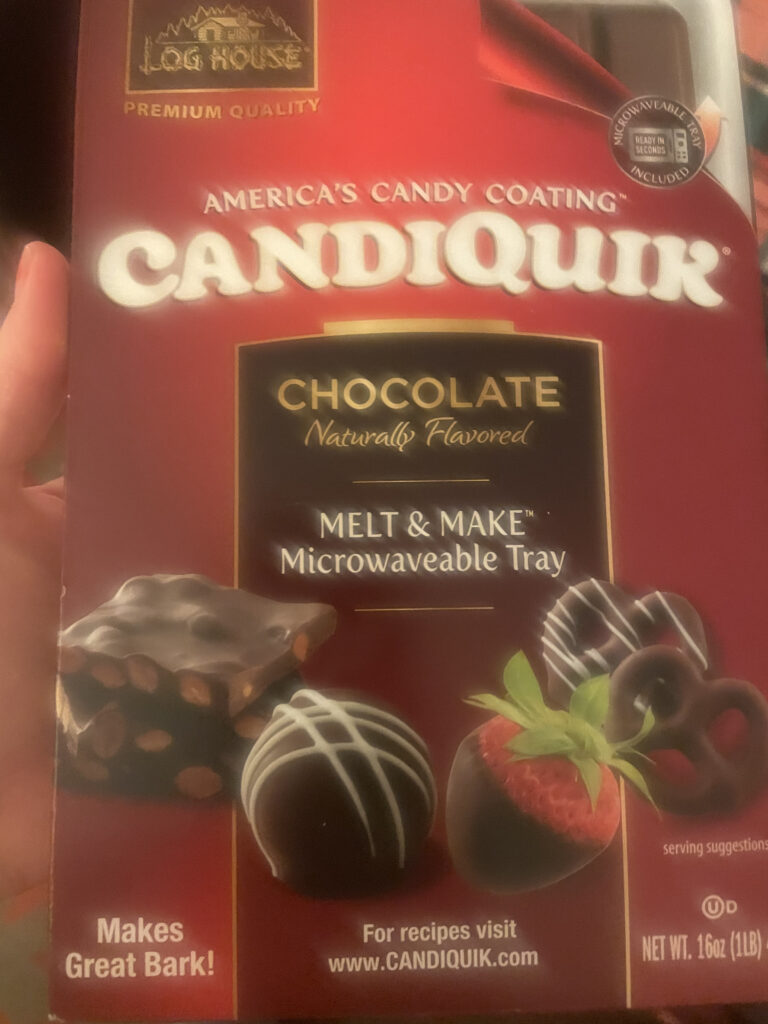 Cheese Fondue on the Go
Trader Joes sells a wonderful Cheese fondue around the holidays that come in a paper cup that's microwaveable. It's so easy just have a tray with whatever you want to dip in. Here's some ideas:
Bread
Crostini
sliced apples
sliced pear
cured meats
rotisserie chicken
Microwave pasta (found occasionally at Aldi)
5. Smores is the Best Vacation Dessert for Kids
It's seems every time we roast marshmallows on a trip someone is asking if we got our smores kits onsite. The answer is always no we brought them. Smores kits sold onsite at hotels often cost $15-$20 for about 4. While the cost of a bag of marshmallows, box of graham crackers, chocolate and sticks often cost less than $10 for enough to last your entire trip and more. Whenever we book a hotel we look to see if they have a fire pit and if they do we usually pack smore because it's a simple treat our children love. It's also nice way to unwind from a busy day and spend time chatting while the marshmallows are roasting. We haven't gone further than using some leftover Halloween candy with the traditional smore supplies but here's some ideas to make it even more fun:
Giant Fireside Marshmallows- heads up these will take longer to roast/melt so you may want to stick with regular sized marshmallows.
Save fun-size candy bars from Halloween for a variety of options from White chocolate to some with crushed nuts or even add a Kit Kat bar or a recess peanut butter cup to your marshmallow sandwich.
In addition to graham crackers offer other options such as chocolate chip Oreo or other cookies.
Add in sauces such as peanut butter, Carmel or even strawberry spread.
Add fruit such as sliced strawberries or apples
Tips Simple Budget Travel Treats Kids will Flip Over
These cheap and easy vacation treats are sure to be a hit on your next vacation. Keep it simple by utilizing some of the same items you may take with you anyway. For example if you plan to get chocolate fondue, consider items that work with fondue but can be used again. Maybe marshmallows to roast at the fire pit, or pretzels or cookies that you plan to bring as a snack anyways. Sprinkles, Oreo Crumbs and coconut can work great for a hot cocoa bar and for fondue. Don't forget to bring containers or ziplock bags for storing everything afterward. I also recommend dipping any remaining food items in the chocolate fondue when you are finished and storing to enjoy later.
Lastly if you are looking for a cheap treat on the go consider a stop at the Dollar Tree where treats including frozen ones are only $1. This is much cheaper than gas station snacks. Or grab $.99 slushies that are often found at gas stations. Looking for other ways to save? Consider eating out of your suitcase to reduce your food costs while traveling.
Follow Affordable_Family_Travel on Instagram
Make sure to like AffordableFamilyTravel.com on Facebook to get all the latest updates. It's also where I post my Dash Deals that are time-sensitive.