Baker's Cay Key Largo Resort Review
The best Florida Keys Family Resort is Baker's Cay Key Largo Resort for families. This resort is also one of the best Family Resorts on points which can provide y ou wiht a very cheap family vacation.. It offers so many family resort activities you won't want to leave the resort. If you are looking for the best Key Largo Family Resorts near Key West and the Florida Keys, this is it. It's one of our favorites Family Resorts in the US and the best family resort in the Florida Keys. If you are looking for where to stay in Key Largo with Kids, this is the place.
Baker's Cay Review includes tips to make the most of your stay including all the wonderful Baker's Cay activities included with your stay. Find out how this amazing resort can be part of a cheap family vacation.
Bakers Cay Resort offers a private beach that's a shallow bay. This Key Largo Family Resort has a couple of floating inflatable docks and offer paddleboards kayaks complimentary, as well as fishing poles and bait for fishing off the dock. There's an Adult only pool as well as a family pool and this is the area the Iguanas like to hang out. there's a fire pit they set out an evening our two each week with marshmallows and smores.
They also host a movie night where they serve complimentary candy, popcorn, and soda. Besides the lounge chairs, they put out the inflatable lounges which the kids love. Lisa and the other activity staff are what make this resort a great value. The kids also loved the pool games each afternoon and the prizes they earned at the end. The resort also offers bikes if you would like to ride on the bike path they have in the middle and then side of the main road to stop at some shops or restaurants offsite.
Join The AffordableFamilyTravel.com Crew on Facebook and become part of a community of families sharing tips and ideas for Affordable Family Travel.
Baker's Cay Key Largo Resort Location
Baker's Cay Resort is located at 97000 Overseas Hwy in Key Largo on the Florida Keys. Key Largo is at the beginning of the archipelago that makes up the Florida Keys. Only 1hr 15 minutes from Miami and 2 hours from Key West. Marathon, Florida is 1hrs drive away making it a great day trip to visit the Turtle Hospital.
Baker's Cay has its own private beach. The Beach itself stretches the entire length of the resort. However, half of it is covered by a coastal forest providing small secluded shaded areas to lounge. The other half is open to the sun and filled with lounge chairs (some with shade) and a small sandy area at the waterline for kids to play. But plenty of space in the water to enjoy the floating docks and other activities available.
Top Reasons to Go to Baker's Cay Resort
Tropical Climate feels more like the Caribbean than Florida
Paddle Boarding and Kayaking Included with your stay
Fishing off the pier (bait and poles complementary) fish are easy to catch and the pelicans hang out waiting to catch the fish you throwback.
Lisa the activities coordinator offers wonderful activities including the pineapple hunt.
Pool games and watching the Iguanas
Tips for the Best Visit to Baker's Cay Key Largo Resort
While only 1 hour a day of kayaking and paddleboard are included, we found that during the quiet time we were visiting they allowed it unlimited for no charge.
The Pineapple hunt is fun. feel free to ask for hints if the kids need them.
Don't miss the pool games which were at 2pm daily when we were there. the kids loved winning prizes which usually included a frozen drink.
Baker's Cay Resort Rooms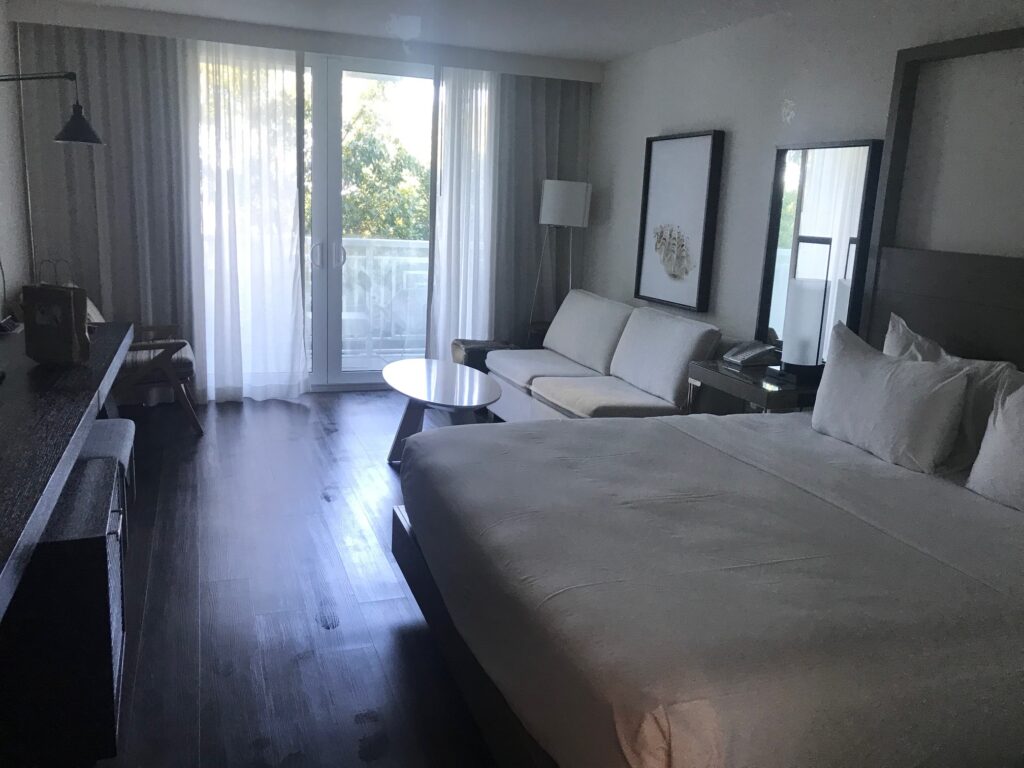 We had a king room with a sleeper sofa. The room had a mini fridge which was great for keeping snacks and leftovers. The bathroom was spacious and we enjoyed the balcony that overlooked the canopy of trees. During our stay, they trimmed the trees and we were able to see the water better afterward.
The WIFI and cell service is spotty in the room around the resort. We did not have cell or WIFI service on the balcony. The wifi was ok in the room and cell service was almost non-existent in the room and often changed our phones to WIFI calling. Cell service was very good by the pool and also near the beach.
There are approximately 200 rooms at Baker's Cay. While the footprint of the hotel is small the limited rooms mean the resort never feels overcrowded although beach chairs do fill up. We stayed over Christmas Break including New Year's eve and it didn't feel overcrowded at all.
Baker's Cay Beach
Baker's Cay has a small private beach at the resort. Similar to many beaches in the Florida Keys, the water is shallow like a bay and calm unless there's a storm. Baker's Cay Beach has 2 floating inflatable docks for kids to jump off of. Adults also like to stand around them and use them as a floating table for drinks. The water is so calm that over time tiny pieces of seaweed do float around but after a brief storm one day it washed away.
About half the beach area has a nice sand entry but the other half is rocky. The sand area is enough for a half-full of kids to play in the sand but you won't be digging any deep or big holes.
The water in the Florida Keys is generally warm even in the winter the kids didn't need their wetsuits and even I could comfortably go in especially with the sun shining down.
Much of the resort front is covered by a beautiful tropical forest and within there is also a small private beach called hammock beach. It's a nice quiet place to sit in lounge chairs and watch the water.
Pools at Baker's Cay Resort Key Largo
The resort offers 2 pools, one for adult's only and one for families. Both have a water fall that you can swim under. The family pool has some lounge chairs and the hot tub is right behind it. Most afternoon they offer pool games which the kids loved and were also rewarded with a prize.
Paddle Boarding and Kayaking in the Florida Keys
The resort offers complementary 1 hr of paddle boarding and kayaking each day. We visited the resort at an off peak time and they allowed us to use the them for as long as we wished with out an extra charge. I think they may set the 1 hour limit during peak times when there's more people wanting to use them. They also have other rental options for a free.
Along the dock, you can easily see fish swimming and the kids also saw fish while paddling. the water was very clear and the kids did do some snorkeling.
We also took our inflatable kayaks to John Pennekamp Coral Reef State Park. We loved kayaking in Key Largo but the best place to Kayak in Florida is Blue Springs, State Park.
Key Largo Fishing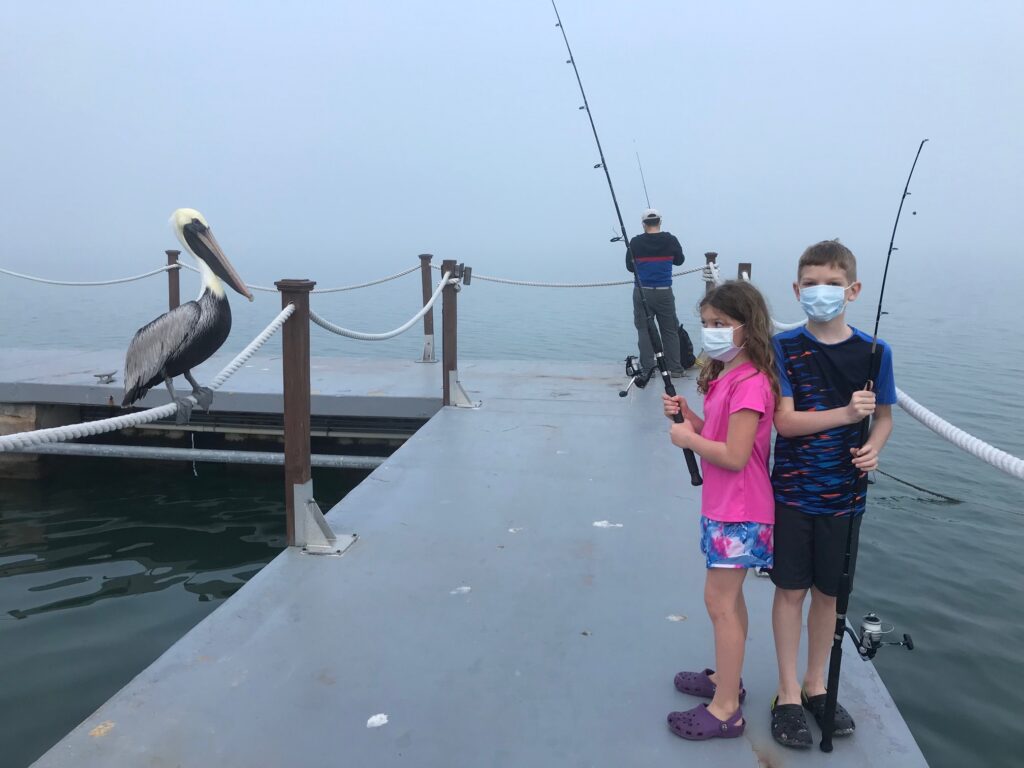 The kids loved fishing each morning. The poles and bait were set out by the activities hut and it was pretty easy to catch fish especially early in the morning. We once arrived around noon and the fish weren't biting as much.
We mostly caught grunts. They are called this because of the noise they make when they hit the air. It's pretty entertaining especially if its the first time you've heard the noise, like it was for us. Fishing is catch and release. As you toss back your fish the pelicans will swoop by trying to catch the fish. We saw needle fish but hadn't caught them at first. When our daughter finally cause one the line was caught in the teeth and wrapped around its mouth so much that it was extremely difficult to get it off. The activities hut did have scissors and plyers which helped.
Key Largo Pelicans and Other Wildlife
Wildlife is often the highlight of any of our trips. Baker's cay has a variety to enjoy. We loved watching the pelicans each morning waiting to try to snatch some breakfast.
The iguana's that are most often spotted near the pool, to the resident cat's who live at the resort. We even found a hermit crab crawling under beach chairs and then later found the tree where several lived. This dog friendly resort mean's there's often dogs around especially in the early morning and evenings. You can say hello to the the beautiful husky who visits the resort at the Pet Ambassador to greet all furry friends as they arrive.
Baker's Cay Sunset Drinks and Firepit
Every evening the resort offers a sunset toast. Head to the bar by the beach as the sun is setting and grab a complimentary glass of champagne and head over to the dock to watch the sunset.
Some evenings the resort will also have the fire put out and either marshmallows to roast or smores.
Other Activities at Baker's Cay Resort Key Largo
The activity staff is wonderful at the resort and there are so many little touches that make the resort extra fun. There are craft kits offered at the activities hut, a pineapple treasure hunt, and some games inside the main lobby building. The resort has table tennis near the lawn and on the upper deck of the resort, there is cornhole. In addition to pool games, there are other activities offered so make sure to check the activities schedule when you arrive. The Kids also loved the evening movie on the lawn.
The resort offers bike rentals you can take out to the bike trail which runs in the middle island, at first among trees but later to one side of the road. It's a fun way to visit some of the local shops.
Bakers Cay Resort Key Largo Dining
Baker's Cay Resort has several onsite dining options. During our visit, they offered mobile ordering for take-out as well as sit-down dining. We enjoyed getting our breakfast to go and sitting out on the loungers or the rocking swings on the deck each morning.
We only ate breakfast at Baker's Cay Resort but it was very good. The pub area with the deck by the beach was a nice area to sit. There are even a couple of swing chairs that face the water. Wakanda, the black cat that lives at the resort enjoys laying in one of the chairs on the side.
As Hilton Diamond Members we were given $15 credit for 2 people each morning plus tax and gratuity which resulted in a $36 credit each morning which covered 3 children's breakfast or 1 adult and 1 children's breakfast. Our daughter loved the Belgium waffles )ask for toppings on the side), My son isn't a big breakfast so he shared pancakes with his sister 1 or 2 times but preferred cereal. My husband enjoyed the scrambled eggs, with bacon and potatoes and I enjoyed the breakfast tacos. My daughter and I also enjoyed one sit-down breakfast as a mommy daughter date. I enjoyed the acai bowl.
During future visits the Diamond Member credit was changed to be used any time so we used the credit a variety of ways. Taco Tuesdays offers 50% off Tacos and Margarita's, we also enjoyed beach side appetizers one day for lunch: the wings and tuna apps were delicious.
Baker's Cay Pet Friendly Hotel in the Florida Keys
Baker's Cay is the most pet friendly hotel we have stayed at. the Resort does charge a significant $75/night pet fee but pets are allowed in many areas of the resort including the beach. This means you can swim with your dog, they can chill with you during movies under the stars and more. There's dog doody bags available at different areas and they even get a little welcome bag with goodies inside.
Affordable Family Vacation to Baker's Cay Resort
We have found rates as low as $350/nt. While this is definitely not a budget resort, when you factor in all the included activity it makes this resort a great value. There's so much to do you may not even want to leave the resort.
A budget family vacation is possible at Baker's Cay Key Largo. Baker's Cay is a Hilton Curio Collection Resort, which means you can stay here using Hilton points starting as low as 42,000 points per night. Hilton offers 5th night free on resort stays so you get 5 nights for as low as 168,000 points and the best part with point stays there are no resort fees.
American Express often offers a promotion 1 Member Reward Point for 2.8 Hilton points which means you could get a 5-night stay here for only 60,000 MR points. In addition, Hilton Diamond members are offered a $15 breakfast credit plus tax and tip which ends up being an $18 credit to your account for breakfast only for up to 2 people. Parking is also complimentary for resort guests.
Since your entertainment is included the only thing not covered is your food. You can check out these tips for eating Cheap while traveling and eating out of your suitcase for ways to save of food and make this a great family vacation on a budget.
Bakers Cay Resort Review Summary
Baker's Cay is one of our top family resorts because of the wonderful entertainment staff and complementary activities included in the resort. It is the best family hotel in Key West and the Florida Keys. Resort vacations tend to be the perfect balance for us because the kids can be extremely active all day and we can relax a bit while we watch them play pool games etc. Having everything we need available on the resort means less shuffling around and more time to relax. The lush tropical setting provides a quiet space for kids to explore. Having so many complimentary activities means once our stay is paid for our only costs were essentially our food. If you are looking for a family-friendly resort in the Florida Keys, Baker's Cay Resort is perfect.
Day Trips from Key Largo
Dry Tortugas National Park is the most remote National Park offering Snorkeling, Camping, and exploring around the fort. It's a long day for a day trip so you may consider an overnight in Key West prior if you have younger kids.
John Pennekamp Coral Reef State Park is a short 5-minute drive from the resort. It offers a beach, kayak rentals, and also boat excursions for reef snorkeling.
The Turtle Hospital in Marathon, Florida is an hour drive and is a great education experience. The staff was very welcoming to all our kid's questions.
Products you may want for this trip
Other Family Resorts to Check Out
Baker's Cay Key Largo Resort is one of our favorite family resorts. Our top family resort is Disney's Aulani Resort, Oahu. Hyatt also has some great family resorts such as Hyatt Regency Coconut Point and Hyatt Regency Chesapeake.
Make sure to like AffordableFamilyTravel.com on Facebook to get all the latest updates. It's also where I post my Dash Deals that are time sensitive.