Use American Express MR Points for The East Coast's Best Hilton Resorts for Families in the USA. These Family Hilton Resorts on the East Coast offer more than just accommodations. Amex MR points are many sought-after points but it's often not discussed how they can be used for Hilton transfers to some really great Hilton East Coast Resorts for Families. These Family Resorts will keep your family entertained your entire vacation. Learn how you can stay at the Best East coast Hilton Family Resorts on points.
If you follow travel hacking groups they will rave about American Express (Amex) member rewards points (MR Points). They are great for using for business or first class tickets but honestly just didn't work for our family. Spending 120,000 or more round trips per person for flights was not a good value for us. We often could get flights and hotel stays for that amount of points. I tried to use MR points on flights for 2 trips. In both cases, the flights we wanted were not available for points. United particularly did not offer their direct flights with points during the period we wanted to fly.
Then 2020 changed the way we traveled and we became domestic travelers. Someone mentioned a really great Hilton property in the Florida Keys- Baker's Cay Key Largo Resort. That one recommendation completely changed my view of American Express's points.  Utilizing the Amex transfer bonus and Hilton's 5th night free I can find great values for free Hilton stays. A value is similar to Hyatt which is my favorite Hotel chain but with a much smaller footprint (fewer hotel locations).
How to Best to use American Express MR points for Hilton Hotels Free Nights including some Great East Coast Hilton Family Resorts
Hilton is an American Express Member Reward transfer partner. You can transfer at a rate of 1MR point for 2 Hilton Honors Points. So if a Hilton Hotel costs 50,000 points per night it would cost you 25,000 MR points.
American Express 2.8x Hilton Transfer Bonus
American Express often has bonus offers and my favorite is the 2.8x Hilton Honors Points for 1 MR point. In order to take advantage of this offer, you must plan ahead. Make sure to transfer the points to Hilton when the offer is available. It's not recommended to transfer Amex points to Hilton Honors unless you know you will use them. This is because American Express points are more versatile and you may decide to use them for something else.
With the Amex 2.8x Hilton Bonus, 50,000 Hilton point Hotel would only cost you about 17,857 points per night.
Does Hilton Credit card give 3x all purchases isn't that better than a 2.8x MR transfer bonus?
While 3x is better than 2.8 times. MR points can have enhanced earnings of their own. For example, Amex Gold currently offers 4x at supermarkets so if you spend $250 you get 1000 MR points which can be transferred for 2800 Hilton Points. The same $250 on the Hilton Honors credit card at 3x would only earn you 750 Hilton points
Hilton Honors 5th Night Free with Points
With Hilton, the 5th night on a Points stays is free. By combing Amex MR 2.8x Hilton offer with Hilton's 5th night free when staying on points you get the best deal. A 5-night stay at a 50,000 point Hilton, would be 71,428 MR points which is an average of 14,285 points per night. There are some really nice Hiltons in this price range that are comparable to Hyatt's 15,000-25,000 points per night Resorts.
There are also some Hilton hotels for less than 20,000 points per night. With the enhanced MR bonus and 5th night free, it would cost 28,571 MR points for 5 nights at a 20k Hilton or an average of 5,710 points per night which is pretty close to the cost of a Hyatt category one 5,000 point hotel but with Hilton's much larger footprint it's easy to find some nicer locations.
Here's some examples of some great Hilton Hotels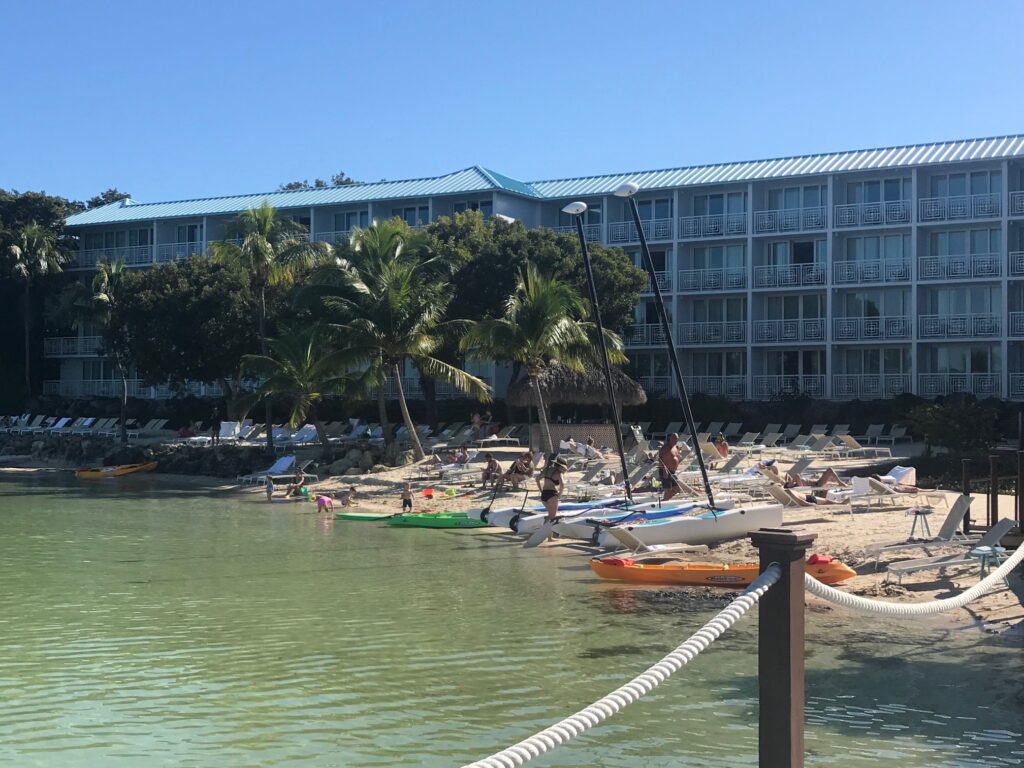 Baker's Cay Key Largo Resort is the BEST Family Hilton Resort and one of our favorite resorts ever. There are so many included activities from Kayaking, fishing, and paddleboarding. There are pool games and much more.
Baker's Cay Resort Free Nights with Hilton Honor Points (HH) start at 42,000 points per night. Which are 168,000 points for 5 nights (5th night free with points). with American Express (AMEX) 2.8x offer, 5 nights would only cost you 60,000 MR points for 5 nights or an average of 12,000 points per night with the average cash per night during the same period of about $350/night it's a wonderful value. Free Parking is included with your stay. As a Hilton Diamond member, you can get $18 breakfast credit for up to 2 people per night ($15 + tax and tip).
Hilton Hampton Inn & Suites Orange Beach is a Great East Coast Hilton Family Resorts
Off-season rates start at only 19,000 points per night for this gulf coast hotel. While the Hilton in San Destin is the gem of the Hilton gulf resorts the rates start at over double the points. 5 nights will cost you 95,0000 Hilton Points per night, with the 2.8x offer this beachfront resort will only cost you 33,928 points. That's an average of only 6,785pts per night for this beachfront resort.
The Hilton Hampton Inn & Suites offers free breakfast and parking. As well as a heated indoor/outdoor pool. The Indoor part has one side open so it still gets cool outside the pool at night during the off-season but the walls help block the wind.  The beach stretches for miles and for only a few points more you can book an Oceanview balcony.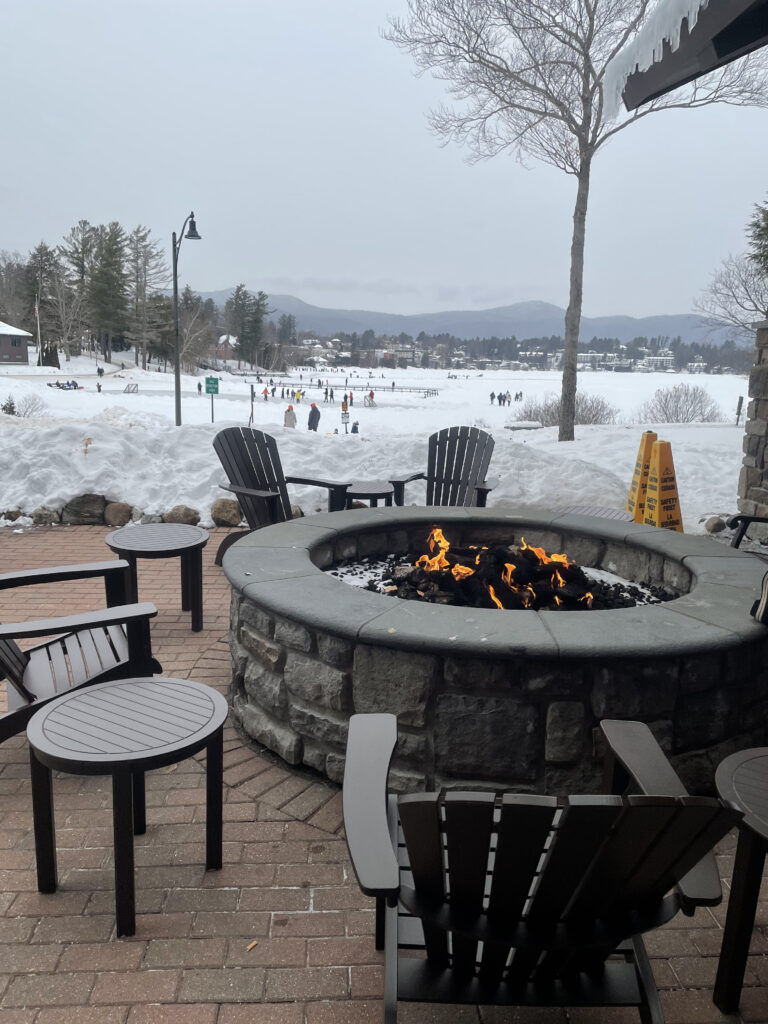 One of the best Hilton Resorts in the Northeast USA is the Hampton in Lake Placid, NY.
Free Nights start at 24,000 points per night through peak times can be around 42,000 points per night. a 5-night stay off-season starts at 96,000 Hilton points per night with the 5th night free on points. utilizing Amex 2.8x transfer bonus when it's offered, would cost 34,285 MR points for 5 nights for an average of 6,857 Mr pts per night. Keep in mind that peak season will cost about double that.
Hampton Inn Lake Placid is located near the Lake Placid Pub and a short walk to the main strip. It offers lake view rooms at a night points rate. Breakfast and parking are complimentary. They have an indoor pool. Lake Placid is a wonderful year-round destination for families, with non-motorized boats in the summer and a beach for ice skating and dog sleds in the winter. It's easy to have a great budget Lake Placid with kids vacation.
If you are planning a trip to Lake Placid in winter, check out these cheap winter activities and the products you can purchase to make your trip to lake placid in winter even more affordable.
The East Coast's Best Hilton Resorts for Families Summary
Families can earn Hilton Free Nights with MR points. There are some great options out there now that you know the best way to utilize your MR points toward Hilton Free Hotel stays. By using American Express MR Points for the Best East Coast Hilton Family Resorts you can have a fun and cheap family vacation.
Follow Affordable_Family_Travel on Instagram
Make sure to like AffordableFamilyTravel.com on Facebook to get all the latest updates. It's also where I post my Dash Deals that are time-sensitive.