There are a lot of options for New York Getaways on Hyatt Points which are perfect for a cheap family vacation on points. Hyatt has been offering some great promotions. These New York vacation options are perfect for a northeast family vacation. Hyatt has nice family resorts that are a great option for an affordable family vacation.
As well as an easier way to earn status. Globalist is a much sought-after status with Hyatt as it provides free parking, free breakfast, and free upgrades including the possibilities for suites. You can easily earn Hyatt points, up to as many as 8 free nights with the Chase Hyatt Credit Card sign-on bonus.
World of Hyatt is arguably the best hotel loyalty program. In 2021, 30 nights will earn you a Globalist. Even better, Now through the end of February nights count double toward status. If you are looking to reach Globalist, or simply looking to enjoy some great Hyatt hotels in New York and border states.
If you are looking for a Northeast Getaway you get inspired for a family getaway near New York whether its for a New York weekend getaway or longer. It's nice to get a break from the every day routine and enjoy some fun with family on these great family vacation with Hyatt points.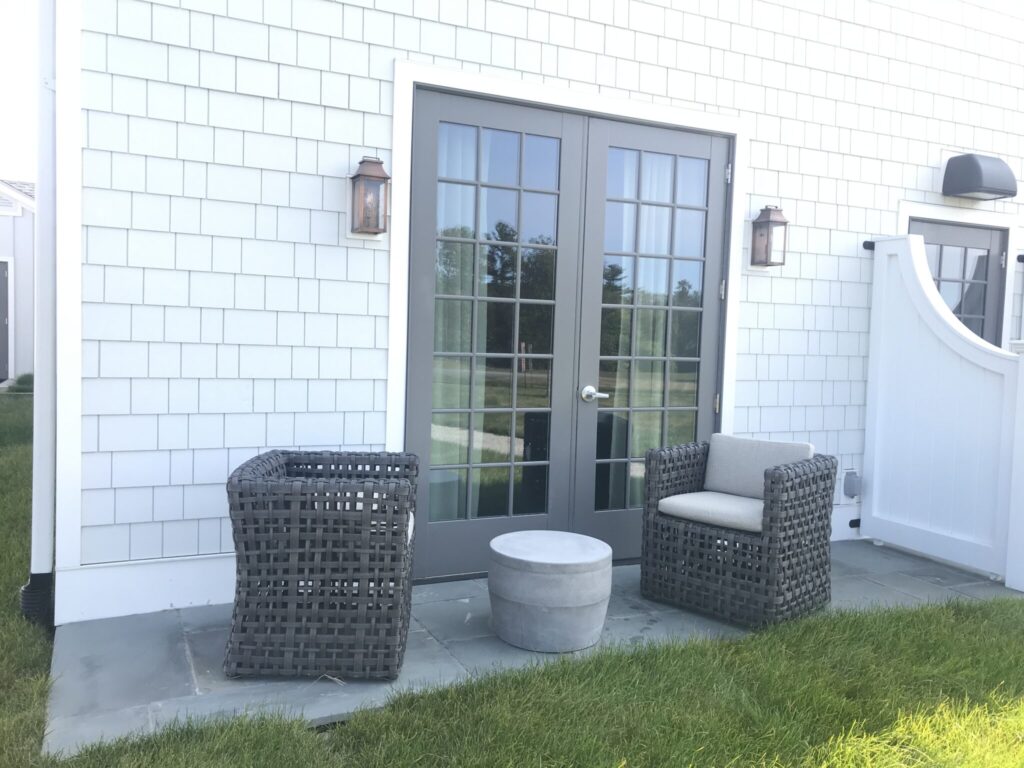 Miraval Berkshires All Inclusive Wellness Resort is an Adult only retreat. It's great for a couples getaway, girls weekend or family trip with adult children 18+. It's located in Lenox, MA so its a quick and easy, New York Getaways with Hyatt Points. Since Food and activities are included as well as resort fees when staying on points this can be a completely free New York getaway. Free Nights start at 40,000 points for one person and 25,000 points for a second person. Keep an eye out for Hyatt Offers as they sometimes have Miraval BOGO offers.
The Resort offers indoor and outdoor activities such as paddle boarding and high ropes course. As well as pottery and work out classes.
2. Long Island: New York Getaways with Hyatt Points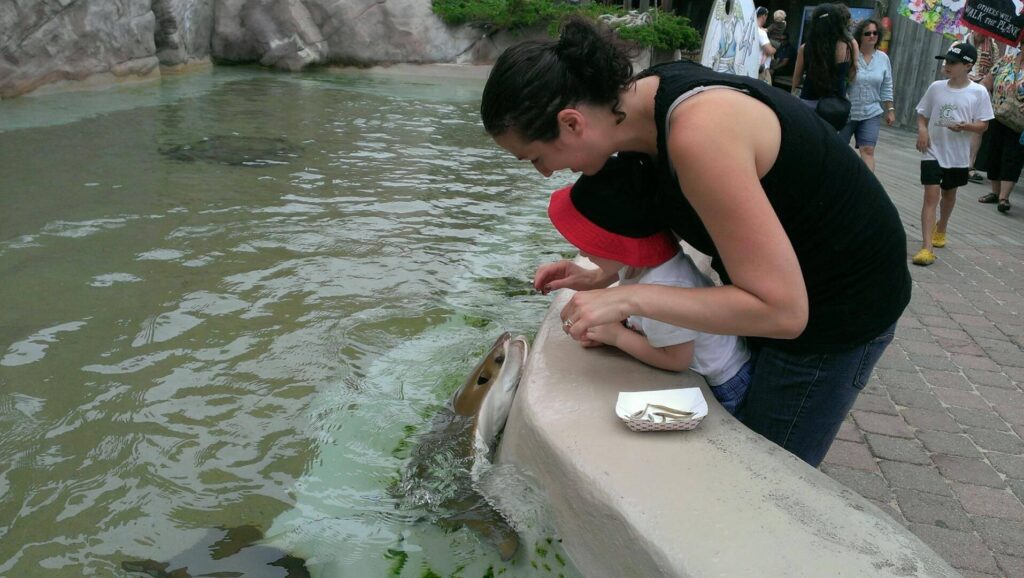 Hyatt Place Long Island/East End is located at 451 East Main Street, Riverhead, New York, 11901. It's right next to the Long Island Aquarium and easy to walk making it the perfect place to stay for a Long Island Winter trip for families. The Hotel is a category 4, so it will cost you 15,000 points per night.
An alternative is The Hyatt Regency Long Island, located at 1717 Motor Parkway, Hauppauge, New York, 11788, about 30 minutes away and still convenient enough to enjoy the aquarium and other Long Island Activities in Winter. For only 8,000 points you can stay twice as long for about the same points.
Long Island Activities
Spend the day at the Long Island aquarium which has a wonderful Atlantis theme. Enjoy Dinner at Jamesport Vineyards on Thursday, Friday, and Sundays they have a $40 EAST END SPECIAL which includes a Margherita pizza and a bottle of any East End line of wines.
The next day, enjoy one of the many Long Island Farms that allow you to visit animals and stop by another winery before you head home.
Macari Vineyards has little tents sort of like glamping so you have you can have your own private tasting. For $35 per person m, you can enjoy a Winter tasting and charcuterie (personal charcuterie). It's $15 to add reds.
In the Summer time head to Clarence Fahnestock State Park or another Long Island public beach to enjoy some sun and sand.
3. Lake Placid : New York Getaways with Hyatt Points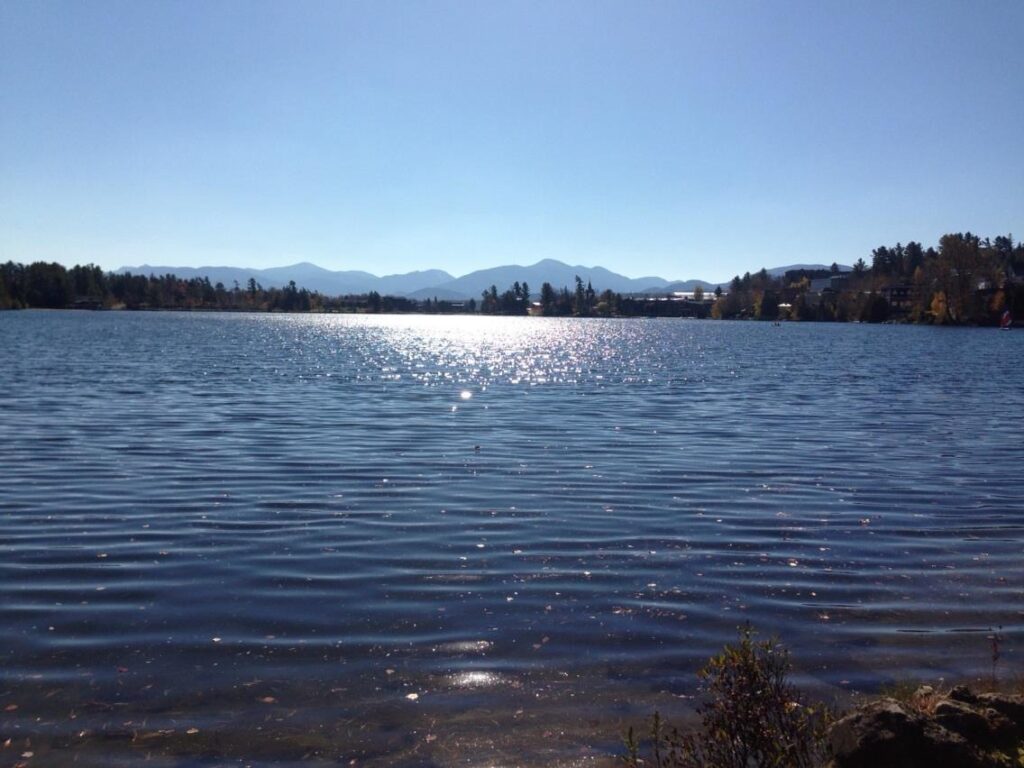 The Mirror Lake Inn is a wonderful resort. Definitely not a hotel for a mattress run (staying just to earn the night credit for status) but it's perfect for a getaway. Their indoor pool is great for fun relaxation during the winter months. They have a wonderful large fireplace inside the resort.
When it comes to winter activities, Lake Placid has it all, access to Downhill and cross country skiing, as well Olympic Complex tours including a trip up the Olympic ski jump. Mirror Lake is transformed into an ice skating rink as well as a dog sled track where you can enjoy dog sled rides. Enjoy some of the wonderful outdoor activities Lake Placid has to offer and then head back to warm up and relax at the Mirror Lake Inn's indoor pool. Mirror Lake Inn also has two wonderful onsite restaurants you can enjoy for dinner. Check out more things to do in Lake Placid for families.
In the summer enjoy the small public beach or non-motorized watercrafts on Mirror Lake.
4. Poughkeepsie, NY : Budget New York Getaway on Points
Hyatt Place Poughkeepsie located at 2165 South Road, Poughkeepsie, New York, 12601 is 8,000 Points per night. This Hyatt has an indoor pool but I recommend calling to see if it's available during your stay. Some Hyatts are requiring pool reservations. You get a 1-hour time slot.
Things to do in Poughkeepsie with Kids
About 40 minutes away is the Tyler Zoo at Mill Brook School There's also the walkway over the Hudson. Walking through NewPaltz.
The Omi International Art Center in Ghent offers free trails for snow shoeing or cross country skiing when there is snow.
Enjoy a nice stroll over the walkway over the Hudson in Poughkeepsie or visit the Van Wyke Homestead Museum. In the Spring Summer or Fall head to the Minnewaska State Park Preserve, with 35 miles of carriage roads and 50 miles of footpaths for hiking and biking.
5. New York City Getaway with Hyatt Points
There's a wide selection of NYC Hyatt Hotels to choose from depending on if you are looking for a NYC Hyatt Category 1 hotel or a NYC Luxury Hyatt stay. Make sure you compare the cash price of these hotels as some may be a better value to pay cash and save your points for another opportunity.
13.5 miles from the City is the Hyatt Place Fair Lawn/Paramus 5,000 points per night
Just outside the city is Hyatt Regency Greenwich – 8,000 points per night
take the nearby metro into the city from Hyatt House Jersey City– 15,000 points per night
Hyatt Place New York City / Time Square 20,000 points per night
Andaz 5th Avenue 25,000 points per night
New York City Family Activities
While New York City restaurants may or may not have indoor dining available during Covid, there's still plenty to do in the City.
6. Saratoga / Lake George, NY: Year Round New York Getaway with Hyatt Points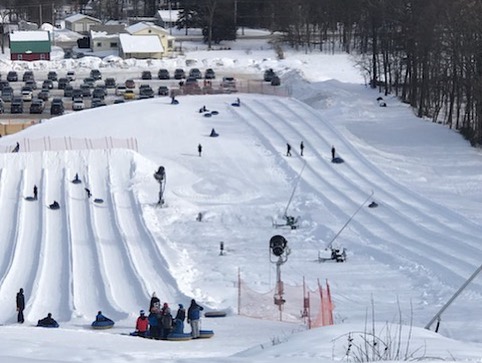 A free stay at Hyatt Place Saratoga / Malta will cost you 12,000 points per night. Free parking and breakfast included. This hotel is located about 18 minutes from Saratoga Springs and 35 minutes from Lake George.
Saratoga and Lake George Activities
Saratoga is a great summer destination especially with Saratoga Performing Arts Center and the Saratoga Race Track. Broadway is one of the top main streets in the country full of shops and restaurants and often live music on or around the area. Enjoy Congress park and ride the carousel. In the winter there is still plenty of fun activities in Saratoga including ice skating and several Ice bars.
Saratoga is about 30 minutes drive from Lake George which is a wonderful year round destination. Ski or go Snowtubing at West mountain. You can enjoy everything winter has to offer in the area including cross country skiing, ice skating ice fishing and more in Lake George.
Outside of winter enjoy the Adirondack Extreme Adventure High ropes course as well as the million dollar beach on Lake George.
7. New Haven, CT: Spring/Summer New York Getaways on Hyatt Points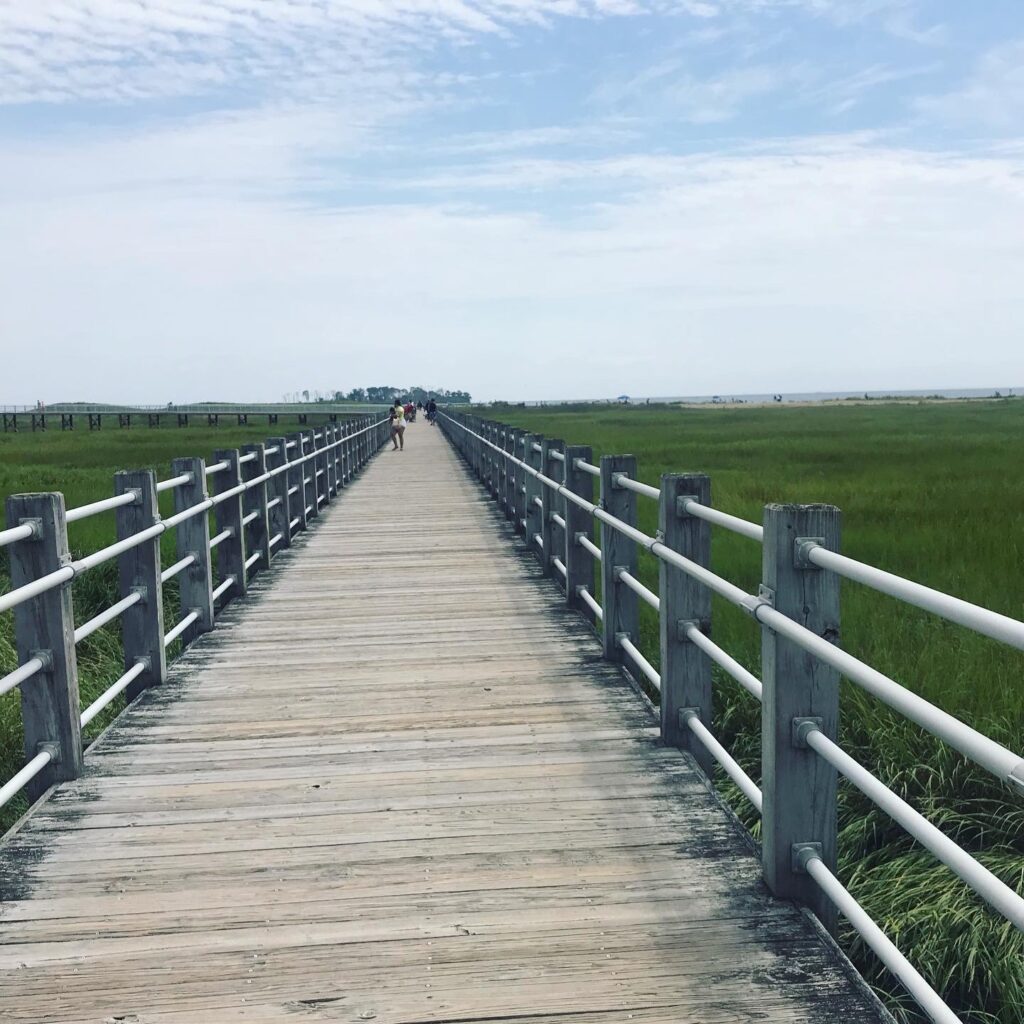 Hyatt Place Milford – New Haven or Hyatt House Shelton are both 5,000 points per night and offer free breakfast and parking. Hyatt House Shelton comes with kitchenettes.
Check out these 7 things to do in New Haven in Winter .
Outside of winter Simbury, CT is a great place for a day trip from New Haven or from where ever your traveling from. You can Kayak, Bike ride or stroll through a wonderful park area or head over to the flower bridge when it's in season. Combine this with a trip to Silver Sands State Park for a great weekend getaway from New York.
8. Niagara Falls/Buffalo/ Rochester, NY: Year Round Vacation with Hyatt Points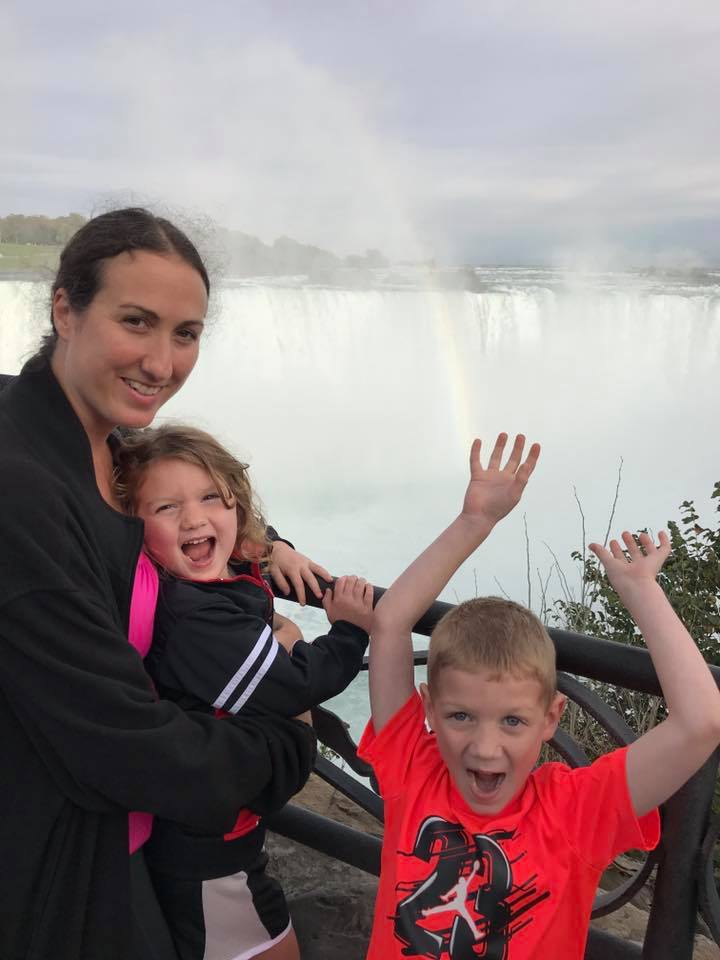 Hyatt Place Niagara Falls is a Category 3 hotel. Rates start as low as $79 or 12,000 points per night. I recommend checking the price of this hotel before booking. If the rates are low enough it may be a better value to book a cash stay.
Hyatt Place Buffalo/Amherst and is a Category 2 hotel with free stays starting at 8,000 points per night. Its under 20 miles away from Niagara Falls.
Niagara Falls Activities
When the boarder is open the Canadian Side of Niagara Falls has the best views, however there is still plenty to enjoy on the US side.
Maid of the Mist
Cave of the Winds
The Strong Museum in Rochester (on the way to or From Niagara Falls)
9. Philadelphia, PA: Year Round Getaway from New York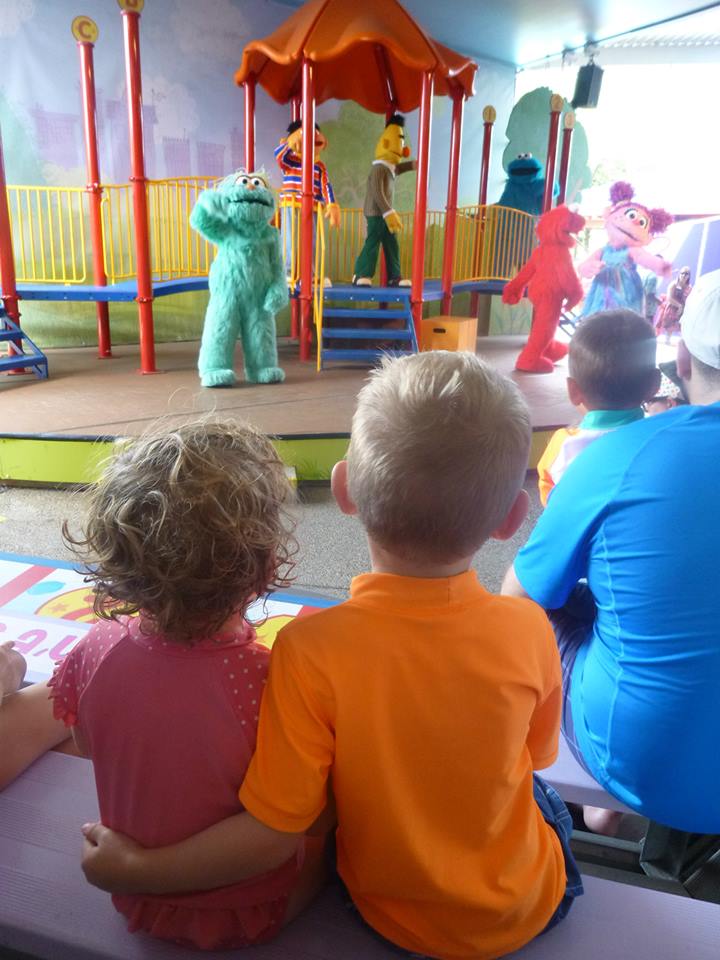 Philadelphia has a large selection of Hyatt Hotels to Choose from. Hyatt Place Philadelphia/King of Prussia and Hyatt House Philadelphia/King of Prussia are both 8,000 points for a free night. The Hyatt House Mt. Laurel , The Hyatt Place Mt. Laurel, and Hyatt House Philadelphia/Plymouth Meeting are each 5,000 points per night. The Hyatt Centric Center City Philadelphia is the most centrally located of Philadelphia Hyatts but free nights start at 20,000 points per night. However, sometimes convenience is worth the extra points.
Hyatt Houses usually offer a kitchenette which can help keep the cost of food down for a budget trip to Philadelphia. Hyatt House and Hyatt Place both typically offer breakfast and parking included with your stay.
Philadelphia Activities
Sesame Place is a fun themed amusement park
Please Touch Museum is a fantastic Children's museum
Visit Independence Hall
10. Mystic, CT Spring/ Summer Weekend Trip with Hyatt Points
Hyatt place Mystic is a Category 3 only $79 right now or 12,000 points per night. Parking and breakfast included. Hyatt Place Mystic is located .6 miles from the Mystic Aquarium.
Mystic Activities
Mystics Aquarium
Mystic Seaport
Misquamicut State Beach, Westerly, RI
Mystic Pizza
11.

Boston

, MA: Year Round Getaway with Hyatt Points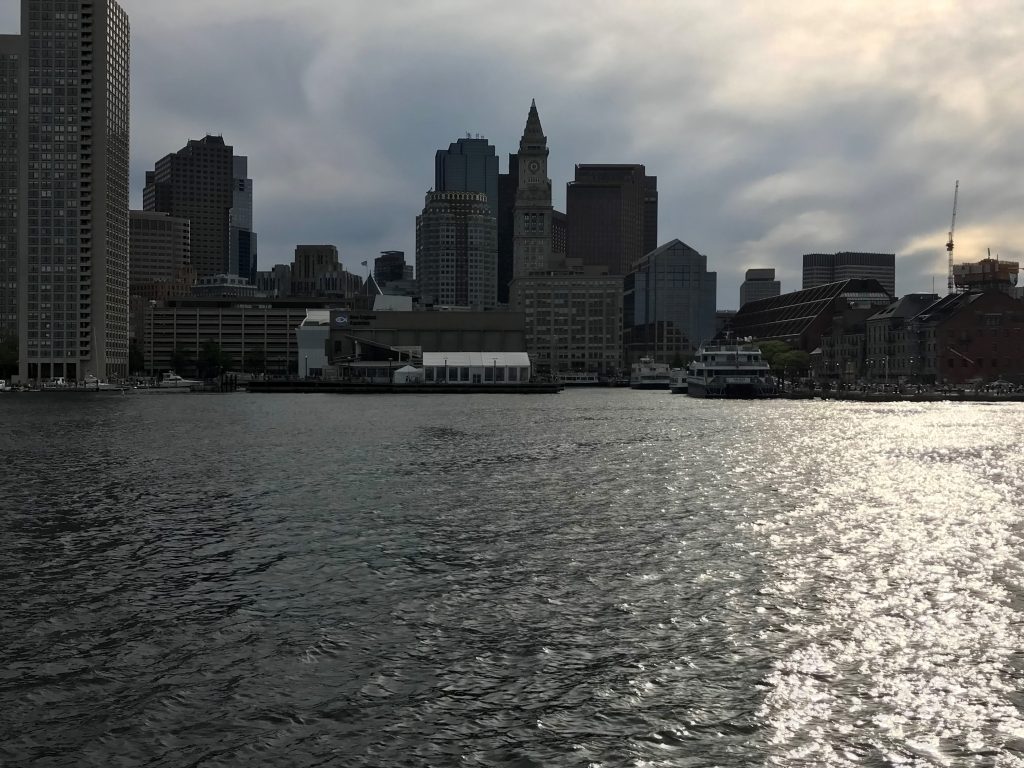 Boston Hotel on Points: Hyatt Centric Faneuil Hall
 At Hyatt Centric Faneuil Hall, is close enough for weekend New York Getaways with Hyatt Points. Free nights start at 20,000 UR point. Staff are extremely friendly and helpful at this hotel. Hyatt Centric Faneuil Hall is located steps from Faneuil Hall and walking distance to Boston Commons, the Boston Aquarium and Whale watch. The Science museum and Children's museum were around a mile away. All easy walking with sidewalks.  
Boston Activities
Boston is a great destination for a weekend trip. A 3 Day Boston Itinerary can pack in the highlights in just a long weekend.
Boston Aquarium
Enjoy the playground and pond at Boston Commons park
Head to the water on a Boston Whale Watch (seasonal)
Learn with Play at the Boston Children's Museum (an

ASTC Reciprocal Museum

)
Boston Science Museum (an

ASTC Reciprocal Museum

)
New York Getaways with Hyatt Points Summary
Whether you are looking for a low Hyatt Point stay such as Hyatt Category 1 Hotels or Hyatt Category 2 Hotels or looking for a nicer Hyatt Category 4 Hotel or one of their unbound collection hotels. There's something for anyone looking for a New York Getaway with Hyatt Points.
If you are looking for other options for New York Winter Getaways there some great options as well as the best North East Winter Hotels stay at for families. If you are looking for some great Hyatt Hotels outside New York and boarder states, check out the Best East Coast Hyatt Hotels .
Follow Affordable_Family_Travel on Instagram
Make sure to like AffordableFamilyTravel.com on Facebook to get all the latest updates. It's also where I post my Dash Deals that are time-sensitive.