The Strong Museum of Play is the best Children's museum in the northeast and a great addition to a northeast family vacation.
Strong Museum of Play Children's Museum Visitor Information
The Strong Museum of Play Children's Museum is located at One Manhattan Square Dr, Rochester, NY 14607. The hours at the time of this publication are Monday–Thursday: 10 a.m.–3 p.m, Friday & Saturday: 10 a.m.–5 p.m., and Sunday: 10 a.m.–4 p.m. Admission is $18 per person for ages 2 and up, under 2 is free. There's also a 50% discount for ACM members.
The Strong Museum of Play Review
The Strong Museum of Play Children's Museum is one of the best Children's Museums in the Country. It includes favorites such as a large grocery store, Sesame Street display as well as special exhibits.
Some of the most popular exhibits at the Strong Museum of Play Children's Museum are the Wegman's Super Kids Market, The Sesame Street, and Super Hero Exhibits.
Wegmans Super Kids Market: The favorite Display at Strong Museum of Play Children's Museum
This is probably one of the most popular stops in the Museum for children of a variety of ages. The Grocery store is rather large with an assortment of groceries to pick from. Children can shop for items and then ring up their groceries. Please make sure to then restock your groceries back on the shelves where they below so that other kids can find them. It's also a good learning game for kids to remember what items are fruits and veggies canned goods etc.
Can You Tell Me How to Get to Sesame Street?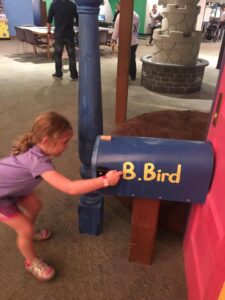 Another popular exhibit in the Strong Museum of Plan is the Sesame Street area. Kids love to play in this familiar neighborhood full of interactive components that focus on letters, numbers words, and more.
American Comic Book Heroes: The Battle of Good vs. Evil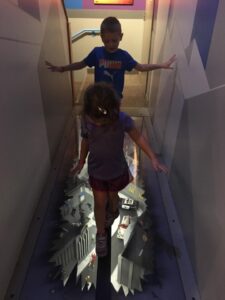 This exhibit includes Super Powers School where kids can become superheroes. They can pretend to lift a heavy option, test their super memory. Show off their balance have they traverse a beam over a city and more.
The Berenstain Bears: Down a Sunny Dirt Road
The Berenstain Bear's are wonderful stories of everyday lessons for children to learn. This display helps brings the stories to life. There's Mama Bear's Quilt Shop, Papa Bear's Woodworking Shop, Dr Bearson's Dentist office, Farmer Ben's Farm and Brother and Sister Bear's Club Houses.
Whether your a Berenstain Bear's fan or not, the Bear Family Restaurant is sure to be a hit with the kids. They can take orders, cook and serve any meal they wish.
Build, Drive, Go exhibit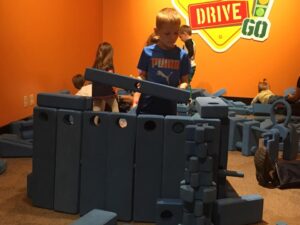 Kids love building and playing with vehicles and this is a great way for kids to use their imagination in fun building ways. There are a large traffic light and a dump truck, there are bulldozers, excavators, cranes, and other toys to move rocks. The Big Building area is fun for kids to build with large foam blocks. There's also a test track and much more.
Dancing Wings Butterfly Garden®
Dancing Wings Butterfly Garden®, the only year-round indoor butterfly garden in upstate New York. It requires a separate admission ticket purchased for an additional cost when you buy your regular museum admission ticket.
Game Time!
Walkthrough this display like you are a piece on a giant board game. Have your chance to play some of the fun games on display. The kids will enjoy testing out various games and maybe find a new favorite board game.
Pinball Playfields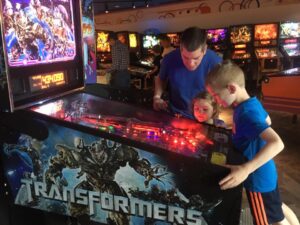 This area is full of various pinball machines. This is absolutely my husband's favorite area and the kids really enjoyed it too.
eGameRevolution arcade
If you are looking for some more gaming fun head to eGameRevolution—an original, highly interactive exhibit. Enjoy Giant Tetris and Pac-Man Battle Royale. Enter a recreated video arcade and play nearly 4 dozen games (additional fee for games). Enjoy games on the LED light floor which is the kid's favorite activity in this area.
Elaine Wilson Carousel and Strong Express Train
for only $1 per ride you can enjoy the Carousel or the Strong Express Train.
Other Long Term Displays at Strong Museum of Play Children's Museum
Field of Play
This is another Great area where kids spend a lot of time. Enjoy a  giant kaleidoscope and use pulleys to power a gigantic overhead ball machine. pretend to drive a drag racer or have fun in the exaggerated perspective room. If the kids have the energy to spare they can have fun on the rock wall.
Academy of Interactive Arts and Sciences
This is an interactive display about video games including award-winning games and some history of gaming.
America at Play exhibit artifacts
This is the history of Toys there's some great information for kids and adults here. This exhibit has the world's largest erector set.

Aquariums at Rainbow Reef
A super large fish tank with vibrant fish. The Clown Fish are often the favorites as they remind kids of Nemo.
DanceLab
A colored wall with censor, that allows kids to dance and have their motion displayed on the wall.
One History Place
Is a Display that allows kids hands-on activities reminiscent of an era of days gone by. Kids can play in the schoolhouse, play dress up in the attic, pump water, church butter, and much more.
There are so many other exhibits to enjoy including Peanuts and Play Display, Play Pals, Tetris artifacts, Toy Halls of Fame, Women in Games, Reading Adventureland, and Imagination Destination
Temporary Exhibits at The Strong National Museum of Play
The Strong Museum of Plan has rotating temporary exhibits that make it worth coming back again and again. We visited during a Ninja Turtle exhibit at a time the kids loved the Turtles. They got to meet characters and participate in an interactive exhibit doing things the Ninja Turtles do. The kids spent over an hour in this area and really enjoyed the experience.
If your Children Love Museums Check out the ASTC Museum Passport
While the Strong Museum of Play is not part of the ASTC Museum Passport Program, there are many great science and children museums that do participate making it a great value.
Follow Affordable_Family_Travel on Instagram
Make sure to like AffordableFamilyTravel.com on Facebook to get all the latest updates. It's also where I post my Dash Deals that are time-sensitive.