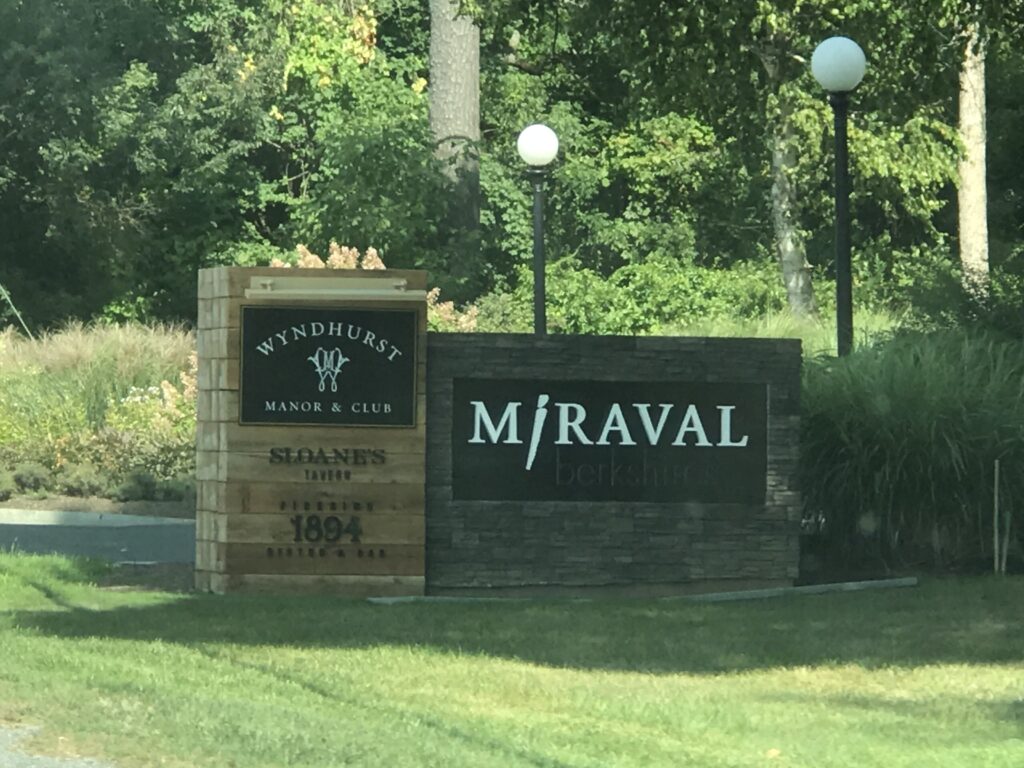 Miraval Berkshires Resort is an adult only all-inclusive luxury wellness retreat in Lenox, Massachusetts. It's perfect for a couples getaway, weekend Girls trip, or Mother-Daughter getaway. Its one of the best Berkshire Wellness Resorts. You will receive 3 gourmet healthy meals a day along with smoothies and snacks available throughout the day. There are numerous activities, many of which are complementary. There are indoor and outdoor pools and a Spa. The activities at Miraval Berkshire Resort range from hiking, paddle boarding, yoga, meditation, cooking, high ropes course, and horse and aviary experiences.
Miraval Berkshires is located only 3 hours drive from New York City and an hour from Albany, NY making it perfect for a NYC long weekend getaway.
Miraval Berkshires Resort Resort and Common Areas
The rooms are spacious. Ours had a small patio which was nice to sit out on before dinner with a glass of wine. There's a minifridge in the room with a pitcher of water inside. when you check in you are given a choice of a tote or sling bag per person. The bag has a water bottle and mini hand sanitizer inside. The common area lounges were comfortable and relaxing.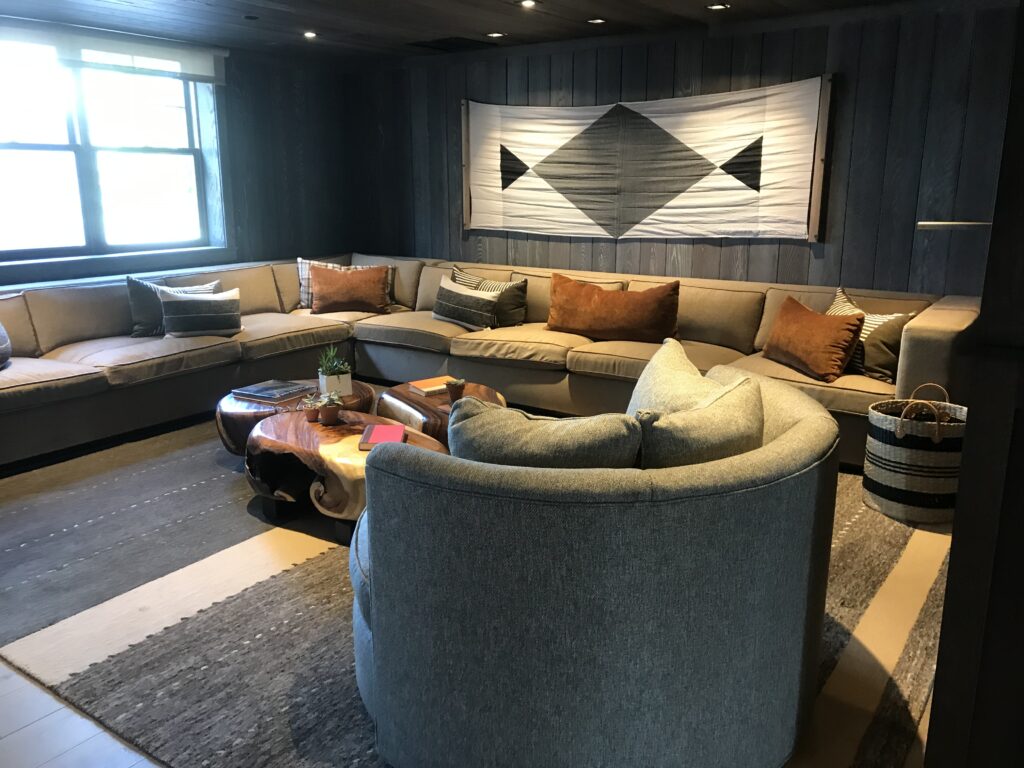 How is Miraval Berkshires Resort Affordable Family Travel?
Whether you are familiar with AffordableFamilyTravel.com or not you are probably thinking Miraval is neither "Affordable" nor a family destination and you are correct. Yet here I am writing about our experience at this wonderful resort and can be affordable and an experience for families.
It's a Family Resort or a Family Experience
We saw many mother-daughter pairs visiting the resort and a set of twin sisters, several larger groups, so Miraval Berkshires is a Family Resort just for family members 18 years and older. I can say it is a great place to bond and strength relationships as you work together to challenge yourself. For us the while not together our visit to Miraval gave our kids an opportunity to be away from us over night for the first time and that was a very important experience for them and much needed for us.
Miraval Hyatt Points for a Free Stay
Believe it or not, Miraval Berkshires Resort can be affordable. In fact, you can stay for free using Hyatt points as we did. Combined with Hyatt's Miraval Promotions such as Miraval Bogo offers we stayed at Miraval for 2 nights for 2 people for 65,000 Hyatt points. Hyatt also has a 25% back on points spent this month so our final "cost" will be 48,750 points for 2 nights all-inclusive. Two benefits of Hyatt point stays are that you do not pay taxes on Hyatt point states and we were also given $175 credit each for experiences and spa services. Our total bill was $0 at the end of our 3 days 2-night stay.
We loved our visit to Miraval Berkshires. We were excited to learn that there are affordable wellness resorts in the US and we can't wait to visit some of the ones listed.
Miraval Berkshires Resorts Tips
Reserve your experiences ASAP before your visit. Due to COVID even the complementary experiences need to be reserved in advance and can fill up.
Pick your top experiences and then schedule others around those
A guest mentioned how they didn't have a chance to reserve experiences so the ones they couldn't get into they showed up and asked if they could participate.
Earliest arrival is 11am and rooms are not guaranteed ready until 4pm but ours was ready when we arrived. Check out is 11am and you can stay and enjoy the resort until 5pm.
When you arrive you will be greeted at your car, show them the bags in your car that need to come in. You then leave your car and keys and they take care of the rest. You will check-in and enjoy the amenities. we went to lunch.
The Roost has Grab and Go sandwiches, salads, and other snacks as well as pastries and some packaged snacks. Hours are 6am to 2pm. The Sandwiches go fast, most gone by 12:30 so if you need one for the picky eater after dinner grab one shortly after 10:30 and bring it back to your room fridge.
Breakfast is 7:30-10:30, Lunch 11:30-2pm, Dinner 5:30-9pm. Dinner reservations can be made at lunch time on your first day and you can book ahead for the duration of your stay.
Wine prices are around $18-20 a glass and $65-$80 a bottle. Mixed drinks were $18-$20. non-alcoholic beverages were included
Miraval Berkshires Resort Experiences Tips
Check out the Experiences Schedule here
Review the activities available during your stay and determine which are the priority. Since activities overlap it's important to plan around the priority activities.
You should book activities with at least 30 minutes in-between especially if they are activities that require a shuttle which many do.
Activities that do not require a shuttle tend to be exercise classes, yoga mediation. Pottery classes, hatchet throwing, archery, ropes course are all across the street and require you to take a shuttle van.
Keep in mind meal times. You can always get a grab and go meals and lunch is buffet style and quick- we have eaten with only 30 minutes available.
Keep in mind the level of effort required for the activity and your own endurance. We did 2 High Ropes activities and Paddle Boarding in one day. Two of the activities were very physical and we were glad the third was easier.
Decide how many activities are enough. We were only able to fit 3 activities in a day due to the schedule starts and duration. I was a little bummed but it turns out 3 experiences were the right amount for us. It allowed us to sit down for breakfast before our first activity at 9 is and gave us a little time before Dinner and 30-60min in between activities. If you want to squeeze more plan to rise early or do a grab and go meal.
It's a good idea to end the day with meditation, Yoga or Stretching seemed to be a great way to relax and loosen up the muscles used throughout the day.
The Miraval Berkshires Resort Review
I didn't Think Miraval was for Me
Miraval's Website is a great resource for learning about what the Miraval Experience is and what they have to offer. However, it seemed a bit stuffy, hokey, and pretentious to me. I thought well we can at least laugh at the silliness. I love sharing affordable ways for families to travel and I myself love to get the best values so I definitely went into this experience thinking this is not for me. But we really needed a getaway and all-inclusive would make it an easy getaway.
Miraval Berkshires and their Staff are Wonderful
Miraval Berkshires is not pretentious or stuff at all. Hokey wellness was minimal and felt normal. The resort itself is extremely relaxing. Yoga pants and athletic wear is the norm even at mealtime. You can even wear your bathrobe, and we witnessed that one night at dinner. It has a very relaxing calm vibe; at the same time staff are energetic and friendly and all the guests we met were friendly and having a great time.
Staff are Great
The staff is down to earth and genuine. They are also very knowledgeable and passionate about their work which really enhances every experience at Miraval. Service was very good all around for us. Reading reviews this was not the case when opening and we expected the worst. Service in the dining hall was good and our food was brought promptly. We were checked on at appropriate times and drinks were refilled.
Management Cares
I strongly feel that management is paying attention to feedback and the small issues that are common with the opening of a new resort are being rectified. That is definitely the sign of a resort team that cares and who wants their guests to have a great overall experience. We definitely did.
Miraval is An Experience that Changes You
When you travel and even in everyday life there are moments that change you. They may not always be big moments they often are small things that impact you and change the way you view or prioritize something. It's one of the reasons we love to travel and feel it's such an important experience for our family. After trips, we often talk about the moments that stay with us.
Miraval resort has many great experiences and opportunities to have some of these moments. I had a few moments in our short few days at the resort and I will share those moments in the descriptions of the experiences below. Even leaving our kids at home with Grammie was one of those experiences for our kids. We didn't realize how upset and sad they would be since they are a little older but they now seem confident to let us go away again. They know they can also be more independent and we will return.
Review of Our Miraval Berkshires Experiences
Check out the Experiences Schedule here
Miraval Berkshires High Ropes: HIGH WILD WOOSEY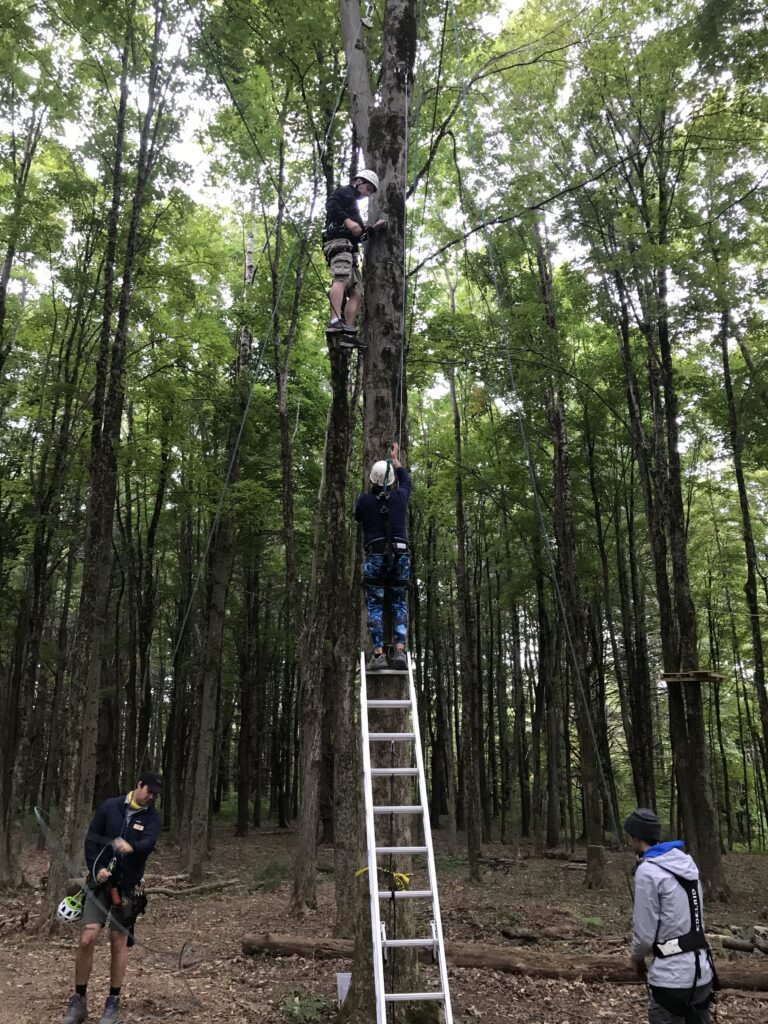 This was one of the first experiences that definitely left an impact on me. I am terrified of falling but can usually handle heights if there is a high railing or a giant window that I am looking out. I even get nervous on hikes that have steep cliffs.
So I decided to sign up for Wild Woosey which puts you and your partner up on a high rope (cable). You hold your partners hand up over your head almost like when the bride and groom run through the wedding parties' hands, while you both stand on a cable. you push your weight into each other hands with your arms locked straight, so that you support each other. As you shuffle down the cable they get further apart and you start to lean in toward each other more and more to the point that you feel you are parallel to the ground, facing down toward it. The only way to get down is to let go.
I wasn't sure that I could physically get up the tree, let alone make it as far as I did. At some point during both our tries, I closed my eyes and relied on my husband to guide me down the cable as far as we could go.
I was success beyond my expectations
I didn't defeat my fear but I didn't allow it to stop me from the experience. We actually went pretty far on the cord the first time and about the same distance the second time. I'm extremely proud of myself for accomplishing this which is the greatest feeling. After all, the Miraval experience is about you and what you want to take away from the experience. Challenging yourself whatever that challenge maybe gives you the confidence you need to face new challenges.
I loved this activity and would recommend it along with the any other similar activities.
Miraval Berkshires STAND UP PADDLE BOARDING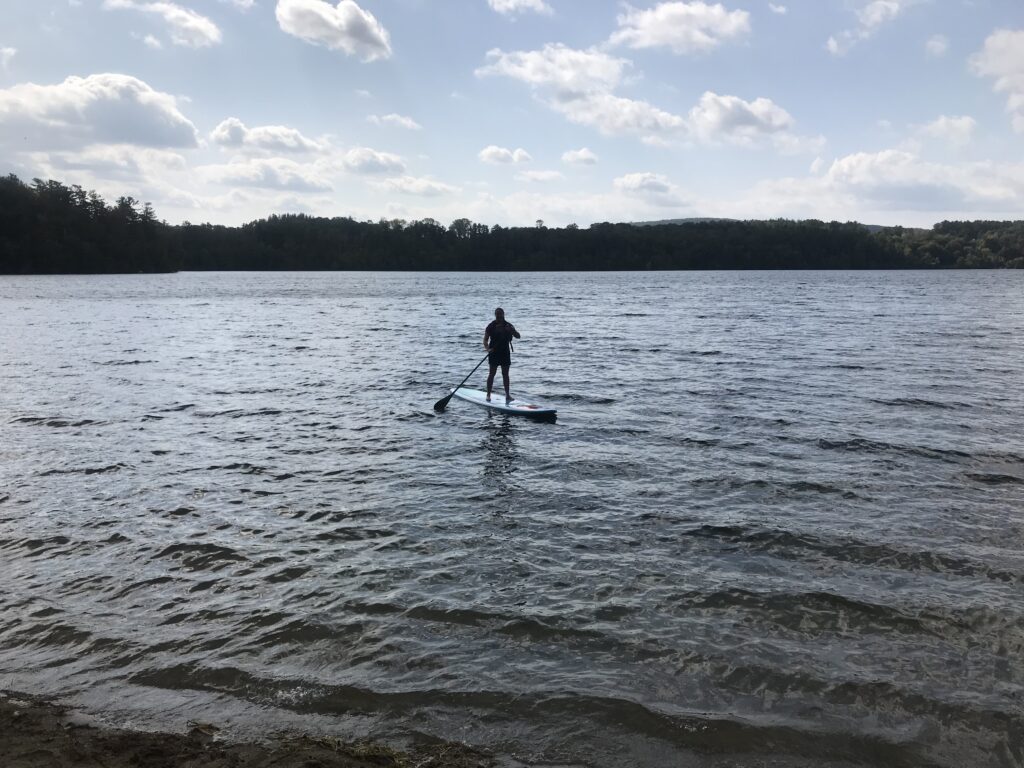 We signed up for beginners paddle boarding. After a short shuttle ride to a small lake, we were given paddles and life vests. The Instructor explained how to paddle and adjust your paddle, how to stand up on your board or kneel while paddling. We were then ready to head out on the water. Everyone seemed to do very well.
The small lake can get a little choppy so take advantage of the calm times to stand up and paddle. When it got choppy I was much more comfortable sitting and paddling. It was our first experience and it was much easier than I expected, not only in the balancing but moving the board forward with paddles also. Though it was much easier for me to turn sitting down, it was a good first experience. You are on the water for a good hour or so but you can always sit and rest on your board if you get tired.
Whether your are a beginning or experienced this is a great experience and a chance to get on the water. A similar experience would be the beginner kayaking experience.
Miraval Berkshires High Ropes: FLYING SQUIRREL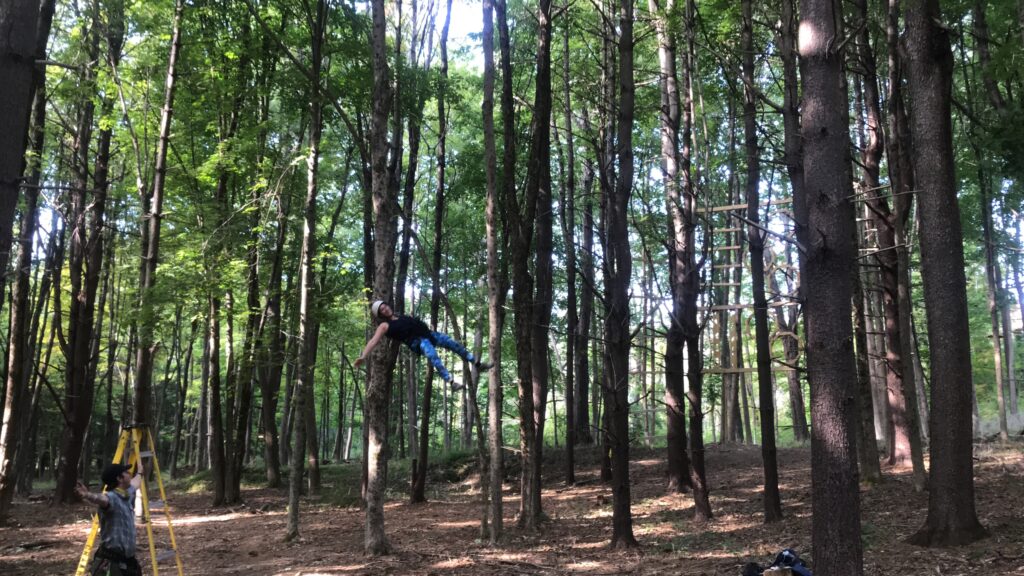 After accomplishing the Wild Woosey, the Flying Squirrel wasn't too scary. You are attached to a cord then towed up and released. You swing back and forth and sometimes spin.
If you put your arms out and lean back after you are released, you tend not to spin but if you are scared and tuck yourself close holding on to the cord you tend to spin a lot. While I didn't spin the most, I spun enough to feel dizzy and a little nauseous. Mike on the other hand loved the experience he leaned back arms out and just flew through the air. He also lifted his feet up and head back almost upside down while swinging and laughing like a child.
While this didn't have a big challenge component to it, I think it had an impact on my husband. He often will say with some activities that was a lot of fun, I felt like I was on vacation.
Some times you need a little exhilaration to help you let go of work and life stress. This is a great experience to do that.
Miraval Berkshires Resort HIKES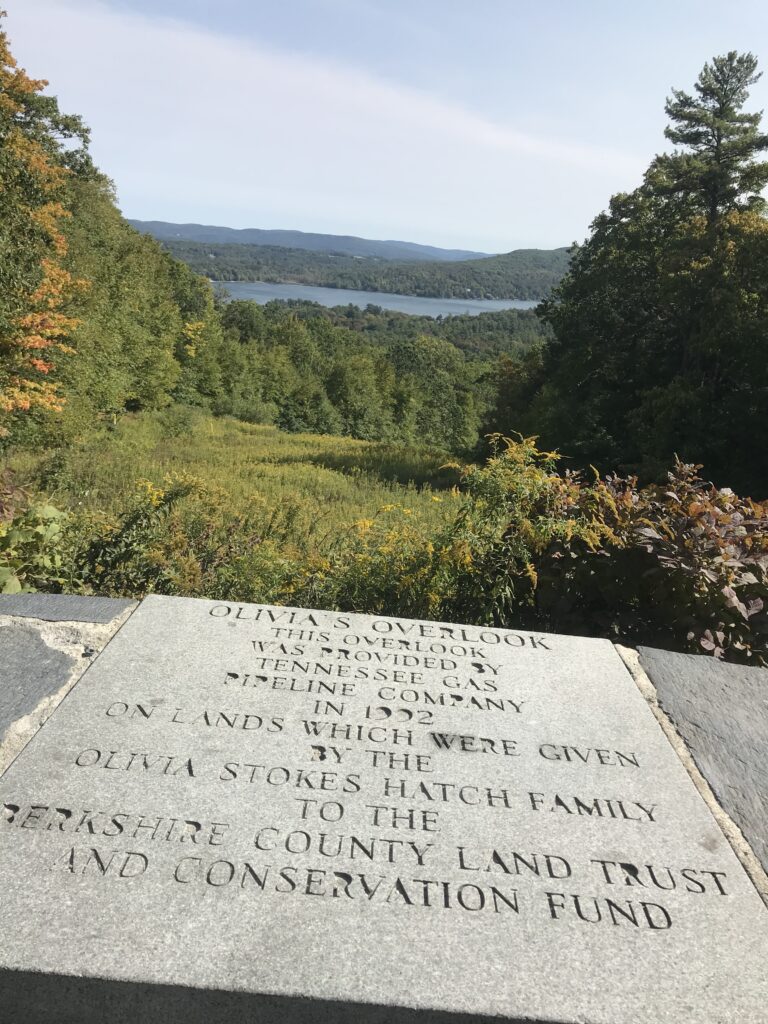 There were several opportunities to go for a hike during our stay but some were early morning. Olivia's Look Out Hike fit our schedule on the first day so that was the hike we chose. The guide said it's about 2.5 to 3-mile hike through the posted map showed the trail at 1.6 miles, it felt like 2.5 -3 miles. It's up and down a fair steep hill at times it was a hike our kids would likely not be able to do. Though we saw several elderly couples heading out on the trail. It was nice to enjoy the sounds of nature without complaining kids and to challenge ourselves on a level we haven't done in a while. There' were several scenic lookouts.
If you are from an urban area and do not get to hike often these guided hikes are great. If you are a hiker I would recommend scheduling other activities and if you want to hike going on your own using the hike its app to find local area hiking trails.
Miraval Berkshires Fitness Class: HEALTHY HIPS
Healthy Hips was a class that started out using a roller to roll out some of the ligaments around your hips and gluts. We then exercised the muscles and lastly stretched them. For someone who doesn't regularly exercise this class was fantastic. I have tight hips and often a sore back and this class loosened up my hips and took the pressure off my back. The instructor explained everything really well and we left with the knowledge of simple stretches we can do to improve our flexibility and reduce my back pain.
I loved this class because it really targeted an area that needed help. I definitely recommend classes like this that help you stretch and relieve certain areas that have been worked hard during the day. You also get to take home what you learn and continue to utilize it whenever you want.
Miraval Berkshires Wildlife Experience: AVIAN ADAPTATIONS- A LESSON IN RESILIENCE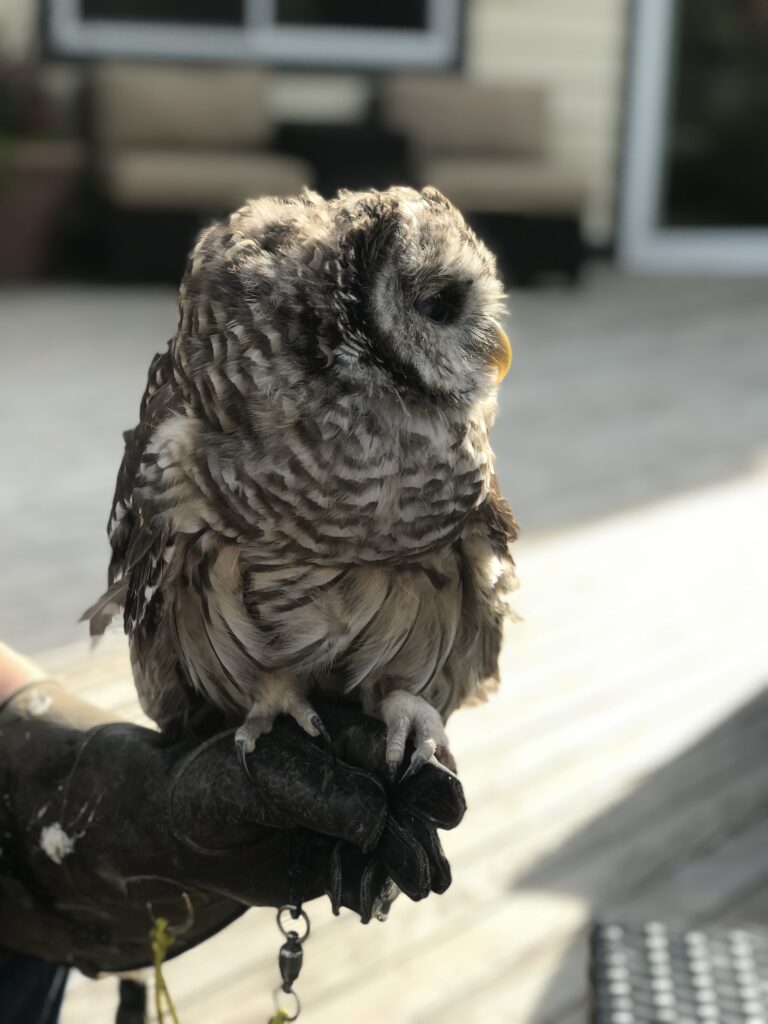 Avian Adaptations is a semi-private paid experience. Normally $120 per person our planner misquoted us $90 per person and honored that rate. We had $175 resort credit included with our stay which covered this and one other experience.
Animals are forced to be Resilient or Die
This was one of those experiences that we definitely left changed. I had never really viewed rescued animals in the proper way and always felt bad they were some how injured to the point they could not return to the wild. These animals that have been through a life-changing experience but they do not act like victims, they still demand the same respect as their wild counterparts. In these cases, loss of eye sight prevented them from properly hunting. This life-changing experience may have changed the path they were on but their resilience allowed them to survive and adapt. They may not be a hunter and reproducer in a wild but they still live a good meaningful life and are now educators.
We need to be more Resilient
We all face adversity in some form or another during our life and resilience is an important skill to overcome that adversity. The more pride we take in our own success and resilience the more control and deliberate our actions and decisions in life become. We no longer become a victim but instead become our own driving force.
The Birds are Adorable and Fun to Watch
The experience itself was a lot of fun. Our favorite was Oracle the owl, who had been found as a juvenile and with no adult to teach him to hunt, he would have starved. Oracle was a typical juvenile with lots of energy and I was extremely surprised at how much energy and movement he had during that day as most owls we have seen are asleep or barely move their head.
He would look around spin his head around move it sides to side as if he was doing a shoulder roll but with his neck only. Oracle is just so adorable. This up-close experience really gave us a chance to see an Owl and Oracles personality really shined. We also met a couple of red-tailed hawks and another owl. We were able to watch a red tail hawk be fed a couple of mice and see hawk pellets.
If you love wildlife this is a great experience.
Miraval Berkshires Cooking Class: KNIFE SKILLS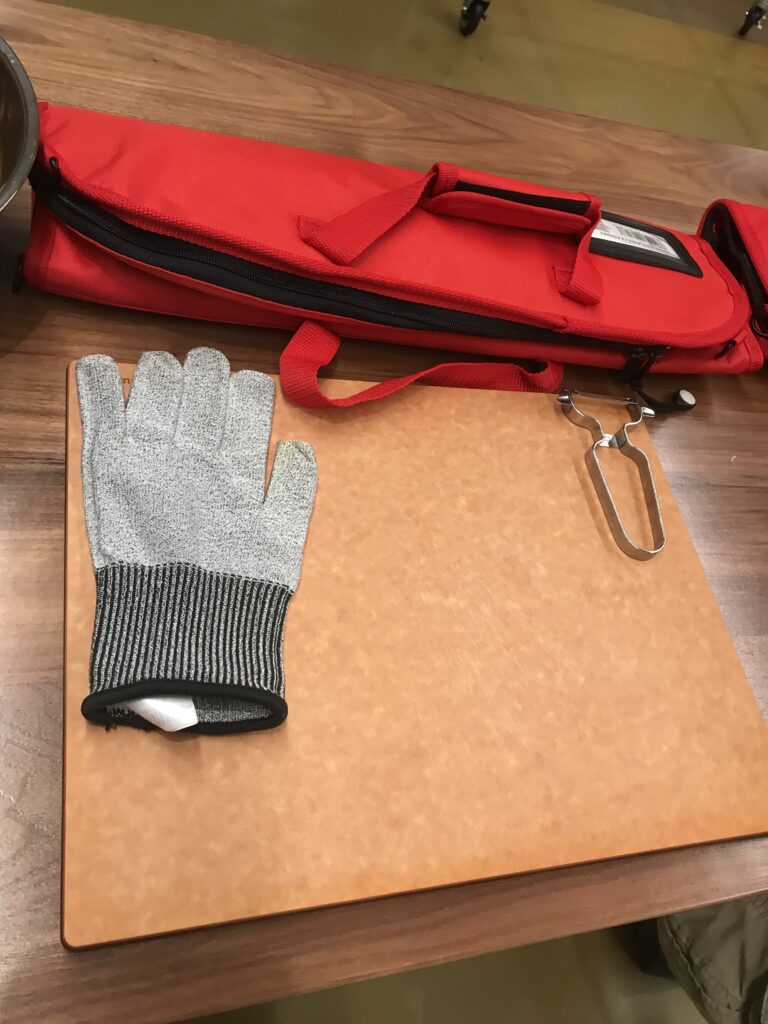 This is the second paid experience we attended at Miraval Berkshires. The cost was $90 a person and was covered by the $175 credit we received with our Hyatt points stay. We were also given very nice apron to take home.
This is always something I have wanted to learn. I understand various ways to slice veggies but I really didn't know the proper motion of a knife, how to sharpen a knife, and also I a little fearful of a sharp knife. This class gave Mike and I more confidence when using a knife, better technique and I have already used my new skills since returning home from our trip.
If you are looking to gain knife skills in the kitchen, this is a the perfect class.
Miraval Berkshires Wildlife: MEADOWVIEW FARM & BARN TOUR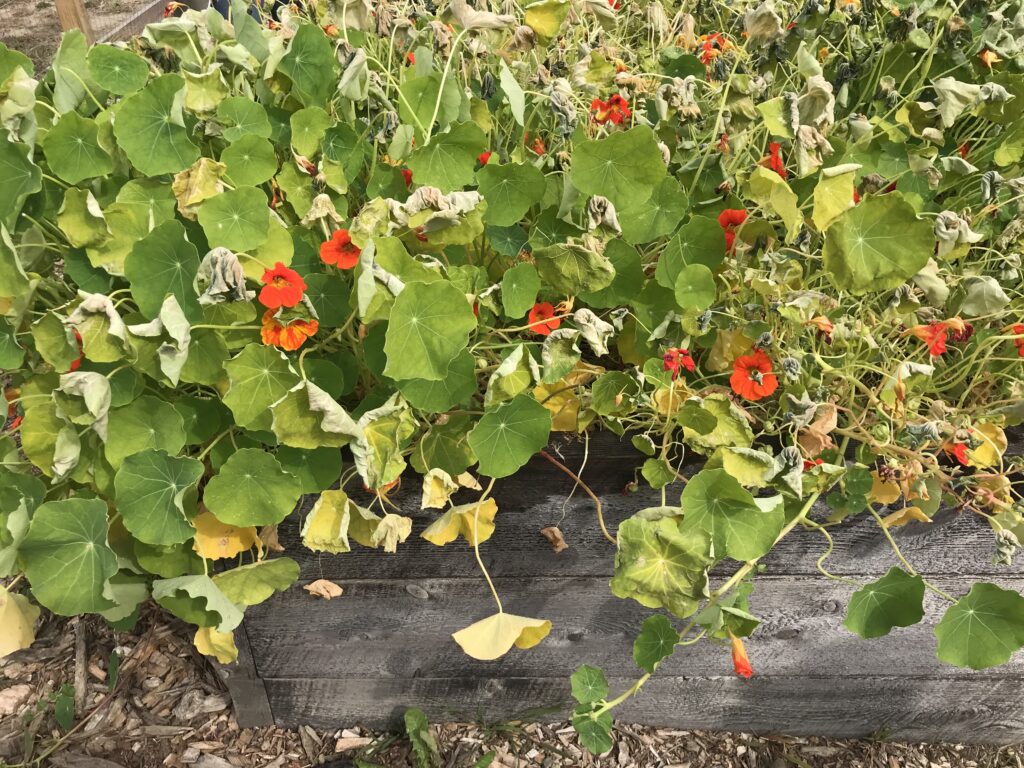 This was our least favorite experience but most likely because Mike grew up on a farm and we live in an area with much of what is shown is common. For those who are from an urban area, you get a chance to see the gardens, chickens, a red tail hawk, horses, and donkeys. The guide was very knowledgeable and others on the tour seemed very pleased with it.
Miraval Berkshires Resort Food
The food at Miraval Berkshires is really great. The focus is on local products as well as healthy options. portions are much smaller than what you will find at the average restaurant but I never left a meal hungry as there's plenty of options. I loved that most of what I had was full of flavor and diverse ones at that.
Breakfast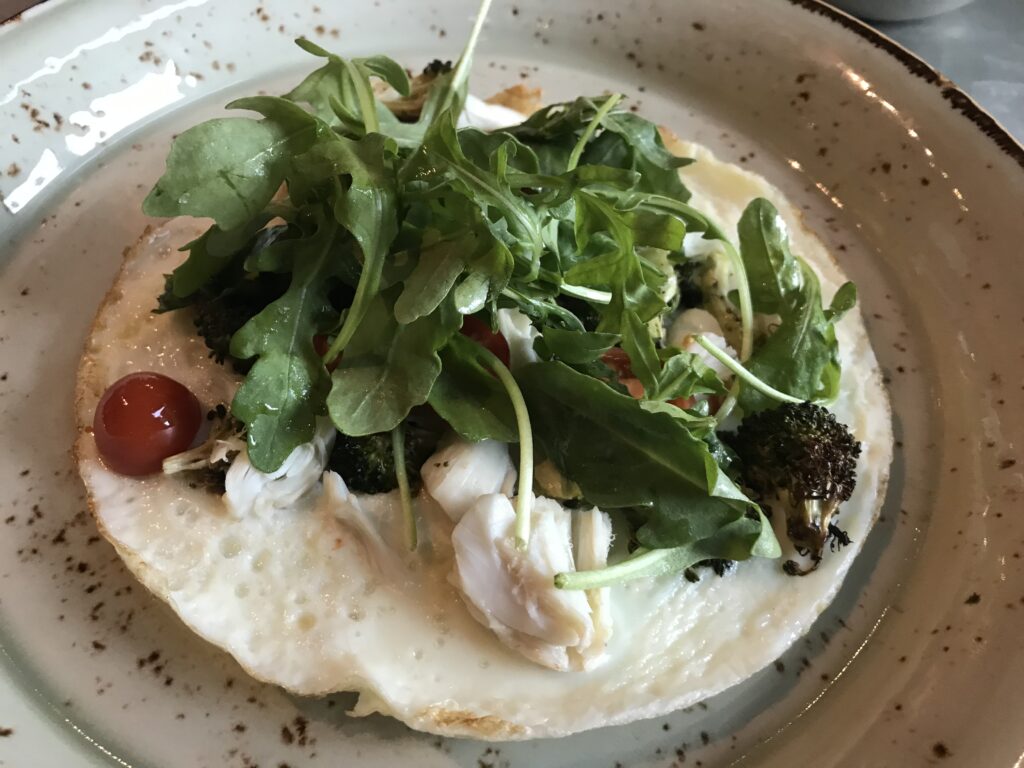 The breakfast menu changed the 2 days we were there. The first-morning menu was the original I had been sent and had a lot of options including a variety of egg dishes. I chose the Crab Frittata and Avocado toast. Mike ordered eggs with bacon and sweet potato fries and the berries with yogurt and granola. Mike likes his scrambled eggs very dry and it's almost impossible to get a restaurant to understand let alone serve them the way he likes them. but Miraval Berkshires cooked them exactly how he likes them. The second day the breakfast was a bit more limited but with the addition of specialty waffles and pancakes. Mike got the pancakes, I ordered the avocado toast again and we both ordered the berries because they are not only beautiful they are delicious.
Lunch
Lunch is buffet style with a few vegetarian options as specials. There is also a menu with a few a la carte items as well. The buffet works extremely well for lunch because everyone is busy with activities and its great to pop in for a quick lunch. You can be finished in under 30 minutes if you need to be.
There was a hot foods buffet and a salad bar. The hot foods buffet offered a chicken , fish, vegetable and grain/potato dish each day. The food was very good and full of flavor compared to typical buffet food. Staff were trained to plate the food properly so you get any accompanying veggies and sauce along with the dish. 2 of the 3 days the chicken was the better dish; the black berry BBQ sauce being the best and day three the Asian fish was better as the chicken was fairly plain on Asian day. I usually tried both chicken, fish and veggie, one of the salads on the salad bar and a pasta dish or soup- did I tell you I can eat? The portions are small and dinner is more limited. So with a busy active day I had no guilt and recommend you fill up. There were a few items I didn't enjoy but most I though were great.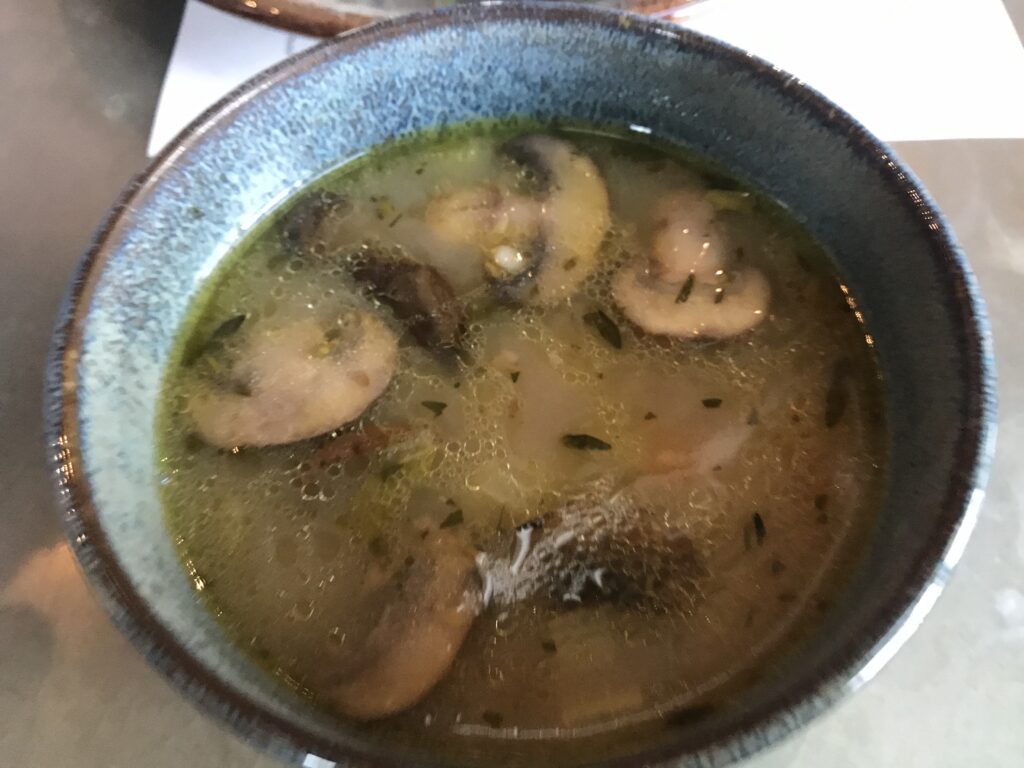 Dinner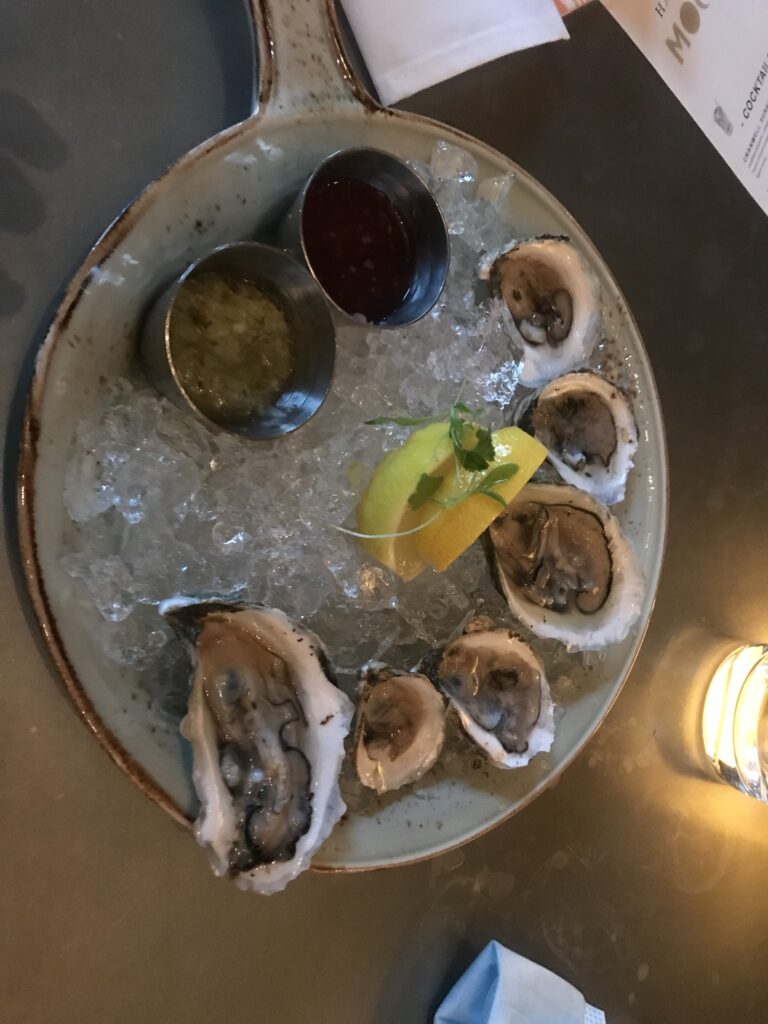 Dinner was a la carte. The menu was the same both evenings, although there was a special each night. The first night I ordered oysters, tomato (and burrata) salad, and I had the salmon and Mike got the quail special and a Caesar salad. I also ordered the soup special. I forget what it was but I didn't love it. Oysters, shashito peppers and tomato salad were great and the salmon was good. the quail while rather small portion was fantastic. definitely the best dish. Unfortunately it was all Mike had along with the Caesar salad that he didn't enjoy too much.
We also had dessert but lesson learned, the next day Mike grabbed a sandwich from the grab and go after breakfast to keep in our fridge for an after dinner snack. The second night we both ordered the filet. it was very good but again only about 3oz. I ordered the white fish appetizer, zucchini soup and the tomato salad. along with the 3oz steak I had a great meal. Mike was thankful he had a sandwich waiting for him.
The Roost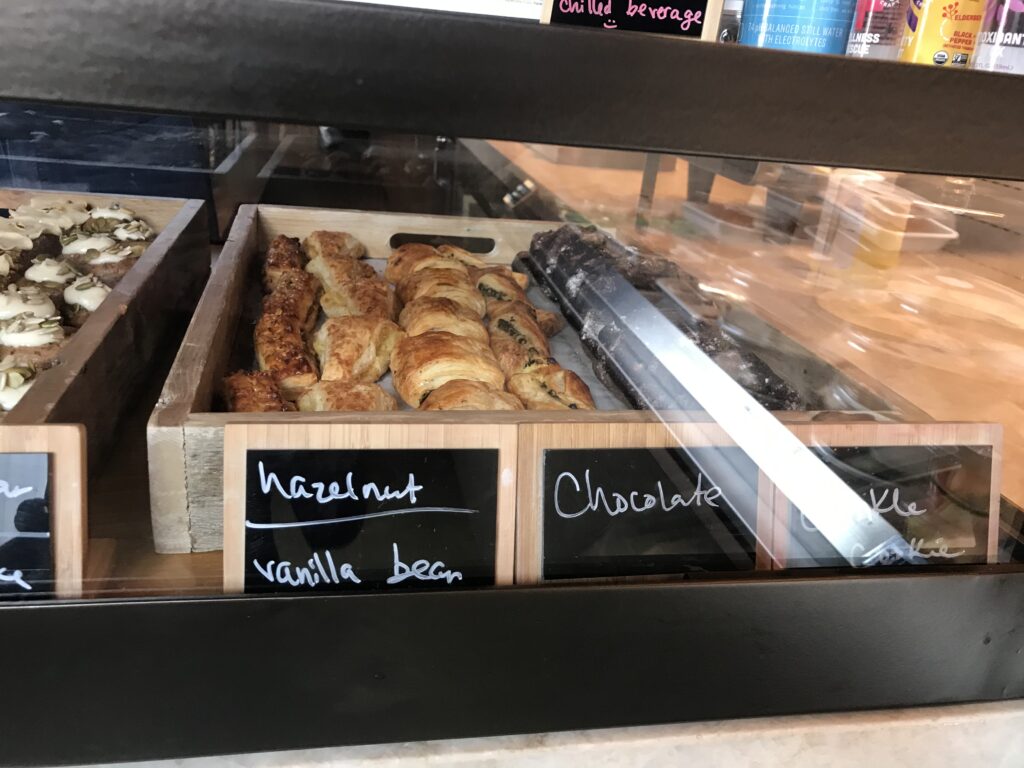 The Roost offers smoothies, pastries, and Grab and Go. The pastries are delicious and they have a large variety of sweet and savory options that change for breakfast and lunch. There are also some repacked snacks that are great for taking on a hike or a longer activity.
Miraval Berkshires Resort Smoothies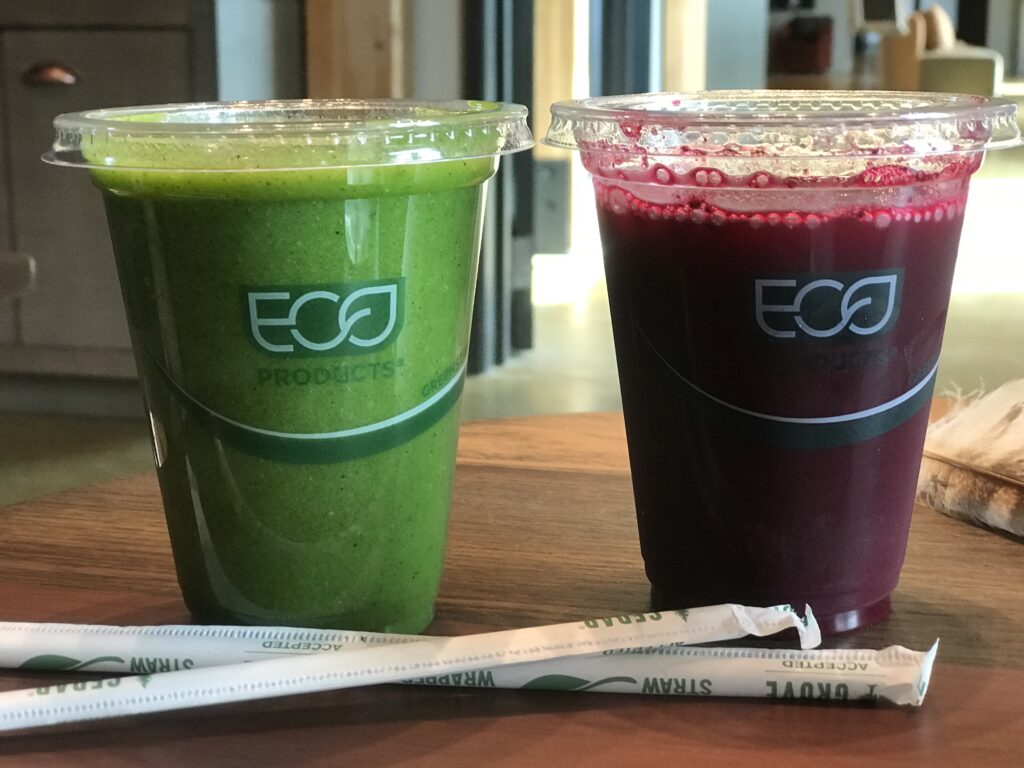 There's a smoothies bar that turns into a real bar in the evening. There are several different smooth options and it's fun to try a variety.
Grab and Go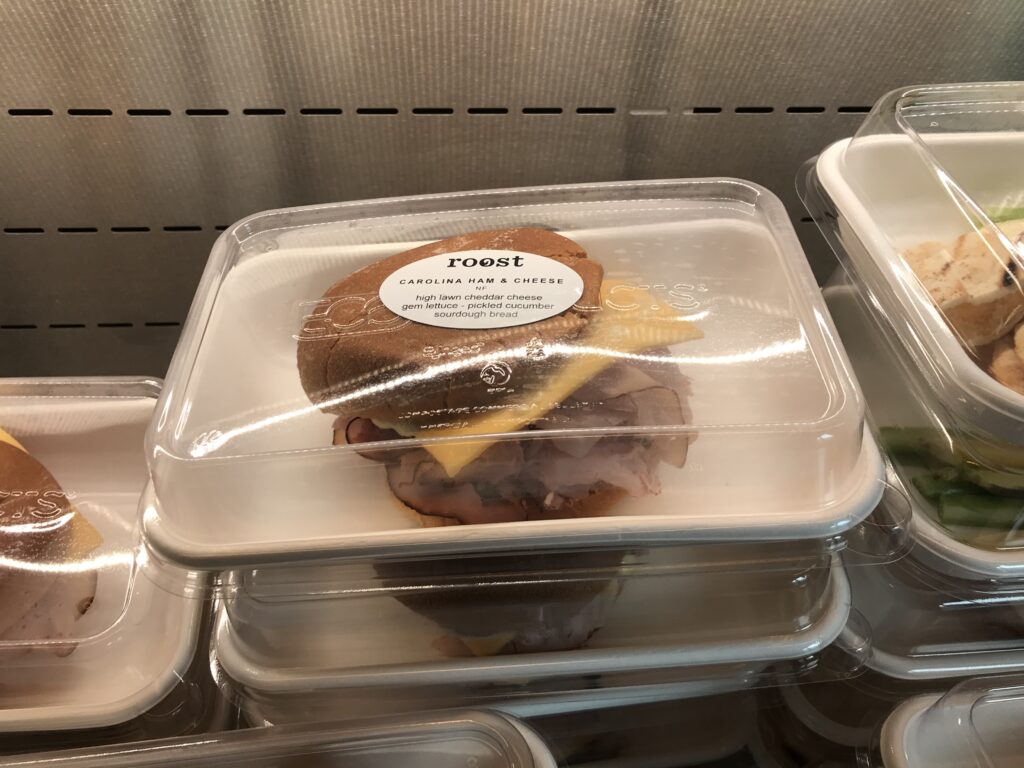 Grab and go had sandwiches (breakfast and lunch options), salads after 10:30, and snacks that included hummus, avocado toast, parfait, and more. We noticed a little after 10:30 they would switch over from breakfast to Lunch. Usually, by 12/12:30 the sandwiches with meat were gone and by 1/1:30 there may be a lonely falafel sandwich remaining.
Our Overall Experience at Miraval Berkshires Resort
I absolutely loved Miraval Berkshires Resort and hope to make the visit an annual tradition for Mike and me. We would go more often if we could afford to. We didn't have a chance to visit the spa or attend a yoga experience. I would love to do more Challenge activities and attend more activities similar to the Healthy Hips. I look forward to some cooking classes as well. Their winter activities seem fun as well with things like snowshoeing and cross country skiing. There will be more time for art experiences like pottery.
What I loved: I didn't have to cook and ate 3 amazing meals a day. The type of food I rarely get to eat out as my family is pretty boring eaters. We enjoyed wellness activities that change and improve us even in the smallest of ways. Mike and I ate healthily, participated in healthy activities, and left motivated to continue some of that experience at home. We had quality time together and bonded over experiences that challenged us to communicate and work together to succeed. We also enjoyed sharing what we learned with our children when we got home.
After 6 months of working from home and the kids being home, Miraval Berkshires Resort was exactly what Mike and I needed to refresh.
If you would love to stay here but the price is out of your range, check out how you can stay for free.
Other North East Travel and Activity Ideas
Follow Affordable_Family_Travel on Instagram
Make sure to like AffordableFamilyTravel.com on Facebook to get all the latest updates. It's also where I post my Dash Deals that are time-sensitive.