Affordable Family Travel: Tips for a Budget Family Vacation are ideas that can help you save on vacation or afford more vacations. Family Travel Hacking is the biggest way we save on travel because it covers most of our hotel and flights for every vacation. There are many other ways to save for a cheap family vacation or make have an affordable family vacation. Some of these ideas may not be for everyone but there's plenty of ideas to help you save every time you Travel.
How to Save on Accommodations for Families on a budget family vacation
Family Travel Hacking to earn points for free hotel stays
AirBNB, VRBO, House Rentals
Camping
Hotel.com stay 10 nights get 1 free
Utilizing search tools like TripAdvisor.com to compare hotel prices
Traveling off season or during shoulder season
Keeping an eye out for sales and specials
Housing Swaps
Travel Hacking is utilizing Credit Cards to earn points and miles for free travel. By earning multiple sign on bonuses you can earn points fast and often earn enough points for several free vacations in a year. Family Travel Hacking is the idea that Families are different then solo or single travelers. Families may need to go slower as they have many other things taking away their focus and time. Families definitely Travel differently as they have limitations such as hotel room size and limitations on flexibility. Family Travel Hacking is pretty easy once you understand the general concepts and the best part is you can go at your own pace.
Thanks to Family Travel Hacking we travel an average of 60 nights a year much of which is free accommodations covered with points. Learn more about Family Travel Hacking then join the AffordableFamilyTravel.com Crew on Facebook, and we can discuss how to help you reach your dream travel goals whether its with points or any of these cost saving options.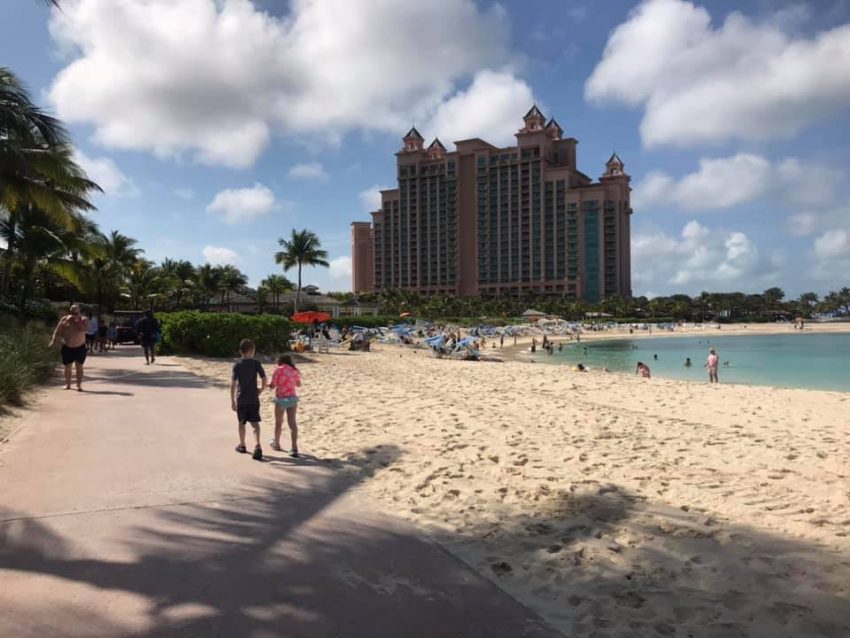 Utilizing AirBnB ,VRBO and House/Apartment Rentals
Some of the most affordable family vacation is being able to rent an apartment or a House, in a location where there is plenty of free entertainment and where you can eat at "home" vs out. There's many ways to enjoy a house rental with out feeling like you are slaving on food every day which I will discuss a little further down.
The benefits of having a house or apartment rental can be more space for larger families. Also not having to book multiple rooms or a suite at a hotel which can be very pricey. Having access to a kitchen to make or heat meals. More space and comfort for when weather is not great. With Large families its a great way to have everyone together.
Camping
Camping is a lot of fun especially for children. It can be a lot of work for the adults but there's ways to make it easier. We do not camp often because thanks to Family Travel Hacking we often stay at hotels for free. However, its a real treat for our kids. Even before kids my husband and I would often camp to save money. It was kina romantic being in a cozy tent in the evenings. Campsites often have plenty of entertainment so the low fee not only includes a place to set up tent but entertainment. You also save by cooking your own food.
Some tips to make camping easy including, having an easy set up tent and cots vs inflatable mattresses, premaking meals a head of time that just need to be heated, choosing an ideal location and setting up camp for a week or longer, or reserving affordable cabins so you don't have to set up anything.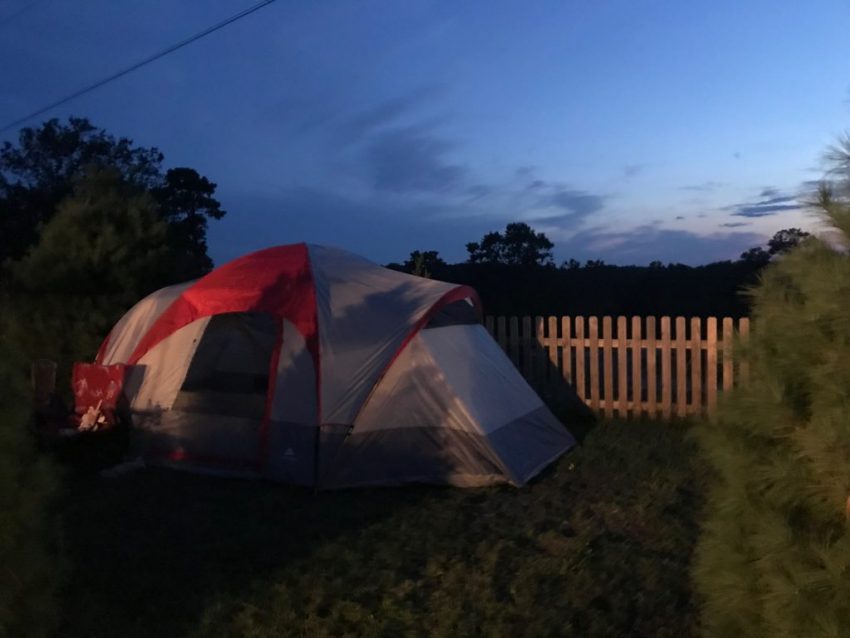 Traveling off Season or Finding Deals/Sales
Hotel rates can significantly change on the off season and even shoulder seasons. We have saved over $100 a night on the shoulder seasons in Cape Cod by traveling the last weekend in June. Sometimes school vacation weeks coincide with offseason times. For example found some great deals Easter week on the Amalfi Coast which is a shoulder season and Myrtle Beach during spring break.
Using an on-line site that compares prices such as Trip Advisor can help you find a cheaper hotel that is still comfortable and clean and for the best price. Hotels will also offer specials during slow times or even Black Friday deals that have a wide range of travel dates. AffordableFamilyTravel.com on Instagram and Facebook shared travel deals as they come out so follow us there so you can be informed of great travel deals.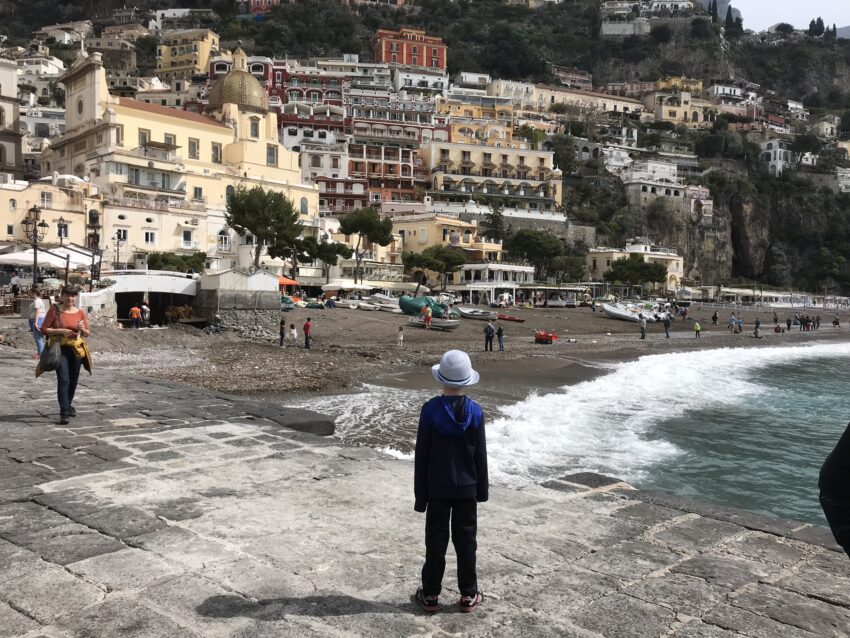 How to Save on Flights and Transportation
Travel Hacking to earn Points and Miles for Free Flights
Southwest Companion Pass
Discount Airlines & Frontiers Go Wild All You Can Fly
Traveling off Season, Finding Flight Deals
Family Travel Hacking to Earn Points and Miles for Free Flights
As explained above, Family Travel Hacking helps you earn points and miles fast. These points and miles can be used to cover your flights. Often there is a minimal fees not covered by points. If booking through the Chase Ultimate Reward Portal your points can cover taxes and fees as well so there is zero out of pocket. For our first big Travel Hacked Vacation we were able to book 4 flights from NYC to Tokyo, then to Hong Kong and back to NYC with points.
Family Travel Hacking is the best way to save on flights especially during peak travel season when prices are very expensive. Often airlines have fixed rates for travel so even at the most expensive times the prices are fairly similar. However, award space fills up so if traveling during peak times you will want to book flights with points as soon as the flights are released sometimes more than a year in advance.
Southwest Companion Pass
Southwest Companion Pass is an amazing opportunity for Families by allowing a companion to fly for free everything the person who earned the pass flies. The best part is that you can use points for your own flight and still add the companion on for free essentially getting both flights free. If 2 adults have companion pass then you can use points for their flights and add a companion to each and have 4 fly free. Points can be used to book anyone's flights so even if you have 3 or 4 kids you can use your points to cover their flights too.
Companion pass can be earned by taking a large number of flights or by earning certain amount of Rapid Reward Points which you can earn through flights, their shopping portal as well as through credit card sign on bonuses. Using Travel Hacking to earn sign on bonuses from both a personal and business southwest airline credit card you can earn companion pass pretty easily.
We were able to use Southwest companion pass and points for 8 trips over a 2 year period. There ae some amazing Southwest Airlines Destinations. We have been able to pair our passes along with some wonderful resorts and resort deals to enjoy many trips for under $1500 total for our family of 4.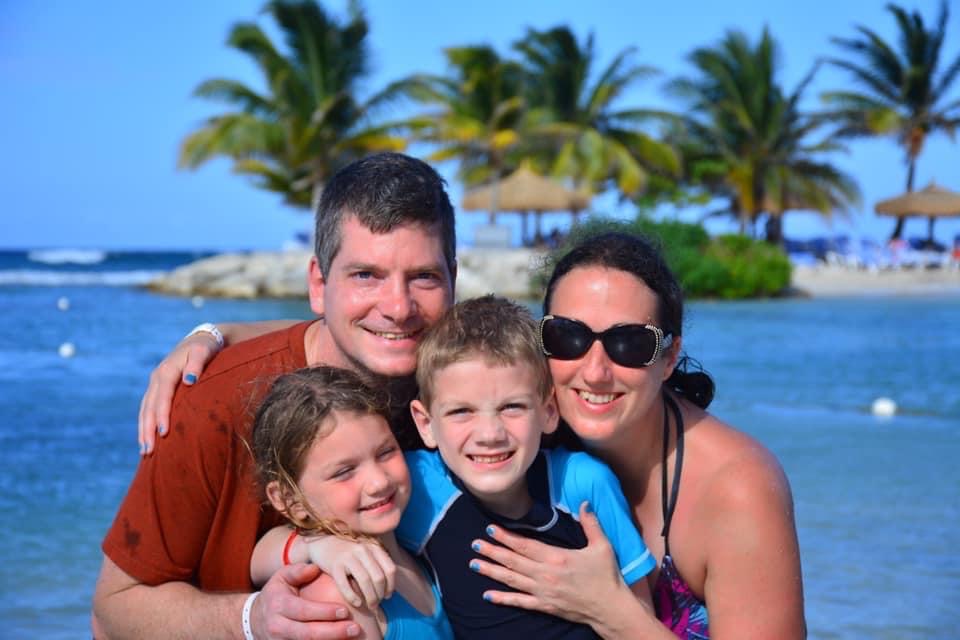 Discount Airlines & Frontiers Go Wild All You Can Fly
Discount Airlines, such as Southwest Airline, Frontier Airlines and Allegiant Airlines, can be a way to save money but make sure you understand what's included and what isn't. In some cases a carry on bag can cost a fortune but if you check one large suitcase instead for your family and only have personal items on the plane the cost can be more reasonable. There's also discount international airlines that often are great prices and don't nickel and dime you as much as the American versions.
Frontier Go Wild is an all you can fly pass. Around Thanksgiving they offer a sale that is as low as $700 per person for unlimited flights for an entire year. You just have to pay fees for each flight. You also have to be willing to accept the hurdles that come with traveling on Frontier.
Traveling off Season, Finding Flight Deals
Traveling off season can help you save on flights. There are many tricks to finding great deals on flights sometimes booking far in advance when flights are released and sometimes booking last minute. The one consistent thing is that busy times are not going to be cheap. Flexibility is the key to saving on flights.
You can utilize websites to help you find heap flights. Scott's Cheap Flights allows you to set up alerts for flight deals. Airfare Watchdog allows you to set up specific flight alerts. My biggest tip if you are unable to be super flexibly, is to determine what is a good price for time time and itinerary you want and when the price hits that point buy.
How to Save on Food When Traveling
Restaurant Deals
Packing food for Travel including Eating out of your Suitcase
Utilizing Travel Hacking to enjoy food inclusive and all- inclusive vacations
Eat a Late Lunch instead of Dinner
Restaurant Deals
There are many ways to save eating out including finding restaurant deals. Restaurants offer online coupons or coupons in entertainment books, Happy Hours, and weekly specials like Blue plate lunch specials or early bird deals.
Entertainment Book
When I was younger my husband and I would purchase an entertainment book often at a discount for around $15 for a location we were traveling. We would then use the coupons to save 50% at local area restaurants that were in the book. This was a super easy way to save a significant amount of money while still enjoying location restaurants.
Happy Hour
Happy Hours are a great way to save on eating and drinking out. Our Family loves Happy Hours because we can often enjoy a variety of food like Tapas. For Example, While in Baltimore, We enjoyed McCormick & Schmick's Seafood & Steaks , which has a wonderful Happy Hour. The Fish Tacos and Burger are a full meal and there's several other options. It's easy to keep the bill around $40 for a family of 4. We enjoyed Happy Hour in Ocean City Maryland where my son was able to polish off 2 dozen steamed little neck clams for $10 and enjoyed a $5 crab dip with soft pretzels.
Weekly Specials
Taco Tuesdays, Early Bird Specials are 2 examples of weekly specials that restaurants offer. There's also blue plate specials (yes they still exist). Sometimes they are only for lunch vs Dinner.
Packing Food for Travel on a Budget Family Vacation
Packing food or hitting the grocery store is one of the best ways to save a lot on food while traveling. We usually don't county groceries in our travel budget as it usually comes from our normal grocery budget. So if we don't eat out we essentially ate for free on vacation as long as we don't go over our normal grocery budget.
Packing food can be an easy way to save because you can shop and prepare food ahead of time so there's little to no work while your away. If you have a house rental you can make and freeze full meals to be reheated as needed. If you are in a hotel room with a microwave there's plenty of microwaveable meal options. Even if you don't have a microwave there's plenty of cold meals you can prepare ahead of time.
Eating out of your suitcase is simply food that you can pack in your suitcase. This can be breakfast foods and snacks which are pretty simple or even meals made with tuna pouches, wraps and individual packaged sauces.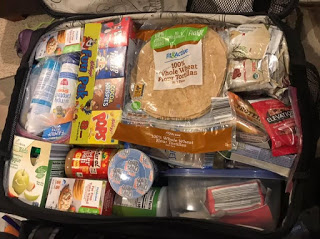 When we started Travel Hacking, we started to travel almost 10x what we used to. Since our hotel and flights were covered entertainment and food became the biggest expenses. We needed a way to afford food while staying at luxury resorts that sometimes charge a fortunate for breakfast when my kids basically ate cereal.
We visited Atlantis in the Bahamas twice in one year thanks to Travel Hacking. The food was extremely expensive so we worked to be create and bring with us food for breakfast lunch and snacks every day so we only ate Dinner out each day. It worked out really well and the savings was significant. So much so that we had no guilty splurging on an animal encounter each trip.
Travel Hacking for Free Food or All-Inclusive Vacations
Free is better right? You can utilize Travel Hacking to earn Free Food while Traveling. There's several various ways to do this.
Some Travel Credit Cards offers credits that can be applied toward food such as a Door Dash or Uber Eats credit or a hotel chain credit that can be applied to a room charge or even for charges when not staying at the hotel. I always see these credits as bonuses as we never know if we will use them and I hate stressing trying to use a credit if its not convenient. However, there was a time where American Express allowed their Hotel credit to be used at any local restaurant to help support small businesses which was a very easy credit to use and we were able to cover 2 meals on a weekend trip to Cape Cod with the credit.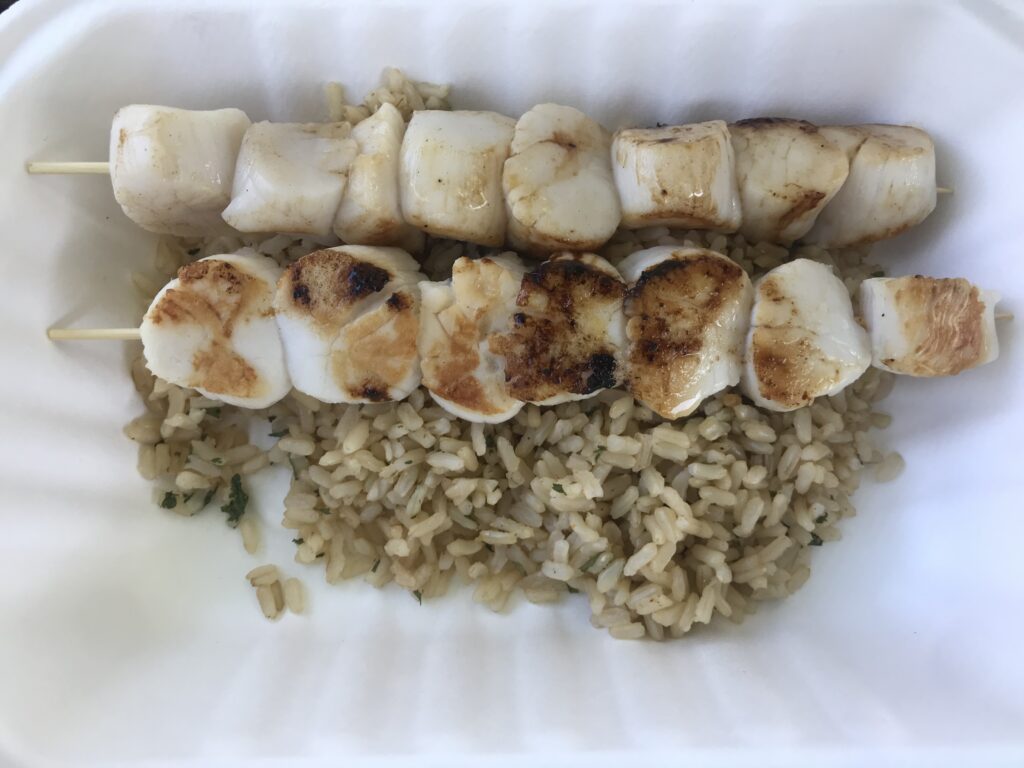 Travel Hacking can help you earn loyalty status with certain hotel brands. Some status comes directly from the credit card and other status can be earned more easily thanks to credit card benefits. Hilton has several credit cards that offer Status. This provides either a free breakfast for 2 or a resort credit. Since we usually bring pastries and cereal for breakfast, we often utilize the resort credit for lunch. The credit usually can cover 3-4 children's meals or 2 adult meals we can split for a light lunch.
At the Hilton Double Tree in Myrtle Beach, thanks to reasonable restaurant prices we were able to cover Dinner each night, so by packing breakfast and lunch our food cost were almost nothing. Hyatt Globalist is my favorite status because it either gives you a full breakfast for everyone in your party or Club Lounge Access where available. Club Lounge access usually has a hot breakfast as well as evening reception which is usually enough for a light dinner with plenty of drinks. Hyatt Regency Aruba has a club lounge that easily saved us over $120 a day and we enjoyed our light meal and drinks while watching the sunset on the patio each evening.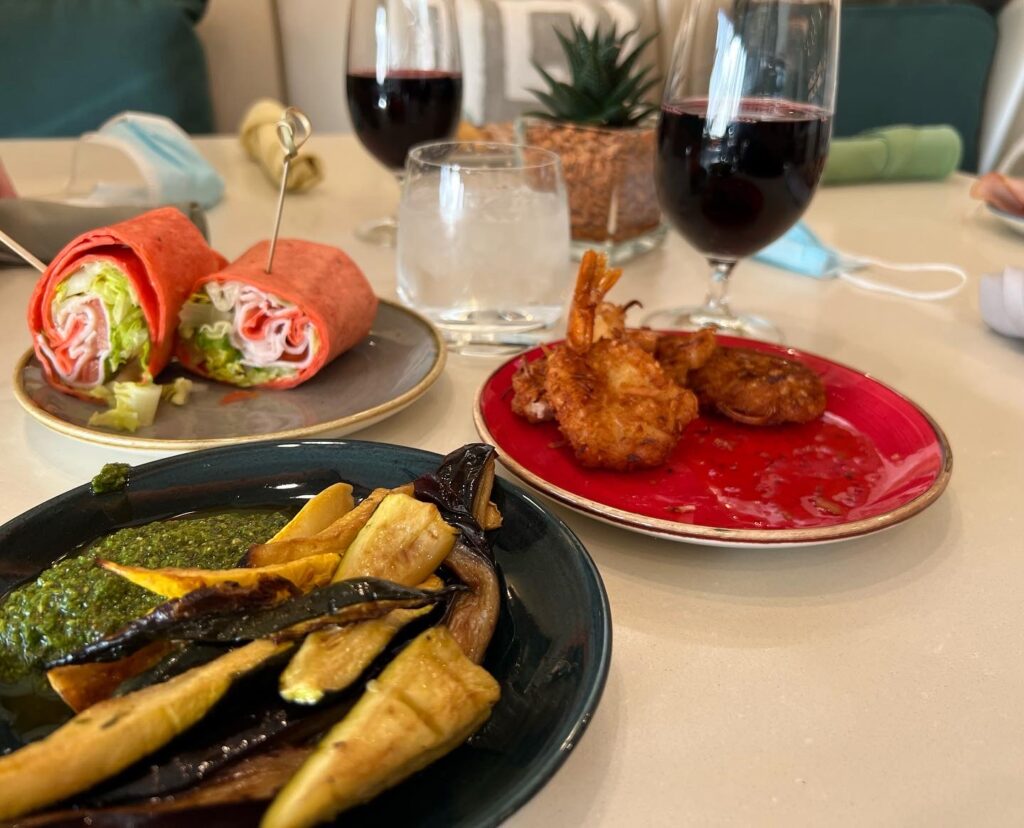 You can also use Travel Hacking to pay for all- Inclusive Resorts. Several Hotel Chains have all-inclusive resorts in their portfolio but you can also book all-inclusive resorts through credit card portals using points. This is a great way to have not only your accommodations and food covered but your entertainment as well. This is often the closest way to a fully free vacation that you can get.
Eat a Late Lunch instead of Dinner
Restaurants often offer cheaper prices at lunch time and often the portion sizes aren't very different or are still plenty to be satisfying. Sometimes when traveling it's easier to have a lunch out than dinner anyway. Or if lunch runs till 4 or 5pm we can order it for an early dinner and save. If you are staying at a hotel with a microwave you can always order early and reheat. When the cost difference of an entrée is $5-$8 per person it can add up to $20-$35 a day for a family.
How to Save on Entertainment for a Budget Family Vacation
The Best Entertainment Passes and Deals
Free Entertainment
Utilizing Travel Hacking to enjoy entertainment inclusive vacations
Know When to Splurge
Free Entertainment on a Budget Family Vacation
Free is best right? There's so many free opportunities for fun when traveling. Heading to the Beach or a Lake is a great option and often free or cheap. There's so many fun things for families to do at the beach even if you can't swim. Hiking is another fun activity. You do not have to be adventurous to hike. We often find wonderful hikes that are under 2 miles and often 1 mile or less. Exploring wild life is free. Sightseeing can often be free as well. When planning a budget vacation we often focus on the free or cheap activities and then look at 1 or 2 paid activities we really want to splurge on. This helps us save money because activities for a family can be expensive especially if they are short 30 min -1 hour activities and the kids want to do multiple activities in a day.
Atlas Obscura
A great site for free or cheap activities that are unique is Atlas Obscura where you can find interesting sites many that are often free. We usually try to plan some travel based on annual entertainment passes we have at the time.
Bring Your Own Entertainment
Another option is to bring your own entertainment. We invest in ice skates & hockey sticks, snow sleds and rent skis for the kids so that when we travel in the winter we have free entertainment we can take with us. We also invest in beach accessories and toys so that we are all entertained at the beach with out paying beach area prices for items. Keeping the kids entertained with what we bring keeps them distracted from the overpriced entertainment available that can cost a small fortunate.
We also bring our inflatable kayaks and stand up paddle board where ever we can as these are our favorite free activity to do as a family. Items we use for free entertainment while traveling are often gifts the children receive for Christmas or other gifts. When you invest in quality entertaining products you can then plan trips focused on using those items so the cost is spread out over many vacations. It also means kids receive gifts they actually use.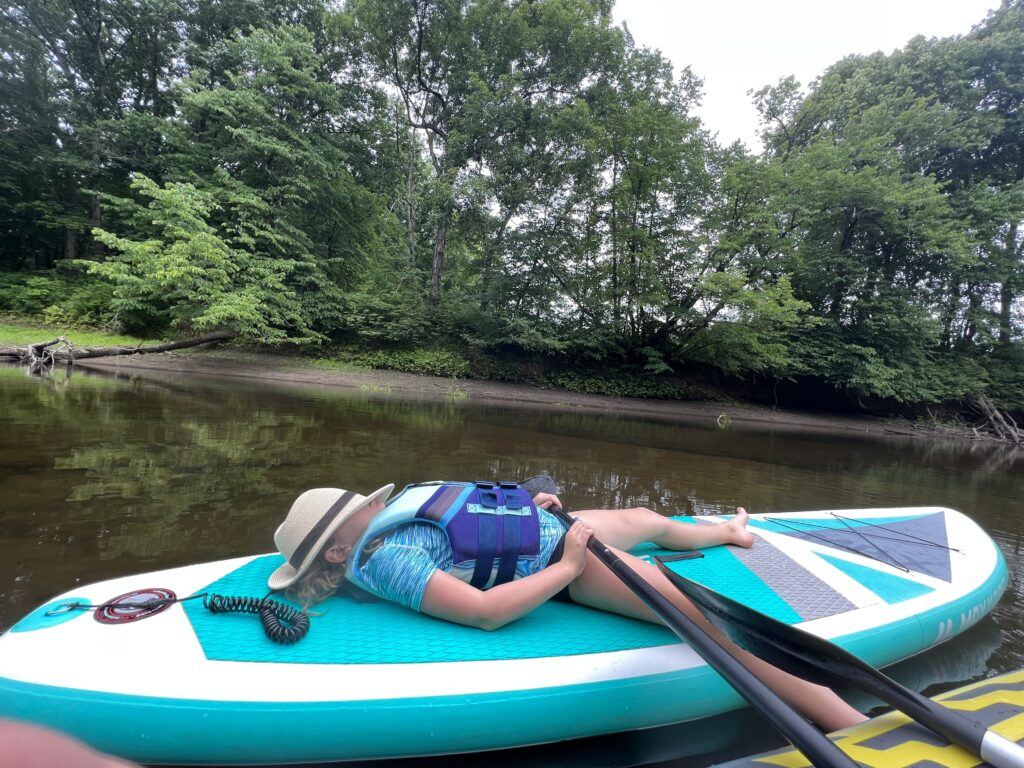 The Best Entertainment Passes and Deals for a Budget Family Vacation
A great way to save on entertainment when traveling is to purchase an entertainment pass that can cover a period of time vs a one time fee that can add up to a lot. The America The Beautiful National Park Pass is a wonderful pass that allows you entry to National Park Sites through out the U.S. You often recoup the cost in 3-4 visits which can easily be done on one vacation. Where every you are traveling there's a good chance there's a site near by but Flagstaff, AZ, Utah Mighty 5 and the Northeast National Park sites are some of our favorite.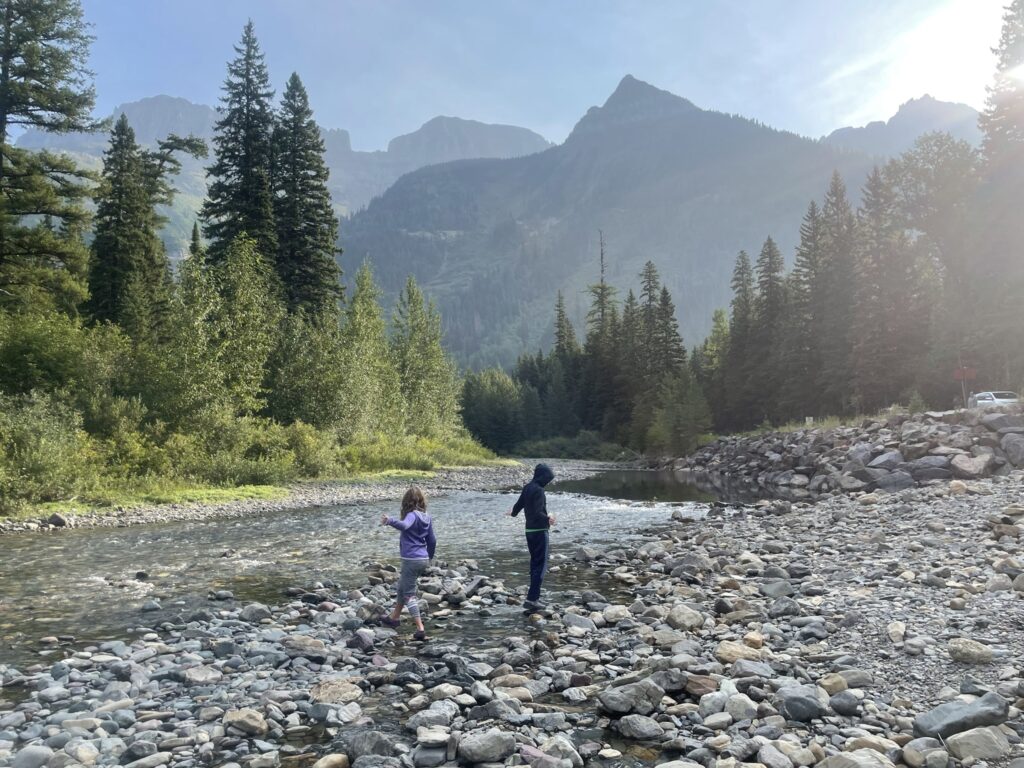 Museum Pass with ASTC Reciprocity is another great pass especially for families with younger kids. If you purchase a family annual membership at a local museum that participates in the ASTC reciprocity program, you can use that pass to visit museums all around the world. Many of these museums or science or children's museums. Some Museums include multiple reciprocity programs for example if you purchase a pass at the MISCI Schenectady, you also get an empire passport allowing you admission into other local museums as well as the ASTC reciprocity. Boston is a great vacation for families where you can utilize the ASTC reciprocity pass for the Boston Science Museum and the Boston Children's Museum.
Utilizing Travel Hacking to enjoy Entertainment Inclusive Vacations
Resorts often include entertainment even if it's not an All-Inclusive Resort. Some of our Favorite entertainment resorts that we have stayed on with points are Baker's Cay in Key Largo, Hyatt Regency Coconut Point near Ft Myers, and Hyatt Regency Grand Cypress near Orlando.
Included activities can range from nice pools with water features like splash grounds, water slides to lazy rivers. Water sports such as kayaks and paddle boards. We have also experiences resorts with staff lead activities, miniature golf, tennis, fishing (poles and bait included, special parties such as foam parties or new years even beach ball drop, fire pits and smores, and a variety of other activities that keep the kids entertained.
Know when to Splurge
It is vacation after all. Knowing when to splurge is important. While we enjoy a Budget Family Vacation it is still possible to splurge. My husband is known as the upgrader because he often convinces frugal me to upgrade. However, I have learned over time that there's definitely times that are worth the upgrade and sometimes it's not. Whether you prioritize a nice family meal out, a special experience, or larger accommodations or simply more travel, you set your priorities and choose where and when to splurge and where you can cut back and save on your family vacation.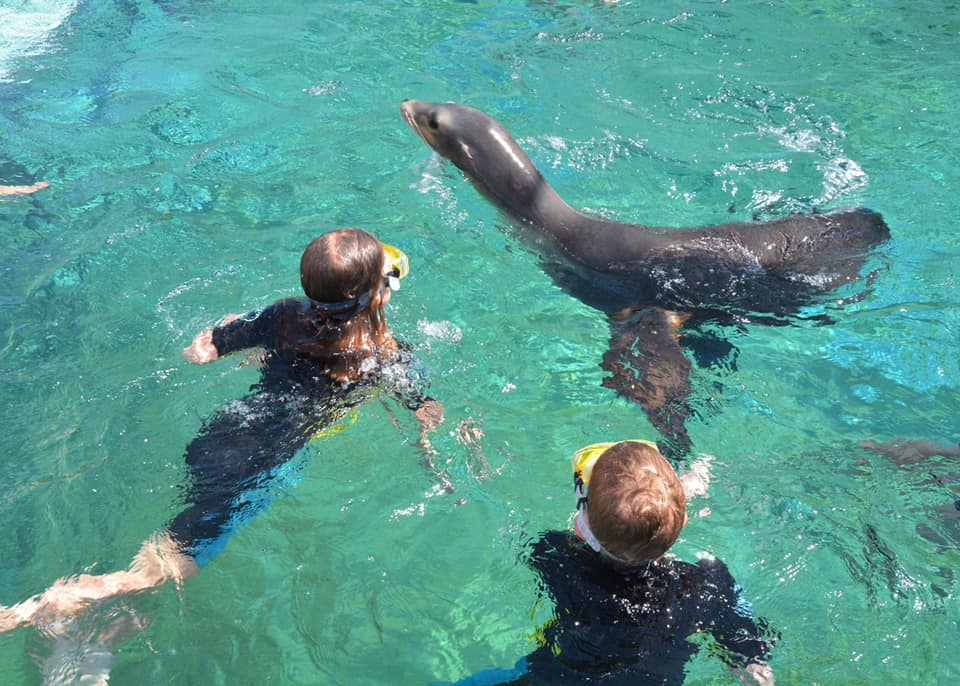 Affordable Family Travel: Tips for a Budget Family Vacation Summary
Thanks to Family Travel Hacking we often have our hotels and flights covered with points for free. Traveling as often as we do we utilize these other ways to save on food and entertainment so that we can stay within our vacation budget while expanding how often we travel. Utilizing these various methods and variety of travel options can help you afford more family travel and plan a budget family vacation.
Follow Affordable_Family_Travel on Instagram
Make sure to like AffordableFamilyTravel.com on Facebook to get all the latest updates. It's also where I post my Dash Deals that are time-sensitive.