Enjoy a Budget Road Trip to Utah's Mighty 5 National Parks with Hyatt Points. Visit Utah's might 5 with Hyatt Points can be a very affordable vacation with kids or without them. Utah might 5 are wonderful National Parks and each one is different from the next. Utah's National Parks also provide a range of hiking levels and scenic viewpoints making them a great place to visit for all skill levels and ages.
National Parks have a wonderful Junior Rangers Program that provides educational activities within the Park. National Parks also offer Kid-Friendly Hikes and many more activities. Pick up America the Beautiful National Parks pass for around $80 and it will provide entrance to all these National Parks sites and more. If you have a fourth-grader in the family you can get a free place through every kid outdoors program.
How to Enjoy a Budget Road Trip to Utah's Mighty 5 National Parks with Hyatt Points
When Traveling there are several core expenses including accommodations, transportation, entertainment, and food. To stay on a budget it's important to factor in the costs of all of these components.
An American the Beautiful National Park Pass only costs $80 for an annual pass which will cover your entrance to all of Utah's 5 Nationals parks each day. If you utilize Hyatt Points to cover your accommodations on this trip your accommodations, as well as breakfast, would be free. This would be substantial savings. There are other ways to save on food while traveling to help keep your food budget down. Since you will be spending your days inside the National Park it's recommended to stop at a grocery stop for some lunch supplies which will also save you on your food budget.
This leaves the last major expense of transportation. If you decide to drive to Utah it can cost as much as $1,000 round trip from the furthest parts of the country in just gas alone. Flights can be comparable but you can also utilize credit card points from Family Travel Hacking to cover your flights and even car rental. If you choose to Drive and extend the trip there are many Hyatt Hotels for only 5,000 points per night including free breakfast that are perfect stops along the way.
If you follow the above tips a Road Trips Budget Could look like this:
$500 for gas but if you are traveling from across the country it could be 1,000- $1200
$80 America the Beautiful Pass
$210 for Dinner out at $30 a day average, Groceries for lunch and snacks not included as they can be part of your normal weekly grocery budget
Hotels Free utilizing Hyatt Points
$200-$700 Extras for Entertainment Treats or Souveniers
$1000-$2,000 for a 1 Week Road trip less depending on your gas and extra expenses.
How to Earn Hyatt Points for a Budget Road Trip to Utah's Mighty 5 National Parks with Hyatt Points
I love Hyatt Hotels and the World of Hyatt program is one of the best Hotel Rewards programs out there. Chase Credit cards are a great way to earn free travel through Family Travel Hacking. The Chase Saphire Prefered Credit Card is currently offering a 100,000 Point sign-on bonus which can be transferred to the World of Hyatt program on a 1:1 ratio which means you could have 100,000 Hyatt Points.
Hyatt Points Needed for this 7 Night Trip: 47,000 Hyatt Points
3-4 Nights Hyatt Moab Category 2 Hotel Currently 8,000 Points Per Night
3 Nights Hyatt St George Category 1 Hotel Currently 5,000 Points Per Night
for 7 Nights Total, it would be 47,000 Points Per Night
Make it a Road Trip and Cover Your Accommodations on the Drive out and Back
If you have 100,000 Hyatt Points you could add more time to this Trip or you could spend 5 nights at each end of the trip at 5,000 Point Hyatts Along the way.
Hyatt Place Moab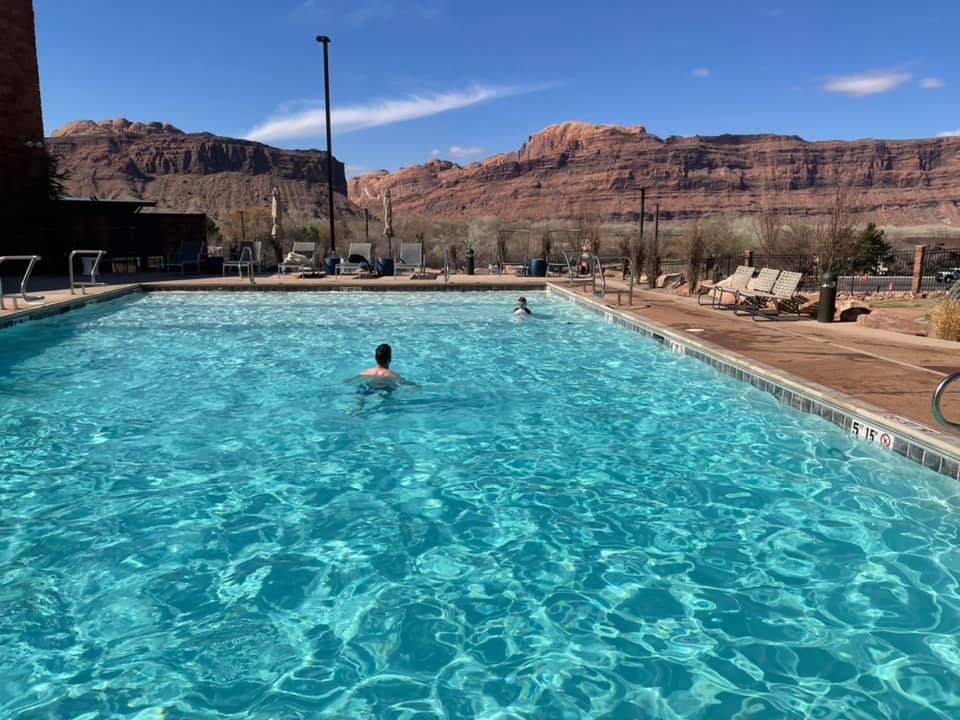 The Hyatt Moab is located on the main street in Moab at the end of the strip near Arches National Park. They have a heated outdoor pool and hot tub with nice views. There's also a fireplace which is nice for when you want to take a break from the pool. Note: there's a timer on the fireplace you need to turn to start the flames. The service is exceptional here and it's a great place to spend the first 4 nights of your trip.
The hotel is laid out like standard Hyatt Place hotels with 1 king or 2 full beds and an L shape couch that's a sleeper softa so it can accommodate up to 6 people. Parking and Breakfast are included.
Hyatt Place St George
Finish your week-long Utah Mighty 5 Road trip with 3 Nights at the Hyatt Place St George is located about an hour from Zion National Park. It's a great value for only 5,000 Hyatt Points. It's a short drive to the dinosaur prints and botanical garden with a variety of restaurants nearby.
The hotel is laid out like standard Hyatt Place hotels with 1 king or 2 full beds and an L shape couch that's a sleeper softa so it can accommodate up to 6 people. Parking and Breakfast are included.
Day 1: Moab including Arches National Park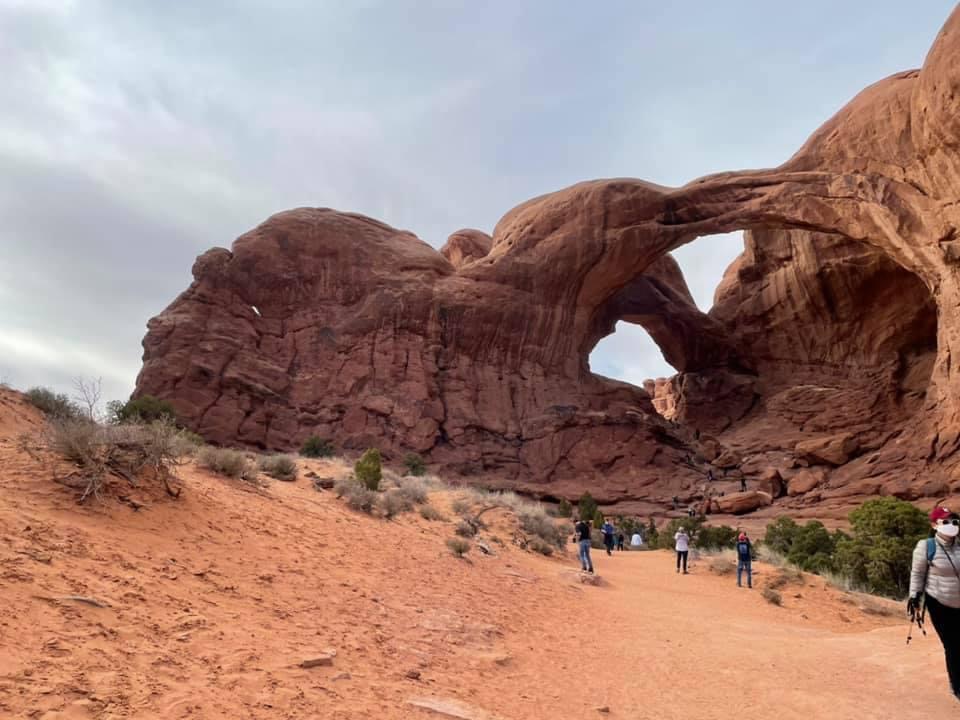 Arches National Park 1 of Utah's Mighty 5
Arches National Park is a really fun park to visit. There are several short hikes that are great for younger or less experienced hikers.
Stop at Visitors Center Stamp & Jr Rangers
Windows loop is a 1mile hike. Head to the area of the windows for a series of short, easy hikes including Windows Arch which are double loops, and the tourniquet arch.
Across the parking lot is a Double arch which is a short .5
Balanced rock is a .3mi hike to see Balanced Rock but you can also see the rock right from the parking lot.
For longer Hiking options and to plan your visit check out the Parks website which breaks down each hike very easily to help you determine which hikes are the right ones for your family.
Dinner Recommendation:
Susie's Branding Iron offers a great Pastrami Burger and Indian Tacos made with Fry Bread. Their entrees are large enough to be shared and the kid's meals are reasonably priced.
Day 2: Moab including Canyonland National Park
Canyonland National Park is 2 of Utah's Might 5 on the Budget Road Trip to Utah's Mighty 5 National Parks
Stop at Newspaper Rock on the way to the south entrance of canyonland National Park.
MESA ARCH TRAIL (0.5 MILES ROUNDTRIP, EASY RATING)
then head to the Needles area of the park
Roadside Ruin 0.3 miles (0.5 km)  20 minutes
Pothole Point 0.6 miles (1 km)
Cave Spring  0.6 miles  (1 km) This short loop leads to a historic cowboy camp and prehistoric rock paintings. There are two ladders to climb on this trail which makes it one of the best hikes in the park for families.
Day 3 Moab Adventure Day or Relax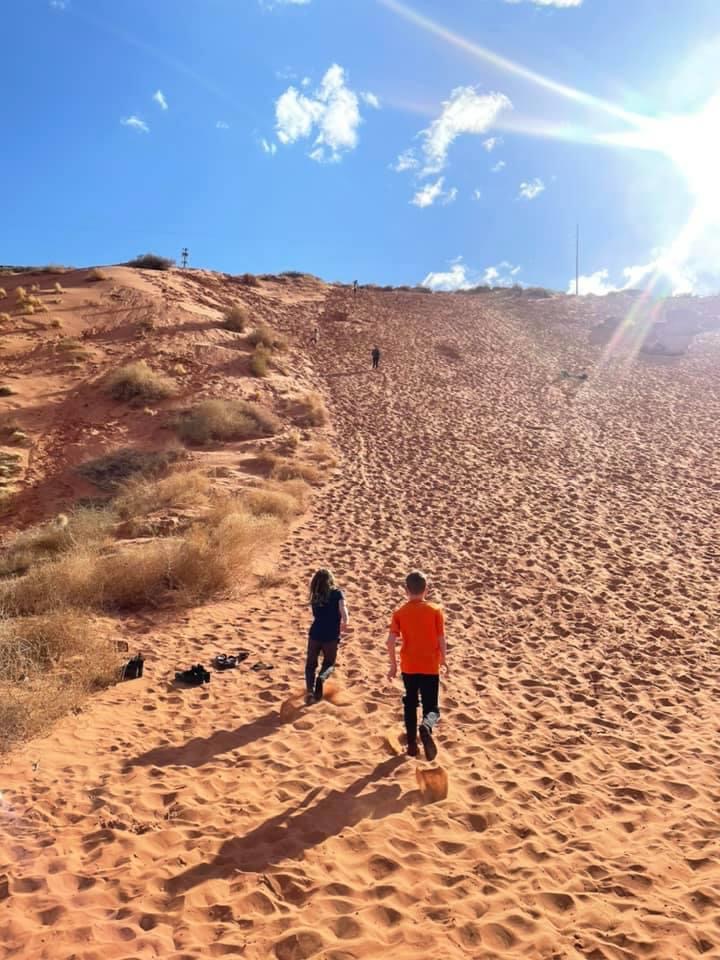 Go rock Climbing, or rent out dune buggies. Go for a horseback ride. There are tons of adventures in Moab.
If you are looking for a low-key day here are some great activities to do with younger kids.
Head to the Moab Rotary park which has a great musical section
stop at the sand pile across from Arches the kids love it.
spend the afternoon in the heated pool.
Visit Slide Rock Bike Trail if you brought your Bikes
Day 4 Moab to St George with Capitol Reef and Bryce Canyon National Parks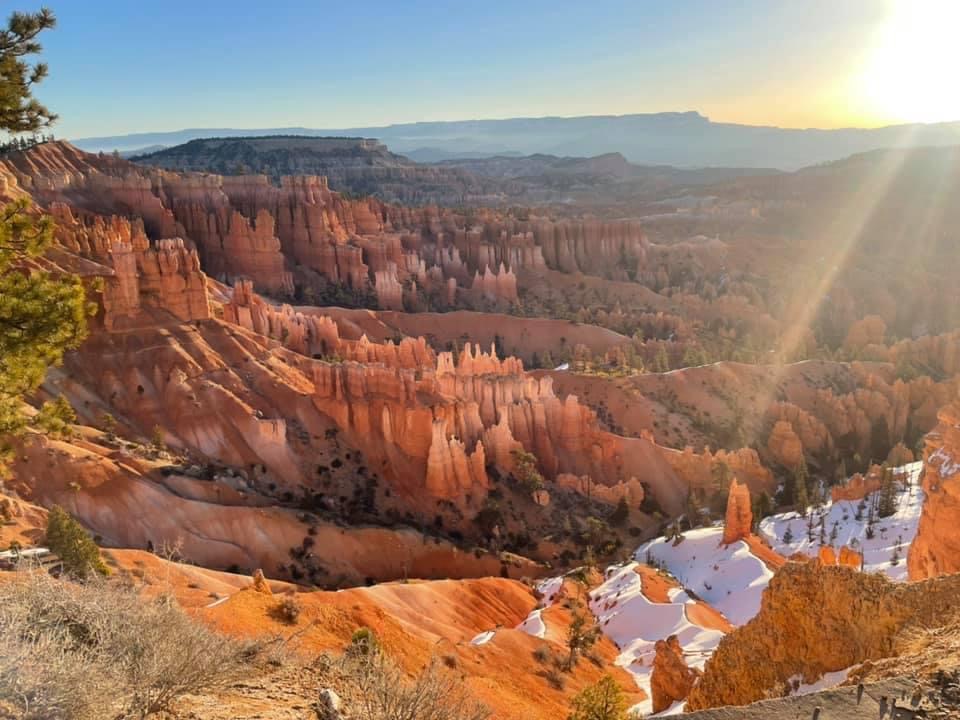 Capitol Reef and Bryce National Parks is number 3 and 4 of Utah's Mighty 5 on this Budget Road Trip to Utah's Mighty 5 National Parks
There isn't a Hyatt hotel Near Bryce or Capitol Reef National Parks. If planning to visit both on the same day, be prepared for a long day. Here's what I suggest as an itinerary if you do plan to fit it all in one day.
6 am-8 am Leave for Capitol Reef National Park
8-12 am Explore Capitol Reef National Park
12-2:30 Drive to Bryce Canyon
2:30-6:30 Explore Bryce Canyon
Bruce Canyon Visitor Center, Junior Rangers Program, Passport Stamps Learn about the Park
Stop at a couple of Scenic View Points
Choose 1 Hike at the Park. I don't think hiking is necessary at this park but there are still enjoyable hikes. The Sunrise to Sunset trail follows the rim and essentially connects some of the scenic viewpoints.
Dinner Recommendation
If you have time stop by the Lodge in Bryce Canyon and see if they are offering their clam chowder. It's fantastic. If they aren't serving it the Elk Chilli is also good and can easily be a meal if you order one for each person. While the menu is pricey you can definitely split an entree.
6:30-8:30 pm Drive to St George
On the way to St George, you can drive through a Stone Tunel Arch
Day 5 Pipe Springs National Monument and St George
Today take it easy with some lowkey activities with less hiking
Pipe Springs National Monument is about an hour's drive from Pip Springs. Spend the morning there visiting the site and enjoying the hiking trail as well. They also have a Junior Rangers Program and the kids can earn a badge.
This afternoon head over to see some Dinosaur tracks and enjoy the Desert Botanical Gardens. If you are lucky you may spot a desert tortoise.
Dinner Recommendations
La Cocina Mexican Street Food has $1 tacos on Wednesday which is a great value. The tacos are really good and there's a large variety for you to try.
Day 6 Zion National Park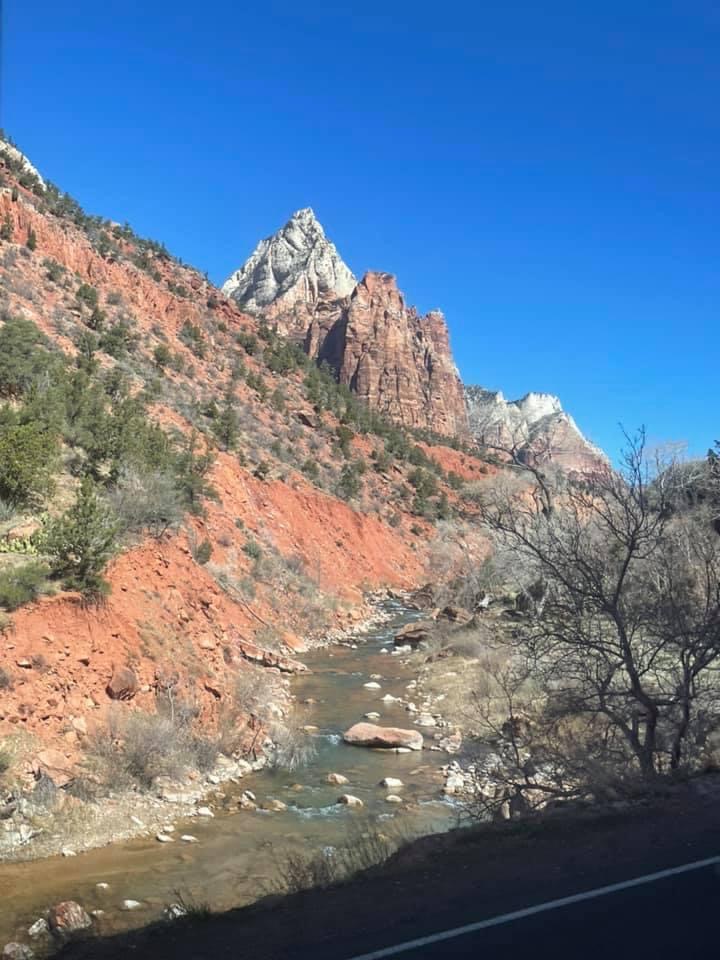 Zion National Park is number 5 on this Budget Road Trip to Utah's Mighty 5 National Parks. It's a great hike for extreme Hikers. There are also some options for families as well.
Zion National Park requires reservations for their park shuttle most of the year. If you do not get a park shuttle you can book tours that take you into the park or rent a powered bike to get into the park from the visitors center. The powered bikes are required to pull over whenever a bus passes which is every 8 – 12 minutes so be prepared to constantly stop on your ride in and out of the park. Please be respectful of the policy and come to a complete stop on the road as buses will not pass and will honk at you if you do not pull over and stop.
There are 2 famous hikes that are accessible from the shuttle stops including Angel's Landing and the Narrows. The selection of easier trails for families is more limited. Check out Zions website for the hiking trail options.
There's also the canyon overlook trail, located outside the shuttle area with limited parking. It is a 1-mile hike but may not be suited for younger kids. There's one part that required you to traverse narrow slick rock with a round sloping rock below it that slides off to a very high drop. There's another area that has wooden/steel walkways and handrails but this one area seems to be the worst part and it is only about 5 feet of the 1 mile.
If you have time at the end of your day stop at Grafton, Utah and check out the Grafton Ghost town.
Day 7: Check Out and Travel Home
If a week is all you have then sadly your trip is wrapping up. Enjoy the breakfast that's included with your stay. Maybe your partner can take the kids to the pool while you pack up and head home.
If you have more than 7 Days
Consider a Road Trip. You likely have enough points to cover your drive out and back which could be done over 2 weeks.
Add 1 Night Near Bryce
While there is not a Hyatt Hotel near Bryce there are some budget-friendly hotels near Bryce as well as a beautiful Lodge inside the national park. The Lodge restaurant also offers some delicious food and possibly the best clam chowder in the world- and that's coming from a kid who tried many of New England's best clam chowders.
Bryce is a small National Park and I believe you can easily enjoy the park in a half-day, there are many other places to see around Bryce National Park that would be worth a one-night stay. If you spend a night enjoy your extra day at one of the slot canyons in the Bryce Area.
If you have Chase Ultimate Reward points instead of transferring them all to Hyatt you could book a hotel stay in the Chase Saphire Portal to cover a Free Stay in the Bryce Area.
Road Trip to Utah
If you are on a road trip to Utah you can take I-70 from the east coast including Columbus to Denver. From Denver, Moab is a day trip away and you can get started on your 7 days Utah Mighty 5 itinerary. For a Change of scenery on the way home, you can take I-40 and I-44 From Albuquerque to Cleveland. These routes include stays at Hyatt Hotels so you can do a complete 2 week Southwest Road trip on Hyatt Points.
Budget Road Trip to Utah's Mighty 5 National Parks with Hyatt Points Summary
It's easy to plan a Budget Road Trip with Hyatt Points and the American the Beautiful National Parks Pass. Hyatt Hotels provide consistent quality and affordability. The accommodations included breakfast and parking which is perfect for road trips. The Hyatt Moab and Hyatt St George are great hotels for exploring Utah's Mighty 5. Your Kids can enjoy earning at least 6 National Park's Junior Rangers Badges based on this itinerary.
Follow Affordable_Family_Travel on Instagram
Make sure to like AffordableFamilyTravel.com on Facebook to get all the latest updates. It's also where I post my Dash Deals that are time-sensitive.