Road Trip Itinerary I-40 & I-44 through Southwest Albuquerque to Cleveland will take about 23hours of driving. That's not including detours and stops. There is plenty of fun stops along that way. You can even stop at a couple of National Park sites on this cheap family vacation.
3-day Itinerary New Mexico to Ohio
There are many places you can visit before heading east from Albuquerque to Cleveland. You can check out the possibilities after the itinerary below.
If you have time in Albuquerque, there are many National Park Sites. Petroglyph National Monument is located in Albuquerque, NM.
Albuquerque, NM to Oklahoma City, OK
Starting in Albuquerque, New Mexico head east on I-40 to Oklahoma City, Oklahoma which is about an 8-hour drive. If you want to see Salinas Pueblo Missions National Monument, it will add approximately 2 hours of driving time. You will need 1-2 hours to visit depending on how many sites you visit. Add in the other detours including driving route 66. This is approximately a 12 -14 hour day so make sure you head out early.
Salinas Publeao Missions National Monument, New Mexico
Head to Salinas Publeao Missions National Monument which is about 1hr 45 minutes south of Albuquerque. Spend 1-2 hours visiting the sites.

Lunch
The Alpine Alley Coffee Shop and Cafe is a hole in the wall (literally they have a walk-up window), that serves good food. It tastes like your momma made it in your home kitchen. We enjoyed the food. however, the sandwiches were more toasted than grilled (needed a little butter or oil). The prices were great. Overall it was a good value and close enough to grab after visiting the nearby National Monument. There is also a hardware store. You want to stop and grab some spray paint for about half the price as Cadillac Ranch, next stop.
Cadillac Ranch, Texas
Then make your way to Route 66 to Amarillo. There are many Route 66 stops along that way. Make sure you pay attention to timing as you could spend days. It's about 4.5 hours to Amarillo. but about 20 minutes before you will want to stop at the Cadillac Ranch. I recommend buying spray paint ahead of time to save money. They do sell some on-site for about double the normal price. Many people leave their cans or offer them up as they are leaving so before you buy on-site check to see what is available.
Dinner at Big Texan, Amarillo, Texas
After you have had fun spray painting art on old Cadillacs, head over to the Big Texan about 20 minutes away for dinner. Enjoy delicious steaks in a fun atmosphere. You can also enjoy bb gun shooting games.
There are about 3hrs and 45 minutes left to drive until Oklahoma City. If you are short on time you can get your dinner to go. Don't worry they will include a plastic steak knife.
LOOK FOR:  Pronghorns, Armadillos (usually dead on the site of the road as they are nocturnal)
Oklahoma City, OK to Nashville, TN
In Oklahoma City, you can visit the Alfred P. Murrah Federal Building where the bombing museum and the memorial are. We chose to skip this stop as we were traveling with young kids. The Myriad Botanical Gardens are also a nice option to visit in Oklahoma City.
The Children's Garden at The Myriad Botanical Gardens, Oklahoma City
Before leaving Oklahoma City I recommend stopping at the Myriad Botanical Gardens to enjoy the outdoors children's garden. It's a playground and Garden combined. The playground is fun and educational and it's free!
After your stop, you will have about a 10-hour drive from Oklahoma City to Nashville. The stop at the children's garden puts you at about an 11 hour day. You can head straight to Nashville or you can stop in Memphis on your way. If you have extra room in your schedule you could even schedule a night or 2 in Nashville.

Lunch
Your next stop Fort Smith National Historic Site is about 2 hours and 45 minutes away. Stop by Walker's Drive-In & Restaurant at 1500 Towson Ave in Fort Smith, AR. Stop and grab some county dishes for lunch before heading to the fort.

Fort Smith National Historic Site, Fort Smith, AR
Visit Fort Smith National Historic Site, in Fort Smith Arkansas, which Exhibits. Here you can learn about its military history, western expansion, the federal court's impact on Indian Territory, Federal Indian policy, and Indian Removal. Explore the Parage Ground. It's a quarter of mile loop that was the center of life at the fort from 1838 – to 1871.
You won't have a lot of time if you are spending the night in Nashville. If you want you may be able to squeeze in the driving tour of Memphis as you drive through. Maybe even a couple of quick stops. I recommend driving through Beale Street and a stop at Graceland for a photo op at the entrance.
It's about a 7.5-hour drive from Fort Smith National Historic Site to Nashville. You will likely arrive late in the evening at your hotel. If you arrive early enough some BBQ at Rendezvous or Central BBQ before heading to Nashville. You can always put the leftovers in your cooler for tomorrow. 
Nashville, TN to Cleveland, OH
Nashville to Cleveland will take you about 8 hours. If you spend up to 4 hours in Nashville you can keep your day to 12 hours. You could spend up to 8 hours which would make it a 16 hour day.
Walking Tour of Downtown Nashville, TN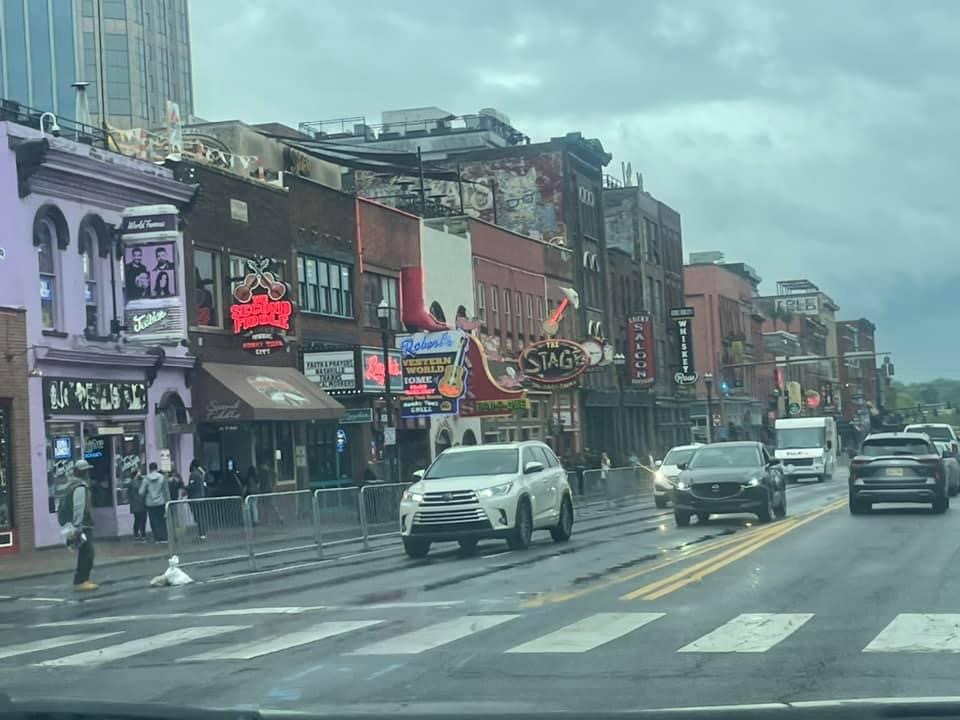 Spend the morning taking a 2-hour walking tour of downtown Nashville. You may want to top at a place or 2 on Nashville's Honky Tonk Highway. You can also just dance along to the music on the street. Honky Tonk Highway is located on Lower Broadway. It is where live music steams into the streets from 10 am until 3 am.
Lunch: Chicken at Prince's Hot Chicken
Grab some chicken and head to Centennial Park for a picnic. We also brought our foam airplanes to play within the open fields and on the Pantheon Steps.
Centennial Park and the Pantheon, Nashville, TN
After you've exhausted the kids (or maybe yourself), head north to Cleveland or toward home.
Hotels on an Albuquerque to Cleveland Road Trip Itinerary I-40 & I-44 through Southwest
We love staying at Hyatt Place Hotels using points for free stays. They offer consistent quality and low points for free stays so we can cover more free nights. For this itinerary, you can stay at only Hyatt hotels with points for free. For as little as 20,000 points total for 4 nights on this 3-day itinerary.
Hyatt Place Albuquerque / Uptown 5k
Oklahoma City Airport Hyatt Place 5k
Hyatt Place Nashville Hendersonville 5k
Hyatt Place Cleveland/ Independence 5k
Pair this itinerary with some great destinations
Where can an Albuquerque to Cleveland Road Trip Itinerary I-40 & I-44 through Southwest take you?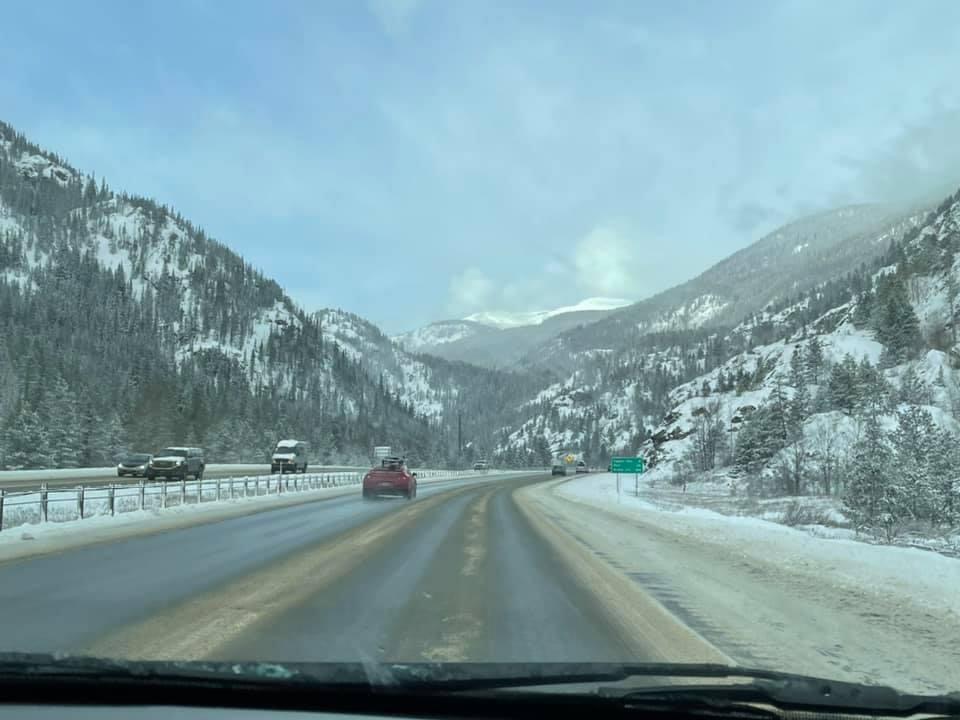 From Albuquerque, Denver is 6.5 hours, Phoenix 6 hours, Flagstaff 4.5 hrs, Grand Canyon is 6 hours and las vegas is 8 hours. Los Angeles and San Diego are each 11.5. from Albuquerque. This would take you all the way to the west coast. White Sand Dunes National Park is 3.5 hours away, Mess Verde National Park is 4 hours and Big Bend National Park is 9.5 hours away.
For a Change of Scenery, you can head back from Denver to Columbus on I-70 or do the itinerary in reverse.
2 Week Southwest Road Trip to Utah Mighty 5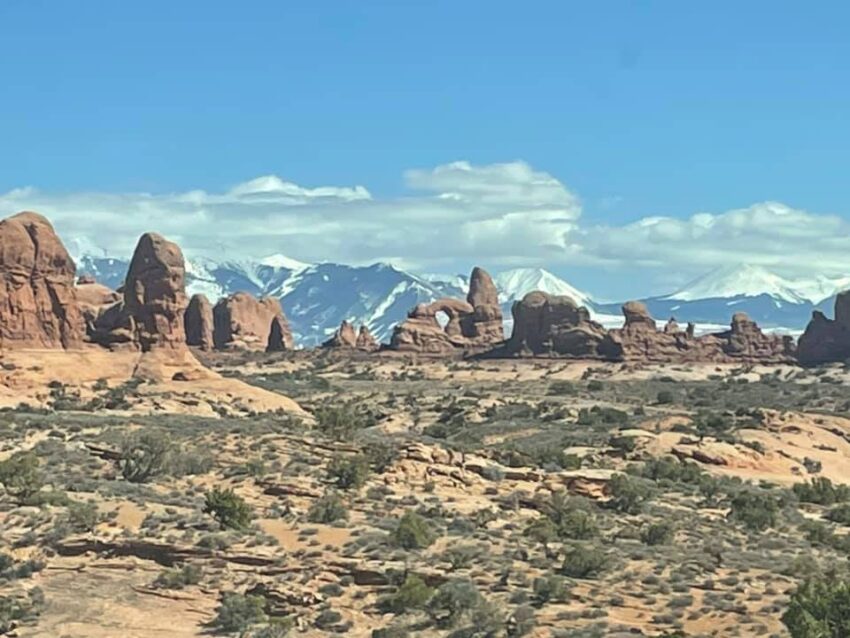 Moab, UT is 6 hours from Albuquerque. A Utah Might 5 National Parks Road Trip can take about 7 days 6 nights. Start out with this Columbus to Denver Itinerary on I-70 to begin your trip. It will take you approximately 3 days 4 nights for the itinerary. Then end with this Albuquerque to Cleveland Road Trip for a total of 14day Road Trip through the midwest.
This entire trip with Hyatt Points. You will need 26,000 Hyatt Points for the first 4 nights. The Utah Mighty 5 Itinerary now requires about 60,000 Hyatt Points since the Hyatt Moab has now increased categories. You only need 20,000 points for the above itinerary from Albuquerque to Cleveland on I-40 & I-44 including Route 66. This itinerary would take approximately 106,000 Hyatt Points to cover this 14 day Road trip. Find out more about Family Travel Hacking and how you can start earning free nights.
Summary of Road Trip Itinerary I-40 & I-44 through Southwest Albuquerque to Cleveland
This Road Trip Itinerary I-40 & I-44 through Southwest Albuquerque to Cleveland is a fun addition to your road trip out west. You can utilize this route to get to many destinations.
Follow Affordable_Family_Travel on Instagram
Make sure to like AffordableFamilyTravel.com on Facebook to get all the latest updates. It's also where I post my Dash Deals that are time-sensitive.