Columbus to Denver Road Trip Itinerary I-70 Through the Midwest can help you have fun while traveling to your destination. Road trips can be fun budget family trips. It's also a great way to explore the US.
Columbus Ohio to Denver, Co is about an 18.5-hour drive. This can be done in a day if you just want to get to your destination. If you need to break up the trip or want a chance to experience an activity in each state you will need to plan a few days to break up the trip. Our trip took 3 days from Ohio to Denver. Our itinerary included Stops in Indiana, Missouri, and Kansas. On the return trip, we took a different route so that we could experience other states. It's also possible to do this itinerary in 2 days by cutting out a stop or 2.
During our road trip, we wanted to see some of each state we drove through but also wanted to make sure we had time at our final destination as well. Our goal was to have at least 1 activity in each state and if we could hit a National Park Site that was even better. We also tried to include a meal that was specific to the state we were in.
Columbus to Denver in 3 Days
Columbus to St Louis
This Columbus to Denver Road Trip Itinerary I-70 Through the Midwest starts in Columbus Ohio. From there head to the Levi Coffin House in Indiana.
Levi Coffin House, Indiana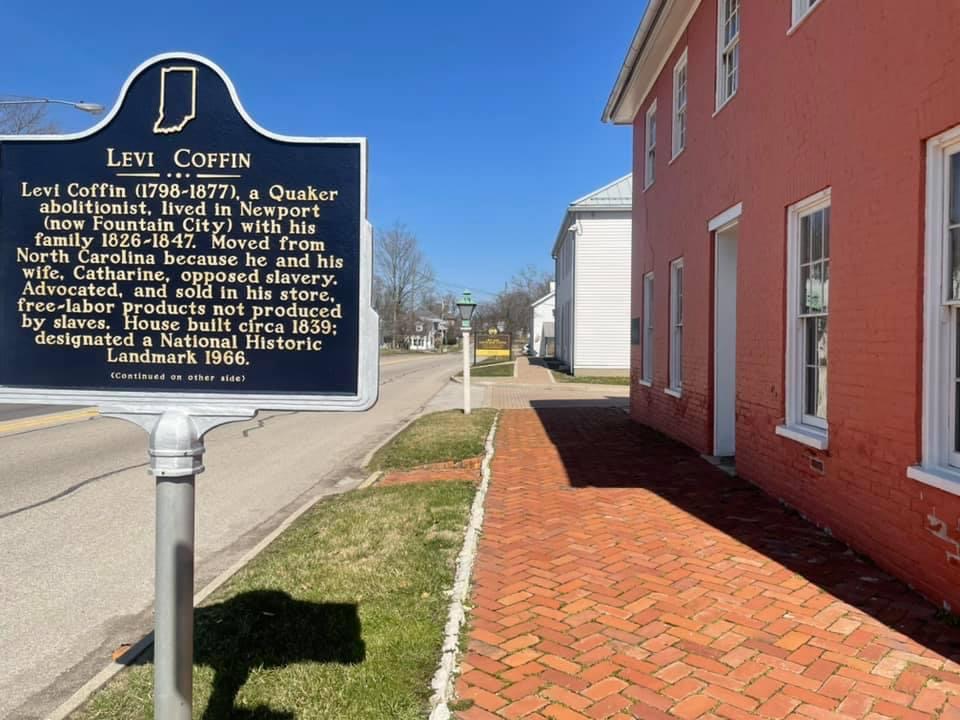 The  Levi Coffin House is about an hour 45 minutes from Columbus Ohio. Admission is approximately $17 for adults and $12 for Children The last guided tour is at 1:30, but there is a scavenger hunt the family can play for $2.00. The Tour will take you through the Levi Coffin House which was part of the underground railroad. The tour guide tells stories that help depict what it was like during this time. It's a very informative and engaging tour even for kids. Plan to spend 2 hours at the site especially depending on when you arrive prior to the tour time.
Dinner
we stopped at Culver's  401 Commerce Rd in Richmond, IN to grab an early meal, to eat on the road. Fried pork sandwiches and cheese curds are a midwest favorite that we all enjoyed.
Big Things in Casey

On your way to St Louis, about 3 hours past the Levi Coffin House is the town of Casey, Il. It's an easy exit off Interstate 70 and worth a detour. You can basically drive through the town of Casey to see "The Worlds Largest" Things. You can also stop for photos of your favorite. We chose to Park near a large birdcage and then walk across to the World's Largest Mailbox which you can climb up.
It's another 2 hours to St Louis or a 4hr 40 min drive to St Louis From Levi Coffin House if you do not stop in Casey. Check your clocks to decide if you will make it to St Louis for dinner where you can enjoy some great St Louis Style Ribs or if you should stop in Casey for dinner.
St Louis Evening
Before arriving in St. Louis we stopped at the Malcolm W. Martin Memorial Park which is across the river from St Louis Arch. There's a viewing platform you can walk up for great distant views of the Arch with the city behind it. You can also view the Geiser located in the park if it's running.
Depending on what time you arrive at St Louis there may be time to visit the St Lous Gateway Arch National Park and even its museum.
St Louis to Kansas City
St Louis is a great city to visit for a long weekend. If you have time to stay longer check out this 3 Day St Louis Itinerary for an in-depth visit to this great city.
The park opens at 5 am However the museum opens at 9 am. Plan at least 1-2 hours at the museum. Grab a Junior Rangers Program booklet to complete which makes the museum even more fun. This was our daughter's favorite museum of the entire trip and I believe it was because their program book really helped engage the kids. If you want to take a Tram ride make sure to book early because they sell out.
Tips
If you plan to do the next step you will want to make sure to leave by 10:30 am at the latest to make sure you have enough time at the next destination. Make sure you stop at the Junior Rangers desk to be sworn in and get your Junior rangers badge. Use the restrooms before you leave so you won't have to stop.
Walt Disney Hometown Museum
The next stop was a bit out of the way but it is an absolute must for any Disney Fan. My husband who is very much inspired by Walt Disney's creativity has had this on his bucket list for a while so I was happy to make it happen. The stop is approximately 3 hours and 15 min drive away.
You will want to pack a lunch to assure that you make it to your next stop on time. At the time of our visit, the Walt Disney Museum hours were Saturday: 10 am – 4 pm Sunday: 1 pm – 5 pm and the cost of admission was $10 for adults and $5 for children.
Tip
Grab a map at the desk of other Walt Disney Sites in town that you can visit before you leave. Also, Make sure you use the restrooms before you head out.
Dinner
It's another 2 hours drive to Kansas City. If you can wait to eat stop at Brobecks BBQ for some Kansas City Ribs. We couldn't wait and stopped at Tub Creek BBQ on 215 E 2nd St in Cameron, Mo for a Togo order of ribs. The ribs were large and the prices reasonable.
Kansas City To Denver
Interstate 70 from Kansas City to Denver Colorado is about 9 hours depending on traffic. You of course will want to stop to break up the trip and why not have an experience or 2 in the great state of Kansas while you are driving through. With stops, we spent about 13 hours between departure and destination.
The Following 2 detours only added 1.5 hours of driving to the trip but for us, they were both worth the stop. The total driving time will be about 12 hours. That's not including the time spent here. However, you can spend about 1 – 1.5 hours at Tallgrass Prairie NPS and about 15-30 minutes at the Prairie Dog Colonie. That makes this about a 14 hour day if the timing works out in your favor. I recommend packing a lunch for the day and eating in the car if possible or you could eat at either stop if needed.
Tall Grass Prarie National National Preserve
Tall Grass Prarie National Preserve is a small National Park site that offers a Junior Rangers program. So stop by the visitors center to get your books and take a restroom stop before heading out on the walking trail path to see the Bison. They can also let you know what field they are in. If you haven't been to the northwest national parks this could be your first chance to see roaming buffalo out in the prairie. There are also beautiful views. It was a great place to get out and stretch our legs on a fairly easy walk. It can be windy so if weather temps are even moderately low you may want to consider grabbing a hat.
Prarie Dog Colonie at Home Depot
If you have never seen a wild prairie dog then stopping at a colony is very important. This is because once you have seen a colony you will suddenly be able to spot mounds along the roadside. This makes for an exciting game of who can spot the most. Not just their mounds but the little guys popping out or scurrying nearby.
This particular prairie dog colony is located In the parking lot of Home Depot so it's a free attraction. You can walk over to get a fairly close view and hear them chirp while they wag their tales. After this stop our kids expected to see a prairie dog colony at every Home Improvement store we stopped at even on later road trips.
Dinner
We so wanted to make it to Denver for dinner but we couldn't hold out and stopped at a Fastfood place along the way. For my family food is usually the lowest priority because I am the only that really cares much about it.
Columbus to Denver in 2 days
If you want to Shorten up the trip you can cut this route to 2 days with an overnight midway in Kansas City, Missouri. If you do not need to spend a lot of time in St Louis this itinerary is very much possible.
Columbus to Kansas City
St Louis Stop
Columbus to Kansas City is approximately 9.5 hour drive. You will likely only have time for 1 stop but could fit in 2. It's approximately 6 hours from Columbus to St Louis so get on the road early. Pick your top things to do at St Louis Arch and grab some St Louis Ribs to go for your dinner as you make your way to Kansas City for the night.
Levi Coffin House and St Louis Stop
If you want to include a stop in Missouri, the first tour at the Levi Coffin House starts at 10:30 and lasts approximately 1 hr. You could possibly arrive in St Louis around 4:30 pm. This would allow you to visit the Arch museum before it closes and explore the ground. If you spend a couple of hours there. You would arrive around 11 pm after your 4-hour drive to Kansas City. Then follow the day 3 Kansas city to Denver itinerary.
Adding a stop in Casey won't take long and is possible with either St Louis and Levi Coffin house or St Lous Arch but pay attention to time especially if you want to see the National Park museum as it will likely be closed if you want to fit in all 3 stops.
Hotels on a Columbus to Denver Road Trip Itinerary I-70 Through the Midwest
When Planning a Road trip we usually book our hotel so that we assure we have something available for us. We start with looking for low-category Hyatts to stay at.
This is for several reasons. We love to use points to stay for free. The fewer points we use the more free stays. Hyatt hotels require some of the lowest points for free nights of any hotel chain, especially their Hyatt Place brand.
Hyatt Places have a consistent quality which means we can show up late at night and know everything will be ok. We will have clean rooms and good service. They also offer breakfast usually early enough that we can grab a quick breakfast and hit the road. Over the past couple of years, they have offered their breakfast to go which means we don't have to sit and wait an hour while the kids slowly eat. Eating in the car means we can hit the road early and it provides an activity for the kids who tend to be entertained for the first couple of hours of the drive.
Hyatt Cleveland Independence
We started our trip with an overnight stay at the Hyatt Cleveland Independence. This drive doesn't require a full day for us so we can easily make it after school to get a jump start on our trip. It's also a category 1 Hyatt so it was the lowest point option available at the time. It's a nice hotel and we have stayed at this location several times as it's a good jumping-off point for road trips from the Northeast.
From the Hyatt Cleveland Independence, you will take I-71 south for about 2 hours to Columbus Ohio where you will join Interstate 70 for the majority of your trip.
Hyatt Regency St Louis Arch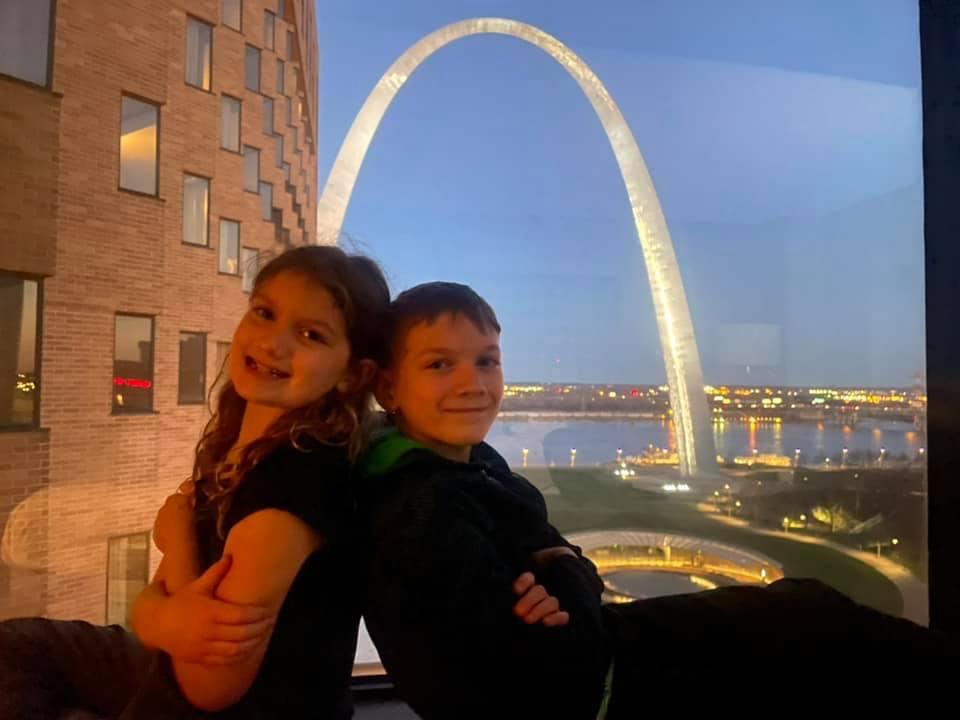 Hyatt Regency St Louis Arch is a great hotel stop. It has the perfect location with views of the Arch and easy access to walk to the St Louis Arch National Park. We had a room with a wonderful view of the Arch. This was one of our favorite hotels during our entire road trip.
Hyatt Kansas City Airport and Denver Lake Wood at Belmar
Hyatt Kansas City Airport was a quick overnight stay. It only required 5,000 Hyatt points which is very low. We ended our stay at the Hyatt House Denver Lakewood at Belmar. This was just an overnight hotel stay for us but this is a great location for a long-term stay. Our room had a separate bedroom and a kitchen and shopping centers all around.
Hotel Summary
Hyatt Cleveland Independence at 5,000 Points per night
Hyatt Regency @ ST Louis Arch at 8,0000 Points Per night
Hyatt Kansas City Airport at 5,000 Points per night
Hyatt House Denver Lakewood at Belmar at 8,000 points per night
Extend Your Travel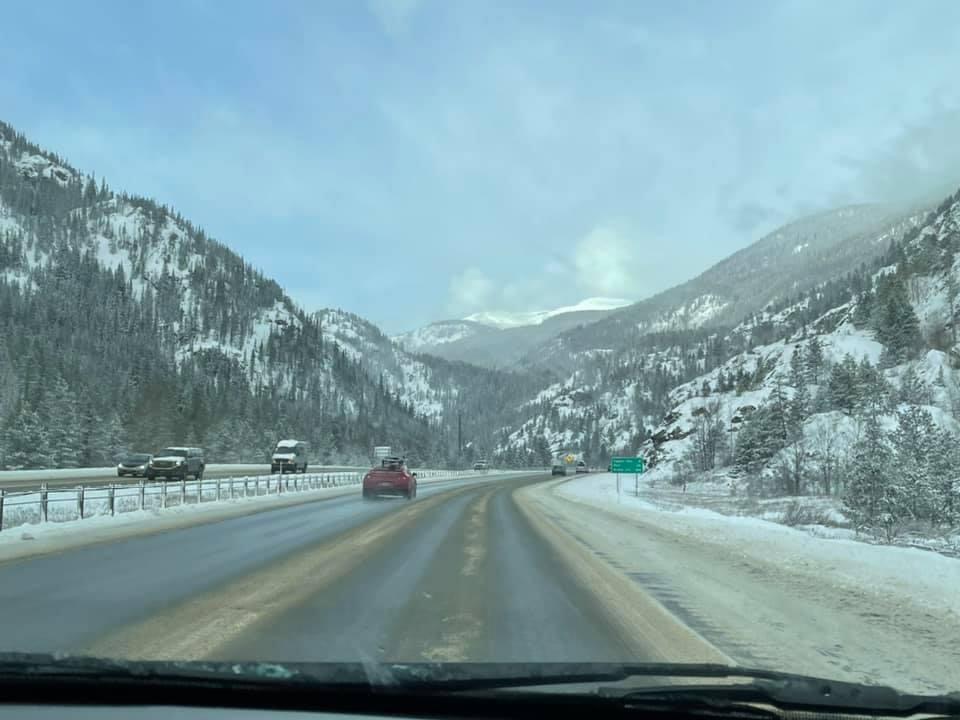 From Denver, everything in Colorado is pretty much within a day's drive although you will likely need alternative overnight accommodations if you really want to see certain areas due to the driving times.
Denver is a great stopover on your way to some of these popular destinations
Albuquerque, NM is 6.5 hrs
Moab, Ut is 5.5 hrs
Salt Lake City, Ut is 8hrs
Flag Staff, Az is 11hrs & 11.5 hrs to Sedona
Utah Mighty 5 National Parks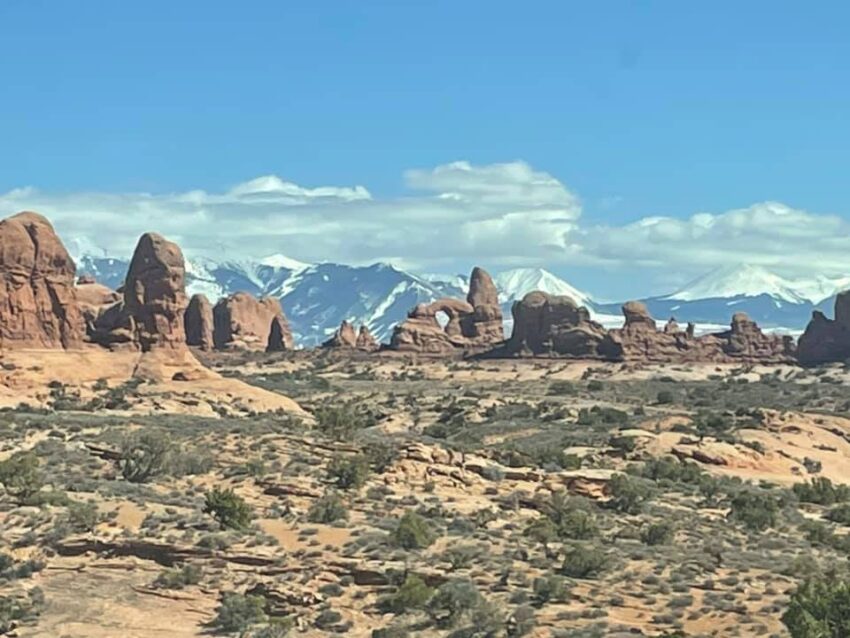 If you are looking for a Great National Parks Road Trip Utah's Mighty 5 National Parks is a great Final destination. These are some of the top National Parks all in one 7 day itinerary. You can also utilize Hyatt's points to cover most or all of your accommodations on that itinerary. Adding 7 days onto this 3-day road trip and assuming 3 days return would be a nice 2 week US Road Trip.
How to Earn Hyatt Points so your Stays are Free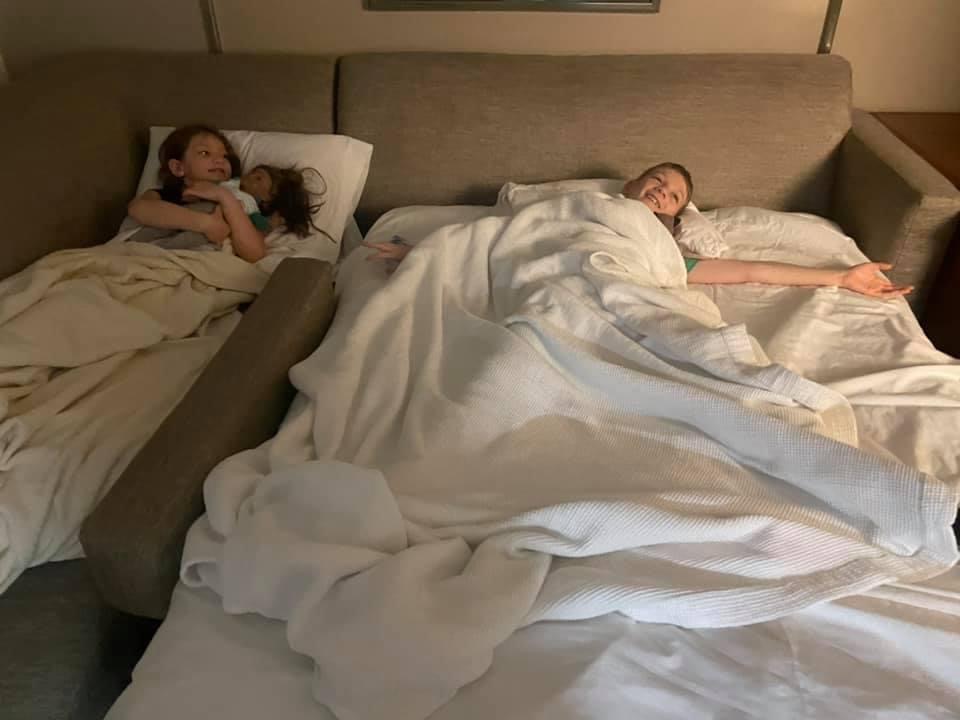 The above itinerary for stays including Columbus Ohio for 4 nights cost 26,000 Hyatt Points. The 7 Day Utah Mighty 5 itinerary required 47,000 Hyatt points but unfortunately, Hyatt Moab is one of the hotels that are increasing categories this year so you will need a little more points. Assuming you need another 23,000 points to get home, you would need a total of approximately 100,000 Hyatt Points (not including increases) for this 14 night Road trip.
Chase Saphire Prefered is one of the best Travel Credit Cards out there. The sign-on bonus right now is 60,000 bonus points. Chase Ultimate Reward points can be transferred to Hyatt 1:1. This means if you and your partner both sign up and earn the sign-on bonus you can combine points and cover the entire trip. The annual fee for the card is $95 each so the total cost to you would be under $200. You can also consider the Hyatt Credit Card which currently has a signup bonus worth up to 60,000 points. Although it requires a bit more spending to reach that target. Hyatt also allows you and your partner to combine points to reach your goal sooner.
Any leftover points can of course be used for another cheap family trip to one of Hyatt's many family destinations. This is why we love Chase Ultimate Rewards points and Hyatt points. It's easy to cover your accommodations for free. Combine with a National Parks Pass (which 4th graders can get for free) and it's easy to make this a Cheap Family Vacation even if gas prices are high.
Columbus to Denver Road Trip Itinerary I-70 Through the Midwest Summary
This Columbus to Denver Road Trip Itinerary I-70 Through the Midwest is a great start to any midwest itinerary. Adding a few stops can break up the trip and allow you to experience part of the states you are traveling through.
Follow Affordable_Family_Travel on Instagram
Make sure to like AffordableFamilyTravel.com on Facebook to get all the latest updates. It's also where I post my Dash Deals that are time-sensitive.