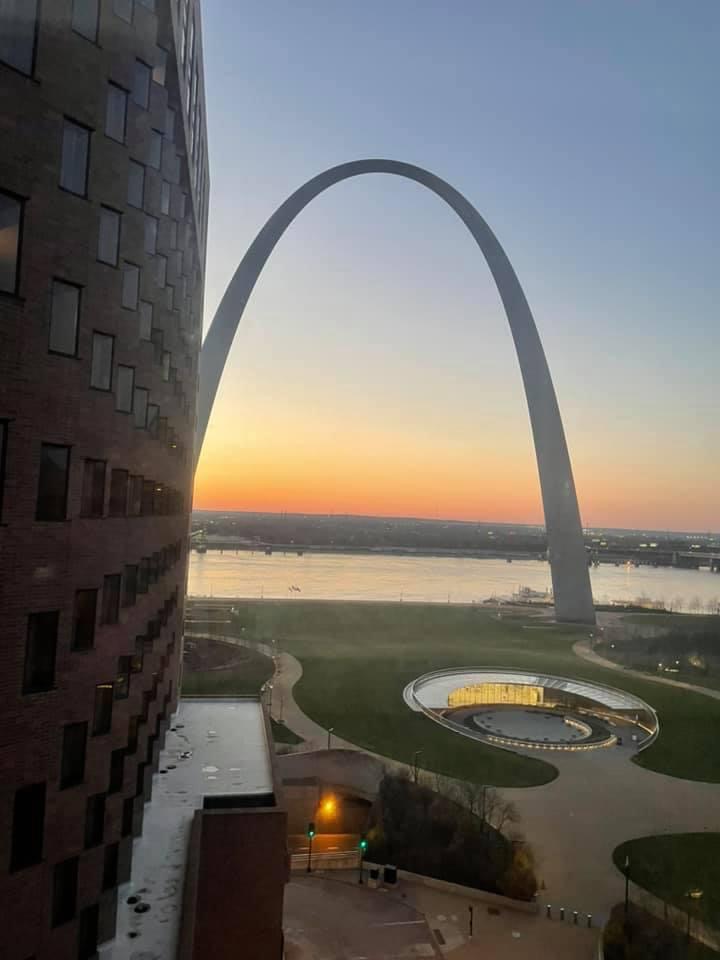 St Louis 3 Day itinerary is perfect for families or individuals. St Louis is a fun affordable city to visit with kids. If you are a Hyatt Fan looking for the best use of Hyatt points, this is absolutely one of the best Hyatt Cat 2 hotels in the US and is perfect for a cheap family vacation. St Louis Gateway Arch is a unique National Park because of its size and urban setting compared to most other National Parks. If you want a budget family vacation, there's plenty to do for a long weekend on a budget.
Where to Stay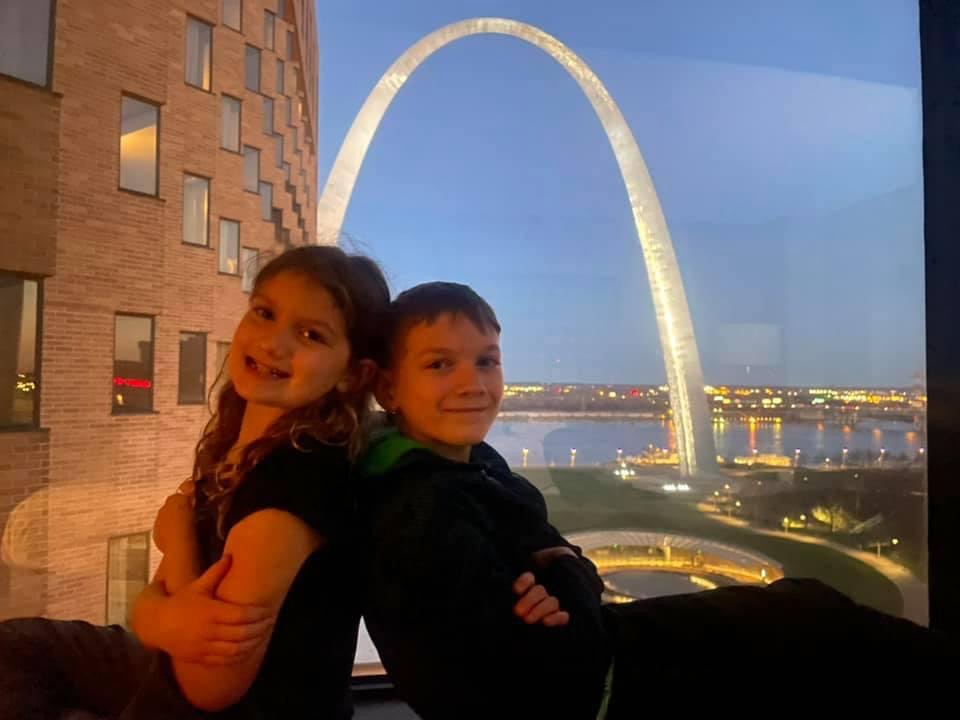 Hyatt Regency St Louis Arch is a great place to stay in St Louis. The Hotel offers Arch view rooms and is the closest hotel to the Arch and the Gateway museum. Behind the Hotel is a historic courthouse and a small park. There's also easy access to great restaurants. This was the only Hyatt we have ever recieved an upgrade at. At the time we did not have the highest loyalty status either. We were treated to a beautiful corner room with views of the Arch.
The hotel is only a cat 2 hotel so free nights are around 8,000 Hyatt points which is an amazing value given it's great location. If you are a Hyatt Fan and looking for the best Hyatt cat 2 hotels, this is absolutely one of them.
Tips
If you want to go up the Arch book your tickets early because they do sell out. Especially for weekend visits
Stop at the Rangers counter before entering the St Louis Gateway Arch Museum to pick up a Junior Rangers book. Don't forget to stop back on the way back to get your Junior Rangers badge.
Head to the park behind the courthouse if kids need to burn some energy
The Gateway Arch park has a large open field so it's great for playing ball but be careful as the water's edge is nearby.
St Louis 3 Day Itinerary
Day 1: Gateway Arch
On your way to St Louis stop at the Malcolm W. Martin Memorial Park which is across the river from the St louis Arch. There's a viewing platform you can walk up for great distant views of the Arch. You can also view the geiser located in the park if it's running.

Lunch: Sandy's Bar-B Q
If you like ribs, while you're in St Louis why not have a taste test of several local rib joints to determine for yourself who has the best ribs. Sandy's is the closest joint to the Malcom W. Martin Memorial Park is it's an easy place to start.
After Lunch Enjoy sometime on the lawn and viewing of the Arch. Enjoy running around the open area around the Arch. The large space was great for taking various perspective shots. The Arch looks completely different at various angles.
Take the Tram to the top of the Arch and back down. Make sure you have your tickets reserved in advance as they do sell out. If you have some extra time head behind the Hyatt to view the old Courthouse and there's a small courtyard behind the courthouse with a park kids can get some energy out on.
Dinner: Riverboat Cruise
Evening Dinner Riverboat Cruise is a nice way to see the Arch lit up at night and from a different viewpoint on the water. The Main course options include things such as Seasonal Fresh Chicken Bruschetta, Herbed Risotto, 5 oz. Seared Fresh Salmon or 5 oz Petite Filet.
Day 2:
Head out early and watch the sunrise over the Arch. If you are have sometime before the arch museum opens head behind the Hyatt for views and photos of the old Court House and then back to a small park where the kids can play. There are also some historic statues in the plaza behind the court house.
Spend the Day at the Gateway Arch Museum. Make sure to grad a Junior rangers booklet which helps make the museum even more fun.
Lunch: Chili Mac's Diner
Take a break from ribs and enjoy this casual diner for lunch that's a short walk from the Arch. Another option is Pickles Deli which is also a short walk away.
Afterlunch head back to the Gateway Arch museum to finish up your junior rangers book. Make sure to stop at the Rangers Desk with your completed booklet, on your way out so you can be sworn in as a Junior Ranger and recieved your badge. If you have some free time and haven't visited the park or courthouse yet, you can head there to finish up your day.
Dinner: Pappy's Smokehouse
Head to Pappy's Smokehouse for some of the best St Louis Ribs in the area.
Day 3:
This morning check out of the hotel before you head out for the day or you can request ahead of time a later check out if you want to head out early for activities.
Head to the St Louis Zoo for your last Day. With over 6,000 animals and 15 exhibits, there's plenty to see.
If zoos aren't your thing head to the Missouri Botanical Gardens. The Missouri Botanical Gardens is considered one of the top in the world. Encompassing 79 acres there's plenty of space to explore.
St Louis Affordable Family Getaway
It's easy to make this an affordable Getaway. The Hyatt Regency St Louis is only around 8,000 Hyatt points. These points can be earned through the Chase Hyatt Credit Card sign on bonus or through other Chase Travel cards that can be transferred to Hyatt. It's easy for a sign on bonus to earn enough points to cover a 3 -night stay or even more.
If you have an American the Beautiful National Park Pass, entrance to the museum is free although entry fees were waived when we visited anyway, the normal entrance is only a few bucks. The St Louis Zoo is a fair price to cover a days' worth of family fun. The other activities in this itinerary can easily be skipped and enjoy a cheaper dinner option over the dinner cruise. To cut expenses even more you can consider packing your own breakfast and lunch. BBQ dinners are often large and can be shared among several people to save even more. It's easy to eat cheap and save while traveling.
St Louis 3 Day Itinerary Summary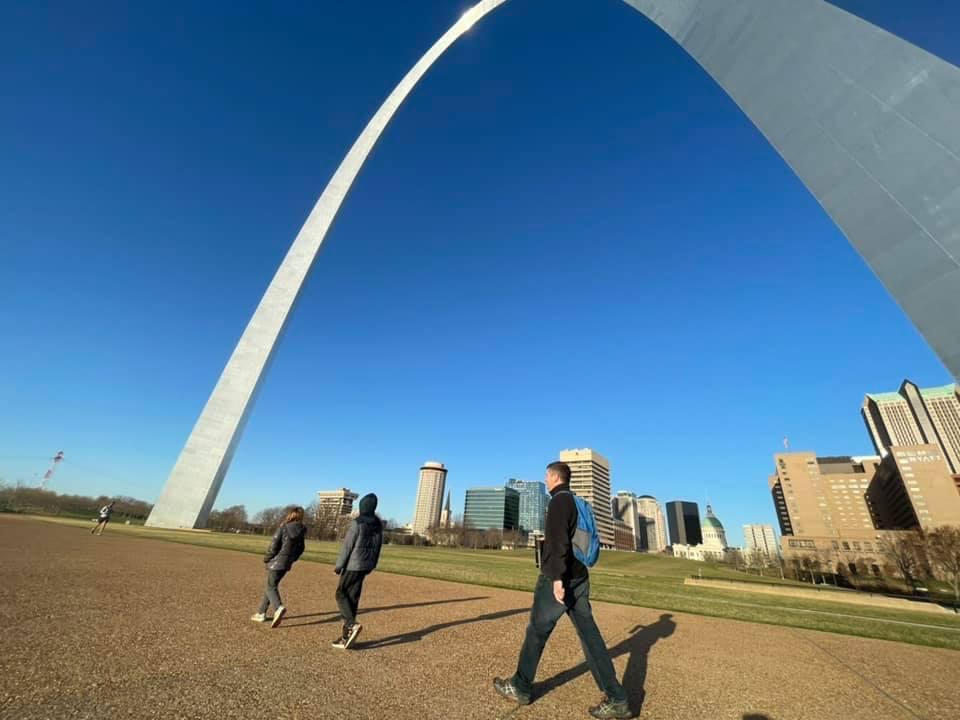 St Louis is a great city to visit for a long weekend family getaway and this St. Louis 3 Day itinerary can help you plan your trip. It's also a good place to stop for a day or 2 if you are heading across the US on a road trip. While 3 days is a good amount of time to spend in the city, its possible to visit The St Louis Gateway Arch National Park on a day trip to St Louis.
Follow Affordable_Family_Travel on Instagram
Make sure to like AffordableFamilyTravel.com on Facebook to get all the latest updates. It's also where I post my Dash Deals that are time-sensitive.