It's not hard to Eat Cheap and Save on Food When Traveling. Cheap family travel eats aren't that difficult. Travel Food can help you save on vacation or help you pack Road trip food. Knowing where to find cheap eats and planning ahead can easily cut your travel food budget in half. Raod trip snacks aren't the only way to save on food while traveling. Eating on a Budget while traveling means you can save your money for fun excursions or to travel more.
Cheap Family Vacations can easily turn into an expensive ones if food costs aren't kept in check. While I love food, for a budget family vacation, I love exploring more and would much rather spend the extra money on a fun excursion or admission to a fun activity. These tips will help you budget affordable family vacation.
When looking at Travel budgets there are 4 components: Transportation, Accommodation, Entertainment, and Food. Transportation and Accommodation can often be covered with points thanks to Travel Hacking for Families. Entertainment can also be covered through points on occasion though not always the best use of points. We also utilize the National Parks pass and the ASTC Museum reciprocity programs to cover a lot of entertainment while traveling. Plus many resorts we stay at also include activities.
This often means that Food becomes the biggest expense of our trip. Because of this, we have continued to work on ways to save money in this category. I love food and I love eating local food when traveling. However, my family tends to eat boring food and even I get tired of eating out. I have found that I can still enjoy local food and reduce the cost of food by utilizing these tips.
1. Book Accommodations that include Breakfast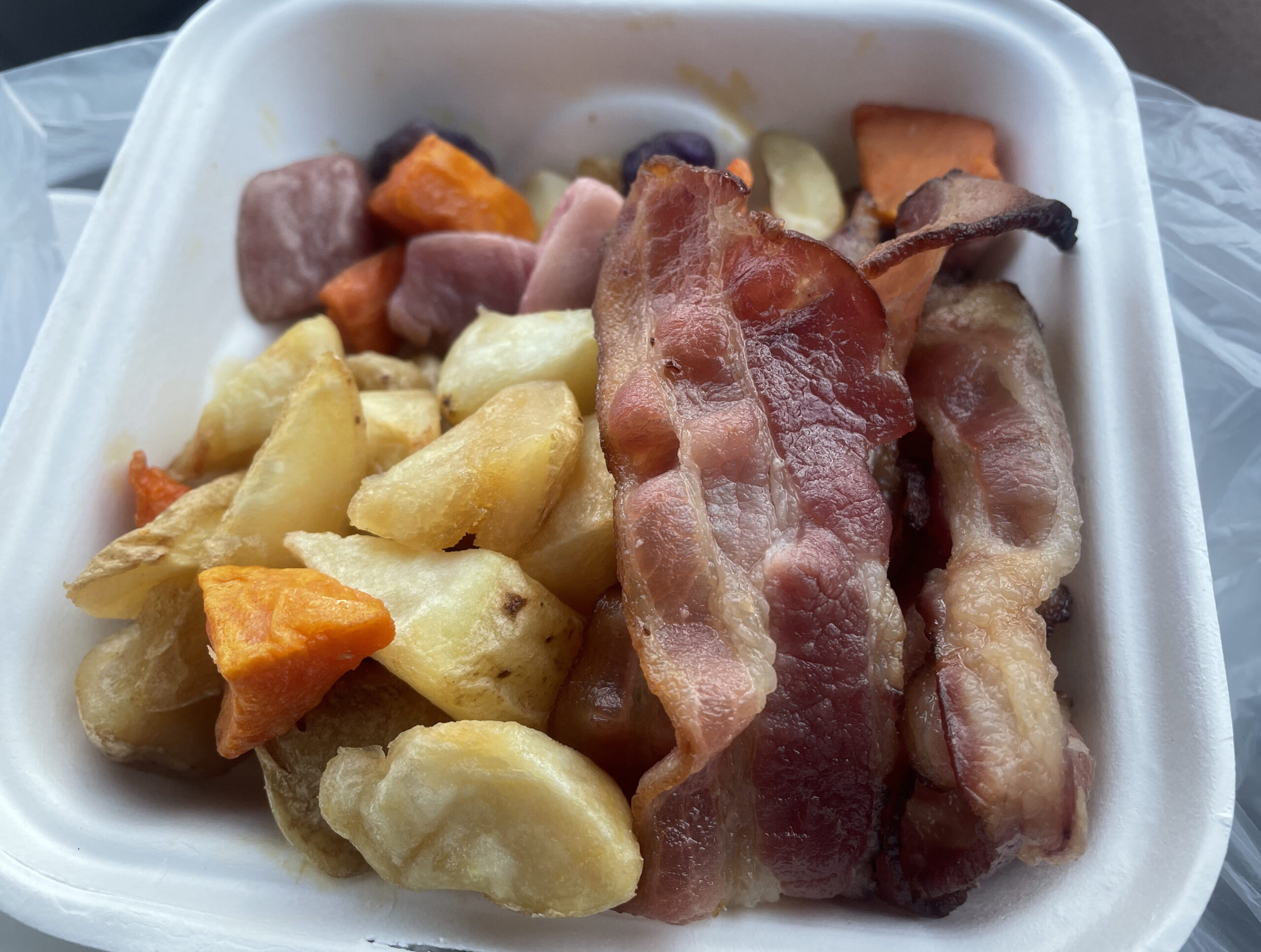 Free Hotel Breakfast can save you a lot when traveling. Even if you aren't a big eater or breakfast person there's usually something for everyone. I used to think it wasn't a big deal to have breakfast includes because we simply brought oatmeal and cereal and I wasn't a breakfast fan but more recently I have appreciated the value even more so.
Our Breakfast usually looks like this:
1 each person hot item if available: Breakfast Sandwich, Eggs/Potatoes/Bacon, Pancakes, or French Toast
1-2 packages of cereal for each kid (1 if they get a hot item 2 if they don't), Oatmeal for My husband if no hot item.
2 cartons of milk
2 yogurts (my daughter usually eats them throughout the morning or even as a lunch)
1 extra item per person: Cheese sticks or yogurt smoothies if they are often (rare) or a granola bar breakfast bar or muffin for a mid-morning snack.
Apple & Orange juice
Coffee for us to go. We bring our travel mugs and get 2 cups of coffee with the provided cups then dump them in our travel mugs. this means no cross-contamination but allows us to have spill-proof containers to go.
I love the changes made during COVID to free breakfasts and I hope it stays. While some have removed hot options many have continued to offer them either individually packaged or served by staff. I love that we can take our breakfast to go.
We can wake up early grab our breakfast on the way out and head on our adventure. My kids are very slow eaters, as many are. By taking breakfast on the road they have more time to eat and they aren't holding us up. Plus they tend to eat more because they have enough time. Often part of breakfast because a snack too.
Hyatt Places and Hyatt Houses are great hotels that include breakfast. We have stayed at many during Covid and they offer a wide variety depending on the hotel. We have had scrambled eggs bacon and breakfast potatoes, breakfast sandwiches, French toast, and even pancakes. usually packaged in containers so you grab and go. The basics usually include toast or bagels, oatmeal, cereals, yogurt, muffins, and fresh fruit. We have had yogurt smoothies, cheese sticks, and cereal/granola bars at some as well.
2. Eat Cheap and Save on Food when Traveling by Pack Breakfast and Lunch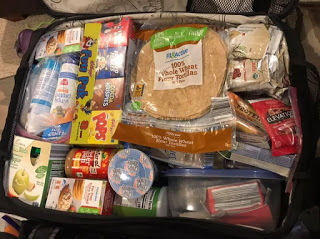 Whether you are staying at a beach house or a hotel for a week or road tripping with many stops it's not too difficult to pack breakfast and lunch. Even if you are flying we have found ways to pack breakfast and lunch with us by "eating out of your suitcase" you can save a lot of money.
Besides the portable food described in the link above, there are things while traveling you can pick up that can sit in the fridge or even a cooler if you simply pack a small soft cooler you can usually use the ice machines in hotels to keep it cold. I recommend bringing zip lock bags for the ice if you go this route. Some ideas for easy road trip lunches include:
Sandwiches (change up the bread to include rolls or sub rolls or even kings Hawaiian rolls for mini sliders).
Wraps are great options especially because you don't have to worry about them being squished and they also fit in luggage very easily. Wraps can be used to turn leftover meats or salads into a new meal. My kids also liked to have cheese rollups which are just a wrap with cheese.
Salami, pepperoni, or other lunch meat and crackers. Changing up bread to crackers makes it feel like a different meal. one that my kids love even more than sandwiches.
Pasta salads. There are some great pasta salads that hold well and can be great as a meal on its own. Preparing ahead of time meals has time to soak up all the flavors and it's one less thing to do while you're enjoying your vacation.
Leftovers make great lunches the next day. We have used leftover bbq to have cold bbq sandwiches or tacos. We all love cold fried chicken and cold pizza heck pretty much any pasta cold is fantastic.
Prepacked subs and salads. If you don't want to make them yourself grocery stores often sell prepackaged cold meal options that are often less than the cost of fast food. For example, if you can find a large sub for $5 that is big enough to split especially with a bag of chips and a piece of fruit you will still be saving.
Eating cheap on the road can be healthy too. These budget health road trip Food are some of my favorite things to eat while traveling.
*Tip: Make sure you save all your condiments from breakfast or other meals out so you can use them for other meals
3. Ways to Save on Food When Traveling by making

Microwave Meals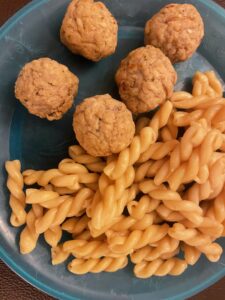 Some hotels provide a microwave in the room or even in the lobby in the breakfast area that you can use to heat food. We have also found an inexpensive small microwave that can you far more than the cost of purchasing one. The smaller ones will fit in a roll-on size suitcase. While I wouldn't personally fly with the one I think they are great for a road trip during longer stays to save money. These Microwave Meals are cheap affordable options while traveling. Think Hot dogs, Ribs, Prepackaged meals, and soups. Easy mac is- Honestly some of my kid's favorite meals.
*Tip: My kids sometimes need a filling snack at night. We keep Idahoan Instant potatoes in our duffle bag that we use for 1nt stays. We don't bring the microwave in during 1nt stays but you can use hot tap water or run just water through the in-room coffee machine to heat water. Then add the instant potatoes. We use the cups usually available in the room but make sure you pack spoons or forks.
4. Upgrade to Club Level
Some resorts offer Club level rooms that you can either pay for or maybe give as part of your hotel status. Club lounges can provide breakfast afternoon snacks and even evening hors d'oeuvres, heavy enough for a light dinner. Think Cheese and fruit trays and 2-3 hot items sometimes pasta dishes or Chicken tenders, wings, potstickers, or other filling snacks. Honestly, I enjoy it more than a dinner entrée.
We were given lounge access at the Hilton Waikiki for being Gold members status, which we received through one credit card. The Credit card also had a bonus which covered 3 nights free at the hotel. The lounge access provided a hot breakfast as well as evening hors d'oeuvres. The hors d'oeuvres consisted of pasta and meat/potstickers as well as cheese fruit and vegetables. This was plenty for a light dinner for us and we were able to enjoy some great Hawaiian Food at lunchtime which is often cheaper than dinner prices.
6. Sharing Meals is one of many Ways to Save on Food When Traveling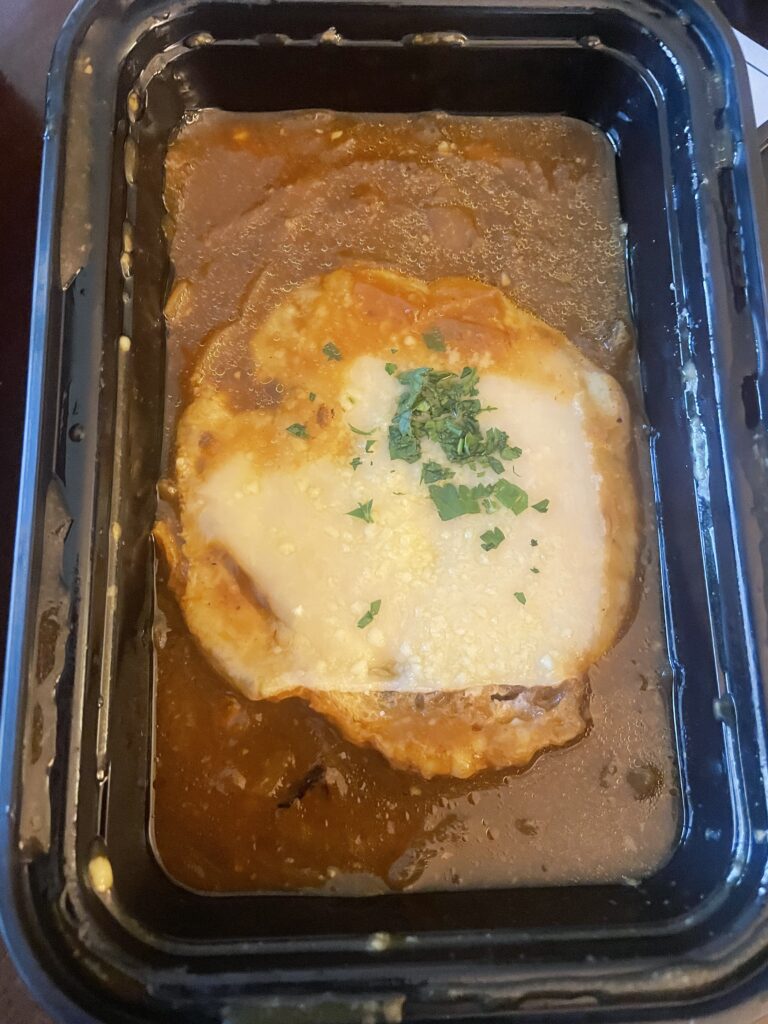 It's easy to think you need to order different entrees when eating out. There's such a big selection why wouldn't you. But do you cook 4 different meals for dinner each day? I don't. So it isn't really a big deal to share meals. Especially if it's something everyone enjoys.
In Vegas, we were able to order a multi-course lunch from one of Gordon Ramsey's restaurants including his famous beef wellington. The Lunch special was $65 compared to over $100 for a similar option at Hell's Kitchen for dinner. The meal came with French onion soup, Beef Wellington with potatoes and veggies, and a toffee cake for dessert. The meal was more than enough for us to share in fact the kids helped us finish dessert and we didn't even touch the wings we had ordered in addition to the combo.
Here are some great meals that can easily be split.
BBQ. Sometimes they offer 2 or 3 meat combos or even a family meal package with several meals or a sampler pack.
Half or whole chicken meals
Fajitas
Full Rack of Ribs
Pasta Dishes
Italian food. Often comes with soup or salad and bread along with the meal. These are usually big enough to split especially for my kids who often just want the pasta and bread anyway.
Read restaurant reviews to determine the sizes of entrees.
Have kids split meals instead of sharing kids' meals that are sometimes almost as much as an adult meal anyway.
7. Order from places that are typically cheaper food
You can still order local food and save. There are often local diners and dives that offer affordable local food. Here's a list of the typical types of food that you can find that often cost less.
Tacos and other Mexican. Ordering 2-3 tacos per person can usually keep the cost of a meal under $30.
Pizza and other Italian. You can usually order a pizza for $20 or less and if you pick up a chopped salad from the store or a bag of carrots that can save you from buying a $12-$15 salad with your order.
Indian food- often these meals are $12 or less and can feed 2 people making it easy to eat out for $30 or less.
Chinese Food- we can usually eat for $30 or less but save even more with lunch specials by ordering early.
Local Fast-food
Hamburgers
Sandwich shops- Chicken parm sub can often be half the price of a chicken parm dinner. I love grilled sandwiches but rarely get to enjoy them so they are a special treat on the road.
7. Budget-Friendly Treats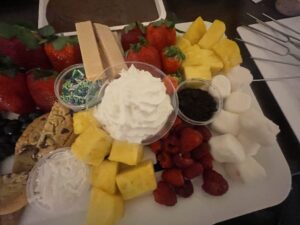 These Vacation Treats are easy to put together while on vacation. If you are looking for something quick and easy stop by a Dollar store and let the kids pick out an ice cream they want. Yes, an entire box of ice cream bars or popsicles for only $1. While there let them pick out 1 or 2 snacks for the next few days.
8. Happy Hour Specials can be for Families Too
Often even in touristy areas, there are Happy our or Sunset menus available. Sometimes you have to take a gamble on if they will have tables in the bar area so families can sit versus only the bar itself where kids can not stay.
One of my favorite deals was in Ocean City where they had a dozen littleneck clams for $5. My sister and her husband had gone for happy hour before a family meal and called me right away. She ordered 2 dozen for us and as we arrived the place was packed but my son was able to polish off 2 dozen of his favorite things and of course, asked if there were more. We have enjoyed Happy Hour dining specials in Key West and Baltimore as well. In Baltimore, we enjoyed Philips Seafood Happy Hour and McCormick and Schmicks, which is a seafood chain that has several locations in the Northeast.
9. Hit the Grocery Store
Preparing your own food doesn't have to be basic or boring or even processed. Do some research beforehand to find out what local items you can pick up at a grocery store and it can save you a lot as grocery store prices can be up to half the price of restaurant prices.
Grocery stores also have hot food sections that can be reasonable. Prepared salads, deli meat, etc can be cheaper than eating out even if it's a little above what you would normally spend grocery shopping.
It's also a great place to pick up some souvenir food items may be a specialty snack or sauce that is sold locally. Think hot sauce in the southwest maybe a local BBQ sauce etc.
Eat Cheap and Save on Food when Traveling Summary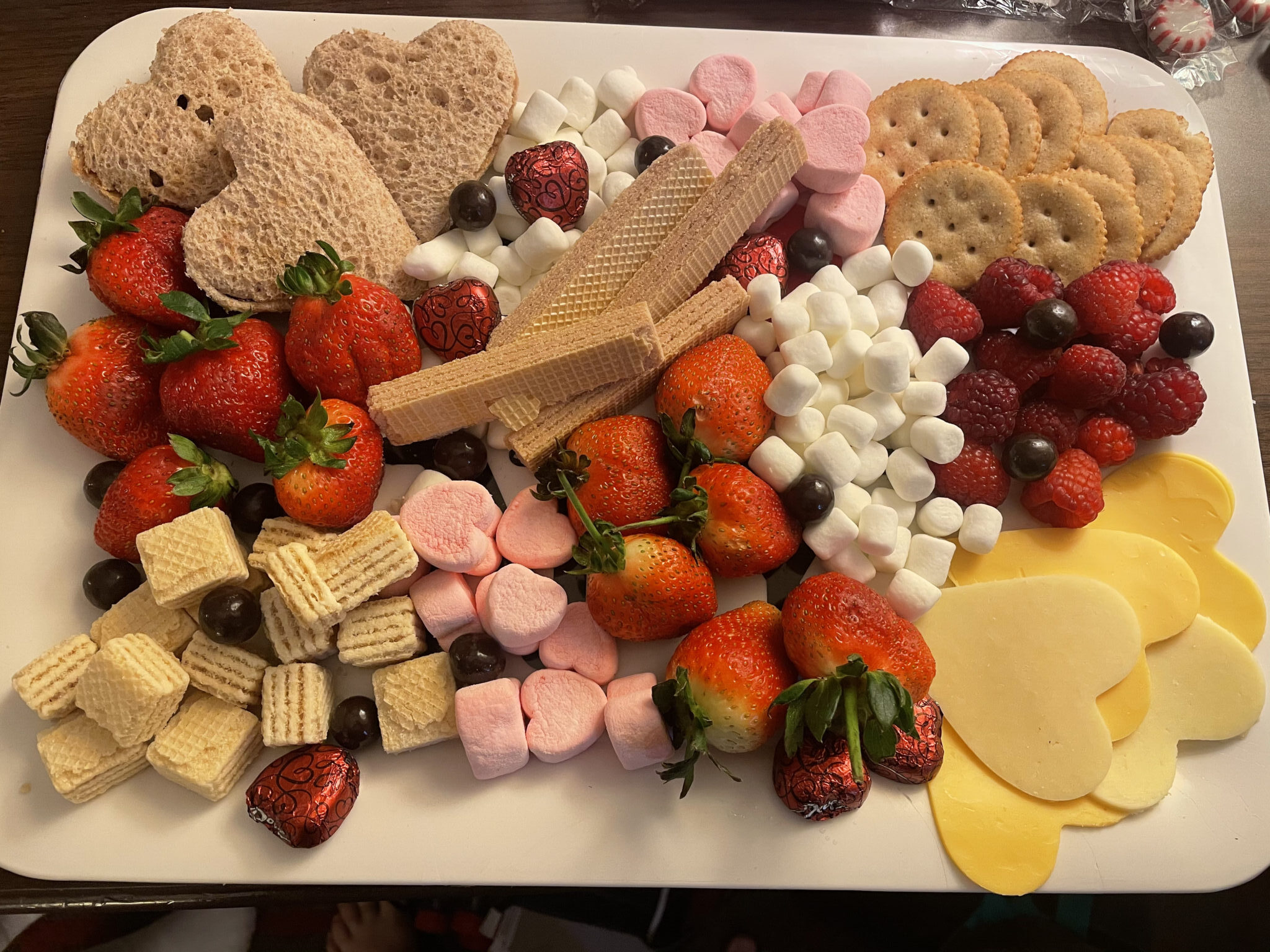 Combing these tips can help you save on food when traveling. Cheap travel eats aren't that difficult. I find if I plan ahead I can cut down my budget enough that there's wiggle room for some extra splurges on the trip.
This will help you stick to your cheap family vacation. After all, an Affordable Family vacation means affordable foods too.
Follow Affordable_Family_Travel on Instagram
Make sure to like AffordableFamilyTravel.com on Facebook to get all the latest updates. It's also where I post my Dash Deals that are time-sensitive.