Family-Friendly Microwave Meals you can make in your Hotel Room can help you save money on your Affordable Family Vacation. Family Travel Hacking can help you earn some great free stays at hotels but they often do not come with kitchens. This microwavable food can help cut your food budget while on a cheap family vacation.
You can also check out Healthy Road Trip Food and Eating out of Your suitcase for some other affordable travel food options.
While I love to taste delicious local food it can add up to eating 3 meals a day or even 2 meals a day out. My husband and kids tend to be picky so having these items on hand can save me a lot especially on basic food.
Small microwaves fit in a carry on roller suitcase making it easy to transport if you need to bring one along on your road trip.
1. Pasta and Meatballs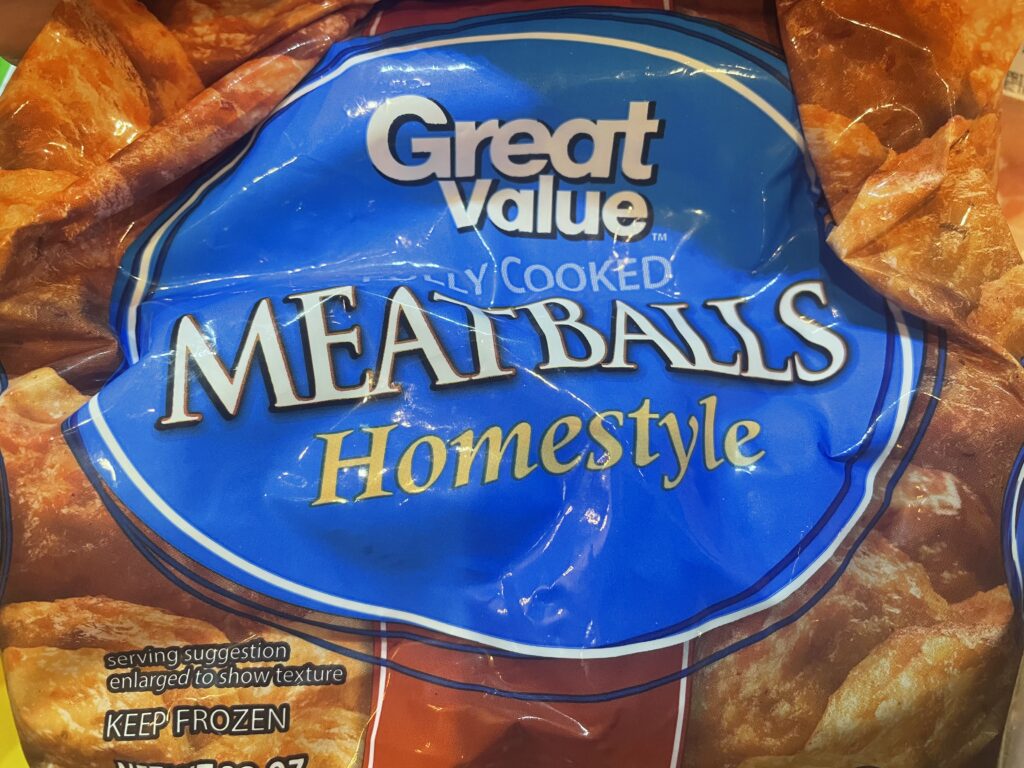 Spaghetti and meatballs is an easy meal for the whole family. You can buy Frozen precooked meatballs at most grocery stores, jarred sauce, and microwave pasta. Microwave pasta is a bit harder to find so it might be something you consider preordering off amazon. Barilla microwave pasta goes for $1.75 a bag when you buy a box of 6. You will need 2 packages to cover a family of 4 so about $3.50 for a meal. A 32oz bag of frozen meatballs from Walmart is $4.52 and a jar of sauce and a jar of Francisco Renaldi sauce is $1.25. a bag of frozen broccoli (or a canned vegetable) to make it a balanced meal. You will end up with leftover meatballs which you can always make into subs the next day.
Spaghetti and meatballs Dinner for about $10.25 Total for a family of 4.
2. Rotisserie Chicken, Mac n Cheese, and mixed vegetable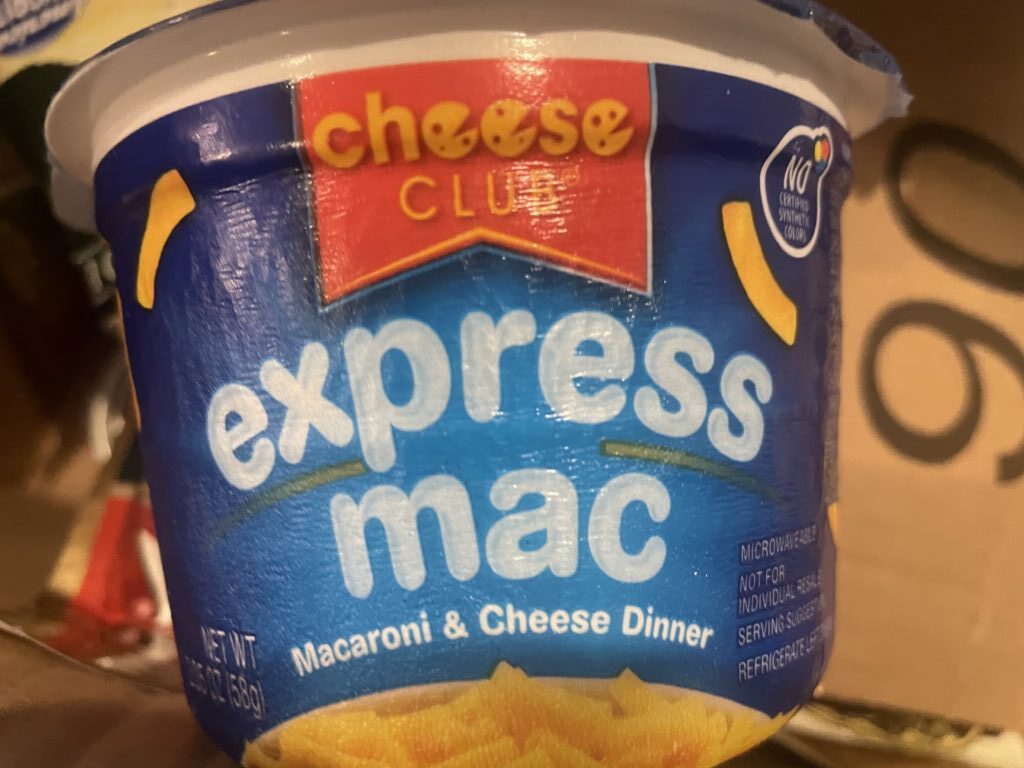 Easy Mac is a great microwavable food for travel. My kids love this stuff. I personally think it's worse than even the box kind but for some reason, it's enjoyable with leftover bbq on top. Our kids are picky about their mac n cheese and often do not like homemade. We often order affordable family value meals from BBQ joins (or large meat entrees). We all share the meat and my husband and I pick sides we enjoy. Then serve the kids BBQ with easy mac. Sides can cost anywhere from $3-$5 and easy mac at a fraction of that time, 2 kids, for us can easily save us over $5 but more importantly, it also saves us from listening to whining. to make it a full meal pair it with a rotisserie chicken for around $6 and a bag chopped salad for around $3
Rotisserie Chicken and macaroni and cheese dinner for $10 for a family of 4.
3. Chicken Alfredo
Grab a rotisserie chicken or use leftover meat if you have it. Toss it in a packaged alfredo sauce. While more expensive I prefer the refrigerated types as they have a more natural flavor. You can pick up a jarred kind for as low as $1.50. 2 bags of microwave pasta $2.50, $6 for rotisserie chicken and $1.50 for the sauce. Add a bag of frozen veggies to make it a balanced meal. You can also pick up a couple bags of birdseye alfredo vegetable pasta and add the rotisserie chicken to the dish. $4 for 2 bags of pasta plus $6 for a rotisserie chicken.
Chicken Alfredo Dinner for $10-$11 for a family of 4.
4. BBQ Ribs, mashed potatoes, and corn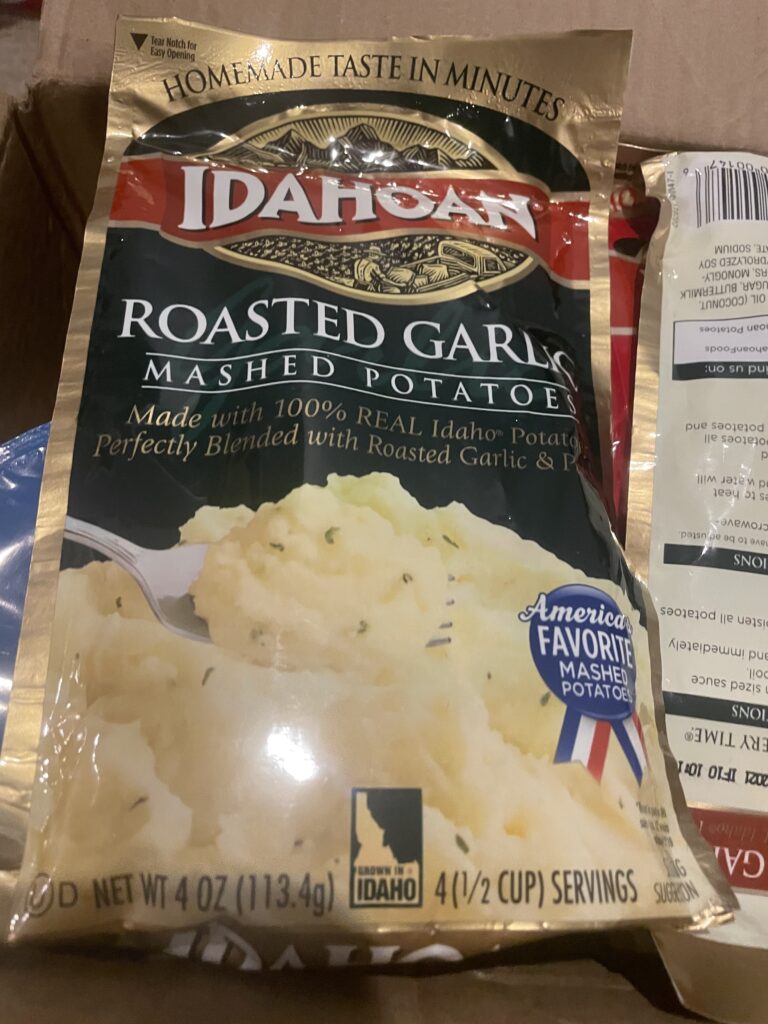 You can often find precooked ribs at grocery stores they just need to be heated up. While a bit pricey we usually find them for $12 or less for a rack. Idahoan Potatoes are a great travel food because you just add them to hot water, no need for milk or butter. Serve with a couple cans of corn for an easy BBQ meal.
BBQ Rib meal for around $14 for a family of 4.
5. Hot Dogs and french fries
Hot dogs are one of my daughter's favorite meals and they are so quick and easy. All you need is a package of hot dogs our favorite are the nitrate-free turkey dogs usually around $3.49 a pack, hot dog buns $2 (or less), and 2 boxes of Oneida microwave fries which cost $1.19 at Walmart. Add a bag of raw carrots for a balanced meal.
Hot dog and French fry meals for $8 for a family of 4.
6. Tacos
I love making leftovers with any leftover food we may have. BBQ tacos with coleslaw are fantastic. As is fish tacos with guacamole or coleslaw. Chicken tacos are easy with a bag of chopped lettuce rotisserie chicken and some salsa. Soft tortillas are a staple in our travel food bag because we can use them for wraps for lunch or to wrap up leftovers as a dinner. If you aren't using leftovers the cost would be $6 for a rotissarie chicken, $2 for a bag of lettuce, $3 for a fresh salsa.
Taco meal for around $11 for a family of 4.
7. Soup/Chilli and a Salad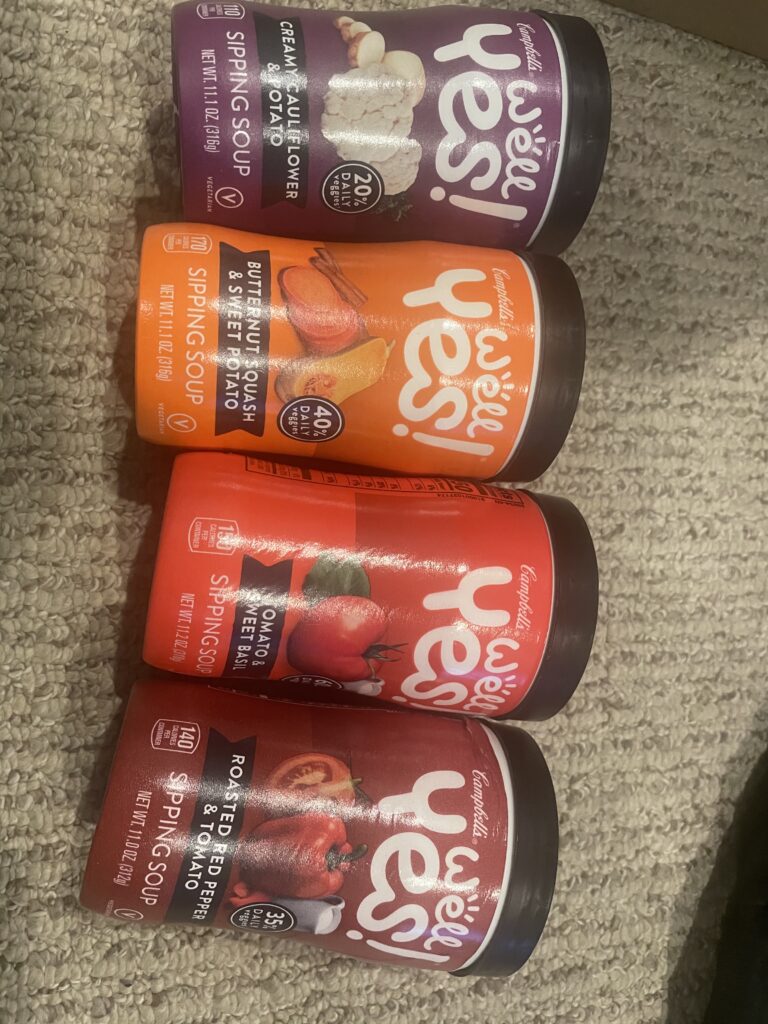 Soup is a quick easy meal. You don't have to settle for canned if you prefer something more fresh you can often pick up fresh soups at the market for $5 for a quart. There's also microwavable chili available which my daughter loves. Pair with a chopped salad for a balanced meal.
Soup and Salad meal for $5-$10 for a family of 4.
8. Shelf StablePackaged Family Friendly Microwave Meals
Believe it or not there's a lot of shelf stable quick easy microwavable meals. I love having some of these available for when we don't want to wait for delivery, or even to put together a meal. In 2 minutes or less we can have food ready to eat.
Hormel Shelf Stable Meals
Hormel and a few other companies sell shelf-stable microwavable meals. My husband likes these the most and I don't mind a few of them. My kids enjoy the chicken alfredo and my daughter likes the Swedish meatballs. It definitely tastes processed but some people don't mind or actually enjoy it.
My husband loves processed Salsbury steak and misses it from his days as a bachelor. I don't eat gravy often so I enjoy the chicken and turkey with mashed potatoes and or stuffing. Barilla also makes some microwave pasta with marinara or alfredo sauce.
Gerber Toddler Meals
For toddlers, Gerber sells prepackaged meals as well. the ravioli that is not in a red sauce was my favorite for traveling with toddlers. I could easily just drain out the water and serve them unheated anywhere we went. they were the perfect finger food for toddlers.
Indian Food Pouches
There are several brands out there that make Indian food in microwave pouches. These are my favorite especially the Punjab eggplant. Serve with microwave rice or microwave cauliflower rice for a healthy quick meal.
Chef Boyardee
Chef Boyardee is something my husband and kids love. They sell it in microwaveable cups but you can also pack a microwaveable croc to heat it. make sure you pack a can opener if you plan to use cans without the pull tops. Chef Boyardee actually has a variety of flavors. I lived off these in college and I think there's a chicken parm one that was my favorite. Our kids enjoy the traditional spaghetti os with meatballs.
These meals cost about $2 each so would be $10 or less for the average family which I consider to be an affordable meal. The best part is that they take less than 2 minutes to heat. This means if you return late after a busy day you can get food into your families bellies fast.
8 Family-Friendly Microwave Meals you can make in your Hotel Room
Family-Friendly Microwave Meals you can make in your Hotel Room can help you save money while traveling. They also provide a quick easy and affordable meal option. We also love to have some of the shelf-stable options available for our son who often eats a second meal later in the evening.
Follow Affordable_Family_Travel on Instagram
Make sure to like AffordableFamilyTravel.com on Facebook to get all the latest updates. It's also where I post my Dash Deals that are time-sensitive.