National Park Sites from Flagstaff / Sedona Arizona with Kids. Flagstaff is a great home base for exploring many of the National Parks in Arizona. From here you can visit the Grand Canyon and Petrified Forest including the painted desert. There are several really nice national monuments to visit.
There are plenty of Kid-friendly hikes and it's fun to explore National Parks with kids. You can purchase the American the Beautiful National Parks Pass for one low price and it will cover admission to most National Parks sites for an entire year. Fourth Graders can get a free pass through the Every Kid in a Park program.
Flagstaff is a great home base for working remotely. You can easily access many of these national park sites within 30 minutes. It's easy to complete a visit to these nearby sites in the evening. You can easily spend a week here.
There are many National Park Sites and hike trails near Flagstaff and Sedona Arizona.
Walnut Canyon National Monument is located in Flagstaff, AZ not too far from hotels. At the monument, you can visit pueblos and find evidence of early life along with the trials.
Located in Flagstaff, AZ within 30 minutes drive from Flagstaff hotels is Sunset Crater Volcano National Monument. At the park, you can visit a lava field and see different volcano features. There's a nice hike suitable for kids of all ages that takes you around the base of the volcano crater.
Sunset Crater Volcano National Monument is connected by an interior road to Wupatki National Monument. If you have time combining these 2 makes sense. If only complete one hike and the visitor center you can spend about 1-2 hours here.
3. Wupatki National Monument
Located in Flagstaff, AZ within 30 minutes drive from Flagstaff hotels is Wupatki National Monument was the site of a Pueblo community in the early 1100s. It's a great place to learn about the history and hike around the ruins. Depending on how many stops you make you can spend 1-3 hours here.
4. Coconino National Forest, Sedona, AZ
There are some really great hikes within Coconino National Forest in Sedona, AZ. Most are moderate and fairly long in length. Devils Bridge is about a 4-mile moderate hike and the birthing cave is a 2-mile moderate hike. Both are popular hikes in the area.
Hubbell Trading Post National Historic site is about 1 hours drive from Flagstaff Arizona. It's located in Ganado, AZ, and only a few minutes from Winslow, Arizona. Hubbell Trading Post is the oldest operating trading post in the Navajo Nation. They sell goods and Native American Art.
After visiting the site stop in Winslow Arizona and take a snapshot standing on the corner. There is a good Mexican Restaurant in town you can grab lunch at.
There are several great National Park sites within a couple of hours' drive and worth a day trip from Flagstaff or Sedona Arizona
Montezuma Castle National Monument is located in Camp Verde, AZ about an hour from Flagstaff, AZ. It's the third National Monument dedicated to preserving Native American culture. this is a 20 story highrise apartment-style building on the mountain cliffs.
Petrified Forest National Park is located about 1.5 hours from Flagstaff, AZ. The park is located in Arizona which does not observe daylight saving time. If you are coming from New Mexico or Utah keep that in mind. The park has the Petrified Forest National Park visitors center on the west end the park. On the North end of the park is the Painted Desert Visitors center. Entering from here will take you through the painted desert and then the petrified forest. There are several kid-friendly hikes.
There's also an opportunity to earn a paleontologist junior ranger badge. This is only available at a selection of National Park sites.
Grand Canyon National Park is a popular Arizona National Park site. The park is about 1.5 hours from Flagstaff Arizona and encompasses 277 miles of the Colorado River and adjacent uplands. The Grand Canyon is a mile (1.6 km) deep, and up to 18 miles (29 km) wide. The South Rim is closest to Flagstaff and the North Rim is closed for the Winter.
9. Horseshoe Bend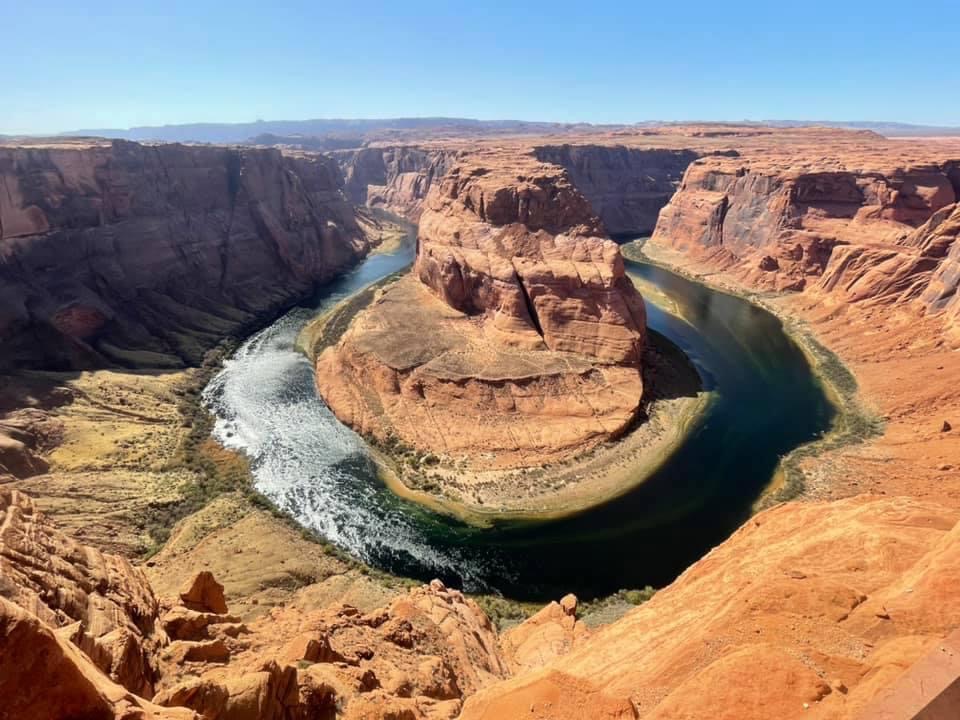 Horseshoe Bend is about 2 hours from Flagstaff Arizona. There's a fee for parking as it's run by the state and not the national parks system. It's an easy walk. and worth a stop if you plan to visit the Glen Canyon National Recreation area nearby.
10. Glen Canyon National Recreation Area
Glen Canyon National Recreation Area, located about 2 hours from Flagstaff, encompasses over 1.25 million acres. It stretches for hundreds of miles from Lees Ferry in Arizona to the Orange Cliffs of southern Utah. While there, you can visit Antelope Canyon. There are actually 2 ways you can visit. You can book a tour which is the only way to access the canyon by foot or you can kayak in. Kayaking entails paddling a few miles and then hiking an additional couple of miles so it's definitely for those with strong endurance.
Antelope Canyon
11. Tonto National Monument
Tonto Nationa Monument is located in Roosevelt, AZ about 1.5 hours from Flagstaff. It 2 different cliff dwellings. Artifacts are displayed of how people lived from 1250-to 1450 AD.
If you are heading here You will drive through the Coconino and Tonto National Forests. This is a really cool drive because you feel like you are in the Northeast coniferous forests far from the dessert. It was very surprising and very beautiful and there was even some snow.
These National Park sites are 3 to 3.5 hours away and would make a long day trip
12. Lake Mead National Recreation Area
Located in the Mojave Desert, Lake Mead National Recreation Area provides the opportunity to swim, boat hike, and camp. The area encompasses over 1.5 million acres of mountains, canyons, valleys, and two vast lakes. Take in views of the Hoover Damn or explore the park's nine wilderness areas. Lake Mead is approximately 3.5 hours away and would be a long day trip or would be a good stop if heading to Las Vegas from Flagstaff.
Canyon de Chelly National Monument is located in Chinle, AZ. It's about 3 hours away. People lived in these canyons for over 5,000 years which is the longest anyone has ever lived uninterruptedly on the Colorado Plateau. This is part of the current Navajo land where they live, raid livestock and farm the lands in the canyons.
Casa Grande Ruins National Monument is located in Coolidge, AZ, approximately 3 hours from Flagstaff. Explore the land where Sonoran Desert people lived and farmed including an extensive system of canals.
14. Navajo National Monument
Navajo National Monument is located in Black Mesa, AZ about 3 hours from Flagstaff. Many tribes inhabited the canyon for centuries including the Hopi, San Juan Southern Paiute, Zuni, and Navajo. enjoy views of cliff dwellings of Betatakin, Keet Seel, and Inscription House. The area was last inhabited around 1300 AD.
Pipe Spring National Monument located in Fredonia, AZ is about 3.5 hours from Flagstaff. It's an ideal stop on your way to Zion National Park. Learn about the traditions of the Kaibab Paiute and the Mormon settlers through the museum, historic fort, cabins, and garden. Hike the Ridge Trail to enjoy geologic wonders, plants, and wildlife and possibly find dinosaur prints. End your trip by visit the ranch animals.
Arizona Road Trips and Extensions
If you are taking a road trip to Flagstaff from the east coast there are several routes you can take. Ohio to New Mexico via I-40 and I-44 is a fun route to take which includes stops at some additional National Park Sites. An Alternative route can take you from Ohio to Denver via I-70.
From Flagstaff, you can head north to Utah to visit the Utah Mighty 5 National Parks, stopping at Glen Canyon National Recreation Area. As well as, the Grand Canyon, and even adding Pipe Spring National Monument before heading to Zion National Park.
Or head west to Las Vegas, stopping at Lake Mead Recreational Area on your way.
National Park Sites from Flagstaff / Sedona Arizona with Kids Summary
National Park Sites from Flagstaff / Sedona Arizona with Kids is a great way to explore many National Parks in a week vacation to Arizona or as part of a southwest roadtrip.
Follow Affordable_Family_Travel on Instagram
Make sure to like AffordableFamilyTravel.com on Facebook to get all the latest updates. It's also where I post my Dash Deals that are time-sensitive.