Are you looking for a Naples Florida Hotel with lazy river because the Hyatt Coconut Point is the perfect family hotel. It can also be a cheap family vacaiton becuase you can stay at this family resort on points. It has everything you need to have a fun relaxing vacation with out leaving the resort. Hyatt Coconut Point is located in Bonita Springs, Florida Near Ft Myers and Naples Florida. The closest airport to Hyatt Coconut Point Florida is Southwest Florida International Airport, Ft Myers.
Learn how Hyatt Coconut Point can be a cheap family vacation. For those looking for a family vacation on a budget, the included activities at the resort can cut the cost of your vacation. Find out other ways to make this a budget family vacation.
*1/15/21 Covid Updated Information: Policies are constantly changing but the kids club and kids activities are currently not being held. The rock wall is also closed. While the policy is 4 people per elevator the sign is some what obscure and many people cram into the elevators. At this time if you are concerned about social distancing it's my recommendation that you book a lower floor where you can easily take the steps as needed. Coconut point has only 4 elevators for all their rooms so during peak time they can be packed. Even off times it's rare you will be in an elevator alone.
Overview of Hyatt Coconut Point Resort & Spa
The Hyatt Regency Coconut Point Resort and Spa is located in Bonita springs about a 20-minute drive from Southwest Florida International Airports.  It's a beautiful resort with a great pool complex, kid's activities daily, and lots of wildlife to spot. It's a great resort for a relaxing vacation. The only downside is that the beach is only accessible by a boat that can take you to or from the beach every hour, and requires a reservation for your departure. So the beach part of your trip is on a schedule. Overall we got exactly what we went for, a fun family long weekend away in Sunny weather.
Tips to make the most of Your Stay
Make sure you bring beach toys
You must make reservations at concierge for the boat to the beach. Check the resort handout for instructions.
Schedule the first boat ride over to the beach and you may be lucky to see dolphins swimming in the boats surf
bring a soft cooler since the fridge in the room is a drink fridge and may not keep meat and dairy cold enough
Check the Towel Hut for daily activity schedule
Check near elevators for a display board for special events (we had a magician balloon artist and face painter during our stay)
Take advantage of Instacart to save on Food and Alcohol.
Hyatt Coconut Point Rooms
We were upgraded to an Ocean view room. It was a renovated room that I think is a pilot for the larger up coming renovation. We received a survey after our stay that focused on floor type preference.
King Bedroom
We had a king bedroom with sleeper sofa which is our preference over 2 queens as its easier for the kids to be in a sleeper sofa. The room has a toilet that has a door with a shower opposite it and a sink in the middle. the doors are fogged glass so I was happy there was a sliding wall to partition off the room making the bathroom area along with the shelves/luggage area private. It worked well actually because we had plenty of space to get dressed.
The beds were typical Hyatt mattresses which seem to be a happy medium. my husband prefers a little bit firmer mattress and i prefer something a little softer.
Balcony
The balcony in our room was nice with plenty of room. I noticed some balcony's were shorter balconies which looked to barely have enough room for 2 chairs but didn't get to really see them besides from the ground outside.
Hyatt Coconut Point Room Fridge
There was a drink fridge in the room. It was a decent size but not super cold. We loaded it with 3 chopped salads, strawberries, cored fresh pineapple, 2 pints of cherry tomatoes, a bag of baby carrots and 2 bottles of water. So plenty of space but we did keep milk and yogurt as well as any leftover dinner inside a cooler with lots of ice to make sure it stayed cold enough.
The fridge in this room is really just a drink fridge. It's not like the fridges in other Hyatts we have stayed. so much so that we still kept meat on ice in the cold to assume it stayed cold enough. We felt comfortable with veggies fruit and drinks in the fridge.
Hyatt Regency Coconut Point Pool
The Coconut Point Hyatt Pool Complex is the main reason we headed to this resort. There are 3 slides. a Corkscrew slide that empties into the main kid's pool. A set of double slides you can race people and a tube slide that empties into the lazy river. There is a 48" height requirement for the double slides and the tube slide and the Corkscrew waterslide requires a height of 42".
The double race slides are a bit rough- like pins on your back as you skip through the water at the end of the slide but the kids really like racing so they don't mind it at all. Reminds me of the race slides in Atlantis on the back of the Myan Ruin. I really liked the tube slide into the lazy river it got some good speed. The corkscrew slide is the kind the kids can go down over and over again, and my kids are that age that I can sit on a lounger and watch them come out the slide over and over again while I drink my morning coffee.
There's also a pool where a large water fall falls into and an Adult only pool with a large hot tub.
Hyatt Coconut Point Resort Activities
When you arrive at Hyatt Bonita Springs Resort, they will give you a booklet that lists the activities for the week. If you stop in the pool hut in the morning they will have a list of the activities with the times and they may have some extras. We had a magician, face painter and balloon artist Sunday night of a holiday weekend. The night before they had a movie night. During the week days there wasn't any evening activities.
Hyatt Resort Activities for Kids
For the most part it was only my children at the activities (though there were a handful of kids at the resort). My kids didn't mind as they earned first and second place and both received a prize each time. They have slide racing every day. Its on the cork screw slide where they time you, and fastest time wins. They have arts and crafts daily as well for a fee. We never did these simply as there were other things to do. The other activities changed daily from dolphin diving (they throw dolphin dive toys and kids swim down and grab them), potato sack races, bucket toss and hula hoop contest.
Other Activities around the Resort
Besides the schedule activities there plenty to do around the resort. By the Towel Hut there's table tennis and 2 cornhole games. There's a rock wall open from 11am-3pm (times may change), and near the climbing wall there is a giant connect four. Outside the lobby facing Tarpon Bay Restaurant there is a Shuffle Board Table as well. In the lobby area before exiting the back of the resort, there is checker and chess tables as well.
This is a great place for wild life viewing. There is a board walk through the marsh that takes you to the boat launch. At the beginning of the boardwalk is a three sided sign that highlights the animals that you might see which includes dolphins, turtles, raccoons, and marsh rabbits. One morning we saw a family of raccoons in the marsh.
We saw many birds there as well as on the way to and at the beach include Brown pelicans. In the pond we saw a loggerhead turtle (and the kids searched for but did not see any alligators). In the harbor is a sign that recommends you shuffle your feet for stingrays. We saw mullet fish while waiting for the boat, and saw sheephead fish near Pelican Beach.
On the boat ride too and at the beach we saw dolphins. The captain said its common for the dolphins to play in the wake of the boat but we didn't have luck seeing that. However, we saw 2 dolphins catching fish very close to shore and several times one of the dolphins came up on shore trying to get a fish and was splashing around in the shallow water. we watched him swim for nearly 30 minutes.
Hyatt Coconut Point Resort Beach
The Resort is NOT on the beach. It is surrounded by marshlands. However, they offer a boat to a private island shared with a local community. There were plenty of beach chairs and bathrooms on the island. You need to reserve your departure boat ride with concierge- something we didn't realize till we were at the boat stop. You can take a shuttle van or walk to the boat launch. the walk is a quick 5-10 minutes on the boardwalk through a mash (where we saw raccoons and birds).
Hyatt Coconut Point Boat Ride to the Beach
The boat ride is 10-12 minutes long and they usually wait about 15 min at the beach and back at the resort. They run every hour through this pattern. The boat ride is a nice way to see dolphins who sometimes play in the boats surf. As well as various birds. The only negative is the experience is very scheduled since you need to reserve your departure boat.
Do you want to leave at 9 am for the beach or 10 am? do you really know in advance? Also while at the beach you need to decide are we ready to go now or are we up for staying for at least another hour when the boat returns. While its not a huge deal, we definitely spent less time at the beach than we normally would because of this.
Coconut Point Restaurants and Dining Options
You can check out the Resort Restaurant options here. This was a budget trip for us so our plan was to eat frugally. We brought some food, placed an Instacart order and used Doordash for dinner.
Tarpoon Bay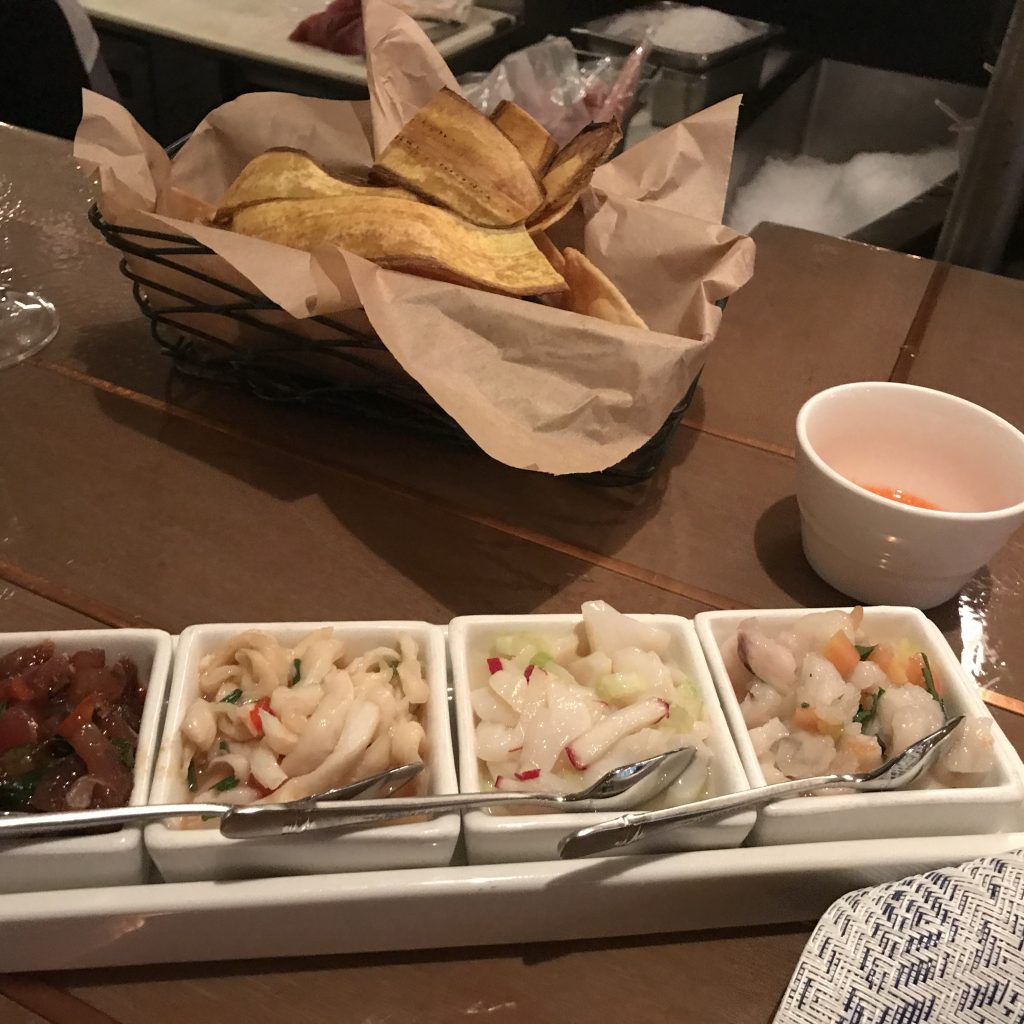 One evening I headed over to Tarpoon Bay on my own to enjoy some Ceviche. I was seated at the Ceviche Bar. The Ceviche Chef offer for me to taste several of the varieties of Ceviche. I then ordered the sampled. I loved the tuna, grouper and shrimp ceviche. The scallop and salmon were good too. I was a little disappointed in the conch ceviche but its likely because I have had amazing conch salad in the Bahamas. The Ceviche Chef was very friendly and there were also plenty of other cold seafood options there as well as a wonderful but expensive menu.
Door Dash
We ordered Door Dash 2 Evenings. Service was prompt, our food was hot and it saved us a lot of money.
Tony's Sacco's Coal Oven Pizza
We ordered pizza and wings. Total came to $41.34 for a large cheese pizza and 12 wings. The Wings were huge wings which made the $18 for 12 worth it. I ended up eating 6 for dinner with a salad and 6 the next day with salad for lunch. The garlic Parmesan wing sauce was fantastic and creamy not dry. I ordered a side of hot sauce for .80 as I like to add some. My husband and the kids really enjoyed the pizza.
Pino's Pizzeria & Italian Kitchen
The night I had Ceviche, My husband and my kids ordered Italian. Veal parm with spaghtti and butter, side of meatballs and garlic knotts. Choice of salad or soup, My husband chose the soup which was an Italian wedding soup. The veal parm was a large but very thing piece. My husband said it was good. The kids ate all the spagghti and most of the meatballs. I tasted them they were good the order came with 3 small/medium sized meatballs cut in half. The total was $32.60.
Pinchers
Pinchers is offsite and requires a vehicle or lyft. Honestly wouldn't be worth the $20 each way for a ride share. We stayed at the Marriott Residents Inn the night before we flew home and Pinchers was in the plaza next door. I had been craving seafood and they offer kids eat free. I ordered scallops with a double order of green beans. The scallops were decent but not amazing the green beans with garlic were very good.
My husband ordered the shrimp scampi style and I though the sauce tasted a little processed and not fresh made. He loved his garlic mash potatoes. Over all with Tip included it was only $48 for a family of 4 to eat out so the price was definitely reasonable. However, I would have been happy to spend more on something better. If you happen to be staying near by I would recommend it as an affordable seafood option but Not worth going out of your way for.
Instacart
We used Instacart to save some money on food during out stay. I love food and often eating healthy while traveling is a real struggle for me especially when I have to choose between $14 for a boring salad or $14 for a bacon cheeseburger. Instacart was a win win. I could order $3.50 chopped salads for my lunch, cottage cheese and cherry tomatoes for my breakfast and stick to my diet.
I also ordered go-gurt, milk and fresh fruit for the kids. And potato chips. We had brought cereal and oatmeal for breakfast along with some items for lunch. The best part We could order wine for delivery as well. Considering a bottle of wine in the market was $115 and at the restaurants the cheapest bottle was $58, we saved a lot by having it delivered.
How to Make this an Affordable Family Vacation
Hyatt Coconut Point is not a cheap family vacation hotel. It's a great over all value when you factor in the activities included. It's fairly easy to eat cheap while staying there too.
Free nights start at 20,000 points per night which means you can earn 2 free nights with the bonus from the Hyatt Credit card. Hyatt has had some really great special offers including 25% points back if you are a card holder, free parking for World of Hyatt members (any level and more. Make sure you sign up for the special offers prior to your stay.
Summary
We received a wonderful service from all staff at the Hyatt Coconut Point. We were extremely pleased with the resort amenities especially the pool complex and kids' activities. I would definitely recommend staying here for a relaxing resort vacation. The service is top-notch.
Products you may want for this trip
Check out these other great Hyatt Resorts and other Fun Family Resorts
Follow Affordable_Family_Travel on Instagram
Make sure to like AffordableFamilyTravel.com on Facebook to get all the latest updates. It's also where I post my Dash Deals that are time-sensitive.