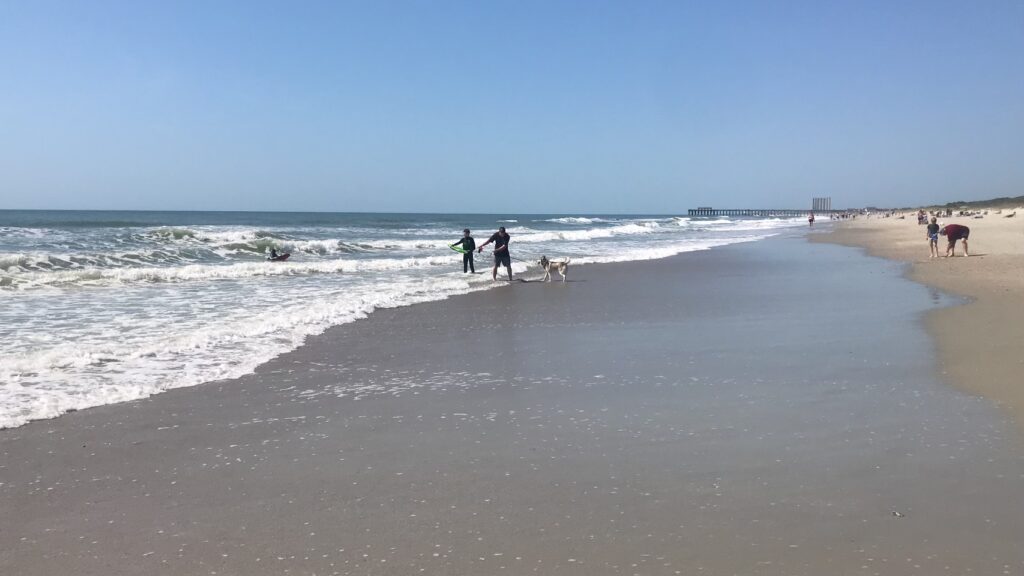 Budget Travel to Myrtle Beach with Kids can be a fun affordable family vacation. Myrtle Beach is a fun family destination. There are a lot of activities that can make the trip costs add up fast. However, Myrtle Beach has plenty of free and cheap activities for a fun cheap family beach vacation. There are also plenty of things to do in Myrtle Beach when it's too cold to swim so it's a great spring break destination. Myrtle Beach is a great destination for an affordable beach vacation.
Where to stay in Myrtle Beach on a Budget
DoubleTree by Hilton Myrtle Beach
For around 52,000 Hilton points per night, you can stay at the DoubleTree Myrtle Beach. The Hilton Business American express credit card has a sign-on bonus which could cover around 3 nights and Hilton allows you to combine points so if your partner also earned the bonus you could easily cover a 7-night stay since the 5th night is free at Hilton when staying on points.
Hilton DoubleTree Myrtle Beach Activities
Another benefit of staying on points is that the $25 resort fee is waived. This means all the free activities included at the resort are really free to you. Miniature Golf, boccie ball, table tennis, and volleyball. As well as 2 indoor pools, 2 small lazy rivers, 2 kiddie pool areas, and 1 large outdoor pool. You also get free walking access to the pier which is a $3 per person savings per day.
Hilton DoubleTree Myrtle Beach Rooms
The rooms have a fridge and microwave so it's easy to save on food. There isn't a ton of restaurants near the resort which could be seen as a positive or a negative. We didn't feel enticed to eat out and since we had a $30 resort credit thanks to our Diamond status we saved a lot on food. Having breakfast and lunch in the room saved us a lot. Then we ordered dinner using the $30 credit. We were able to keep the meals to around $40 or less so our dining costs were minimal. Our kids loved the miniature golf and wanted to play every morning and every evening. Between the pools and the beach, we didn't really need any more activities.
The pet fee here is $75/night which is pretty steep but when you take into account the cost of pet care if you don't bring your pet along with the extra nights we usually have to leave ours it wasn't much more. If paying cash for a stay here consider the overall cost and benefits of this resort to others.
Best Western Plus Grand Strand Inn & Suites
The Hotel offers rates under $200 for suites that sleep 4 (queen bed and sleeper sofa in a separate room) even during spring break. Full breakfast and a kitchen include which makes for a very affordable family vacation. This pet-friendly hotel charges $30 a night with a max of $150 per week. 2 dogs up to 80 lbs are allowed at the hotel and other types of pets may be approved. We had a giant pig staying next to us although I can not confirm if the hotel was aware since the oceanfront building is separate from the office.
The Hotel has a small lazy river and pool and part of the hotel is beachfront with balconies with wonderful views. The kitchen is great for cooking meals- I recommend bringing frozen meals that you can easily reheat. This can save you a lot. The location part of this hotel is directly on the beach, the balconies make you feel like you are right there. If you like to spend a lot of time on your balcony this is a great choice.
Embassy Suites
Embassy suites have rates starting at around 80,000 Hilton points per night. The benefits of this hotel include all suites, breakfast and managers reception in the evening, and access to a small water park. The manager's reception generally is very light snacks not anything for a meal but the cook to order eggs at breakfast is great. The fridge and microwave in the room mean you can choose to skip eating out if you want to.
What to do in Myrtle Beach on a Budget
Of course, there's the beach and there are many things to do at the beach even when it's too cold to swim. If temperatures are uncertain consider a hotel with a heated pool.
The Beach
The main reason to head to Myrtle Beach is likely the beach and ocean. Myrtle Beach has a large stretch of beautiful sand beach. Great for walking, jogging, searching for shells, and playing games. The water is great for boogie boarding but not too deep that kids can't touch. There are plenty of activities to do even if you don't swim.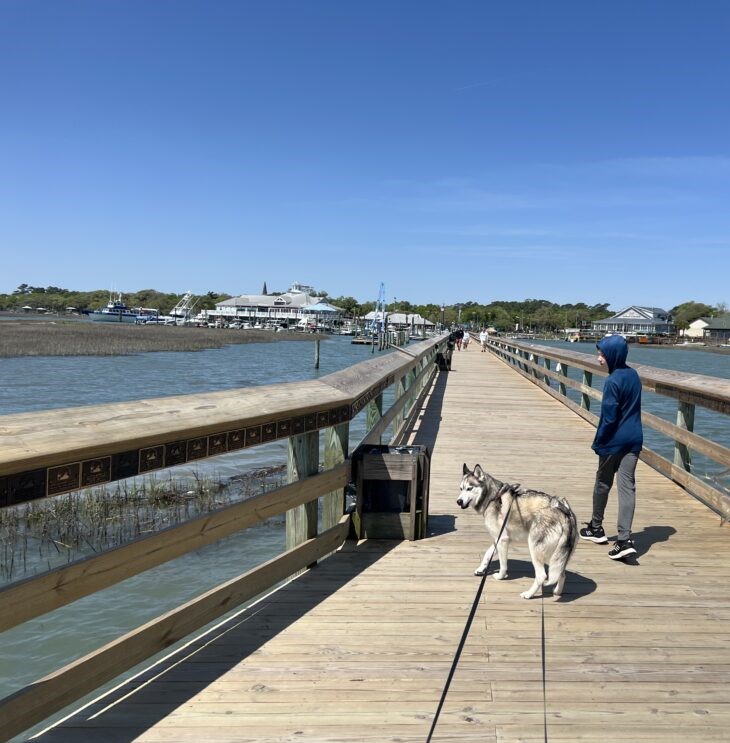 This is an easy route that is a 1.0-mile out-and-back trail near Murrells Inlet, South Carolina. It is a popular trail for birding and fishing too. Parking is $5 but you can get it to validate if eating at one of the establishments
Fishing
Fishing is a lot of fun. Springmaid pier is a great place to fish and is easily accessible from the DoubleTree or other nearby resorts. There are several fees you pay and prices were approximate $12 for fishing access, $15 to rent a pole, and $6 for bait. Our total for 2 kids fishing was $66. There are plenty of fishing options along the Myrtle Beach shore and I highly recommend that you compare prices and locations before you head out.
Check out Myrtle Beach State Park for a cheap day full of activities. Myrtle beach entrance is on a per-person basis around $8 for adults $4 for children (5-16)and under 5 is free. There are hiking trails, opportunities to fish (though there is an additional fee) and of course, swimming at the beach. Thre's also nature programs and playgrounds. Pets are allowed with some restrictions including being on a leash.
If it's too cold to swim there's plenty to do that won't cost you a fortune. Make sure you grab some sports balls such as a football to play on the beach (or in the water if it's warm enough). Consider a resort with heated or indoor pools. Compare resorts to see what other activities they offer such as miniature golf, table tennis, volleyball, and more
Where to eat in Myrtle Beach on a Budget
Many Hotels in Myrtle Beach offer fridges and even microwaves. This can help you save on food while vacationing in Myrtle Beach. However, it's also fun to heat out to eat. Myrtle Beach is full of touristy dining experiences from seafood buffets to Dick's Last Resort. If you want to enjoy seafood and eat out while saving here are a few options.
Check out Happy Hours. There are many happy hours in Myrtle Beach head there early and enjoy a variety of appetizers as a meal. This is our favorite way to eat out because it allows us to try a variety of things and our kids are more willing to try new things when they know there will be several options.
Platt's Seafood market or other seafood markets. Seafood Markets are a great way to enjoy local seafood at reasonable prices. Platts offers a variety of seafood that you can purchase frozen, cold, steamed, or fried.
Budget Travel to Myrtle Beach with Kids Summary
Budget Travel to Myrtle Beach with Kids can be a fun family vacation. It's a great spring break destination for a cheap family vacation because prices hotel prices tend to be lower but there are still plenty of activities to keep everyone entertained.

Follow Affordable_Family_Travel on Instagram
Make sure to like AffordableFamilyTravel.com on Facebook to get all the latest updates. It's also where I post my Dash Deals that are time-sensitive.