The Best Orlando Resort is the Hyatt Regency Grand Cypress Resort. What to do at the Hyatt Regency Grand Cypress Resort Review & Tips is the Best Planning Guide for families to plan the perfect family vacation. A cheap family vacation is possible at the Hyatt Regency Grand Cypress Resort as you can stay for free with Hyatt points. It's also a good use of a Hyatt Cat 1-4 Free night certificate. While it's only a Category 3 Hyatt Resort it's one of the best Hyatt family resort options. There are so many activities included which makes this a fun affordable family vacation option. Check out everything the resort has to offer.
Want to Hear About Other Great Hyatt Hotels and Perks, or other Family Friendly Hotels? Join the AffordableFamilyTravel.com Crew on Facebook to share tips and tricks for affordable family travel.
Hyatt Regency Grand Cypress Resort Tips
While Reserving Pool Chairs is discouraged. It's not enforced and therefore if you want a spot around the pool you should arrive early to claim your spot. We went out around 8:30 am and there were plenty of spots.
Some activities open sooner than others. for example, Golf and Bike rentals were open around 9 am while the rock wall opened at 11 am.
Breakfast Buffet was offered until 12noon which means it could be enjoyed as a brunch.
Boats require individuals to be 13 years old or higher to take them out on their own. Paddleboards and other individual watercraft can not be taken out by an adult with youth on board with them. In other words, children under 13 can only use multi-person watercrafts such as canoes and kayaks and must be with an adult.
Hyatt Regency Grand Cypress Resort Review
Hyatt Regency Grand Cypress has a great reputation so we were really excited to check the resort out. We were most excited about the boats because my daughter loves paddleboarding, my son loves kayaking and I really wanted to try out the sailboat. We figured the pool would be nice to cool off in but wasn't necessarily the highlight of the resort.
The Boats Review
However, reality did not meet expectations. After arriving at the resort we soon realized that the age requirements for many of the watercraft prevented the use of the paddleboards for my kids which was a huge disappointment to my daughter. It kind of set her off in a negative feeling toward the resort but thankfully by the end she was ranking the resort fairly high thanks to some other great features.
The Pool Review
The kids LOVED the pool. It's massive. There's the front pool area with a waterfall. As you travel behind the waterfall you travel through a cave area filled with smaller falls and exit the back to a giant swimming pool. The back area was a much quieter area. The kids loved playing in the cave area with their crocodile float. They spent as much time or more in the caves than they did at the lazy review at the prior hotel. It was absolutely the highlight of the resort for my son.
Golf at Hyatt Regency Grand Cypress Resort
The kids also enjoyed the Golf options on the resort. The resort offers complementary minigolf and Pitch and Putt. The kids have never golfed before, besides minigolf. So Pitch and Putt was a new fun experience where the kids could drive the ball as far as they could, chip, and then putting. The kid's Uncle made a surprise visit and helped the kids out. The experience was the top experience for our daughter. The minigolf was basic 5 holes but it was a great activity to break up the morning and they were not easy holes.
Crowds
We arrived early morning on a Sunday of Memorial Day weekend. the Pool was packed and the crowd loud as they talked over the roar of the falls. My initial feeling was that this wasn't a resort for us. It was too loud and busy. The resort is pretty condensed, with the front of the pool across a walkway to the pool hut, restaurant, and beach with volleyball And boat activities. It's very convenient but also loud and bustling. However, finding the spot in the back pool area where it's much quieter changed the experience for us.
Overall Review
While the activities we were looking forward to the most turned out to be a bust. Some of the other resort activities turned out to be huge hits. Overall it's a great resort because it offers such a variety of activities there's always something for everyone to do.

Hyatt Regency Grand Cypress Resort Activities
Hyatt Regency Grand Cypress has many complimentary activities. From their beautiful large pool area that includes a cave and waterfalls to the lagoon where they offer a sand beach with watercraft and a volleyball net. There's also mini-golf and pitch and putt, Bicycles for all ages, a rock wall, and more.
The pool at Hyatt Regency Grand Cypress Resort
The pool is divided by a cave that makes it feel like 3 separate features. The front part of the pool tends to be busier and is also where the slide empties out. the Back pool area is much larger and is less busy because seating is more limited. The kids really enjoyed the slide. Our kids almost didn't try the slide because it required getting a bracelet showing they have been measured. They ended up trying it and said it was great. Definitely not as slow as some of the smaller slides resort pools tend to have.
Miniature and Pitch and Putt Golf
The Golf options for families included in the stay are great. the Miniature gold is small and fairly basic but we still had a great time. We all loved the Pitch and Putt because it gave our whole family a chance to " golf" together. This opens up fairly early in the morning and is best to do before it gets too hot out.
Bikes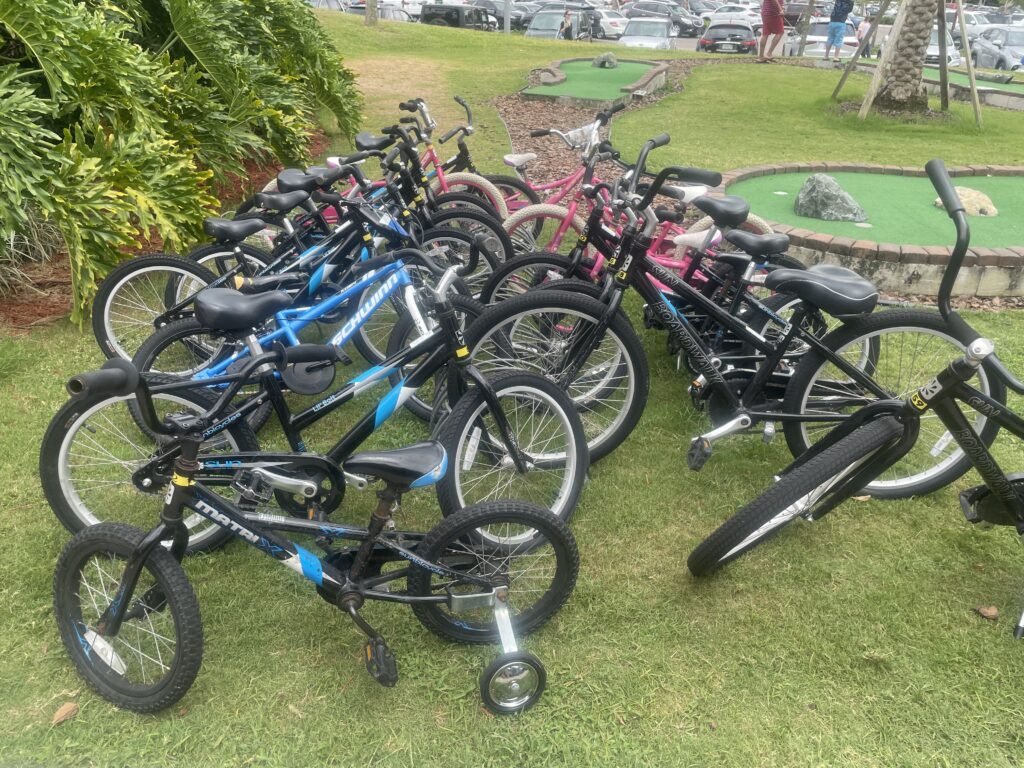 There are bikes offered at the resort with a bike trail. The resort has a variety of bikes including some with training wheels and some with infant seats. It was too hot for us when we were visiting to check out the trial but we did see a family returning from an early morning ride.
Rock Wall
The rock wall is always a fun activity that several Hyatt Resorts offer. they had been closed during covid so we were very excited that it opened during the visit. This opens up a little later around 10 or 11 am and it's good to grab it early as the line can get long. Otherwise, just keep an eye as you pass by it as the line fluctuates throughout the day.
Outdoor Game Area
Boats
There is a variety of boat options available. Children must be 12 years or older to ride on one alone. This means children under 12 can not go on single-person watercraft. Adults are not allowed to go on a paddleboard with a child. This was a bit disappointing but honestly, the water is very dark and there are likely alligators in the waters so I was ok not going in. there are peddle boats and also water bikes available as well as kayaks. There is a sailboat but they do not provide any instructions on how to use it so unless you know how you can not take it out. We did not see anyone using the sailboat during our stay.
Beach and Beach Volleyball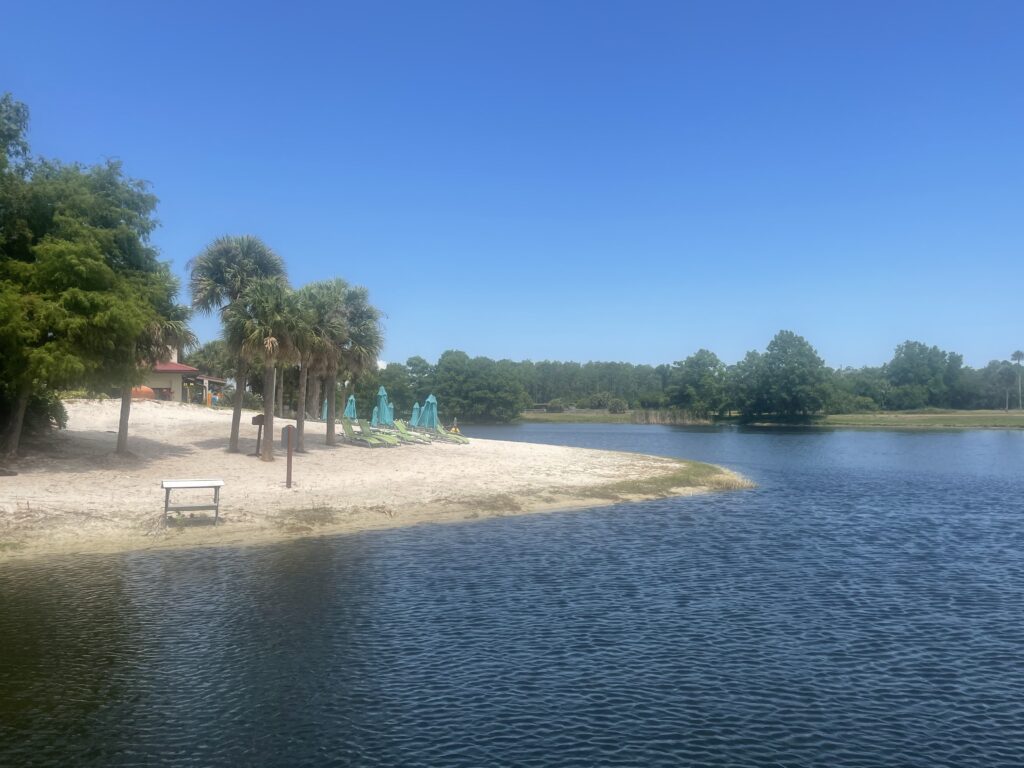 The beach is along the lagoon where the boats are. Swimming is not allowed but there is sand to play in and a sand volleyball pit. Volleyball was very popular when we were there. Many kids just joined into the big game with whoever was playing. It was nice to see everyone included no matter what the age was.
Movie Nights
Movies are held by the swimming pool. There's a TV screen up during the day that you can see. I personally prefer the larger inflatable screens but it's still a fun option if the weather is accommodating.
Game Room
Laundry Room
Dining
There are several dining options available onsite. We, unfortunately, didn't have a chance to try any of them during our brief stay. Hemingway's was closed at the time but is definitely on the top of our list for the next visit. The evening we stayed it downpour right around dinner time and as we watched a man run with the woodfire pizza box back to the hotel we opted to skip our original plan and just order delivery from offsite.
Hemingway's
Lake House
The Lobby Bar
On the Rocks Poolside Restaurant
Woodfire Pizzas
What to do Hyatt Regency Grand Cypress Resort Review & Tips Summary
This Hyatt Regency Grand Cypress Resort Review & Tips is the Best Planning Guide for families to plan the perfect family vacation. There is so much to do at the Hyatt Regency Grand Cypress Resort. It's also a great use of a Category 1-4 certificate or Hyatt Points for a Free Stay. The Hyatt Credit Card sign-on bonus would be enough to cover several nights for free at this resort. If you are looking for a fun but relaxing getaway in the Orlando Area, this is a great option. Hyatt Coconut Point is another wonderful Hyatt Resort in Florida.
Follow Affordable_Family_Travel on Instagram
Make sure to like AffordableFamilyTravel.com on Facebook to get all the latest updates. It's also where I post my Dash Deals that are time-sensitive.