The Best Indoor Waterparks in the Northeast on a Budget can help you plan a fun affordable family vacation even in winter. Check out these tips to book an indoor waterpark on a budget this winter. Tips for booking a waterpark on a budget and find out some of the best indoor waterparks in the northeast.

Ways to Save at an Indoor Water Park
While the cost of an indoor waterpark isn't cheap, often the cost for food and additional entertainment while visiting adds up to even more. If you can keep your onsite spending in check then you can cut your over all trip budget in half.
Save on Food
Consider bringing food with you. Often waterpark hotels include microwaves and fridges. You can make a microwaveable meal for lunch or dinner. You can also bring some cold meals for an quick easy meal. Breakfast is the easiest meal to bring as you can eat it before you head to the waterpark. Bagels with cream cheese, muffins, pastries and fruit require little effort. Even if you don't plan a meal in the room having snacks available can save a lot because everyone builds up a hearty appetite so some hearty snacks can help you save.
In addition, having food in the room doesn't mean you cant eat a bite at the park while you are there. It's hard to drag kids away from the park just to eat. To save, consider purchasing food to split or a slice of pizza to hold everyone over till you head back to your room. Some water parks allow snacks for kids inside the park especially if you do so discretely.
Consider a refillable mug. Some resorts offer a refillable mug. this can save if your family likes fountain drinks but you can save more by considering sharing cups.
Avoid or Plan for the Arcade
Many Indoor Waterparks require you to go through the arcade to get to the waterpark. To avoid over spending simply keep the focus on the water park. If you have a package that includes games or plan to spend sometime in the arcade, make it a planned visit and not simply an impulse before or after the park. Be prepared for what you are willing to spend on additional activities by knowing what extras are available and what the costs are.
Book 1 Night and Stay 2 Days
We often only book 1 night stays at indoor waterparks so that we get 2 days for the price of only one night. This usually gives us a great value even when the price is a bit high, and since we are there for a short time we keep the focus on the included activities and often don't need to spend extra.
Groupon Indoor Waterparks
Groupon often has indoor water park deals. Be careful to read the terms and conditions which may limit when you can visit but in general the lower prices tend to be week days while schools are in session. Great Wolfs Lodge as well as other indoor waterpark hotels are often available under$200/night.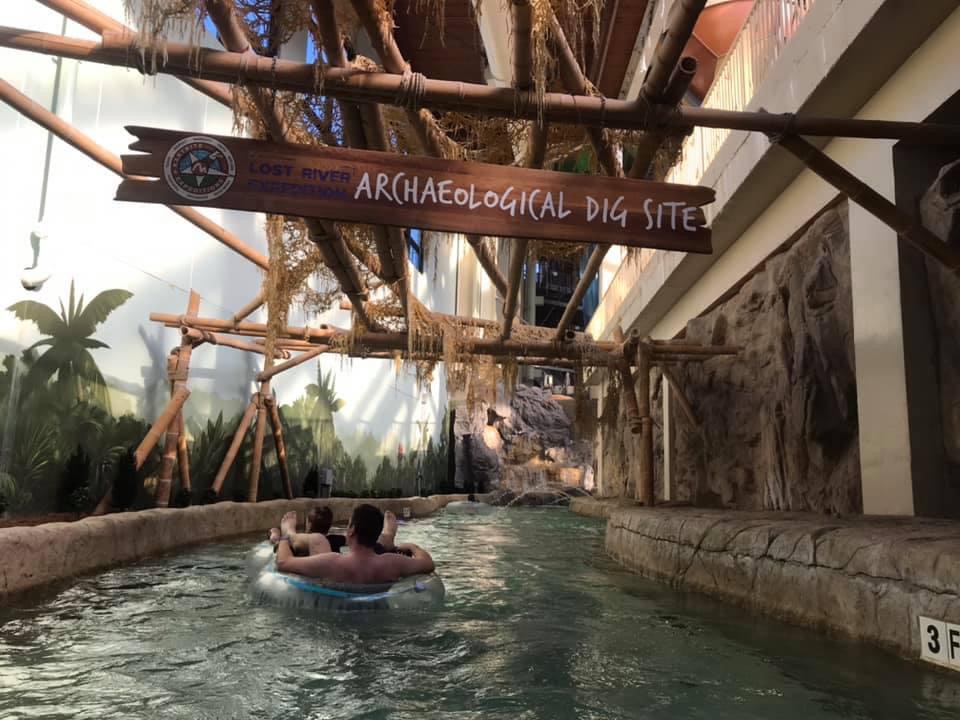 Hotels with Small Indoor Waterparks for Toddlers and Young Kids
Toddlers are my favorite age. They are so easy to entertain though they do tend to constantly demand it. You don't need anything extravagant to entertain a toddler, so something small and basic is perfect and budget friendly. A splash ground, or a water slide can keep toddlers entertained for as long as they can handle before nap time or perfect for some afternoon fun when parents need to slow down a bit.
There are several Choice hotels that offer small indoor splash grounds/waterparks that are perfect for toddlers and smaller kids and extremely affordable. These hotels are mostly well under $200/night and can even be booked with Choice Reward points or American Express Ultimate Reward Points Transferred to Choice Rewards. You can also check the travel portal to book these hotels with credit card reward points. Seeing these are lost cost it may be the lowest point option.
Quality inn & Suites Palm Island Indoor waterpark Batavia NY offers Free Water Park access, Free continental breakfast and Free WiFi.
It is only about 22 minutes from Darien Lake State Park and Six Flags Darian lake. The strong museum of play one of the best children's museums in the country, is only 34 minutes away. The Quality Inn & Suites Palm Island is also under 1 hour from Niagara falls, just over a half-hour from Letchworth State Park, and about an hour from the finger lakes. This makes it a perfect home base for exploring the area. Rates start as low as $67/night with a 3 out of 5 star review.
Comfort Inn Plattsburgh, NY offers newly renovated rooms complete with a microwave and refrigerator. There's an on-site restaurant and brewery, and of course the indoor Splash Park, sporting a two-flume waterslide and six-unit spray feature. Rates start at $168 a night with a 4.5 out of 5 star review.
The FunZone Family Entertainment Center is built for year-round enjoyment: with a 9-hole miniature golf course, 2-lane bowling alley, and 30-plus game arcade, there's something for the whole family. Mini-golf is $5.00 for Adults and $3.50 for Children 7 and under.
Comfort Suites Dubios, PA indoor pool with small spiral waterslide
Comfort Suites Dubios, PA includes free hot breakfast, WiFi and A microwave and refrigerator in room. Some rooms feature lake views, sofa beds, and fireplaces. The hotel features an indoor pool with a small spiral waterslide. Rates start at $168 a night with a 5 out of 5 star review.
The Comfort Inn Splash Harbor is located at 855 Comfort Plaza Dr., Bellville, OH. This hotel is pet-friendly and offers a microwave, and a personal coffee maker in room. The Splash Harbor indoor water park has a water slide, water spray ground, a family whirlpool, and more. There is also an indoor pool, as well as an on-site fitness center. For more entertainment, visit our game room with a pool table, air hockey, and video games. Enjoy free WiFi in our hotel, and get a great start to the day with our free hearty and healthy breakfast options. Rates start as low as $130/night with a 4 out of 5 star review.
Best Indoor Waterparks in the Northeast on a Budget
These are the Best Indoor Waterparks in the Northeast and how to stay at them on a budget. The easiest way to save is to book a week day stay when school is not on break. While this may not be possible for everything it's the reason it's often the cheapest option. Keep an eye out on deals and Don't book more than you need to, if you have toddlers who will be happy with a basic waterslide, consider the options above to save even more.
Great Escape Lodge and Indoor Waterpark
Great Escape Lodge and Indoor Waterpark is located in Lake George, NY with access to Lake George Restaurants and outlet stores. The waterpark is fairly small with a lazy river, kids splash area, a splash bucket tower with some smaller water slide and several larger waterslides including a family raft ride. Great Escape Lodge is the perfect size for smaller kids around 10 years of age and younger. It's become more run down as the years of gone by and therefore isn't one of my favorite waterparks. However, we have never had a big issue at the resort and there are often deals far below $200/night making it the cheapest indoor waterpark around. It's perfect for a 1-2 night getaway that the kids will love. Rates starting as low as $159 (but I've seen them even as low as $100-$120/night)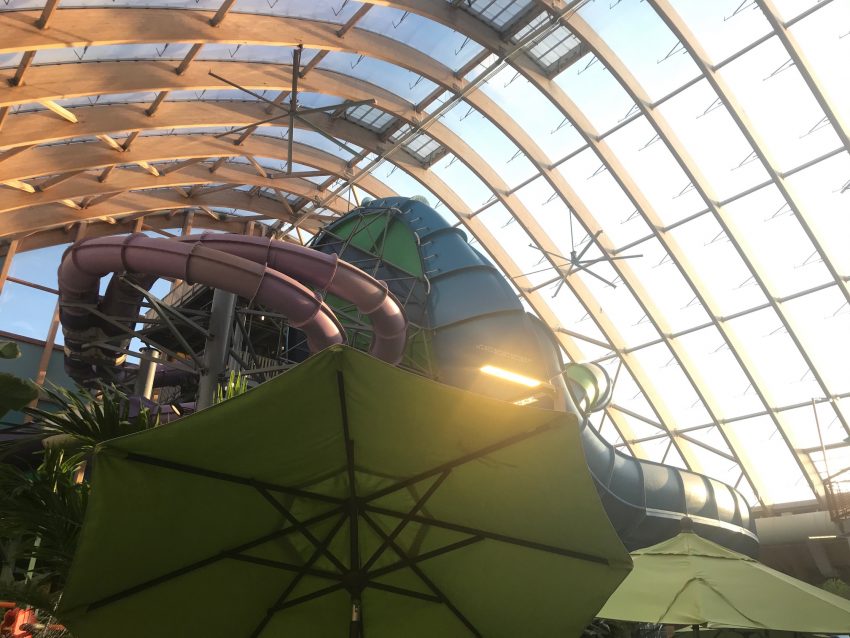 Kartrite Indoor Waterpark and Resort located in Monticello, NY is a new Indoor waterpark in Monticello, NY it's about halfway between New York City and Albany, NY making it an easy Drive for most of New York State and the Tri-State Area. While It's a little smaller than some of the other chain indoor waterparks, it's a perfect getaway for families especially those under 10 years old.
What we loved about Kartrite is that it wasn't super crowded in the water park even though it was winter break and part of this reason is because the resort offers so much more than just the water park. Katrite has a lazy river, wave pool, flow rider surf simulator, and much more.
Compared to other area indoor water parks the price was extremely reasonable, though slightly more than the Great Escape and seemed to include much more other activities around the resort than making it a very excellent affordable indoor water park. This is the best value water park even though it is a little smaller than Great Wolds or Camelback. Rates as low as $240 before taxes and fees for a Sunday night.
Great Wolf's Lodge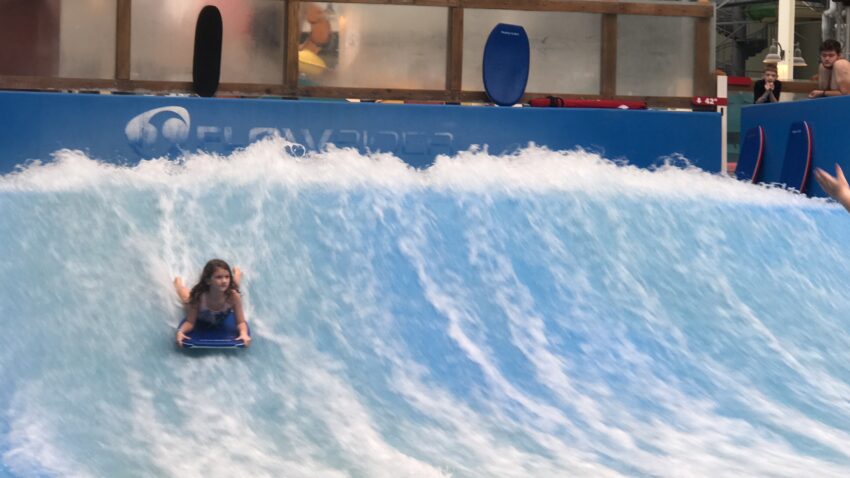 Great Wolf's Lodge is located all over the country. In the Northeast there's several Great Wolf's Lodge locations to choose from. Great Wolf's Lodge in the Poconos and Great Wolf Lodge Water Park Resort in Niagara Falls Canada are great options. The Great Wolf's Lodge New England located in Massachusetts's is the most affordable option in the area although it isn't set up like a typical Wolfs Lodge and requires you to walk through a hallway between 2 parts of the park which guests find a bit inconvenience. However, that inconvenience comes with often a significant savings. Wolf's Lodge typically have a wave pool, lazy river, surf simulator and waterslides. Rates start as low was $200/night at the Poconos location. If you have a Chase Sapphire Reserve Credit Card you could book through the portal for as low as 17,000 points.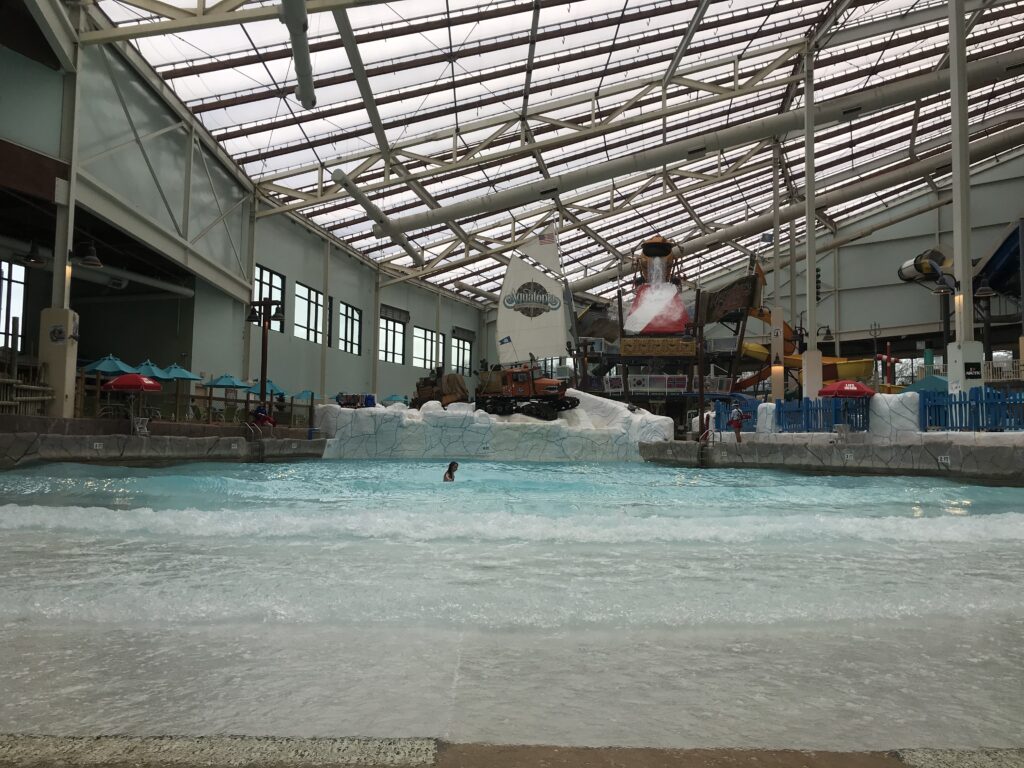 Our Favorite Indoor Waterpark in the Northeast, Camelback Resort, including Camelback Lodge & Indoor Waterpark-Aquatopia, lies within the scenic Pocono Mountains. Come enjoy an exhilarating water slide or float along the lazy river. Camelback Lodge and Indoor Waterpark, has everything you need for a fantastic family get away without having to leave the resort. The resort also has ski in and ski out access as well as snowtubing near by during the winter and an outdoor waterpark in the summer. It is one of the Best Winter Getaways in the Northeast for families. Prices as low as $209 weekdays and can even be booked in the Chase Travel portal for 15,000 UR points if you have the Chase Sapphire Reserve Credit Card.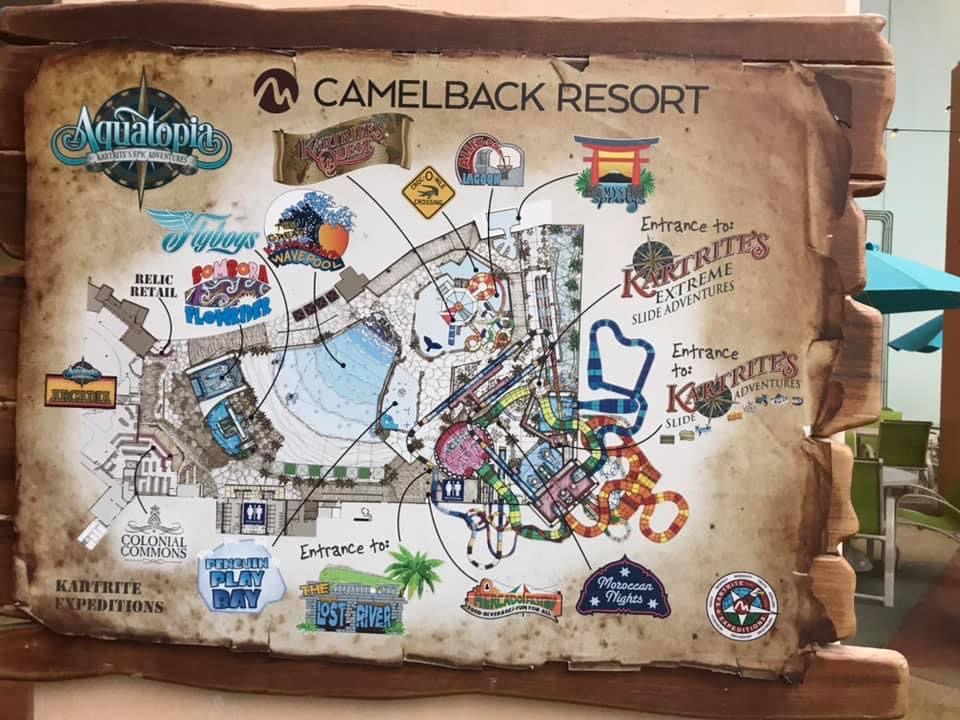 Best Indoor Waterparks in the Northeast on a Budget Summary
There's a lot of options for Indoor Waterparks in the Northeast which often cost a fortune during peak times. However, It's possible to enjoy an indoor waterpark in the Northeast on a budget and have a fantastic time with your family. Remember bigger is not always better so when traveling with toddlers and smaller children consider a smaller cheaper option can be more affordable and more relaxing. Indoor Waterparks area lot of fun but there's also other wonderful northeast winter getaways to explore.
Follow Affordable_Family_Travel on Instagram
Make sure to like AffordableFamilyTravel.com on Facebook to get all the latest updates. It's also where I post my Dash Deals that are time-sensitive.