50 Ways to Save on a Raod Trip with Kids can help you plan a budget Road trip. Robyn Williams in RV depicts a hilarious American family road trip. Renting an RV and heading out to explore America. However, this may not be the best option for a Cheap Road Trip.
The reality is that a road trip can be very expensive. Renting an RV or travel trailer can cost $150-$500 a Day. The added cost of gas to transport such a large vehicle across the country and camping and dumping fees can make it a very expensive road trip option.
These tips will help you save on all major expenses of a Road Trip including accommodations, transportation, food, and entertainment.
50 Ways to Save on a Road Trip with Kids
Stay FREE at Hotels. Use Family Travel Hacking to earn points for Free Hotel Stays. This is likely cheaper than even camping. The Best Travel Credit Cards for Families can help you earn points to use toward your Road Trip accommodations and also provide other benefits. Check out this budget road trip to Utah's Mighty 5 for an example of a budget road trip with Hyatt Points our favorite hotel for road trips.
Go Camping. Booking campsites at National or State Camp Grounds can often be the cheapest accommodations.
Book through Hotels.com and receive 1 free night for every 10 nights you book. The value is averaged out.
Consider Airbnb or similar options that can sometimes be cheaper than a hotel especially for longer stays or bigger families.
When comparing hotel costs consider what is included. For example, hotels may include a small water park or be located on the beach which not only saves time but parking costs. If you stay at a resort with entertainment included it may cut out the cost of what you would have spent on amusement rides or other excursions.
Try walking into a hotel for their best rate. Check their online rate before you walk in so you know if you really are getting a deal.
Use Tripadvisor.com to read reviews to determine the cheapest hotel that meets our minimum standard. Remember if your only spending 8-10 hours in the room to sleep clean comfortable beds and quiet are probably the most important things. access to the highway can also be important time savings.
Microwavable meals your family will enjoy can reduce the cost of food on a road trip.
Stop at Dollar Tree for Ice Cream Treats. You can get a whole box for $1 and even if you have to throw some of it away it's ok because the total cost was only $1.
Gas Stations 99 cent Slushies are a cheap treat on the road.
Bring a Soft Cooler and Ziplock bag. This way you can store leftovers to save for later. You can also bring soft taco/tortillas/wraps to use with leftovers. for example, leftover bbq and slaw can be turned into bbq tacos.
Eat Cheap and Save on Food while you Traveling by eating affordable meal options when dining out. You can still eat healthy on the road too.
Book Hotels that have a Free Breakfast. Hyatt Place is our favorite as they offer a large selection of continental breakfast options and sometimes a hot option. We often have enough to keep us full till the afternoon.
Use Chase Credit Card Pay Yourself Back feature to purchase gift cards to restaurants at a qualifying store and then use Chase points to pay yourself back so your restaurant gift cards are free.
Stop at the grocery store for cold items to pack for lunches such as deli meat and salads. Chopped salads are often cheaper than a prepared salad and come with everything you need to eat healthy on the road.
Stop at Dollar Tree and let the kids pick out some road trip snacks. This way you don't have to pack your car full of tons of snacks and kids can pick new snacks mid-road trip when their preferences are sure to have changed.
Stop at a local grocery store for Hot prepared meals such as Rotissary chicken, Hot ready eat ribs, or even fried fish. Walmart sells a huge half rack of ribs for $8-$9 or a rotisserie chicken for $6 enough for a family of 4.
Save your unused Condiments, napkins, utensils. Peanut butter and jelly packs or even Nutella packets become lunch. If a restaurant forgets ketchup you will have some to spare. Have a small supply of plastic utensils but only dip into them when you have completely run out of what is provided when dining out or through the free breakfast at the hotels.
Purchase an American The Beautiful Annual National Parks Pass for around $80 and stop at as many sites along your route as you can. Kids will especially love the Junior Rangers Program.
Atlas Obscura is a great resource for finding unique and often free attractions.
Bring Inflatable Kayaks or Inflatable Stand Up Paddle Boards to enjoy free entertainment at local lakes and rivers at your destinations.
Purchase an Annual Pass for your family that is part of the ASTC Museum Reciprocity Program and then enjoy a selection of 100s of museums across the country (and around the world) that offer free admission through the reciprocity program. Scope out the list of sites that are on your route before you decide to buy.
Search for the "World's Largest" which are often free attractions. The Town of Casey, Il has several World's Largest items out on display.
Utilize your current streaming services to enjoy movies at the hotel. Just make sure you have the cables you need to connect it to the hotel TV.
Utilize an Annual Amusement Park Pass to tour multiple sites around the Country. Six Flags Season Passes are a great value and have multiple locations around the country. Their Premium dining pass includes use at all six flags parks and covers lunch dinner and a snack and possibly a free drink refill cup. LEGOLAND's premium pass covers Merlin Attractions such as Madame Tussauds, Sea Life Aquariums, and LEGOLAND Discovery Centers as well as the parks in California, Florida, and the new LEGOLAND New York.
Bring your Bikes and enjoy free bike trails
Use Chase Credit Card Pay Yourself Back feature to purchase gift cards to gas stations at a qualifying store and then use Chase points to pay yourself back so your gas gift cards are free.
Bring some laundry pods in a Tupperware container in case you need to do laundry it's much cheaper than what they sell at the laundry mat or hotels and you don't need to spend $10+ on a bag of pods or detergent while you traveling.
Use Google maps to help plan the best route which will save you time and money on gas.
Only pack what you need. more weight will use more gas. the less stuff you need the smaller the vehicle you can use which often means it will be better on gas. You also will be able to find what you need more easily.
Get your car tuned up including an oil change and fluids topped off before you head on the road this can help the car run more efficiently but also possibly catch any issues during your trip.
Know your credit card benefits before you leave. Some credit cards offer complimentary roadside assistance. Some include travel insurance.
Check out local Happy Hours for cheap food and drink specials
Use local restaurant coupons with these best places to find restaurant coupons.
Check Groupon for local activity discounts
Utilize any gift cards you have on hand. Check the balances before you go so you know what you have available. For less common places search locations to see if there's any available on your route.
Pack a small drink cooler to have access to cold beverages on the road including energy drinks if needed.
Instead of buying an expensive Souvineer ornament, consider cheaper alternatives such as a keychain or just a figure that you can convert into a Christmas ornament for a souvenir.
Check your e-mail or assign up an account to get available door dash and grub hub discount codes.
Utilize any credit card dining benefits available. For example, Chase offers free Doordash pash with select credit cards.
Pack travel coffee mugs, as well as instant coffee and creamer if you do not like the hotel's coffee. this will save you from buying expensive coffee on the road.
Have the kids collect free souvenirs instead of buying unnecessary things. For example, collect National Park's Junior Rangers Badges.
Purchase Cheap souvenirs or find local items that can be painted by the kids to make extra special souvenirs. For example Seashells or rocks that can be painted. We purchased clay-colored local magnets and allowed the kids to paint them. This creates a free activity too.
Utilize your cellphone data and streaming subscriptions you already pay for such as Netflix or Disney plus to provide movies on the road.
Pick up free maps from the visitor center so the kids can follow along as you travel.
Stop at Farmers Markets to pick up local fresh food items
Use cashback a credit card or one that earns you gift cards to cover your gas expenses. Chase Freedom credit cards currently offer a $200 sign-on bonus and the Freedom unlimited gives you 1.5% cashback on all spending. Freedom Flex has rotating 5% categories. If you purchase gas gift cards for your trip at a store that is in a 5% category you can save 5% off your gas.
Search for Free Local Events such as live music, festivals, art displays, etc.
Take advantage of the Amazing scenery to take your own photos for the coming year's Christmas cards.
Fastfood Restaurants often include a survey on their receipts. Fill out the survey and you may be awarded free food. We were able to get buy 1 get one free menu items at Mcdonald's which means our daughter could enjoy even more of her favorite chicken nuggets.
50 Ways to Save on a Road Trip with Kids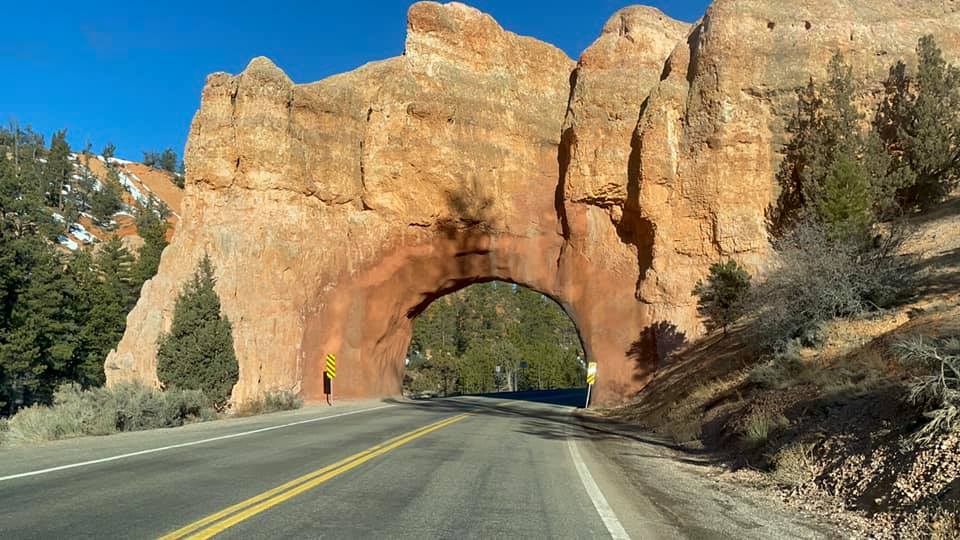 These 50 Ways to Save on a Road Trip with Kids can help you save a lot on your road trip and maybe help your dream road trip become a reality.
Follow Affordable_Family_Travel on Instagram
Make sure to like AffordableFamilyTravel.com on Facebook to get all the latest updates. It's also where I post my Dash Deals that are time-sensitive.