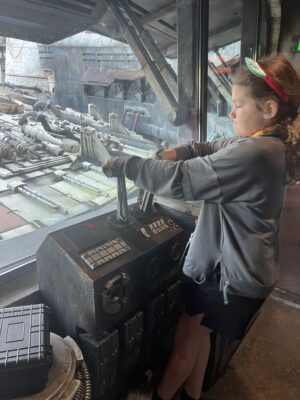 Walt Disney World 1 Day 4-Park Hopper Touring Plan and Tips can help plan the perfect 1 day park hopper. Hit the best rides at Disney World in one day with this plan with out miss the best rides. We had a 1 day park hopper and wanted to put it to good use. If you are looking for a Budget Trip to Disney this might be a good option. We booked the Swan on points which gave us early morning magic hours at Hollywood Studios and evening magic hours at Magic Kingdom. This gave us 17 hours in the park and we were able to enjoy over 25 rides and attractions in 4 parks all in 1 day. But be prepared we walked over 17 miles!
Walt Disney World 1 Day 4-Park Hopper Tips
Purchase Genie+ to allow you to reserve some Lightening Lanes through out the day
When you run out of Lightening Lane options in your first park start making reservations for the next park and so on.
Considering purchasing Individual Lightening Lane Passes if necessary
Remember you can't hop to a second park until 2pm so plan one of the busiest parks for to start – We recommend Hollywood studios
Consider staying onsite especially at a park that allows for Evening Magic hours- dee below for how to stay at one for free.
Have a Plan that puts value on the most important rides so you can cut out the less important if needed
Be flexible
Know the cut off times when you know you have to leave to go to the next park regardless if your finished OR if you would rather cut an entire park out if you are running behind
Look at park hours to pick a day where you can utilize the longest days but also consider a week day when crowds are hopefully a little lower.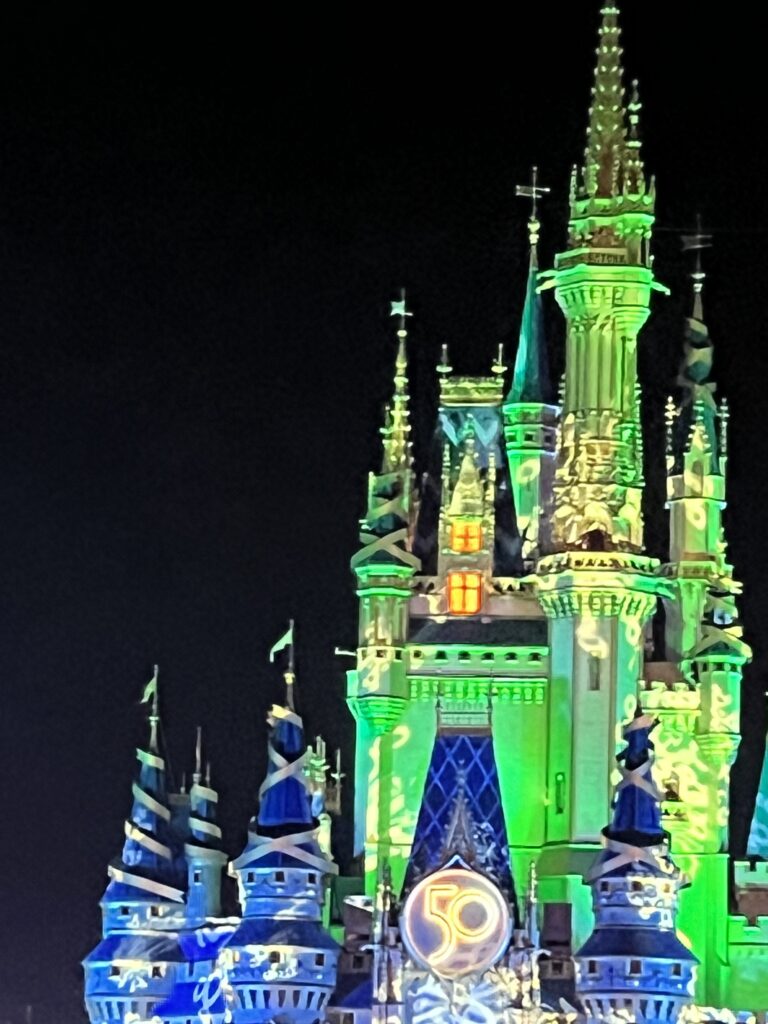 How to Stay onsite at Walt Disney World for free and get special perks such as extra Magic Hours
How do you stay onsite at Walt Disney World for free? Earn Marriott points or free night certificates and stay at the Swan , Dolphin or Swan Reserve on points. You will still have to pay resort fees but it's a minimal cost and you will earn the benefits such as early morning magic hours and even evening magic hours. If you watch the Marriott credit card sign on bonuses you may even be able to snag 5 free 50k free night certificates which can cover 5 free nights at Walt Disney's Swan and Dolphin resorts.
Thanks to Family Travel Hacking, we not only covered our hotel stay for free but also our flights via Southwest Airline. Family Travel Hacking is one of many ways to save on a Trip to Disney.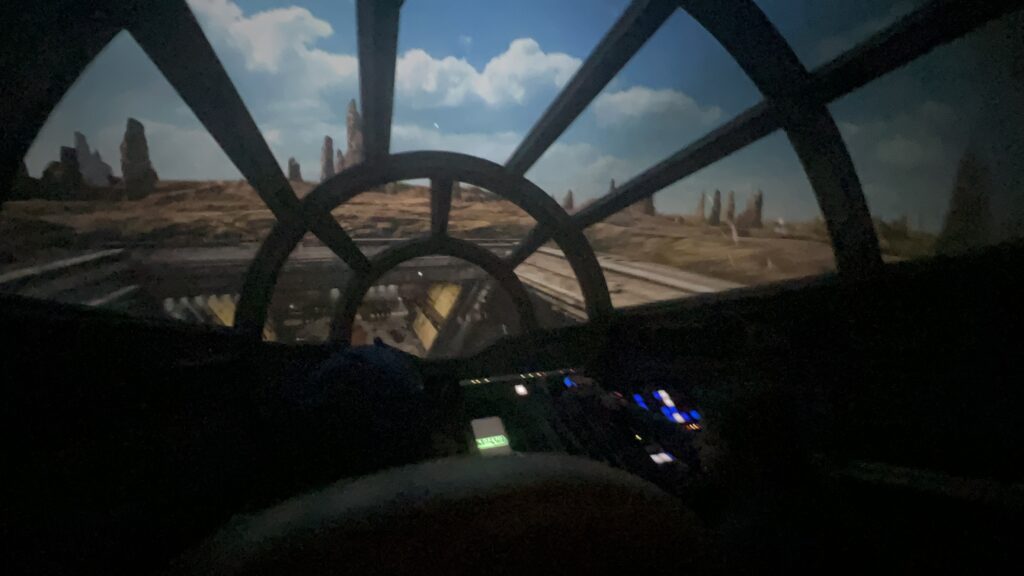 Walt Disney World 1 Day 4-Park Hopper Touring Plan
Having a Plan is so important. Here's what we did. Keep in mind we were grabbing Genie+ rides as we were able to and our plans adjusted based on the passes. As soon as we swiped through the Lightening Lane I was grabbing another pass. We also purchased Individual Lightening Lane for Guardians of the Galaxy because it was on Virtual Que only which we couldn't grab since we were starting in Hollywood Studios. While we were at Animal Kingdom I noticed Virtual Que was still available with a 399 minute wait but by the time we arrived at Epcot it was too late.
Arriving at your first park early assures you can get to your first ride and maybe even a second before the regular crowd arrives.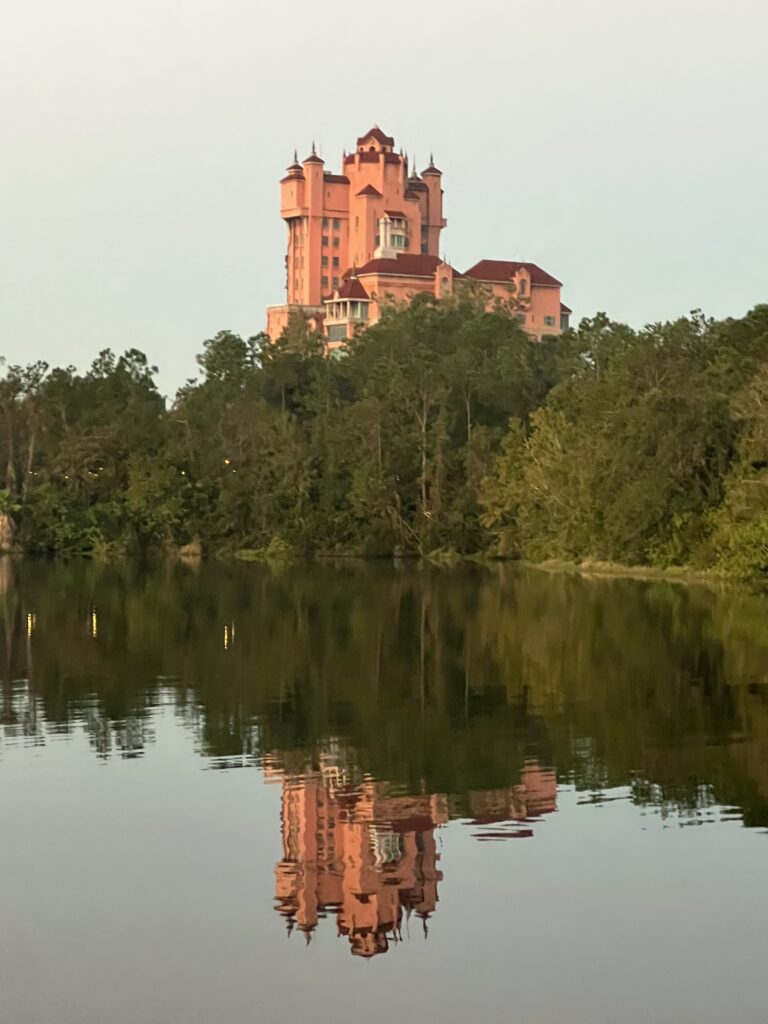 6:45 am Leave for Hollywood Studios
We woke up early and headed out with breakfast packed in our day bag. We then chose to walk to Hollywood studios about 20 minute walk. There are water taxis that will take you right outside the Swan and Dolphin and we were told they leave 45 minutes before park opens and they said also before early morning hours. However, we didn't mind the early morning walk and felt it would be more convenient then waiting for the shuttle and worrying if it would be full.
When we arrived there was security holding people back away from the gates. they then escorted us at 7am toward the gates and we were able to get in front of the security lines.
Tip: If part of your party is held up by security check, have the rest move forward and get a spot in line at the gates.
What I didn't realize was the person checking passes was only checking 1 person in the group so we waited for my husband to get his bag checked before passing through to get in line at the ticket entry. This allowed a few people ahead of us but it wasn't a big deal. Tip: Those that do not have a bag that need to be checked can head to the front to wait in line just make sure you have your magic band or pass to scan. the person having the bag check can always meet up.
If staying onsite you can purchase Genie+ at midnight the day of, and if staying onsite you can make your first Genie+ reservation at 7am and then every 2 hours after or immediately after you use the pass which ever come first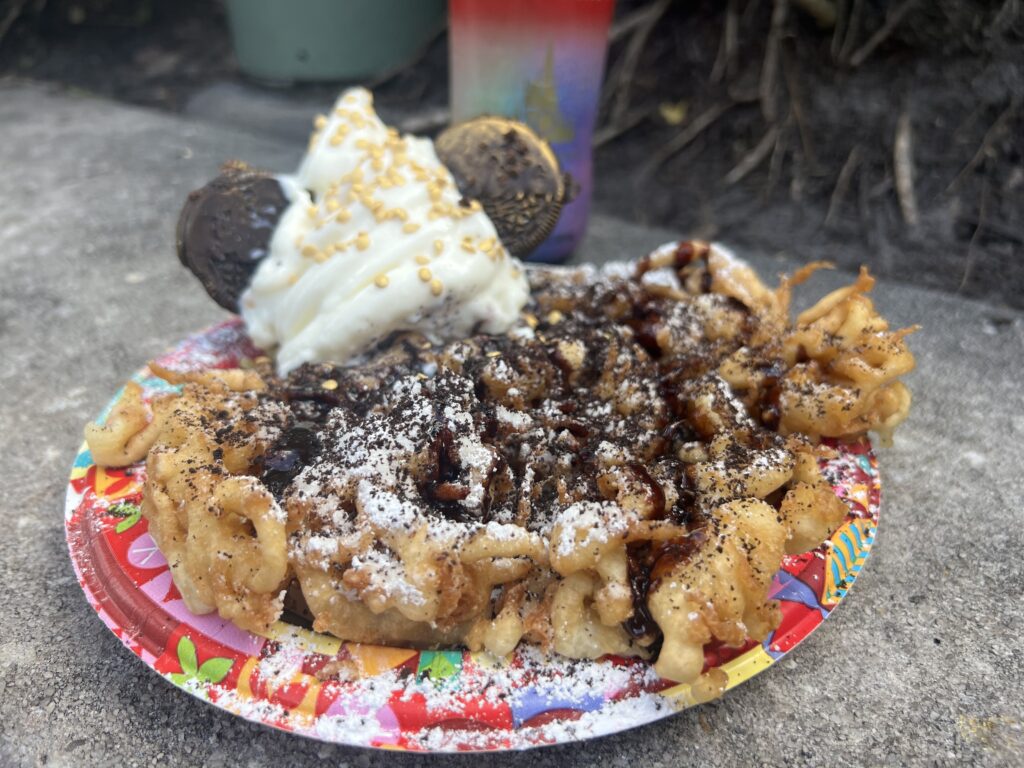 8am-1:30pm  Hollywood Studios
7:35am We were let into the park and were surprised that it was completely open for us to head to a ride and line up. Slinky dog was one of the first rides to allow people through the line que and onto the ride.
7:45 Slinky Dog Dash we finished at 7:55 and headed to Millennium Falcon
8am (15min wait) Millennium Falcon: Smugglers Run – at this time Rise was not open due to technical difficulties
Grab The Outpost Mix Popcorn from (32)Kat Saka's pop Kettle in Galaxy's Edge The flavor is a mix of lemon pound cake and chili-lime seasoning. like eating Fruity Pebbles popcorn. 
8:45 Rise of the Resistance– We were heading to Star Tours and it just opened, We jumped in line, and it was only 25 minute wait. We had seen it was still down on the app so the line definitely opened before the app updates. This luck saved us a solid hour or 2 in our day.
9am Grabbed Genie+ for Mickey and Minnie's Coaster
9:30 Star Tours(15min wait)
10am Toy Story mania Genie+
10:45 Indian Jones (show up at 10:30 sat right if the center)
Lunch: we packed PBJ and Nutella Sandwiches to save time and allowed us to eat during Indiana Jones.
11:00am Grabbed Rockin Rollercoaster Genie+
11:30 Mickey and Minnie coaster genie+
Epic Eats: Glimmer and Shimmer Funnel Cake
12 started Rocking roller coast Genie+
Tower of Terror was closed for the day so we were unable to ride this ride.
1pm Grab Safari (Animal Kingdom) Genie+
1:15 left the park to walk over to the shuttles. the Shuttle for the parks don't start till 1:30 and ours arrived around 1:40
** I think that we really lucked out in several ways and in most cases you may need to consider cutting out at least 1 of these rides or consider purchasing an individual lightening lane for Rise of the Resistance although I am not sure it's worth paying extra for. We also missed Tower of Terror because it was closed. This would have added more time, though only half our party wanted to ride it. Cutting out Indiana Jones would be a significant time saver.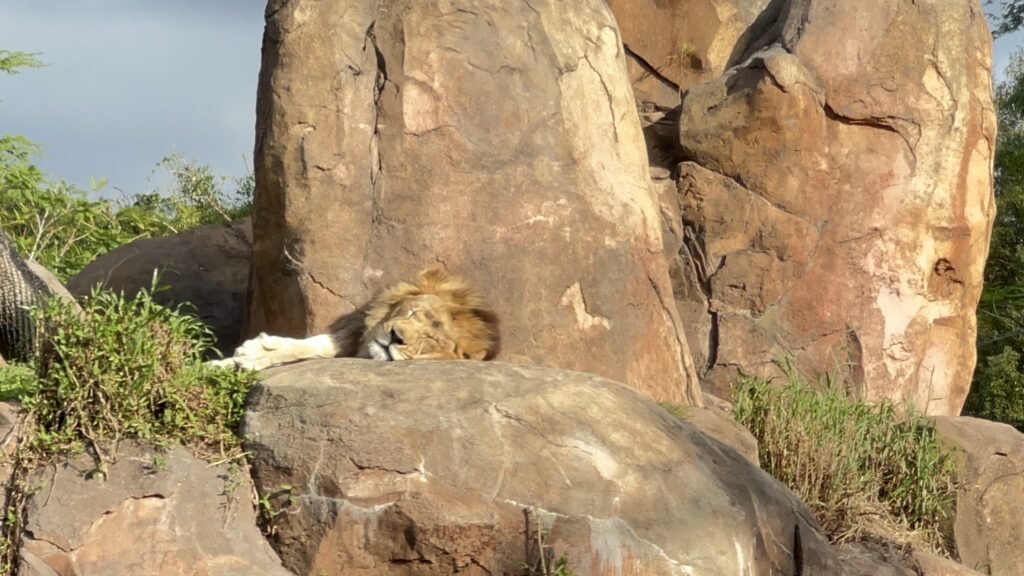 2pm-4:30 Animal Kingdom
2:15pm Kilimanjaro Safari
Grabbed Everest Genie+
3pm Flight of Passage (Not on Genie+ only individual LL and wait times can be 60-120 minutes)
4:15pm Everest -Grabbed Genie+ inline for Test Track (Epcot)
4:30 Leave the Park
* consider single rider line for Everest if you can't get a Genie+ reservation
The bus didn't arrive until 4:40 but we still arrived at Epcot Close to 5pm.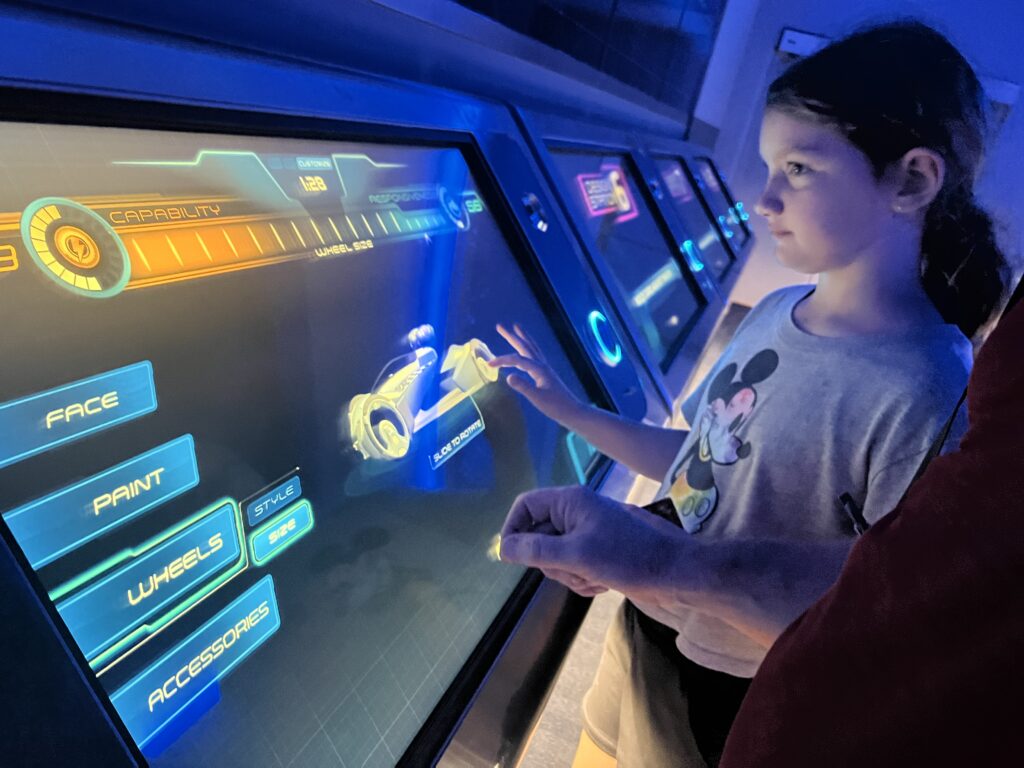 5-9:30pm Epcot
Test Track was broken so we received an anytime lightening lane
5:15 Soarin
5:45pm Guardians of the Galaxy with individual Lightening lane purchased
6pm Grabbed Genie+ for Space Mountain (Magic Kingdom)
Stop and Grab Food: While the line is outside you can eat so I recommend grabbing a tapa from one of the food booths or a snack to at while in line.
6:30 Ratatouille (Not on Genie+ only individual LL and wait times can be 60-120 minutes)
** at this point we were feeling exhausted. Questioning if we would make it to Magic Kingdom. We grabbed some food from a couple food booths and sat for a short time eating and just chilling. It really gave us our second wind and we were ready to go again.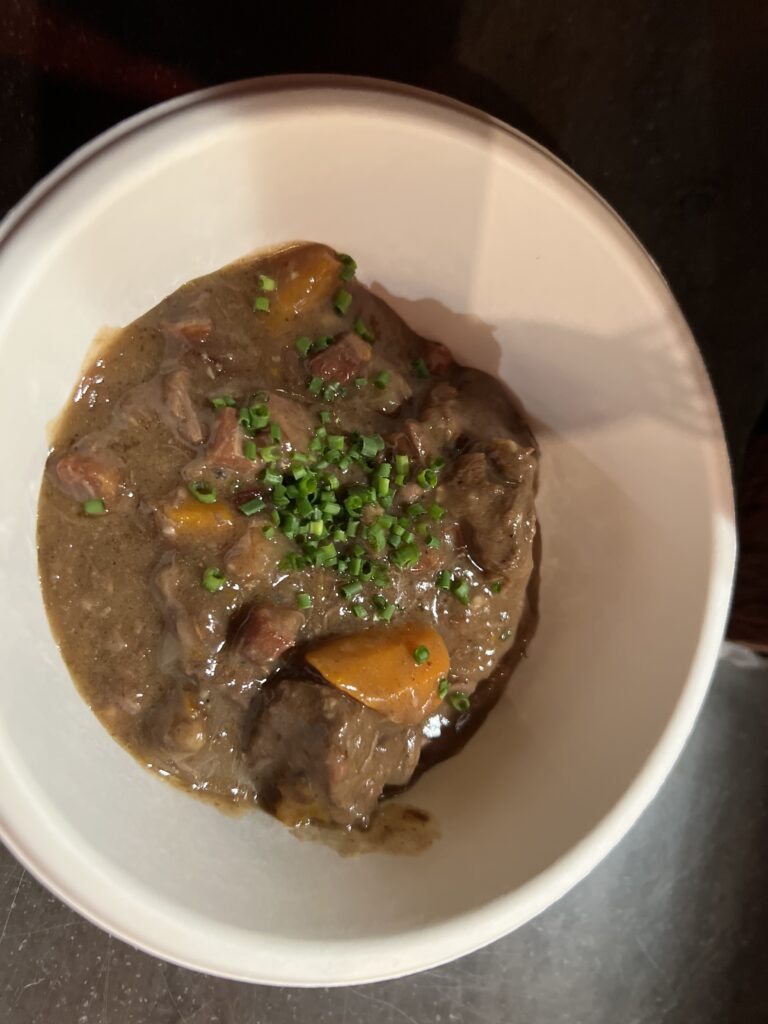 8pm Frozen every after
8pm Grabbed Fast Pass for Tomorrowland Speedway
9pm Gran Fiesta Tour
9:15 Test Track (it had reopened so we used our Genie+)
We didn't stay for the fireworks we watched them as we waited for the monorail so we could miss the crowds.
10-1pm Magic Kingdom 
We were exhausted but we made it in the park. We were heading back to Magic Kingdom for the Holiday Party the next night so we weren't stressing to make every ride. Thankfully there was zero wait for most rides except Peter Pan and Seven Dwarfs and we had 2 fast passes to use between 10-11pm when the regular crowds were ending there time in the park. the 11pm-1am times were very quiet
10pm Space Mountain (past the Lightening Lane return time but they let us in LL)
10:15 pm Tomorrowland Speedway (past the Lightening Lane return time but they let us in LL)
10:30 pm Mickey's Philharmagic (perfect for a rest)
11pm Haunted Mansion
11:15 pm Big Thunder Mountain
11:30 pm Pirates of the Caribbean
12:00 am Peter Pan
12:45am Seven Dwarfs Mine train
Walt Disney World 1 Day 4-Park Hopper Touring Plan and Tips Summary
Walt Disney World1 Day 4-Park Hopper Touring Plan and Tips can help you make the most of a 1 day park hopper. Hit the best rides at Disney World in one day with this plan you won't miss the best. With a little luck and maybe some pixie dust you may make it to everything on your list. Just make sure to be flexible and prioritize so you can cut out the lower priority things if you run out of time.
We had a wonderful trip but it was exhausting. If you are feeling like we did after the trip check out these wonderful trips to take instead of Disney.