The Best Theme Park Christmas Party You Should Attend this winter. As the holidays roll in many ask, where you can see Christmas lights near me? I absolutely love to head to amusement parks during the holidays. Because of their size they really can create an amazing atmosphere with holiday decorations, events and activities. Imagine acres of land decked out in colorful lights and holiday décor. Holiday music filling the parks. Don't forget the wonderful holiday treats like hot cocoa, marshmallow roasting and cookies.
Disney Mickey's Very Merry Christmas Party is The Best Theme Park Christmas Party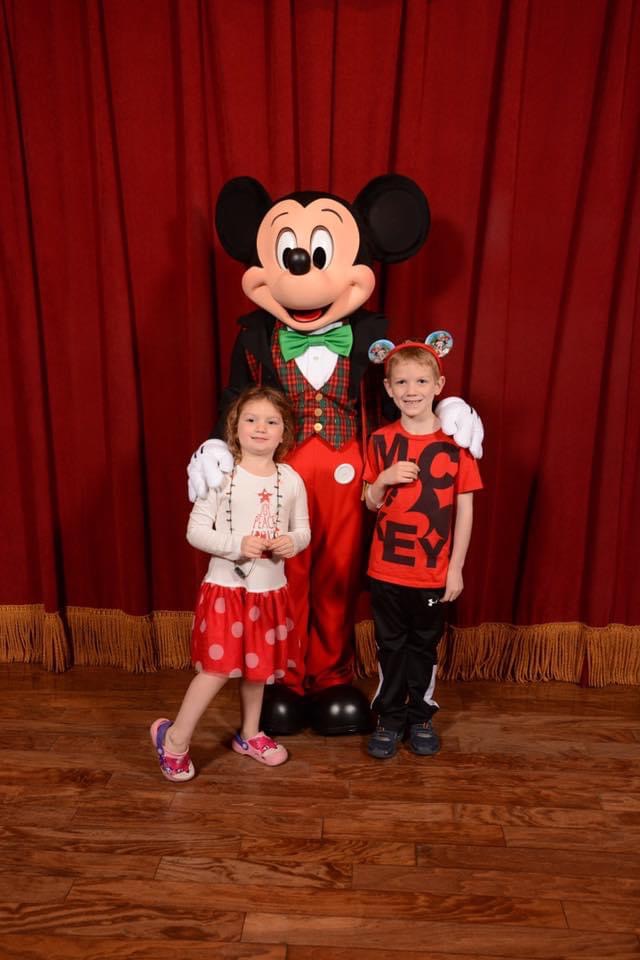 Disney knows how to throw a party and there Christmas Party is spectacular. Disney has the best theme park holiday event. The ticket price is one of the most expensive offered at close to $100. Its a steep price to pay for an evening of fun. However, it is less than a 1 day pass to Magic Kingdom so I find that it's an exceptional value if you have a short stay and do not already have a multi- day pass.
Disney's Mickey's Very Merry Christmas Party offers characters in holiday attire, a Character Dance party, A Christmas parade, holiday themed shows and much more.
The Christmas Party at Disney World includes wonderful complementary treats through out the park. Many of the snacks offered are cookies that are prepackaged and you can take home with you. Complementary drink options include Chocolate Milk, Hot Cocoa and more.. Bring a backpack and grab some snacks to enjoy while you wait in line. Though you won't have to wait too long for many attractions as the capacity is much less than a normal day at the park.
If you Skip the Holiday Party, Walt Disney World at Christmas is still magical. There are many Holiday Activities you can enjoy at no cost or with park admission. You can check out Disney Springs Holiday Activities or head to Epcot for International Festival of the Holidays
Why it's the Best:
The Holiday Parade is not to be missed. There's usually 2 times offered.
Make sure you stop the free snack spots to grab snacks to enjoy while you wait in line.
Disney Character's decked out in attire as well as some exclusive character meets such as the 7 Dwarfs or some princesses with their Prince.
Elsa Freezes Cinderella's Castle as it lights up with bright icicles.
Cost of Mickey's Very Merry Christmas Party is about $85-$100
Universal Studios Merry Grinchmas is the best included Theme Park Christmas Party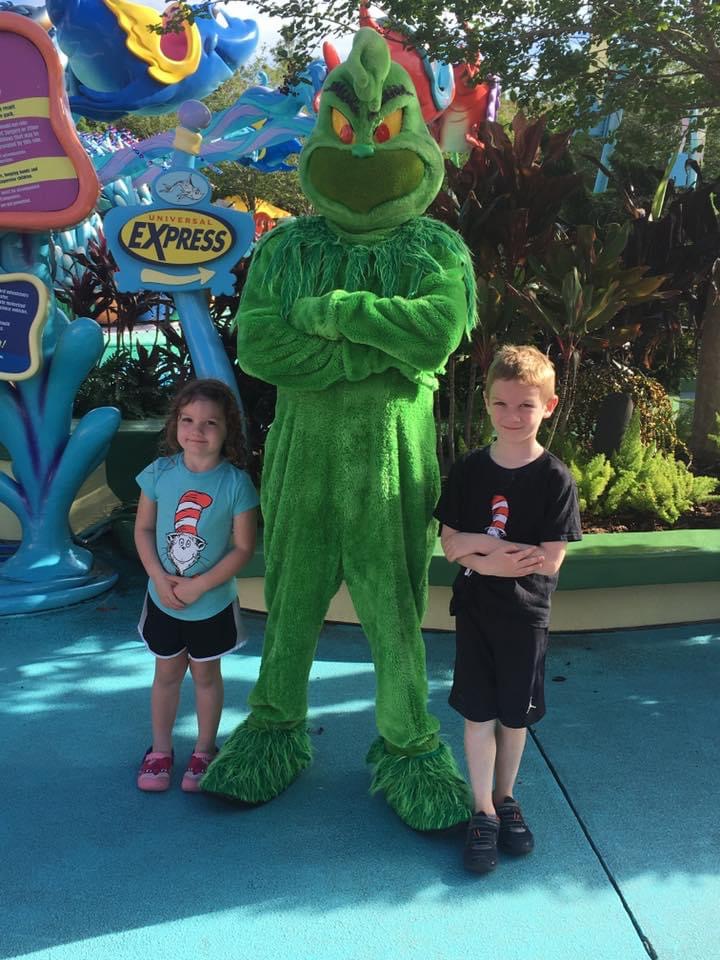 Who doesn't love the Grinch? Universal Studios Orlando Helps you get into the holiday spirit with several Grinch themed holiday events. Enjoy the Merry Grinchmas stage show which is fantastic and the highlight of the celebration. You can also meet the Grinch in Dr Seussland in Universal Studios.
There's also a Dr Seuss Breakfast, for an additional fee, which includes the Grinch himself as well as residents of Whoville. The cost of the breakfast is less than Disney character meals but the quality is as well. I would say the breakfast itself is mediocre to really bad. Over all it's not a great value and I really hope that they improve the experience. My kids saw thing 1 and thing 2 on the other side of the restaurant but they never came back. Specific characters aren't guaranteed. The children had a wonderful chat with the Grinch which was a lot of fun and the best part of the experience. So if you are a Grinch fan it's probably worth the experience.
During the Holidays, there are concerts that are included in the price of admission though these are black out dates if you are a season pass holder. We were lucky to enjoy a passholder preview of the Evening Light Show at Hogwarts Castle which is a fantastic light show.
Why it's the Best:
The Grinchmas Musical is not to be missed. The show is held several times a day and included with your admission ticket
Hogwarts Castle Light show is a wonderful light show in Universal's Island of Adventure
Meeting the Grinch and trying to warm his heart.
It's a great way to see Magic Kingdom for less than a 1 day ticket.
Cost of the Holiday events are included with admission. Tickets start at about $109
Sesame Place Very Furry Christmas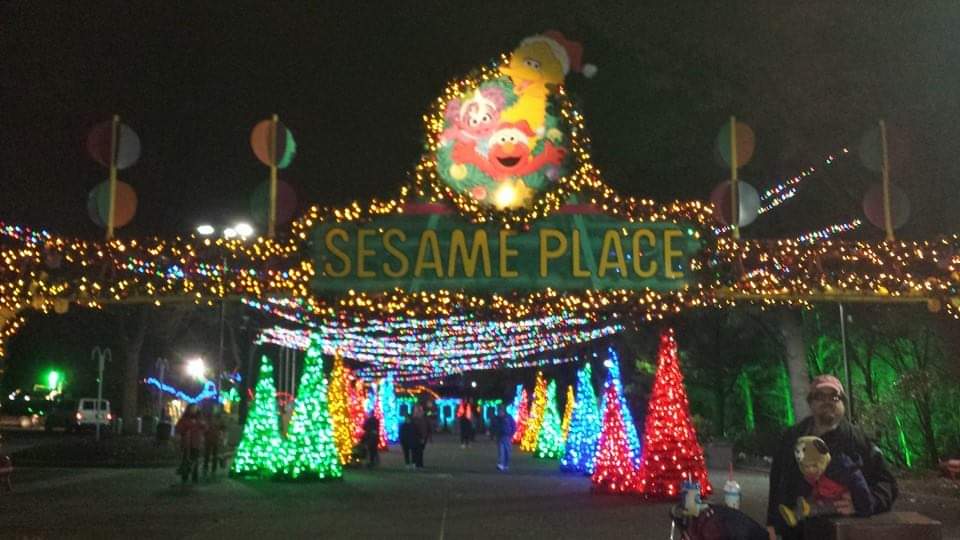 Very Furry Christmas is Sesame Places Christmas Party. Sing along at two special Christmas shows and take a train ride tour through the Twiddlebugs' Gingerbread Cookie Factory on the Sesame Place Furry Express!
Sesame Place is a wonderful theme park for younger children. They also offer a very affordable Character Meal that is worth adding on. They have thousands of lights displayed around the park and a large Christmas tree that plans music you can enjoy dancing to.
Busch Gardens which is part of the Sesame Place Family also hosts a holiday party. We haven't been but enjoyed their Harvest Halloween Party. There was no crowds or lines at all. It was a great way to experience the park and would recommend it for anyone's first visit to Busch Gardens.
Why it's the Best:
Don't miss the parade
The characters and rides are perfect for younger children and it's even better when they get to celebrate Christmas with their Fussy Friends.
The Character meals are very reasonably priced.
Cost of Sesame Place Very Furry Christmas is included with admission tickets and on sale right now as low as $20.99.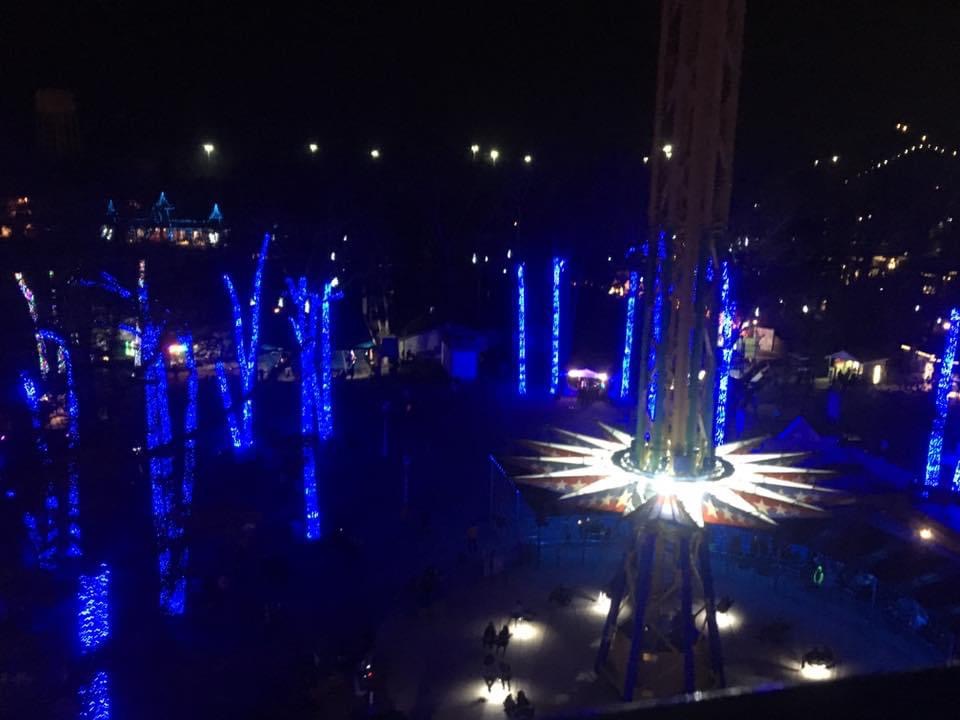 We have been to several Six Flags Holiday Parties but the one at Great Adventure in NJ, is my favorite. Primarily because they have the Gondola which you can take over a large portion of the park and provides nice views of the colorfully lighted areas of the park.
Six Flags turns their parks into a Winter Wonderland for the Holidays. They create themed lands in various areas of the park each with their different colored lights. There's seasonal food offerings, special shows, characters and more.
Six Flags season passes are a great value. Starting at only $65 you can purchase a season pass. In addition for as low as $75 you can purchase a season dining pass good for 1 lunch 1 dinner and a snack at every visit. This is an amazing value because the season pass gets you admission to all six flags in the US and your gold dining pass can be used for dining at all parks too. These passes often include a free refill bottle and free parking. So everything you need to enjoy the parks for up to 9 months of the year all for $125. This includes Six Flags Holiday Parties. Your dining pass can also be used to enjoy seasonal dining options.
Why it's the Best:
There are themed areas of the park all lit up with different colors for each area. It's the most lights I have seen at a Park.
Best Arial views from the gondola at Six Flags Great Adventure
It's included with park admission has has the cheapest season pass available so you can enjoy the park more often.
Who doesn't love Looney Tune Characters dressed up for the Holidays and with short wait times if any.
Roast smores inside the park (for a fee).
Cost of Six Flags Holiday In the Park is included with admission tickets. Season Passes are on sale right now as low as $50 and good for the remained of this year and all of next year*.
* You must activate the pass at your home park so make sure to buy passes for an open park if you intend to use them this year.
The Best Theme Park for the Holidays
Where every you are this holiday there is sure to be a fun theme park holiday experience near you. Our favorite Affordable Option is the Six Flags Holiday because it's free for all season pass holders. Right now they are on sale for as low as $65 a person and you can enjoy a full year at the park. Just keep in mind you must activate the pass at your home park- so if you plan to use the pass this year make sure your home park is open. Disney's Mickey's Very Merry Christmas Party is our favorite spurge and Universal Studio's is our favorite experience included with admission.
Follow Affordable_Family_Travel on Instagram
Make sure to like AffordableFamilyTravel.com on Facebook to get all the latest updates. It's also where I post my Dash Deals that are time-sensitive.