Spend a day or a week Exploring from Home: Egypt. Learn through online resources, books, music, and movies. Enjoy cooking authentic recipes together as a family. Exploring From Home lets you explore a destination without leaving your home.
Food
Egyptian cooking can be time consulting such as stuffed grape leaves or Shish Barak but those are also the activities kids have fun making and it gives you time to chat while you make the food or listen to some Arabic music. There are also some very easy recipes.
First Cooking Day Start with some Egyptian Appetizers or Sides
I recommend on your first cooking day making prepared tahini, hummus which is essentially pureed chickpea with the prepared tahini, and the babaganush which is roasted eggplant with the prepared tahini. They are easy to make and make sure you make enough tahini prepared for the hummus and babaganush as well as extra to serve as a condiment for some of the other things. Tahini can be served as a condiment for Falafel, Shwarma, and Ful Madamas.
You may not want to Cook the Pita First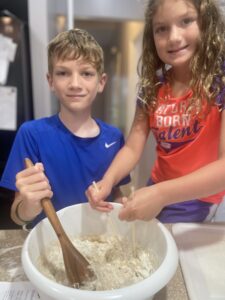 Once these sides are made you can make the pita bread. We made the pita first and the kids ate it all up so we didn't have any of the homemade pitas to eat with our home-cooked Egyptian dishes during the week.
We also made tabbouleh the first day which is also very easy and allowed the kids the opportunity to do a lot of chopping with their knives. The 3 dishes: Hummus, tabbouleh, and babaganush can be used as an appetizer or side dishes for other meals during the week. We also like to enjoy them for a light lunch with or without falafel. Some fresh goat cheese feta with some olive oil is an appetizer we enjoy with pita.
How to Eat Babaganush, Hummus, and Tabbouleh.
We like to eat tabbouleh with grape leaves but you can also use lettuce leaves to scoop the mixture or fill the leaves with tabbouleh r as a wrap. Traditionally eat hummus with pita bread but I like to serve veggies with it to the kids as it gets them to eat more veggies. Babaganush I like with pita bread
Egyptian Food
Books
Movies / TV Shows
Music
Activities
Online Education and Exploration
Summary of Exploring From Home: Egypt
We had a great time exploring from home: Egypt. It was a very special week for us because It's my mother's home country. It gave me as well as my mother a chance to share experiences of Egypt with my kids. As I loved hearing about stories of Egypt from my mother and Grandparents I truly hope it was a memorable experience for my kids too.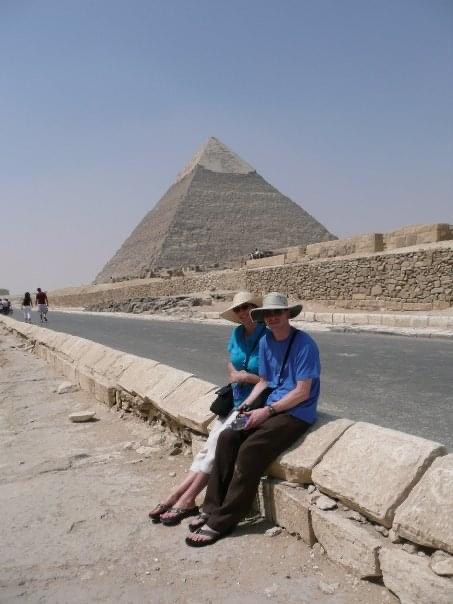 Explore more From Home
Follow Affordable_Family_Travel on Instagram
Make sure to like AffordableFamilyTravel.com on Facebook to get all the latest updates. It's also where I post my Dash Deals that are time-sensitive.