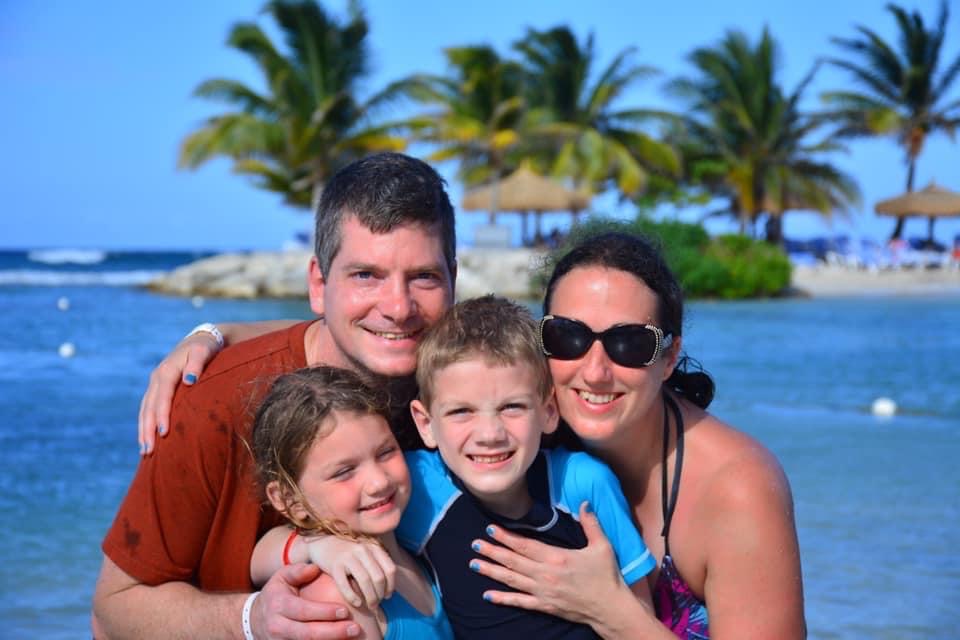 The best Jamaica Family Resort: Holiday Inn All-Inclusive Resort Montego Bay. The Holiday Inn All Inclusive Jamaica is a great value and the Best Budget Caribbean with Kids resort. If you are looking for a cheap family vacation this should be at the top of your list. While this is a family affordable stay, its also possible to stay at this great family resort on points.
Update 4/2023:
The pricing structure of this hotel has changed. Previously 2 children under 12 were free. The new policy is 1 child under 12 is free, the second child is $50/night if under 12, children over 12 are $80/night. Maximum 2 kids per room but call the hotel to see if they may allow addition kids in a room. The new policy is listed on the Holiday Inn Jamaica's main page however it has not been updated everywhere. Be careful when booking through IHG website. Pay attention to what you are booking and the agreed upon inclusions. Over all the extra fee still keeps the price far lower than any all-inclusive we have seen.
Why we love Holiday Inn Jamaica
We love the calm shallow water for snorkeling, the small private island, and the swimming pool. As well as all the activities the resort has to offer makes it a great Budget Caribbean Resort for Families. This budget family vacation is possible thanks to the all inclusive food and drinks as well as the entertainment to keep you having fun your entire vacation at no addition costs.
We love finding affordable family vacations and this is one of those great finds that are worth checking out. If you are looking for a cheap family vacation this is the place. The average price of under $200/night for 2 adults and 2 children (not per person) makes this an exceptional value.
If you are looking for an affordable Jamaica All-Inclusive, I would recommend the Holiday Inn All-Inclusive Jamaica Family Resort is a great value. We love the calm shallow water for snorkeling, the island and the swimming pool and all the activities the resort has to offer.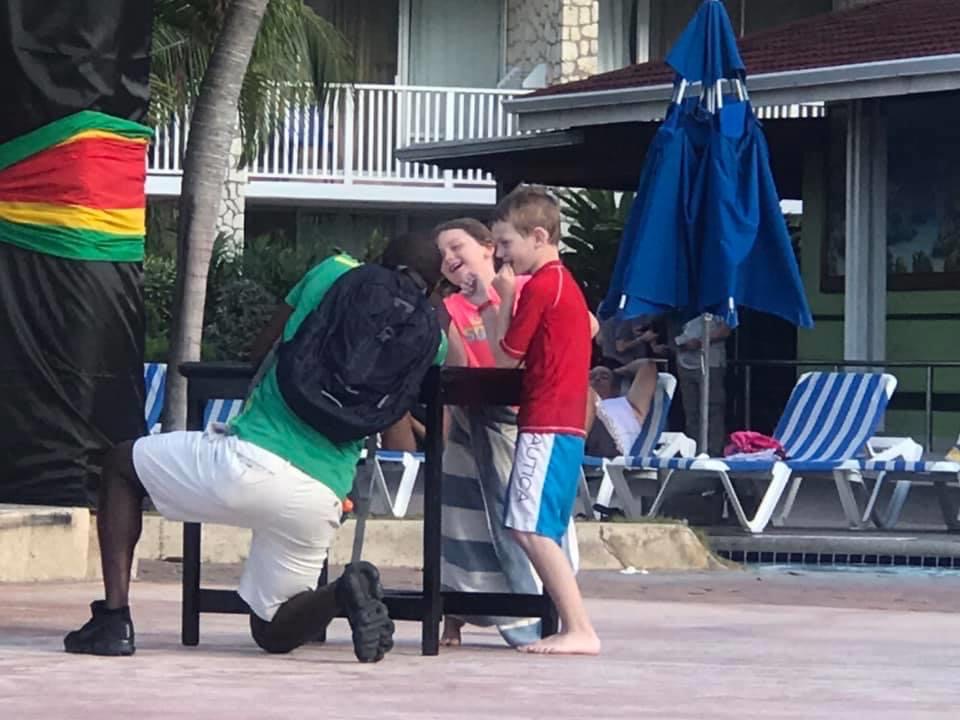 Tips when staying at the Holiday Inn All-Inclusive Jamaica Family Resort
•Bring your own snorkel gear. The resort rents gear, they do run out and no guarantee when they will be returned.
•Use the boats early in your stay. Weather can change and if it's too windy or if conditions are not safe you will not be able to use the boats. On the second trip, we were told, that it was too windy every day. On the last day, the ocean was like glass. we were told the boats will go up when there is some wind of course we were leaving so I don't know if they actually did go out.
•Make a reservation when you arrive for the Italian Place. Note each restaurant is closed on certain days. The Italian restaurant is the only one I recommend though we didn't try the Asian restaurant. This trip we only ate at the Italian restaurant. the mean wasn't as good as I expected but I also wasn't feeling well. the AC is very high in the restaurant and even with a fleece on over my dress i was extremely cold. I plan to brin pants next time to wear to the restaurant.
•No need to save lounge chairs by the pool with towels we always saw available ones.
•Snorkeling on the right side of the island has more fish (right side if you are facing toward the island back to the mainland).
•You can bring your own pool floats for the beach and pool if you would like. We didn't miss them, but they are allowed.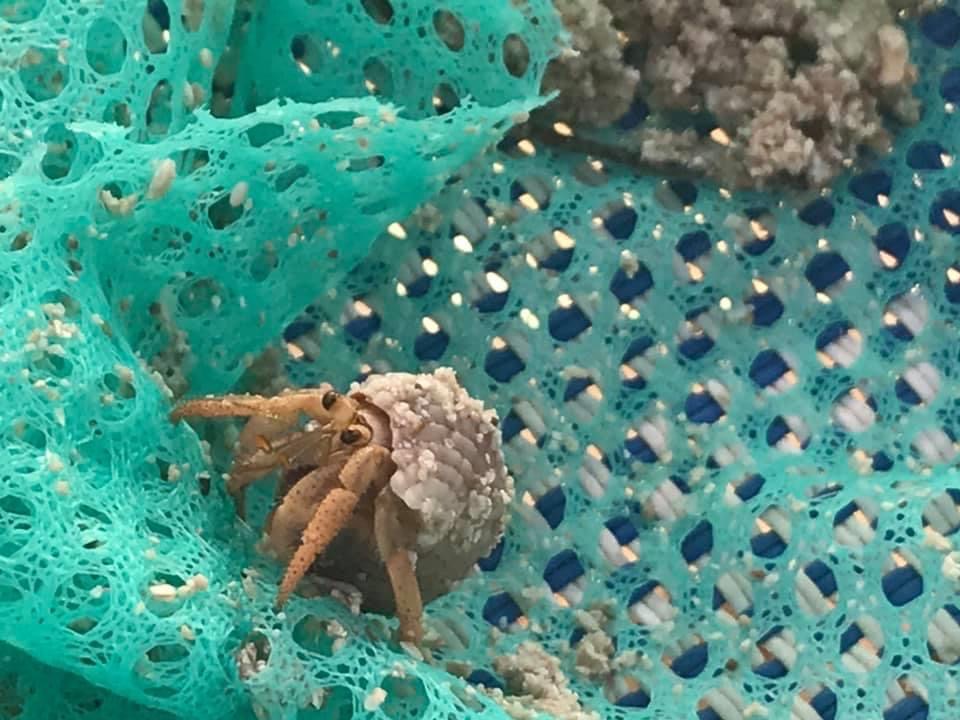 Good for:
Those looking for the best all inclusive at an affordable price. Those who are happy with shallow calm water and are fine with mediocre food.
Not for:
Those who want high-quality gourmet food and luxurious amenities, waves, or deeper ocean. The resort does not offer an expansive beach area for long walks and it is not the beautiful white sand you think of like Negril.
Those who are sensitive to noise. We usually fit into this category and while we were woken up one night we were so tired from the day's activities we went right to sleep. The walls are thin, and you can hear anyone walking by or talking on their balcony/patio next door. You can easily get around this by purchasing Bose earplugs that have quickly become a vacation essential for me anywhere we travel, especially when traveling during peak times.
On the second trip, we were located on the third-floor ocean view. We had no noise issues except the ac which runs a bit loud, many don't mind it as it can work as a white noise. Higher up definitely helped with outside noise but it also meant going up 2 flights of stairs because the elevators are on the back of the buildings and our room was in the front for the ocean view.
Overview of Holiday Inn All Inclusive Jamaica Family Resort
This vacation was exactly what our family needed and was a good reminder of how entertaining even simple things can be.
We were looking for a cheap getaway. Requirements were: Family Resort with easy access to affordable food, walkable to a decent beach, and a nice pool. The Holiday Inn Resort Montego Bay, Jamaica All-Inclusive was all this and more. Snorkeling at the Holiday Inn All Inclusive Jamaica is great and easy for kids. The entertainment at this Jamaica All inclusive resort is great for kids. I love trying different jamaican food every day on the buffets or jerk chicken at the jerk hut.
What we enjoyed about the resort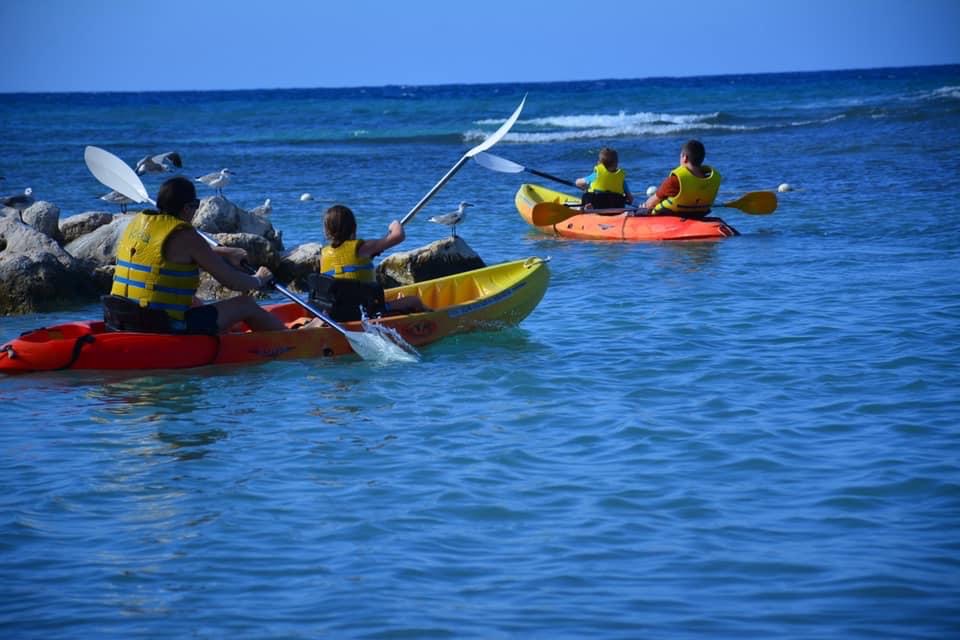 Holiday Inn Jamaica All Inclusive Price
You can snag rooms for under $200/night during the offseason with AAA rate, which can not be beat! I went in with low expectations because of the rate and this resort surpassed my expectations in every area except food which was fine just not as great as everything else at the resort.
Rooms at Holiday Inn All Inclusive Jamaica
On our second trip, we booked an ocean view room because it was the cheapest option available. we requested a kid's bunk room but unfortunately, there weren't any available. As mentioned we were moved from an older building due to AC issue to a newly remodeled building. The room was much nicer and I recommend requesting to stay in one of the remodeled rooms. the remodeled room didn't have a fridge but we never used one anyway.
On our first trip, We were upgraded to a bunk room, and while not ocean view it was an ideal location and we could see the ocean from the patio a little. Room 2127 ground floor between the main pool and playground/snack shack. We had everything we wanted within a 1min walk. The room has been renovated so it felt new though you could see imperfections like a painted patch on the ceiling and the curtain by the sliding door was dirty-I never notice that until the last day so honestly could have been from my kids.
The front door would stick sometimes so we had to make sure it was closed and locked before leaving our room. My kids loved the bunks even though u could feel the springs on the mattresses. Our bed was comfortable, and I have a bad back, so I usually complain that beds are too hard. The bunk room gave a feel of a separate room and we liked the privacy.
The Beach and Ocean at Holiday Inn Jamaica All Inclusive Family Resort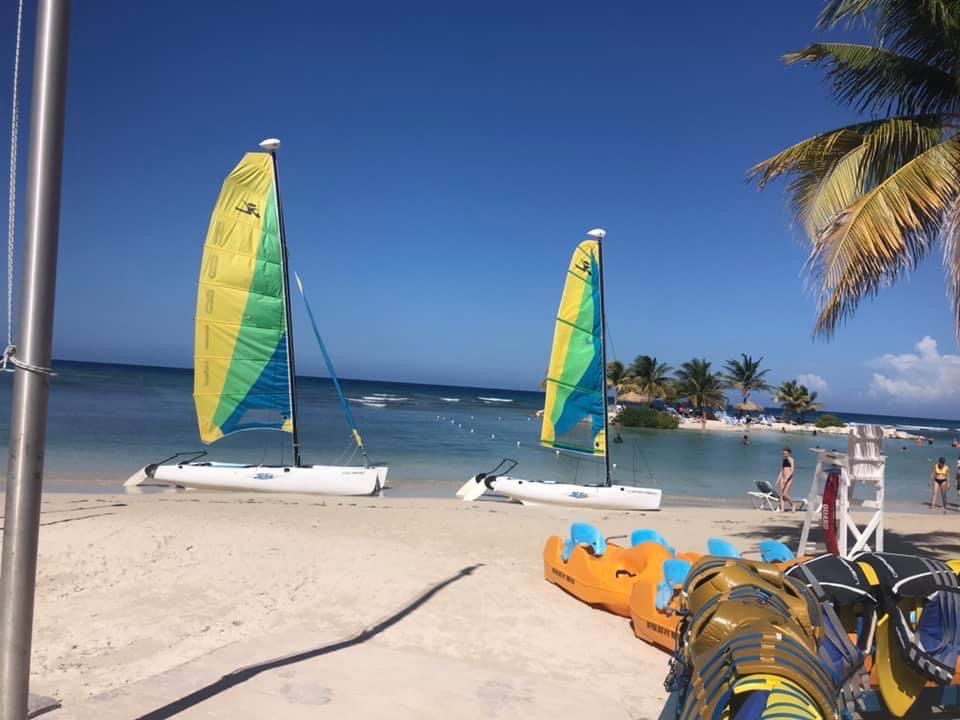 The beach was a plus for us but could be a con for others. The area is shallow in general. There are small narrow beaches along the resort with an island opposite the main resort area.
In-between is a lagoon that is clean sand and shallow water great for small kids, young snorkelers, or simply those that want to chill in calm water with no waves and never more than waist-deep.  
There are also some smaller side beaches. Snorkeling is great. Lots of fish especially on the right side if you are facing the island. We found a conch, sea urchins, and crabs too. Lots of different birds flying around. I could sit on the island and watch my kids snorkel and play in the sand. And there was always available lounge chairs no matter what time of day 
Jamaica Holiday Inn Pool
The resort does not have a water slide or lazy river but the pool wraps around the stage connected with bridges that you can swim under, which the kids enjoyed. Our kids called the pool a lazy river because u could swim around it, though one part is blocked, and you step out, walk over a walkway to the start of the next section. Our kids loved playing hide and seek throughout the pool and our daughter and I even did some water aerobics.   The Pool has shallow parts and a zero-entry part there's a side where there's a second level ledge so you can sit in the water. There's a small sprinkler pad too.
Activities and Entertainment at Holiday Inn Jamaica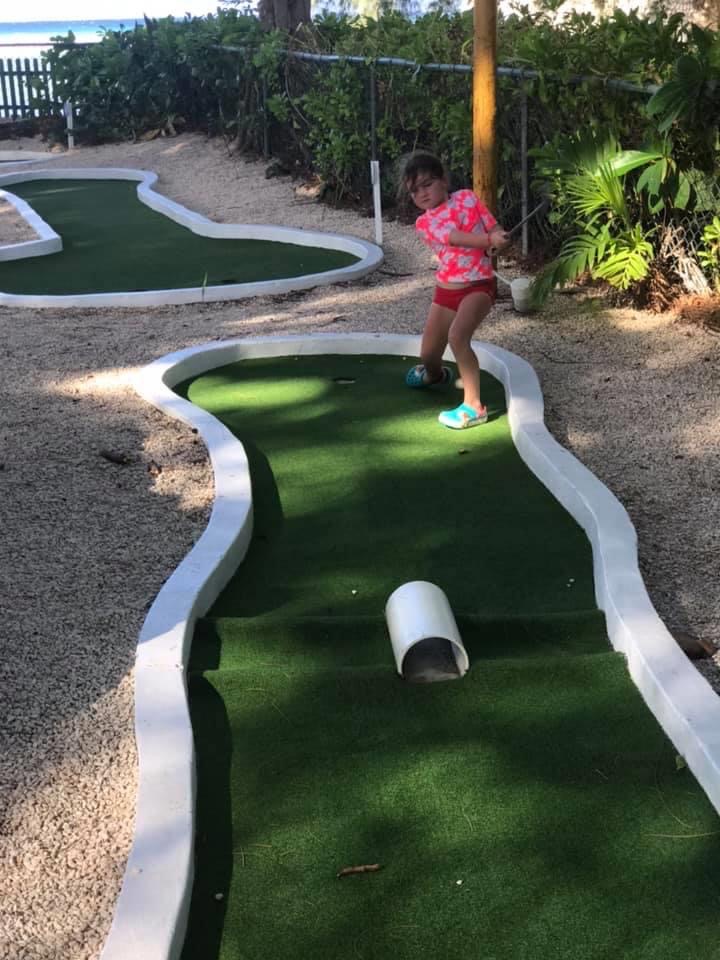 I would say the resort far exceeded my expectations because entertainment wasn't a requirement for us. Simply beach and pool. The resort has much more. They have a kid's club which we didn't use so I can't comment on. It has a huge playground that families can take their kids to any time. Here's all the wonderful activities the resort offers.
Scheduled Activities at Holiday Inn All-Inclusive Jamaica Family Resort
They have an entertainment schedule with activities like water aerobics daily at 10:30, some sort of game by the pool like ring toss, minute to win it, and bingo usually in the afternoon. On our first trip, My husband asked the resorts kids club about fish feeding and she told us they go out to the gazebo and if we couldn't make it we could just bring bread over to feed the fish on our own- which we did, and it was great.
The kids looked forward to the afternoon games on the stage. Corn-hole competition, a balloon game water Olympics. They offer up prizes which often include items from the local vendors that are there selling items for the day. There was also crab racing with large hermit crabs that the kids really got a kick out of. it was $1 per bet.   
Any time Sports
They have basketball and tennis courts- they have tennis lessons for kids as part of the kid's club.   There's shuffle board and botchy ball and a very basic miniature golf course which my kids enjoyed a lot. The resort has pool tables and a ping pong table. They have peddled boats and kayaks and a Hobby Cat which they offer free rides on (my daughter said she felt like Moana).
Evening Entertainment
They had a musician each night during dinner from about 6-8 usually a vocalist though one night they had a great violinist playing all modern songs. Then 8 or 9pm the evening show which always ended by 11pm if not sooner. We didn't make it up for those as we were up at 6am every day and tired from the sun swimming and wine.  
Food at Holiday Inn All Inclusive Jamaica Family Resort
Easy Access to Food
One of our requirements was easy to access cheap food and an all-inclusive def made it easy. 7am breakfast buffet started, 11am-6pm and 10pm-2am the grill is open with burgers fish fry grilled cheese, and french fries. 12-6 snack hut with loaded nachos, hot dogs, popcorn and soft-serve ice cream. 12pm lunch buffet started, 6pm dinner buffet and specialty restaurants started. Jerk hut opens at 12pm and the jerk chicken and pork are very good; the chicken was very tender.
Options for picky eaters but also some authentic Jamaica for the foodies.
My kids are picky eaters and my husband is boring eater though he tries when we travel. He's happy with burgers and fries; He said the burgers were pretty good. Breakfast was the best selection I've ever seen for a cruise/all-inclusive. A carving station, some real dinner type entrée, a cooked vegetable and salad on the breakfast buffet. From my husband's reaction, the typical carbs waffles pancakes, etc. were just ok. Omelets station, poached egged, boiled eggs, scrambled eggs (runny), bacon, sausage, and more.
Lunch and Dinner were a variety and always included something at the grill. And usually had some Jamaica dishes which I was pleased with. The curries were not spicy to my disappointment. I thought the brown stew chicken would have more spice too, but the beef stew had great flavor.
Most meals I found an entree and veggie that I really enjoyed but there were times I had an item and thought this is worse than cruise food because some items were downright terrible and usually because of poor preparation. But overall, we were fine the food and being able to find one enjoyable entrée is exactly what I need.
Drinks
We drank wine mostly and our kids loved the slushies: Pina colada, strawberry daiquiri and a strawberry banana. Our first evening the bartender asked if they wanted a Mickey Mouse: Strawberry Daiquiri topped with Pina colada topped with a little cola on top. My son loved it so much he had it every day. This trip we learned about the Sponge Bob (strawberry Daiquiri, pina colada and topped with orange juice. 
Specialty Restaurants at Holiday Inn All-Inclusive Jamaica Family Resort
This trip we only ate at the Italian restaurant but on our first trip  we ate at 3 of the 4 specialty restaurants. The 4th is the Japanese which is adult only and requires a surcharge. The seafood restaurant I didn't enjoy and would pass on though they do have a surcharge menu that we didn't try which may have been good. The terrace Jamaican restaurant was just ok, but I would skip it as you can get a lot of what is offered at the buffet or jerk hut. The Italian restaurant was good and worth a visit or even 2.  This trip we both ordered the filet and ordered the shrimp Alfredo to share. 
Service at Holiday Inn Montego Bay Jamaica
The service was very good. Upon check in we were sent to the special check in area. on our first visit they Upgraded our room- we do not have status at IHG and are just members. I recommend you sign up before you go as it was the first thing they asked when we checked in at the main desk. This visit we had an issue with our air conditioning and they tried to fix it and when they couldn't they moved us.
From the bartender who suggested the Mickey Mouse to the servers always filling our wine, the house keeping on our first visit that left a towel heart with flowers one day, to the very end when the guy who took our bags offered to weigh our checked bag to see if we were overweight. We didn't ask for anything outrageous, but they were great with what we did need.
What a typical day was like at the Holiday Inn All-Inclusive Jamaica Family Resort
We woke up each morning and headed to breakfast at 7 am in our swimsuits and cover-ups.  Then headed over to the island where we spent the morning snorkeling and playing in the sand.
By 11 or 12 we headed over to the pool sometimes having lunch at the burger shack next to it, sometimes eating at the buffet. The kids often wanted an hour in the room to relax so a couple of times we grabbed hot dogs ice cream and nachos for the kids from the snack shop for them to enjoy in the room while they relaxed.  Afternoons were usually spent at the pool and often there was a game offered on the stage the kids (and us adults) participated in. Around 4/5 pm we went back to the room showered and changed for dinner. We enjoyed the evening music offered during dinner time and did not stay up late enough to see the evening shows.
Affordable Family Travel to Jamaica
It's easy to keep the cost of the trip to Holiday Inn All-Inclusive Jamaica Family Resort at $1500 or less. You can book nights starting at $150/night AAA rates on Holiday Inn Jamaica's website. A Week would only be $1050 all inclusive.
You can fly for almost free with southwest companion pass and miles here.   Click here to view photos of the resort and food, activity schedules and menus.   This is key to making this a Cheap Family vacation but it's easy to do and once you have southwest companion pass you will likely be able to cover several flights for free for even more budget family vacations.
Holiday Inn All Inclusive Jamaica Family Resort is the BEST value resort in Jamaica and honestly the best value we have found anywhere.
Our Trip Costs
Traveled November 2018
Flights:$570 Total with 2 Southwest Companion Passes & 53k SW Miles, for 4 people would have been $450 per person.
Hotel: $560 Total($150/nt w/AAA rate went through ebates & received $47 cash back)
Entertainment: Included
Food: $50 Total for Food while traveling
Taxi Service:$90 RT shuttle from Viator.com
Airport Parking: $25 ($5/day eco parking)
Traveled November 2019
Flights:$580 Total with 2 Southwest Companion Passes & 62k SW Miles, for 4 people would have been over $600 per person over Thanksgiving weekend.
Hotel: $720 Total($180/nt w/AAA rate went through rebates.
Entertainment: Included
Food: $50 Total for Food while traveling
Taxi Service:$90 RT shuttle from Viator.com
Airport Parking: $30($6/day economy parking)
Check out some other Affordable Trips to Destinations Southwest flies
Things To Buy Before your Trip
Jamaica Family Resort: Holiday Inn All-Inclusive Resort Montego Bay
The best Jamaica Family Resort: Holiday Inn All-Inclusive Resort Montego Bay. It's such an amazing value for a fun family vacation especially when combined with Southwest Companion pass.
Follow Affordable_Family_Travel on Instagram
Make sure to like AffordableFamilyTravel.com on Facebook to get all the latest updates. It's also where I post my Dash Deals that are time-sensitive.