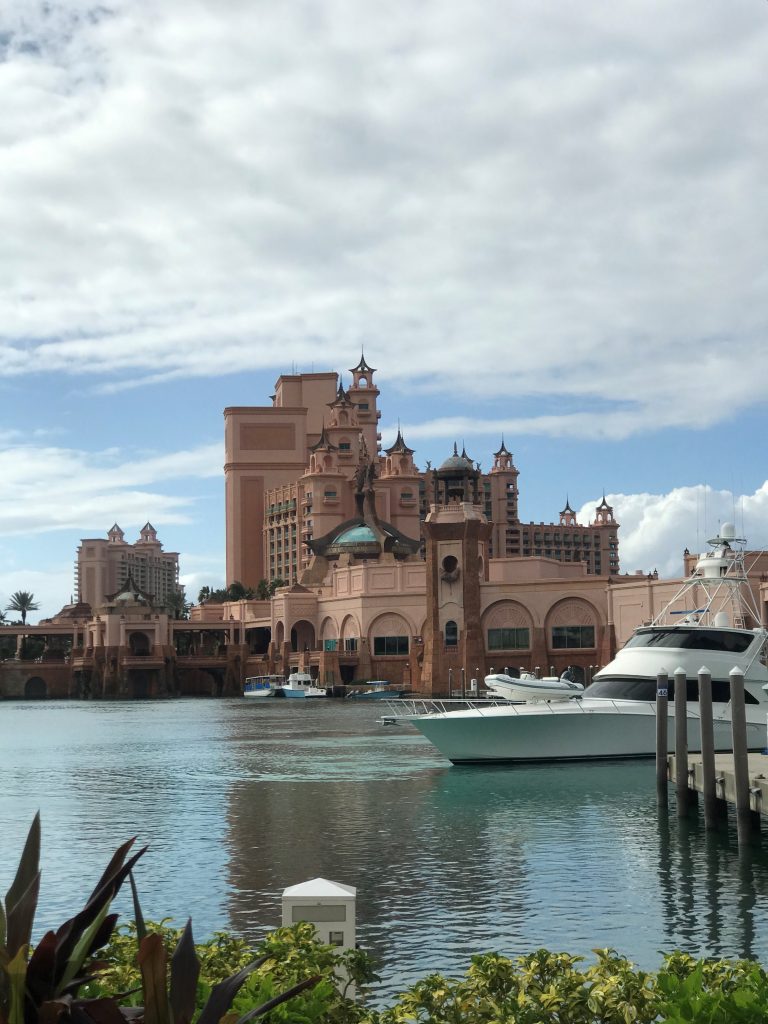 Budget Travel to Atlantis Bahamas with Kids is possible to book with a little planning. Atlantis deals or even a free stay at Atlantis Bahamas can be earned for a Cheap Bahamas Trip. There's many ways to save on an Atlantis Bahamas , one of the top Bahamas Family Resorts. Budget Travel to Atlantis is a great Bahamas family vacation that is filled with fun activities including Bahamas Aquarium, water park and wonderful beaches.
The Bahamas is a great family vacation full of fun and relaxation. The Resort offers so many activities for families that it is the best Bahamas resort for kids. There's so many things to do at Atlantis Bahamas with kids. While Atlantis may seem out of your budget you can have a Cheap Vacation to Atlantis Bahamas and we will show you how with several tips. You can even stay at Atlantis Bahamas Family Resort on points.
Atlantis Bahamas deals are not hard to find. From a Free Atlantis stay to Atlantis Hotel discounts there are many ways to find an Atlantis Bahamas Deal. Budget Atlantis Bahamas with kids also means finding cheap Atlantis restaurants and meals as well as activities which this Atlantis Planning Guide will show you it's more than just an Atlantis Bahamas Review it will help you plan a Cheap Atlantis Bahamas Vacation.
There are so many things to do at the resort, you can easily spend a week and never leave the resort. From their sea life experiences, 11 Atlantis pools Aquaventure water park, several beaches, and water activities. The largest outdoor aquarium structure in the world with its amazing sea life. The Kids Club is great for families who want to take a break and maybe allow the adult some time in the Atlantis Casino.
Budget Atlantis with Kids: Bahamas Flights
Our Atlantis Bahamas Flights were covered by southwest companion pass and miles. We only paid the airline fees for each person. To learn more about companion pass and how you can earn it, check out How to Earn Southwest Companion pass for Free Flights to The Bahamas and More. Travel to Atlantis Bahamas can also be done via cruise but that usually is only for a one-day pass.
What Airport do you Fly into for Atlantis Bahamas?
You will want to fly into Nassau Bahamas Airport as its the closest airport to the resort. Its a short cab ride to the resort. Flights can often be one of the most expensive cost of a trip, by utilizing southwest companion pass and points for budget flights to Bahamas.
When to Visit Atlantis Bahamas?
The Best time to go to Atlantis Bahamas is the shoulder seasons. Avoiding Holidays and when school is out. We have visited Atlantis Bahamas in January and it was a bit cooler but still warm enough to swim Atlantis resort pools and the ocean. We have also visited in September which was a great time to go.
How to get Ceaser's Reward STatus for Free 4 Night at Atlantis Bahamas
4 Nights Free Using Ceaser Reward through Status Match.
Earning has 4 nights free and only paying the fees is the cheapest deal you will find. With 4 free nights, we were able to have a Budge Atlantis Bahamas with kids vacation.
We were able to stay twice in 2019, for free by utilizing status matches to earn Platinum Caesar's Reward status which provides 4 nights free at Atlantis. Caesar's promotion ended at the end of  January and was renewed in March of the same year. We were able to rematch and take advantage of the offer in January and October 2019. Find out How to earn a free night's stay at Atlantis. You must pay the resort fee and taxes. The total came to $256 total for the 4 nights for 2 adults and 2 kids under 12 free for the resort fee and Taxes.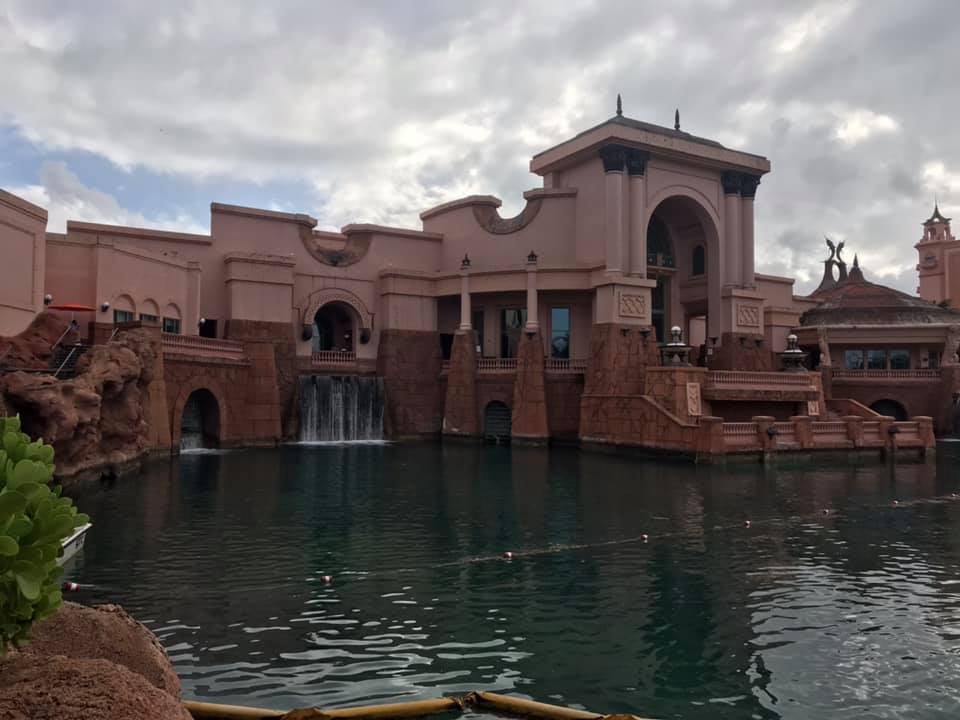 Atlantis Bahamas Deals
The Best Atlantis Bahamas deals are to status match and earn 4 nights free stay. If you are unable to do a status match to earn a free stay at Atlantis Bahamas, keep an eye out for Atlantis Bahamas deals on the resort website for as low as $199 a night. There's also the option to stay at the nearby Comfort Inn Paradise Island which is an affordable hotel near Atlantis. Their rooms include breakfast and access to the Aquadventure water park.
Atlantis Bahamas Day Pass
Day Passes to Atlantis are available to purchase at the Casino and are often offered through Cruise line tours. They are however very pricey and often have limited access. Consider comparing a 1-night stay at Atlantis even if you don't stay overnight in the Hotel, it can provide up to 2 days of access to the water park, aquariums, and other resort amenities.
You can also look at booking the Comfort Inn Paradis island. This is often a cheaper option than Atlantis Day Passes cost for a family and will give you access to the Atlantis Water Park if that is the goal of your visit to Atlantis Bahamas with a Day Pass. Some cruise ship passengers use this option for an Atlantis port excursion to save significantly.
Tips for Budget Travel to Atlantis Bahamas with Kids
Make the most of your stay With These Atlantis Tips for Families and Saving
Atlantis Sealife Tips
Make sure you note the shark feeding days. Don't miss it. they are only fed a few times a week and it's fun to watch.
 The manta rays had been released before we arrived this October 2019. There's a chance they will get more as this seems to be something they do- rehab/study then release.
Make sure you stop by the sea turtles over by the beach tower. It's a bit out of the way so I think many people miss it- we did our first trip. On our recent trip, we went in the morning and the turtles were very active. They must have thought we were going to feed them because they were trying to get up the rock wall. The big one climbed over other turtles trying to get up.
Even if you don't do a sea life encounter, head over to Dolphin Cove. Sit on the patio, with the calming music and watch them swim and play.
Atlantis Water Park Tips
There are 3 tube slides and 1 body slide in the building in the middle of the lazy river. While on the river there is a split where you can go right to go on the slides. You must be 48″ and not wearing a life jacket to do this option. They are great slides. There's a spot where you can walk into the building with your tube (or just yourself if you want the body slide).
If you are visiting Atlantis with Toddlers you will love the Splashers pool which is one of those Splash bucket play towers. There are also several Atlantis pool options with zero entry and smaller water slides. This is what Atlantis with toddlers is sure to be a blast.
Atlantis Beach Tips
 Stay away from the main beach where there are no breakers and where the cruise ship passengers go.
How to save more on a Budget Atlantis Bahamas with kids
Pack Food: Since flying southwest, we packed a suitcase full of food. this covered breakfast, lunch, and snacks so we only ate dinner out. The food at the resort is expensive. In addition, there's mandatory gratuity added to even counter service items plus tax adds almost 30% onto your bill. You can read all about eating out of your suitcase here.
Leave valuables in the room or on the ship. We heard a cruise ship passenger complain it's $150 for a locker for the day.
Make a stop (or 2 or 3) at Viola's for affordable food including $12 pizzas. See Viola's review below for more details. Viola's is our favorite cheap restaurant near Atlantis.
Budget Atlantis Bahamas with Kids Review
We love Atlantis, though as with many places there are pros and cons. I feel it's definitely a place worth visiting at least once. The Aquarium structure is wonderful and there are so many Atlantis Bahamas Pools. it's easy to find one that isn't packed. We enjoyed the pool hopping at Atlantis. There are so many varieties of pools at Atlantis it's nice to try them all.
The cove beach is very nice. We enjoyed our second visit a bit more because we knew what to expect. Also because my daughter was finally over 48″ and so both kids enjoyed the bigger slide together (my son tends to be ready to do things when his younger sister is).
Before your trip make sure to take a look at the Atlantis Bahamas Resort Map, so you have an idea of all the Resort has to offer including where all their pools and beaches are located.
Atlantis Rooms Review
The rooms were spacious. In the Royal Tower, they have minifridges, but they are fully stocked minibars and we were warned we would be charged if anything was moved. Royal Tower is convenient to many restaurants and Marina Village as well as the casino and the Dig. We were happy being there through the rooms with the kitchens would have been nice they weren't necessary. WIFI was included in the room as well and we could access it from a large portion of the resort.  
Water View Rooms
We were booked in a water view and for the second time were not given a water view room. We were told it's based on availability and both trips were over holiday weekends.
Budget Atlantis Bahamas with Kids Friendly Cots
Atlantis kid's cots were fantastic. On our second stay, they gave us a king room and the lady at check-in seemed surprised when I said we had 2 children (it even showed on our confirmation). She said she couldn't find 2 queens so she would send up a cot.
The man that brought the cot said he could bring a second if we call down which we did. This actually worked out better for us because the beds were lower to the ground. The kids like having their own beds and we loved having a king bed all to ourselves. We all slept much better. However, unlike last time they gave us a king room, and the lady at check-in seemed surprised when I said we had 2 children (it even showed on our confirmation).
Atlantis Casino Bahamas
The casino is small and a bit smokey. My husband didn't mind it so I sent him down for the total of 4 hours required as part of the free stay (read the terms and conditions listed on the offer) after the kids went to bed.
The first day he blew through $80 of the $100 free slot credit he got with the package. I was worried the remaining 3 hours through the remainder of the trip was going to cost me a lot. Thankfully, the second night he found a penny slot he liked and only spent $4 total of the slot credit in the next 3 hours. He then burned through the $16 remaining once he had hit min time. He came out ahead $4 so I was happy but last trip he came out ahead $47 of the $100 slot credit! This is because he could cash out anything he won at the time.
The Casino Credit Worked differently on the Second visit.
The way it worked this time is you could only cash out what you were up. For example, say you put in $20 of your $100 credit and you are down to $15. You then win $5. you can not cash out because you are not over what you started with. You can put in lower values so you can cash out every time you are higher. However, you can only cash in receipts for whole dollars you won't actually get back any change. When we went in January, he was able to cash out the $5 and continue betting with the $15 remaining and this is how he was able to be up so much. Either way, we were able to get through the 4 hours min required gambling without spending any money out of pocket and with very little interruption to our vacation schedule.
What is Free at Atlantis Bahamas?
There's a lot of this to do in Atlantis Bahamas for Free. The Atlantis Waterpark, Atlantis Resort Pools, Aquarium, and Beach are Free at Atlantis Bahamas. They are enough to keep you entertained your entire trip. You can also walk over to Dolphin Cove and sit on the patio for free watching the dolphins from there.
Bahamas Aquariums and Sealife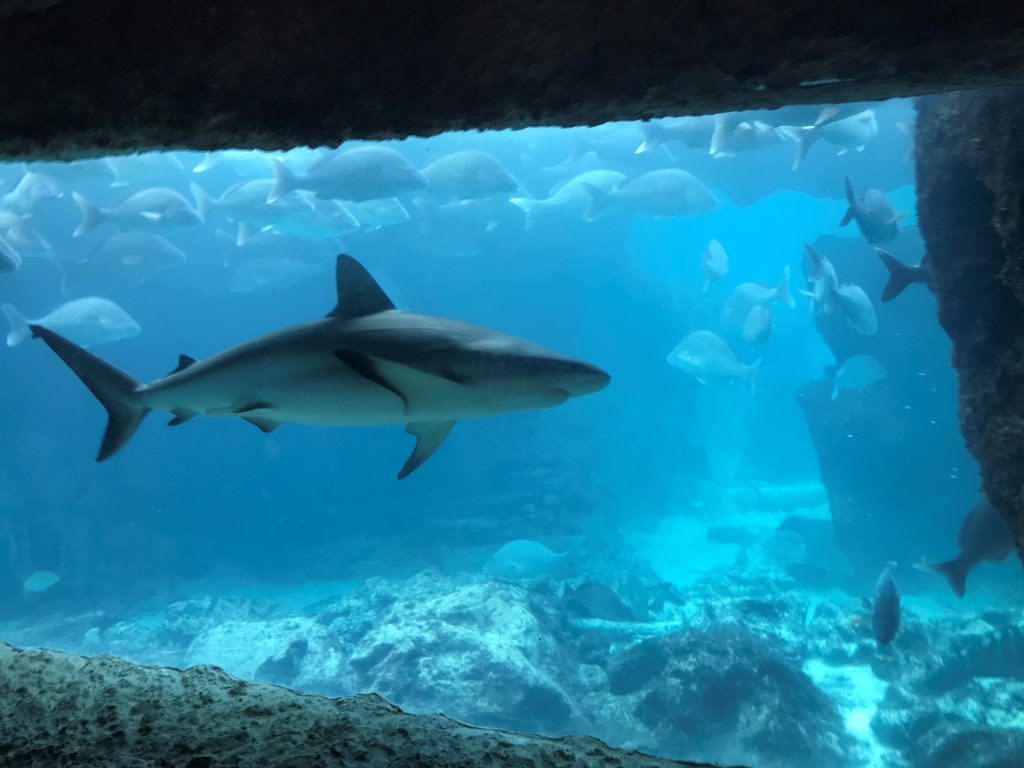 Aquariums and The Dig at Atlantis Paradise Island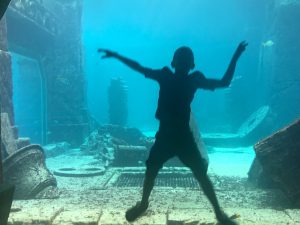 The Dig is one of the best Atlantis Kids activities because they get to explore the themed aquarium. As with our first trip, we were still amazed by the Sea life at Atlantis. It's so beautiful and peaceful.
The dig is always fun to visit. Just be careful the kids don't jump into the Tanks! Just kidding theres no access to the tanks fromwithin the dig but we had some fun pretending.
The dig is very well themed and some of our favorites are the eels and lobsters (we always pick which one we will be having for dinner). The kids also enjoy the touch tank.
This trip we made it over to see the large sea turtles. They are over by the beach tower which is undergoing renovations so its very quiet over there. The sea turtles must have thought we were going to feed them because they were going crazy trying to crown out of the water. The largest even climbed over a few others.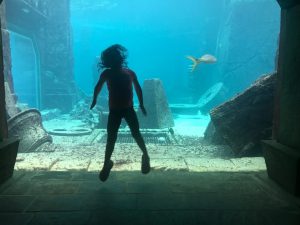 Another highlight this trip was the shark feeding which only happens a few times a week. It was very entertaining to watch them jump around to get their food.
Our First Impressions of Atlantis Aquarium
Kids love the huge aquarium and the dig. It's well designed, and the tanks are cleaned regularly so you get great views of the sea life inside.  The Dig is very well-themed. It took about an hour, as we took our time. It was raining first thing then windy, so it was nice to have something to do inside. We also enjoyed the outdoor tanks: loved seeing the predator lagoon, sea turtle's sawfish, sharks, and stingrays.
One day, we got caught in a quick downpour. We were just starting to have our lunch when we felt sprinkles and moved to the covered area by the sharks (and slides) we grabbed a few extra towels and set up a picnic it rained pretty good for 20min or so and we were glad we had an enjoyable covered picnic area. On the way back to our room from Virgils, I took a wrong turn and turned down some caves. The next day we headed over and found the predictor aquariums that we had not yet visited.
Atlantis Bahamas Resort Map
There really is so much to see make sure you look at the map and take your time throughout your stay.  The resort is large and there's so much to do and see it's easy to miss something.
This still holds true. Take time to check out the feeding times and make it to a couple and make sure you look at the map even daily to understand what you have seen and what you have yet to see.
Atlantis Dolphin Cove Experience
Dolphin cove houses the dolphins but it's also where other sea life excursions meet. There's a patio looking out to the dolphins so you can sit and watch them even without paying. They play music and the whole experience is very calming and relaxing. I recommend a stop here even if you are not doing an excursion. If you have an excursion you can go in before or after and sit on the beach in loungers watching the dolphins.
If you are doing excursions you can enter the beach area once you are checked in and you can sit on lounges and watch the dolphins.
Dolphin Encounter Overview
This Atlantis Dolphin Encounter was an extra bonus not included in our budget. This is the reason my husband is the upgrader. I call these bonuses because I don't include them in the budget/cost breakdown. There is so much to offer it's unnecessary to include one of their many expensive sea life experiences, but my husband always feels you take opportunities when you can.  
Cost of Atlantis Dolphin Encounter
Dolphin experience $157 per person and $477 for 3 Total with fees. We had free experience with the casino's experience pass.
Our son was a little nervous and neutral, but our daughter loved it and was lucky enough to help bring over some extra fish for the dolphin. It was $95 for 6 photos or $177 for all. My husband the upgrader said it's worth $77 to not wait here for an hour trying to decide which photos to get. Our vacation photos are a splurge we often choose because we rarely get professional family photos.  
Atlantis Dolphin Experience Review
The activity starts by getting wet suits and being led to a room where you hear the story of how the dolphins got here. It all started in 2005 with hurricane Katrina destroyed an aquarium and sent the dolphins into the ocean. They were rescued and sent to the aquarium where a temporary structure was built. Since then there's been many babies including 16 in 4 months' time. While many dolphin encounters are in chlorine pools, the facility at Atlantis Bahamas is saltwater.
The oldest dolphin Kelly who is 47 yrs old is the dolphin we got to meet. We liked the program, it was put together well. We all enjoyed the experience and having one free coupon made the experience about $120 per person. I'm also glad we took the opportunity as the current 2019 offer doesn't include one free dolphin experience.
Dolphin Encounter Review
It was a really great experience and our daughter (and myself) especially loved it. On this trip, we decided to do the Atlantis Sea Lion encounter since it was a unique experience we may not find anywhere else. I have to say that while the dolphin encounter can be experienced in many places there is no place like Atlantis. The dolphins are held in saltwater tanks not chlorine tanks and they are all rescued and their offspring (they had to separate the males because they are not at 40 dolphins total).
Atlantis Sea Lion Experience Review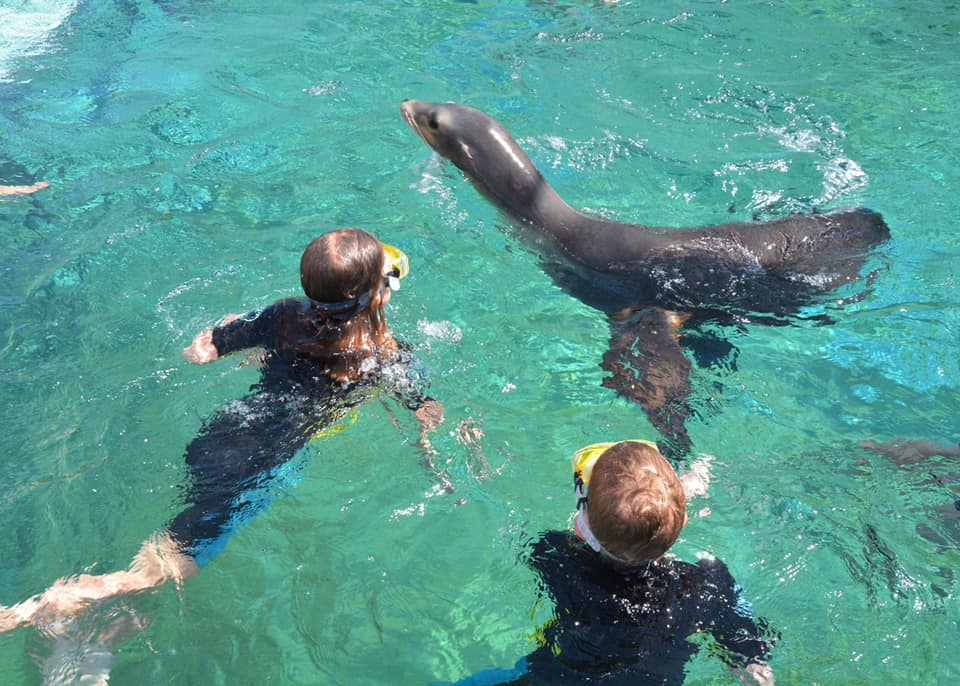 *this activity was a big splurge and may not be part of your budget Atlantis vacation with kids. There's so much the resort has to offer that it's not necessary to do an experience, the kids won't even know what they are missing.
We really enjoyed our sea lion experience it was definitely fun and unique. There was a California sea lion and take photos in the water with him. while we waited for other families. He would come and swim by so we could pet him  and we go to watch him perform different acts. When it was our turn we got a photo with him (making several faces), we got to feed him and also give a couple commands. 
Next we were given snorkel masks and were introduced to a south American sea lion. we were able to swim with him and he did various tricks like skipping through the water super fast and jumping over most of the group. we were also able to pet him.  We all had a blast and the kids absolutely loved the experience.
It  was  little disappointed there was no kiss or hug. Of course, my kids snuck in their own hugs especially when he stood up in-between them but there was not any individual experience like there was with the dolphin. I thought the groups would have been a little smaller. there was 12 of us. I think if it had been a small group there would have been time for individual photo ops.  overall because this experience is so unique I think its worth the cost but value wise I feel it should be less people for the price.
Atlantis Aquadventure Water Park and the best Bahamas Lazy River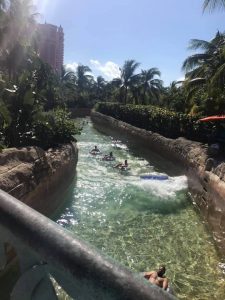 On this trip, our daughter was finally over 48″ which meant they could both go on everything they wanted to. While the last trip we had a blast we all didn't know what we were missing till the kid was finally willing to go on the lazy river without life jackets so we could do the tube slides. Please note you can also walk to the tube slides with a tube (grab from lazy river)  and do the tube slide which ends in the lazy river but you can exit and not go through the entire thing. We didn't realize this till after our first trip. They will not let you go on the slides from the lazy river if you have a life jacket on. not sure if you walk in but I assume it's the same.
There are 4 water slides 3 with tubes and 1 body slide. The best one is the one you get out and climb up the steps to a higher position.
The Adventure River at Aquadventure
The raging river itself is also a lot of fun.  We had been on it several times this trip (and several more the previous trip) with kids on life jackets. We had never been flipped off. Of course, the first time the kids are without life jackets, a big wave comes and my husband and our daughter's tube bumps into ours along with the wave and tips our son and me right over. We had warned the kids if you get dunked just stand right up. I immediately stood up and lifted up the took and there was our son standing up. We got back on and he was ready to get out but decided he wanted to try the slides so he stayed in and we ended up going several times around as we tried out the various slides.
The kids also tried the double straight slide from the Mayan Tower and My husband and I  did too. I can tell you it doesn't feel amazing going down. Since there are timers and the kids could compete for the fastest time, they did it several times. We all enjoyed the tube slide through the shark tank as well and my husband did the big drop again this trip- I skipped it as once is enough for me.
This is a great water park. If you are under 48″ there are a bunch of smaller slides the kids can go on and the bucket tower which can keep kids entertained for hours.
Pools and The Beach at Atlantis Paradise Island Review
The Many Bahamas Beaches at Atlantis
The Lagoon Beach
Our first day we headed to the lagoon beach. We stumbled upon this beach on our last day of our first trip and its ideal for toddlers and younger kids as its extremely calm and shallow. Its basically fed by an inlet from the ocean. There are juvenile fish which my kids love to try to catch and this trip we actually brought a net. (don't worry they always catch and release.  We were a bit surprised when we saw a lot of sea weed up on the beach and noticed through out our stay they never came and cleaned it up- there was no seaweed at the other beaches so this must have washed ashore earlier and they just didn't bother to clean it. needless to say it was a nice spot to have pizza and wine and the kids could safely run around.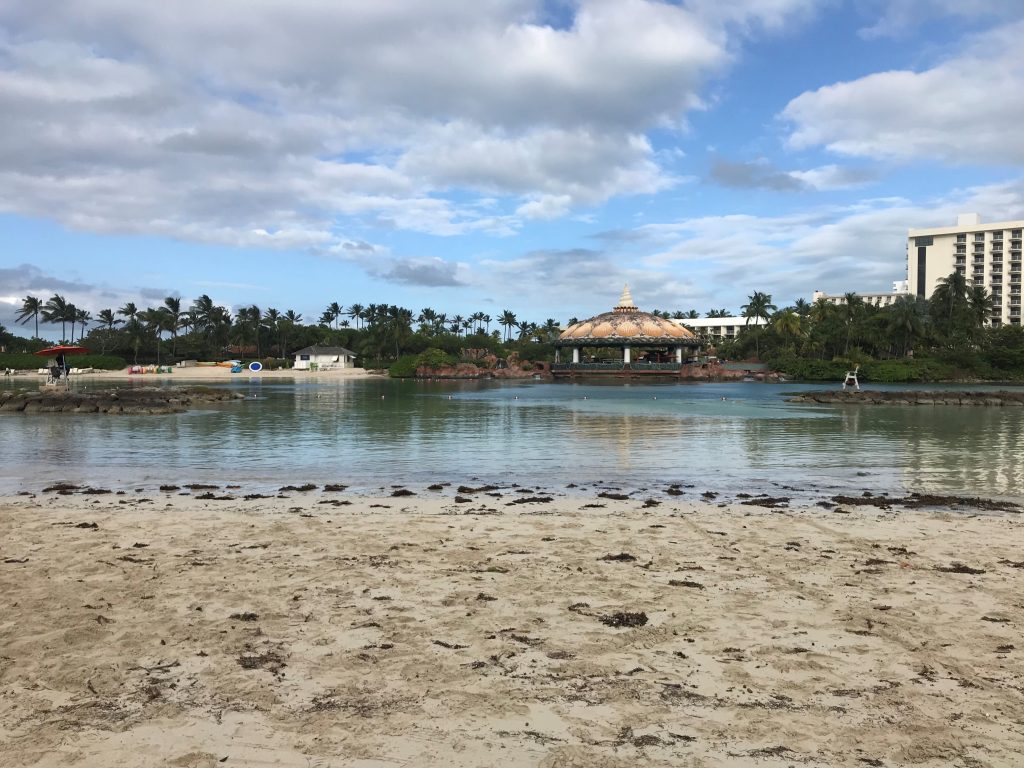 We have never made it across to the other lagoon beach but they have water sports like water bikes which I assume are at a fee so we avoid the temptation.
The Cove Beach
The Cove Beach is our favorite beach. its protected by barriers but still has waves. Cruise ship passengers do not have access to this beach  so its much quieter. While I have often people say to stay at the Cove for the private beach, the beach is open to all resort guests or at least we have never been questioned. We usually head out for the day to the water park and spend the afternoon at the beach as its basically right behind the water park.
The main beach is open to the public and also  used for cruise ship passengers who buy an atlantis pass. We walked by one day and it was very packed.  its also open ocean and the waves tend to be a lot rougher. Both visits in January and October they had a red flag while the cover beach had yellow.
11 Pools at the Resort
There are 11 pools at the resort and we have not been in all of them. For one the Cove pool is only available for Cove guests. The Grotto Pool is an area sort of on the way between areas in the water park and to me not really seen as a pool but for those looking for a quiet spot they offer preferred seating for a fee.
The Splashers Pool
The Splashers pool which has the bucket splash tower is one our kids favorite things every morning they wanted to spend an hour being chased around. Of course you can find similar structures as so many other resorts.  This is a great spot for toddlers and it's also located near the entrance to the Adventure (lazy) river. Ripples pools has several slides going into it also for 48″ or less. and is across from the splashers pool.
Poseidon's Pool
We visited the Poseidon pool which also has a small lazy river.  and some small figures to climb on. This pool is very isolated and we didn't actually see anyone at this pool.
The Bath's Colonnade Pool
The Baths Colonnade pool is huge. The theme is well done but besides that there isn't anything exceptional about the pool. It is close to the Cover beach. The Myan Temple pool is the pool near there myan temple and has water slides on each end to enjoy. This slides are ideal for younger kids and have an under 48″ requirement.  The Royal Baths is another large pool. It seem to be the loudest pool while we were there but it also could have been just one guest in particular. we had no issues finding lounge chairs right by the end of  the pool here so that was one benefit of this pool.
The Coral Pool
The coral pool has a swim-up popsicle/beverage bar and volleyball. it also has cushioned round couches on the pool for some relaxation. We found this pool to be very quiet. The volleyball should be out in the pool.  If its not take a quick look around (we found it in the toddler pool that is near by) or ask a staff member.
We never saw the lap pool or the harborside pool. You can check you can check out more info on all thr pools here.
Atlantis Movie Theater: Budget Altantis with kids
There's a free movie theater showing movies 3x a day usually 5 pm, 7 pm, and 9 pm is a great activity for a budget Atlantis with kids vacation.  The 5 pm show is usually a kid-friendly cartoon. 7 pm is also a kid movie but not always appropriate for our kids' ages.  On the last trip, I was a little annoyed they had it at 5 pm (dinner time) we told the kids if they wanted to go they would have to have PBJ and they were fine with that so I sent my husband off to the theater while I enjoyed my complimentary sushi and saki sampler at Nobu. However, this trip there the sushi wasn't offered with the package. 
Cheap Meal at the Theater.
Last trip we learned that they have $5 hot dogs at the movie theater.  So this time we knew we could grab dinner at the theater. We ordered a hot dog, large popcorn and small soda for $12 . Then added 2 more hot dogs to the order at $5 each making dinner $25 with taxes and fees.
The large popcorn was enough to fill 4 of the paper Starbucks coffee cups form the room. I had brought another bag of popcorn as I knew the kids would want more but for what we spent, I would have been ok getting a second package for $12 vs the $5 hot dog. Popcorn alone is $8 so if getting that and a hot dog you actually save $1 to get the package and get a free small drink.
What we ordered
We only ordered 3 hot dogs at first because My husband had eaten the leftover pizza from the day before – incase the hot dogs weren't filling and wasn't in the mood for one. I was glad he waited because the hot dogs are huge like twice the size of a regular hot dog. we easily could have had the kids share 1. the kids didn't love the hot dogs and of course just wanted their popcorn so my husband and I each had almost 1.5 hot dogs.
You can check out the movie menu here. we also brought our own candy to the theater. Out side the theater they usually list the full week of movies. You also may be able to ask the front desk and get the daily program for several days in advance to see whats playing during your stay.
Budget Atlantis with Kids: Eating Cheap at Atlantis
The Food is very expensive at Atlantis. I can't really review it because when we head there we are in budget mode. We bring a suitcase full of food for breakfast, lunch and snacks each day and eat dinner out.
Breakfast, Lunch and Snacks
You can check out my article: eating our of your suitcase to see what we packed and ate on this and our last trip.
Travel Day
Our first day we traveled half the day our flight had been changed to a much earlier flight and we were lucky to get to the airport on time. so the plan was to get breakfast at BWI and something to have for lunch since our plane landed at 1pm and that would be too late for us.
BWI Airport
BWI  has a huge selection of fast food options. When we landed we saw dunkin donuts and stopped immediately as we were in need off some coffee. The coffee was actually horrible burnt coffee. i had to ask for more creamer to be able to drink it. – if i wanted coffee that tasted like Starbucks i would have walked a few shops down for Starbucks. Needless to say $18 on breakfast for 4 and 2 large coffees. 
There's a subway right there and we figured that would be ideal for the flight since it would last. we waited till it was closer to our departure before having them made. 3 subs and a soda for about $30. What seems to happen every time is the kids don't eat it. I feel bad if we only get ourselves subs and them nothing but they didn't eat it we had to bed them to eat the ham separately and the bread separate- there wasn't anything else in the subway. i even asked for the cheese to be on the side. Our son did eat the cheese slices.
Arrival at Atlantis, Paradise Island, Bahamas
When we arrived at the resort, we knew we wanted to hit the liquor store. We made the decision to order a pizza from Anthony's because it was near the liquor store and closer to Violas. the pizza was $22 for an 18″ vs Violas Paradis Island, which is only $12.  but $25 for dinner isn't terrible and it was worth it to not have to walk further on our first day. Violas is a little smaller but def better pizza. Anthony's is thicker crust but doughty and soft. no one else seemed to mind.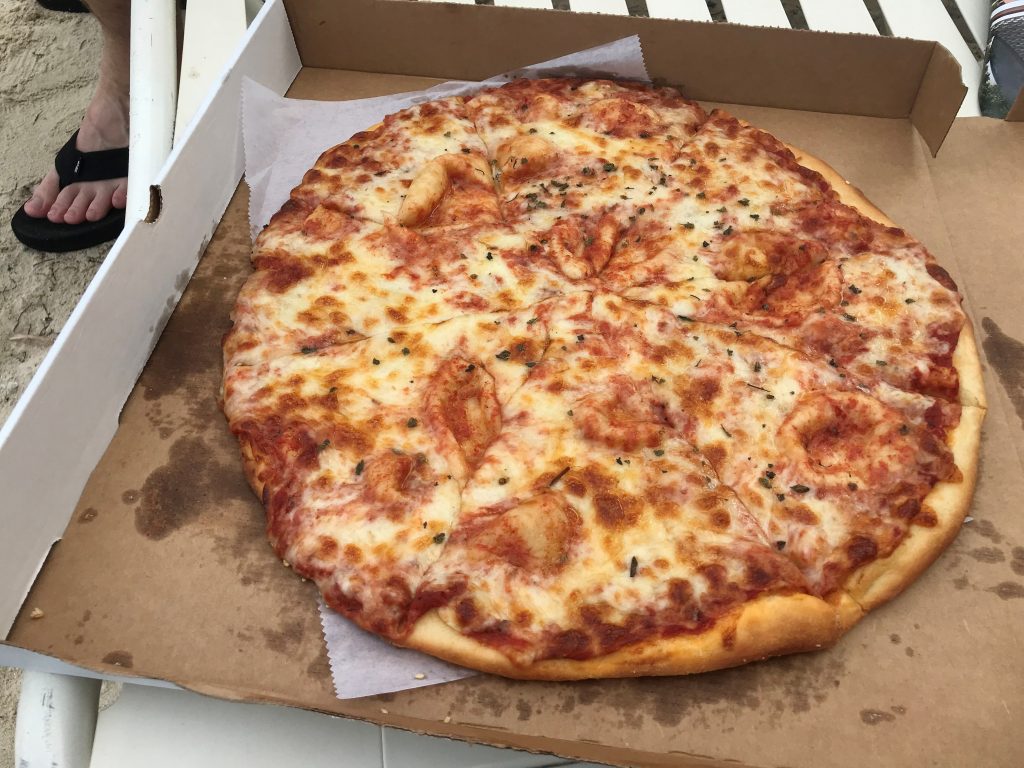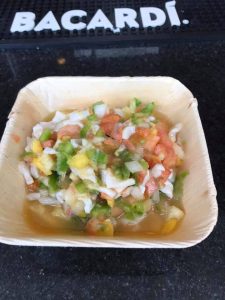 Bottles of wine from the liquor store are reasonable and we spend about $33 total for 3 bottles of wine (there were also ones that were 3/$20 that we had last time that were fine but My husband forgot).
While in the marketplace I stopped at McKenzie's booth for their tropical conch salad.  Total with taxes came to $20 so total for dinner was $45 for our first night plus the cost of wine.
Viola's,  Paradise Island, Bahamas
The next 2 nights we ate at Viola's Paradise Island. Viola's is not an amazing restaurant but it is an amazing value on Paradise island.
First Evening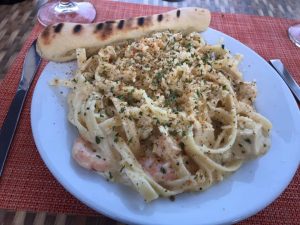 Our first evening at Viola's, I wanted a nice meal and ordered the chicken and shrimp fettuccini Alfred with Cajun seasoning. the Cajun was very light but over the sauce was very good. My husband ordered shrimp fettuccini in a rose sauce. it came with almost raw peppers and wasn't great (wouldn't recommend). both were $20 each. We ordered a chicken tender appetizer for $8 (said 4 pieces but came with like 6-8 pieces) and a macaroni and cheese for $9.
The kids enjoyed boy and the mac n cheese was large, the kids only ate half. I may have eaten the other half for breakfast the next day (I love cold leftover food) . Total with a bottle of wine was $100 including tax and tip.
Second Evening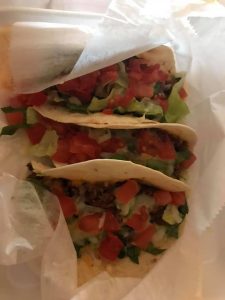 The second night we ordered togo: 3 beef tacos $8, 3 fish tacos $10 and a cheese flat bread (round thin crust pizza) $12. with tax and tip came to $45.
The second night we ordered togo because the beach tower is currently under construction and you can not exit or enter through the beach tower entrance which gives access to the back road. The first night we tried and were turned away so we walked the beach in the dark with no one else on the beach. It definitely didn't feel safe and thankfully we only had to walk past 1 resort (RUI) and enter Atlantis resort before we continued to our room. 
Take to go, so you get back to the hotel before it gets Dark
We decided that it would be much safer if we ordered to go after that and walk the beach at night. The second evening there were plenty of adults out in front of the RUI resort and it we all felt much safer. I am not sure when the construction will be complete with the beach tower but I recommend ordering togo until its complete and you are allowed to enter and exit from the Beach tower entrance.
Other Food Expenses
As mentioned above one night we had hot dogs and popcorn (and candy) for dinner and the cost $25 total.
We also go the kids snow cones which cost $6 a piece. The funny part is that  I sent my husband to go get them and didn't ask the price. My husband was raving how the guy packed the ice in added syrup put more ice and more syrup on top he said he made them really well. I think asked the price and he goes oh like $12 each. So of course I'm thinking well no wonder he packed them in. 2 days later the kids wanted slushies from the swim up bar and I told My husband if snow cones are $12 imagine what a slushie. then on the last night I asked for a room bill and saw that it was actually "only" $12 total for both snow cones.
The total spent on Food was about $315 including our 2 travel days (5 days total) it was $215 for the 4 nights dinner. We also spend $50 on wine at the liquor store.
Budget Atlantis Bahamas with Kids
Looking at the essentials and 1 treat it was about $1100 Total including flights for the Trip for 4 of us 5 days 4 Nights as a Fun Family Resort.  
We spent a total of  $215 for  4 dinners on Paradise Island which isn't bad considering last trip we spent a minimum of $65 per night. If you factor that into the cost of  resort fees of $256, $120 for rt taxi, and $480 in flight fees the total 5 day 4 night trip would have cost $1071. or about $1100 including the snow cones and wine.
Atlantis Splurges
We also opted to do the dolphin experience our first trip and the sealion excursion on our second, adding the photo package came to about $1,000 (almost as much as the entire trip!). Over all this was a cheap trip and with our southwest companion passes expiring in December we figured it was worth the splurge especially since we may not be able to return next year.
The total cost for our second trip was $2100 for 5 days 4 nights at Atlantis in the Bahamas including the Sea Lion Experience (big splurge) for 4 with a digital photo package.  Our first trip was about the same.
We used 61,932 South West Airline Miles for 2 Flights to the Bahamas plus 2 companion passes. Resort Fees were $256 for 4 nights.
To make this a Budget Atlantis Bahamas with Kids:
Make the trip even more affordable by skipping the dolphin or the Sea Lion experience and opt to just sit on the patio of Dolphin Cove enjoying the serenity.
Don't over order: We did not need 3 tacos each and a pizza for the kids we easily could have skipped the pizza that day and saved about $15 with tax and tip. the first night the one pasta dish wasn't great and we easily could have saved it by skipping it and order a cheaper entrée or app (could have saved $8). On our first day, we spend $30 on Anthony's pizza. I have heard dominos deliver so you could probably save $10 there. If you preorder shuttle you could save $10-$20 round trip. These cuts would bring the trip to under $1,000, not including points used.
Atlantis Bahamas Planning Files:
Daily Atlantean (Daily Program 1/26/19-1/30/19)
Menus (Menus from Resort and surrounding area and Food Photos)
Resort Photos
What to Purchase before your Trip
Budget Travel to Atlantis Bahamas with Kids Review
Being such a big resort takes you time to get your bearings. You are basically sleeping at an aquarium- how cool is that? The water park is fun for all ages. It has big slides are definitely for older kids though they have one tube slide which runs through the shark tank, that is 48" min and is calm enough for younger kids this is the one my daughter could ride.
The beaches were nice and offered a variety from the open ocean to one with breakers to a lagoon type one. We even enjoyed the dolphin cove beach where we could watch the dolphins doing tricks. Being at the royal towers I believe was ideal for everything making walking and navigating easier.  We couldn't experience every beach and every pool at Atlantis during our 5 days stay and we will be back to enjoy our favorites and some of the ones we missed.  
Atlantis Bahamas Review is that its a wonderful fun destination with kids. While it's easy to find Atlantis Bahamas deals you can utilize this Atlantis Bahamas Review to learn ways to save on Atlantis Restaurants and food while on your trip. Atlantis Bahamas has so many free activities included with your stay you don't have to spend money on entertainment unless you want to splurge.
Follow Affordable_Family_Travel on Instagram
Make sure to like AffordableFamilyTravel.com on Facebook to get all the latest updates. It's also where I post my Dash Deals that are time-sensitive.