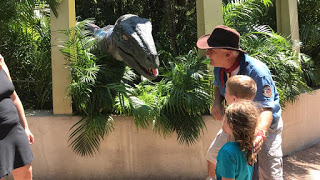 This Budget Universal Studios with Kids Guide will help you decide if your kids are ready for Universal Studios. Budget Family Vacation to Universal Studios is possible and it's even easier than planning a Budget Disney World Trip because the tickets can be purchases for much less. Family Travel Hacking can help you stay for free even at onsite Lowes Resorts. You can stay at Universal Studio Family Resorts on points.
Universal vs Disney with Kids
You can experience most of the rides at Universal Studios Orlando with Kids above 36″. Kids will love all the climbing and play centers they have available. There is a lot more opportunity at Universal for kids to just play and get their energy out than at Disney.
We always thought Disney World was great for younger kids and Universal was for older kids. After 2 trips we know Universal Studios Orlando is great for young kids too. The younger kids love the awesome climbing areas, the characters and truly believe they are seeing real Dinosaurs. What can be better than that?
If you have children with a larger age gap, Universal Studios is great because there's something for everyone. Regardless of Age if you or someone in your family loves Harry Potter than Harry Potter World is a must.
Our Recent Trip to Universal Studios Orlando with Kids
On our second trip to Universal Studios, we spend 4 nights 5 Days for under $1200. We Utilized Southwest Companion passes and miles and paid $45 total including fees for our flights. Our cost $725 for 4 Nights (including 3 days of express passes) with season pass discount rates (split stay Royal Pacific and Cabana Bay 2 cents each).
We had purchased Universal Orlando season passes the prior year for a week-long stay and never expected to return so this trip it was as if the tickets were free since they had already been paid for in the prior year's vacation budget. Universal Studios season passes are a great value especially if you can utilize them for at least 2 vacations. Simply plan an annual trip about 11 months apart to get 2 trips for the price of one.
Overall, we only spend $260 on food for the 4 days because we packed breakfast, lunch, and snack items. Eating out of your suitcase can save you a lot on vacation and with the southwest airline, your checked bag is free. Taxi costs were $110 round trip and we spend $25 for airport parking at our home airport.
Budget Universal Studios Orlando with Kids Tips
Staying at select onsite hotels gets you unlimited express passes for every day of your stay including check-in and check out. These select hotels are also within walking distance of the park. Our favorite is Royal Pacific.
Getting a Season Pass can save you especially if you can plan 2 trips within the 12 months it's active. Season Pass holders can book pass holder rates on the hotel as low as $179/nt for Royal Pacific
If you stay onsite you can use any pool at any of the Universal hotels.
The Shipwreck Nachos at Royal Pacific pool bar is HUGE! order them first and see if your family has room for anything else.
You can use the Chase Saphire travel portal to book Universal hotels for free using points you earn for using the Chase Saphire Credits Cards
Universal Studios Orlando Hotels
Deciding on a hotel for your trip to Universal Studios Orlando with Kids can be a challenge because there are many options. It can be hard to decide where to stay near Universal Studios Orlando. There's a range for every budget. There are several nice perks of staying onsite. You can pool hop when staying at universal resorts, so you can use the pools at any of their hotels. That means even if you're staying at the Royal Pacific you can enjoy the lazy river and slides at cabana bay.
Some hotels offer Express pass with your hotel stay. This is an awesome perk and often makes the hotel cheaper then Cabana Bay if you factor in the cost of express passes. If you walk from the resorts or take the boat you have a separate security line than the main entrance so there's almost always no waiting.
Lowes Royal Pacific Hotel at Universal Studios Orlando
We loved the Royal Pacific Hotel. For the cost of what would be a moderate resort at Disney you are close enough to walk (15 min) to the parks entering from a separate security point then the day trippers. We never waited. You also get Express passes for everyone staying for every day of your stay including check in and check out day. This is like unlimited "fast-passes" which means very little waiting.
Cabana Bay Hotel at Universal Studios Orlando
While I love the pools at Cabana bay and the cafeteria is very convenient, I didn't like the rooms.We could hear an action movie playing till 11 pm and the room only offers zest soap (I'm allergic) so I was glad I had read this in advance and grabbed some from royal pacific. I didn't find the beds as comfortable and wished we had paid the extra for 2 more nights at royal pacific. Cabana bay really is too far to walk, and we found the bus to be inconvenient compared to the walk from Royal Pacific.  
Hyatt Place across from Universal Orlando Resort
Hyatt Place is across the street from Universal Orlando and is an short walk to the Main entrance. Free nights start at 12,000 Hyatt Points per night and breakfast is included. There's also an outdoor pool for when you need some downtime.
Universal Studios Orlando Parks
There are 2 Parks plus a water park at Universal Studios Orlando. There's plenty to do in the parks and we can do what the kids want when they want and aren't on a schedule. At the same time we can spend the day at the pool if we want and head to the park in the evenings or leave the park early and spend the afternoon/evening at the pool.
Universal Studios Island of Adventure Park

Welcome to Jurassic Park
Jurassic Park is my favorite. It's a must if you have a Dinosaur loving child. The Velociraptor experience is so much fun. It's an animatronic dinosaur that they have turned into an experience. My kids still think they met a real live Dinosaur.Pterodactyl Flyers is a very fun ride that is only for those 36-56" tall and an accompanying adult if under 48". If you go when the park opens for the day, you can usually ride it a few times before the line starts to build as this ride has no express pass.
While Jurassic Park River Adventure is a little scary for younger kids it's fun and immersive. The Jurassic Park Discovery Center is so much fun for kids, looking for fossils, playing with the large dinosaurs and watching baby dinosaurs hatch. If you are lucky you will be selected to name, the hatch-ling. Camp Jurassic, a play area, is a lot of fun. There's water guns and climbing areas with netting. My kids could and did spend several hours at this area.
Universal Studios Orlando

Speaking of Play Areas there are so many different ones at Universal Studios. Curious George Goes to Town which is a Splash Area (kids will be soaked), Fievel's Play land which includes a small water-slide (but u don't get very wet), Barney's Backyard which is great for toddlers but even my kids at ages 4-6 enjoyed it.
Me Ship, The Olive which is a Boat play structure, and If I ran the zoo.These play structures provide hours of entertainment for the kids and some reprieve from the heat. Camp Jurassic and If I ran the zoo in Seuss land are my children's favorite. Having only 2 parks and 5-7 days meant I didn't have to drag my children out after 20 min to move on to the next attraction though you may still need to drag them out after an hour or 2.
Suessland is another great area for younger kids. Most rides here require 36". It's a wonderfully themed land where you can meet Characters from Dr Seuss books, enjoy some rides and of course the play structure. The Character's at Universal are another reason to go when your kids are younger. Younger kids' imaginations can make certain experiences very magical.Favorite Character's you can meet include Transformers, Minions, Trolls and Spiderman.

Best age to visit Universal Studios Orlando
Many wonder what age is too young for Universal Studios Orlando. A lot of rides require a min of 36", though 40" and 42" would allow some really fun rides I would say its best when they've hit 36" or taller. Our first trip our youngest was 40" and had a blast. Keep in mind Pterodactyl Flyers requires a 36-56" height to ride but 36"-48" requires an adult which means you get to ride along. These are the rides that would be missed if you go at 36" vs 40 or 42" (note this is not a full list of height min)
There weren't a lot of exciting options and many restaurants were not opened or closed early with no accurate times posted on the app. I looked at menus before our first trip and new we could place an amazon prime order or pack some food to save money. We only spent $260 in 5 days on food including Refill cup and several days of refills, dinner at Toothsome (only $53 as we did 2 flat breads and shared a dessert), Hot dog Hall of Fame and Thunder Falls and cabana bay food court. We brought easy mac, shelf stable salami we buy at aldis and crackers along with snacks.
·The Amazing Adventures of Spider-Man®40" ·Race Through New York Starring Jimmy Fallon™ 40" ·The Simpsons Ride™ 40" ·Despicable Me Minion Mayhem™ 40" ·TRANSFORMERS: The Ride-3D40" ·Fast & Furious – Supercharged™40"
MEN IN BLACK™ Alien Attack™ 42" ·Popeye & Bluto's Bilge-Rat Barges® 42" ·Jurassic Park River Adventure™ 42" ·Harry Potter and the Escape from Gringotts™* 42"  

Food at Universal Studios Orlando
Dining inside Universal Studio Parks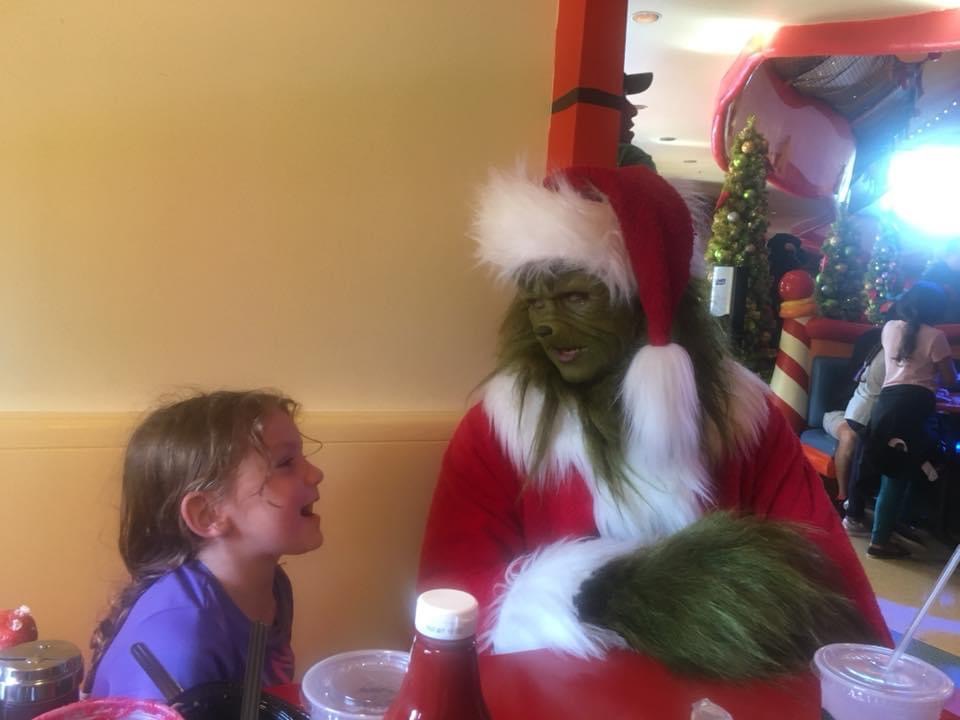 Out of all the meals in the park we had a rotisserie chicken meal with potatoes and vegetable and it was enough to share for a light meal for $15.The Korean Beef Taco from Bumble Bee Man's was very good too. 2 tacos and chips $9.99 and you can mix and match tacos. At Universal City Walk, we loved toothsome our first visit, especially the duck flatbread, but our second visit it wasn't the same. I still would recommend it for the experience. We also enjoyed Margaritaville our first visit but didn't go back the second time. They have stilt walkers that will make balloon hats for the kids.
Dining at Universal Orlando Resorts
The pool bar at Royal pacific has shipwrecked nachos that are so big our entire family of 4 cannot finish them. it's about $15-$20 depending if you get meat. It's a great simple dinner while spending an evening at the pool. If eating at Hot dog Hall of Fame, note you can get a children's meal (I forget what they call it) for $8.50 and includes 2 toppings of your choice and fries- it's the same size meal as the $9.99+ adult versions. My husband was able to order (4) of these without an issue saving us $6 total.
Cabana Bay has a cafeteria at the resort that offers a wide variety of items for families who can't agree on where to eat. There is also a microwave by the tables so if you bring food such as easy mac or if you have leftovers from a meal you want to reheat you can microwave it there. We had brought easy mac, salami and crackers with us as well as snacks for the kids.
Universal Studios Unlimited refill Cup
This recent trip we also purchased an unlimited refill cup. You pay an initial purchase price and a daily activation fee.We used this mostly for some slushies as it was so hot while we were there. Overall it was worth having but if it wasn't so hot we wouldn't have gotten it.

Tips for Planning your day at Universal Studios Orlando Parks
Stay Onsite if Budget Affords even if for just 1 Night
Staying onsite allows you early access to one specific park each day. Usually Island of Adventure where all the Harry Potter Rides and attractions (except the train) are open for an hour before the park officially opens. You can practice your wand skills and ride the rides with little wait. This is an ideal time to go for Harry Potter attractions.
Head to Jurassic Park First when visiting Island of Adventure
For Island of Adventure I would recommend heading to Jurassic Park first when the park officially opens and riding Pterodactyl flyers before the crowds. Check the time for when the Raptor Encounter opens and line up 20 min before it opens. This is great to do on early park days just wait on the bridge that leads from Harry potter to Jurassic Park till they drop the rope. Island of Adventure is designed as a circle so it's easiest to continue one way, heading from Harry Potter to Jurassic Park, Skull island, Toon Lagoon, Marvel Super Hero Island and come back around to Seuss landing and Lost continent.
Water Rides in Toon Lagoon Will Soak You
The water rides in Toon Lagoon will soak you so bring a change of clothes or at the very least wear quick drying clothes. Universal Studios Orlando, I recommend visiting Minions and Transformers and their associated meet and greets first. This was our kids favorite part and got them very excited for the day. The play structures at Universal Studios are all together it's a prime area to go to after Minions and Transformers or wait till the afternoon if they want to cool off or let them burn off any lasting energy.
Budget Universal Studios Orlando with Kids Summary
The nice thing about Universal is you don't really have to have a plan especially with express passes you can do what you want when you want it. As a Family we like to do it all and stay busy and Universal provides this but at a pace you don't feel rushed yet are never board. Check out how you can fly for free to Orlando and other popular destinations that Southwest Airline flights. If you are interested in visiting Universal Studios and Walt Disney World check out my article about visiting 2 Parties at Magic Kingdom and how it compares to a day ticket.
Affordable Family Travel to Universal Studios with Kids
Universal Studio's Season passes are a great deal if you can plan at least 2 visits over 12 months when there aren't black out dates. Season passes are under $300 per person so about $1200 for a family of 4. Split that cost over 2 trips and it's only $600 for a full vacation including Both Universal Studios and Island of Adventures including the ability to park hop.
Universal Studio's Season Passes provides discounts on hotel stays too. We were able to book the Royal Pacific for $175/night with our season passes. While this isn't quite budget friendly it includes Express passes that can often cost over $100 per person per day. A stay at some Universal Studio's hotels includes express passes for each night of your stay including the day you check in or check out. Staying even 1 night is a great value because you can get 2 day express passes and save a lot of time waiting in lines for some of the busier rides.
Combine 1 one night stay at Royal Pacific for $175/ night with a discounted stay at Royal Cabana for an affordable hotel stay. Looking to save even more? Use Hyatt Points to book Hyatt Place across from Universal Orlando Resort for 12,000 points per night. You will have breakfast included.
Southwest Companion Pass can help you fly to Orlando for almost free. Using points to cover your flight and companion pass to cover your kids. We have used southwest companion pass to fly to Orlando to visit Universal Studios twice and it's significant savings.
Budget Universal Studios Orlando with Kids Costs
This are estimated costs to give you an idea of how much a budget trip to Universal Studios Orlando with Kids could cost.
Southwest Airline Flights approximately $44 for 4 people with points and Companion Pass
$600 per trip ($1200 for 2 trips) for 4 Season Passes
$175 for 1 night Royal Pacific
Additional Nights Free at the Hyatt Place Across From Universal using Hyatt or Chase UR points
Food costs can vary but you can easily cover a family of for $60 especially if breakfast is covered at the Hyatt Place and if you buy groceries that cost can be $30 on average a day for dinner only.
Estimate for a 7 night trip to Universal Studios on a budget for 4 would be around $1100 x 2 trips $2200. The first trip would actually cost about $1700 but the second trip would only cost you around $500 since the season passes would already be paid for.
Follow Affordable_Family_Travel on Instagram
Make sure to like AffordableFamilyTravel.com on Facebook to get all the latest updates. It's also where I post my Dash Deals that are time-sensitive.