Budget Travel: Best East Coast Bike Trails with Kids. A Family bike ride is a wonderful family activity when on vacation. These destinations on the east coast offer a nice bike trail as well as plenty of other cheap vacation activities for a funfilled trip.
1. Albany County Helderberg-Hudson Rail Trail, Albany, NY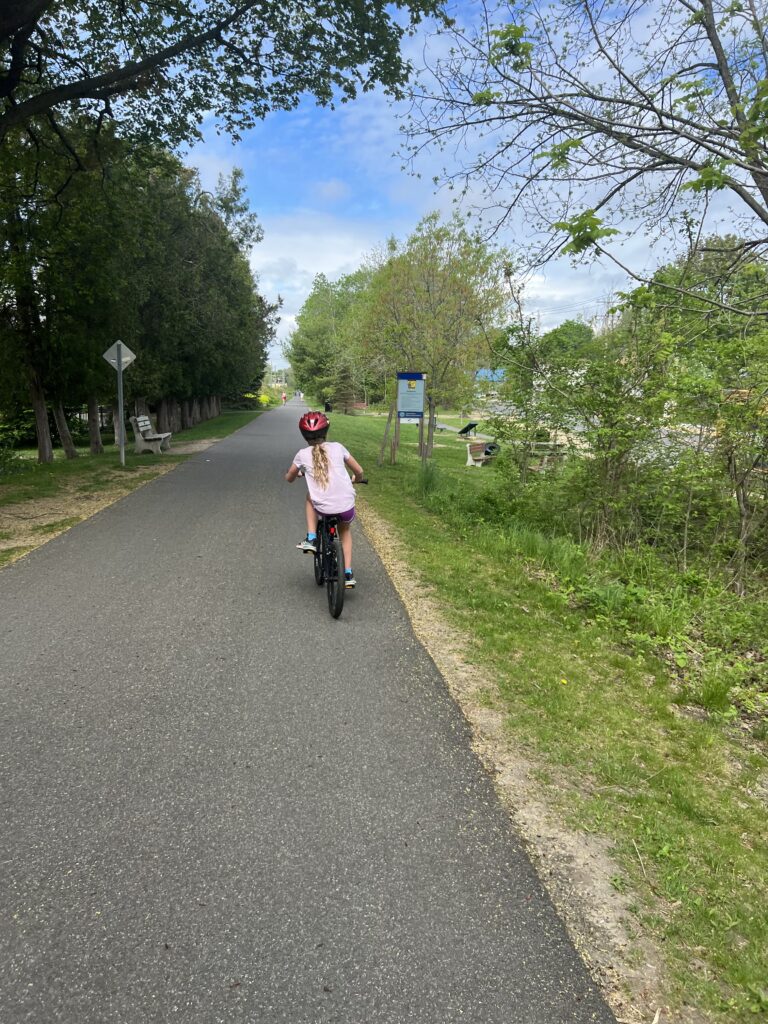 Located in Albany County in Upstate New York, The Albany County Helderberg-Hudson Rail Trail is a 9.8-mile rail trail. Starting in the South End of the city of Albany, and ending in the village of Voorheesville.
We like to park in the middle in Delmar, NY, and head out for a couple of miles before turning around to return. If you pick a stretch that passes by Stewart you can stop for some ice cream or one of my guilty pleasures- Stewart's chili dog. The path is a mix of sun and shade and is very popular on weekends. If you want to avoid the crowds start at the Voordheesville end and travel toward Albany.
The areas of the bike trail also have exercise stops so if you really want a work out you can stop and do some exercise before continuing on.
2. Simsbury – Farmington Valley Bike Trails, Simsbury, CT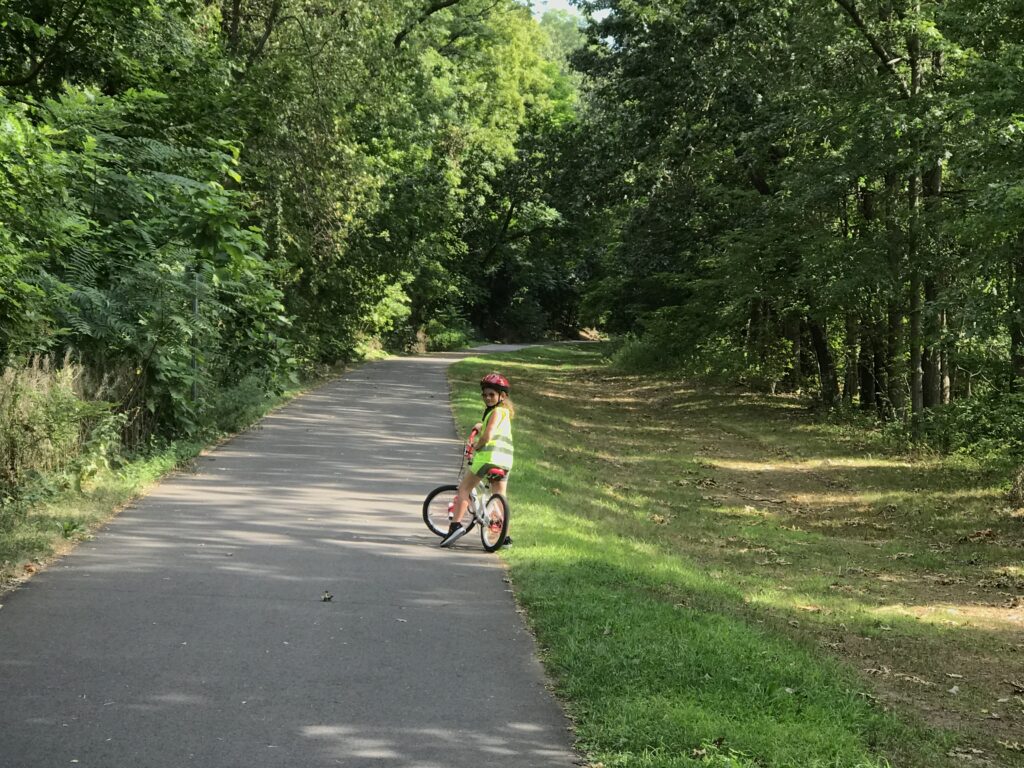 Simsbury, CT is a great place for a day trip. The start of the day on the Simsbury – Farmington Valley Bike Trails is an easy, paved 9 miles bike trail along the scenic Farmington River. Free parking is available.
Start your morning off with a Bike Ride or Walk on the Bike/walking trail around Curtis Park. We parked at a post where there was a crosswalk to make it easier to cross the road with kids and bikes. The google map link is here. . If you're using something else it was the corner of Jim Gallagher Way and Iron Horse Blvd. Across the street from the parking lot is the Bike trail. Take a left and head down the trail and continue right down the trail when it breaks from the street.
If you continue down about .6 miles you will come to where you can see the stream on the right side and there's a bench. In front of the bench is a small steep path down to the stream. There are nice views and lots of frogs. There's also another steep path down maybe 10 yards ahead and there's a rope tied to a swing that I assume is set up to allow people to swing into the stream. We didn't use the rope.
Along the route, there are several trails you can choose to park your bikes if needed and walk down. There's also a playground where you could stop for a break or You can stop along the main road where there are signs that are part of the reading trail.
3. Shining Sea Bikeway, Cape Cod, MA is the Best Bike Trails on the East Coast with Kids
Head to Cape Cod for one of the best bike trails on the east coast. Shining Sea Bikeway is 10.7 miles of paved, off-road trails; access the Trail from various points. This beautiful path runs along some of the most beautiful scenery on Cape Cod, from North Falmouth village all the way to the avant-garde village of Woods Hole.
The route winds along the beach, past cranberry bogs and harbors, and through marshes and the Salt Pond Bird Sanctuary. If you can't make the full round trip route consider which scenery you would really enjoy the most and the time of day you plan to bike. Some area's along the beach are in full sun wile area near the cranberry bogs have more shade.
4. Dorchester County Bik Trails, Cambridge, MD
There are several bike trails in Dorchester County, MD.
Cambridge Waterfront Trail 4
Cambridge Waterfront Trail 4 is a 12-mile city ride past a lighthouse, great Choptank River views and restaurants. Ride past wonderful views of the Choptank River waterfront, the Choptank River Lighthouse
(open May-October, 9am-6pm), a marina, parks,
and more. It also passes by the Dorchester Visitor Center,
where you can stop for restrooms and information
about the area. (Open daily, 8:30am-5pm.). The ride
starts at the Hyatt Chesapeake Resort; you don't
have to be a guest to park there but there is a fee.
Hyatt Regency Chesepeak Bay
Hyatt Regency Chesapeake Bay is a wonderful family and dog-friendly resort. Located at the start of the Cambridge waterfront Trail on the Chesapeake Bay, it offers 3 pools including an infinity pool overlooking the bay. As well as an outdoor family pool with a water slide and an indoor pool with a volleyball net and basketball hopp which offers dive in movies int he evening. There's tons of family friendly activities including a minature golf course, tennis course and disc golf course.
Blackwater Wildlife Refuge- Off Road Trail
If you are looking for something out o the city, Blackwater Wildlife Refuge – Out and Back is a great trail. While its 24-mile excursion in and around scenic wildlife refuge you can of course take a ride for as long as you enjoy. The path takes you by parts of Blackwater National Wildlife Refuge's 28,000 acres of protected marshland, wooded areas, and fields. Start at the Vistiors Center lcoated at 2145 Key Wallace Dr., Cambridge. It offers restrooms, exhibits, and a self-service bicycle "fix-it"station. Center is open daily 8am-4pm Mon-Fri; 9am-5pm Sat-Sun. I recommended heading out or your ride and then enjoying the exibits afterward.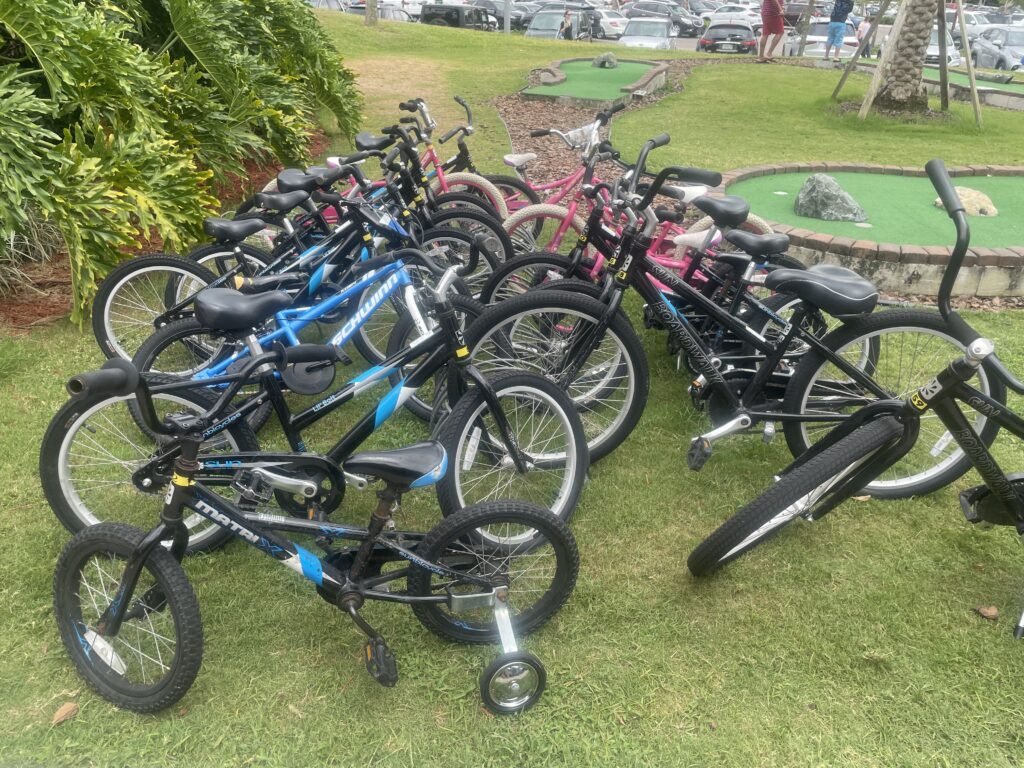 The Hyatt Regency Gran Cypress located in Orlando Florida is a great place for a family bike ride. If you are flying in don't worry they offer complimentary bikes indluding kid sizes. You can enjoy varying trails ranging from 1.3 to 4.7 miles as you coast through paved treelined trails.
Head out early to avoid the heat and then take a dip in their enormous pool to cool off. There's so many fun activites included at the Grand Cypress including minigolf, chip & putt golf, non motarized water craft, and a rock wall.
6. The Huckleberry Trail, Catskills, NY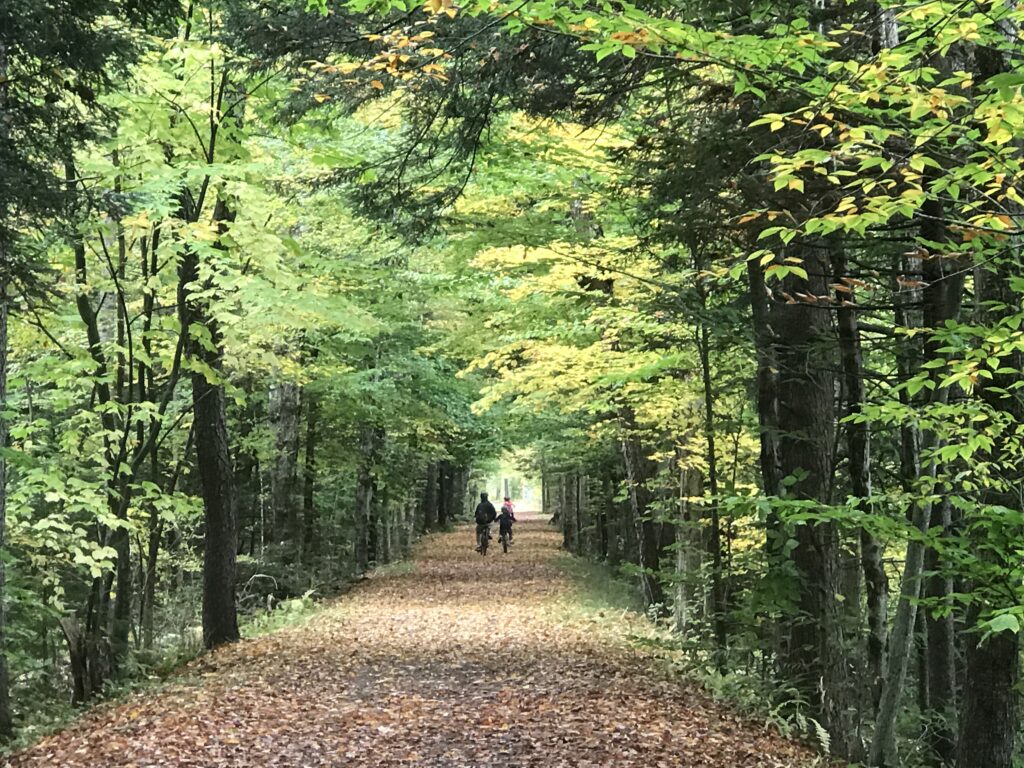 The Huckleberry Trail in the Catskills is a fun trail to take when visiting the region. Its an easy 2.3 mile path which is made from a historical railroad track of the Ulster & Delaware and Canajoharie & Catskill Lines. The trail takes you through wooded areas, over streams a golf course, residential homes, and a lake. About two-thirds of the way you will find a playground near Rip Van Winkle Lake. There's also a small luncheonette next to the Lake infact its a great place to park and end your ride with some time at the playground.
Budget Travel: Best East Coast Bike Trails with Kids
Budget Travel: Best East Coast Bike Trails with Kidsis a great actiivty while your on vacation. These destinations offer a chance to enjoy a nice bike ride as a a family as well as plenty of other other activities for a fun weekend getaway or week long vacation with family.
Follow Affordable_Family_Travel on Instagram
Make sure to like AffordableFamilyTravel.com on Facebook to get all the latest updates. It's also where I post my Dash Deals that are time-sensitive.