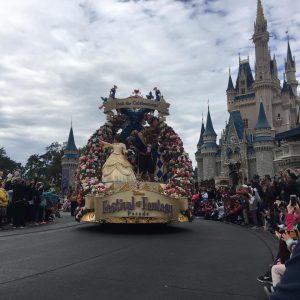 Cheap Eats at Walt Disney World can help you save with these Walt Disney World Shareable Meals. Disney World is very expensive but there's still ways to make your dollars stretch. Here are 7 shareable meals at Walt Disney World. These meals can easily be shared between 2 adults or several small children. This will keep your costs of 2 meals for about $16 or less.
Update: 1/2020. Disney Dining Plan now differentiates children and adult quick service credits. this means you can no longer use children quick service meals for adult quick service entrees.
1) Peco's Bill, Magic Kingdom Chicken Fajitas is my favorite Shareable Meal.
*Favorite Sharable Meal at Walt Disney World
The Fajitas are our favorite shareable meals at Walt Disney World. This entree comes with 3 soft tortillas plenty of chicken rice and beans and the toppings bar has a variety of options include cheese guacamole, and several salsas. In fact this was large enough for me and 2 kids to share. If you want you can purchase nachos for a snack credit if you need a little more of the toppings bar.
2) Cosmic Rays-Shareable Meals at Magic Kingdom
Split any sandwich with a side of fries and load up on the toppings bar to make a salad, its a big sandwich and adding basically a side salad and some fries is enough for lunch.
3) Tangierine Cafe in Morocco- Shareable Meals at Epcot.
*Favorite Shareable Meal at Walt Disney World's Epcot
There's 2 entrees here that are large enough to share. Mediterranean Sliders Combo – three pita pockets- lamb, chicken and falafel with lettuce, tomatoes, onions, cucumber, and Tahini sauce; served with lentils, hummus and tabouleh OR Chicken and Lamb Shawarma Platter – served with side of Hummus, Tabouleh and a Tangierine Couscous Salad with fresh Moroccan bread
4) Flaming Tree- Sharable Meals at Animal Kingdom.
*Favorite Shareable Meal at Walt Disney World's Animal Kingdom
Ribs and chicken Combo – served with baked beans and coleslaw is a filling meal. or Ribs, Chicken and Pulled Pork Sampler – Smoked ribs, chicken and pulled pork served with baked beans and coleslaw ($18)
5) Shareable Meals at Magic Kingdom-Casey's Corner
Any of their loaded foot-long hot dogs with fries can be shared. Remember to ask for the toppings on the side. This way if someone or both of you do not want them on your hot dog they will still make a great side dish or topping on your french fries. Options include: Bacon Macaroni and Cheese Hot Dog, Foot Long Chili-Cheese Hot Dog . The LIMITED EDITION- Foot Long Corned Beef Hash Dog with crispy potatoes, a blend of sauteed corned beef, cabbage, onions and carrots and a Blarney sauce drizzle
6) Shareable meals at Hollywood Studios- ABC Commissary
*Favorite Shareable Meal at Walt Disney World's Hollywood Studios
Land and Sea – Shrimp, Fish, and Chicken Platter served with coleslaw and steak fries. Ribs and Chicken Combo- served with baked beans and coleslaw
7) Children's Meals , Walt Disney World Resort
You can order children meals even as adults at quick service restaurants. Now they are not big enough to share they are enough for a light lunch or dinner and 2 are usually under $16.
Other Ways to Save At Disny
You can learn how to plan a Budget Disney World with Kids Vacation. For more ways to save on food at Disney check out How to turn your snack credits into a meal (or make a snack at a Disney a meal). 
You can read all about Mickey's Not So Scary Halloween Party or check out a DCL Mediterranean Cruise and our review of DCL Royal Princess Tea Party .
Learn how you and your family could fly for free to Disney with Southwest Companion Pass.
Follow Affordable_Family_Travel on Instagram
Make sure to like AffordableFamilyTravel.com on Facebook to get all the latest updates. It's also where I post my Dash Deals that are time-sensitive.