Top 10 Cheap Summer Activities for Kids you can do anywhere. There are tons of this to do in summer for free or cheap that you can do at home or on vacation. Here's my family's top 10 Free (or cheap) Summer Fun.
1. Head to the Beach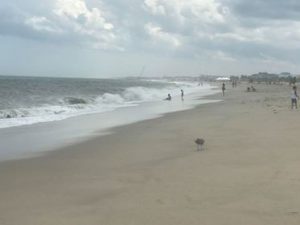 Whether it's the ocean or a lake most kids love splashing in the water and playing in the sand. Some beaches charge a fee for entrance and others charge for parking but usually inexpensive for a full day of fun for the whole family. We love the beach and have a couple of trips planned. The great thing about living in the northeast is that beaches are close enough that we can even drive out Saturday morning spend 1 night near and spend a second day at the beach before heading home. We also have numerous lakes in the area including Lake George which is a great family destination. The NYS Empire Pass provides access to many state parks some which offer a lakeside beach. Check out your local library as they may even offer a pass you can check out for free (ours does).  This is my favorite thing to do in summer for free (or cheap).
2. Head to an Amusement or Water Park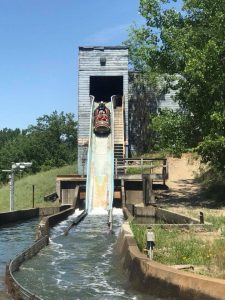 Amusement and water parks can be expensive but there are ways to save. For anyone in NY, NJ, MA, or surrounding areas or if you live near a Six Flags or other amusement/water park, I highly recommend Season Passes. Often you can get them for less than 2 visits and can spend the day.  Every Labor Day weekend Six Flags offers a huge sale. We purchase our season passes for about $52 per person and we have access to any Six Flags passes for the fall and the entire next year. We have access to 2 parks within 1.5 hrs from us and 3 more within 4 hours drive. Our Favorite Six Flags New England has a huge water park that is so much fun. It never seems crowded. Check out why I think six flags season passes are such a great value. Another way to save is to check out Groupon and other discount sites.  
3. Go Camping
Camping is a wonderful way to travel on the cheap. Once you have invested in the basic equipment you have years of affordable travel. However, you don't have to travel far from home to enjoy camping. You can camp in your backyard for free or head to a nearby lake or campground for a night or 2.  
4.  Head to a Concert
Our area offers free live music almost every single day of the week and I am sure yours offers some as well. For the Capital District (Albany, NY) check out the list of free series here.  
5.  Head to a local pool or sprinkler park
We have several local sprinkler parks that are free. Several towns in the area also offer public pools some only for town residents and their guests and others open to the public for a nominal fee. The fee often is less than we would spend on gas traveling to a lake or amusement park for the day.  
6. Hike
Summer can be incredibly hot but early morning hikes with the shade of the trees and often cooler climates make it a wonderful time to get out and enjoy nature. If you pick a waterfall hike you will have a place to cool off at. 5 Rivers in Delmar, NY is a great center for families with younger kids not ready to do difficult uphill hikes but ready to go out and explore nature.  
7. Go Boating
Boating is a common activity living in New York with so many lakes and major rivers. But you do not have to own a boat, you can always rent one. A less expensive option is to rent or purchase kayaks or canoes. We love these inflatable kayaks for a free activity all summer long at home and away. We have kayaked on several trips including Cape Cod and in the Florida Keys.
Inflatable Paddleboards are also a great way to get on the water. We even paddleboard with our dog now. We paddle board locally in the Capital Region at several places including Thompsons Lake State Park and on vacation.
8. Check out Free Local Events and Programs
Check out programs at your Library. Our library offers a summer reading program but also various programs throughout each week. They also offer Free museum passes which can be checked out for free admission to numerous museums. Some Stores offer free events such as:
9. Summer Evenings
One of the things my children LOVE about summer is being able to stay up later and enjoy the evenings with our neighbors.
Roast marshmallows and make smores
Watch a movie on a projector on the side of your house or head to the drive-ins. Our local Drive-In often does fundraising Specials for $20 a carload.
Catch fireflies
Watch fireworks  
10. Activities at Home or wherever you are.       
Some of the easiest things to do in summer for free are things you probably already have at home.  a. Bubbles We have been to several bubble programs and found that you can make bubbles with so many things. Have an old water table at home? Fill it with bubbles and a few different objects and the kids will have a blast b. Side Walk Chalk c. Play Grounds d. Water balloons  (affiliate link) and/or squirt guns e. Inflatable waterslide (affiliate link) or pool We purchased one about 4 years ago when the kids were 2 and 3.5 and they are still using it and ask for it to be put up. It's also a great activity during summer BBQs f. Plant a garden and watches it grow   There are so many fun things to do in summer for free or cheap whether you are home or away.
Make sure to follow my blog so you don't miss out on future posts and tips.
If you haven't already join AffordableFamilyTravel.com Crew on Facebook.
Check out some of our summer trips from the past couple of years:
Follow Affordable_Family_Travel on Instagram
Make sure to like AffordableFamilyTravel.com on Facebook to get all the latest updates. It's also where I post my Dash Deals that are time-sensitive.