Disneyland and Aulani Resort combo is the best family vacation. Our family are big Disney fans and Hawaii is one of my favorite places to visit so combing the 2 is pretty much the perfect vacation for us. We have visited Disneyland and Hawaii as a combo vacation 3 times, two included Aulani and 2 included Waikiki hotel stays. With a Disneyland and Aulani combined vacation you get to have it all. Enjoy Rides and attractions at Disneyland and meet unique characters not found at Aulani and even some not found at Disney World. Then head to Aulani where you can enjoy a beautiful beach on an ocean lagoon, a fun waterpark with a lazy river, and several slides. As well as a kids club full of activities that allow some adult time too. These 13 ways to save on your Aulani Vacation can help make this combo much more affordable.
Why Disneyland and Aulani combo is the best vacation?
Disney Parks are A lot of Fun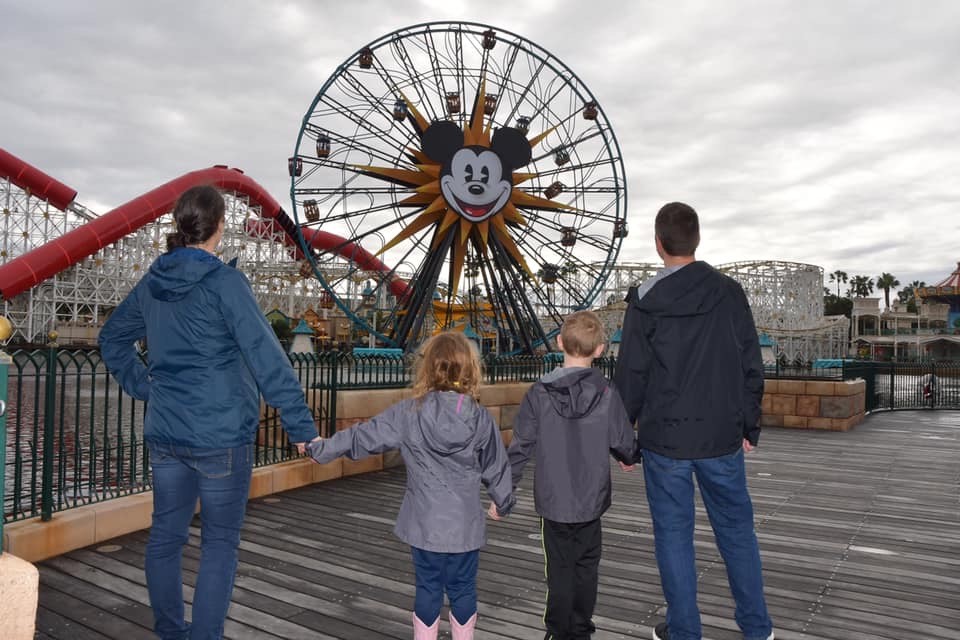 Ever Since our first visit to Disney, when our son was 9m old, we have had so many magical moments at Disney. You can read our top 10 here. It's just a fun place for our children's imaginations to grow. For us Adults, we can feel like kids and believe in magic again.
Disneyland, California is different than Disney World but there's a lot of things that make it better. Here's how Disneyland California can be a better experience than Walt Disney World. We usually visit Disneyland for 4 nights and are able to see and do everything there. Leaving enough time to visit Hawaii too.
Stopping in California before Heading to Hawaii has its Benefits.
Stop over in California. It works out well to break up the trip with a shorter flight to California.  Enjoy a few days there before heading to Hawaii. We like flying home direct because with the overnight flight we can all get close to 8hrs of sleep.
Because of the time change, we usually arrive in California and can still get 4-5 hours in at the park. The excitement helps the kids stay up till 8pm. This helps them adjust to the time change quicker. It also helps when arriving at Hawaii since we had a few days to adjust.
Hawaii is Amazing and so is Disney's Aulani Resort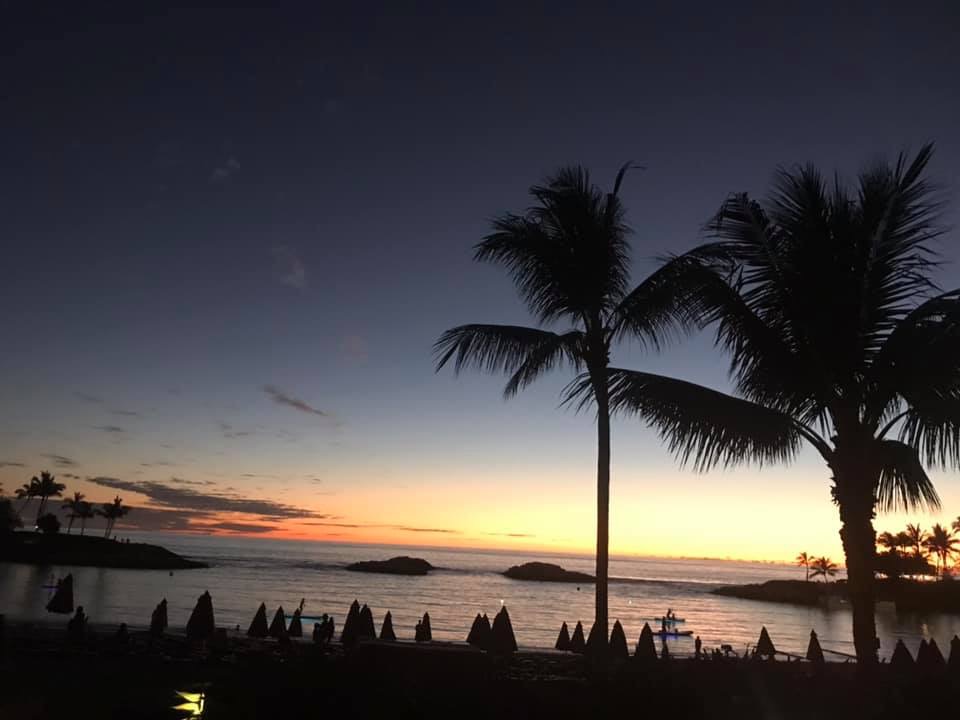 Hawaii has something for everyone. Beautiful beaches and scenery. Great hikes and lots of opportunities for adventure. Wonderful culture and food. The Hawaiian islands are all different and with them different experiences.
Disney's Aulani Resort is one of our favorite resorts. While it's expensive, the included activities and access to affordable food makes it a moderate budget experience.
Aulani has a wonderful kids club and beautiful beach. They have a fun pool complex with a toddler splash area with bridge and slide. As well as 2 watersides one which is a tube slide into the lazy river. And of course Disney Character's including Moan. You can find more information and tips in my full Review of Aulani.
Starting off our vacation with fun and fast pace amusement park. Ending at a fulfilled but relaxing resort is a great combo.
Disneyland Aulani: It could cost the same as a Trip to Disney World
Here's some tips to help make this perfect combo affordable
Flights
Use Southwest Companion Pass and miles to fly for free (plus fees). Learn all about companion pass and how you can earn it here.
We have seen flights from NYC for as low as $650 round trip for a total of $2600 for a family of 4.
Stay off Site at Disneyland California. There are only a few on-site hotels so the prices are deluxe prices. You can stay off site for a fraction of the price. Since you won't spend much time in your room it's a great way to save. Freeing up some cash to spend on Aulani where you will enjoy all the resort has to offer.
Look for Ticket offers which are sometimes available through Disneyland site. We saved $200 totals.
Eat Affordably. Pack Snacks and drinks or pick them up at the bodega or cvs on your walk into the park. You can even pack lunch to save more. Share meals like the 1/2 rotisserie chicken meals. There's also affordable offsite options including McDonald's.
Hotel in Oahu including Disney's Aulani Resort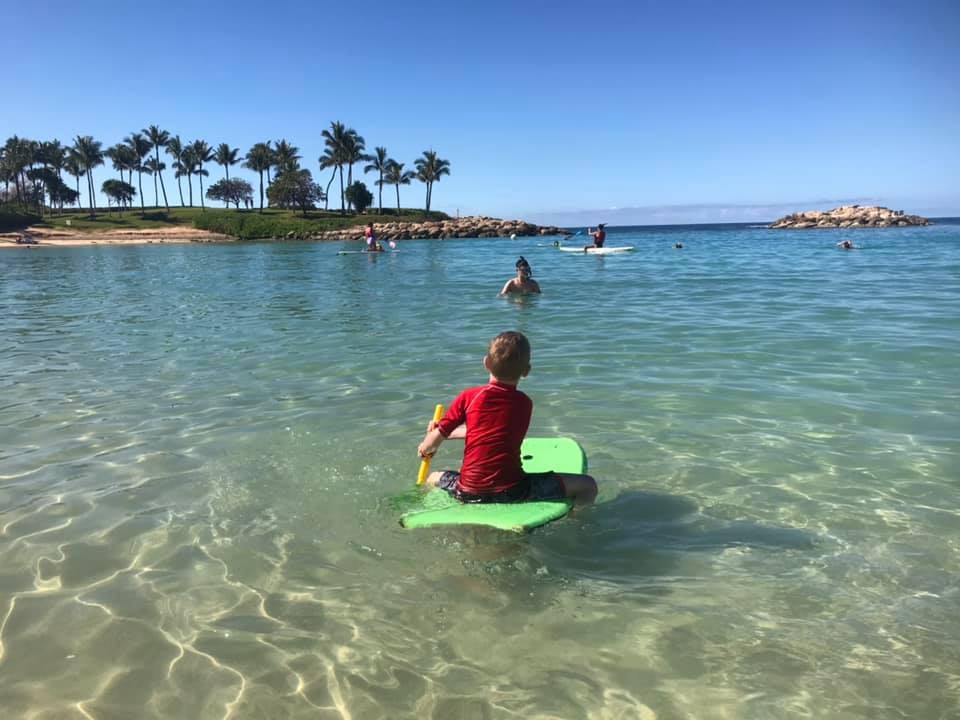 Disney's Aulani Resort and Hilton Wakiki
Aulani Resort can be as low as $350 for a night. If you snag 30% off 5 night stay you can pay $245 a night or $1225 Total. You could pay $350 for 1 night and get 2 days to enjoy the resort. combined with 6 free nights at the Hilton Wakiki. 2 days would cost $700 and you could enjoy up to 3 full days at the resort. After that it makes more sense to book the 30% off 5 nights or more if the offer is available as 3 nights at the lowest $350 rate would cost you $1050.
You can also look into renting DVC pts for your stay. Make sure you understand the limitations that come with renting DVC.
If you book a DVC studio or larger (you can book even with cash), the rooms come with a microwave and toaster along with a slightly larger fridge with a small freezer.
Use points to cover hotel. While you can't book Aulani in the Chase portal, you could possibly use other cards or cash back. One way we saved on our recent trip was by using points to stay at the Hilton Wakiki for 3nts at the start of our Hawaii trip. We used pts to cover the hotel . With gold status from the hilton cc, we were given lounge access which coverd breakfast and a light dinner for us each day. We used this time to explore the island before ending at Aulani. We rented a car for just the first part of our stay and was able to pick up groceries on our way to aulani. You can learn how you can stay at the Hilton Wakiki for free here.
Eating on a Budget in Hawaii
If flying southwest, you get free checked luggage. Pack Food. If you would like some idea's on what to pack check out: Eating out of your suitcase.
In Hawaii, you can order grocery delivery or if you rent a car stop at Target or Costco as Aulani resort has fridges. there's also Affordable dining options around. Country Market was our favorite as we could get hot entrees for $5-$7 each. Check out our Aulani review for more information including menus and photos for ways to eat on a budget.
We spent $180 on grocery at Aulani but some items were not necessary and in the future we will bring some of the more expensive items to save. for the most part that covered all meals for the kids and breakfast and lunch for us. My husband and I ate dinner out $5-$7 hot entrees and I picked up some lunch item like poke. I would save if you bring a suitcase with food you could get away with eating for less than $300 for your time in Hawaii.
The Cost of a Disneyland Aulani Combo Trip trip.
With flights on southwest covered you would pay as low as $44 in fees for a family of 4. or as low as $2600 for 4 if paying cash.
Disneyland California for around $1550, Hilton Wakiki on pts for up to 6nights free in Wakiki., Up to 5 nights at Aulani as low as $1225 with the 30% off. $300 for food
Total Utilizing points is approximately $3500 for up to 15nts 17 days to Disneyland California and Disney's Aulani Resort in Oahu.
With out utilizing points the total of around $6,000 for a family of 4 for 9 night 11 day trip to Disneyland California and Disney's Aulani Resort in Oahu.
You can check out Disney's Aulani Resort specials here.
Join AffordableFamilyTravel.com Crew on Facebook and we can discuss ideas to make this trip affordable for you.
Here's some more Disney Articles to help you decide and plan your next Disney Trip
10 tips for Visiting Disneyland California
Disney Aulani Resort Tips and Review
How Disneyland is Better than Disney World
Why you should substitute Disneyland Paris for your next Disney Trip
For more tips and information about Aulani check out my review here.
Make sure to like AffordableFamilyTravel.com on Facebook to get all the latest updates. It's also where I post my Dash Deals that are time sensitive.