These cheap and easy beach house meals will help you keep your travel budget down and leave plenty of time to relax and enjoy your vacation. They are easy to serve 3-4 or even 8-12 people. renting a beach house can be a great Affordable Family Vacation and these cheap vacation eats are a great addition to your cheap family vacation. Enjoy a nice fun and relaxing vacation with little work while you are there with these easy tips. These ideas are a great addition to your Cheap Family Vacation.
Grill
Grilling is a quick easy way to cook a meal. The best part is you can have people take turns manning the grill while you get the sides ready.
What to Grill
Burgers and hot dogs are affordable grilling options. As well as grilled chicken or chicken kababs. Ribs are a great treat and if you want it really easy grab some pre-cooked ribs and just heat them up on the grill. If you want a real treat to pick up some local seafood to grill.
Frozen Meals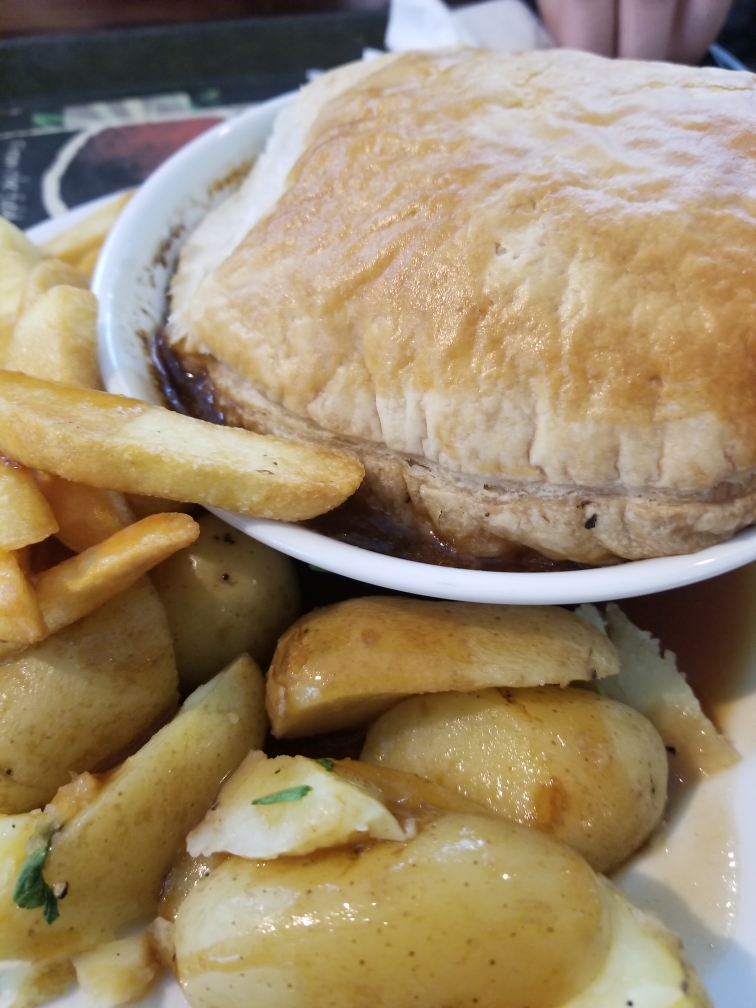 Making ahead meals that you freeze and take with you is a great option especially because they also work as ice to keep it cold during your drive down. We once drove 13hrs with a cooler with frozen items and they all stayed frozen the entire trip. Keep in mind some items may defrost quicker than others.
Lasagna or baked ziti is a great affordable meal option that can be made ahead of time and frozen. You can also make meatballs and sausage in sauce and freeze it. then make pasta at the beach house (or even before hand depending on when you plan to eat it).
Shepard's pie or chicken pot pie is great too. I love this chicken pasta recipe. Freeze in a disposable pan that can be baked and then discarded for easy clean up too. There are so many freezer meal recipes to choose from it's easy to find enough that everyone enjoys covering a week.
Make-ahead Taco meat and freeze it is a great option the family is sure to love. Frozen meatballs are another kid-approved option.
Local Food
Eating local doesn't have to be super expensive. Find a local seafood shack that will fry or broil up seafood by the pound. Bring it home and serve it with your own side dishes. If you offer several side dish options 1lb can often be enough for 3/4people especially when kids are in the mix and you offer several sides to go along with it.
Check out a local BBQ joint that sells family meals. Sometimes they have mixed packages that offer a large amount of food plenty for 6-8 people but often with only a couple of small sides. Again, you can bring the bbq package home and enjoy it with some homemade sides for around $50 for up to 8 people. Rolls or cornbread is also great to have on hand with some bbq.
Head out to Happy Hour. Yes even with kids. Many resort areas have bars/restaurants that offer happy hour specials and often there are dining tables in the bar areas that families can sit at. You can enjoy heavy appetizers early and enjoy an evening snack later if anyone is still hungry.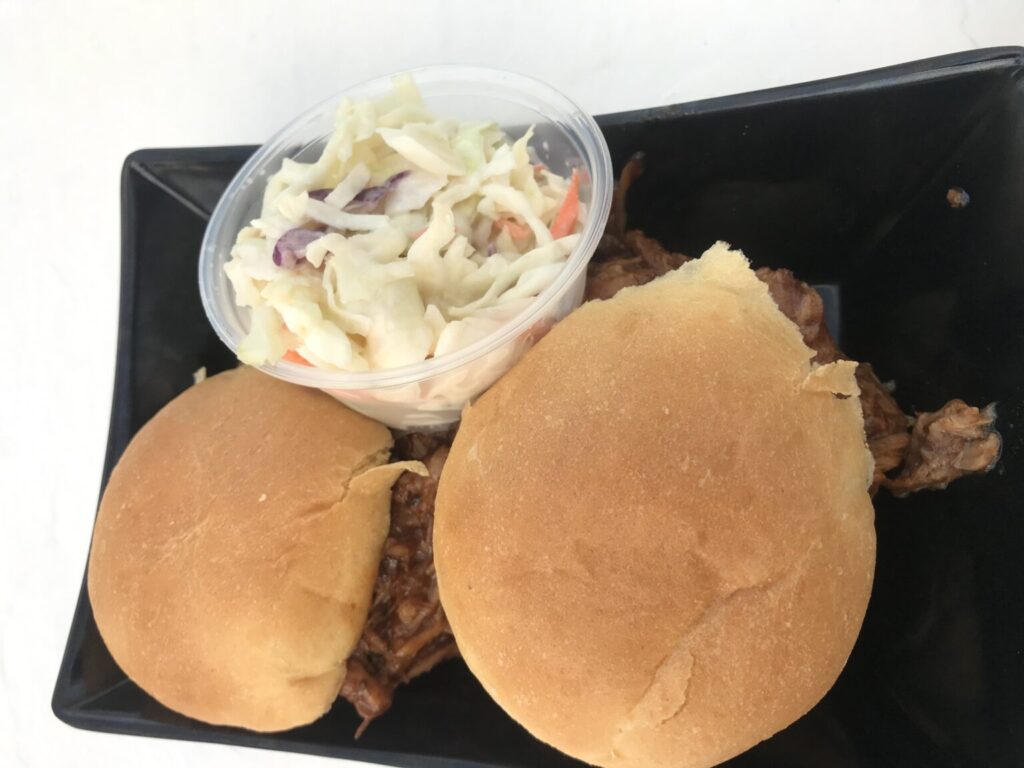 Charcuterie/Meal Boards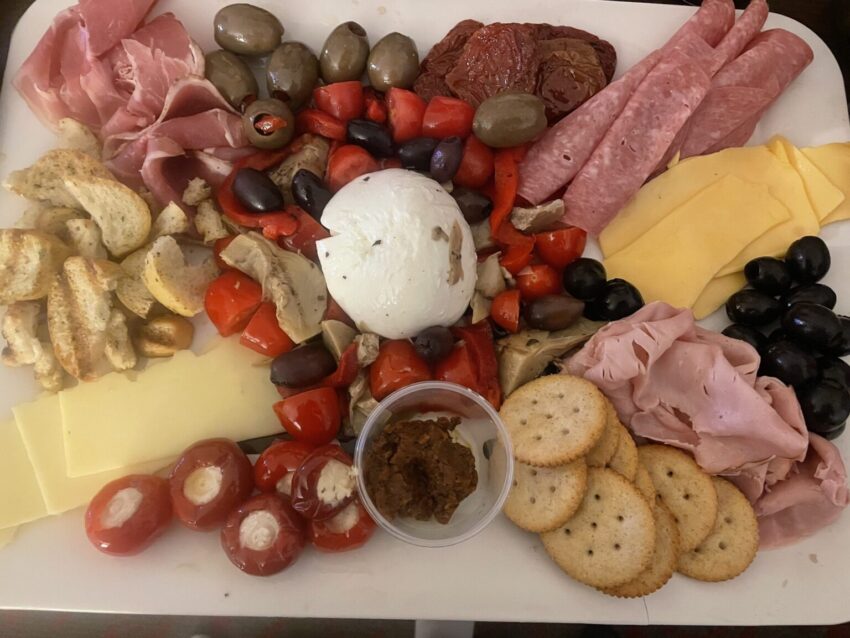 Charcuterie or a meal board is a fun way to serve simple easy food. Bring something cookie cutters to cut cheese slices or sandwiches to add some character to your boards. The key is to have a variety of things but most items can be split between several days so there's much less prep.
Cheese: Aldi sells pre-cubed cheddar and gouda cheese. The bags are big and usually last our family for 3-4 meals.
Meats: You can pick up cold cuts and have it shaved thing so it looks pretty on the platter but also goes further portion-wise. adding a couple of different varieties mixes it up a bit.
Vegetables: cucumbers, sugar snap peas, cherry tomatoes, artichoke hearts are great veggie options. it also helps make it a more balanced meal while still being very little prep work. I sometimes serve with prepared hummus as well.
Fruit: Strawberries and other berries, dried fruit are delicious options, sliced watermelon cantaloupe and grapes are more affordable options for larger groups.
Honey and jams: if you can pick up local honey or jams that are a nice addition
Bread and crackers: crackers are an easy shelf-stable option. you can pick up several different boxes to provide a variety.
Sandwiches: for a lunch board adding little sandwiches or cutting with a themed cookie cutter is a fun easy addition.
Charcuterie or meal boards are great lunchtime options or if you had a large lunch or happy hour dinner it's a great evening heavy snack too. These cold meals are quick and easy to enjoy as a lunch on the beach or at the house.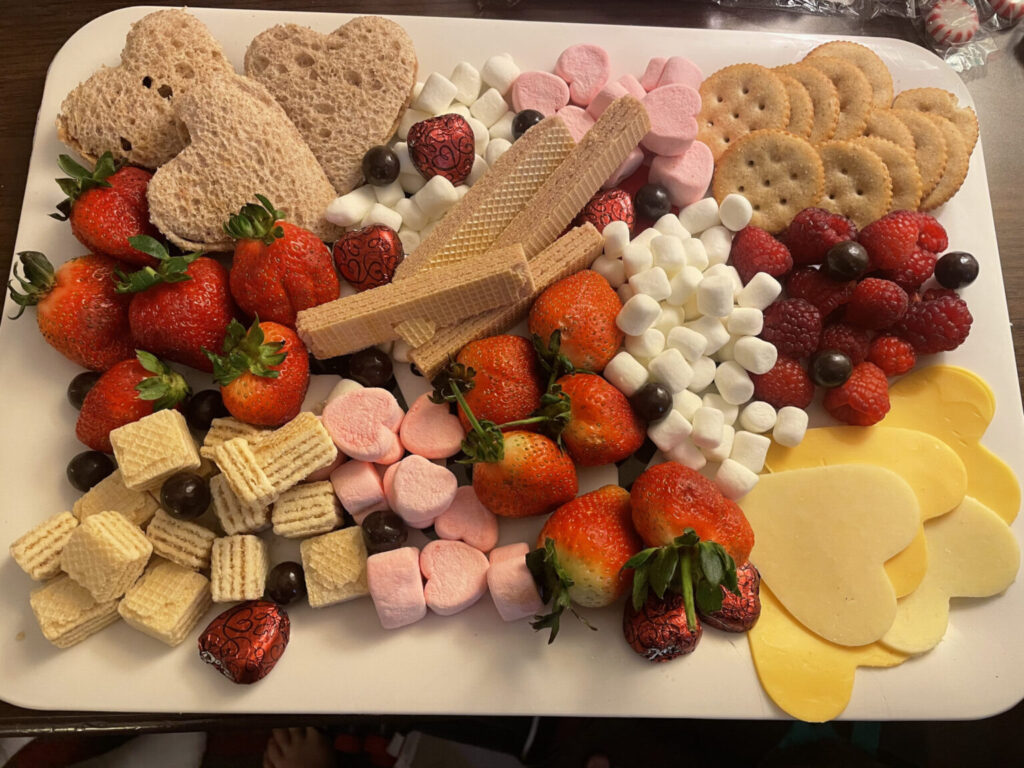 Crock Pot Pressure Cooker Meals
Affordable crockpot or pressure cooker meals are easy ways to cook meals for a large group. There are so many affordable pressure cooker recipes. My favorite is pulled pork. It also is great to have as leftovers for tacos, pulled pork mac n cheese, and more. if you didn't bring frozen meals you can make crockpot mac n cheese or lasagna as an easy meal. Chilli is another meal my family loves and while it may not seem like a hot weather meal whether it's a wonderful way to transition from warm weather outside to central air inside.
The other nice thing about crock pot meals is you can also repurpose leftovers. For example Pulled Pork(no sauce when made): BBQ Pork, Pork Tacos, Cubans with pork, deli ham, pickles mustard
What to serve on the Side
There are plenty of easily affordable sides that can be offered or prepared ahead of time. Pasta salads, and other cold salads, are great for prepping in advance and having them available for even a few days. Baked mac n cheese and be made ahead of time and brought with you.
You can also opt for microwave sides such as easy mac, instant potatoes, or microwave rice for super-fast options. I find these are great to have on hand for picky eaters. Regular or sweet potatoes can also be microwaved for quick "baked" potatoes that are super easy and cheap. A tossed salad or steamed frozen veggies are great sides. Baby carrots or sugar snap peas are easy raw sides you can serve. add hummus for a great snack too.
Side salads can also double as lunch entrees. Antipasto salad is one of my favorite side dishes that are hearty enough to also be served as a lunch entree.
Breakfast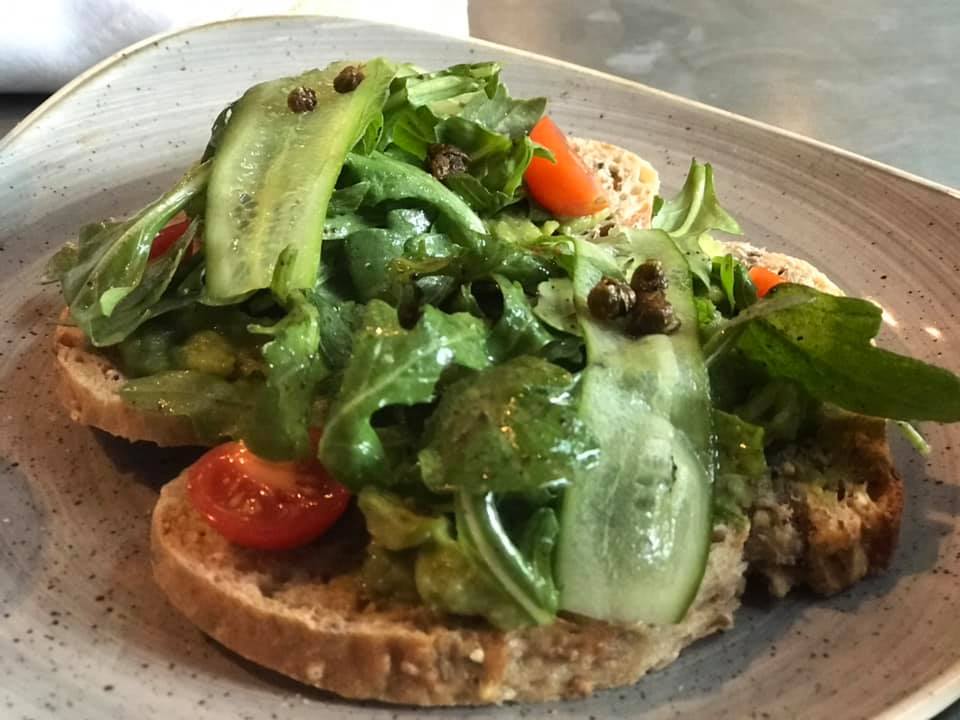 The easiest breakfast on vacation for us is usually cereal and oatmeal. If you are looking for a little more options, pastries, local donuts, and bagels are great options. You can also do a Breakfast Board and include a variety of things that are easy to make here are some ideas:
Fruit
bagels with cream cheese
smoked salmon, capers, and other fixings,
mashed avocado to have with smoked salmon or to add to avocado toast. diced tomatoes, everything but the bagel seasoning is great with this. toast to go along with it or can use bagels
cold pre-made quiche
boiled eggs
frozen pancakes, and/or french toast.
Bacon can be expensive but it's a nice treat. sausage is a little more affordable. You can buy a whole or half boneless ham to cook up and enjoy for several days as a great breakfast meal.
jams and honey.
If you are cooking scrambled eggs are a great option and I love sauteed spinach and mushrooms to go along with it to get some more veggies in for the day.
Avocado toast. It's one of my favorite options. I buy plain guacamole f from Aldi which tastes like plain mashed avocado (not the spicy kind) so it's easy to make toast spread on some avocado, dice up some grape tomatoes and top with everything but the bagel seasoning and sometimes some smoked salmon.
Desserts and Snacks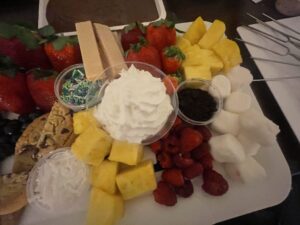 Of course, we always have the kid's favorite snacks on hand. It's good to have some cheap and easy snacks for everyone. here are some of our favorites.
Pretzels with french onion dip
chips and salsa, queso and or guacamole
Watermelon
apples, oranges, or bananas
carrot sticks or sugar snap peas with hummus or french onion dip
Popcorn
Trailmix or other snack mixes
Hot cocoa bar
Smores bar
Microwave Fondue
Ice Cream Sundaes
Dessert Board with assorted cookies, cakes, and other treats
You can also make a snack or dessert board which is a lot of fun. Hot Cocoa or smores boards are my kid's favorites. Usually, the ingredients will last a few times so it's several days of fun. These vacation treats are a great way to add some fun food to your vacation. Find out how to make these wonderful dessert boards too.
Example of a Week Beach House Menu
Day 1:

Breakfast: Pastries, Cereal, oatmeal
Lunch: antipasti salad, deli meat
Dinner: Frozen Lasagna, with frozen broccoli steamed and salad
Snack/Dessert

Day 2:

Breakfast: Pancakes, whipped cream, berries
Lunch: cold cuts pasta salad
Dinner: Burgers & tuna mac salad, toss salad, corn or green beans
Snack/Dessert

Day 3:

Breakfast: Bagels, Cream Cheese, smoked salmon, boiled eggs
Lunch: cold cuts pasta salad
Dinner: Local Fried Seafood with French Fies, onion rings, and salad OR Grilled chicken and veggie kabobs and rice
Snack/Dessert

Day 4:

Breakfast: French Toast, powder sugar, and berries
Lunch: Charcuterie
Dinner: BBQ Take out (or crockpot pulled pork) with, frozen baked mac n cheese, coleslaw or Corn
Snack/Dessert

Day 5:

Breakfast: Breakfast charcuterie:
Lunch: BBQ mac n cheese: leftover mac n cheese topped with bbq meat and slaw, or sandwiches Or bbq tacos
Dinner: Frozen Spaghetti and meatballs
Snack/Dessert

Day 6:

Breakfast: Scrambled eggs, bacon, home fries
Lunch: charcuterie or lunch board
Dinner: Chilli
Snack/Dessert

Day 7:

Breakfast: Leftover in a charcuterie or pastries
Lunch: sandwiches and or leftovers
Dinner: Pizza or Fastfood while driving home
Snack/Dessert
What you will Need to Bring
Here are some tips and ideas of things to bring with you to make cooking at a beach house easier.
Slow cooker or pressure cooker if there isn't one available (check with owner)
A serving tray you can use for your charcuterie or meal boards. You can also consider bringing a roller of butcher paper to use instead. Or pack a shallow Tupperware container to bring your charcuterie to the beach.
disposable cooking pans, microwave-safe bowls, and Tupperware to store and reheat food. if not available (check with owner). Tupperware works best for storing cut fruit too.
consider foil for the grill for easy cleanup.
make sure you freeze your meals in containers that will fit in your cooler but also can be baked in. make sure your sales are in containers that will fit in the cooler too.
Ziplock bags to store leftovers in and for packing sandwiches to take to the beach.
reusable water bottles
Pack soft taco shells for quick leftover tacos with a variety of leftovers or make wraps for lunch.
Summary
Eating Cheap while Traveling isn't difficult to do. There are many ways to save on food while on vacation while still enjoying your trip. Saving on food on your Cheap Family Vacations means you can spend more on experiences or your next trip.
Follow Affordable_Family_Travel on Instagram
Make sure to like AffordableFamilyTravel.com on Facebook to get all the latest updates. It's also where I post my Dash Deals that are time-sensitive.